Even for experienced drummers, finding the best electronic drum set may seem overwhelming at first. The popularity of e-kits has soared over the years because of benefits like silent practice, easy travel, effortless recording and diverse sound libraries. The demand has spawned a stunning variety of options that excel in different ways. Some electronic drums are designed as the perfect practice companion for beginners and students. Other e-kits boast advanced features that help drummers push the limits on the stage and in the studio. As tech products, these instruments are complex and always changing with new innovations. This guide will help you navigate the exciting world of electronic drums and find the perfect e-kit for you.
Table of Contents
Electronic Drums: A Brief Introduction
    Pads
    Triggers
    Modules
    Sampling
    Cymbals
Where to Start Your Search
The Best E-Kits for Practice
The Best E-Kits for Recording
Playing Gigs With Electronic Drums
The Essential Accessories
A Final Word
Electronic Drums: A Brief Introduction
We're here to help you find the best electronic drum kit, but to do that, we'll need to offer a little background. If you already know the ins and outs of how e-kits work, feel free to skip ahead. If not, read on—we'll just cover the basics.
The story of electronic drums begins with early synthesizers and drum machines in the 1960s and '70s. These instruments used synthesizers to mimic drums. You can hear them on popular records beginning in that era and continuing to this day. While these machines were able to create drum-like sounds and generate rhythms, players controlled them with buttons and keys—they didn't play them like drums.
It wasn't until 1981 that inventor Dave Simmons released the first commercially available electronic drum set, the Simmons SDS-V or Simmons Drum Synthesizer. This kit featured hexagonal pads arranged like a drum set on a rack, with a snare, tom toms, a bass drum and cymbals. Striking one of these pads would send a signal to the module, which had a built-in synthesizer. Just like when you strike a key or push a button on a synth, the module turned that signal into a sound. This process is called triggering, and it forms the basic foundation of electronic drums to this day.
The Simmons SDS-V was rudimentary by today's standards—the pads were made of hard plastic, the triggers weren't sensitive to dynamics and the module was limited to basic synth sounds. In the years since, every element of the electronic drum kit has been upgraded to better match the authentic feel, sound and look of acoustic drums.
Looking to get a new acoustic drum set? Check out our buying guide.
Pads
The hard plastic pads of the SDS-V were functional, but players complained of wrist fatigue and lack of rebound. That's why later electronic kits began to use rubber pads that better absorbed the vibrations. While a few kits still use rubber, the real revolution came with the invention of mesh heads. Beginning with the high-end models, e-kits began to use layers of mesh that could be tightened with a drum key. This allowed players to customize the amount of rebound, creating a feel much more similar to the Mylar heads on acoustic drums. Mesh heads are also much quieter. These days, even beginner kits have made the switch, making mesh heads accessible to everyone.
Triggers
While the original Simmons kit had only one trigger per pad, modern electronic drum sets often build multiple triggers into each pad to pick up more nuance. For instance, drum pads will often have a trigger in the rim and a trigger in the center of the pad. The most advanced e-drums can use more complex systems, like the Roland PD-140DS snare, which has an array of digital sensors to better capture your unique playing.
Modules
Because the modules are computers, you might not be surprised to learn that they're where the biggest changes have taken place. With the power of modern computer chips, modules can now process very complex signals. The result is that the most advanced modules will take inputs from dozens of triggers at once and turn them into a wide variety of sounds. And they're no longer limited to synthesized drums—with digital sampling, players can trigger real acoustic drum sounds, recorded by professionals in real studios. Almost all electronic drum kits have multiple recorded kits and synthesized ones. Some feature sound libraries in the thousands.
Electronic drum kit modules can also have a ton of other extras that we'll get into below—training features, USB interfaces for recording to your laptop, Bluetooth and/or MIDI connectivity, inputs for extra triggers and more.
Sampling
Sampling is what makes e-kits arguably the most versatile percussion instruments. A top-tier module will typically let you flip between any number of acoustic drums and cymbals that have been sampled in great detail. At the press of a button, you could switch from a compact beech kit to a booming acrylic rock setup, to an old-school 808 drum machine. Cutting-edge models can even let you choose what kind of mics you want the drums to have been recorded with, and what kind of room you want them to be placed in. These details are what separate the common e-kits from the most advanced ones. For professionals, the difference is unmistakable. It's also common for high-end kits to let you import your own sounds and build custom setups.
Cymbals
When it comes to e-kit cymbals, rubber still reigns supreme. Modern kits have cymbal pads that are shaped like cymbals, and they often mount on cymbal stands, which give them room to sway when struck. Higher-end cymbals will have complex triggers that recognize whether you're playing the bow, edge or bell, and also triggers on the bottom that let you choke the cymbal with your hand. Hi-hat cymbal pads have the most variation, with many premium models mounting on a regular hi-hat stand and responding to nuanced footwork. Cymbal pads also often have grooves and hammer marks which, while purely cosmetic, are a nice touch.
Those are the basic elements of electronic drum kits. The differences between an entry-level e-kit and a flagship electronic drum set will come from variations on these essential components and the capabilities they create.
It's a lot to take in, we know—we're here to help you sort out what's important.
Where to Start Your Search
Electronic drums are complex instruments that constantly evolve with changes in technology. They also vary widely in terms of capabilities and price. You wouldn't want to buy an e-kit now and learn later that it falls short of your needs. At the same time, you might regret spending thousands on a top-tier electronic kit if there are more affordable models with everything you need. We're here to help you sort through the mess.
But first, to make sure you're finding the best e-kit at the best value for your usage, you'll need to answer some important questions.
What will you be using it for?
Before you can know the best electronic drum kit for you, you'll need to have a good idea what you're using it for. Many players are attracted to e-drums because they allow quiet practice. If that's the case, mesh heads and training features are huge bonuses, while the range and quality of sounds might take a back seat. If you're looking to record, you'll want a kit with a much larger sound library and more complex triggers, plus a built-in audio interface that connects to your computer. For live performance, there are even models that mimic the classic appearance of acoustic kits.
Do you want your kit to grow with you?
While you might not want to pay for something way beyond your needs, make sure to keep your future in mind. Right now, you might not be especially interested in recording your e-kit or importing your own sounds. But, ask yourself if that's something you could see in your future. Electronic drums aren't like acoustic kits, where you can just upgrade your snare drum or ride cymbal. However, many kits do have features that will make them a little more adaptable in the future. These features include extra inputs for adding more drum pads, USB interfaces, expandable sound libraries and dedicated computer and smartphone apps.
Will this be your main kit or a supplement?
While you can't beat the authentic sound and feel of acoustic drums, they come with their own drawbacks—they're loud, bulky and sensitive to the elements. That's why e-kits have found popularity as supplements to acoustic kits. Maybe you've got acoustic drums for gigging, but want an e-kit for practice and rehearsal. If so, you might be less worried about how it looks or sounds. But if the e-kit will be your main instrument, you should weigh the choice more carefully. Think about what kind of drummer you aspire to be, and pick a kit that will take you there. Do you plan to perform live? Record? Take lessons from home? Imagine what you want to be doing as a drummer in a few years. Make sure you pick a kit that will be ready to go there with you.
What's your budget?
When we say there are electronic drum kits for any budget, we mean it—you can get a fully functional electronic drum kit from a respected manufacturer for just a few hundred bucks. These will have fewer triggers, more rudimentary sounds and simpler modules, but at prices similar to beginner acoustic kits, entry-level electronic drum sets are some of the best values in the world of musical instruments.
If you want the cutting-edge features that make electronic drums really sing, you'll need to spend a good deal more. There are no cheats—if you want elite sounds and maximum responsiveness, you'll have to pay more for it. It's all a matter of your priorities. So, take a second to think over what's essential for you. Then, keep reading.
The Best E-Kits for Practice
Perhaps the most common reason for buying an electronic drum kit is the need for quiet practice. Simply put, e-kits are the ultimate solution for working on your chops without making too much noise. There are other options, but they all have drawbacks. Practice pads are great for rudiments, but they're not as good for working on limb independence. Dampening accessories can help keep your neighbors happy, but they don't let you hear your grooves at full volume. Sound isolation is costly and work intensive. Only electronic drum sets let you plug in some headphones and let your playing really open up, day or night, while remaining nearly silent to others.
The good news is that, if you're going to use your kit entirely for quiet practice, there are many options that won't break the bank. Electronic drum manufacturers know how useful their kits are for students. That's why it's easy to find kits that have everything you need to learn drums or work on your chops, and nothing you don't need.
For practice kits, look for four basic essentials:
Training features. Most e-kits will have a built-in metronome. Many will have other useful training features as well. These include built-in songs to play along with, in-module recording and playback so you can evaluate your work, access to online practice materials and even smartphone apps that go deeper with instruction.
Play-along capability. Drums just aren't the same without the rest of the band. The best e-kits for practice will have ways for you to play along with music of your choice. The most common solution is a simple AUX input. Some kits expand the possibilities with Bluetooth and MP3 compatibility.
Quiet pads. Mesh heads are generally quieter, but they have other practice benefits as well. Because they're closer to the feel of acoustic drumheads, they make it easier to transfer your hard-earned skills to an acoustic kit. They can also be easier on your wrists during long sessions.
Configuration. Drummers are notoriously picky about how they set up their kits. Make sure to explore the pad sizes, shapes and arrangements of different practice kits to make sure you choose what's comfortable for you. Some e-kits are more adjustable than others. Different manufacturers also use different form factors, especially for how they make cymbal pads. This is an issue of personal preference, but it's important nonetheless.
Manufacturers include all of the above features in their elite kits as well, so you won't miss out if you go bigger. However, the top-tier kits are also up to ten times more expensive, meaning you could end up paying for features you don't need—like a massive library of sounds, or super-advanced triggers. In the interest of saving you money, we've collected the best practice kits with a solid bang for your buck.
E-Kits for Practice: The Basic Options
These are the best electronic kits for players who want everything they need for practice, at the lowest available cost. They all come from trusted manufacturers with many years of experience making e-kits.
If you're looking for solid practice essentials and nothing extra, the Alesis Turbo Mesh e-kit will have you covered for a remarkable price. It has quality mesh heads, an aux input for playing to your own music, plus 30 included practice songs with training features that will help teach you to stay on rhythm. There are ten preset kits—not much of a sound library, but enough to get your feet wet with sound selection. There's also a USB port so you can record with MIDI (more on that later). While you'll need to get your own drum throne, sticks and headphones, everything else is covered—including both pedals, which are standalone triggers rather than acoustic-style pedals.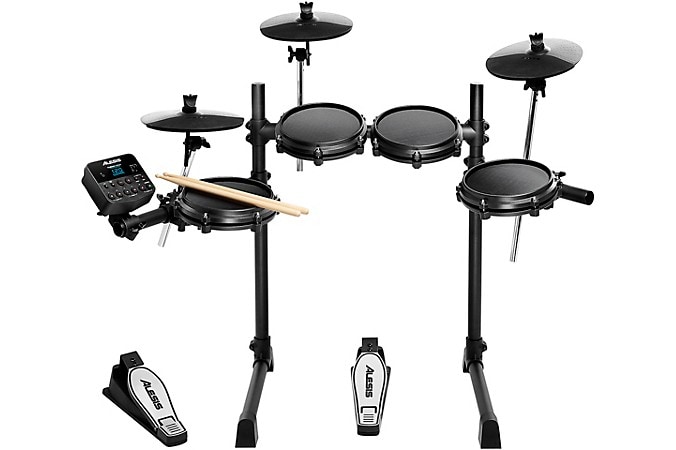 Pictured: Alesis Turbo Mesh Electronic Drum Kit 
Another unbeatable value is the Simmons Titan 50—a reimagined e-kit from the iconic brand that offers stunning drum sounds and improved performance features. The completely new Titan 50 sample library was recorded at the legendary London Bridge Studio in Seattle to deliver the utmost in realism, sonic attack, room ambience and dynamic sensitivity. You get 25 drum presets, space for 10 user kits and even more percussive options via downloadable Sound Packs. For ultimate playability, the Titan 50 rocks a generously sized 10" dual-zone snare, three 8" toms with low-profile rims—all with adjustable-tension mesh heads—a 6" kick pad that accommodates single and double pedals, and three 10" cymbal pads (hi-hat, crash and ride). The updated rack utilizes clever rectangular beams to prevent pads from slipping—even under John Bonham-style pounding. The Titan 50 provides wide-ranging connectivity via Bluetooth, MIDI and USB, as well as an AUX input, a headphone jack and stereo outputs. The free Simmons app expands the education and entertainment with play-along, practice and training tools.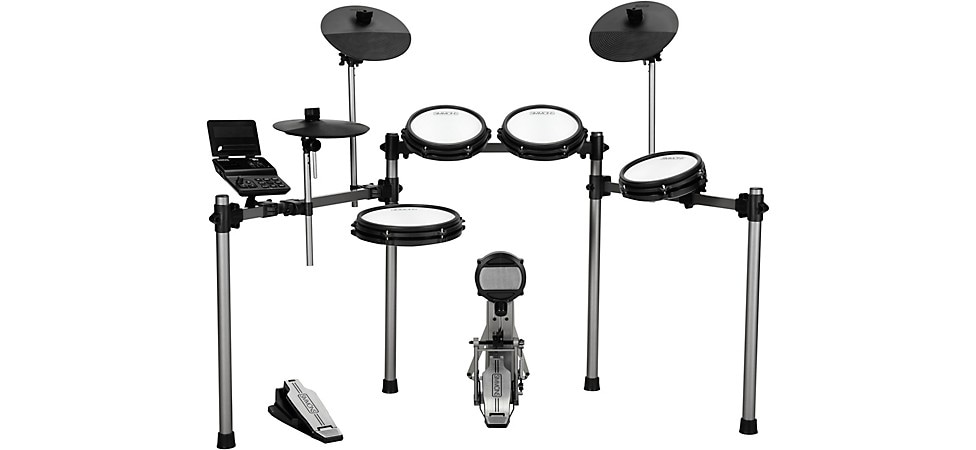 Pictured: Simmons Titan 50 Electronic Drum Kit 
If you don't need a multitude of drum sounds, the Simmons Titan 20 is a magnificent price/performance option, as it includes many of the features and connectivity of the more lux Titan 50. The Titan 20 sample library also delivers much the same audio quality as the Titan 50—although the samples are in mono, whereas the Titan 50 provides stereo sounds. The Titan 20 offers 10 onboard drum presets, an 8" mesh snare and a kick-drum pad sized for a single pedal. For beginning and student drummers, the Titan 20 provides ample inspiration to dive right in and play.
The Roland TD-1DMKX V-Drums is great for players who want to step it up a little without breaking the $1,000 mark. This kit is where configuration starts to come into play. The snare has two triggers, meaning it can sense rimshots, an essential element of acoustic drumming. Equally important are the dual-trigger cymbals that respond differently to the edge and the bow. And instead of a built-in trigger for the kick pedal, this model has a kick pad. That means you can mount your choice of kick pedal. That makes a huge difference when you're learning footwork, as the feel of a real pedal is difficult to fake. The heads are also a little sturdier with double layers of mesh, which Roland has long been known for. There are a handful of extra preset kits compared to the two above, and the coaching functions go a bit deeper with 10 training modes.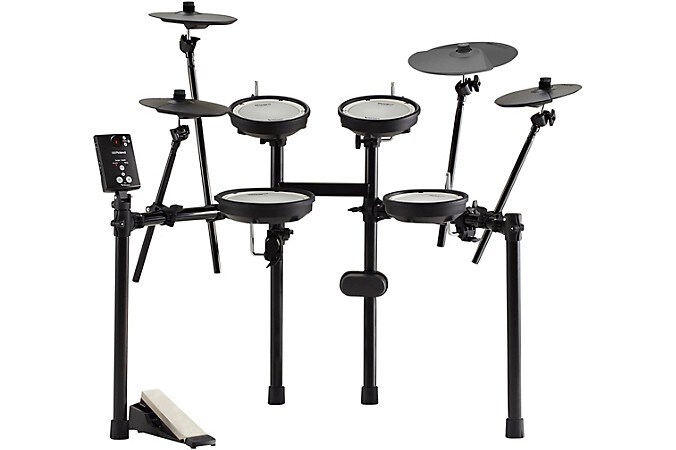 Pictured: Roland TD-1DMKX V-Drums Electronic Drum Kit 
E-Kits for Practice: Upgraded Options
These kits come from the same three manufacturers as above, but they offer improvements and extras compared to their entry-level counterparts. They're still highly affordable, making them more than worth a look, even if you're on a budget.
At a slight price increase compared to the Turbo, the Alesis Nitro Mesh gives you some important benefits. Most importantly, it gives you the all-important dual-zone snare (that means two triggers) and a kick pad where you can mount your own pedal. Otherwise, it's a beefed-up alternative to the Turbo with quadruple the preset kits, double the practice songs and the ability to make custom setups.
Pictured: Alesis Nitro Mesh Electronic Drum Kit 
The Simmons SD600 extends the dual-zone pads to the toms as well, which is a rarity in e-kits at this price. You'll also get the benefit of that Simmons iOS app with all the editing and practice features, which you now have the option of connecting to via Bluetooth. Pretty much everything else is expanded from the SD350, with more preset kits and room for 10 custom ones. Plus, you guessed it: a real kick pad. Unlike most kits with this feature, it even comes with a regular beater pedal. (Though, if you're picky like us, you'll eventually want to swap out your own.) There is also an expansion pack available that will add an additional tom and cymbal to your setup.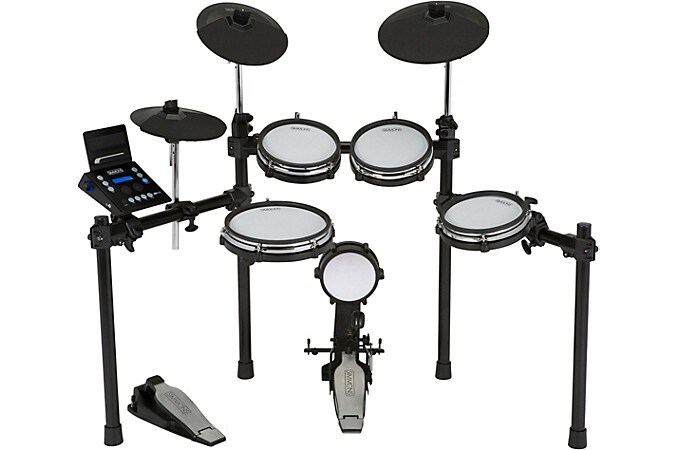 Pictured: Simmons SD600 Electronic Drum Kit 
The Roland TD-17KV and TD-17KVX V-Drums are where we get into more premium territory for practice kits. There's a bump in cost, with some serious benefits to go along with it. The snare is a PDX-12, which measures a full 12" and has upgraded triggers, more in line with what you expect from intermediate and advanced kits. For the player, that means it feels more like an acoustic snare and responds to cross-stick patterns. The cymbals and drums are dual-trigger all around, and there's a kick pad, which you'd expect at this price range. You'll also get Bluetooth for easier play-along. But the real leap comes with the sound library. Roland is known for excellent digital sampling, and this kit is an entry into their catalog with 100 preset kits. You'll need to hear it yourself to understand the difference, but trust us when we say that the difference between entry-level sounds and premium samples is unmistakable.
Pictured: Roland TD-17KV V-Drums Electronic Drum Kit 
The difference between these Roland models is that the TD-17KVX upgrades the cymbal setup. This is no small improvement. If you don't mind paying extra, this "X" model opens up the next level of e-kit cymbal tech. The hi-hat pad mounts on a real hi-hat stand and responds authentically, giving you true acoustic feel under both feet. And the ride cymbal has three triggers: bow, edge and bell. If you want a practice kit that lets you get into more complex playing, give this kit serious consideration. Be careful, though—once you've tried these cymbals, you'll have a hard time going back.
The Best E-Kits for Recording
Recording is where the abilities of modern e-kits really start to shine. The best electronic kits for recording will have excellent samples of multiple acoustic drum kits, recorded with high-quality mics. When properly used, the advanced modules on these kits let the user live out every drummer's dream: hand-picking from a wide selection of professional drums and recording them in a studio environment for that big, dialed-in, resonant sound. But instead of paying for studio time, you can do it anywhere.
As is always true for recording, though, it's not as simple as it may appear. There are a number of important details to look for when choosing a kit you plan to record with:
Sound library. All high-end kits will have a large selection of sounds, including true drum samples and synthesized effects. These will usually be arranged into preset kits by type or genre—maple, beech, jazz, funk, rock, reggae, TR-808, etc. But where things really get interesting is the depth of customization. The best e-kits for recording will let you tune and rearrange sounds to craft a unique setup, just like you would with your acoustic kit. Some kits even include options for different mic setups and room tones.
MIDI. MIDI is where electronic drums run wild. To give a simple explanation, the MIDI interface is a pair of input/outputs that can send the signal directly from the drum triggers, rather than outputting the sound that the module makes from that signal. It bypasses the built-in sound library, letting you trigger other sounds that are compatible with MIDI. This creates truly limitless possibilities. A common way to start experimenting with MIDI drums is to output the signal to virtual drumming software like Toontrack EZdrummer 2. With the right software, you can even create your own sounds as WAV files and assign them to different pads on your e-kit for a totally customized experience.
Line output. Modules will always feature a line out, which outputs the unedited sound of your drums the same way it would through headphones or a speaker. This is the most intuitive option for outputting audio, but for recording, it requires a little bit of extra gear. Just like with any electronic instrument or mic, you'll need an audio interface to transform the analog signal into a digital one that your computer can read. See our home recording guide for more info on audio interfaces and DAW software.
USB output. Many of the more recent e-kits will let players avoid the line/MIDI question altogether with built-in audio interfaces that let you plug your module directly into your computer via USB. This option lets you skip straight to your preferred DAW, where you can choose whether you want to use the e-kit sounds or use MIDI to trigger other samples in your host software. You can even make tracks for both and explore multiple options for each recording.
Configuration (seriously). While configuration is mostly a matter of comfort for practice kits, it's a major factor if you're going to record. An extra pad or two can be useful for extra toms or side snares, or with MIDI, they can trigger just about any additional sound you want. Even if you're fine with a standard setup, check if there are extra inputs for adding more trigger pads to your e-kit in the future. As always, you're better safe than sorry.
The following are all high-end kits from respected manufacturers, many of whom have developed proprietary features you won't get from the others. You can't go wrong with any of these, but make sure to consider what makes each of them special.
The Simmons SD1250 is their flagship electronic kit, and in classic Simmons style, it has features that would usually cost more from other brands. You'll get a six-piece configuration, triple-zone ride and dual-zone pads all around with two layers of mesh. The SD1250 takes all the other usual Simmons touches and boosts them, too. That means a bigger sound library, individual pitch-shifting and editing of each sample and an upgraded Simmons Advanced iOS app. You can also record with MIDI via Bluetooth, saving the hassle of finding the right cables. The looks get a nice boost, too, thanks to shallow shells with a bright blue gloss finish and matte hardware.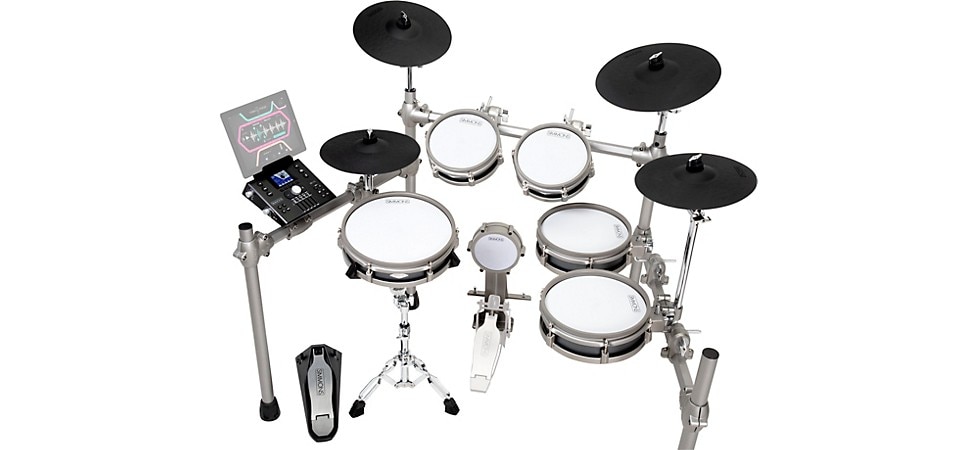 Pictured: Simmons SD1250 Electronic Drum Kit 
The Roland TD-27KVS V-Drums have the usual build quality and excellent samples you expect from Roland, but the superstars of this kit are the proprietary 14" snare and 18" ride. Named the PD-140DS and the CY-18DR, respectively, these two pads are the first in the industry to feature digital sensor technology. Rather than just inserting extra triggers, these pads have built-in computer processing that pulls from a wider array of sensors. We won't get too deep into the technology here, but the effect is that the snare and ride on this kit can sense the exact location and magnitude of each hit. The snare can even tell the difference between your hand and a stick. Through a process Roland calls Prismatic Sound Modeling, all this sensor data is turned into highly nuanced drum sounds that bring a new level of detail and finesse to recordings. Once you've dialed in your preferred kit for any given track, you can also choose different room tones, including presets that mimic famous studios.
Pictured: Roland TD-27KV-S V-Drums Electronic Drum Kit 
Playing Gigs With Electronic Drums
Only in recent years have electronic drum kits become viable options for live performance. This is partly due to tradition—people are just used to seeing acoustic shells and cymbals on stage. But thanks to huge advances in triggering and sampling, flagship e-kits have begun to hold their own for gigging as well.
The benefits of electronic kits for live performance are obvious. They're lighter and take up less space than acoustic kits. They're easier to set up and require no mics. They never go out of tune with changes in weather. They offer total volume control for café gigs and other low-volume situations. And on top of those quality-of-life benefits, they open up entirely new worlds of sound, letting drummers switch from one kit to another between songs, or even during them. The applications are endless.
Take cover bands, for instance. Imagine being able to build custom preset kits to match the sound of the original drums on each of your covers, and switch between them at will. You can have synthesized drum sounds on an '80s pop track, a wide-open acrylic kit for a '60s hard rock song, then a sizzling jazz setup for a bebop tune.
If you're looking for an e-kit for live performance, you couldn't have picked a better time to start shopping. The top electronic drum kit companies have all recently released drums designed specifically to look good on stage, so you don't have to lose that commanding presence that made you want to be a drummer in the first place.
The Alesis Strike Pro SE is exactly what it sounds like—a special edition of the flagship Alesis Strike e-kit. These drums build on the original with features that make it really shine on stage. This starts with the full-size 20" bass drum, perhaps the most essential source of stage presence for a drum kit. The Strike Pro SE also stands out with black hardware and gold tension rods, pushing against the usual bland appearance of e-kits. There are some highly functional touches as well, the most important being the two additional crash cymbals (both in 14" sizes) and an extra floor tom. Thanks to even more sounds than the original Strike and 16GB of external card storage, these three extra pads open up new possibilities when configuring kits for your live sets.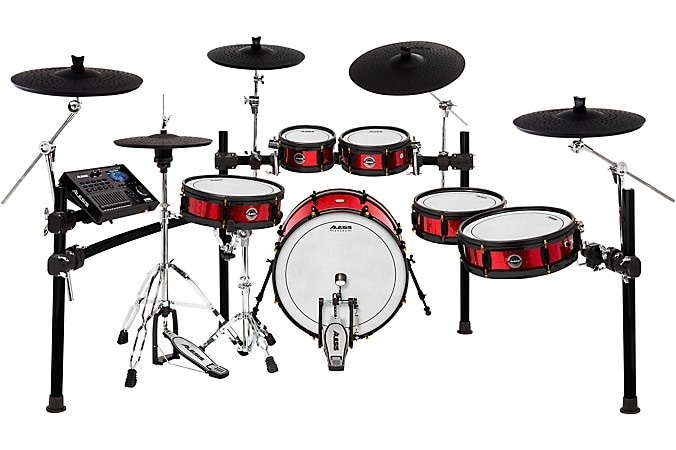 Pictured: Alesis Strike Pro SE Electronic Drum Kit 
The Pearl e/MERGE kit is a unique option, because it's a collabortion between two respected brands in drums and electronic music: Pearl and KORG. This partnership starts in the module, with a library that combines what each brand does best. Pearl provides the acoustic drum samples, and KORG pulls from their sample library to supply electronic, specialty and world percussion sounds. The pads take specialized elements from both sides, too. The e/MERGE kit introduces what Pearl calls Wave Trigger Technology, a pressure-sensitive trigger system adapted from the KORG Wavedrum. The pads themselves, referred to as PUREtouch pads, are designed to reduce unnatural bounce. The pads are built to full acoustic sizes, including a 14" snare, 18" ride cymbal and 14" stand-mounted hi-hat. And for the purposes of gigging, you can get serious stage presence from a full-size bass drum with all the details: a white Pearl head, multi-ply wood hoops, claw hooks and rubber feet. Combine this with the heavy-duty rack, and the result is a muscular, gig-ready electronic kit.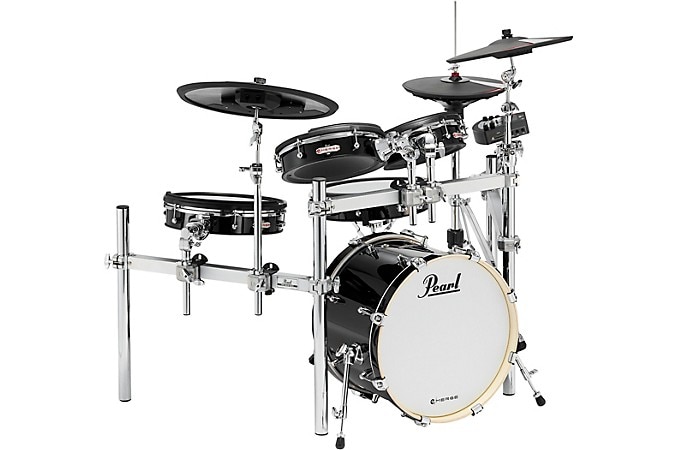 Pictured: Pearl e/MERGE e/HYBRID Electronic Drum Kit 
Other e-kit companies have made gestures toward acoustic looks, but the Roland Acoustic Design 306 and Acoustic Design 506 V-Drums go all in. These kits drop the rack in favor of real double-braced stands to mount the cymbals and drums. Both models use true wood shells with chrome hoops and lugs. They don't just take inspiration from acoustic kits—in the right light, they could be mistaken for one. The 306 is modeled on a cocktail kit and uses the TD-17 module. It's great for easy transport and cramped gigs. But the 506 is the real gem here, with full-depth toms (including a literal floor tom) and the digital snare/ride duo powered by the TD-27 module. It has top and bottom lugs and flanged hoops, chrome badges and 14 and 16" crash cymbals. Simply put, no electronic drum set has ever come closer to combining the realistic look and feel of an acoustic drum kit.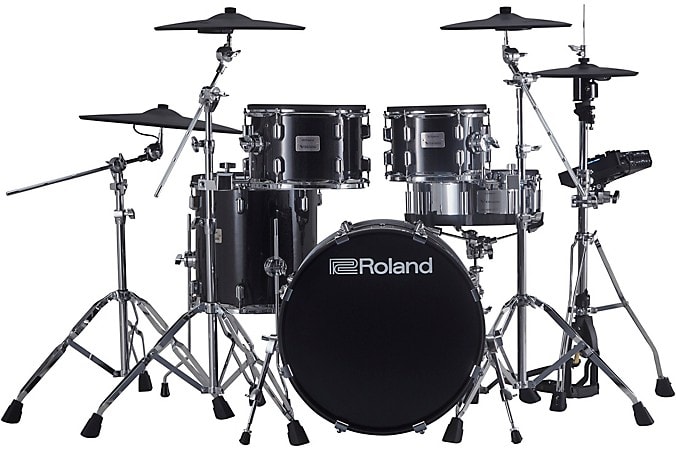 Pictured: Roland VAD-506 Electronic Drum Kit 
Along with the Acoustic Design kits, the Roland TD-50K2 electronic kit is the other true flagship from Roland. If you want to push the absolute outer limits of what's possible with electronic drums, this is the kit to beat. It has a digital snare, digital ride and digital hi-hat, the full Roland sound library and the most advanced module the company has created to date, the TD-50. What makes this module stand out is that it's essentially a recording studio within itself. You can adjust the sound of every drum, down to the heads, shells, tuning and room ambience, then add dozens of multi-effects like delay, saturation, flanger and more. The TD-50K2 has eight TRS direct-outs than can be assigned to individual pads. This allows the mixing booth to adjust your drum sound the way they would with individual mics on acoustic drums, while you're free to handle your half of the drum sound at the same time.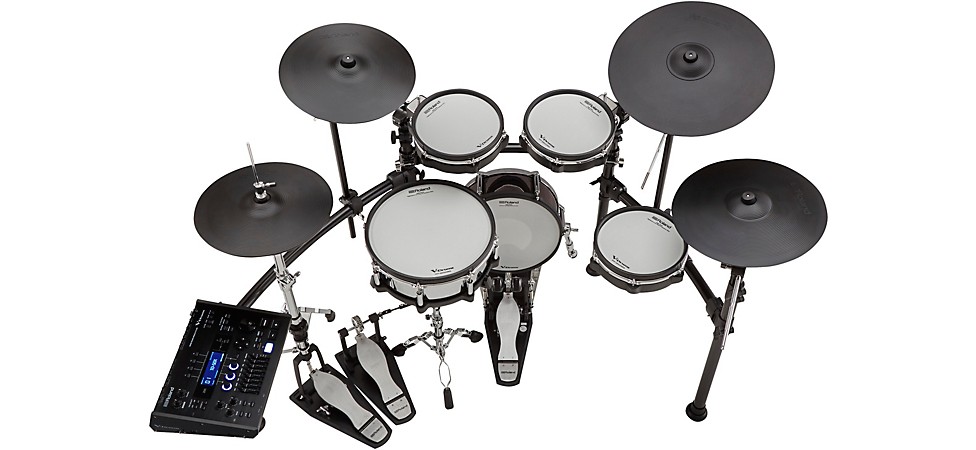 Pictured: Roland TD-50K2 Electronic Drum Kit 
The Essential Accessories
If you're shopping for an e-kit, especially if it's your first drum set, you'll need to pick up some accessories before you can get playing. Some of these are essentials that any drummer needs, while others are specialized products to help you get the most out of electronic drums specifically.
Sticks
Every drummer needs sticks, of course, but did you know that major manufacturers make sticks specifically for electronic drums? Even premium mesh heads will still have more vibration than acoustic drums. These special sticks from Vic Firth and Zildjian are designed to minimize that vibration and protect your hands.
Throne
Just like acoustic drum kits, e-kits almost never include a throne. What kind of throne you choose is entirely personal preference, but given how much time you'll spend sitting on it, there are few pieces of hardware with more importance to your well-being. TAMA makes a very popular go-to option in the traditional round-top shape. If you're looking for more comfort for those all-night practice sessions, consider luxury options like this Roc-N-Soc throne in a comfortable bicycle-style shape.
Headphones
Even the best digital samples will only sound as good as the headphones you use. Rather than relying on bass-heavy consumer headphones or earbuds, your best bet will be studio headphones with a more accurate balance of frequencies. Best-selling choices from top brands include the Audio-Technica ATH-M20X, Sony MDR-7506 and Sennheiser HD 280 Pro. Another benefit of studio headphones is that they often have longer cables that won't get in your way when playing.
Electronic Drum Amplifier
As we've said, a great benefit of e-kits is their ability to output sound through headphones or into DAWs. But let's be honest—you're a drummer, and sometimes you just want to make some noise. Dedicated e-kit amplifiers are great for band practice, jamming at home without headphones or monitoring your sound on stage. They're specifically designed to have the right mix of lows and highs to make e-kits sound their best. The Simmons DA50B and the Roland PM-200 are both great choices for personal monitors. They each have an input for your e-kit as well as an input for an MP3 player or other sound source to play along with, and the DA50B also has Bluetooth connectivity. When you need a more powerful amp for performing, the Simmons DA2012B advanced drum amplifier has 2,000 watts of peak power. It can even integrate with another speaker of the same type for stereo sound.
Cables
For an electronic drum kit player, being caught without your cables is a huge blunder. Don't ruin a gig over such a cheap item. Consider buying spares of your 1/4" cables and USB cables to keep in your gig bag and at home for peace of mind.
A Final Word
That covers the best electronic drum sets for the most common applications. But with how fast the industry moves, any list is bound to become incomplete in short order. If you have any more questions, or if you're interested in an e-kit you don't see here, feel free to ask an associate at your local Guitar Center store, or contact our Call Center. They'll always be ready with the most up-to-date info.
Learn to Drum with Drum Lessons
Did you know that Guitar Center offers one-on-one drum lessons for players of all skill levels? Our expert drum instructors will work closely with you to tailor your lessons to your musical tastes and goals. Whether you're a beginner learning your first rudiments, or a more experienced player looking to grow, we're here to help.