Description
Alesis designed the Strike Pro SE electronic drum set to push the limits of what an e-kit can be. These flagship e-drums feature a unique, full-size 20″ kick drum for incredible feel, impact and presence, latest-generation mesh heads for unequalled response, and the most capable Alesis module ever, all in a package that's dripping with visual flair. Add five large cymbal pads with rubber coating for comfort and volume control, and the result is a kit deserving of the Special Edition title.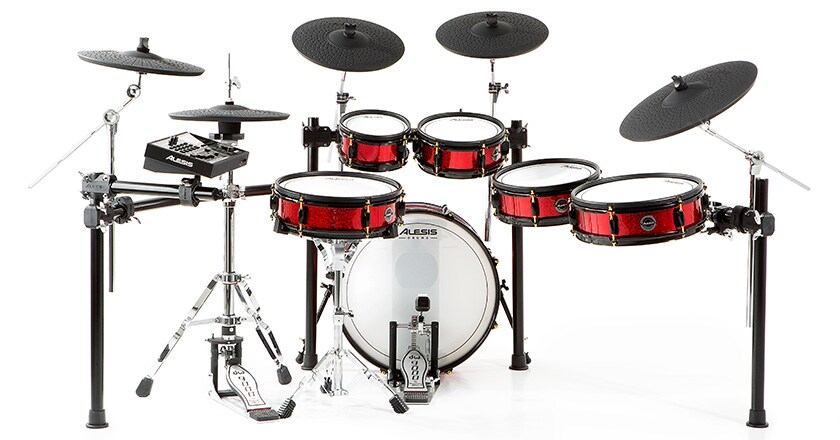 The flagship Alesis e-kit, kicked up another notch
The original Alesis Strike Pro e-drums were revolutionary in their own right, featuring all-new drum and cymbal design, plus the powerful Strike Pro module. The Strike Pro SE improves on that legacy even further. This kit uses dual-zone mesh heads for the 14″ snare and 8, 10, 12 and 14″ toms, meaning their response is faster, more natural and easier-playing than ever before. And to match the full-size drum pads, this kit also includes a spacious 16″ ride, three 14″ crashes and a moveable hi-hat, plus a 20″ kick drum with a full-size resonant shell.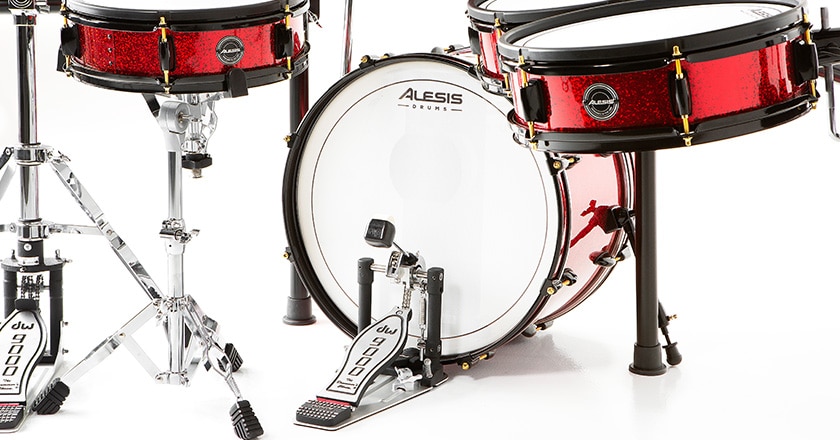 Real stage presence from a full-size electronic kick drum
At the center of the Alesis Strike Pro SE e-kit is the innovative full-size kick drum, a trigger that looks and feels like an acoustic drum. Gone are the days of struggling to pound out kick patterns on small rubber pads—this bass drum has a 20″ diameter and matching shell with realistic depth, meaning your feet will feel at ease right away, even if it's your first electronic drum set. And there's no need to be bashful about using your electronic kit in a performance situation, as the red sparkle finish on this drum will anchor your kit with plenty of stage presence.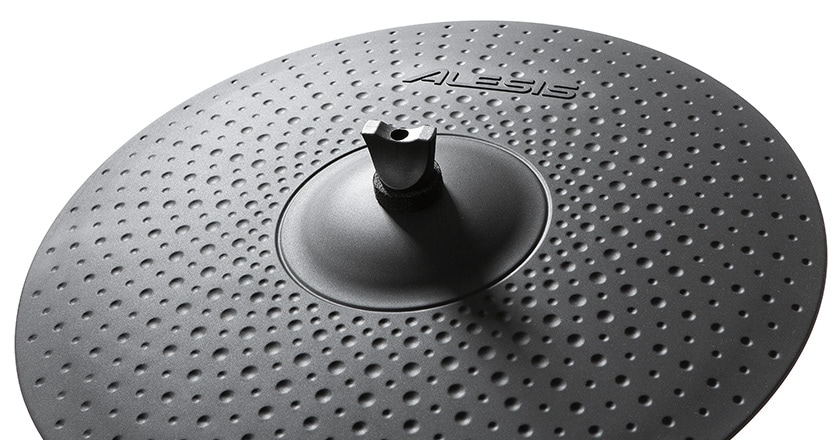 Five next-generation cymbal pads including spacious 16″ ride
The triple-zone Strike Pro SE 16″ ride, 14″ crash and 14″ movable hi-hat cymbal pads are covered with a new, thick, comfortable rubber that creates the perfect blend of feel, control, bounce and volume. This model includes three crash pads so you can sample a variety of sounds on one kit, giving you the freedom to vary your fills and accents. These advanced cymbal pads also offer a larger bell area for enhanced playability, especially for the ride cymbal, along with a "hammered" look that mimics acoustic cymbal texture. Plus, they're much quieter than traditional e-cymbals, perfect for late-night practice sessions when volume needs to be minimized.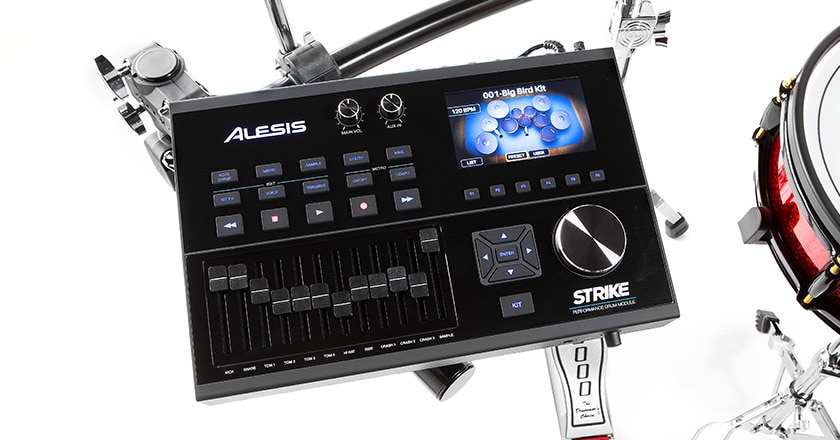 The most advanced Alesis module ever
The Strike Pro Module is the most versatile and capable module Alesis has ever offered, with a sound library of 136 custom kits made from over 1,800 instruments and 45,000 samples. The module has onboard sampling capability, 16GB external card storage and USB/MIDI connectivity, which you can use in conjunction with your favorite music production software, as well as the powerful Strike Software Editor, to make this e-kit uniquely your own. Assemble your own custom samples into multiple velocity layers and round robin instruments to create the perfect drum kit. Transfer it onto the module via USB, and you'll have your signature sound at your fingertips. Thanks to the 4.3″ color LED screen, you can keep track of these settings and choices at a quick glance.
Premium acoustic looks from an advanced e-kit
Just like lugs on acoustic drums, the Strike Pro SE special-edition lugs are attached directly to the premium hybrid wood shells, allowing direct adjustment of head tension with a regular drum key. The realistic progressive tom sizes, full-size snare and special-edition kick combine with the shells and hardware to create an immersive electronic drum experience. And with striking black hardware, gold SE tension rods and the visually distinctive striped mesh heads, this kit looks as good as it feels.