Building a home recording studio enables you to create whenever inspiration strikes. Anyone and everyone can easily put together a home music studio setup, and you don't need a lot of gear or money to get started. All it takes is a few home studio essentials to make full-fledged, studio-quality tracks from your bedroom, home office or basement. With home recording studio equipment being cheaper and more accessible than ever, there's never been a better time to produce beats, record music or create a podcast. In this article, we'll help you choose the best recording equipment to get your home studio set up today.
Looking for a quick guide to the best podcasting gear? Check out our podcast equipment buying guide.
Table of Contents
How to Buy a Computer for Home Recording
How to Buy a Digital Audio Workstation (DAW)
   Avid Pro Tools
   Logic Pro X
   Universal Audio LUNA
How to Buy an Audio Interface for Home Recording
   Computer Connectivity
   AD/DA Converters
   Inputs and Outputs (I/O)
   Microphone Preamps
   Expandability
How to Buy Monitoring Systems for Home Recording
   Headphones
      Closed-Back Headphones vs Open-Back Headphones
   Studio Monitors
      Subwoofers
      Studio Desks, Monitor Stands and Isolation Pads
How to Buy Microphones for Home Recording
   Large-Diaphragm and Small-Diaphragm Condenser Microphones
   Dynamic Microphones
   Accessories
      Shockmount
      Pop Filter
      Reflection Filter
How to Buy MIDI Controllers for Home Recording
In Summary
How to Buy a Computer for Home Recording
In decades past, recording high-quality sound used to require a lot of expensive hardware and was confined to studio spaces built for recording. But the invention of computers and digital recording software made it possible to record music in the comfort and privacy of your own home. If you're able to read this article, we are going to assume you have access to a computer. If you're reading this on your phone or tablet, you're in luck. There are plenty of options to record with your smart devices, too. You don't need the latest and greatest computer to record music—though that certainly wouldn't hurt. For most people, you can use the computer you already have—whether it runs Mac OS or Windows.
Take note of your computer's specs and make sure that they meet the minimum requirements of the hardware and software you're considering. Also, take a look at your connection options for peripherals. Your computer most likely has FireWire, USB-C or Thunderbolt.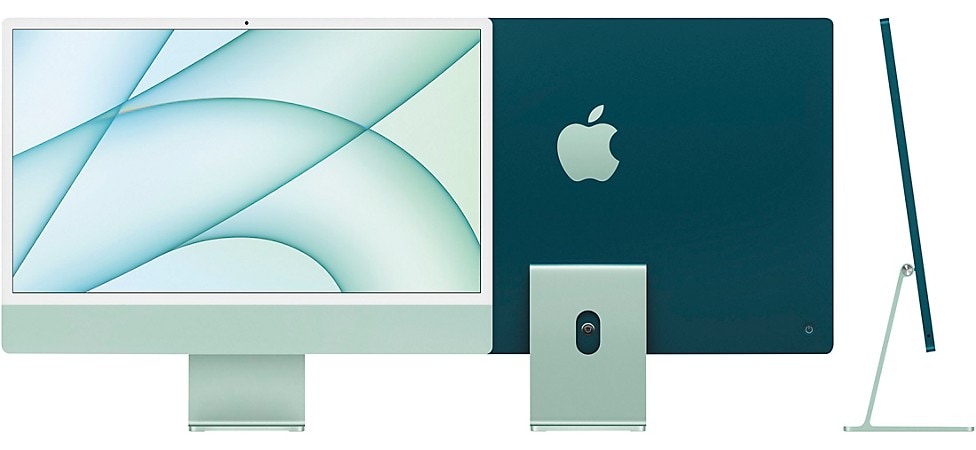 Pictured: Apple iMac 24" with Retina 4.5K 8 core M1 
Bottom line: If you're on a budget, use the computer you have and get going. If you have some extra money to put toward upgrading, invest in external storage and more RAM. If money is no object, get a computer or laptop with a fast CPU (central processing unit), and plenty of memory and storage with the capability to expand.
How to Buy a Digital Audio Workstation (DAW)
Before the invention of computers and recording software, you needed a large mixing console and tape machine to record multiple tracks of audio. A DAW is a computer-based tape machine and mixing board. All DAWs act as your control center and generally serve the same basic functions. DAWs give you the tools you need to record multiple audio tracks—whether it be external sources you capture with a microphone or internal software instruments you trigger via MIDI (we'll get more into MIDI controllers below). DAWs enable you to arrange and edit those tracks. And just like a hardware mixing board, a DAW allows you to adjust the levels of your tracks so they sound right together. DAWs also let you use mixing tools, including applying EQ (equalization and sculpting of sound frequencies) and compression (the evening out of volume dynamics), and adding spatial effects like reverb and delay (echo).
Recording software enables you to convert a performance or sound from what it is into what it should be. A DAW puts the right set of tools at your disposal, letting you take creative command and turn your vision into reality. There are plenty of free options out there—like Apple's GarageBand, Avid Pro Tools | First, Ableton Live Lite and many more—that will familiarize you with all the basic tools and functions of their flagship counterparts, which we will cover below. Other popular choices include PreSonus Studio One, Steinberg Cubase, FL Studio and Propellerhead's Reason.
Avid Pro Tools
Since first appearing in the 1980s, Avid Pro Tools has become an industry standard software suite. You'll find it in most larger studios, and it is widely used in film and television production. Pro Tools provides professional-grade features and plug-ins for the highest-quality audio standards. While those new to recording may find Pro Tools to be a relatively complex program, its powerful editing and routing capabilities make it a worthwhile investment of both your time and money.
Logic Pro X
If you're a Mac user, you already have free access to Apple's GarageBand. Learning in GarageBand is a great option. GargeBand's user interface, main operations and keyboard shortcuts are virtually identical to Apple's full-featured, professional-grade DAW, Logic Pro X. This lets you seamlessly transition if and when you decide to upgrade. Logic, as the name implies, is a very intuitive program, and many users feel it has less of a learning curve compared to Pro Tools. Plus, Logic is loaded with built-in software instruments, a very realistic and quickly customizable virtual drummer, vocal-tuning capabilities and much more. The only downside to Logic Pro X is it is only compatible with Apple computers.
Universal Audio LUNA
If you have a Thunderbolt-based Universal Audio interface, you will have free access to their Mac-based workstation, LUNA. The Universal Audio ecosystem of products (including UAD-2 plug-ins and Unison mic technology) is renowned for delivering authentic models (virtual recreations) of classic analog hardware. Building on those strong sonic capabilities, LUNA takes it a step further by closely mimicking the workflow and immediacy of using analog hardware. Unlike any other DAW, LUNA is able to utilize the onboard DSP of their interfaces to make editing and processing lightning fast.
Lean more about LUNA in our exclusive interview with Lev Perry, UA's Director of Product Management.
Bottom line: There's no "right" or "wrong" DAW. It mostly comes down to preference. There are plenty of free options available that familiarize you with the functions and workflow of the full-featured versions so you can test which one best fits your needs and preferences.
How to Buy an Audio Interface for Home Recording
An audio interface serves as the hub for all of your necessary connections. Unless you're recording to tape, you're going to need one. In your home recording studio setup, an audio interface is likely the gear purchase that will require the most thought. In addition to other features, the price of an audio interface is determined by the quality of its AD/DA converters, its array of inputs and outputs, and the quality/quantity of microphone preamps. Brands like Focusrite, who make the iconic Scarlett family (now in it's fourth generation), Universal Audio, known for their powerful Apollo X line-up, as well as other industry leaders like PreSonus and Apogee, offer some of the best audio interfaces for home studio use. The breakdowns below will help you narrow down your choices.
Computer Connectivity
The connections on your computer will be the first thing you want to check when shopping for an audio interface. These connections will determine compatibility and speed. Most modern interfaces are compatible with both Mac and Windows. FireWire is being quickly phased out, but you will still find interfaces, mostly on the used market, that support this format. USB 2 devices are still common, but many companies are moving toward faster connections like Thunderbolt, USB 3.0 and USB-C. These modern connections offer low-latency recording, which means less delay for real-time monitoring, overdubbing and effects processing.
AD/DA Converters
The main task of an audio interface is to convert analog sounds from microphones and line/instrument inputs into a digital signal that your computer can process. The audio interface also converts the digital signal from your computer back into an analog signal that you can hear through your headphones and/or monitors. This process is called analog-to-digital and digital-to-analog conversion, or simply AD/DA conversion.
Even if you're only creating with software on your computer without any external sounds, aka working "in the box," you're still going to want to have an audio interface for proper monitoring. The built-in AD/DA converters that lead to the headphone output jack on your computer, laptop or iOS device simply don't provide pro-quality audio for you to make critical mixing decisions.
Inputs and Outputs (I/O)
The number of inputs and outputs of an audio interface, or the I/O, will determine how many sources you can record at the same time, how many performers will be able to listen to themselves at once, and how many playback systems you can feed to and split between. The types of inputs on the interface—XLR, 1/4", TRS, MIDI, etc.—will determine what kind of sources you can record, and what type of cables you need. Microphones connect to an XLR cable, which will plug into an XLR input on your interface. Many controllers, keyboards and sequencers connect to your interface via a MIDI connection—though many can connect directly to your computer via USB.
Microphone Preamps
If you'll be recording multiple microphones, you'll want to pay particular attention to the number of mic preamps—not just the line level TRS, 1/4" instrument or direct-in or (DI) inputs—available on the interface. Mic preamps boost the low signal of microphones or Hi-Z sources to a usable line level. Preamps are sometimes standalone units or built into a mixer. If you're using a condenser microphone, you'll need to make sure those preamps also supply the necessary phantom power required to use those mics. Preamps found on entry- and mid-level interfaces, like the popular Focusrite Scarlett series, generally offer a clean and neutral sound suitable for most situations. As you go up in price, or look to "outboard" or external preamps, those tend to offer more color (distinct tonal traits), detail and saturation (desirable and pleasant-sounding levels of distortion). Popular outboard preamps include the Universal Audio SOLO/610 with all-tube circuitry, as well as Focusrite's transformer-based ISA line of mic pres originally developed by Rupert Neve.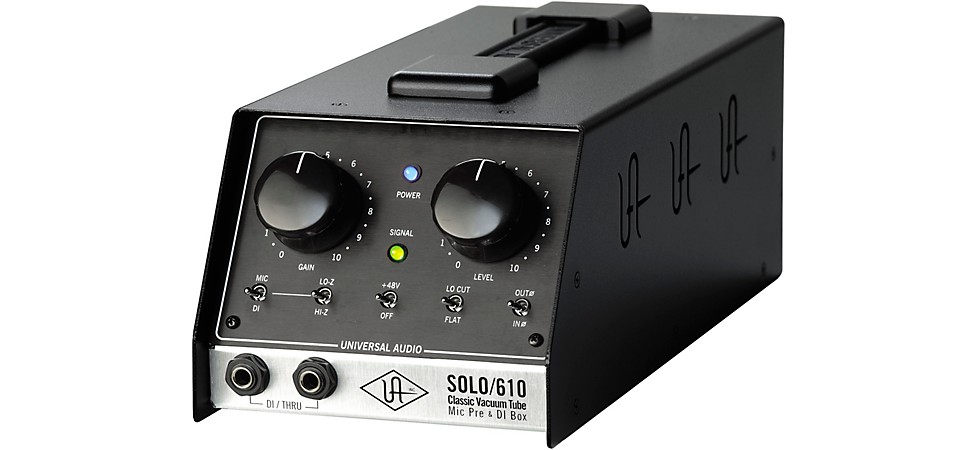 Pictured: Universal Audio UA-S610 SOLO/610 
Expandability
If you're just getting started in home recording, and possibly even music altogether, it may be a challenge to think far into the future and try to forecast your needs. This is where expandability comes into play. If you're recording a full band or you're building a home podcast studio with multiple hosts or guests, you'll need to start with an interface with plenty of inputs and outputs. But if you want to start small and expand as your needs grow, you'll need an interface with optical/ADAT inputs. These connections allow you to add on other components to expand the number of inputs you can record at once.
The Focusrite Scarlett OctoPre gives you eight extra neutral-sounding mic/line inputs without breaking the bank. However, if your budget allows you to comfortably upgrade to an entirely new interface as your needs change, you don't necessarily need to look for an interface with these expandability options.

Pictured: Focusrite Scarlett OctoPre 
Bottom line: An audio interface is the portal for getting sounds in and out of your computer. Nowadays, even the most affordable options deliver great-sounding AD/DA converters and transparent sounding mic preamps—though there are definitely noticeable differences in quality in higher-priced models. The main sticking points to look out for are compatibility with your computer and your input and output (I/O) needs—including mic preamps and headphone outputs for monitoring.
Need some more help? Check out our audio interface buying guide.
How to Buy Monitoring Systems for Home Recording
In music, the dividing line between "okay" and "perfect" is often very subtle. When recording, composing and mixing, a reliable reference—whether it be studio monitors or headphones—is crucial to creating depth, width, texture and color with precision and accuracy. Unlike consumer earbuds and hi-fi stereo systems that often convey a hyped sound that enhances high and low frequencies, studio reference headphones and monitors deliver a flat sound intended to be tonally neutral. This lets you hear your tracks as they are, empowering you to make critical mixing decisions that will better translate from one listening environment to another.
Headphones
While most studios have near-field reference monitors, a good pair of headphones is all you need to start making music at home. If you're mixing in an untreated room—with bare walls that may reflect sound and interfere with the accuracy of what you're hearing—headphones take any less-than-ideal acoustics out of the equation. Whatever headphones you get, you're going to want to check your mixes on different playback systems—including your car, your phone and different pairs of headphones—to get an idea of how the sound you hear out of your headphones translates to other common playback systems.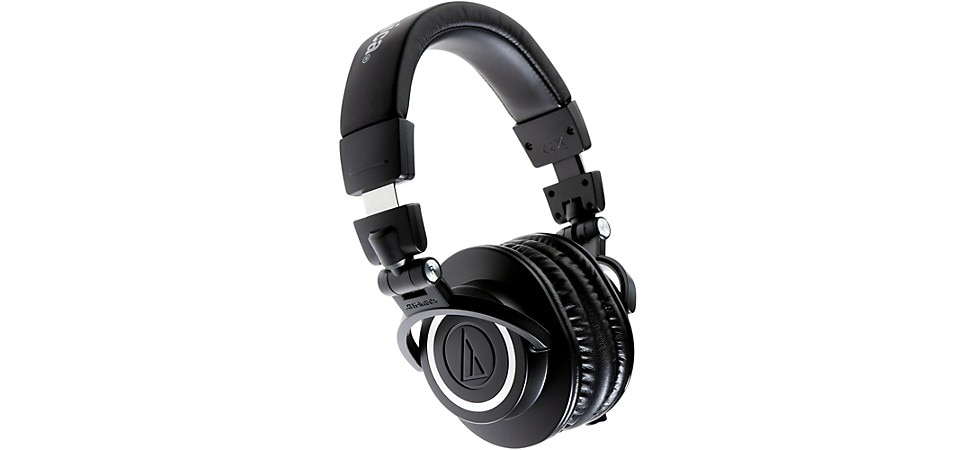 Pictured: Audio-Technica ATH-M50x Headphones 
Closed-Back Headphones vs Open-Back Headphones
Monitoring headphones are available in either closed-back or open-back models. Both have their pros and cons for mixing and recording/overdubbing—often referred to as "tracking." It'll come down to preference and what is a priority for you. A closed-back design, like Audio-Technica's ATH-M50x monitoring headphones, prevents sound from "bleeding" into your microphones while tracking. However, some performers prefer an open-back design when recording to keep a live energy and prevent a feeling of being "closed-off." A quick fix you'll often see people do while tracking with closed-back headphones is slip one side off of their ear. For mixing, many people prefer open-back headphones, like the AKG semi-open K240 studio headphones, which tend to provide a natural sound more akin to listening to speakers. Though, if you're often mixing in noisy environments, you will benefit from the isolation some closed-back headphones provide.
Studio Monitors
Recording studio monitors allow you to more precisely place sounds in the stereo field and determine how the full range of your material—from low-end "thump" to percussive high-end transients—makes your music feel. What are some things to look for when shopping for studio monitors? First, you'll want to consider your music studio room. Your monitors are only as good as the space you place them in. Before investing in studio monitors, you'll want to seriously consider putting up home studio acoustic treatment. Acoustic foam and baffles help tame unwanted reflections and resonances. This makes your home studio more suitable for tracking and mixing. You'll get the most bang for your buck by putting up bass traps in the corners of your room. This is where low-end frequencies build up and can plague your recording or wreak the most havoc on your mixes.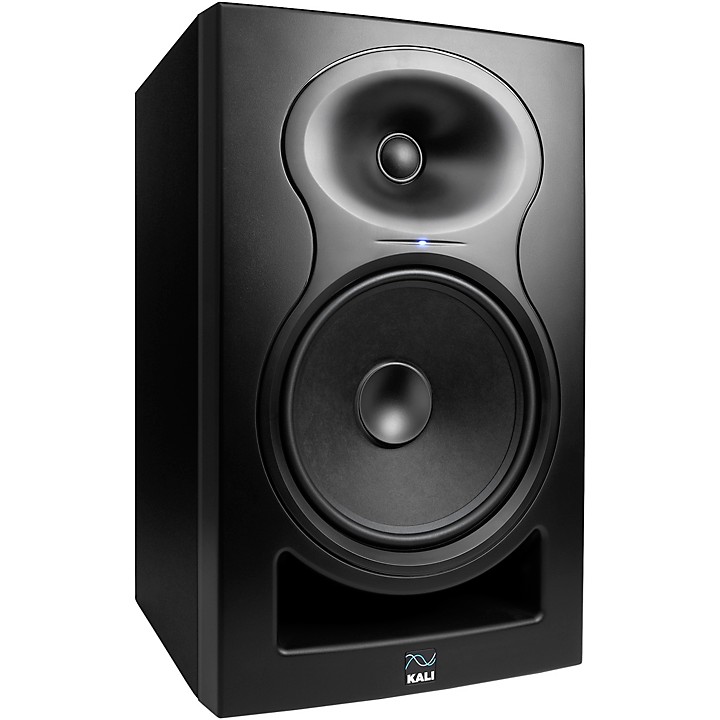 Pictured: Kali Audio LP-8 V2 8" Powered Studio Monitor
Some of the best home recording studio monitors you can find on a budget are the Kali Audio LP-8 monitors. They feature a 3-D Imaging Waveguide that delivers incredible accuracy at an affordable price. Another popular and extremely accessible option for active monitors is the KRK ROKIT Series. With their instantly recognizable yellow drivers, KRK is a popular choice among electronic musicians, rappers and producers. The latest generation of ROKIT monitors also provide DSP-powered room correction, which are EQ filters that partly compensate for nonideal, but sometimes unavoidable, placement of monitors right up against walls or in the corner of a room. Moving up slightly in price range, ADAM Audio's A-Series offers an excellent price-to-performance ratio that makes them a favorite among both pro and project studios. ADAM Audio's unique X-ART ribbon tweeter provides extended high-frequency detail without fatiguing your ears.
Subwoofers
If you're working in rap, hip-hop or other bass-heavy music, a subwoofer will help you properly dial in the extended low frequencies of your mix. Most 5" studio monitors only reach down to frequencies of 40–50Hz. Adding a subwoofer allows you to make sure the low end is accurately represented while mixing. It also empowers you to make correct mixing decisions and clean up any deep bass issues that may otherwise go unnoticed. Again, however, if a subwoofer is part of your setup, you will want to make sure your room is properly treated.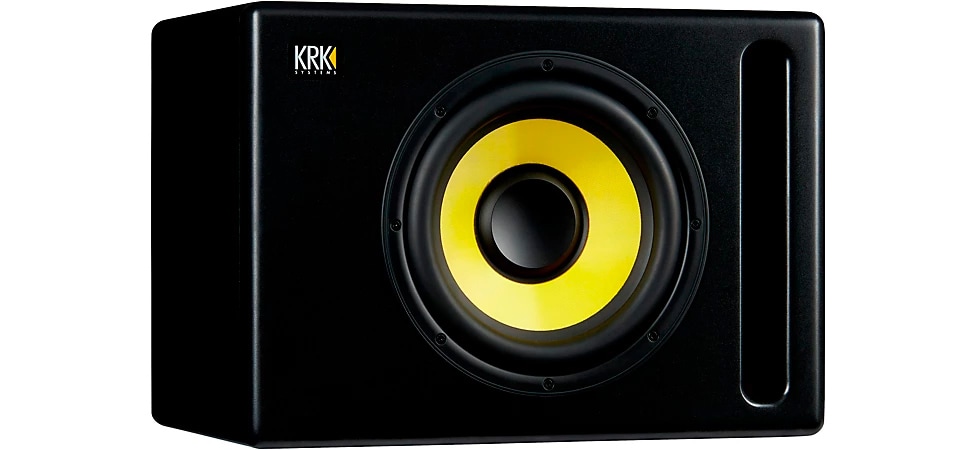 Pictured: KRK S10.4 10" Powered Studio Subwoofer
Studio Desks, Monitor Stands and Isolation Pads
There are desks specifically made for recording music. Many of the desks have spaces with special hardware built in to hold rack-mountable audio interfaces, power conditioners and other outboard gear. One of the other main purposes of a studio desk, as well as speaker monitor stands, is to put your reference monitors at ear level. The optimal position, or sweet spot, for your speakers is an equal distance from each other and you (forming an equilateral triangle), with the space between the speaker woofer and tweeter aimed toward your ears. Isolation pads decouple, or separate, your speakers from your desk so they are unable to excite or send acoustic energy into your desk and create frequency resonances not actually in your music.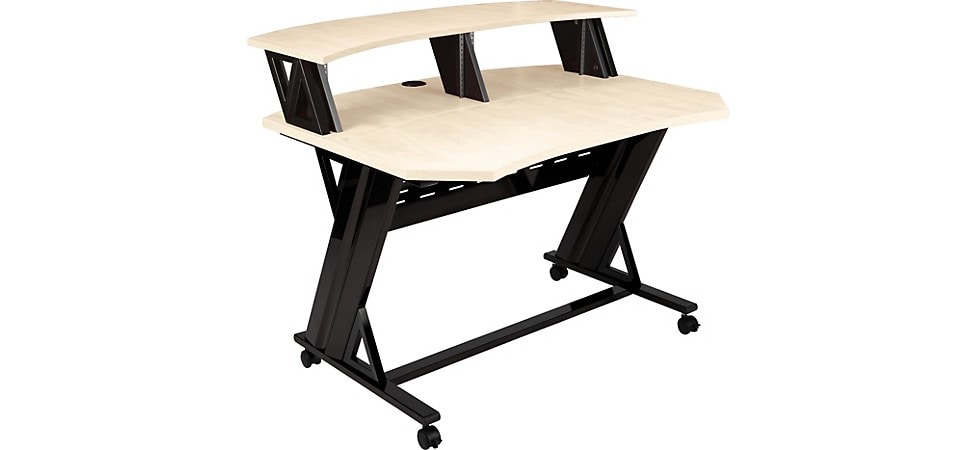 Pictured: Studio Trends 46" Studio Desk 
Bottom line: A proper set of reference monitors or headphones is vital for getting an honest representation of your material. Headphones are a must, and when you can get a set of monitors, ensure your room has some level of acoustic treatment—because a great pair of speakers in a bad-sounding room is like listening to a bad pair of speakers. Make sure what you hear is what you get—and what your listeners hear is what you intended—by carefully learning the characteristics of your speakers from checking how your mixes translate to other playback systems. One of the best ways to get to know your monitors and your room is to listen to music that you're intimately familiar with. Grab some of your favorite recordings that you know inside and out, and listen to them on your new setup.
How to Buy Microphones for Home Recording
Recording software can do downright magical things to fix and manipulate what you record. The possibilities are truly endless. However, getting it correct at the source and capturing a performance with the right microphone placed in the right spot will save you hours of trying to fix things later in the mixing phase of production. So, what's the best home studio mic? Well, it depends on your application. If you'll only be working in the box with virtual instruments, you simply don't need a microphone. But if you're recording vocals, acoustic instruments or any other external sounds, there are a few main types of microphones to consider: condenser, dynamic and ribbon microphones. While ribbon microphones have seen a recent resurgence in popularity, for the purposes of this article, we'll primarily focus on condenser and dynamic microphones.
For more great mic choices, check out our comprehensive Microphone Buying Guide.
Large-Diaphragm and Small-Diaphragm Condenser Microphones
The go-to microphones for many studio recording applications are condenser mics, which tend to provide a more sensitive response for a fuller, more detailed frequency range than dynamic mics. Generally, large-diaphragm condensers are used for vocals and acoustic instruments. The Neumann TLM 103 large-diaphragm condenser is one of the best home studio microphones that, though not inexpensive, is just a fraction of the cost of their other "Holy Grail" mics, like the U67. Small-diaphragm condensers are typically used as drum overheads or for higher-frequency sound sources with a fast attack, or sudden change, in volume. A great choice for small-diaphragm condensers is Sterling Audio's SL230. It comes conveniently as a home recording studio package, complete with matching pair of SL230 mics, carry case and accessories.
As mentioned above in the Audio Interface section, most condenser microphones require phantom power for operation. What is phantom power? Phantom power is an electrical current, typically 48 volts, delivered from an interface, mixing board, external mic preamp or power supply to the microphone, providing its active electronics power. Nearly all audio interfaces will have this option built in as a button labeled "48V", which you can engage for microphone inputs.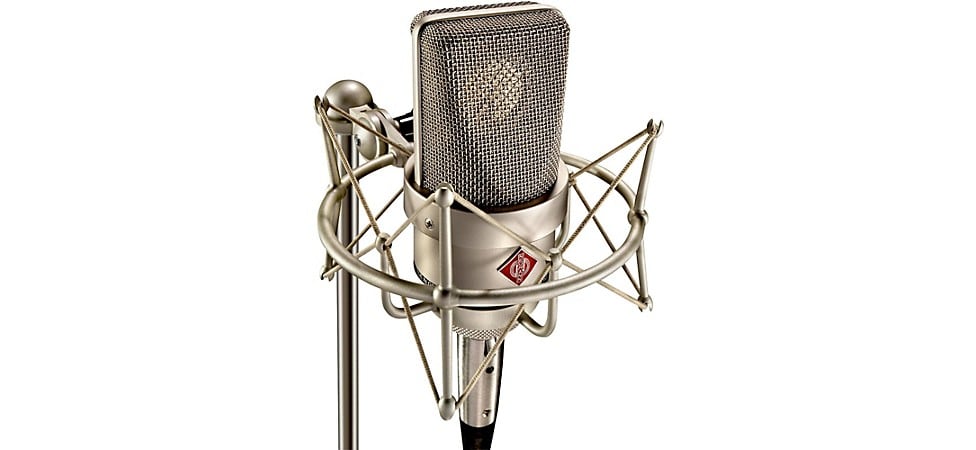 Pictured: Neumann TLM 103 Condenser Microphone
If you'd like to get a better understanding of how condenser microphones capture the magic, check out our article on "How Condenser Microphones Work."
Dynamic Microphones
Dynamic microphones are workhorses for live performance and stage work because of their affordability, rugged build, rejection of off-axis sounds and low handling noise. However, they can be just as common in the studio as condenser mics. While dynamic mics don't provide as much detail as condensers, their ability to handle high SPL (sound pressure levels) makes them perfect for miking the speakers of guitar and bass cabinets, kick drums, snares and other-high volume sources. The Shure SM57 dynamic mic, for example, is likely the most recorded microphone in history. It sounds good on just about anything, including vocals, acoustic guitars, cymbals and more. The closely related SM58 is also a go-to mic for vocals in the studio.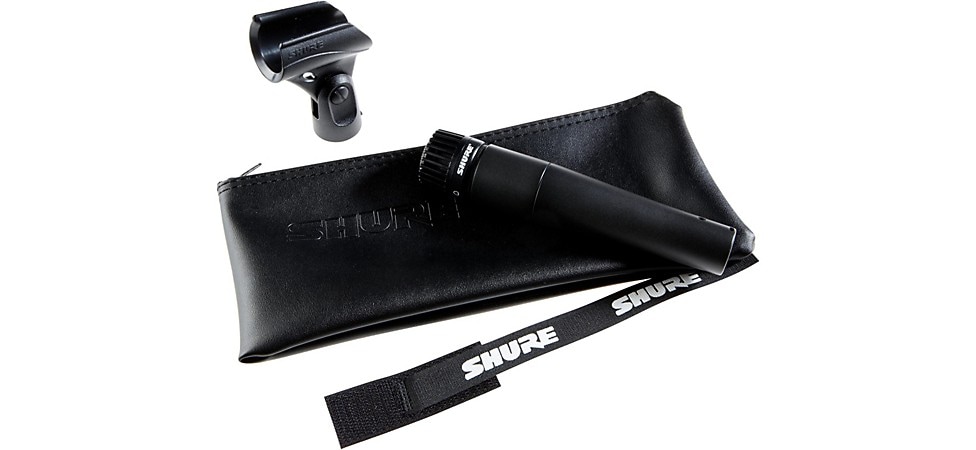 Pictured: Shure SM57 Dynamic Microphone 
Considering a USB microphone? Check out our guide to the best USB mics.
Want to learn more about dynamic mics? Check out our gear tip on "How Dynamic Microphones Work."
Accessories
In addition to the more obvious accessories like proper XLR cables and adjustable mic stands, there are a few other microphone essentials you need to ensure your recordings sound as clean as possible.
Shockmount
Since condensers are very sensitive, they are susceptible to external vibrations and need suspension mounting, or a shockmount, to isolate the mic from accidental handling or low-end rumble. These usually come included with the microphone, but sometimes you need to purchase them separately. Though not always necessary, many dynamic mics also benefit from a shockmount.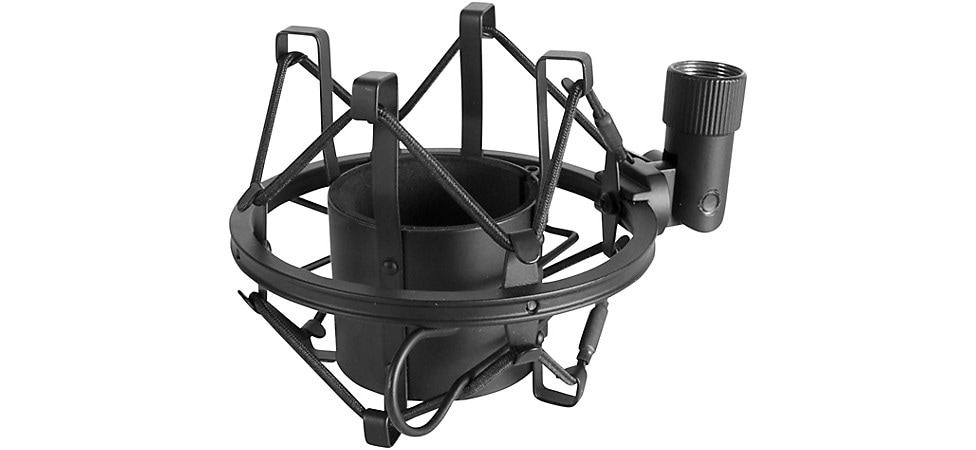 Pictured: Musician's Gear Symmetrical Studio Microphone Shock Mount 
Pop Filter
A windscreen, or pop filter, is a metal or cloth device placed in front of your microphone. A windscreen simply prevents vocal plosive sounds, or "pop" sounds, from overloading your microphone. The presence of plosive consonant sounds just screams amateur recording. So don't record vocals without one. Some mics, like the Shure SM7B microphone, even have a built-in pop filter and shockmount, which make them go-to mic choices for rock vocals and podcasting.
Pictured: Sterling Audio STPF2 Filter 
Reflection Filter
If you're recording vocals in an untreated room, you can drastically cut down unwanted echo and reverb with a reflection filter or isolation screen. These devices surround the back half of your mic, and are made of acoustic foam and other rigid materials. Reflection filters prevent some of the initial sound from going out toward the walls and, in-part, prevent those sounds from bouncing back into the mic.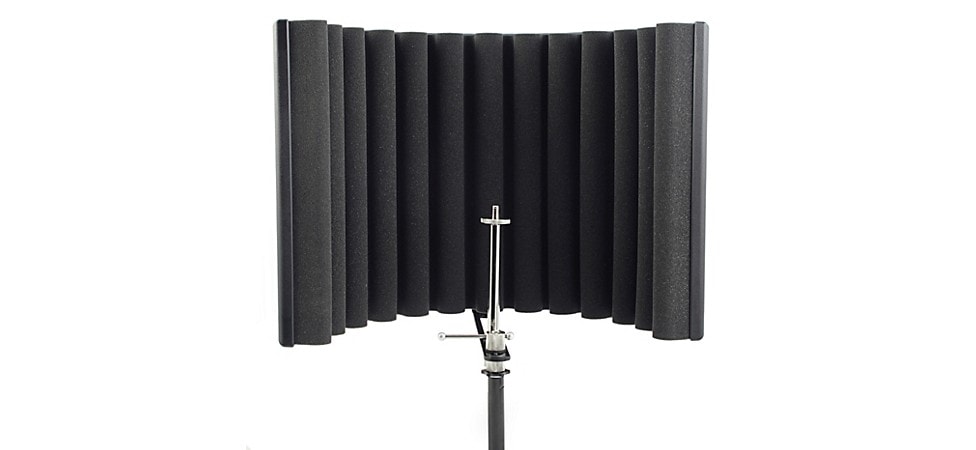 Pictured: SE Electronics Reflexion Filter X 
Bottom line: There are plenty of great microphones under $100 that can get you recording. Sure, mics that cost thousands of dollars will potentially offer more detail and color. But just like the best camera to capture a moment is the camera you have on you, the best mic is the one you have or can afford. Your ideas, energy and motivation to record can sometimes be as fleeting as a moment. You don't have to wait to own an expensive microphone or microphone collection to start capturing ideas and laying down tracks today.
How to Buy a MIDI Controller for Home Recording
Bridging the gap between you and your software, MIDI controllers act as an extension of you and your playing. MIDI keyboards and production controllers let you access all of your virtual instruments. Many of them also offer you control of parameters and basic actions within your DAW. When equipped with touch and velocity-sensing keys or pads, controllers enable you to infuse compelling dynamics, subtle feel and stirring emotion into each and every take.
Though keyboards and MIDI controllers look nearly identical, keyboards have their own built-in sounds and controllers simply send signals to your computer to trigger software instruments. Many keyboards, in addition to their onboard sound module, offer MIDI connectivity, and you can use them as you would a dedicated MIDI controller. Grid-based production controllers, like Akai's MPC line, feature square pads with a focus on triggering drum samples and loops. There are also options that provide both piano-style keys and pads, like Akai's MPK models and Novation's LaunchKey line, offering a nice bit of both worlds.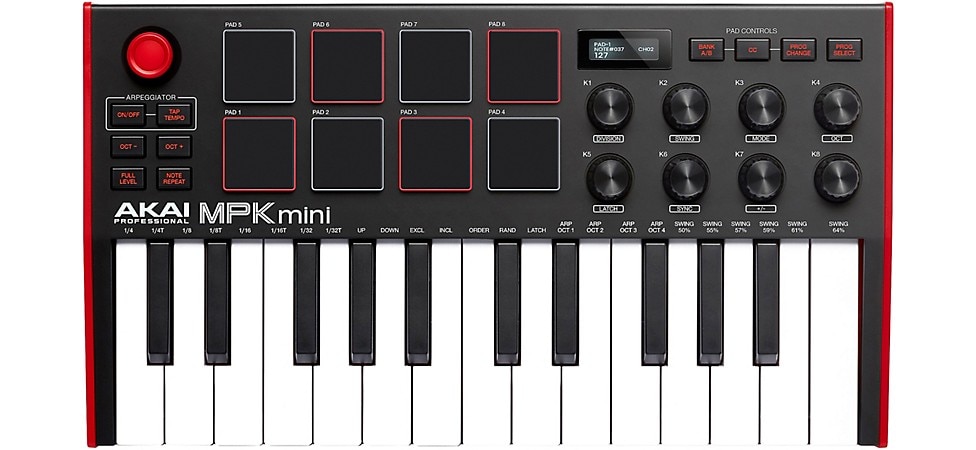 Pictured: Akai Professional MPK Mini MK3 
Bottom line: Your relationship with your gear is just as important as the gear itself. When working in the box, tools that enable you to get hands on become much more vital. Controllers act as the bridge between your performance and technology, allowing you to make software instruments sound more lively and expressive.
In Summary
Building the best home recording studio for you doesn't require a ton of home studio equipment. You can build a home studio design or setup with just a few key purchases. Much of the home recording studio software out there is free, so you can start experimenting right away. If you'd like to take the guesswork out of starting your bedroom music studio, Guitar Center also offers home recording studio bundle options at several price points. Or, if you'd like to chat with one of our expert Gear Advisers, they can help you put together the best home recording studio package for your needs. Nothing is holding you back from creating, capturing and sharing your music. So find your sound and start recording today.