Whether you're shopping for yourself or someone else, Guitar Center makes finding the perfect drum set fun and easy. The type of music you want to play, the features you want and your budget will help determine the type of drums you should get. Ultimately, the best drum set for you is the one that feels good under your drum sticks and sounds good to your ears. It all comes down to personal preference, and the only way to know what drums you prefer is to sit down and play different setups. Even if a certain wood or shell size is more traditional for certain music, that doesn't mean you have to get or stay away from a specific type of drum set. It does help, though, to have an idea of the basic characteristics of certain types of woods and shell sizes, as well as the benefits of key features.
This guide will help you understand the key components of drum sets, the differences between acoustic drums and electronic drums and help you choose the best drums for your budgets and needs.
Acoustic Drum Sets vs. Electronic Drum Sets
The first thing to decide when shopping for a drum set is whether you want an acoustic drum set or an electronic drum set. Both types of kits have a wide variety available from beginner to professional. Electronic drum kits, or e-kits, allow drummers to choose from many, sometimes hundreds, of different drum sets and percussion sounds. They can be played silently with headphones or through an amplifier. They have many beneficial applications, but for the purposes of this buying guide, we'll stick to acoustic drum sets.  
Interested in learning more about electronic drums? Check out our e-kit buying guide. 
Shell Packs vs. Complete Drum Sets
Two terms you'll hear often when shopping for a drum set are "shell pack" and "complete drum set." A shell pack is simply the drums by themselves, which includes rack toms, floor toms and a bass drum, and in certain instances, a snare drum. A shell pack is usually intermediate- to professional-level quality so this is a great option if you're upgrading from a beginner drum set. A shell pack doesn't include cymbals, bass drum pedal, hardware or throne. If you're shopping for shell packs as your first drum set, you'll need to buy your cymbals, hardware and snare drum separately. A complete drum set typically includes all of the necessary components to start playing drums, including a snare drum, cymbals, hardware, bass drum pedal, throne and sometimes even drum sticks. Complete drum sets are usually suited for beginner drummers and have a more affordable price.  
Drum Set Configurations
The configuration of a drum set refers to the number and size of the drums. Configurations often get named after the style of music they're best suited for, but any good drum set is versatile enough to tackle many different styles. However, many drum companies offer a diverse range of configurations and drum setups. These are just a few of the most common types you'll come across.
Standard
A standard drum set very often consists of a 5-piece shell pack featuring a snare drum, two rack toms, one floor tom and a bass drum. The toms are slightly larger in diameter and depth than the fusion configuration. You will most often find this configuration on complete drum sets aimed at beginner drummers. This configuration gives new drummers a good starting point to discover what sound they're looking for and is versatile for many styles of music.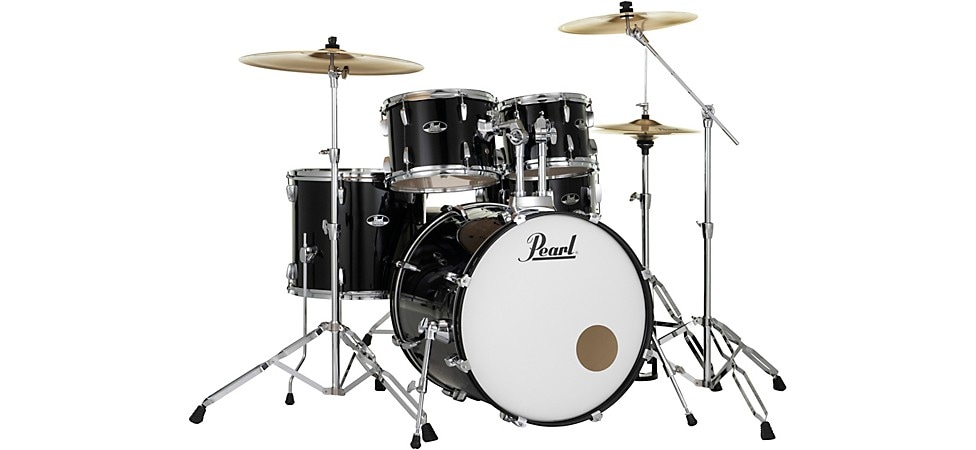 Pictured: Pearl Roadshow Complete 5-Piece Drum Set with Hardware and Cymbals
Fusion
A fusion kit is usually a 5- or 6-piece drum set featuring a snare, two rack toms, one or two floor toms and a bass drum. A fusion kit shares a similar configuration with a standard drum set, except the rack toms and floor toms are typically smaller in diameter, and, in some instances, have shallower depths as well. These shallow-depth toms are called "fast toms." You'll often find a fusion setup in funk, pop, hip-hop, R&B and rock music.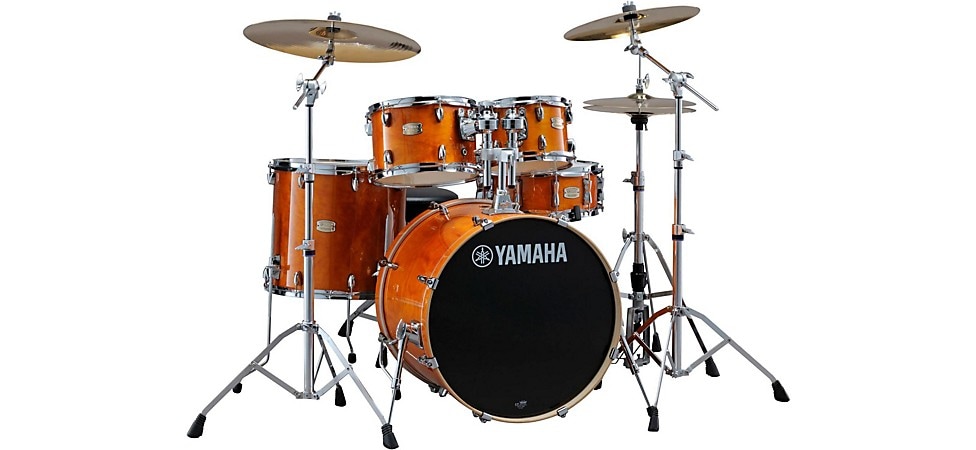 Pictured: Yamaha Stage Custom Birch 5-Piece Shell Pack with 22" Bass Drum
Rock
A rock configuration is usually a 4-piece kit featuring a snare, one rack tom, one floor tom and one bass drum. However, some rock kits include two rack toms or two floor toms. The sizes found in this configuration are usually larger, producing a lower overall tone that's associated with rock music. They are not limited to just rock, though, and can be tuned to fit many different styles.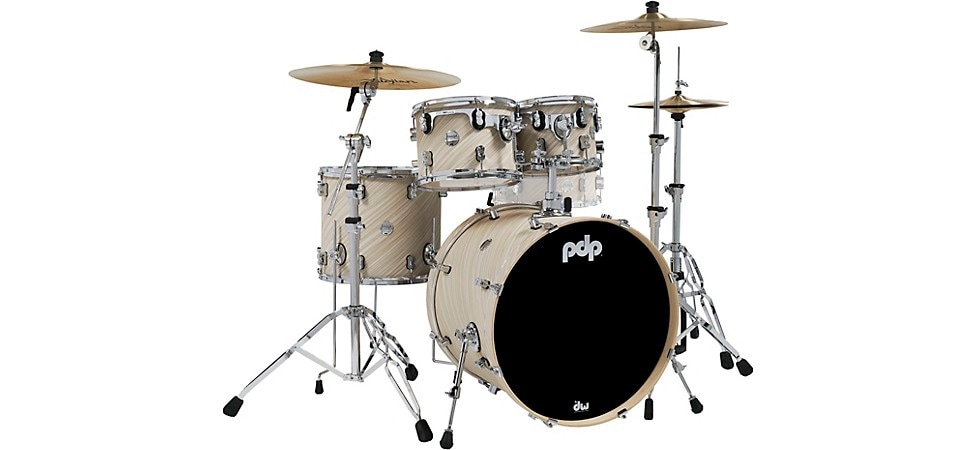 Pictured: PDP by DW Concept Maple 4-Piece Shell Pack With Chrome Hardware Twisted Ivory
Bop/Jazz
A bop kit is also referred to as a jazz kit or a jazzette kit. This configuration is usually a 4-piece drum set featuring a snare, one rack tom, one floor tom, and a bass drum. The shell sizes are small and produce higher tones typically found in jazz and bebop.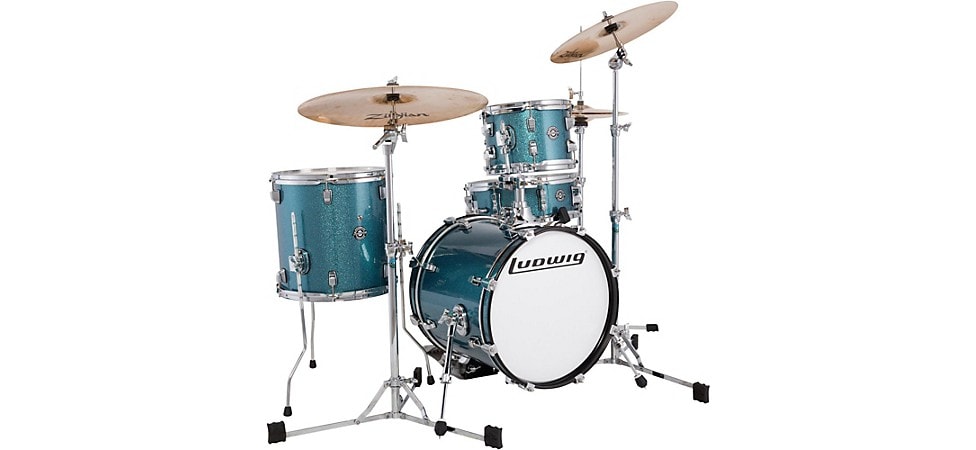 Pictured: Ludwig Breakbeats by Questlove 4-Piece Shell Pack
Drum Shell Materials
Just as there are many different drum shell sizes and setups, there are almost as many shell materials from which drums are built. Each material has its own unique sound and voice that shines in certain applications. Here are a few of the most common shell materials you'll find when looking for your own drum set.  
Maple
Maple is perhaps the most common wood used in drum manufacturing. Every drum company offers a maple shell. Maple is extremely versatile and delivers excellent resonance and ring. This resonance makes maple popular among drummers who play live.
Birch
Birch is the next most popular wood for drum shells. Birch offers lots of low-end punch and boosted high frequencies, making it great for recording and studio applications. Birch shells are also very loud, which also makes them a great candidate for playing live.  
Hybrid
A hybrid drum shell means the shell is constructed of two types of wood. A common hybrid shell configuration is maple and mahogany, or birch and walnut. These shells offer a combination of the sonic properties of both woods or create an entirely new sound.  
Other Woods
Other woods commonly found in drum making include mahogany, oak, cherry, walnut, gum, poplar, beech, purpleheart, ash, bubinga and bamboo. Each of these woods produces its own characteristic sound.
Non-Wood Shells
We typically think of a drum as being made of wood, but drums can be made out of many different materials, including steel, copper, brass, acrylic and fiberglass. Just like different species of woods, these drum materials create their own unique sound. Metal drums tend to be very loud and cutting. Acrylic drums are extremely boomy, but decay quickly. Fiberglass shells offer a controlled, focused, even sound.  
Snare Drums
As we've talked about previously, snare drums are often sold separately from shell packs but included in complete drum sets. Finding the right snare for your sound is as important as finding the right drums. Different diameters, depths, shell materials and even hoops can radically alter the sound of a snare drum. The most common and versatile snare drum sizes are 14x5.5" and 14x6.5". This is a good place to start. The same principles apply to snare shell materials as regular drum shells. Metal snares tend to be louder and offer more cut and ring. Wood snare drums deliver a fat sound with low end and warmth. It all depends on your personal style and taste.

Check out our snare drum buying guide to learn more.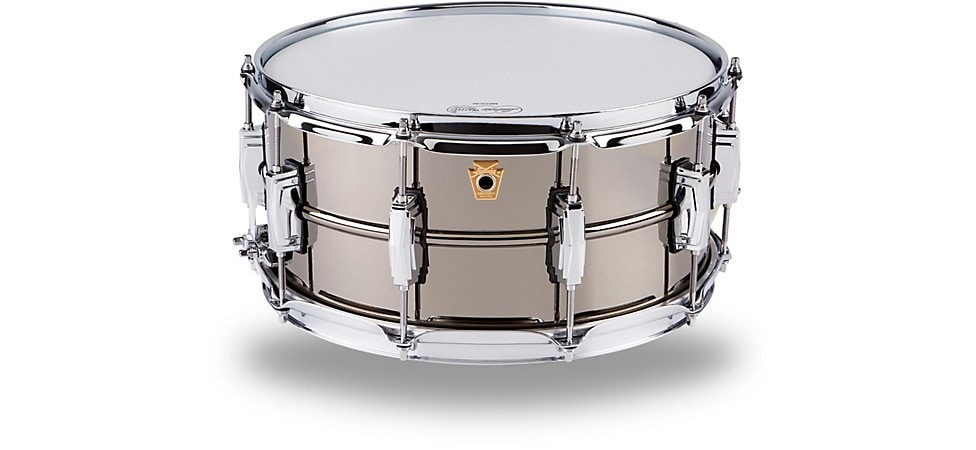 Pictured: Ludwig Supraphonic Black Beauty Snare Drum 6.5x14
Cymbals
Cymbals are an important component to the drum set. The main types of cymbals are hi-hats created by a pair, crashes, rides and effects (or FX) cymbals, which include Chinas, splashes, bells and more. A complete drum set, which includes cymbals, will usually come with a pair of hi-hats, one or two crashes and a ride. Cymbals included with complete drum sets are made for beginner drummers and are normally constructed from a B8 bronze alloy which is 92% copper and 8% tin. Higher-end cymbals are usually B20 bronze alloy with a higher tin content of 20%. B8 cymbals tend to have more high frequencies and brighter overall sound. B20 cymbals have a much wider variety of tones, ranging from very dark to very bright.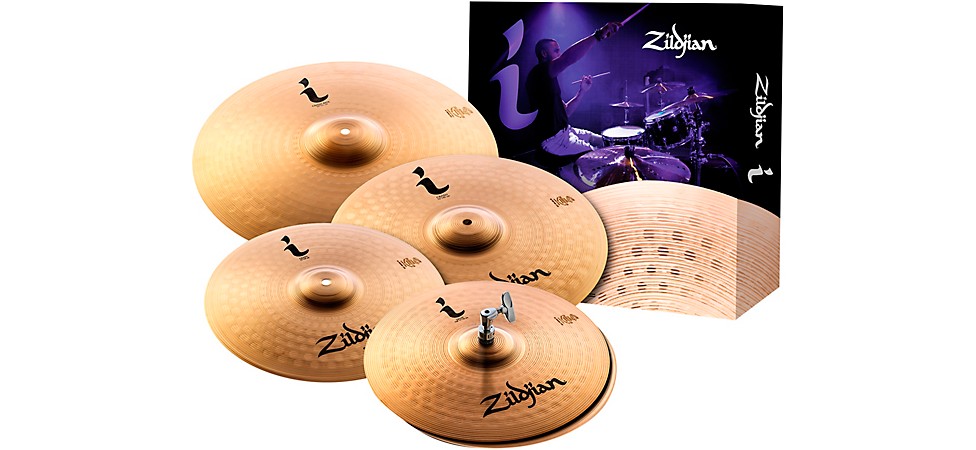 Pictured: Zildjian I Series Pro Cymbal 5 Pack
Hardware and Bass Drum Pedals
Hardware
Hardware is an umbrella term that refers to all of the different cymbal stands and metal attachments that hold up various pieces on the drum set. This includes cymbal stands, hi-hat stands, snare stands, tom stands and holders, and cymbal arm attachments. For every cymbal you have in your drum set, you should have a cymbal stand, either a straight stand or a boom stand with a telescoping adjustable arm. Hi-hat stands feature 2- or 3-legged versions, with the 2-legged type offering easier setup with a double bass pedal. Snare drums require their own special stand that holds the drum in a snare basket. Toms are either mounted to the bass drum on a tom holder or held in a stand very similar to a snare drum stand. Cymbal arm attachments can be clamped onto existing cymbal stands to hold smaller cymbals like splashes or bells, and help free up floor space.

Pictured: Gibraltar 8700 Series Hardware Pack
Bass Drum Pedals
Bass drum pedals are offered as either single or double pedals. Double pedals allow you to do more complex bass drum patterns without having to use two bass drums in your drum set. Bass drum pedals use one of four different drive types: strap, single chain, double chain or direct. Each type has its advantages and disadvantages, but it ultimately depends on what feels best for you.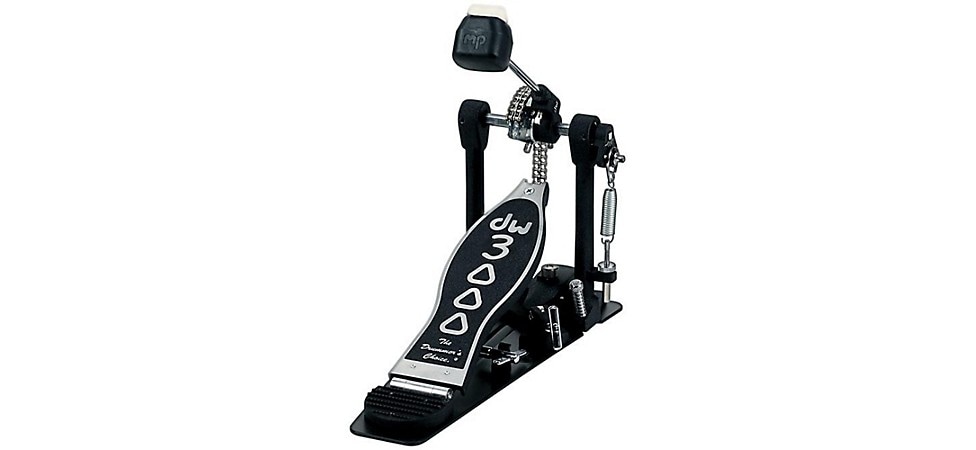 Pictured: DW 3000 Series Single Bass Drum Pedal
Trying Out Drums In-Store
If you need a pair of sticks, drum key or any other piece of gear or accessory to properly compare drums, ask a sales associate and they'll be happy to provide those for you to demo. Don't feel like you have to put on a demonstration of your talents to get a feel for the drum kit. If all you know is a basic beat or few rudiments, let them rip. Hear how those beats and fills sound, and how it feels to move around the drum set. If you haven't learned to play anything yet, you can pay more attention to the ergonomics and the finish of the instrument. See if the toms are adjustable for your comfort, and see if the look of the drums embodies you as a drummer.
Questions You May Have When Shopping
Don't be afraid to ask questions. Even if you've done hours of research on drum forums, you're not going to become a drum expert overnight. If a drum set you're looking at has a material or special feature that you're unfamiliar with, the sales associate can explain or quickly find you information on the benefit of that feature. The price tags on each drum set in the store also have bullets, which call out key features. These can include the shell sizes and materials, bearing edge angles, shell hardware types and any special features that make the drums unique. If you're unfamiliar with what's in the store or just need help to find drum sets or shell packs in your price range, you can also ask the sales associate to show you options for the best drum set under $1,000, the best shell pack under $700 or whatever your budget may be. Give yourself time to explore In certain Guitar Center locations, drum sets are located the Destination Drum Shop. The Destination Drum Shop features a diverse range of complete drum sets and shell packs from all of the top drum manufacturers. Even Guitar Center stores that don't feature the Destination Drum Shop have an extensive inventory of drums. It can be a little overwhelming, so take your time. There's no need to feel rushed. The sales associate can also retrieve drums that might be up on the shelves, so you can hear what every kit sounds like giving you the best comparison possible.  
Getting the Best Deal on Your Acoustic Drum Set
It never hurts to ask if there are any promotions or sales currently running, but our 45-day price-match guarantee takes the guesswork and haggling out of getting the best deal on drum sets or shell packs. At the time of purchase or any time within 45 days of your purchase, if you find the identical drums advertised by any authorized dealer—including Guitar Center—at a lower price than what you paid, just show us the ad and your original receipt, and we'll refund you 100% of the difference. Another way to save money on your new drums is by selling us old musical gear you have to trade up to a new kit. If you have a qualifying item you'd like to trade in, you can get 10% off your new setup, in addition to your trade credit.
Become a Better Drummer With Drum Lessons
Did you know that Guitar Center offers one-on-one drum lessons for players of all skill levels? Our expert drum instructors will work closely with you to tailor your lessons to your musical tastes and goals. Whether you're a beginner learning your first rudiments, or a more experienced player looking to grow, we're here to help.