false { "sourceCodeId" : "7700001", "sourceName" : "GCDIRECTSOURCECODE1", "sourceSegment" : "Direct", "profileZipcode" : "", "profileStoreId" : "", "profileStoreName" : "", "profileID" : "2125197582", "isInternational": "false", "isWarrantyShippable": "true", "isInternationalCommerceEnabled": "true", "currencySymbol": "$", "cookieLoggedIn" : false, "richRelevanceMode":"render", "richRelevanceApiKey":"9ed4604c5beebd43", "richRelevanceUserId":"", "richRelevanceSessionId":"8878a6fede0e90a3d991d07e78ce944a", "rrBaseUrl":"//recs.richrelevance.com/rrserver/", "rrChannelId":"-", "rrMobileChannelId":"fc5eedc2f1f5f7c9", "hashedUserIdForCriteo":"", "rrTimeout":"10000", "isEducatorAccount": "false", "sessionIsDC": "false", "fullyLoggedIn" : false, "isMobile":"true", "isProp65User":"false", "JSESSIONID":"", "showEloyalty": "true", "gcProExperience":"false", "enableStoreFinderService":true, "applePayEnabled":"false", "gcProApproved":"false", "gcProCheckout" : "false", "gcProStatus" : "NeverApplied", "gcProSplitCart" : "true", "callCenterNumber" : "866-498-7882" }

Tour the Facility
//stores.guitarcenter.com/search.html?serviceTypes=474
hasStudio
We offer the following types of lessons (all skill levels, ages 7 and up) in virtually any genre:
Learning to play music can be an amazing, life-changing experience. That's why we've designed our studios to be creative, comfortable places for learning and growing. Our fully-engaging lesson program provides a solid academic foundation and at the same time, encourages students to express themselves through music and helps them discover their inner artist.
Trusted Brand

Guitar Center has helped countless musicians reach their goals.

Comfortable Environment

Our studios provide a welcoming, non-intimidating environment.

Certified Teachers

Our instructors are highly trained experts with a passion for music.

Standardized Curriculum

All locations use the same curriculum, with well-defined milestones.

Convenient Hours

Schedule lessons when it's most convenient for you.
Designed to be comfortable and musician-friendly, our studios are acoustically-treated and stocked with state-of-the-art equipment to help you sound your best. Clean, well-lit lesson spaces have full-glass doors, creating an open atmosphere that facilitates engaging with other musicians and encourages a sense of community. And, since our studios are housed within our stores, you have access to our retail area for gear, incidentals, repairs and service–all under one roof.
We have studio locations throughout the country. Contact your local store for details.

Our dedicated instructors are fully screened and certified, with multiple years of experience in music instruction. They are truly experts in the instruments they teach, often with credentials from highly esteemed schools of music. With a positive, nurturing attitude, they motivate and inspire students to reach their goals.
For more information about our instructors, contact your local store.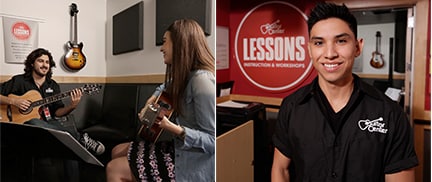 Take Advantage of Open Office Hours

Any time you need extra help with your musical performance, feel free to consult with an instructor during store hours.

Practice In Our Rehearsal Rooms

Our rehearsal rooms are professionally run, acoustically tuned and stocked with gear from top manufacturers. Available in select locations.

Attend Workshops & Clinics

No matter what your style or instrument, chances are we have a free workshop or clinic to help you learn more about it.

Be Part of a Jam Night

Our Jam Nights are a fun, casual way to meet and play with others. We match musicians of similar skill levels together.

Perform in a Rock Show

You'll be placed in a band with other musicians, learn three to five songs and ultimately perform a concert for your friends and family.