Simmons Titan 50 Electronic Drum Kit With Mesh Pads and Bluetooth
(31)
|
Q&A
|
Item #:

1500000375158
POS #:118167808
6-month special financing^ + $19 back in Rewards**
Learn More
Lease-To-Own Purchase Options
Learn more
Save on orders $499+ and get advice on drums from a Gear Adviser
Need Help?
Simmons Titan 50 | 5-Piece Electronic Drum Kit with Mesh Heads
Simmons Titan 50 Drum Kit Assembly
Titan Tone: Recording the Simmons Drum Library
Simmons Titan 50 Electronic Drum Kit With Mesh Pads and Bluetooth

Description
The Simmons Titan 50 delivers great playing feel and stick rebound, a collection of powerful drum sounds, onboard effects, Bluetooth and MIDI connectivity, a USB output for recording to your favorite DAW and a free app that provides training tools and other custom features. Since the groundbreaking '80s kits, Simmons has continued to innovate and evolve the technology, ergonomics and sounds of their electronic drums. The Titan 50 represents the pinnacle of performance for beginners and working professionals alike, and is available at an unbeatable value.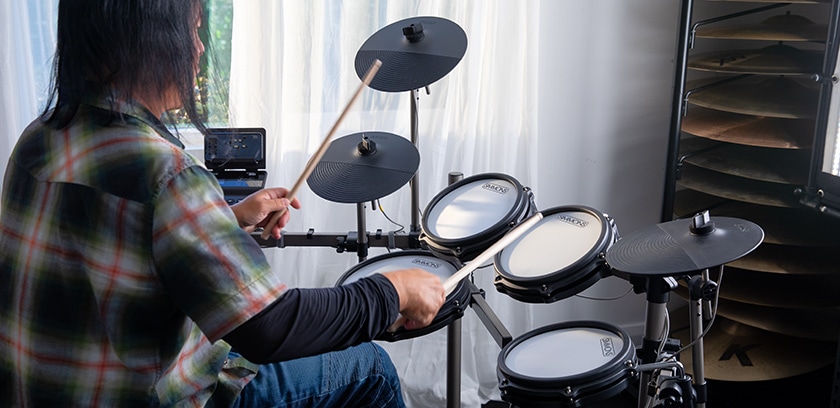 Perfect Pads
The Titan 50 provides a comfortable playing experience that mirrors that of banging away on an acoustic drum kit. This is a key advantage for beginners developing their drum strokes and technique, as well as for intermediates and professionals who play acoustic kits live, and then switch to an electronic kit for low-volume practicing at home. The Titan 50 starts with a large, dual-zone 10" mesh snare pad with rim shot detection that lets you adjust the head tension to your needs, and three 8" mesh toms with low-profile rims. All of the mesh heads are dual layer for durability and accurate feel (akin to conventional acoustic drum heads). The 6" kick pad offers enough impact space to work with both single and double pedals. The cymbal essentials are covered with 10" pads for hi-hats (with closed, mid and open sounds), a ride and a crash. If you're looking to expand your percussive artistry with a larger kit, the optional Titan 50 expansion pack adds another crash cymbal pad and an 8" tom pad.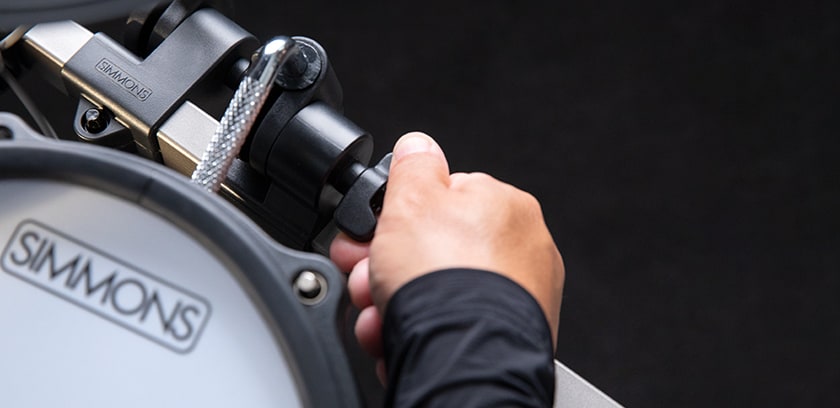 Rock-Solid Rack
Many rock drummers like to hit the drums hard—like John Bonham or Travis Barker hard. This isn't typically a problem on acoustic kits, but on an electronic kit with the drum pads clamped to a round tube, power drummers can easily smack the pads off-kilter. In many cases, this can mean stopping your performance or practice session, and resetting the pads to their proper positions. Bummer. But this is a scenario you won't have to worry about with the Titan 50. The pioneering steel, full-sized rack includes rectangular beams and adjustable clamps that prevent slippage and keep the pads set at their preferable positions—even under extreme pummeling. The rack allows ample space for the Titan 50 control module, and also includes a detachable tablet/mobile phone shelf to accommodate editing via the Simmons app.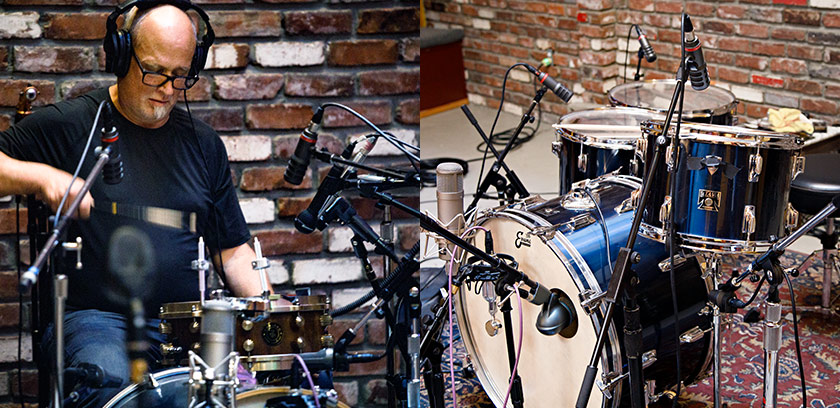 All-New Sound Library
Simmons committed to making the Titan 50 not only the best-sounding electronic drum set the company has ever produced—quite a goal, considering the Simmons sound defined an entire era of percussion—but also to produce one of the premier sample libraries available anywhere. The all-new sounds in the Titan 50 were sampled from the ground up in a large commercial recording studio to ensure ultimate realism, sonic impact, natural ambiance and dynamic sensitivity. When you sit down to play on it, the drum sounds will make you feel as if you were recording tracks in the best studios in the world, or performing live with all the resonance and wallop of rocking through a superstar's PA system. The totally re-engineered Titan 50 sample library includes 25 drum presets—as well as space for 10 user-constructed kits—and each selection offers near-effortless tweakability with EQ, reverb and compression. If you're a player who is always on the hunt for different drum timbres, never fear—the Titan 50 offers downloadable Sound Packs that provide alternate ROM sets.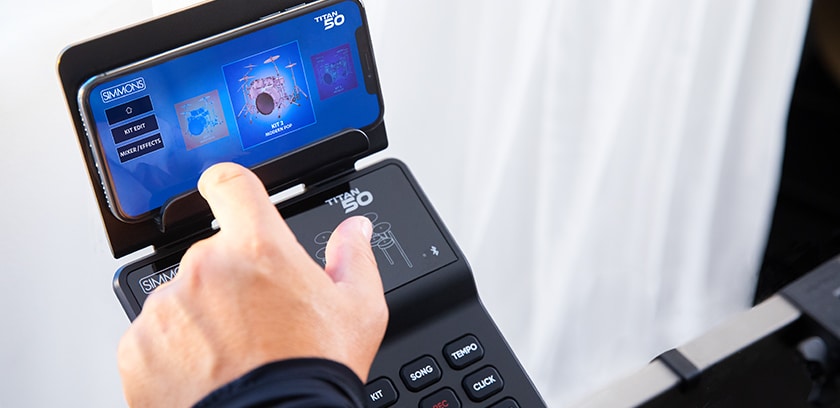 Comprehensive Connectivity
The Titan 50 gives players a bevy of input and output options for learning, practicing, recording and performing. Bluetooth audio capability lets you wirelessly stream your favorite music and play along with songs that will inspire you and help you upgrade your chops. There's also a 1/8" stereo AUX input for your wired playback devices. For editing sounds, you can use the Simmons app, other compatible music and drum apps, or MIDI control. The Simmons app also includes play-along, practice and training tools. Laying down drums on recordings is a snap, as the onboard USB jack offers seamless connection to DAWs and other music software. A headphone output is provided for private practicing when others may not appreciate hearing your drum solo workouts, and a stereo line output lets you plug the Titan 50 into a sound system when you're ready to rock gigs and rehearsals.
Electronic Euphoria
The Simmons Titan 50 is a wonderful, multi-use kit for drummers looking to practice "noiselessly" at home, record parts directly to a DAW, and plug into powered monitors or a complete PA system for playing at band rehearsals and live shows. But the affordable Titan 50 is also an excellent drum set for guitarists, bassists, keyboardists and multi-instrumentalists who want to create their own drum parts on recordings and songwriting sessions, or just "have a go" at percussive fun. The easy operation of the Titan 50 is designed to keep the focus on diving in and playing, rather than dealing with frustrating drum kit assemblies and arcane programming. The Titan 50 is an e-kit for everyone.
Features
High-definition, full-length sounds with stereo room ambience powered by Simmons (Variable Attack Response) technology
Large 10" dual-zone, responsive mesh snare with rimshot detection and 8" toms with low-profile rims
Bluetooth MIDI control for editing the module using Simmons app and working with compatible music/drum apps
Full-sized rectangular steel rack and adjustable clamps to keep everything locked in place while playing
Easy-to-use sound editing, play-along and practice tools
Downloadable Titan 50 Sound Packs provide alternative ROM sound sets
Optional expansion pack adds an additional crash and 8" tom
WARNING: This product can expose you to chemicals including Di(2-ethylhexyl)phthalate (DEHP), which is known to the State of California to cause cancer, and Lead, which is known to cause birth defects or other reproductive harm. For more information go to www.P65Warnings.ca.gov.
Specs
10" dual-zone, tension-able mesh snare pad
Three 8" mesh toms
10" hi-hat and ride cymbals
10" crash cymbal with choke sensors
Variable hi-hat controller with sounds from closed to mid and open
Kick pedal with 6" kick pad (optimized for single and double-kick pedals)
Detachable tablet or mobile phone shelf
25 presets and 10 user kits with EQ, reverb and compression effects
USB connection
1/8" Stereo AUX input
Stereo line and headphone outputs