The 100-watt full stack is certainly an iconic image in rock. Over the past couple of decades, though, there's been an increasing shift to small guitar amps. They've always been in the home practice room, and are frequently found in recording studios. Advances in technology, and the changing nature of public music venues, have such compact amps appearing more and more on the stage. This guide will look at small amps by type and application, so we can help you find a great-sounding guitar amp that won't break your back or your budget.
Table of Contents
What Makes an Amp Small?
Define Your Needs
Best Small Practice Amps
Best Small Gigging Amps
Best Small Recording Amps
Strengths and Weaknesses of Small Amps
Types of Small Guitar Amps
The Ideal Accessories for a Small Amp
The Output Stage
What Makes an Amp Small?
Before we start digging in, let's talk about just what the term "small amp" means. From a Fender Champ to a 40W Marshall combo, there are many factors that can contribute to a guitar amp falling into the category of "small." Power, cabinet size, speaker size—all of these, separately, or in combination, can put amplifiers in the category. Let's take a moment to address those.
Wattage
For many people, when they think of a small amp, one of the first things that comes to mind is "low power." A power rating of 5–15 watts tends to put an amp into the low-power category. Note that this doesn't mean that they can't get loud. With an efficient speaker and cabinet design, a 15W amp can be more than loud enough for gigging. Even a five-watt amp, cranked, can be louder than your neighbors want to hear. You'll notice that some of the amps we mention here are rated at as much as 50W and are still classified as "small." What's up with that? Read why in the next section.
Speaker and Cabinet Size
While amp heads can safely be put in the small amp category based on wattage ratings alone, combo amps can be a little more complex. Some combos can be tiny but boast a lot of power, like the ZT Lunchbox. This tiny powerhouse pushes 100W through a custom-built 6.5" speaker and still weighs less than 10 pounds. Others can be loaded with a 15" speaker but have 15W or less of power and weigh close to 40 pounds. Most of the combos we'll be looking at here are considered small because of the combination of cabinet and speaker size and overall weight, as well as output power. When you're comparing guitar amps, remember that the right cabinet design and size can make even a 4" or 6" speaker sound pretty massive. The amps we'll be looking at range from a 4" up to a 12" speaker.
Define Your Needs
Small amps are great for a lot of different applications. Before you buy one, though, you need to go through a little mental checklist of just what you intend to use it for, so you can make the right choice. Will it be mostly for practice at home? For recording? For rehearsal? For gigging? Each of these applications have their own special requirements and are best suited to different types of small amps. So, let's dive into these applications, one by one, to get you ready to say, "That's the one for me."
Best Small Practice Amps
Traditionally, the biggest need for small amps has been for practice. Wherever you practice, and whether you practice alone, jam with friends or practice with your band, small amps are easy and help keep "volume wars" under control.
Types of Practice
When looking for an amp to practice with, keep in mind that "practice amp" can be a slippery term. Practice can be just you, working on your technique and learning songs. It can also be a jam in someone's garage or rec room, or a band rehearsal where you're polishing material for recording or performance. They're all practice, but they're different types of practice. Depending on which of them you're planning to do, you need to put some thought into what amp features you need.
Some Practice Amp Candidates
For low-volume practice, the Blackstar Fly 3 is hard to beat. A top-selling item since its release, it has a built-in digital delay, two channels with the ability to move between "American" and "British" amp voicing, an aux input for playing along with tracks and both a headphone out and a recording-compensated line out. It also has an available powered extension cabinet that doubles the wattage, making it a "mini-stack." A nice touch is that it comes in a variety of classic looks to suit the vibe you want.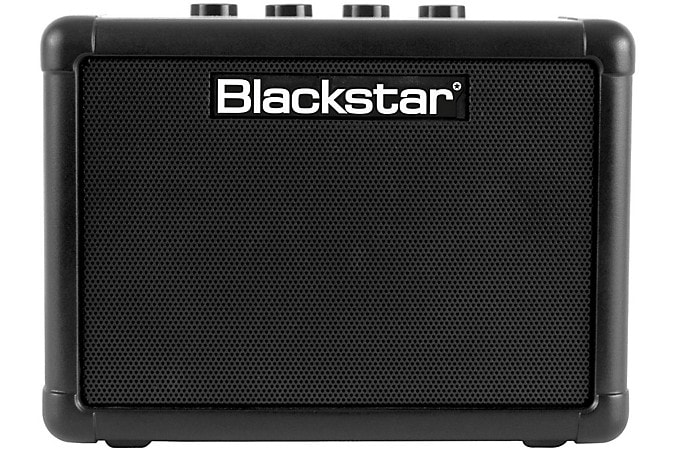 Pictured: Blackstar Fly 3W Guitar Combo Amp 
Stepping up to a modeling practice amp that's got enough oomph for small rehearsals or jams, the Line 6 Spider V 20 MkII boasts remote connectivity and editing so you can create your own presets and access additional amps, effects and more. It also includes presets for acoustic guitar and bass, and comes with a free version of Steinberg Cubase LE to get your recording career started. Built-in stompbox effects with tap tempo and tuner round out the feature set. If you aren't satisfied with just one sound and like the flexibility to swap genres in a flash, this Spider spins an alluring web.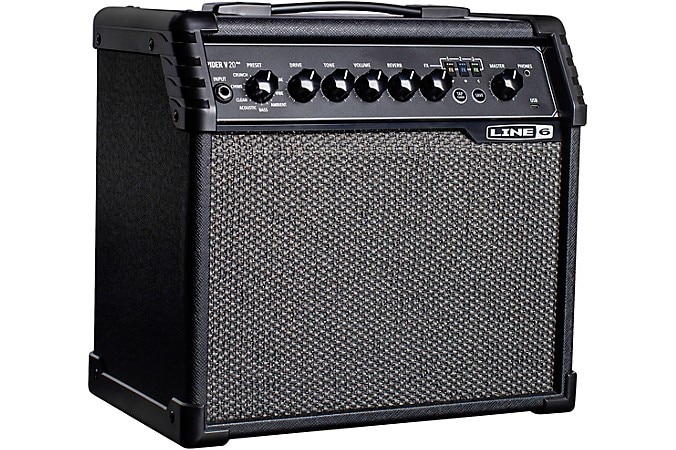 Pictured: Line 6 Spider V 20 MKII Combo Amp 
If you want something that will go from bedroom to stage and offer plenty of versatility, we've got several choices from legendary amp manufacturers.
First, the Fender Champion 20 features a custom 1x8 cabinet with 20 watts of output and selectable amp voicings, from classic 1950s and '60s Fender tones to Metal and Jazz, with selectable effects for each voicing. There's an 1/8" aux input and headphone out for practice, and it's got the juice to cover smaller gigs and jam sessions.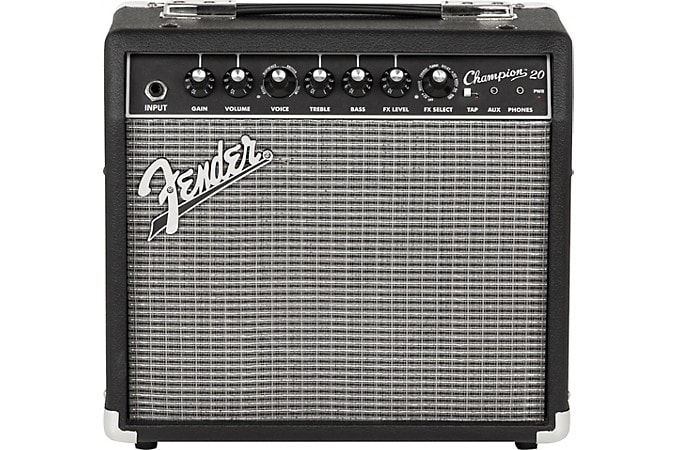 Pictured: Fender Champion 20 Combo Amp 
The Orange Crush 35RT packs 35 watts of power in a 1x10 cabinet with two channels. Besides the legendary Orange sound, the Crush 35RT features built-in reverb and tuner and a fully buffered effects loop to make it easy to integrate whatever effects you desire. There's a headphone out with cabinet simulation for practice, which can also be used as a direct out for performance or recording.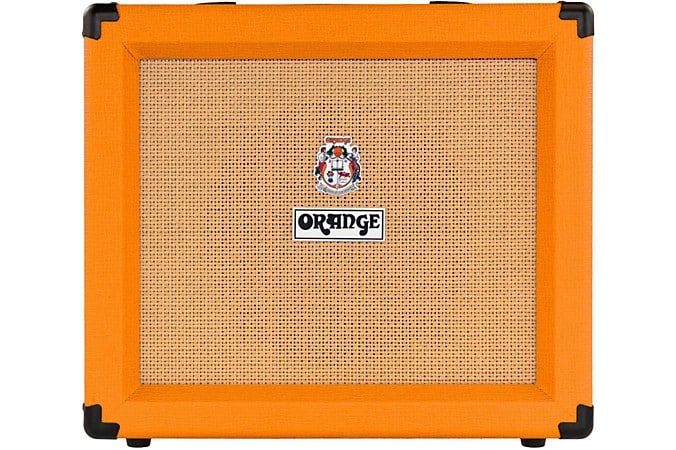 Pictured: Orange Amplifiers Crush 35RT 35W Combo Amp 
Marshall is one of rock's legendary amp manufacturers and the Marshall CODE 50W is a 1x12 combo that's loaded with both classic Marshall vibe and state-of-the-art technology. Featuring mix-and-match preamp and power amp models of Marshall amps from vintage to modern, you can stick with the classics, or create new amps of your own devising. Multiple cabinet simulations and a choice of two dozen effects cap off the choices. It's all easily editable via USB or Bluetooth connections from your computer or mobile device.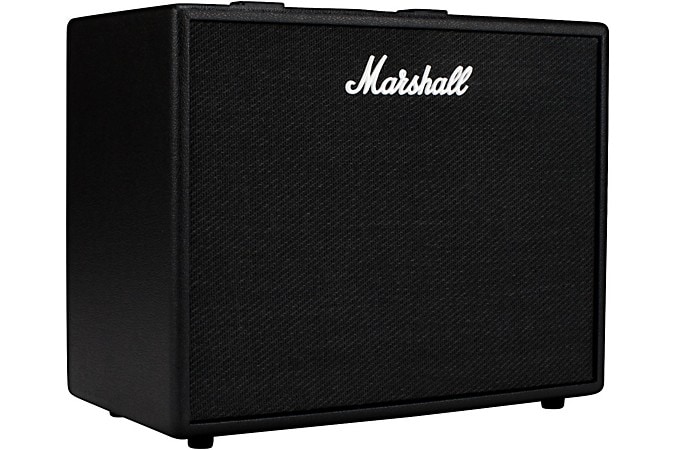 Pictured: Marshall CODE 50W Combo Amp 
Best Small Gigging Amps
Even on arena stages, more and more guitarists have switched to small amps for performance. For worship bands and cover bands, there's an increasing demand from venues like churches and resort showrooms for either a low-volume or "silent stage" setup. Small amps are ideal for these in a number of ways.
Some Live Amp Candidates
Our selection for live performance amps encompasses three classes of power rating. We'll start with a pair of small combo amps with lower power, one American, one British.
The Fender Princeton is, in all likelihood, the "first serious amp" of a large percentage of guitar players. This 1x10, 12W, all-tube design is a true classic, having been around, in one form or another, since the mid-1950s. With a tube-driven long-spring reverb and tremolo, it's the source of legendary sounds from crisp and clean to full-on crunchy. This is an ideal amp for blues, Americana, country, classic rock and more. It also responds exceptionally to pedals, if your desire is to twist your sound a little or a lot.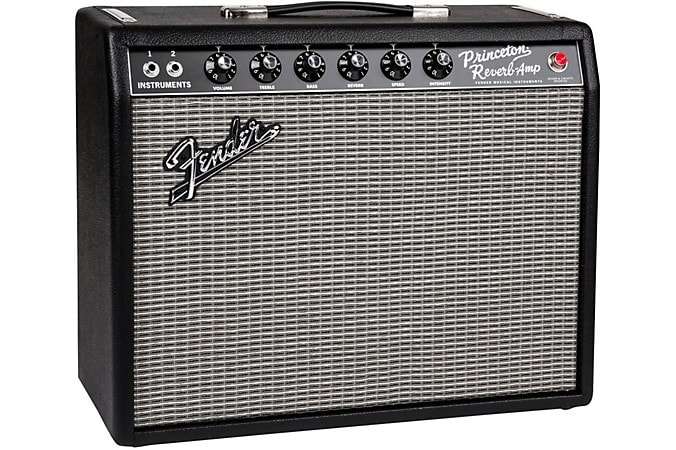 Pictured: Fender '65 Princeton Reverb 12W Tube Combo Amp 
On the other side of the Atlantic, the Orange Rocker 15 1x10 combo is home to the characteristic British punch. With twin channels, you can go from a clean to overdriven natural sound or a seriously dirty, in-your-face channel. Always touch-responsive and incredibly dynamic, the Rocker 15 also features a tube-buffered effects loop and switchable output from 15W down to half a watt for screaming sounds at bedroom levels when necessary.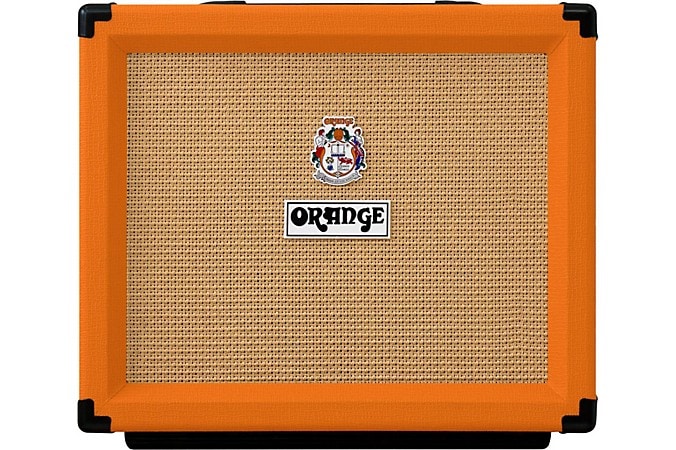 Pictured: Orange Amplifiers Rocker 15 Tube Combo Amp 
Stepping up in output to 40 tube watts, we have a pair of amps that originate in the UK. First, the Marshall DSL40 features refined EQ sections and adjustable power output to help match volume to venue. Loaded with a Celestion V-Type 12" speaker, it's a compact powerhouse. A recent development is a speaker emulated output that delivers an accurate emulation of Marshall's beloved 1960 4x12 cabinet.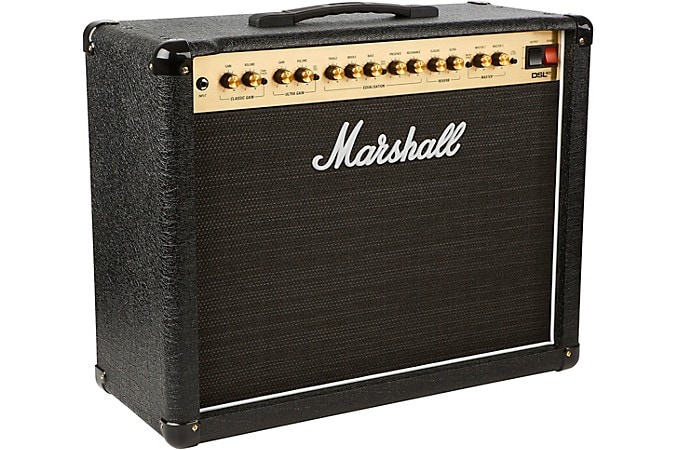 Pictured: Marshall DSL40CR 40W Tube Combo Amp 
Our second 40W combo is the Blackstar HT Venue Series Club 40. Featuring flexible clean and drive channels with selectable voicings, it's a great choice for players who love high-gain tones. The Club 40 is also ideal for those who live in the mid-gain world, where you can push from clean to overdriven with a pedal or a twist of the guitar's volume knob. With fully foot-switchable modes, this is an amp designed for performance. A switchable power-reduction circuit makes it easy to keep your tone while dropping the levels for smaller venues, while still keeping the amp in the "sweet spot." The amp also has a USB recording out to maximize flexibility.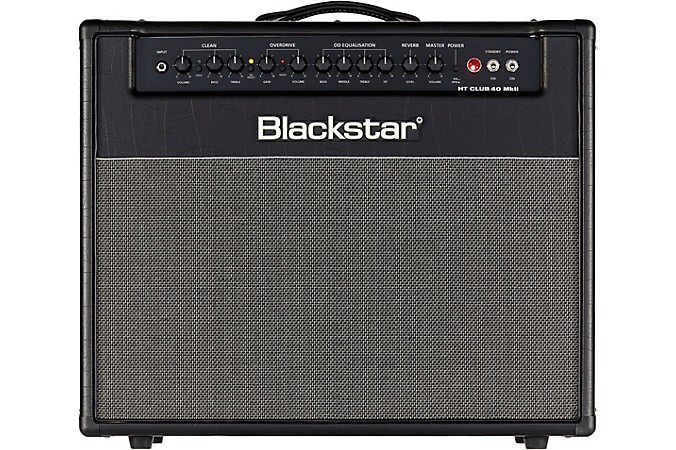 Pictured: Blackstar HT Venue Series Club 40 Combo Amp MKII 
Finally, topping the wattage category is the Fender Tone Master Twin. This incredibly lightweight (33 lb.) 2x12 combo comes in at a rating of 200W of Class-D digital power, to emulate the original Twin Reverb's 85 watts of tube power. The original Twin Reverb was the amp of choice for many touring musicians, thanks to its amazingly punchy clean sound and ability to take pedals exceptionally well. The Tone Master Twin does an amazing job of emulating the original, at less than half the weight. The addition of features like selectable output power, balanced line out with cabinet simulations, a mute switch for silent stage or recording applications and a USB port for computer connections bring it fully into the modern age.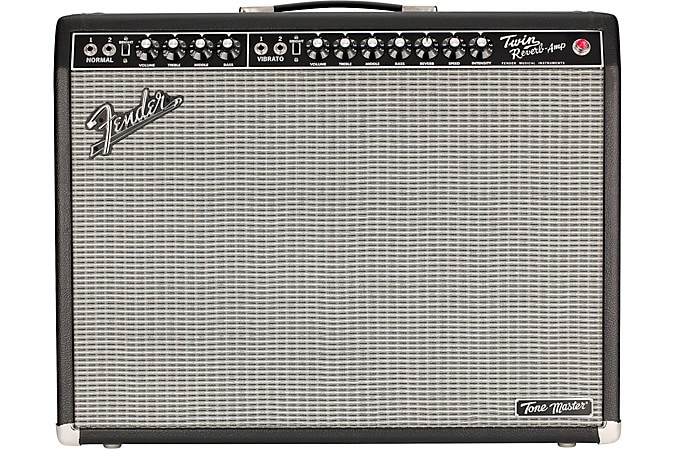 Pictured: Fender Tone Master Twin Reverb 200W Combo Amp 
Why use small amps live?
You may be saying to yourself, "But what about all those classic touring bands with multiple full stacks in their backline? Don't we need that for that big, rock-and-roll sound?" Back before modern sound reinforcement, you did. But, if you go backstage today, you'll see that almost all those cabinets are empty. Sometimes, there's just one small combo amp with a mic on it, hidden behind that false front. Here are some of the main reasons why small amps are taking over stages around the world.
First, there's far better control of stage levels. With modern stage monitors, especially with the use of personal in-ear monitors, small amps make it possible for everybody to hear everybody else. When you hear each other better, you play better together. Even lower-tier touring bands are carrying their own in-ear monitoring systems these days for consistent sound from night to night. Small amps are a big part of that equation.
Second, small guitar amps make for fast set up and teardown. Less stress, both on your back and your time, makes for better soundcheck and a more relaxed vibe. If your performance amp has a dedicated speaker-compensated output that you can simply plug direct to the front-of-house (FOH) and stage monitor boards, it's even easier.
Third, and probably most important for most players, is tone. For most guitarists, getting "their" tone is one of the single most important factors on whether a show is a great one or not. With a small amp, you don't have to sacrifice your tone when you have volume constraints from the venue or the situation. Your guitar can sound just as huge at a coffeehouse gig as it does in a large theater.
To make sure that all of these are the case, it's important to put some thought into just what you want your live sound to be. That means careful consideration of which type of amp you choose.
Tube vs Modeling vs Solid State for Live Performance
The type of amp you select for live performance is going to depend on the final result you want.
Modeling amps are great if you need a wide variety of sounds, like for a cover band or worship band. Modeling makes it easy to dial in tones for individual songs as presets and build a set list where you can simply step through each song with minimum hassle. They're also especially good for "silent-stage" gigs, because they enable you to give the FOH engineer a pre-processed, performance-ready tone that will be consistent from venue to venue.
A small tube amp for performance is all about the tone and feel. If you don't need a huge variety of tones, but are happy to work with one great tone and a small pedalboard, or even just a guitar straight into an amp, a tube amp has the response and the feel many players seek. If you tend to play with more gain, it's easier to achieve and more controllable with a small amp. Your choice is going to be determined by both how much gain you want to have available and how you want to connect to FOH systems. Many of the latest generation of small tube amps have some variety of direct connection available, or you can go classic and slap a mic on it (see our articles on how to mic your amp).
If you're all about the clean sounds, or about using a pedalboard or multi-FX unit to get your overdriven and distorted sounds, a small solid-state amp will do you right for live performance. Consistent and reliable, many modern solid-state guitar amps have some built-in effects and/or an effects loop, making it easy to integrate your other gear. Direct outs for FOH or recording are also standard on many, so you can easily get your sound, no matter where you are.
Best Small Recording Amps
With the boom in home recording, small amps have been the key to getting great guitar tones without creating rifts with your neighbors or housemates. In fact, many current small amps have been designed and built with recording as one of their main purposes.
Some Recording Amp Candidates
In the recording studio, nobody knows you're tiny. That's the great thing about this collection of amps—huge sound in minimal space. We're offering up three tube amps here, one solid-state, plus one modeling amp that may just be the joker in the pack.
Let's start with the Vox AC4, a 4W powerhouse of a combo amp. The sparkle and chime of Vox amps practically defined the sound of the British Invasion and later Brit-Pop. This 1x12 true Class-A combo may be only 4W, but in the recording studio it's a true powerhouse with Vox's legendary Top Boost tone and EL84 power tube.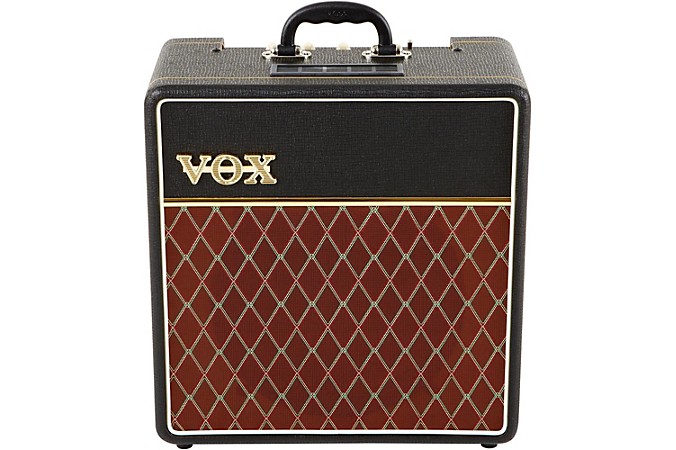 Pictured: Vox AC4C1-12 Classic 4W Tube Combo Amp 
On the American side, the Fender Blues Jr. features 15 watts of power and a 12" Jenson speaker for a tone that's simply classic. With a traditional Fender 3-knob tone stack and switchable FAT circuit for that little bit extra, you've got an amp that sits in a mix comfortably and distinctively.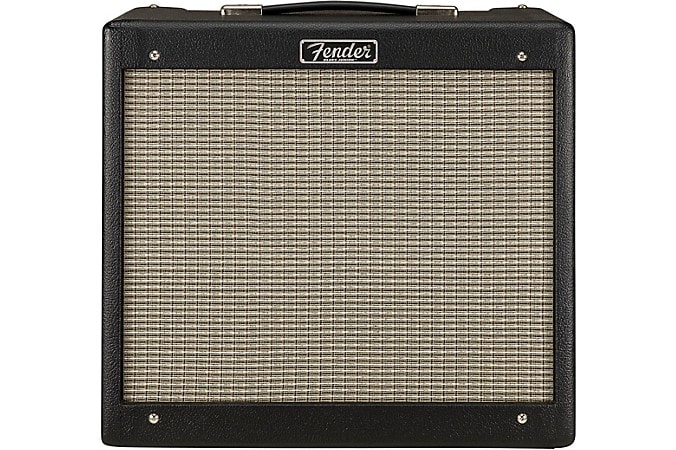 Pictured: Fender Blues Junior IV 15W Tube Combo Amp 
If heavy guitars are your bread and butter, the Marshall Studio Classic 20 is hard to beat. Designed to deliver the full-blown, '80s hard rock and metal impact of Marshall's JCM800 head in a package that can easily tuck into a corner of your studio, this 20W, 1x10 combo goes from clean to aggressive at the tweak of a knob. An effects loop and DI out add to the versatility, and you can drop the power from 20W to 5W when you want all the grind, but not quite so much dB.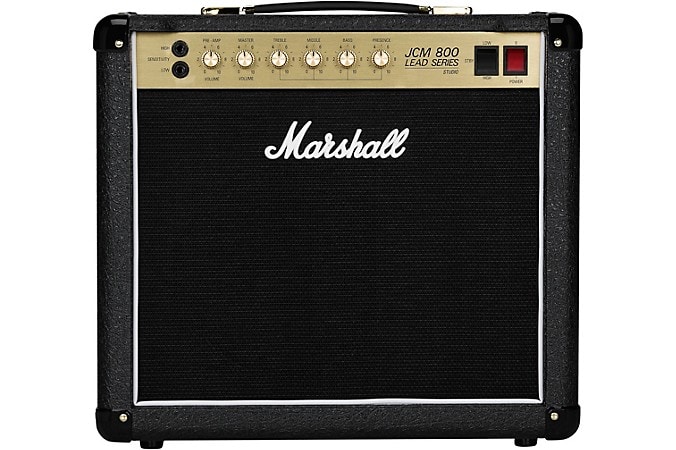 Pictured: Marshall Studio Classic 20W Tube Combo Amp 
For decades, one of the most revered clean sounds was the Roland JC-120 Jazz Chorus. Roland has repackaged that "JC Clean" into the 2x10 JC-40, putting that classic stereo clean sound in a refined package that shimmers like the original, but with some new twists of its own. It's a great pedal platform, and one of the few with true stereo input, so that second output on your stereo effects pedals doesn't have to have an inferiority complex. This also makes it great as a platform for multi-FX pedals, guitar synths and stereo modelers. With ample onboard effects of its own, including the trademark Dimensional Space Chorus stereo effect, it's an amp that you'll use for more than just recording guitars.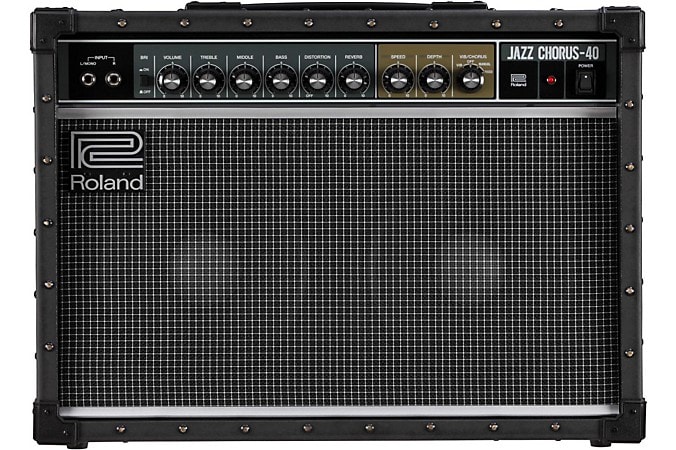 Pictured: Roland JC-40 Jazz Chorus Combo Amp 
Finally, the Fender Mustang GTX 50 is a 1x12 50W modeling amplifier with a remarkable selection of quality models and the flexibility to capture any mood you may be feeling. Not known as a modeling amp company, per se, Fender has been quietly refining their approach to modeling. They've come up with a series of amps, many of which are aimed at practice, that showcase a great range of tones. If you need a wide variety of sounds in your studio and only have room for a single amp, the GTX 50—with 200 presets, solid onboard effects and easy editing via WiFi and Bluetooth—could be your secret production weapon when inspiration strikes.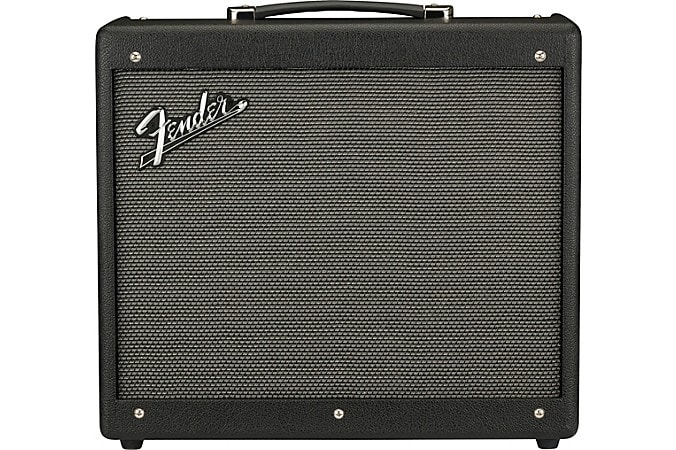 Pictured: Fender Mustang GTX 50 Combo Amp 
What Makes Small Amps Ideal Recording Amps
Control is usually the most important factor in the recording process. Small amps help with that control. Of course, they are no newcomer to the recording process. The classic, seminal rock, blues and soul recordings of the 1950s and early- to mid-1960s were made with small amps. Some prime examples are Billy Gibbons' and Eric Clapton's preference for the classic Tweed Fender Champ and Steve Cropper's reliance on a 12W Fender Harvard combo. Small amps make it easier to avoid bleed from other instruments, as they're far easier to isolate than something like a half-stack or even a larger combo amp.
Most players and recording engineers will agree that nothing quite matches the sound of a cranked tube amp. Small amps make that far easier, especially for home recording setups. A close-miked setup on a tiny tube amp can sound like the roar of a full stack in playback. Using a multi-mic setup to record a small amp will make it sound even bigger (but that's a whole other article).
Modeling amps are a natural match for a recording setup where you need a wide variety of great tones and have limited space. Since every modeling amp has a recording out, they're also great for getting excellent sound direct to your DAW, even if you're doing insomniac recording with headphone monitors at 3 a.m. As an added bonus, some modeling amps make it possible to change your virtual amp setup by swapping different virtual cabinets and mics.
Solid-state amps are superb here for clean sounds that will sit well in a mix. Like all the other amps we've discussed so far, they record exceptionally well at low volumes, and many also have direct recording outs that are great for late night sessions.
Strengths and Weaknesses of Smaller Amps
Now that we've looked at some basic selections of small amps for different applications, we'd like to take a moment to talk about why you might want to consider a smaller amp, in case you're still undecided as to which amp is best for you.
The biggest advantage of small amps is that they're, well, small. Tiny and light are always a big advantage, whether you're dealing with a small home practice space, cramped rehearsal facility or typical small venue stage. Especially with amps that feature built-in effects, there's nothing better than "set it down, plug it in, turn it on" ease of use. For rehearsals and gigs, you're packed and out the door before the drummer gets his hi-hat off the stand. Note: It's still polite to stay and help the rest of the band. Just take comfort in the fact that you're doing it because you can.
The second advantage is tone. Most guitar amps have a "sweet spot" where they sound their best. With even slightly larger amps, that spot is all too often at a volume level that will either get complaints or cause hearing damage to yourself and others. Small amps have sweet spots at much lower volume levels and a cranked up and singing tiny tube amp is a thing of beauty, indeed.
Finally, and firmly connected to the previous point, is increased control over your volume. Regardless of your application, getting the tone you want at a volume that's comfortable for everyone involved is a primary concern. Whether practicing at home with headphones, rehearsing or jamming with friends, recording or on stage, you want to be heard, but you want everyone to be grooving instead of reaching for the earplugs. Taking into account modern designs and recent advances in stage monitoring and sound systems, with a good small amp, you can hit all the sweet spots.
Probably the biggest hurdle you'll have to deal with is that small amps need careful placement in rehearsal, jam and live situations. On larger stages, you'll need to make sure you've got decent monitoring. For rehearsals and jams, you'll want it pointing at your head, not the back of your knees. This writer rehearsed, gigged and toured for years with a 1x12 15W amp, and it was never not loud enough, provided careful attention was paid to where it was set up.
Types of Small Guitar Amps
We've thrown around a lot of terminology in the previous sections, and now that you've seen some choices that are available to you, if you want to know a little more, read on.
There are three basic types of amps we looked at—tube amps, solid-state amps and modeling amps. There are appropriate amp models in each category for each application you might be interested in, and some are versatile enough to cover several different situations. Here's a quick breakdown of what makes those amp types special.
Tube Amps
Since the invention of the triode in 1907, vacuum tubes (or thermionic valves) have been used for audio amplification. Even today, many tube amps can trace their basic circuits to the RCA tube manuals of the 1930s. The end result is a group of truly time-tested amps, descended from amps like Fender's Tweed Deluxe and Champ, the Gibson GA10 and the flood of amps made for Supro, National, Harmony, Gretsch and others by the Valco company. These are the basic designs that reliably deliver the most iconic tones for electric guitar.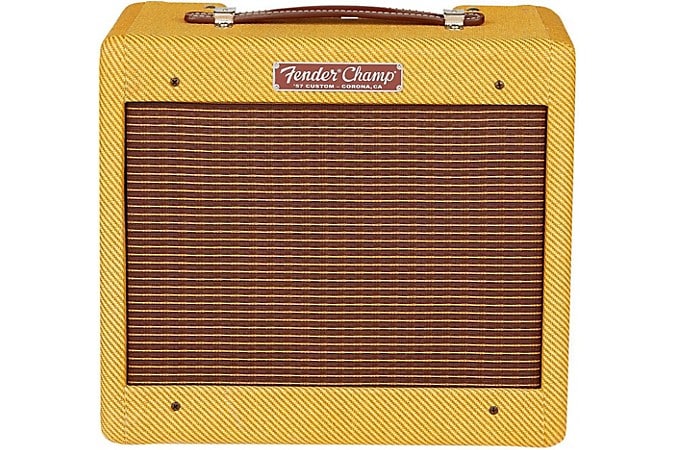 Pictured: Fender '57 Custom Champ 5W Tube Amp 
Solid-State Amps
Solid-state guitar amps are our second category. Back when they first appeared in the 1950s and '60s, they were mostly called transistor amps and were largely intended as practice amps. As transistor technology developed, getting renamed "solid-state" as individual transistors were replaced with integrated circuits, higher outputs and more advanced designs brought them into the world of performance-worthy amplifiers that are treasured for their clean sounds. Amps like the Roland JC series, Kustom's "tuck-and-roll" combos, Polytone's jazz amps and metal-capable Randall amps stand as examples of classic designs.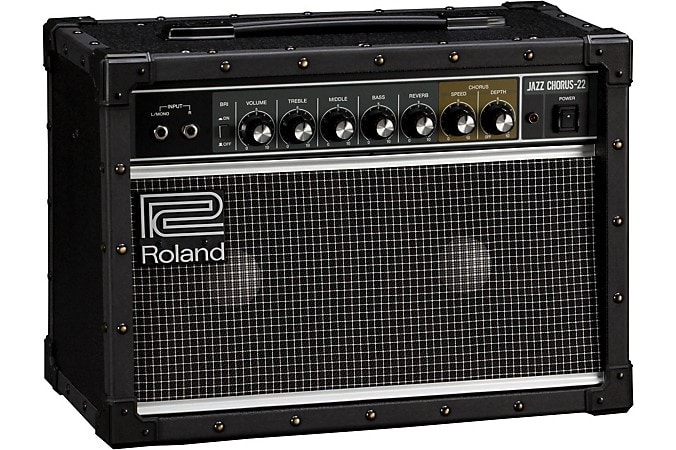 Pictured: Roland JC-22 Jazz Chorus 30W Combo Amp 
Modeling Amps
Our third class of amps are the modeling amps. Since their introduction in the mid-1990s, digital modeling amps have become increasingly popular. Modeling amps, like the Line 6 Spider and BOSS Katana use powerful Digital Signal Processing (DSP) hardware to algorithmically recreate the physical behavior of analog amps, both tube and solid-state, as well as classic pedal and rack effects. Modeling can also combine virtual components in ways that couldn't be done in the physical world, to create entirely new amplifiers. As tools for guitarists who want a huge variety of sounds instantly available, they have been an amazingly flexible solution.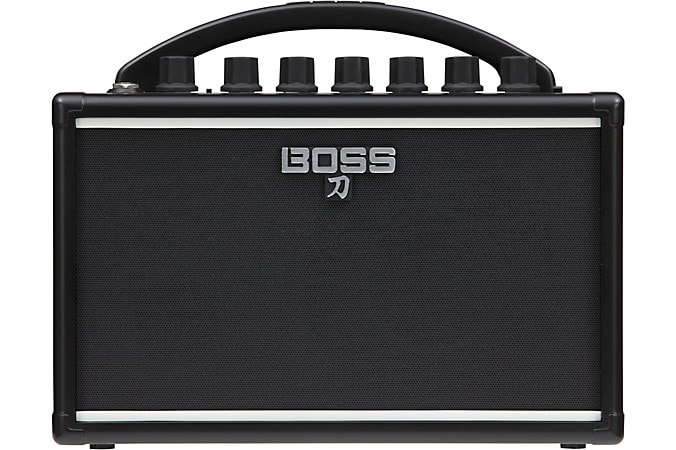 Pictured: Boss KTN-MINI Katana Mini Amp 
The Ideal Accessories for a Small Amp
Once you've selected an amp, there are a couple of invaluable accessories you will also want to consider.
Quality Cables
First, since small amps tend to get used because people want to get the sound of a cranked amp without hearing damage, they tend to be run at higher gain settings. Higher gain means more noise—it's just a fact of life. One of the best ways to keep the hum down is to use quality cables. Better cables mean less radiofrequency (RF) and electro-magnetic (EM) interference. So, go for the good stuff, and you'll be happier.
Amp Stand
Especially for live performance, a small amp needs to be properly placed so you can hear it. If you just plop it on the floor, unless you've had your ears moved to the backs of your legs, that might be a problem. It's a good idea to invest in a small amp stand to get the amp up and aimed at your head.
The Output Stage
We hope we've shown here that, no matter what your application is, there's a small amp that will fit right into your life and your playing space. From jazz to metal, country to djent, you can get the tones you want with less strain on your ears and your back.
If you've got questions that haven't been answered here, or want more detail about different amp types, check the website or talk with one of our associates, in the store or at the call center. They'll be glad to help you find just the gear you've been needing.