It happens to everybody. The last time you set down your acoustic guitar, it sounded fine. But today, it sounds dull, won't sustain, and you can't seem to quite get it into tune. Don't worry. It's not the instrument. Your strings have reached the end of their useful life. It's time to get new ones. Dead strings happen, and, in the article ahead, we're going to talk about strings, how different types are made, and show you how to choose the best replacement strings for your particular acoustic guitar. New strings will not only bring it back to life, but can even make the guitar easier to play and sound better than it did when you first got it. 
This article is designed to answer the question many returning and beginner guitarists have—"What guitar strings should I buy?" A lot of that depends on the instrument you're playing and the style of music you play. Bluegrass players love dreadnoughts with heavy strings. A lot of fingerpickers love smaller body guitars with lighter strings. Slide and dobro players go for the heavy strings. Acoustic blues players love to bend, so they tend to go light or extra-light gauge. Classical and flamenco players choose different string tensions and wrap materials for specific tone and feel. These are rough guidelines, and the final sound relies on the materials used in the string, as well as the gauge and tension. So, let's get started. 
Want to learn more about acoustic guitars? Check out our Acoustic Guitar Buying Guide.  
Table of Contents
When to Change Strings on Your Acoustic Guitar
Steel-String vs. Nylon-String Instruments
About Guitar Strings in General
       Types of Acoustic Guitar Strings
Steel-String Acoustics
       String Materials
       What Is Guitar String Gauge?
              Why Different String Gauges?
                    Gauge Isn't Always Gauge
       Traditional Strings
       Coated Acoustic Strings
       Treated Acoustic Strings
Nylon-String Acoustics
       Types of Nylon Strings
Hybrid Acoustic Strings for Easy Playing
Wrapping It All Up
When to Change Strings on Your Acoustic Guitar
Even though some people have been known to leave strings on their acoustic guitar until they break, strings have a definite lifetime. Corrosion, loss of elasticity over time under tension, buildup of various types of crud in the string windings—all these contribute to a string becoming lifeless. The first symptom is likely to be a serious loss of brightness, making the strings sound dull. The second most common symptom is that the strings will no longer play in tune or hold tuning well. When your acoustic doesn't sound good, you're less likely to play. New strings are a quick and easy trip back to enjoying your instrument. 
Steel-String vs. Nylon-String Instruments
The acoustic guitar strings you're going to need depend mostly on what type of instrument you play. There are two basic types of acoustic guitar—ones that use steel strings and ones that use nylon strings. Steel-string acoustic guitars have a louder, brighter sound with a more percussive attack and more sustain (notes ring longer). Nylon-string guitars have a mellower, rounder tone, and tend to be somewhat softer in volume.
Steel-string acoustics are the most common. These come in a wide variety of styles and sizes, from parlor-sized to dreadnought, flattop to resonator. The best set of acoustic strings for you has a lot to do both with the style of guitar you own and the style of music you play.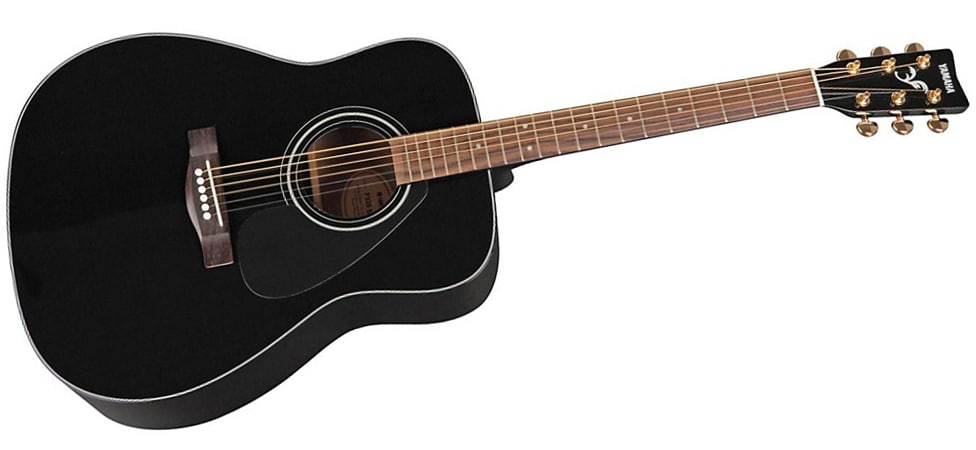 Pictured: Yamaha F335 Steel-String Acoustic Guitar 
Nylon-string acoustic guitars don't come in quite as many different variations, but a similar approach applies. The best nylon strings for your acoustic are related to what and how you play. We'll go into more details about nylon strings a little further on. The one thing to remember is that, like in "Ghostbusters," you don't cross the streams. Putting steel strings on a guitar that's designed for nylon, or vice versa, isn't a good idea and can harm the instrument, sometimes permanently.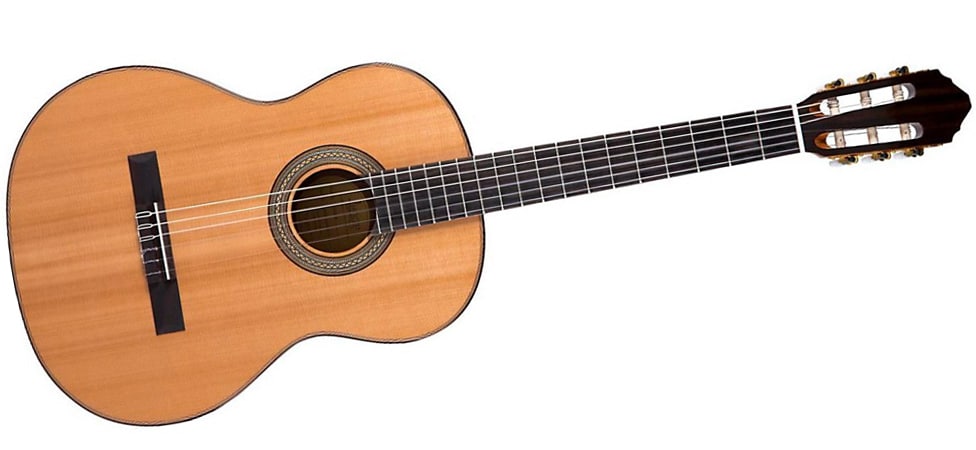 Pictured: Lucero LC-230S Exotic Wood Classical Guitar 
About Guitar Strings in General
Search for strings here at guitarcenter.com or walk into your local Guitar Center, and you're confronted with a giant wall of string choices. Even when you bypass the strings for electric guitars, the selection of available acoustic guitar strings can still be a little overwhelming. Gauge, tension, core, wrap—these terms may be a little confusing when you're starting out. This section will give you some background information on some of the factors that go into string choice. 
Types of Acoustic Guitar Strings
We already touched on steel strings and nylon strings, but there's more to it than simply choosing one or the other. Steel strings come in gauges, nylon strings in tension ratings. There are plain strings and wound strings. The wound strings can be wrapped with brass, bronze, steel, even silver or gold alloy. The cores those wrap around can be different sizes, shapes and materials. The string ends can be ball ends, bullet ends, or, for classical guitars, no ends. To help sort it out, here's a simplified look at string types. 
Plain steel: Pretty much what it says, these are the high strings for a steel string acoustic. Some people say, "A string is a string," and, if that's true, here's where it's so. All plain steel strings are made of the same type of drawn carbon-steel wire, called "music wire." It was invented in the 14th century for early stringed instruments and refined ever since. It's also called piano wire, as a primary early use was for piano strings. 
Wound steel: These are the lower four strings on a steel-string acoustic guitar. This is one place where the differences go beyond just the string gauge. They're made by wrapping one type of wire around a core of the music wire mentioned above. Variations in the gauge and shape of the core, and the gauge, shape and material of the wrap, can make a big difference in how a wound string sounds and feels.  If you're interested in experiencing the difference between uncoated and coated acoustic guitar strings, as well as the differences construction and gauge can make, try these.  The Martin MA550 SP Phosphor Bronze Medium Authentic Acoustic Guitar Strings offer a very traditional construction in a medium gauge. The D'Addario EXP16 Coated Phosphor Bronze Light Acoustic Guitar Strings use D'Addario's super-thin EXP coating to extend string life. Try both as a way to start to zero in on your preferred sound and feel.
Wound nylon: The biggest difference here is that the core, rather than being steel, is a bundle of nylon threads. The same factors apply for the thickness of the core and the gauge, shape and material of the wrap as with wound steel strings. 
Plain nylon: Same thing for a nylon string guitar, although there are variations we'll get to in a bit. Nylon strings are generally available in a couple of styles: with ball ends for folk-style guitars and the traditional plain, tie-on style for classical and flamenco guitars.  If you are more of a strumming-style folk guitarist, or just haven't gotten the hang of properly tying strings onto the bridge yet, you can try the Ernie Ball 2409 Ernesto Palla Nylon Ball End Classical Acoustic Guitar Strings. For straight classical playing, the D'Addario EJ45LP Pro-Arte Composites Normal LP Classical Guitar Strings are well worth checking out, with D'Addario's composite core on the wound strings. 
These are the very basics. There are two other variations to mention. Coated strings use a very thin coating on the wound strings to extend their useful life. Treated strings use several types of processes, to affect the quality, sound and overall life of the string.  
Steel-String Acoustics
Now that you've got a little bit of background, it's time to get down to the nitty-gritty. Let's take a look at what's available for steel-string acoustic guitars first. 
String Materials
As we mentioned before, the plain untreated steel wire is very much the same across all string manufacturers. Where we start to see the differences are in the materials used as wrap wire. For acoustic guitars, for many years the wrap wire was an alloy of 80% copper and 20% zinc, known as 80/20 Bronze (technically, it's brass, as true bronze is a copper/tin alloy). 
A popular string with this wrap is the Ernie Ball 2556 Everlast 80/20 Bronze Medium Light. 80/20 wound strings are known for their brightness and solid bass response. They're a great choice for a guitar with a very strong midrange voice that you'd like to balance out a bit. They're also great if you want to scoop the mids a little bit if you're accompanying a vocalist or other instrument that has strong mids.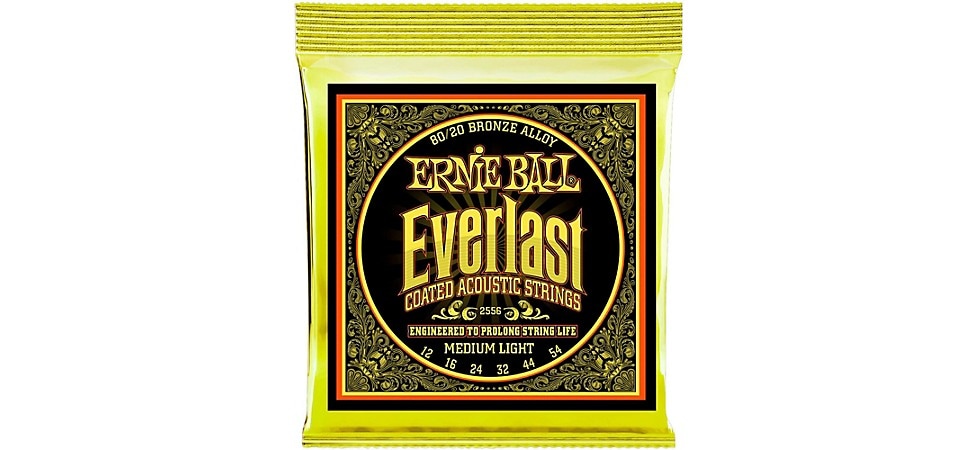 Pictured: Ernie Ball 2556 Everlast 80/20 Bronze Acoustic Guitar Strings 
The compromise of plain 80/20 wound strings is that they can age fairly quickly, depending on individual body chemistry. That shimmery new string sound might only last a week or two before it starts to dull.
What's probably the most popular wrap today is phosphor bronze. First developed in the 1930s by Gibson, it disappeared for several decades, then resurfaced at D'Addario in the 1970s, which was when it really caught on. With a higher amount of copper, less zinc and trace elements of phosphorus, this alloy makes longer-lasting strings with a generally more balanced tone. Almost all manufacturers now produce phosphor bronze strings. An excellent example are the Martin MA540 SP Phosphor Bronze Light Authentic Acoustic Guitar Strings.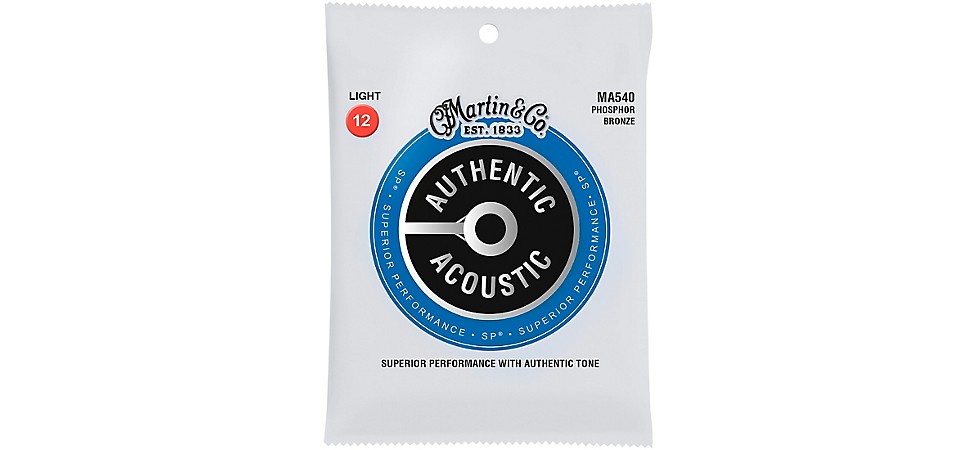 Pictured: Martin MA540 SP Phosphor Bronze Light Authentic Acoustic Guitar Strings 
A recent development from Ernie Ball are strings with an aluminum bronze wrap. This wrap offers excellent corrosion resistance without the need for additional coating or treatment. Tonally, they're well balanced, with a lean toward the bright and lively end of the spectrum, which can cut through an ensemble well. 
There are now also coatings and treatments. Coated strings, like Elixir and EXP, use a very, very thin coat of PTFE, which you also find on non-stick pans, or a similar material. By using a coating, the tiny spaces between wraps are sealed. Since the biggest contributor to a string going dead is a combination of accumulated crud between the wraps and moisture penetrating the wraps to the core and causing corrosion, this coating seriously lengthens the useful life of the string. 
Plain strings aren't coated, but they may be treated. The most common treatments come from two different directions, cold (cryogenic) and heat (maraging). The concept is that either deep freeze or a long, slow baking improves or eliminates some of the undesirable characteristics of the low-carbon steel music wire, while leaving the good properties untouched or slightly improved. 
What Is Guitar String Gauge?
"What gauge strings do you use?" It's not just the punchline to a bad joke, it's one of the most common questions to get tossed at guitarists. Steel strings for acoustic (and electric) steel-string guitars are referred to by their gauge, which is simply a measurement of the diameter of the string. This is expressed in thousandths of an inch, being one of the few things that hasn't gone metric. So, an .011 gauge string is 11 thousandths of an inch thick. This string would be the high E in some sets of extra-light acoustic strings. An .056 string (56 thousandths of an inch) would be the low E in a medium gauge set. Finding the string gauge that you and your guitar are most comfortable with is an important part of this journey.
Here's a list of the most common gauge sets for an acoustic steel-string. These are general lists, and some manufacturers will vary the gauges of their strings by a couple of thousandths of an inch here and there.
| | | | |
| --- | --- | --- | --- |
| Common Name | Gauge Range (High E - Low E) | Example Set | Sound Quality |
| Extra Light | .010 .014 .023 .030 .039 .047 | Elixir Phosphor Bronze with NANOWEB Coating | Well-balanced tone, long life |
| Custom Light | .011 .015 .023 .032 .042 .052 | Ernie Ball 2004 Earthwood 80/20 Bronze Light | Bright highs, deep lows, scooped mids, shorter life |
| Light | .012 .016 .025 .032 .042 .054 | D'Addario EJ16 Phosphor Bronze Light | Well-balanced tone, medium life |
| Medium | .013 .017 .026 .035 .045 .056 | Martin MA550 SP Phosphor Bronze Medium Authentic | Well-balanced tone, punchy mids, medium life |
| Heavy | .014 .018 .027 .039 .049 .059 | D'Addario EJ18 PB Heavy | Loud, deep bass, strong mids, good highs, medium life |
Why Different String Gauges?
String gauges, especially on an acoustic guitar, affect a lot of different things. Lighter gauges are easier to play, overall, but at the cost of volume, sustain and response in the lower frequencies. Heavier gauges are louder and generally have a fatter tone and more sustain, but are physically more difficult to play. Why is this? There are a couple of reasons. 
Probably the biggest difference is tension. The heavier the string gauge, the more tension it takes to tune it to pitch. Tension on the string means tension on the top of the guitar. Greater tension on the top makes it easier to vibrate, which produces more volume and sustain.
The second difference is the mass of the string itself. More mass means that once a string starts vibrating, it's harder for it to stop vibrating, and also the easier it is to transfer vibrations to the top of the guitar. This means the note sustains, or rings, longer before it dies away. It's all basic physics, and if you want to know more, let us know. We're always happy to geek out when asked.
Since scale length also affects tension, with shorter scale lengths requiring less tension to get to pitch (physics again), strings that feel easy to play on a 24"-scale guitar, will feel heavier on a 25"-scale guitar. If you're trying to make your parlor-size feel more like your dreadnought (or vice versa), they'll need different string gauges. 
Gauge Isn't Always Gauge
You may notice, if you try strings from several different manufacturers, that two sets of the same gauge strings will feel different, especially the wound strings. That's because there's no universal formula for how to make a specific gauge of wound string. The basic concept is the diameter of the core wire plus twice the diameter of the wrap wire equals the final gauge. Thus, for a .056 string, for instance, you can start with a .018 core, which requires a .019 wrap to end up with the final string. Start with a lighter core (.012), you'd need a heavier wrap (.022) to make the same final gauge. 
Since the final tension of the string depends more on the core than the wrap, a larger core will require more tension to get to pitch, so that string will feel heavier than the one built on a smaller core. It will also have the advantages and disadvantages we touched on above regarding how tension affects tone and sustain. Every manufacturer has their own formulas for wound strings. If you really want to fine-tune the feel of your guitar, once you've decided on the basic string gauge, try sets in that gauge from different manufacturers to really dial it in.
Traditional Strings
Traditional, uncoated strings are an excellent choice if you play a lot and change strings on a reasonably regular basis. We've already given several examples of these strings above for you to consider, but we haven't talked much about the world of coated strings.
Coated Acoustic Strings
There is nothing more frustrating than pulling your guitar out of the case after a couple of weeks away from it and discovering that the strings have gone dead. Coated strings are a great answer to that.
By coating the wound strings with a very thin, very slippery coating of something like the coating on a non-stick pan, they can avoid the invasive moisture and detritus that speed up strings losing their flexibility and tone. An added benefit is that it makes the strings smoother, so there's less finger noise and they're easier to play. The only compromise here is that the strings are just a hair less bright when brand new than uncoated strings. The upside is that they maintain their tone longer and with greater consistency.
From an initial few, many companies have leapt into making this type of long-lived acoustic guitar string, producing their own proprietary coatings. This competition has helped everyone develop thinner, better-feeling coatings. Leading the pack these days are Ernie Ball with their Paradigm series and D'Addario with their XT and XS coated strings.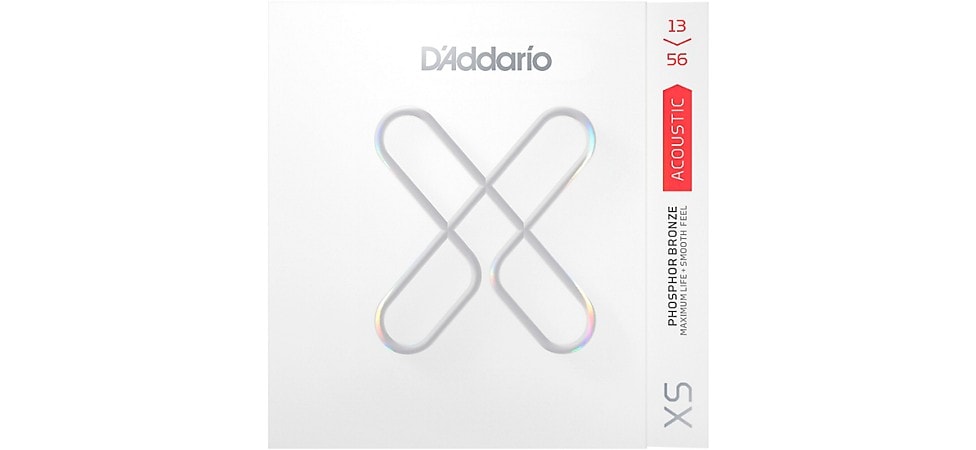 Pictured: D'Addario XS Acoustic Phosphor Bronze Strings
Ernie Ball Paradigm acoustic guitar strings are available in both an 80/20 and a phosphor bronze formulation. These combine several of the company's technological advances with a patented reinforcement of the plain strings and their unique plasma-treated wrap wires. The biggest advantage here is their Everlast nanotechnology, which is so thin that there's some debate as to whether it falls into the category of coating or treatment. The overall effect is added strength and extended life in addition to Ball's traditionally excellent tone, so we're not sure that the semantics really matter here.
D'Addario's XT phosphor bronze acoustic guitar strings are touted for their great tone, natural feel and extended life. Since D'Addario was the company to revive the phosphor bronze formulation, they've worked at maintaining their position as the primary source for discerning players. The XT wound strings maintain a virtually identical harmonic content and sustain to their untreated phosphor bronze strings, while offering a greatly increased life.
Extending the XT treatment to the plain strings and utilizing an even thinner coating process, D'Addario XS adds the high-carbon string core developed for their excellent NY Steel electric strings to the wound strings for added tensile strength. The plain strings, in addition to the new coating (one-tenth the thickness of a human hair), the plain strings also receive D'Addario's proprietary Fusion Twist ball-end treatment for added break strength. These are D'Addario's most technologically advanced strings to date.
A couple of great places to start exploring coated strings are with Ernie Ball Paradigm Phosphor Bronze, D'Addario's XT Acoustic 80/20 Bronze strings, XS Phosphor Bronze strings and the Elixir Phosphor Bronze Acoustic guitar strings with NANOWEB Coating.
Treated Acoustic Strings
Treated strings are relatively new to the market compared to the others. The treatments range from cryogenic and heat treatments, used primarily on electric guitar strings, to proprietary anti-corrosion treatments on acoustic strings. The latter treat both the wire core and the wrap material to ensure serious corrosion resistance. While no string lasts forever, since all metal will eventually fatigue, these treated strings appear to be in the lead, as far as usable life. Two strings that have set high marks are the Martin MA140T Lifespan 2.0 80/20 Bronze and the Ernie Ball 2546 Everlast Phosphor.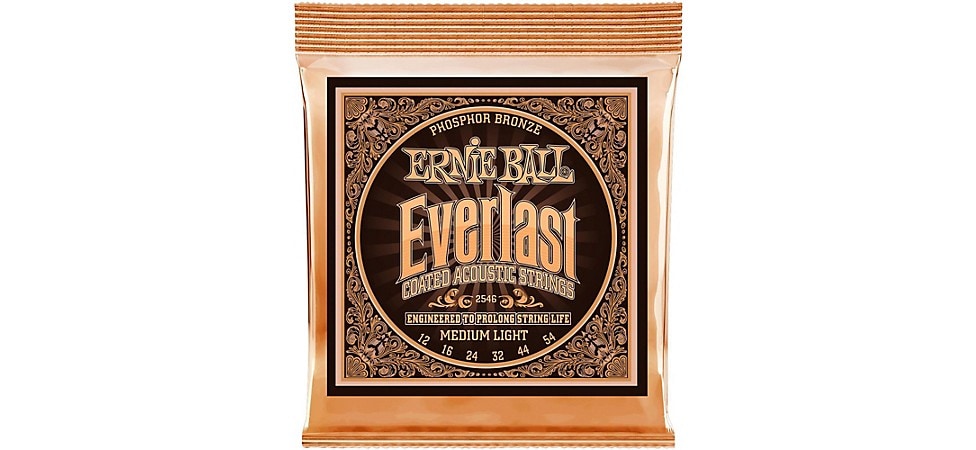 Pictured: Ernie Ball 2546 Everlast Phosphor Medium Light Acoustic Guitar Strings 
Nylon-String Acoustics
Nylon-string acoustic guitars deliver a mellower, smoother sound than steel. The traditional choice for classical, flamenco and many folk guitar forms, these are the closest descendants of the Spanish guitar. Sometimes referred to as gut-string (a natural material that hasn't been in popular use since before the Second World War), they are easy to play, thanks to much lower string tension. They are very responsive and provide a totally different sonic vibe than a steel string. 
Types of Nylon Strings
Although nylon strings have gauges, they are grouped mostly by tension. The categories range from light to extra hard tension. Classical guitarists argue about tensions the same way guitarists argue about fuzz pedals. Some insist that you're not a pro if you're not using the highest tension strings and others advocate for the lightest tension you can get away with. The best advice we've seen is to try the different tensions and go with the one that's most comfortable for you to play. Generally speaking, higher tension means a brighter, sharper attack on the note, while lower tension offers a mellower sound.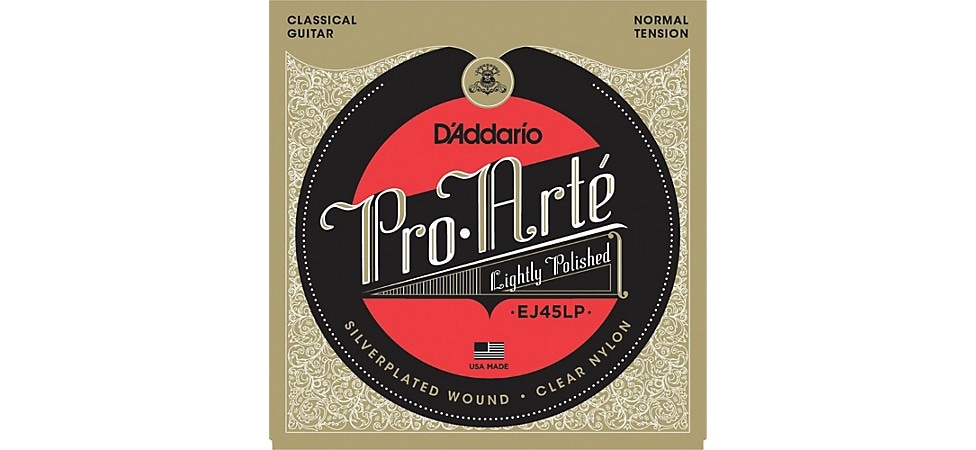 Pictured: D'Addario EJ45LP Pro-Arte Composites Normal LP Classical Guitar Strings 
In terms of materials, nylon strings have a wider range than steel strings. For string wrap, in addition to the 80/20 alloy and phosphor bronze, there are multiple alloys, silver- and gold-plated copper, even pure silver wrap wire, if you're feeling extra indulgent. The wound strings (called basses) have a core of multiple nylon or other synthetic threads, while the plain strings (trebles) are either clear or colored nylon. Some plain strings are extruded to the specific diameter needed. Because of inherent surface irregularities in the extrusion process, these strings can be a little difficult to intonate at times. There are also what are called rectified nylon strings, when the string is extruded at a larger size, then ground down to diameter. They are easier to intonate, but have a slightly rough surface. Black nylon strings with ball ends are another choice. Intended for use on folk guitars, they have less treble and are more designed for non-fingerstyle playing. We advise experimenting with the different tensions and materials to find what best suits your guitar and your playing style.

Finding the tension that's comfortable and sounds right for you and your nylon-string guitar will make a big difference. There a reason that "normal" is called normal, and our suggestion is that you start there with the  Ernie Ball Earthwood 2069 80/20 Bronze Folk Nylon Ball Ends or the tie-on Sevilla Classical Medium Tension strings. If those feel like you want a little livelier attack and quicker response, try out D'Addario's XT Classical Strings (Hard Tension) or even their XT Classical Silver Plated Copper Strings (Extra Hard Tension).
Hybrid Acoustic Strings for Easy Playing
There's a third type of string that we'll mention briefly here, because it can be a great string for beginning acoustic guitar players. These strings, called Silk & Steel, were originally designed for folk guitarists who played steel-string guitars. They are a hybrid or composite set, with the wound strings made like nylon wound strings with a silk or nylon thread core and metal wrap, while the plain strings are steel. They ring a little bit more than nylon, and are easier to play than steel strings. This last feature makes them a great choice for beginning guitarists who want to play steel-string guitar, but are still working on developing their fingers calluses. If that sounds interesting to you, try Martin's MA130S Marquis Silk and Steel Customs, which have a slightly firmer feel, and Ernie Ball's 2045 Earthwood 80/20 Bronze Silk & Steel Soft strings, which are a little softer and mellower.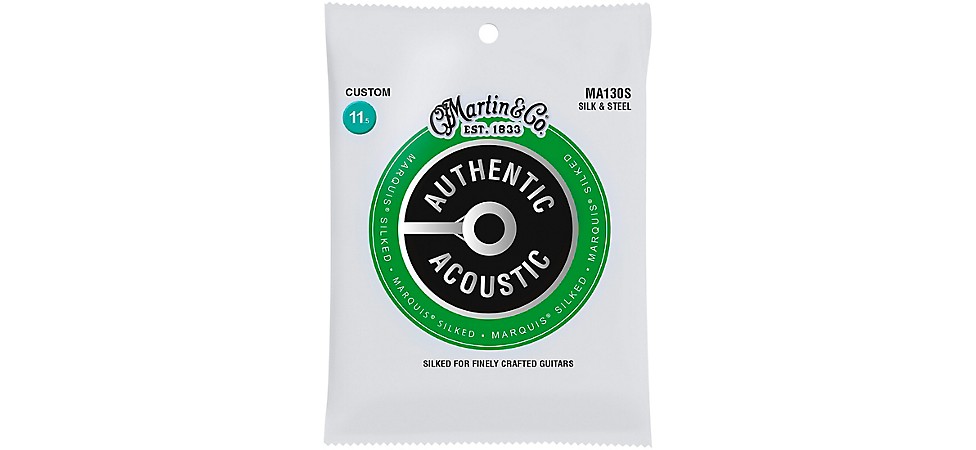 Pictured: Martin MA130S Marquis Silk & Steel Custom Authentic Acoustic Guitar Strings 
Wrapping It All Up
At this point, you should be ready to go to guitarcenter.com or to your local Guitar Center store and confidently choose the best set of strings for your acoustic guitar. Just remember, whatever strings you buy, if you want them to last their longest, it's important to take proper care of them. Keep your guitar in your case or gig bag when you're not playing it, wipe down the guitar and the strings after every playing session, and every two or three sessions, use a good string cleaner, like Dunlop Ultraglide 65 String Cleaner & Conditioner or Ernie Ball Wonder Wipe String Cleaner, for a deep cleanse to keep them sounding great and playing in tune. 
As always, if there's more you want to know, ask us, at the stores, at our call center or through our social media channels. And be sure to subscribe to the Guitar Center YouTube channel for informative videos about guitars, music and more.