Buying an acoustic guitar is a unique and exciting experience. Here are some things to consider before making your purchase, what to look for when you're trying them out, and, ultimately, how to choose the best acoustic guitar for you.
Table of Contents
What To Know When Shopping for an Acoustic Guitar
   Key Differences Between Steel-String Acoustics and Nylon-String Acoustics
   Acoustic Guitar Body Types: Understanding Shapes and Sizes
   Tonewoods
   Solid Wood vs. Laminate: Key Differences
   Acoustic-Electric Guitars
Trying Out an Acoustic Guitar In-Store
   Questions You May Have When Shopping
   Trying Different Models
Getting the Best Deal on Your Acoustic Guitar
Become A Better Guitarist With Online Guitar Lessons
What To Know When Shopping for an Acoustic Guitar
To find what you want, you need to know what you're looking for. The type of music you want to play, the features you want and your budget will help determine the type of guitar you should get. Don't just settle for the cheapest acoustic guitar you find. Ultimately, the best guitar for you is the one that feels good in your hands and sounds good to your ears. It all comes down to personal preference, and the only way to know what guitar you prefer is to pick up and play different acoustics, which you can do at your local Guitar Center.
While certain tonewoods or body shapes may be associated with specific genres of music, don't let that limit your choice of guitars. It does help, though, to have an idea of the basic characteristics of certain types of woods and shapes, as well as the benefits of key features.
Key Differences Between Steel-String Acoustics and Nylon-String Acoustics
Steel-string acoustic guitars and nylon-string acoustic guitars may look somewhat similar at first glance, but there are some key differences. Nylon strings produce a mellower tone and are most often used in classical and flamenco acoustics. Classical guitars also have a wider neck to provide more space between the strings and have a shorter fretboard than steel-string acoustics. Steel-string acoustic guitars offer more volume and power with a crisp, cutting tone, and are used more commonly in rock, country, bluegrass and pop music.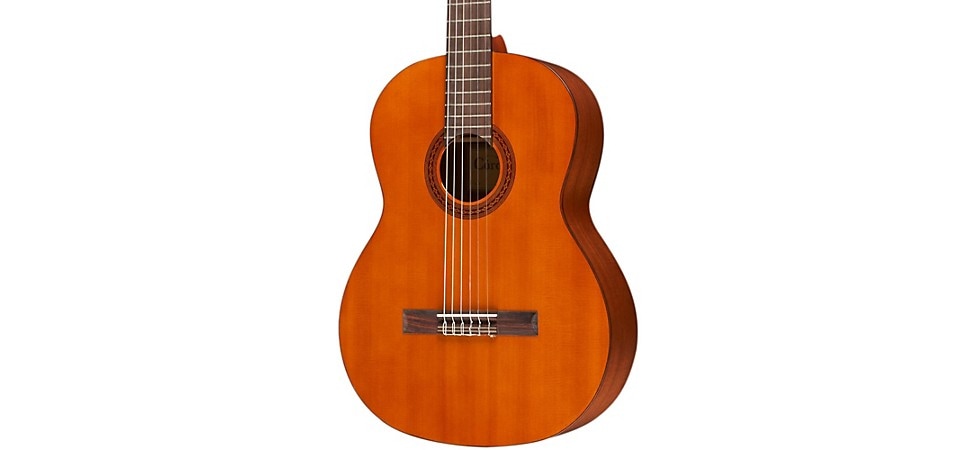 Pictured: Cordoba C5 Acoustic Nylon String Classical Guitar
Because steel strings are under a higher amount of tension than nylon strings, they need a greater amount of force to properly fret (hold down) notes. While nylon strings are gentler on your fingers than steel strings, it is important to know that these strings are not interchangeable on the same guitar. The choice between a nylon-string acoustic and a steel-string acoustic should be less about how they make your fingers feel, and more about the style of music you would like to play. Again, it all comes down to preference, so be sure to give them both a test before deciding.
Ready to breathe new life into your guitar? Check out our Acoustic Guitar String Buying Guide.
Acoustic Guitar Body Types: Understanding Shapes and Sizes
Acoustics come in a variety of shapes and sizes that affect the sound and playability of the guitar. The vibrations generated by strumming or picking the guitar's strings are transmitted by the bridge to the top, also known as the soundboard, where it is amplified. So, in general, the bigger the body, the better the wood and the better designed the bracing (the internal support structure of the guitar), the more resonant—louder, fuller sounding—the guitar will be. Smaller bodies and contoured bodies provide you with increased comfort and playability. Cutaway acoustics feature a contour in the upper bout (the curved area above the middle of the body), which allows easier access to the upper frets of the guitar neck. Let's take a look at some of the most popular acoustic body shapes and sizes and the different tones they offer.
Dreadnought
Originally developed by Martin in 1916, the dreadnought is the most common acoustic guitar shape and is used across all popular music styles. The dreadnought features a deep body and wide waist that delivers plenty of projection with a big, yet bright, sound. The Martin D-18 and Gibson J-45 are among the earliest dreadnoughts and remain two of the most popular today. The cutaway Epiphone Hummingbird PRO is a great choice for beginners looking for dreadnought sounds with easy access to the upper frets.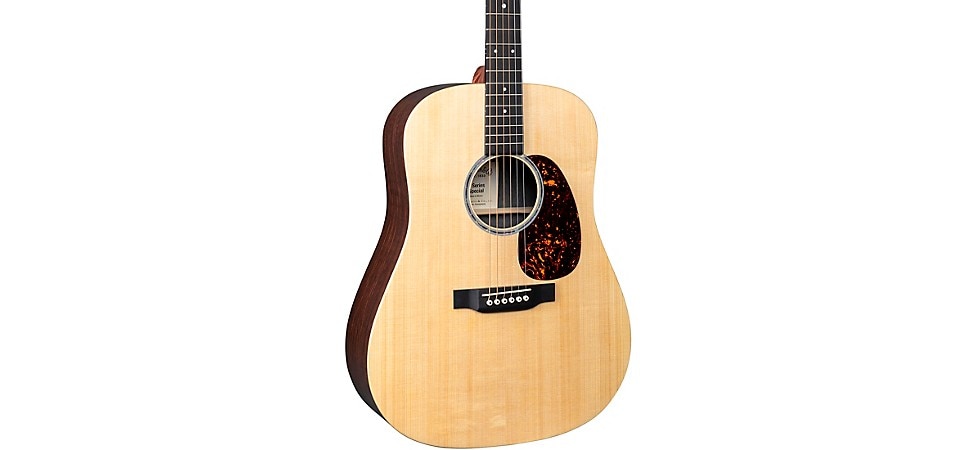 Pictured: Martin Custom Dreadnought X1AE Acoustic-Electric Guitar
Jumbo
Jumbo acoustics are big, boomy guitars, with lots of resonant space. This design allows them to project loudly with an energetic bottom end. The Gibson SJ-200, Epiphone J-200 and Martin J-40 are some of the top-selling jumbo acoustics.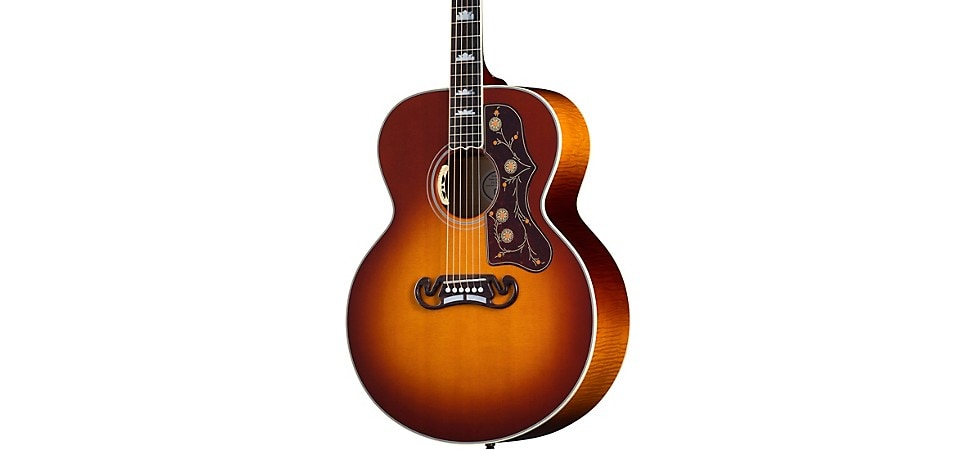 Pictured: Gibson SJ-200 Standard Acoustic-Electric Guitar
Auditorium and Grand Auditorium
The auditorium or "orchestra" acoustic is a mid-size guitar with a body width similar to a dreadnought but with a smaller waist. It produces a big sound with excellent treble-bass balance that makes it great for fingerstyle playing. A grand auditorium or "000" also has a smaller waist, but with a wider body than a dreadnought. The grand auditorium acoustic boasts greater volume and dynamics.
Jumbo, auditorium and grand auditorium acoustics are popular shapes for 12-string guitars as well. 12-string acoustic guitars are a common variation that are played the same way as a standard six-string acoustic, but with string pairs tuned an octave apart or in unison, which produces a lush chorusing effect.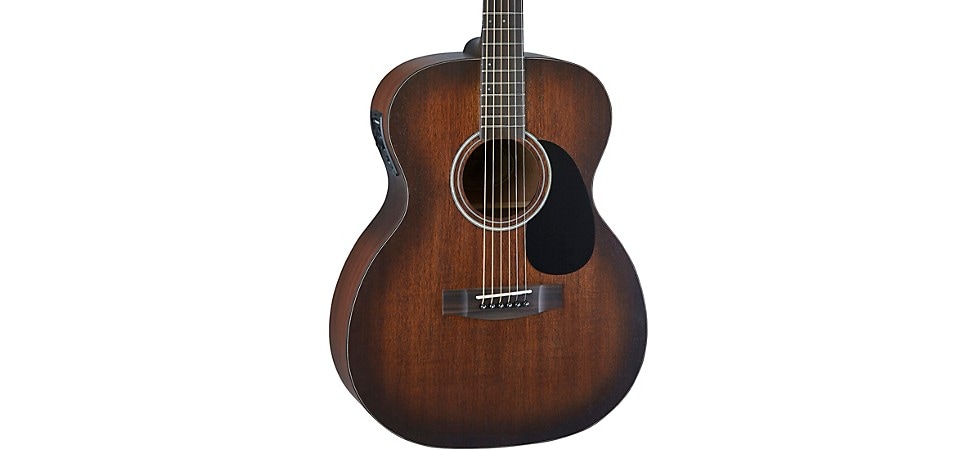 Pictured: Mitchell T333E-BST Solid Mahogany Auditorium Acoustic-Electric Guitar
Concert and Grand Concert
A concert acoustic is a compact, well-balanced guitar offering an articulate range of tone with an ample, but never boomy, low end. Concert-style acoustics work well when played fingerstyle or at a full strum. Grand concert or "00" acoustics are slightly bigger, providing similar top-end chime but with stronger bass response.
Pictured: Fender FA-135 CE Concert Acoustic-Electric Guitar
Parlor
Parlor acoustics or single "0" guitars originally peked in popularity from the late 19th century into the early 20th century. They are named for the old reception rooms, or "parlors," in which they were typically played. Parlor guitars are slender with small bodies and rounded upper bouts, making them comfortable and great for fingerpicking. Tonally, they boast a wide, dynamic midrange with plenty of warmth and volume. The Gretsch Jim Dandy and Fender CP-60S are popular models with Ibanez and Recording King also offering many affordable options.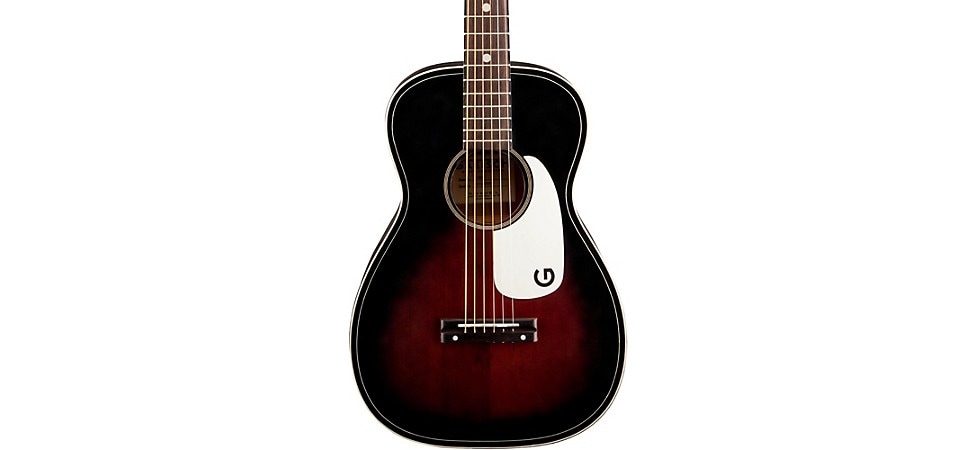 Pictured: Gretsch Guitars Jim Dandy Flat Top Acoustic Guitar
Mini-Acoustics
Mini-acoustics are often the best acoustic guitar for kids and beginners. They are also excellent options for players of all ages and skill levels looking for extra comfort or a compact acoustic for travel. Most mini guitars have the same shape and a similar sound as a standard acoustic, but have a shorter scale and a body that is 3/4 or 7/8 the size. These smaller-scale acoustics are easier for beginners to hold and move along the fingerboard, and are also a great option for electric players used to the slim body of an electric guitar.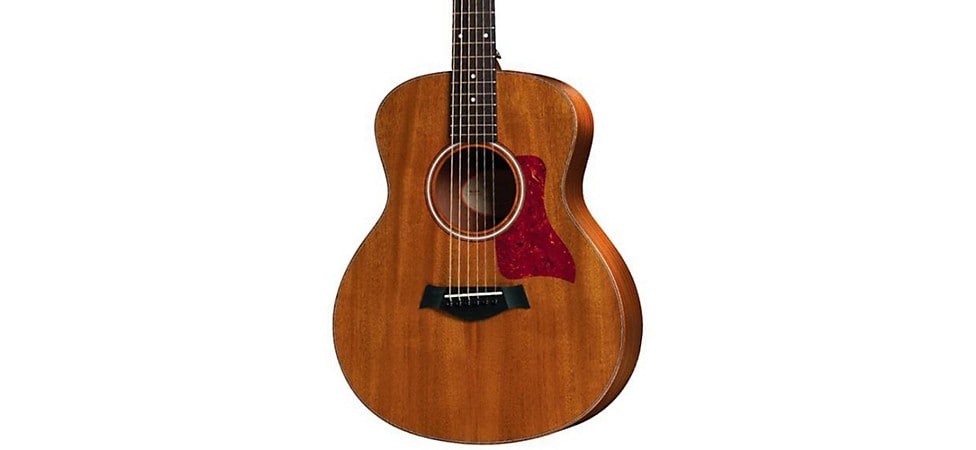 Pictured: Taylor GS Mini Mahogany Acoustic Guitar
Tonewoods
Tonewoods are varieties of wood with tonal properties—their fundamental sound—that make them good choices for use in instruments. The firmness, weight and density of each species of wood help shape its tone. Every piece of wood within a species will also have unique variations in grain and color, which contribute to the unique look and feel of an acoustic. Below are some common tonewoods used for acoustic guitars.
Spruce
The different species of spruce, including Sitka, Engelmann and Adirondack, are the most popular tonewoods for steel-string acoustic guitar tops. Spruce is lightweight, yet strong, which makes it a very expressive tonewood with well-balanced dynamics and articulate tone.
Mahogany
Mahogany is a fairly dense wood, which offers natural compression (leveling of dynamics). Mahogany bodies are often paired with spruce tops, as mahogany can help add depth and fullness to the more cutting tone of spruce. When used as a top wood, mahogany produces a more pronounced, or "punchy," midrange.
Walnut
Walnut shares many of the tonal qualities of mahogany when used in bodies, adding "meat" to the midrange and fullness to the bottom end, but with more clarity and tightness.
Cedar
Cedar is a soft, less dense wood that is highly responsive to a light touch, which makes it great for fingerstyle playing. It is a popular choice for the tops of classical or flamenco acoustic guitars.
Rosewood
Different species of rosewood, including Brazilian and Indian, differ slightly in look and density, but their tonal qualities are very similar and highly desired. Rosewood back and sides on an acoustic offer complex overtones and extended sustain, while also producing one of the strongest bass responses among tonewoods. Rosewood, as well as Granadillo (sometimes referred to as "Mexican rosewood"), are also commonly used for fingerboards and bridges.
Solid Wood vs. Laminate: Key Differences
Most acoustic guitars are made of either solid wood (a single-ply cut of wood), laminate or "layered" wood (several layers of wood pressed together), or a combination of the two. High-grade solid wood is more difficult to find and manufacture than laminate wood, which is why it is more expensive. Since the top of an acoustic has the most impact on the overall tone of the guitar, many acoustic guitar makers will pair a solid-wood top with a laminate body. Let's take a look at the advantages of both types of wood.
In addition to more pleasing aesthetics, solid wood provides richer overtones and sustain that improve with age. This improvement in tone and resonance is one of the reasons vintage acoustic guitars are highly sought after. The main advantage of using laminate wood is for structural and budgetary reasons. Laminate wood doesn't vibrate as well as solid wood and produces a darker tone with less volume. However, laminate wood is more durable and can stand up to changes in temperatures and humidity better than solid wood, which makes it ideal if you're planning to travel frequently with your acoustic.
Many brands also use composite wood as an eco-friendly and cost-effective alternative to using solid wood for bridges and fingerboards. Composite wood is made of a combination of wood chips, sawdust or paper that is pressed and bonded together with resin or adhesive. Brands like Martin and Gibson often use the composite Richlite as a substitute for ebony.
Acoustic-Electric Guitars
Many acoustic guitars come with onboard electronics—pickup systems built inside the body of the guitar—that make it easy to plug into amplification for live performance and recording. These guitars are commonly referred to as acoustic-electric guitars. The most common acoustic guitar pickup system guitars consists of a piezo pickup, which uses crystals to translate the sound of the strings and the vibrations caused by the resonance of the wood into an electrical signal, and a preamp, which makes the signal stronger. There are alternatives, like Taylor's Expression System 2 pickups, which utilize a combination of sensors, or Yamaha's Atmosfeel system, which employs a piezo, flat sensor and internal mic to provide a more natural-sounding tone. A preamp also often gives you onboard controls for volume, bass and treble (or EQ), phase switches for fighting feedback (unwanted noise), or even a built-in acoustic guitar tuner.
If an acoustic you like isn't available as an acoustic-electric, but you would like to be able to plug in for amplification instead of using a microphone, you can also buy external pickups from brands like L.R Baggs or Fishman that mount to the soundhole. Some acoustics, like Yamaha TransAcoustic models, also feature amplification and effects built right into the body, with no need for external amps or pedals.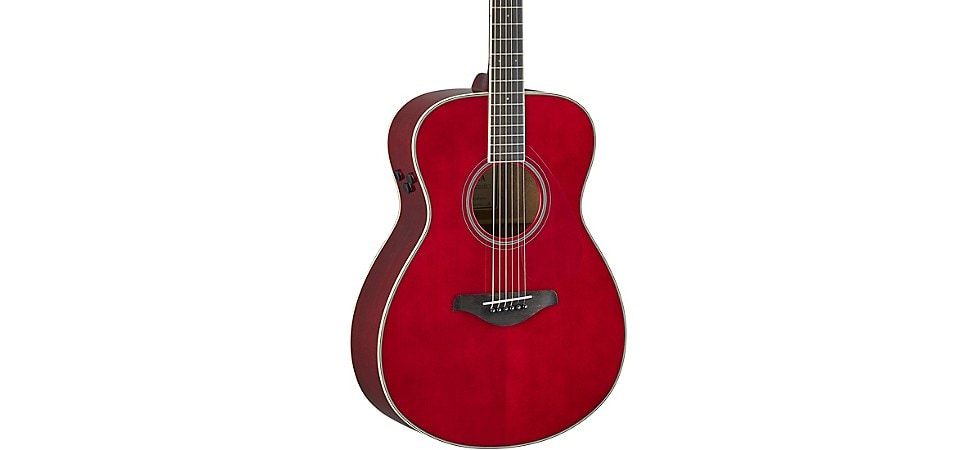 Pictured: Yamaha FS-TA TransAcoustic Concert Acoustic-Electric Guitar
Trying Out an Acoustic Guitar In-Store
If you need a pick, strap, tuner, slide, capo or acoustic amp to properly compare acoustic models, ask a member of our helpful store staff and they'll be happy to provide those for you to demo. Don't feel like you have to put on a demonstration of your talents to get a feel for the guitar. If all you know is a few chords, strum those chords. Hear how those chords sound and how it feels to change between chords up and down the neck. If you haven't learned to play anything yet, you can pay more attention to the ergonomics of the instrument. See if the body is comfortable to hold, and see if the width of the neck is comfy when gripping it.
Questions You May Have When Shopping
Don't be afraid to ask questions. Even if you've done hours of research on acoustic guitar forums, you're not going to become an acoustic guitar expert overnight. If a guitar you're looking at has a material or special feature that you're unfamiliar with, our store staff can explain or quickly find you information on the benefit of that feature. The price tags on each guitar in the store also have bullets, which call out key features. These can include the different tonewoods on the top and body, neck shapes, bracing patterns, and any special onboard electronics.
If you're unfamiliar with what's in the store or just need help to find acoustics in your price range, you can also ask the a member of our team to show you options for the best acoustic guitar under $500, the best acoustic guitar under $200 or whatever your budget may be.
Trying Different Models
In most Guitar Center locations, acoustic guitars are located in a special humidity-controlled room. Not only does this prevent the guitars from cracking and swelling, it also separates you from most of the noise happening in other parts of the store. This allows you to really hear the subtle differences in the acoustic models you try. So, take your time, there's no need to feel rushed.
Getting the Best Deal on Your Acoustic Guitar
It never hurts to ask if there are any promotions or sales currently running, but our 45-day price-match guarantee takes the guesswork and haggling out of getting the best deal on acoustic guitars. At the time of purchase or any time within 45 days of your purchase, if you find the identical acoustic advertised by any authorized dealer—including Guitar Center—at a lower price than what you paid, just show us the ad and your original receipt, and we'll refund you 100% of the difference. Another way to save money on your new acoustic is by selling us old musical gear you have to trade up to a new acoustic. So, if you have a qualifying item you'd like to trade in, you can get up to 10% off your new acoustic, in addition to your trade credit.
Become A Better Guitarist With Online Guitar Lessons
Did you know that Guitar Center offers guitar lessons? Our expert guitar instructors will work closely with you to tailor your lessons to your musical tastes and goals. Whether you're a beginner guitarist learning your first chords, or a more experienced player looking to grow, we're here to help.