Whether you're searching for a new sound or beginning your musical journey, a classical guitar might be the answer. For beginners struggling with barre chords, these nylon-stringed instruments are easier on your fingertips. More advanced players can explore a rich history of music that goes back centuries. This guide will help you find a new guitar that fits your price range and style. And if you're interested in learning to play or level up your skills, check out our one-on-one lessons online or at your local Guitar Center.
The Differences Between Classical and Flamenco Guitars
To some, any nylon-stringed guitar is "classical," but that's not accurate. Flamenco and classical guitars are different beasts with different builds.
Soundboards for classical guitars are most commonly spruce or cedar and are paired with rosewood back and sides. They're cut slightly thicker to accommodate the deeper body and poly-timbral range.
If classical guitars are made to sustain, flamenco models are made to project. To be heard over the din of the dancers' foot stomping, hand clapping and shouts of encouragement, a flamenco guitar has to be loud. The solid snap of a spruce top with cypress back and sides does just that. Flamenco guitars have thinner, lighter tops, too. It might sound counterintuitive, but lighter equals louder.
The string height on a flamenco guitar is lower than on a classical. To keep up with breakneck speeds, players need a guitar with low action, which can lead to fret buzz. Fortunately, that raspy sound is accepted (and demanded) in flamenco.
This music style is also rhythm-rich, and the guitarist has to play percussively. Flamenco guitars have golpeadors to protect the top from taps. Functioning as pickguards, most of these tap plates are thin and see-through, almost like a screen protector on a cellphone.
Our Top Classical and Flamenco Guitar Picks
Córdoba Fusion Orchestra CE Crossover
The Córdoba Fusion Orchestra CE Crossover is appropriately named, as it fuses the playability of a steel-string acoustic with the sound of a nylon-string guitar. The cedar top and rosewood back and sides are hallmarks of a traditional classical guitar. But the nut width is slightly smaller at 1-7/8", making it easier for acoustic players to crossover to the CE. The ebony fingerboard has a 16" radius to follow the contours of your fretting hand.
Amplifying the Córdoba CE Crossover is easy with the Fishman Presys Blend. It combines a piezo undersaddle pickup with an internal microphone; adjust both to eliminate feedback and tune the sound to the room. A case is available separately.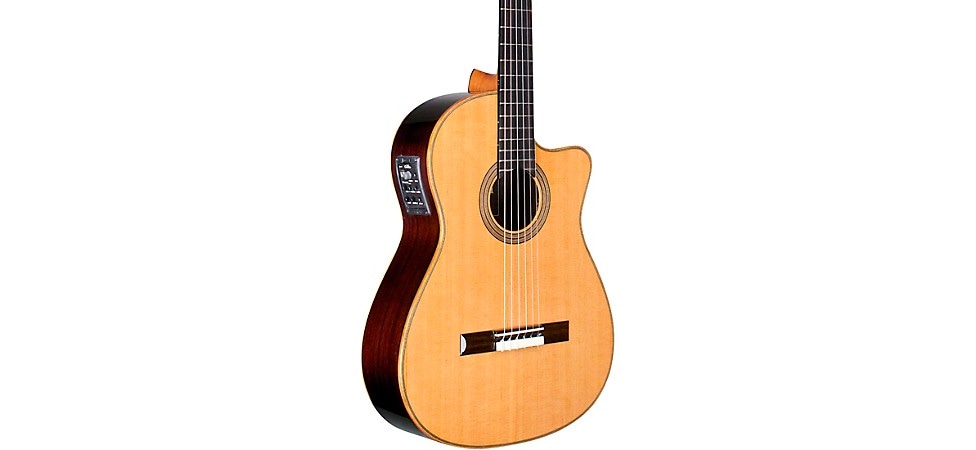 Pictured: Cordoba Fusion Orchestra CE Crossover Classical Acoustic-Electric Guitar
Yamaha CGS Student Classical Guitar
Beginners will feel right at home with the Yamaha CGS Student Classical Guitar. It's available in two sizes: 3/4 and 1/2. Younger players should find this more comfortable to manage than a standard full-size instrument. The CGS sports a spruce top; back and sides are made from meranti, an affordable tonewood known for its strength. A case is available separately, which is highly recommended if the player plans to tote the guitar to school and back.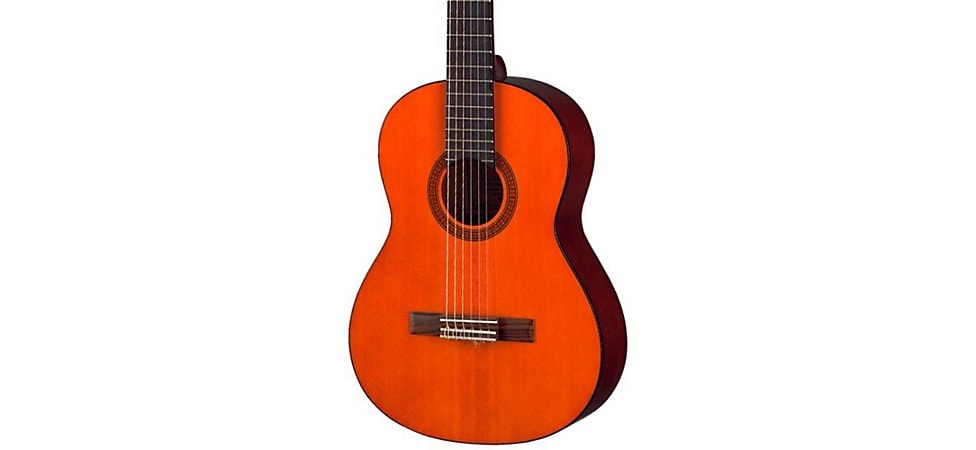 Pictured: Yamaha CGS Student Classical Guitar
Lucero LC150S Classical Guitar
Those with a slightly bigger budget will find the Lucero LC150S to be a capable classical. The spruce top adds extra snap to each note. Its meranti back and sides have a similar sound and appearance to mahogany. The LC150S is dressed up with multi-ply wood binding and gold tuners with white ivoroid buttons.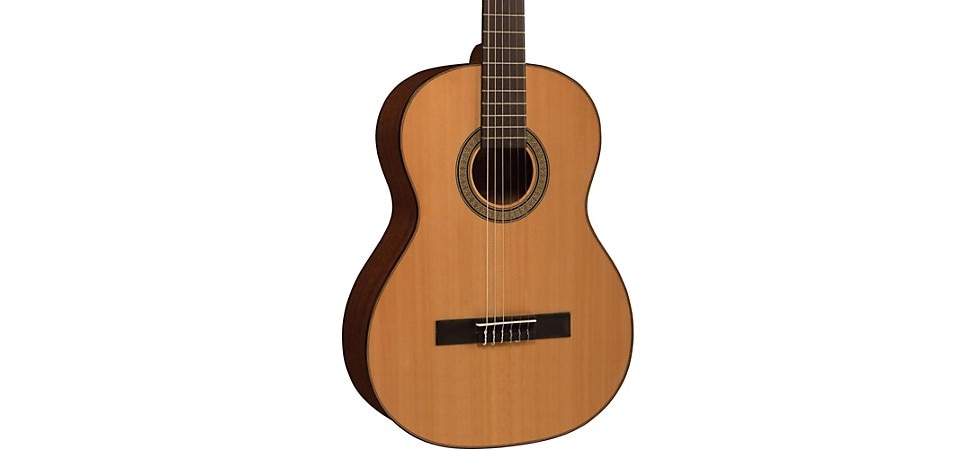 Pictured: Lucero LC150S Classical Guitar
Alhambra 4F Flamenco
The great guitarist Mario Escudero gets credit for introducing flamenco to the wider world in the 1950s. He was born in the Province of Alicante in southeast Spain, which is also the home of Alhambra guitars. Made in a small town of 9,000, the Alhambra 4F Flamenco is traditional in every sense. If you plan to grow your fingernails for percussive taps, the clear golpeador will protect the spruce top. Its sycamore back and sides are a more affordable and pleasing alternative to cypress. The 4F has a bold look—the striking orange hue matches the color of a Spanish sunrise. Gold-plated machine heads add a regal touch. The Alhambra 4F Flamenco comes with a gig bag.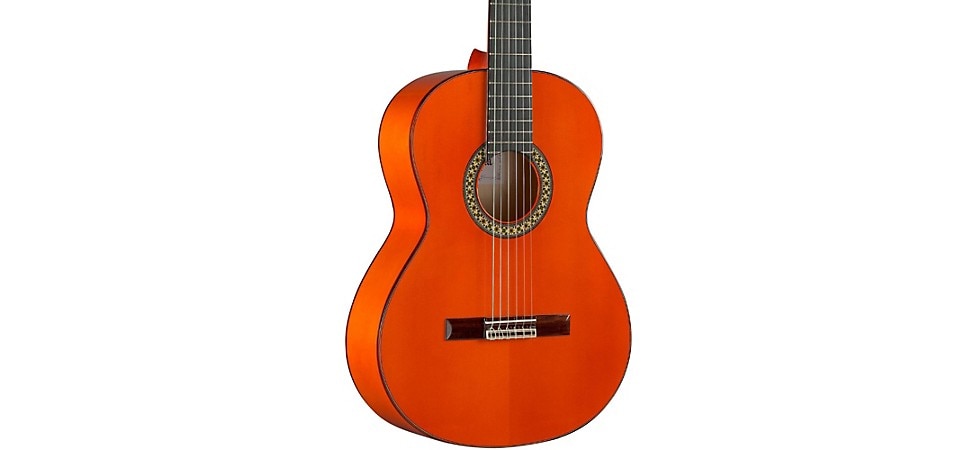 Pictured: Alhambra 4F Flamenco Guitar
Kremona Solea
Andrés Segovia succumbed to the sounds of red cedar in the mid-'60s and never looked back.
The handcrafted Kremona Solea Classical shares the same tonewood for its top. The cocobolo back and sides are so striking, you'll be tempted to store the guitar backwards on the stand to highlight the rich, undulating grain. Kremona has been in business since 1924, so it's no surprise that the Solea is truly a heritage guitar. The fingerboard and headstock overlay are ebony; brass tuning machines and an abalone rosette further elevate the instrument. It comes with a deluxe hardshell case.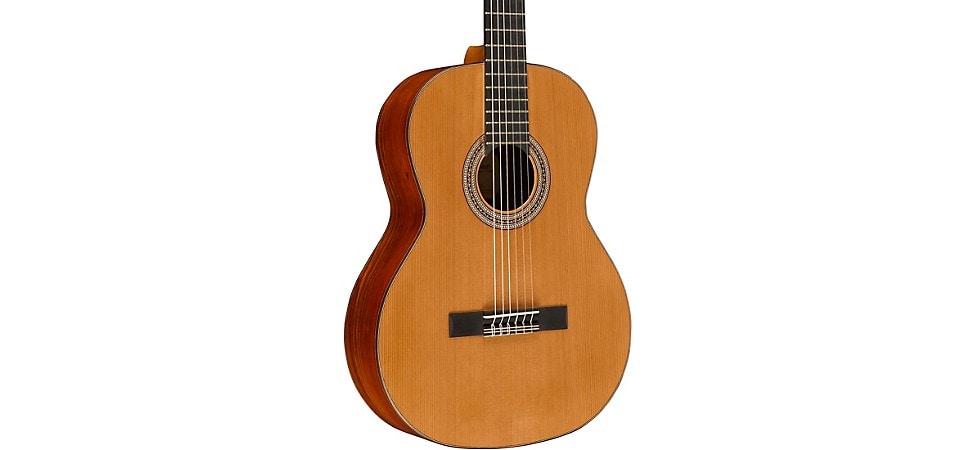 Pictured: Kremona Solea Classical Guitar
Córdoba Protégé C1 Matiz
Most classical guitars feature clear finishes to reveal the wood underneath. Córdoba goes the opposite way with the Protégé C1 Matiz. It's available in Aqua, Classic Blue, Coral and Pale Sky, and includes a color-matched gig bag, making the C1 a great gift for beginners. A spruce top and laminated mahogany body provide warm, traditional tones. Córdoba specs this classical guitar with a dual-action truss rod, so you'll be able to adjust the action for a perfect feel.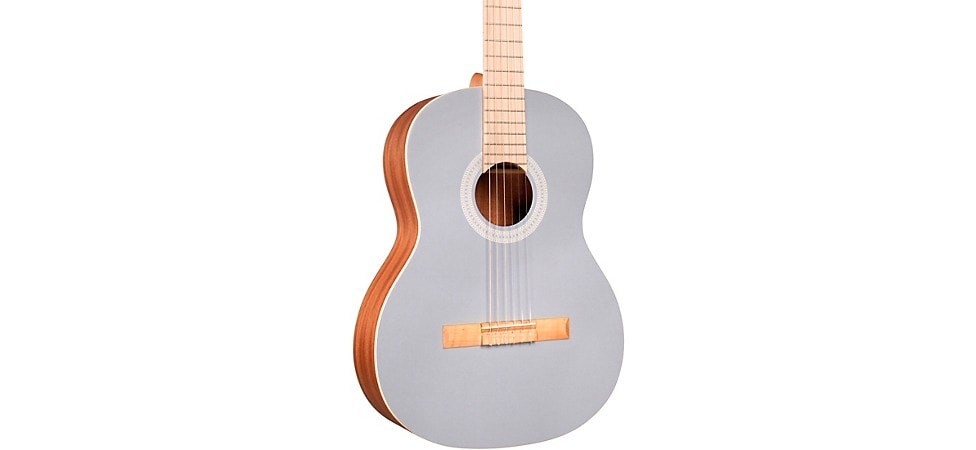 Pictured: Cordoba Protege C1 Matiz Classical Guitar
Yamaha CG-TA TransAcoustic
If you've ever played a gig in an acoustically dead room, the Yamaha CG-TA TransAcoustic provides a solution. It offers real reverb and chorus—without amplification. The CG-TA has an actuator on the interior, which mechanically flexes the back of the guitar as you play. The effect is mesmerizing. Select "Hall" reverb for a concert hall sound, "Room" reverb for the ambience of a more intimate space, or "Chorus" to thicken your tone with a slight delay. The TransAcoustic can be amplified using the onboard SYSTEM70 preamp and piezo pickup; a midrange EQ control shapes your sound and prevents feedback. In all other aspects, the nylon-stringed Yamaha is a traditional classical guitar, with 12 frets to the body and a flat fingerboard radius. The spruce top pairs with ovangkol back and sides, an African tonewood that is a sustainable alternative to rosewood. A case is sold separately.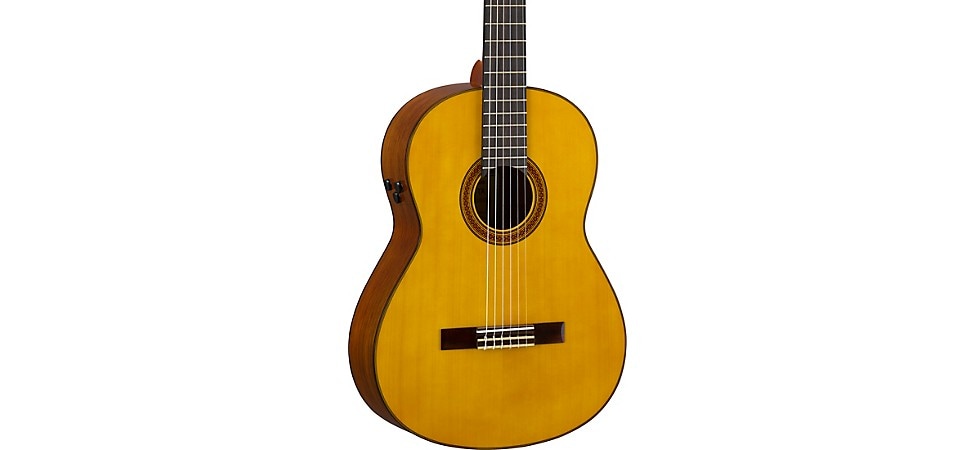 Pictured: Yamaha CG-TA TransAcoustic Nylon-String Guitar
Córdoba C5 Spruce
The Córdoba C5 Spruce is a first guitar made to last. A lightweight truss rod adds stability to the mahogany neck. With a solid spruce top and mahogany back and sides, the C5 has a clear, powerful tone. You'll appreciate the sustain while playing Bach's "Minuet in G," a classical guitar piece basic enough for beginners. The carved headstock, hand-inlaid wood rosette and pau ferro binding make the C5 stand out from the rest of the classical pack at this price range. A case is available separately.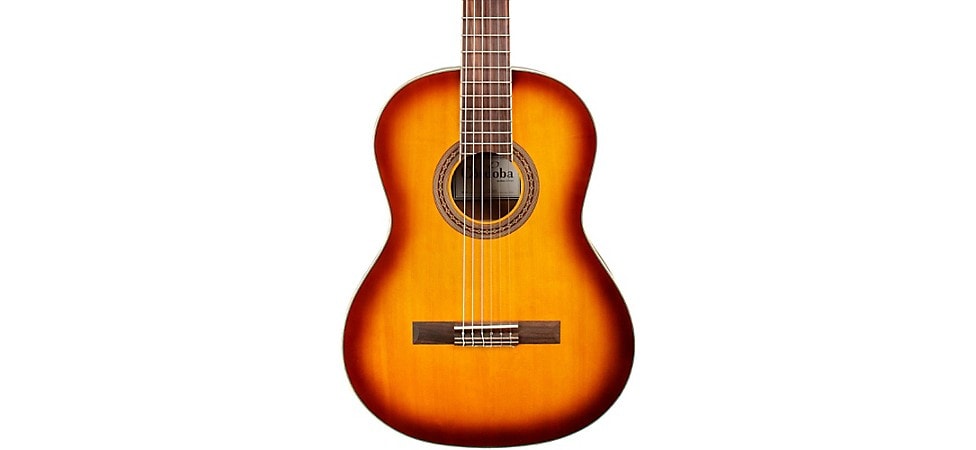 Pictured: Cordoba C5 SB Classical Guitar
Kremona Rosa Luna
With a 50 mm nut width, the Kremona Rosa Luna is a flamenco guitar with less-daunting string spacing. It also has a non-traditional Venetian cutaway for easier access to the upper frets. The body is Bulgarian beech, a stable tonewood that resists dents. A clear golpeador protects the spruce top from percussive taps. The cedar neck has a flat rosewood fingerboard to facilitate fast rasgeuado strums. If you plan to play amplified, the Rosa Luna utilizes a Fishman Presys Blend system to mix the undersaddle piezo pickup with the internal microphone. This Kremona comes with an onboard tuner, 3-band EQ and a deluxe gig bag.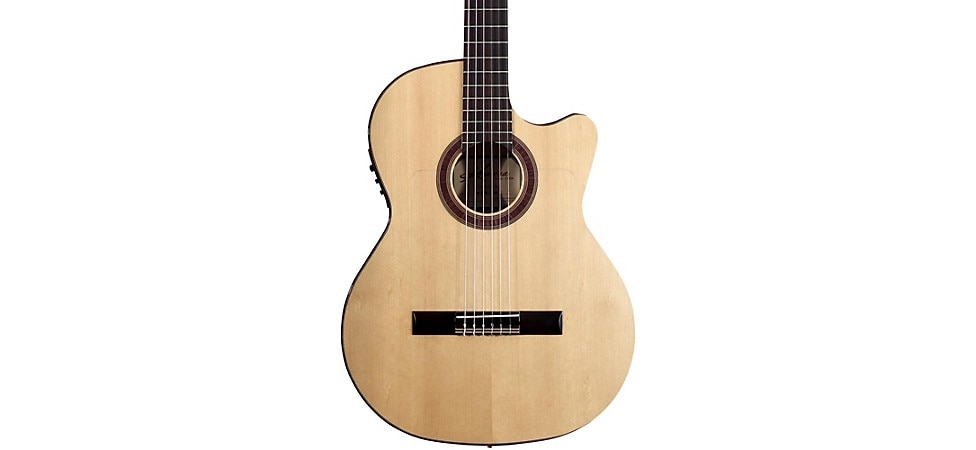 Pictured: Kremona Rosa Luna Flamenco Guitar
Taylor 12-N Grand Concert
Taylor puts its own spin on classical guitars with the 12-N Grand Concert. The top is Lutz spruce, a natural hybrid that blends the stiffness of Sitka with the lighter density of white spruce. The end result is loud and lively sound. Taylor spec'd layered sapele for the back and sides. Since the laminate is all-wood, the tone of the guitar will improve as it ages. The 12-N features Taylor's glueless neck joint, which allows a tech to adjust the angle in minutes. If you prize comfort, the beveled armrest makes it difficult to put this Grand Concert down; the included gig bag protects it when you do.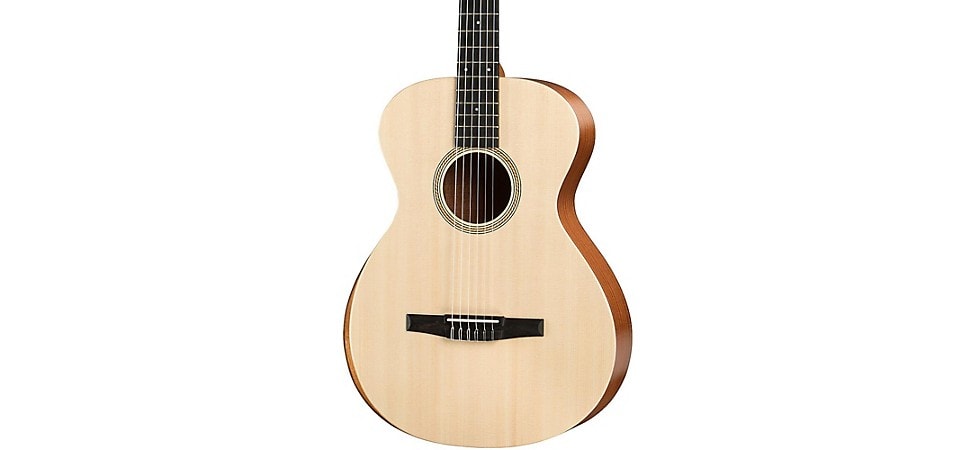 Pictured: Taylor Academy 12-N Grand Concert Nylon String Guitar
Ibanez GA35 Thinline Acoustic-Electric
The Ibanez GA35 Thinline Acoustic-Electric is sleeker than most classical guitars. The mahogany body is just 2-3/4" deep, making that mid-set transition from electric to acoustic a more comfortable jump. Geared for performance, the GA35 has a 14-fret neck joint for a tighter, brighter sound; the mahogany neck is also narrower for playing ease. Ibanez installs a preamp and undersaddle piezo pickup for live situations. Plug into an amp with the standard instrument jack, or directly to the board with the balanced XLR output. A case is available separately.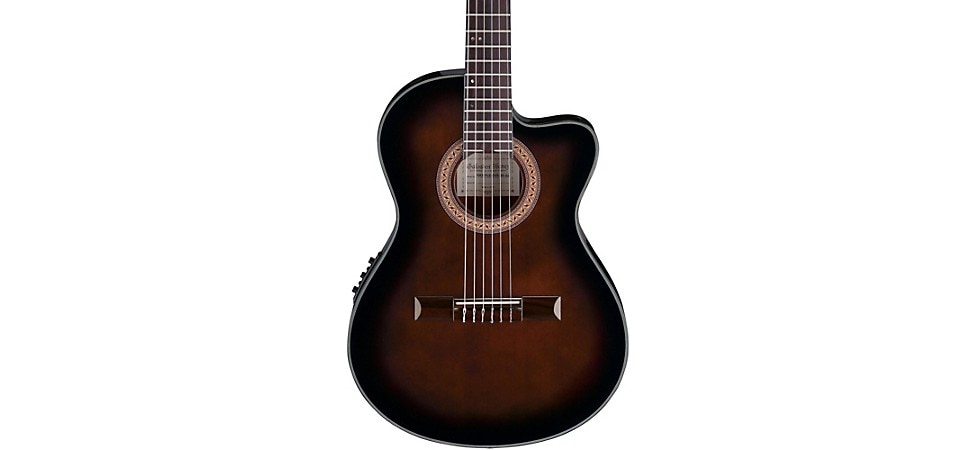 Pictured: Ibanez GA35 Thinline Classical Guitar
Yamaha NTX1 Acoustic-Electric
Another affordable option that marries modern playability with classic nylon sounds is Yamaha's NTX1 Acoustic-Electric. The thinline body is less bulky than a traditional acoustic and offers the feel of an electric guitar; the nato neck has a slim profile and a radiused walnut fingerboard for faster fretting. Yamaha installs a three-band EQ, onboard tuner, preamp and piezo undersaddle pickup, making the NTX1 suitable for the studio or stage. A case is available separately.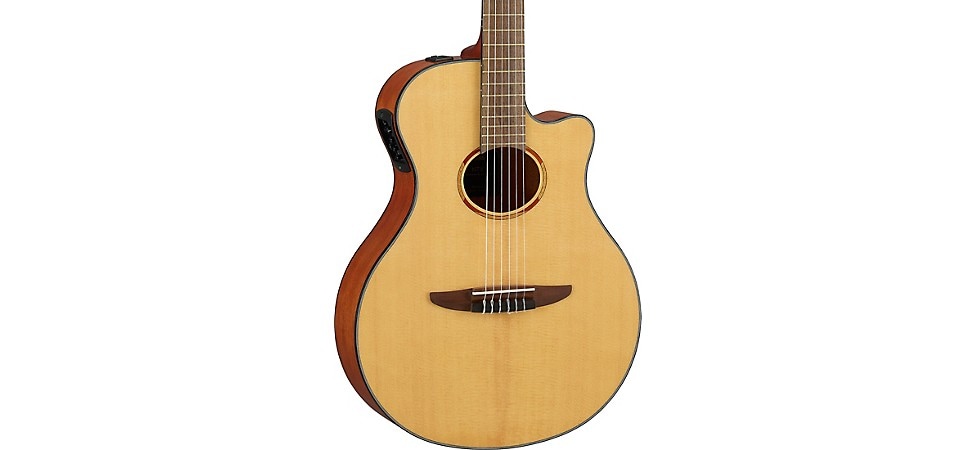 Pictured: Yamaha NTX1 Acoustic-Electric Classical Guitar
Córdoba GK Studio Negra
Guitars with rosewood back and sides are referred to as negra models. Known for their robust tone and low-end clarity, they are preferred by artists like Paco de Lucía, who sought to bridge the gap between classical and flamenco. You'll hear it on the Córdoba GK Studio Negra, which pairs a rosewood body with a spruce top. The GK Studio Negra has modern touches like a slightly thinner body, neck and nut width. Designed to be played with little or no neck relief, you won't develop hand fatigue during long sets and practice sessions. The Fishman Presys system lets you blend the piezo pickup with the internal microphone to dial in your sound in any venue. A case is available separately.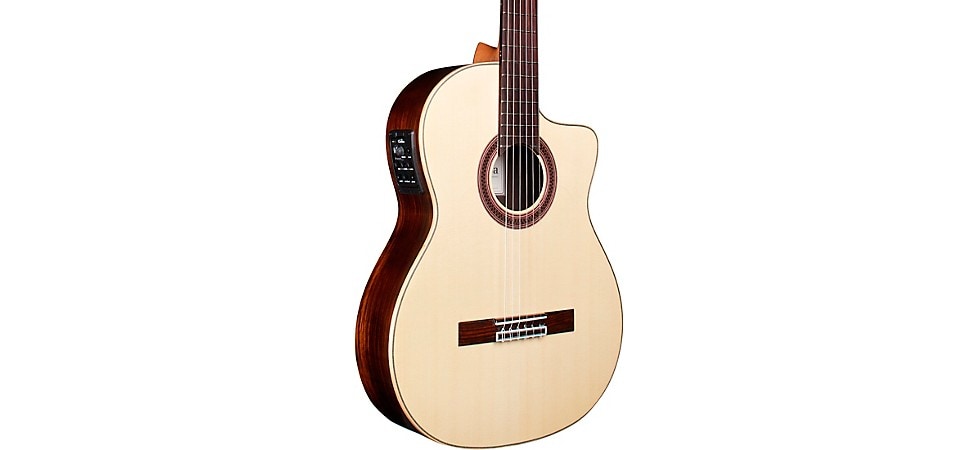 Pictured: Cordoba GK Studio Negra
Córdoba GK Studio Natural
If your repertoire leans more towards "Malagueña" than Mozart, the Córdoba GK Studio Natural is a standout pick. This traditional flamenco blanca guitar has cypress back and sides. Lighter in density than rosewood, cypress produces a brighter, clearer tone. Develop your picado technique, because the GK Natural excels with fast single-note runs. The spruce top is accented with rosewood binding. Otherwise, the specs are exactly the same as the GK Studio Negra. A case is available separately.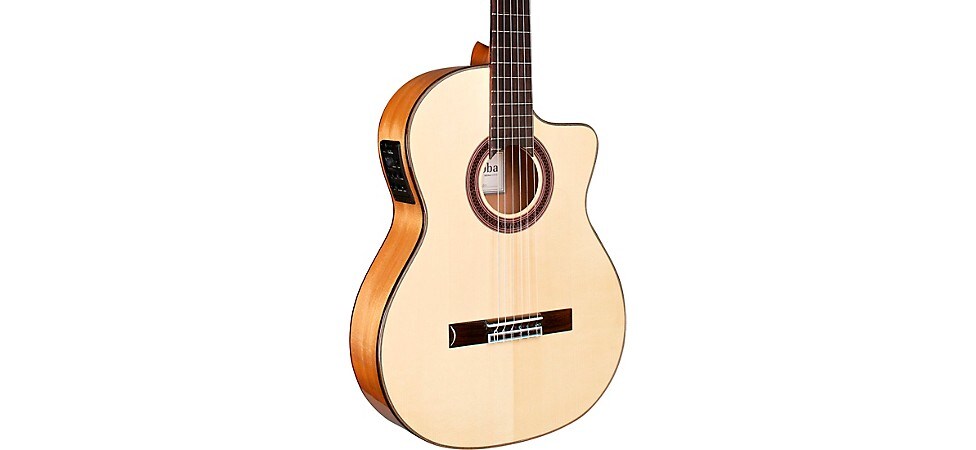 Pictured: Cordoba GK Studio Natural
Yamaha GC42
The king of the classical line at Guitar Center is the Yamaha GC42. Hand-built at Yamaha's 133-year-old custom shop in Japan, the GC42 is a pro-level instrument ready for the concert hall. The back and sides are made of Madagascar rosewood; choose solid cedar or an American spruce top. Spruce is generally brighter and louder than cedar, while cedar tops are warmer and fuller. Yamaha spec'd mahogany for the neck, ebony for the fingerboard and rosewood for the bridge. It comes with a reinforced carry bag.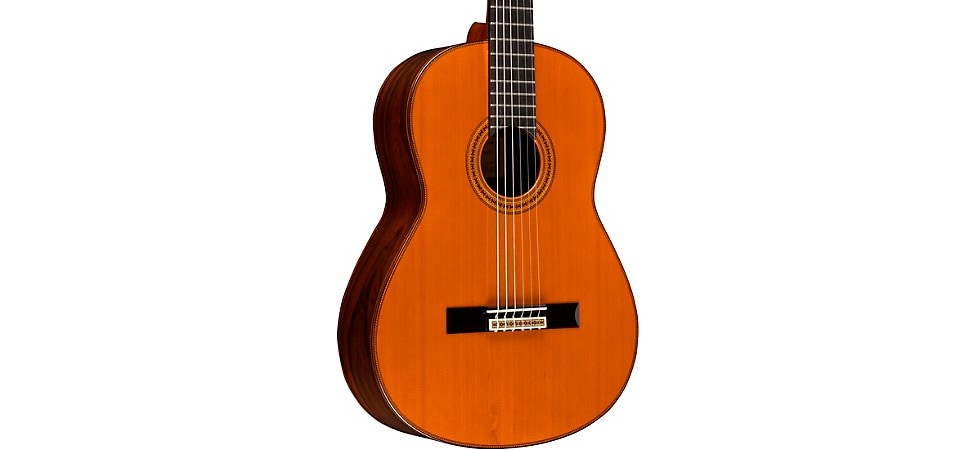 Pictured: Yamaha GC42 Classical Guitar
The Final Say on Flamenco and Conclusion on Classical
We hope this deep dive into classical and flamenco guitars has inspired you to pick up one and play. Come into your local store to get hands-on with our vast selection, shop online or contact our Call Center and connect with a Gear Adviser to help find a classical guitar that's right for you.