An acoustic guitar is a living, breathing thing, more so than many other instruments. The carefully crafted wood that gives it the sound you love responds to dirt and climate much like any organism, and keeping it properly cared for—cleaned and maintained—ensures that you'll get years of musical pleasure from your investment in the instrument. In this article, we're going to look at some simple things you can do to keep that guitar in tip-top shape, as well as the tools you need to get them done right.
Table of Contents
Keep Your Guitar Comfortable
Keep Your Guitar Clean and Conditioned
Fresh Strings for Better Sound
Home, Sweet Home—The Right Case
Avoiding the Drop With Strap Locks
Other Considerations for Acoustic Guitar Health
Keep Your Guitar Comfortable
You know those public service ads that run in the summer and in the winter that are aimed at your pets—the ones that say, "If you're not comfortable, they're not comfortable"? The same thinking can be applied to your guitar. Because of their construction and the materials used, a guitar is very much like a living creature (but you've always known that, right?). Being too dry, too wet, too hot or too cold can make various parts of the instrument expand, contract, twist or otherwise deform. Particularly bad for the instrument are constant fluctuations in temperature and humidity. Worst-case scenarios are the bridge lifting or warping, braces coming loose, the neck twisting, the top developing cracks, or the fingerboard shrinking, swelling or splitting.
One of the most effective solutions to keep your acoustic guitar in the best possible shape, short of locking it away in a hermitically sealed room with its own climate control system where you can only gaze fondly at it through a sheet of UV-protective plate glass, is a humidity control system. We recommend a couple of solutions we've found especially effective.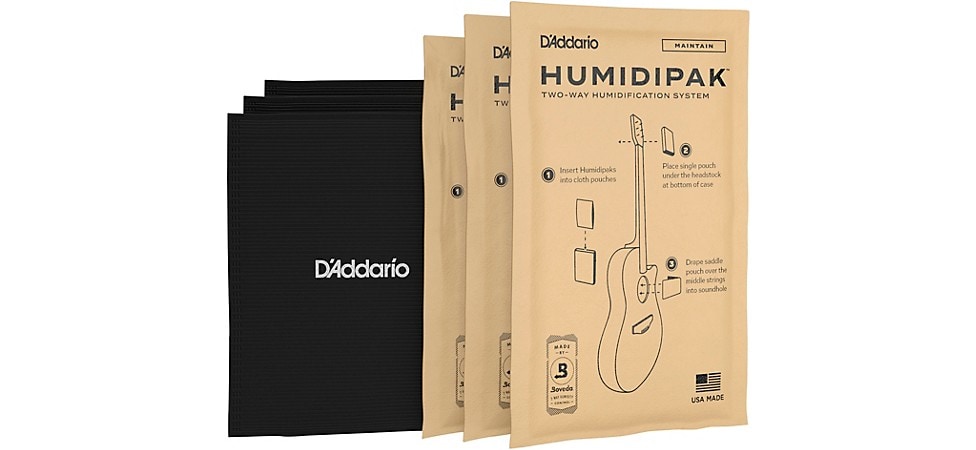 Pictured: D'Addario Humidipak Two-Way Humidification System
First, the D'Addario Humidipak family of products, starting with the basic Humidipak Two-Way Humidification System. This basic system works at keeping both the interior of the guitar and the environment of your case at a constant, comfortable 45% humidity level. It uses replaceable gel packs, one under the headstock and one slung over the strings at the sound hole, so there's no water dripping around your favorite acoustic. One nice thing here is that it works both ways, adding moisture when things get dry (like in the winter) and absorbing excess moisture when it gets muggy out in the summertime. An add-on we're especially fond of is D'Addario's Bluetooth-connected hygrometer (humidity sensor) that lets your mobile device know what the weather is like inside your guitar case.
Second, the MusicNomad Humidor ONE Acoustic Guitar Humidifier and Hygrometer is a simple one-piece unit that slips between your middle two strings, and uses a "no-drip" synthetic sponge and a built-in digital hygrometer/thermometer with a quick-read guide to appropriate ranges printed on the side. Quick and easy to set up, you just need to pop your case and check the sponge on a regular basis, taking it out and soaking it as necessary.
As far as temperature goes, there's not really a technological solution. Just don't leave your guitar sitting in a car (for a variety of reasons) and make sure that, wherever you're storing it when you're not playing is a place that you'd be comfortable hanging out yourself. Whether you think of your guitar as a friend, a favorite child or a musical pet, treat it right so it will treat you right.
Keep Your Guitar Clean and Conditioned
Everybody loves a freshly cleaned and polished acoustic guitar. But there are more reasons than simple aesthetics to look after keeping on top of the cleaning chores. Polish protects your guitar's finish from wear. Conditioners like lemon oil help keep your fingerboard from drying out and splitting. String cleaner helps your strings keep that "new string" sound and feel longer. Plus, regular cleaning means that you'll be paying closer attention to parts of the guitar you may not otherwise look at, enabling you to catch potential issues before they become problems.
A great place to start is with an all-in-one pack like the MusicNomad Ultimate Professional Grade Guitar Care Pack. This pack combines a cleaner and basic polish, a "pro-strength" polish that offers extra protection, a bottle of fingerboard conditioner and a pair of microfiber cloths. Why a pair? Because you want to use separate cloths for cleaning/polishing and fretboard conditioning. The polishes, by the way, are guaranteed finish-safe, even for more delicate nitrocellulose lacquer finishes.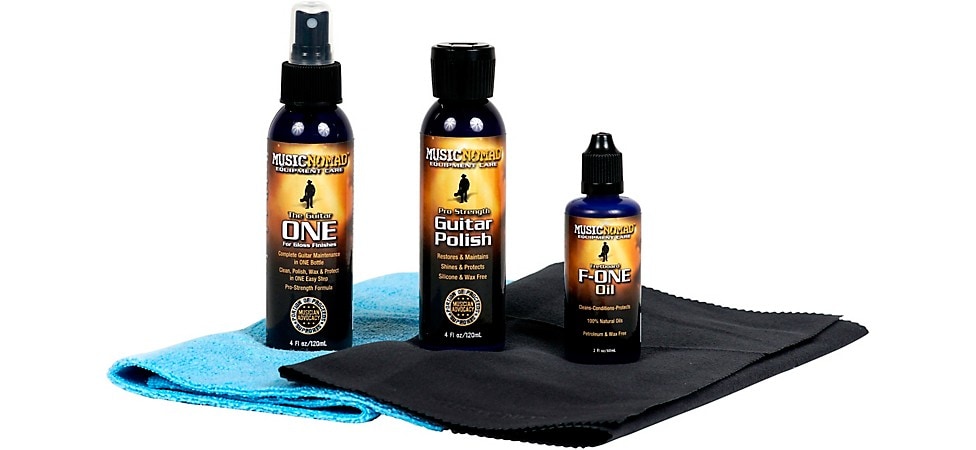 Pictured: Music Nomad The Ultimate Professional Grade 5-Piece Guitar Care Pak
If you're more of an á la carte type, Dunlop has a full line of cleaning and maintenance products for acoustic guitars. Their Ultraglide 65 string cleaner and conditioner helps keep your strings in like-new condition for longer, while the Fretboard 65 lemon oil keeps the fingerboard clean and smooth. There's also a Formula 65 (we're sensing a naming pattern here) combination polish and cleaner. All of these can be bought separately or in bundles. The key here is to find the cleaning and conditioning products you like best—and use them regularly.
One word on cleaning and polishing cloths: As we mentioned above, it's good to keep them separate and use different cloths for different jobs. Modern microfiber cloths are great, because they're lint-free, wash out easily and last a good long while. Whether it's a MusicNomad 3-pack or the classic Fender cleaning and polishing cloth, it's always good to have some spares on hand.
Fresh Strings for Better Sound
The first thing every guitarist, acoustic or electric, should learn after basic "cowboy chords" is how to properly change their own strings. Learning proper methods to change strings will help your guitar stay in tune, play better and eliminate the "but what if a string breaks while I'm performing" anxiety. While it's not the purpose of this article to teach this skill, we will take a moment to talk about what you need to keep your strings sounding and feeling fresh and new between changes.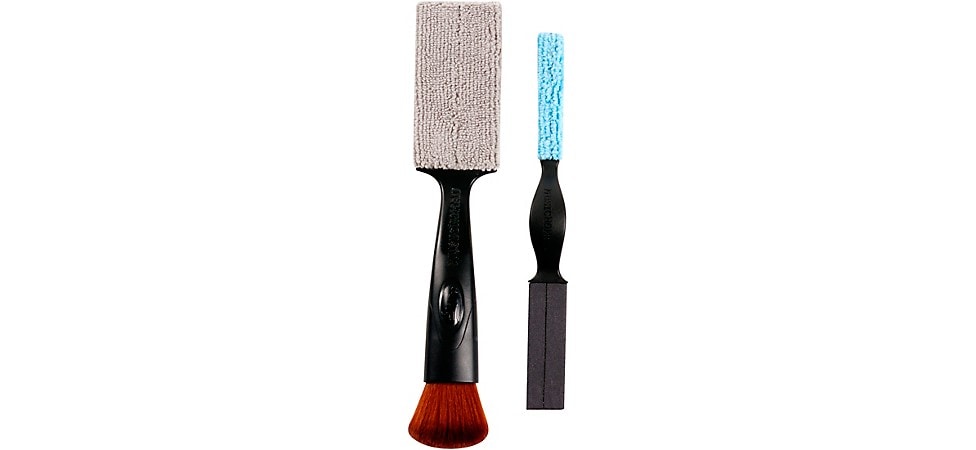 Pictured: Music Nomad The Nomad Tool Set
Strings get dirty. Oils from your fingers can accumulate between the windings and hold on to dirt that speeds up the string sounding dead. Sweat from your hands can speed corrosion. Just a quick wipe with a cloth can get rid of some of that, but a more thorough string cleaning works better with a couple of specialized tools. We recommend the Nomad Tool Set from MusicNomad. These specially designed cleaning pads and brushes enable you to get into places that are hard to reach and help clean your strings from top to bottom, as well as getting dust and "schmutz" out of crevices. For your strings, use these tools in concert with GHS Fast-Fret String Cleaner, and your strings will last longer and feel better. And for you speed demons, Fast-Fret is also a lubricant which reduces finger noise while increasing smoothness.
Don't neglect regular professional setups, though. Over time, wood breathes, shifts and changes. Bringing your guitar to your local Guitar Center Repairs location for a thorough once over with a Platinum Setup will keep it playing and sounding its best. We recommend at minimum once a year, with every six months (like after a hot humid summer and then again after the cold, dry winter) being preferable. Plus, it lets the pros at Repairs find potential problems and get them taken care of quickly and easily.
Home, Sweet Home—The Right Case
You like a comfortable place to rest, and so does your guitar. While a gig bag may be great for short trips around town, there's really nothing like a hardshell case, both for protection against impact and for shielding the guitar from harsh environments. It's easier to keep the guitar properly humidified, for example, plus, someone tripping over your case will only give them a sore toe and leave your precious instrument unscathed.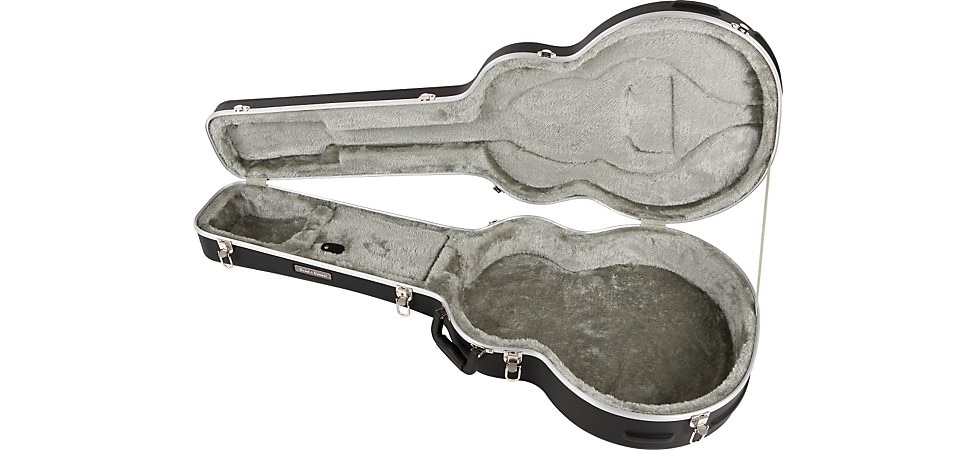 Pictured: Road Runner RRMAJBO ABS Molded Jumbo Acoustic Guitar Case
There are a lot of options for aftermarket hardshell cases available, many of which are provided by the guitar builders themselves, like Martin's 640 dreadnought case and Taylor's hard case for their GS Series. Third-party manufacturers have quality hardshell offerings as well, for a variety of different acoustic body sizes and shapes, like Gator Cases 3/4-size wood case or Road Runner Cases molded hardshell case for Jumbo-style guitars. Whichever one you choose, you'll be glad you did the first time the case gets dropped (and they all do, eventually, no matter how careful you are).
Avoiding the Drop With Strap Locks
Speaking of drops, there's no scarier feeling, or bigger shot of adrenaline, for any guitarist than when the strap inadvertently comes off the strap button and your beloved guitar suddenly goes into free fall. Electric guitars, with a pair of strap buttons that can be replaced with a mechanical locking system for the strap, are easy. Acoustic guitars, where the endpin frequently doubles as the plug for your internal pickup system and traditionally the fretting hand end of the strap is secured by a loop at the headstock, are another question entirely.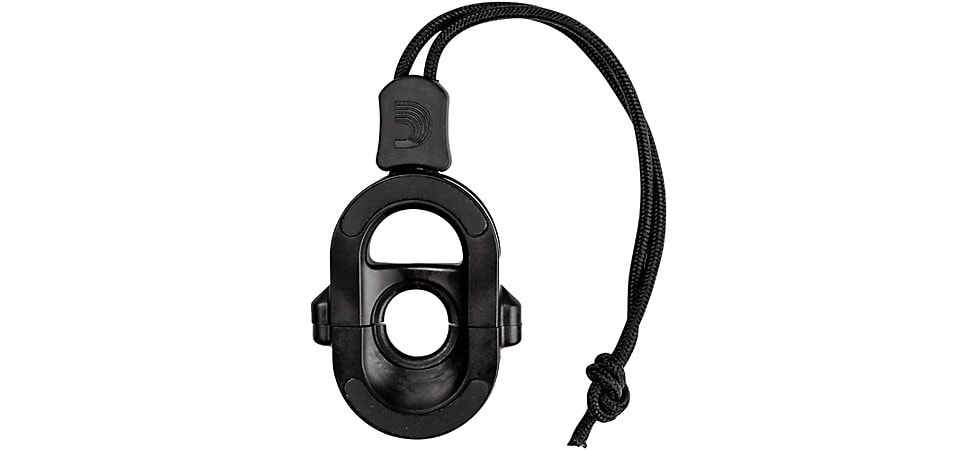 Pictured: D'Addario CinchFit Acoustic Jack Lock
The endpin solution is relatively easy, with the D'Addario CinchFit Acoustic Jack Lock. The headstock end used to be more of a challenge back in the dark ages of the folk music boom of the 1950s and '60s, but is much easier today. Barring drilling an extra hole in the guitar for a second strap button, making the headstock end of the strap more secure is handled by D'Addario's Acoustic Quick Release Strap. Or, if you have a strap you love and don't want to do without, the elegantly simple Neotech Acoustic Guitar/Banjo adaptor loop, converts any existing strap to an easy-on/easy-off version.
Other Considerations for Acoustic Guitar Health
With those five tips and techniques under your belt, you'll be assured of years of satisfaction, whether you're a strummer, basher, fingerstyle player or bluegrass flatpicker. But it's important to develop regular maintenance habits to keep your instruments in top shape. We recommend that you set up a calendar to both track when you've done a particular task, and schedule when you're going to do the next maintenance step. As we mentioned above, we recommend a pro setup at Guitar Center Repairs at least once a year, with the rest of the maintenance and cleaning based on how much you play and what the local environmental conditions are. Certainly wipe the guitar down every time you finish a playing session, and clean and polish it at least once a month, if not more often. Keep on top of all of this, and your guitar will reward you by helping you release the music that's in your head.