If you're looking for podcasting equipment, chances are you have an idea to share with the world. You might have a story to tell, or knowledge to impart, or commentary to contribute. Maybe you're part of an existing community and want to add your voice to the mix. That's the beauty of podcasts—there are no rules, just a simple connection between the host and listener. And to create that connection, you need the right gear. Some podcasters can get started with a digital microphone and studio headphones. More ambitious plans might require a home studio with broadcast mics, an audio interface and sound isolation gear. If you're looking for the easiest solution, podcasting kits will have you recording in minutes. It's all about finding the best gear to fit your needs.
Your podcast setup should make the recording process effortless. It should remove the barriers between you and your audience so you can focus on what matters most. Podcasts have launched careers for musicians, interviewers and content creators. They're also a genuine way to connect with like-minded people all over the world. We're here to get the annoyances out of the way—the rest is up to you.
If you're just getting started, this guide will give you the technical know-how to build the perfect setup from scratch. More experienced podcasters will find ways to enhance their recording rig with specialized gear, like high-end broadcast microphones, multi-channel mixers and advanced audio interfaces.
Table of Contents
What Kind of Podcast Are You Making?
Podcast Bundles: The Easiest Solution
Best Microphones for Podcasting
Audio Interfaces
Mixers
Digital Audio Workstations (DAW Software)
Headphones
Home Studio
Video Podcasting
Remote Podcasting
The Rest Is Up to You
What Kind of Podcast Are You Making?
The ideal podcast puts the listener right there in the room with you. To pull off that feeling, you need a rig that fits your specific needs. Many popular podcasts are based around one or more hosts speaking with each other and guests. If that describes you, podcasting bundles like the RØDE RØDECaster packs are the easiest way to get all the equipment you need. If you have more demanding needs, you might want to build your own custom rig. We have broken down every element of the podcasting setup—the best mics, cables, mixers, software and more for every kind of podcaster. But first, you need to consider the type of podcaster you want to be.
Before deciding what gear to buy, consider these questions:
How many people will be speaking? Are they in the same place?
One of the first things to nail down is how many hosts your podcast will have. Will it be just you speaking? Will you have co-hosts or guests? This will be important not only for knowing how many mics to buy but also how many inputs you will need for your audio interface and/or mixer. If you're unsure, err on the side of too many. A few unused inputs are no big deal, but needing to buy a new mixer to accommodate guests is a pain. If you are going to record with hosts in multiple places, you'll need recording rigs for each. That's where one-mic bundles can come in handy.
Will there be musical performances?
If your podcast will feature live performances from musicians, you'll need gear to capture that sound effectively. Electronic musicians may be able to plug into your rig and handle the rest on their end. If you're dealing with acoustic instruments or vocals, you'll need to tackle the complexities of home recording. Luckily, we have a separate home recording guide that explains everything you need to get studio-quality sound.
What is your budget?
You can start a podcast on any budget—seriously. If you're looking to spend as little as possible, you can often begin with devices you already own. Have a smartphone and a computer? You can grab a smartphone mic or USB mic and edit with free software for the ultimate low-cost option. For better sound quality and wider capabilities, you'll need a more robust rig. These come in a wide price range, too, so don't let cost stop you from getting out there with your podcast idea.
What kind of space are you working with?
Don't let the space be an afterthought. You wouldn't be the first to spend a bunch of money on gear, only to learn that you don't have the room for it. It's an awful feeling, but easy to avoid. Knowing where you're going to record will let you get the right gear. You can also add acoustic treatment to minimize environmental noise.
Are you going to be on-the-go?
Mobile podcasting equipment can be useful for a lot of reasons. Do you expect to interview guests on location at concerts or festivals? Anticipating a move soon? Need to minimize the space you take up with your gear? It's possible to make a high-quality podcast that's also completely mobile. There is even specialized gear for recording in the field. Like with inputs, you'll want to leave breathing room here. If you see a future where you'll need to record on-the-go, it's important to be prepared.
Are you also recording video?
Video is a popular way to enhance your podcast. You can always record with a smartphone camera for a low-cost option, but if you want a more professional look, you'll need specialized video gear.
Do you see the podcast evolving?
As mentioned above, it's important to think about your show long-term. You don't want to have to replace your gear later. If you're going to add musical guests, for instance, you will likely need a multi-channel mixer in addition to an audio interface. Nobody wants to end up with redundant gear because they didn't get what they need the first time. Whatever kind of podcast you're dreaming of, make sure to build a setup that will make it all possible—not get in the way of your creativity.
Podcast Bundles: The Easiest Solution
Maybe you're excited to start recording and want to minimize the time you spend shopping for gear. We understand completely. That's why we recommend podcasting equipment bundles as a quick, easy way to get your podcast started with a single purchase. If your show will consist of one or more people speaking in a fixed place, these all-in-one podcast recording packs can be your one-stop shop. They can also serve as a starting point for wider recording projects, as you can always incorporate more specialized gear later.
Each of these bundles includes some combination of microphones, consoles (mixers and/or audio interfaces—more on that later), headphones, cables, mic stands and other accessories. There are low-cost options that leave room to upgrade. There are also high-end bundles that make no compromises. We have choices geared toward beginners and pros alike, so make sure to explore these options.
RØDE Complete Podcaster Recording Bundle
For podcasters who want a totally integrated solution, this complete RØDE podcasting bundle has everything you need for a professional-sounding podcast right out of the box. It includes a studio console, two Sterling condenser mics, two TASCAM studio headphones, two Proline boom mic stands, shock mounts, cables and a MicroSD card for immediate storage. RØDE also makes an option for four people. Simply put, this bundle is the premium solution for an all-in-one podcasting setup. Unbox it, set it up and you're ready to record in minutes.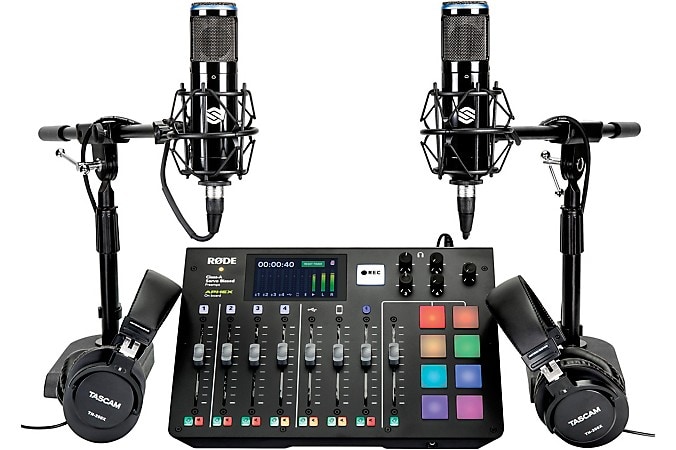 Pictured: Rodecaster Podcaster Recording Bundle
AKG Podcaster Essentials Bundle
Complete with a Lyra USB microphone and AKG's K371 headphones, the AKG podcasting essentials pack is an elegant duo with throwback style. It includes a cable to connect the mic to your computer, plus free Ableton Live Lite software for editing. As an extra touch, it also includes a headphone splitter, so two people can monitor the audio simultaneously (second pair of headphones not included). And for beginners, the free recording course from Berklee Online will help you get going.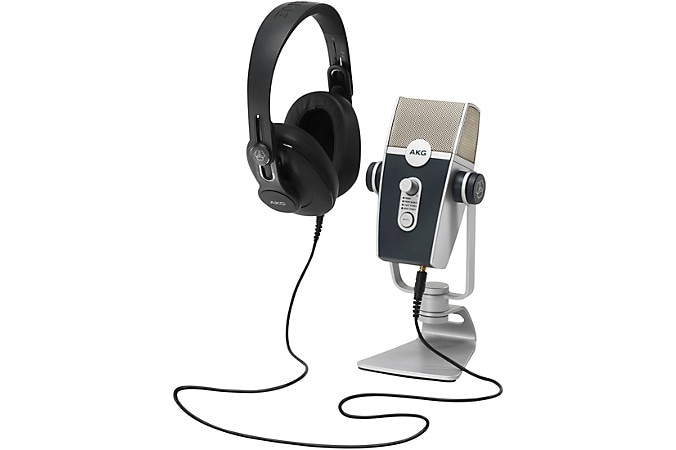 Pictured: AKG Podcaster Essentials with Lyra USB Microphone and 371 Headphones
Audio-Technica AT2005USB Bundle
Audio-Technica is known for making high-quality audio products at an excellent value. Their AT2005USB podcasting studio is no exception. It includes an AT2005USB cardioid condenser mic with a tabletop boom stand and ATH-M20x headphones. One major benefit of this specific mic is that it has two outputs: USB or XLR. The USB output means this bundle is ready to plug in and record straight to your computer. But if you want to expand your setup with a mixer or audio interface later on, you can use the XLR output to connect that way, too.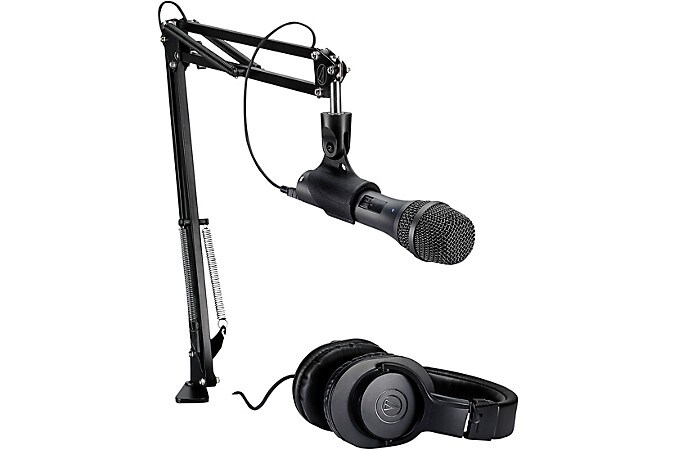 Pictured: Audio-Technica AT2005USB Podcasting Studio Bundle
Bottom line: For many podcasters, this guide can end right here. If one of these bundles fits your needs, you don't need to overthink it. Just order what you need and get back to planning your podcast. But if you're looking to customize or upgrade your podcast rig, or even just learn more about recording gear, definitely keep reading.
Best Microphones for Podcasting
Some aspiring podcasters might imagine that a microphone is all they need—and sometimes, that can be true. There are simple, cost-effective solutions like USB mics that plug directly into your laptop or desktop. Mobile podcasters can make use of smartphone mics. And of course, there are high-end analog mics that connect to preamps, mixers and interfaces via XLR so you can dial in more precise sound.
USB Microphones
If you want to make podcasts on your computer with as little extra hassle as possible, USB mics are an excellent choice. These mics are digital, meaning they take your speech and turn it into a signal that goes directly into your computer. By contrast, analog microphones have to be plugged into an audio interface to transform their signal into something your computer can read. While not quite at the level of the industry-standard broadcast mics we'll speak about later, a USB mic can still work great for podcast use. It also eliminates the need for extra gear like mic preamps, mixers and audio interfaces. Some USB mics even work with computer programs to mimic different preamps and mixers.
Perhaps the most popular USB mic for podcasters is the Blue Yeti. It's the go-to mic for modern podcasts, and for good reason. Calling the Yeti a "microphone" doesn't quite cover it, since it's designed to function as a complete recording solution. You can set it to "directional" mode for one host, or bidirectional for interviews with guests. The PreSonus recording software bundled with it is intuitive and capable, letting you record and mix vocals like a pro in no time. It also includes iZotope vocal processing software, with presets for great-sounding dialogue. If you want a sleek look, you can also check out this blackout version.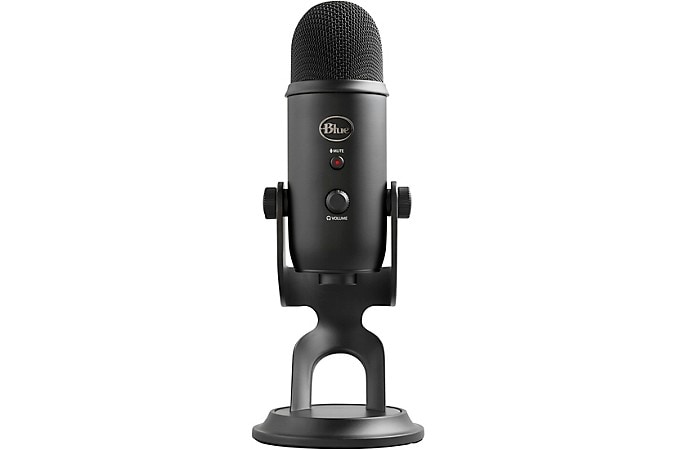 Pictured: Blue Yeti Blackout USB Microphone
The RØDE Podcaster USB microphone is designed to sound like a high-quality broadcast mic, with the convenience of a direct USB connection. The dynamic capsule rejects sound coming from off-axis. That means eliminating noise from the environment. Plus, a clever feature is the built-in headphone jack, which lets the speaker monitor sound directly from the mic.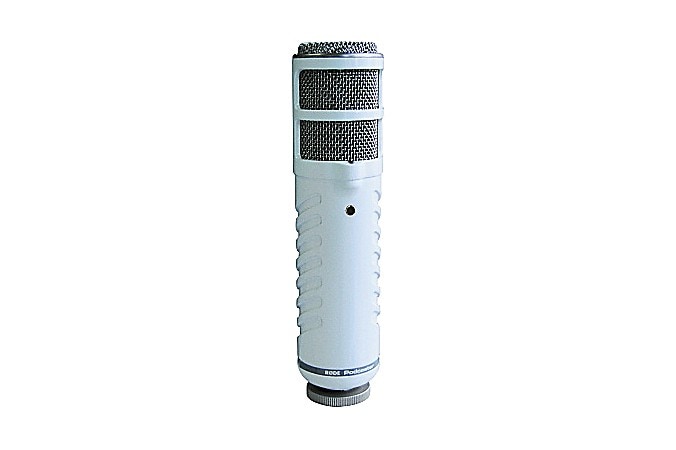 Pictured: Rode Podcaster USB Microphone
The Audio-Technica AT2005USB mic is a hybrid USB/XLR, meaning it can plug into either a computer or an audio interface. That means the part of the mic that converts the signal to digital can be bypassed, leaving an analog signal path. That makes the AT2005USB a perfect choice for podcasters who want room to grow. If you add an audio interface later on, this mic will be ready to make the switch with you.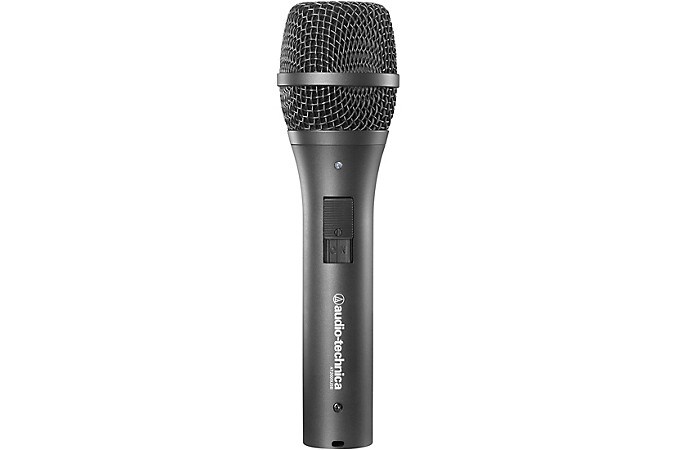 Pictured: Audio-Technica AT2005USB
Check out more great options in our USB Microphone Buying Guide.
Broadcast Microphones
For some podcasters, only studio-quality broadcast microphones will do. These mics connect via XLR cables to audio interfaces, which convert your analog signal to a digital one that goes to your computer. Broadcast mics are largely unchanged from what top-tier professionals have used since the beginning of radio, and you've probably seen them on the desks of plenty of late night television shows. Their specialized "broadcast" sound is hard to fake with digital mics. Perfected over many decades of professional use, they are also extremely reliable.
Perhaps the most obvious choice is the Shure SM58 cardioid dynamic microphone, one of the best-selling mics in the world. It's known for warm and clear vocals. The SM58 naturally picks up only the sounds that it receives head-on, eliminating background noise at the source. Plus, it's highly durable and affordable.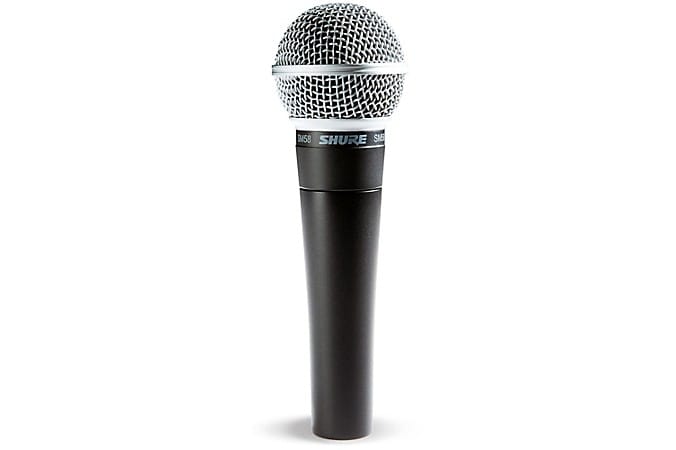 Pictured: Shure SM58
For a more specialized option, Shure also makes the SM7B. This mic is designed to add depth to speech. It has a built-in pop filter, and the removable windscreens are great for recording outside in varying conditions. Please take note that the SM7B is low-output, so you'll want to pair it with an audio interface with a lot of gain on its mic preamp. If your interface doesn't provide enough gain, you'll want to pair it with an external mic preamp that does.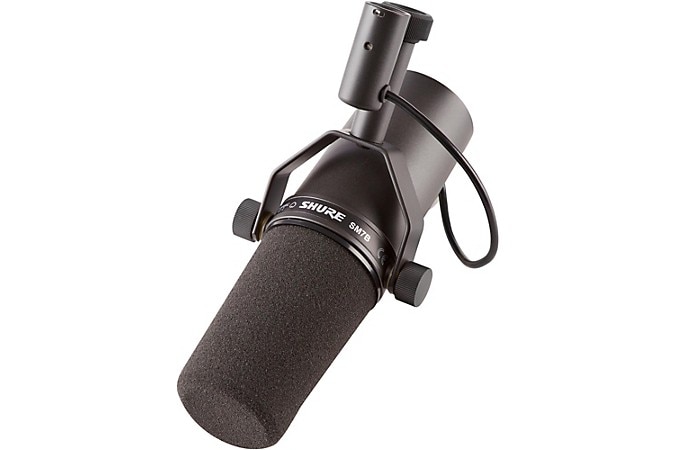 Pictured: Shure SM7B
Another option is the AKG C414, an iconic microphone series used on thousands of hit records. The C414 is a multi-pattern mic, with nine different polar patterns and other settings to customize your sound. It's great for spoken-word podcasting, but is also a powerful mic for capturing acoustic instruments and ambient sounds. Keep in mind that this is a high-end studio microphone. The sound is hard to beat, but it carries the price to match. It's best for someone who can make use of it, perhaps for musical guests or other demanding applications. AKG currently makes this series in two types: the XLS and XLII. The key difference between the two is the capsule. The XLS sounds more transparent. It's best for capturing super-accurate sound. The XLII adds a little more color and is very flattering for voice applications.
Pictured: AKG C414 XLII
Much like the SM7B and SM58, the Electro-Voice RE20 dynamic cardioid microphone has a built-in pop filter, shock mount and wind screen, which make sure your voice is the only sound being recorded. It's another great choice for warm analog sound. Simply put, it's a studio-quality mic that will have you sounding like a pro.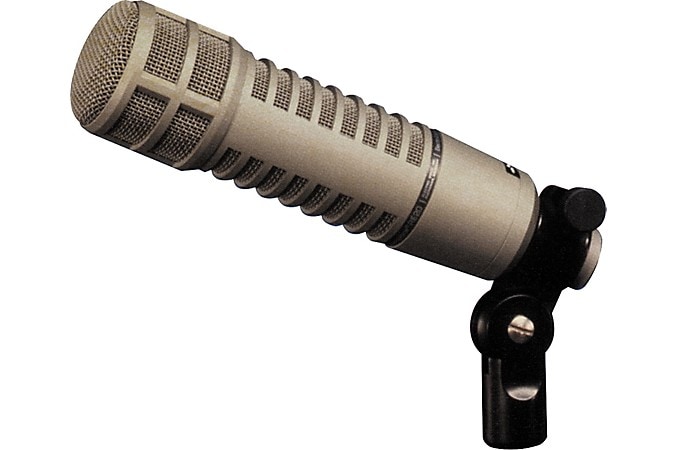 Pictured: Electro-Voice RE-20
Please note: While broadcast mics offer the best studio sound, they are not one-stop shops the way USB mics are. They require an audio interface at the very least, and they may also benefit from a dedicated external preamp to deliver the best sound. For many professionals and audiophiles, the extra gear is more than worth it. Sometimes there is no replacement for a high-quality analog rig.
Smartphone Microphones
For podcasters who want to record on the go, there are highly capable digital mics that plug directly into your smartphone. These mics are unrivaled in portability, and thanks to recent advancements in technology, they can sound great, too.
The Shure Motiv mv88 mic is compatible with iOS devices via the Lightning connector. The retro design looks great and allows for easy swiveling. Perhaps the best reason to buy this mic is the ShurePlus MOTIV Mobile recording app, with intuitive controls and five built-in presets. And thanks to a recent update, the app integrates with Shure's video app, letting you record audio while also capturing video with your phone camera.
Pictured: Shure Motiv mv88
The IK Multimedia iRig Mic Cast HD is another great option for capturing professional-sounding vocals with your smartphone, and unlike the Shure mic above, it's compatible with both iOS and Android. Depending on the situation, you can set this mic for front-facing, rear-facing or bidirectional audio. The bidirectional setting is especially useful for capturing podcast interviews in the field. The iRig Mic Cast HD works with almost all apps that record audio, and because it uses the included cables rather than plugging in directly, it can attach anywhere on the top, side or bottom of your phone. The clip is magnetic for extra security, even through a case. You can monitor the audio directly from the mic with the headphone jack or listen to the processed signal through your phone.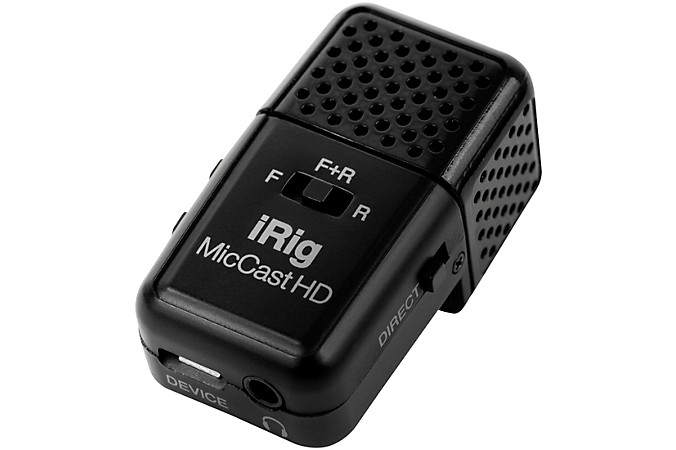 Pictured: IK Multimedia iRig MicCast HD
Bottom line: The world of mics can be overwhelming, even for experienced musicians and content creators. Start with your budget and your needs and work from there. For a simple solution that requires nothing but your computer, go with a digital USB mic. For high-end studio sound, your best bet is an analog broadcast mic. Analog mics range in price from affordable to very expensive. They require extra gear like audio interfaces, preamps and/or mixers, but their clean sound is unrivaled. And if you need extreme portability, you can't beat a smartphone mic.
Microphone Accessories
Many microphones come with the necessary cables, stands, shock mounts and pop filters included. Others require you to buy these accessories separately. Whichever mic you choose, make sure you have everything you need.
Cables: USB mics will generally come with a short USB cable, but analog mics use an XLR cable to connect to a mixer or audio interface. Make sure to measure your space. Plan where you want to put your mics, your mixer and/or interface and your computer. Choose cable lengths accordingly.
Pictured: Livewire Essential XLR Cable
Microphone Stands: Tabletop microphone stands are technically optional, but once you've recorded an hour of conversation with mic in hand, you might not feel that way. Consider a mic stand like the Hamilton Nu-Era Tabletop. Or, if you want to keep the stand out of the way, there are adjustable boom arms like the RØDE PSA1.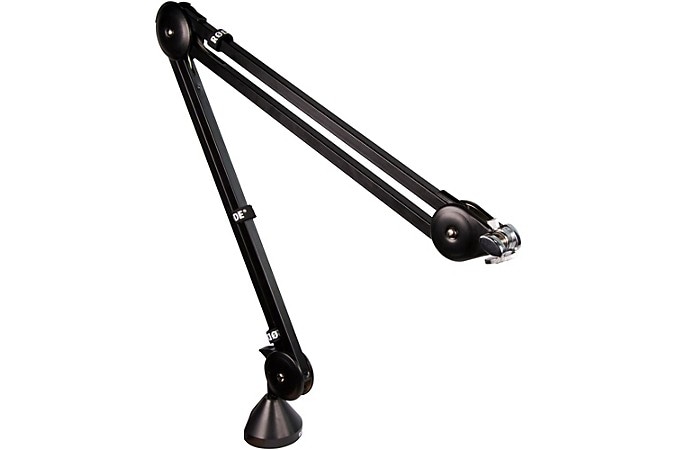 Pictured: Rode PSA1 Pro Studio Arm
Shock Mount: Table noise can be a huge annoyance for podcasters. You don't want your audience to hear every time you put down your water bottle. Eliminate that problem with a shock mount, like this one from Sabra-Som.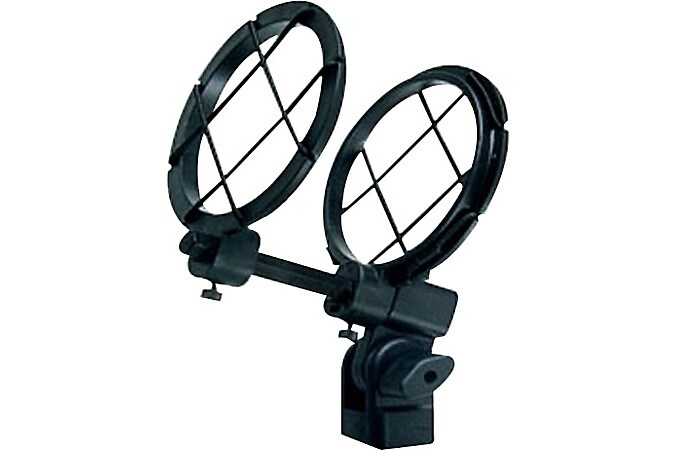 Pictured: Sabra-Som Universal Microphone Shockmount
Pop filter: The pop filter is a simple screen with an extremely important purpose. Microphones can be vulnerable to plosives, which are consonant sounds that emit a sharp puff of air from your mouth. Some mics have built-in pop filters, but you should still consider the added protection of an external filter. Popular options include the Sterling Audio STPF2 and Stedman Proscreen XL.
Pictured: Sterling Audio STPF2 Pop Filter
Windscreen: For podcasters who will be recording out in the elements, a pop filter may not be enough. Wind filters like the RØDE WS7 will make sure your audio source is clear even in windy conditions. Plus, let's be honest—they look cool.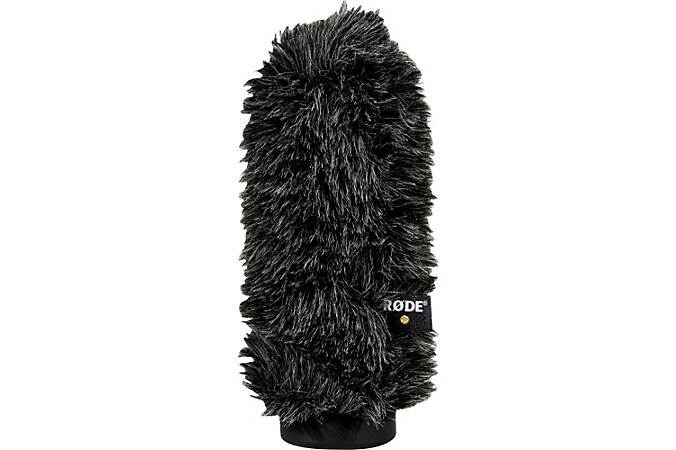 Pictured: Rode W7 Windscreen
Audio Interfaces
If you're recording your podcast with analog microphones, you'll need an audio interface. Interfaces take in your analog mic signal via XLR input, then output that sound in digital form via USB. In the process, they can also regulate disparate audio sources. They range in complexity and size. They generally work with proprietary software that lets you manage the audio easily on your computer. You can also add plug-ins, which emulate hardware including vintage amps and mics.
Below are four popular options.
Universal Audio Apollo Twin X
The Universal Audio Apollo Twin X DUO and QUAD interfaces connect to Mac computers via Thunderbolt 3. They feature two analog mic inputs with preamps, plus outputs for monitoring and a line-out for live speakers. But perhaps the biggest benefit of UA interfaces is that they work with the LUNA software workstation for Mac. With this intuitive software, users can access a massive library of UAD plug-ins. For podcasts, this allows you to add detailed vocal effects. If you're planning on recording music for your podcast as well, Apollo Twin X combines with LUNA to emulate a full-size professional studio on your Mac. The difference between the Apollo Twin X DUO and QUAD is the processor—the QUAD can handle more software plug-ins at once.
Pictured: Universal Audio Apollo Twin X Audio Interface
Focusrite Scarlett 2i2
For aspiring podcasters who are conscious of their budget, the Focusrite Scarlett 2i2 offers the essentials at an affordable price. It works with both Mac and Windows. Like the above interfaces, Scarlett 2i2 provides two analog inputs with dedicated preamps. These preamps have Focusrite's optional Air setting, which brightens the sound. Two line-outs allow for monitoring and speaker output. And if you're looking to experiment with different software options, this model includes two free digital workstations: Ableton Live Lite and Pro Tools First. Scarlett 2i2 is intuitive enough for beginners, but still advanced enough to make professional-sounding podcasts.

Pictured: Focusrite Scarlett 2i2 Gen 3 USB Audio Interface
PreSonus AudioBox iTwo
The PreSonus AudioBox iTwo is another affordable option for Windows and Mac users, with added iOS compatibility. Like the Scarlett 2i2, it features two analog inputs and two line-outs. This interface is paired with PreSonus Studio One software, but it's compatible with recording software from third parties as well. The free Studio Magic plug-in suite has presets so you can experiment with your sound. And for mobile podcasters, a special feature of the AudioBox is the Capture Duo app, which transforms it into a portable iPad-based interface.

Pictured: Presonus Audiobox iTwo Audio Interface
Solid State Logic SSL 2 and 2+
Solid State Logic is an English company known for making high-end consoles for some of the most prestigious recording studios in the world. Podcasters can benefit from that know-how with the more accessible SSL 2 and SSL 2+ audio interfaces, which both have "4K Legacy" toggles that emulate the sound of SSL's famous 4000 series consoles. The SSL 2 has one line-out for monitors and another for headphones. The SSL 2+ doubles the outputs. For podcasters, that means the 2+ lets you adjust two separate headphone mixes simultaneously. The included SSL Production software pack has the Vocalstrip 2 plug-in, which enhances dialogue recordings. Both of these SSL interfaces work with Mac and Windows.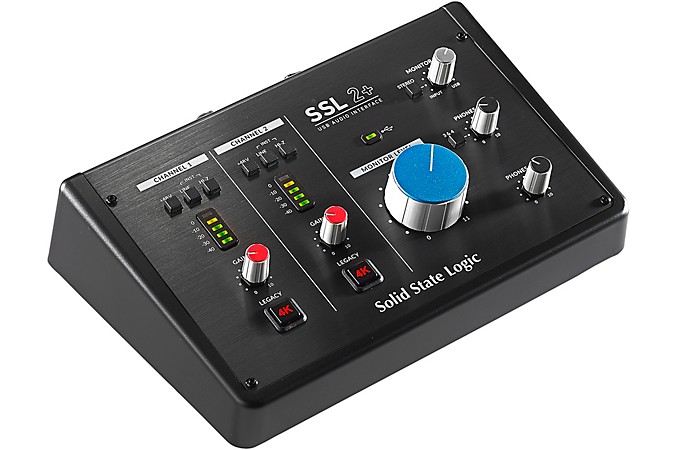 Pictured: Solid State Logic 2+ Audio Interface
Bottom line: Audio interfaces serve the essential purpose of converting an analog signal into a digital one. The above examples all feature two inputs, a USB output and various line outputs. What makes them vary in price is their other capabilities. Premium options will have better preamps, high-end plug-ins and more advanced software. For a talk-based podcast, many of these extra features may not be necessary. If you will be getting more ambitious with your audio, they become more important.
Want to learn more? Check out our audio interface buying guide. 
Mixers
The above interfaces can handle a couple mics on their own, but if your podcast requires more audio sources, you might need a mixer. Mixers can take many more channels and combine them into one analog signal, which then plugs into the interface. Mixers feature physical controls that let you adjust each input in detail, without software. Mixers become essential if your podcast will feature live musical performance or a large number of hosts. Some mixers also have a USB output, meaning they can double as an audio interface. If you are using analog mics, USB mixers give you adjustment and convenience in one package.
RØDE RØDECaster Pro Podcast Production Console
At the heart of the RØDE bundles listed above is the RØDECaster Pro production console. The RØDECaster Pro is a combined mixer and audio interface for podcasters. It features four mic inputs and a digital output, with built-in mixing controls and monitoring ports. But on top of that, it has podcast-specific features. The most unique of these is the ability to record phone calls. Guests can call in, and the console will handle all the audio complications via Bluetooth with no extra hardware. The caller will hear you, you will hear them and the console will mix the audio itself. The station can record straight to microSD card (not included). Of course, it can also connect to your computer via USB, with RØDE's proprietary software included.
Pictured: RØDE RØDECaster Pro
Mackie ProFX10v3
The 10-channel Mackie ProFX10v3 is another hybrid interface/mixer that's great for more demanding podcasts. It includes four analog mic inputs with Onyx preamps, plus an array of line inputs that work for instruments and other audio sources. The USB output can go directly into your computer, where the GigFX engine gives you 24 built-in effects for adding the finishing touch to your recordings. The ProFX10v3 also includes free versions of ProTools and Waveform software.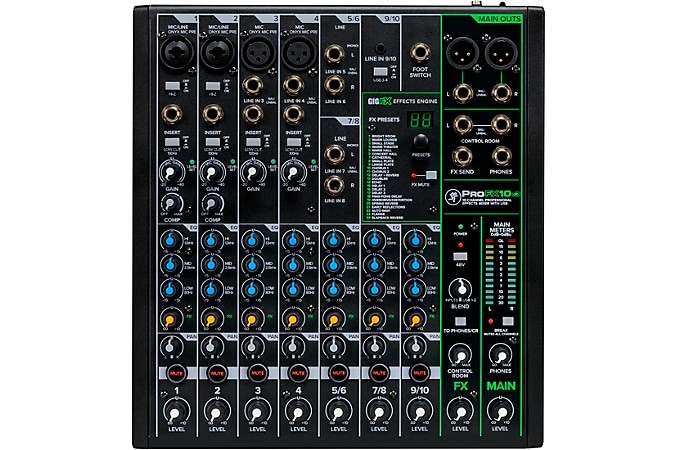 Pictured: Mackie ProFX10v3
Yamaha MG10
The Yamaha MG10 is a more traditional 10-channel mixer with analog outputs. Like the mixers above, it features four mic inputs with additional line inputs for instruments and other sources. The preamps are built with the D-PRE inverted Darlington circuit, especially suited to vocals. It's compact and rugged, designed to handle the road.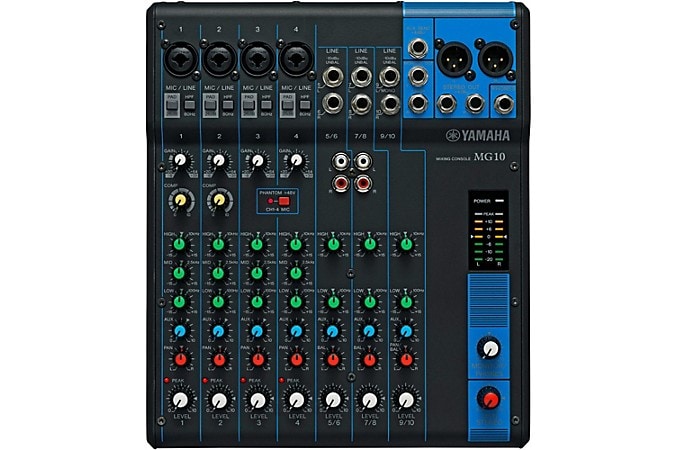 Pictured: Yamaha MG10 Audio Mixer
Bottom line: Mixers allow you to consolidate more audio sources before running them through an audio interface. They're mostly necessary for podcasts that expect to have musical elements, but they can also help manage larger numbers of hosts and guests. All of the above mixers feature extensive EQ adjustments. They vary in how many inputs and outputs they have, what kind of preamps they use, and whether they can replace an audio interface via their own USB connection.
Digital Audio Workstations (DAW Software)
Before the invention of computers and recording software, radio stations needed a large mixing console and tape machine to record audio. A DAW is a computer-based tape machine and mixing board that replaces all that machinery. All DAWs act as your control center for your podcast and generally serve the same basic functions. DAWs give you the tools you need to record multiple audio tracks. And just like a hardware mixing board, a DAW allows you to adjust the levels of your tracks so they sound right together. DAWs also let you use mixing tools, including applying EQ (equalization and sculpting of sound frequencies) and compression (the evening out of volume dynamics), and adding spatial effects like reverb and delay (echo).
There are plenty of free options out there—Apple GarageBand, Avid Pro Tools First, Ableton Live Lite and many more. These DAWs will familiarize you with all the basic tools and functions of their premium counterparts. The full-featured versions of these are Avid Pro Tools, Logic Pro X, and Universal Audio LUNA.
Other popular choices include PreSonus Studio One, Steinberg Cubase, FL Studio and Propellerhead's Reason.
For the vast majority of podcasts, the free DAWs will do just fine. The more advanced DAWs are geared toward studio recording applications. We cover them in detail in the DAW section of our Home Recording Guide.
Bottom line: Free DAWs are available from the same companies who make the flagship workstations for the world's greatest studios. These free versions work for most podcasters. However, the paid versions offer an incredible array of features. When choosing a free interface, consider which ecosystem you might like to use in the future. It's easier to upgrade when you are familiar with the basics.
Headphones
Most podcasters use studio headphones to monitor their audio while they record. Closed-back models are the most common choice, since they help isolate your audio feed from outside sounds. Best-selling choices from top brands include the Audio-Technica ATH-M20X, Sony MDR-7506 and Sennheiser HD280Pro.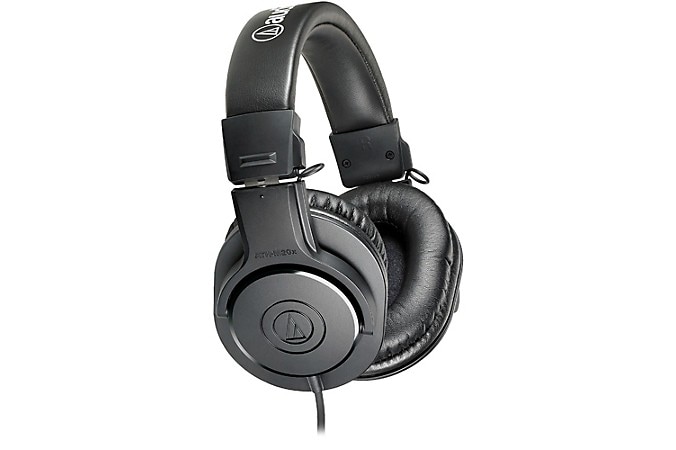 Pictured: Audio-Technica ATH-M20x Headphones
Home Studio
If you're recording your podcast at home, the acoustics are often less than ideal. You can improve that situation with acoustic treatment products. These items are designed to capture stray sounds and prevent ambient noise. Auralex makes an industry-standard foam material you can add to walls to create isolated studio sound. If you want to leave your walls alone, there are also shields and reflectors like the Sterling Audio VMS vocal microphone shield. The VMS uses foam ribs and perforations to absorb and dissipate your vocal sounds before they can echo. For podcasters with children, roommates or pets, consider a larger sound barrier to protect your home studio from outside noise.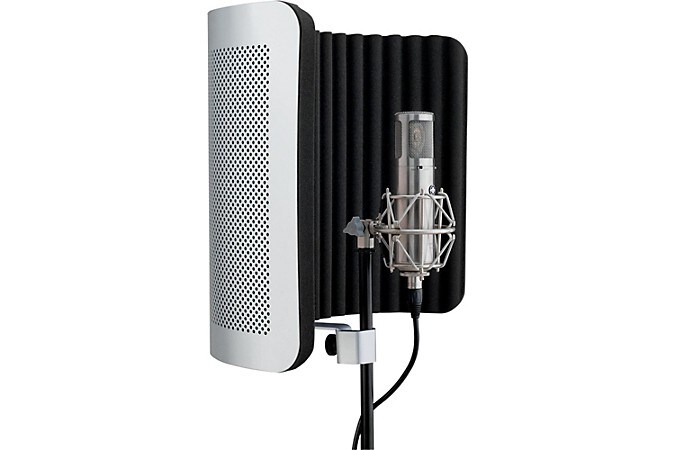 Pictured: Sterling Audio VMS Vocal Microphone Shield
If you're looking to record live musical performances, your needs may be greater. Check out our in-depth guide on home recording essentials for more.
Video Podcasting
Podcasting began as an audio format, but video podcasts have grown more popular in recent years. Many podcasts release episodes in both mediums. This allows access to YouTube, Facebook and other video-first platforms. Video can be especially useful for podcasts with musical guests, as it opens up new dimensions of showmanship. And even if the podcast is talk-based, video brings more intimacy. Filming your episodes can even be a method for making money—video is an attractive feature to put behind a paywall via Patreon or another subscription platform.
Guitar Center has a diverse selection of video production equipment that works well for podcasts. One best-selling option is the Zoom Q2n-4K video recorder, which doubles as a crisp audio recorder as well. This compact device is a great all-in-one choice for recording a video podcast on the go. In a home studio environment, the built-in mic can serve as a backup audio source in addition to your dedicated microphones.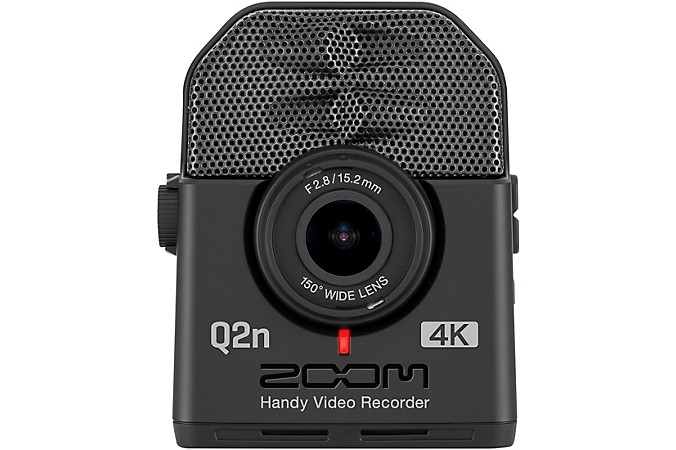 Pictured: Zoom Q2n-4K
Remote Podcasting
While smartphone mics can do in a pinch (or on a budget), there are also fully functional mobile recorders made specifically to capture sound on the go. One popular example is the Zoom H6. This handheld recorder is as close as you can get to holding a recording studio in your hand. It features two interchangeable mics, built-in preamps, USB and analog output. An LCD screen keeps it all together. Zoom is the industry leader in portable audio recorders, and for good reason.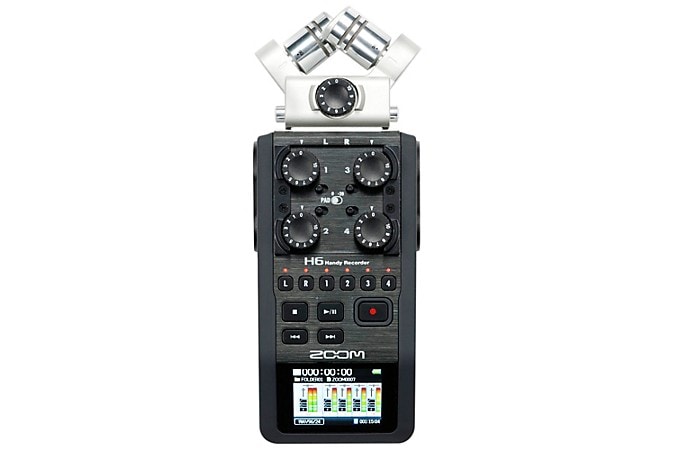 Pictured: Zoom H6 Handy Recorder
The Rest Is Up to You
We hope this guide helps you figure out exactly what gear you need to make your podcast ideas into a reality. But remember, recording equipment is only a tool. The purpose of your podcasting rig is to get out of your way so that you can build a genuine connection with your audience. Never let your gear become cumbersome—keep your eye on what really matters, and come back to this guide if you ever need help.