Sixty years after its introduction, the SG has become one of Gibson's best-selling electric guitar of all time—and for good reason. Lighter and thinner than a Les Paul Standard or Custom, it's a nimbler instrument and decidedly less complicated—it ditches the carved top in favor of a more utilitarian design. Introduced in 1961 as the Les Paul Standard and in 1963 as the SG Standard (more on that later), the SG, or "Solid Guitar," has produced some of the most vital sounds of all time. Think Pete Townshend's raucous windmill strums, pushing his amp beyond breakup with The Who on Live at Leeds, Duane Allman's soulful and supercharged slide work on "Statesboro Blues," Angus Young's powerful, gritty rhythms and searing leads with AC/DC on "Back in Black," and Eric Clapton's raw and evocative tone on Cream's "Sunshine of Your Love." Putting an SG in your hands opens up a world of possibilities. Today, there are many options available  from Gibson and Epiphone. This guide will help you cut through the clutter to find the best SG for you.
Table of Contents
History of the Gibson SG
The SG vs. Les Paul—What Are the Key Differences?
Buying an SG – Epiphone or Gibson
    How to Choose the Best Gibson SG
    How to Choose the Best Epiphone SG
Best SG Models for Beginners
How to Buy a Vintage SG
History of the Gibson SG
Gibson introduced its first solid body electric guitar in 1952, the Les Paul Model. Though it was a game-changing instrument, the design wasn't radical. It shared a similar outline as the ES-140 archtop. Later iterations included the Standard, Special, Custom, Junior and TV.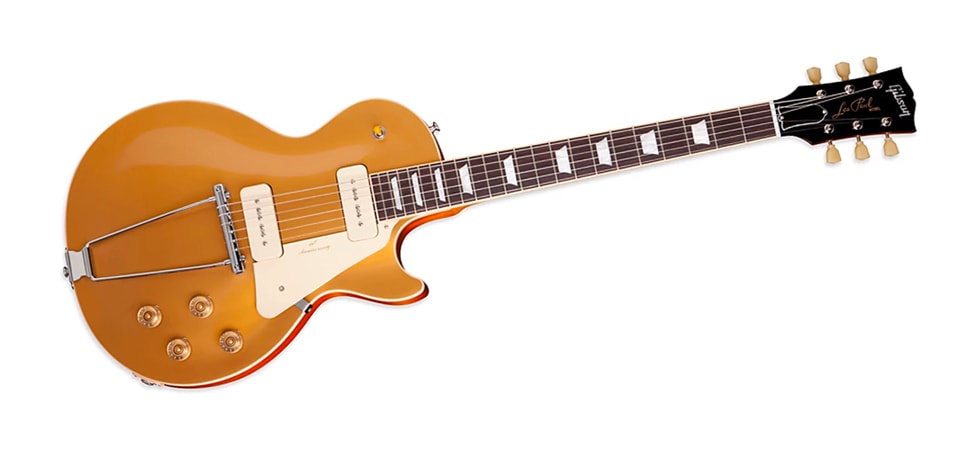 Pictured: Gibson Les Paul 60th Anniversary Limited Edition (2012)
While well-received, sales were slow. In 1958, Gibson made small but important updates to the Les Paul Junior and TV models, adding rounded double cutaways. Other designs that year were more radical, like the futuristic Explorer and Flying V, but Gibson only shipped 19 and 81 respectively in 1958 and discontinued both models in 1959.
It's important to understand what Fender—Gibson's main competitor—was up to at the time.
Fender built guitars with utility in mind—the Stratocaster, Esquire, Telecaster, Duo Sonic and Jazzmaster had bolt-on necks, which made them cheaper and easier to produce than Gibson's set-neck. In fact, the flagship Les Paul Custom was 20% more expensive than Fender's comparable Jazzmaster. To broaden their market share, Gibson President Ted McCarty gave shop foreman Larry Allers marching orders: redesign the Les Paul line.
Allers drew inspiration from Gibson's latest double cutaways, but instead of rounded contours, he beveled the new body at a sharp 22 degrees. It was more ergonomic (if slightly demonic), especially with horns dyed Cherry Red. The body was thinner and lighter than the '59 Les Paul Standard or Custom; it had a slimmer profile neck that joined the body at the 22nd fret, putting every note within reach. This was a guitar unlike anything else on the market. Gibson began manufacturing the two-pickup Les Paul Standard and the three-pickup Les Paul Custom in late 1960; they hit the market in 1961.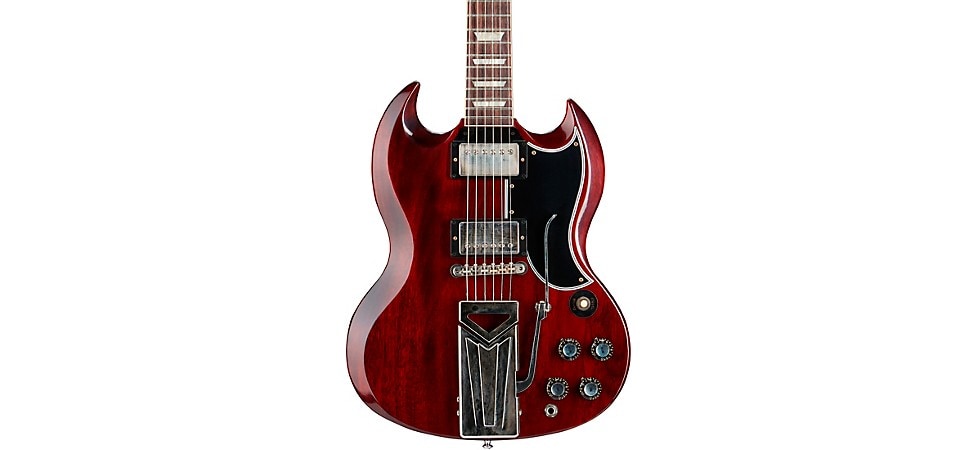 Pictured: Gibson Custom 60th Anniversary 1961 SG Les Paul Standard VOS
Paul was less than thrilled with the design. It didn't help that he was heading toward semi-retirement with a divorce on the horizon. Plus, his contract with Gibson was set to expire in 1962. With all that on his plate, he was in no mood to renegotiate. Sometime in 1963, "Les Paul" vanished from the headstock; two letters replaced it on the truss rod cover—SG.
Today, SG-style bodies manufactured from late 1960 to 1963 with Les Paul truss rod covers are known as SG/Les Pauls or Les Paul/SGs.
The SG vs. Les Paul—What Are the Key Differences?
The SG and Les Paul play differently due to their respective designs. Here's a quick comparison.
| | |
| --- | --- |
| Les Paul Standard | SG Standard |
| Approx. weight: 9—12 lb. | Approx. weight: 6—7 lb. |
| Neck joins body between 16th and 17th frets | Neck joins body at 22nd fret |
| Approx. thickness: 2-3/8" | Approx. thickness 1-3/8" |
| Single cutaway | Double cutaway |
| Chunky neck profile | Slimmer neck profile |
The SG is 1" thinner and approximately 2 lb. lighter than a typical Les Paul Standard. The double cutaway offers complete access to all 22 frets, something the single cutaway Les Paul can't match. The neck profile is slimmer, too. In a sense, the SG opened the door for faster, more muscular styles of music, but it was only in the late '60 and early '70s that players made the discovery.
How Many SG Models Are There?
The initial '60s run of SG guitars included the two-humbucker SG Standard, the three-humbucker SG Custom, single P-90 equipped SG Junior, dual P-90 SG Special, SG TV and Melody Maker SG from 1966 to 1970. Over the years, Gibson has added more variations with models made in the Custom Shop, the Murphy Lab, plus many artist signature SGs. Epiphone has also released artist signature SGs, plus vintage-inspired and modern takes on the form.
Who Plays an SG?
Sixty years after its release, the SG has been seen on stages and played in studios by some of the best musicians in the business. In addition to Townshend, Allman, Clapton and Young, many others have succumbed to the sounds of the SG, including Frank Zappa, Celisse, The Cars' Elliot Easton, Derek Trucks, Sister Rosetta Tharpe, Leslie West, Brittany Howard (Alabama Shakes), Keith Urban and more.

Pictured: The Who's Live at Leeds
What Does an SG Sound Like?
The answer: It depends. The 1961 Les Paul/SG Custom (SG in appearance, Les Paul in name) came with a set of P.A.F. or "Patent Applied For" pickups. Warm and creamy, throaty and raw, P.A.F. pickups can do it all. Every humbucker today is a variation of the original that either replicates the sound or adds to it. Note that a vintage P.A.F. won't sound the same today as it did back then. Components have drifted over 60 years, plus tolerances weren't as tight.
SG models with P-90 single coils have a sound all their own. They play clean, but get raspier as you turn them up. The tone is thicker than a Strat or Tele, but still rings clear—when you want it to. For more, read our Ultimate Guide to Gibson Pickups.
Buying an SG – Epiphone or Gibson
Quick question: Which company is older—Gibson or Epiphone? If you answered Epiphone, you're right. Its roots go back to 1873, when Anastasios Stathopolous began making lutes and fiddles in Turkey before settling in New York at the turn of the century. Upon his death, his son Epaminodas "Epi" took the reins. Epiphone added guitars to its lineup in 1928 to compete with its biggest rival—Gibson. The two companies battled head-to-head, but Gibson had more muscle, eventually purchasing Epiphone in 1957, and moving its headquarters to Kalamazoo, Michigan.
In 1969, Ecuadorian beer and cement company ECL bought Gibson/Epiphone. Many felt that the quality of the guitars suffered as a result. Whether that was accurate or just perception is up for debate. After rebranding itself as the Norlin Music Company, production of Epiphone guitars went overseas—first to Japan, later China and Korea.
Today, Gibson Brands is led by CEO Cesar Gueikian. Under their leadership, Gibson and Epiphone have launched new SG lines with unprecedented quality and tones, from exacting reissues to updated models with game-changing features. With these offerings, there's never been a better time to buy an SG.
How to Choose the Best Gibson SG
Today, Gibson makes over 25 different SG models—it's a lot to wade through. Fortunately,  Gibson organizes its SGs in four different collections: Original, Modern, Artist and Custom Shop.
Gibson Original SG Collection
CEO Cesar Gueikian describes his position as "custodian to Gibson and steward of its future." There's no better example than the Original Collection, featuring US-made instruments with heritage style and sounds.
Gibson SG Standard '61
The Gibson SG Standard '61 replicates the first SG-style guitar out of the gate. That includes a mahogany body, mahogany neck and rosewood fretboard with acrylic trapezoid inlays. Burstbucker 61R/T pickups have unbalanced coils, matching vintage humbuckers that were wound without a counter. Expect an edgier top end and an overall brighter sound—think "Thunderstruck" by AC/DC—Burstbuckers can scream. This SG is available with a stopbar tailpiece, or two different vibrato systems. The Sideways Vibrola moves in the direction of your pick stroke. Original units were fussy; fortunately, Gibson has re-engineered this Vibrola so that strings faithfully return to pitch. The nickel-plated tailpiece cover has an Art Deco look that would fit right on the Chrysler Building. The Maestro Vibrola is a mid-60s fulcrum-based design with a simpler—but just as effective—mechanism. It has an engraved lyre on the cover plate. In 2023 Gibson introduced a slew of vibrant new color options to the stopbar model, including Silver Mist, Pelham Blue and Translucent Teal among other eye-catching finishes.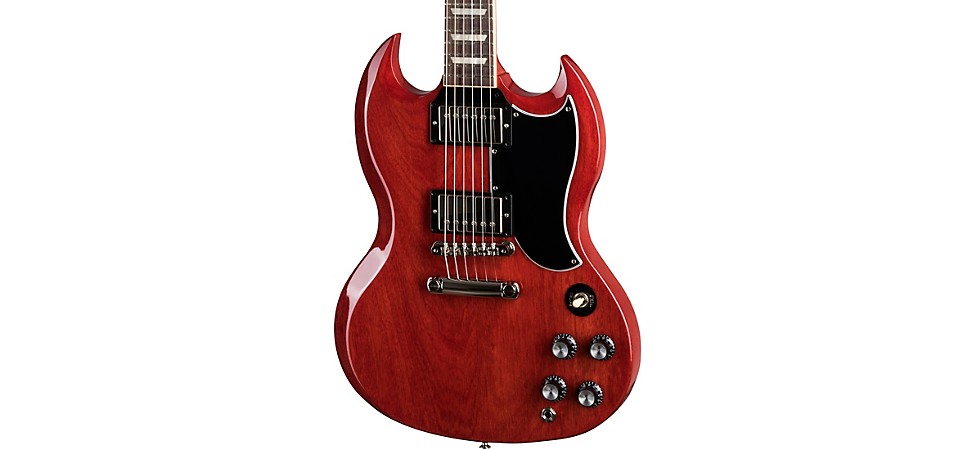 Pictured: Gibson SG Standard '61
Gibson Modern SG Collection
Classic guitars from the golden age of Gibson offer their own rewards, but sometimes you need more current features. This collection borrows classic elements from the SG's past, but adds refinements for those who require more versatility and enhanced playability. You'll see different specs in appearance, electronics and construction, but the DNA remains Gibson.
Gibson SG Modern
The Gibson SG Modern breaks the mold with an AA flame maple top, a feature normally found on Les Paul Standard. That's one sign that this Gibson has a few tricks up its sleeve. It features BurstBucker Pro pickups made with stronger magnets—Alnico V vs. Alnico II— that are fatter and edgier than a vintage P.A.F, and altogether quieter, too. A 24-fret neck makes the SG Modern a best-bet for metal and hard rock; its asymmetrical profile follows the natural contours of your hand for playing comfort. The compound radius ebony fingerboard is rounder by the nut for chording ease, but flatter at higher registers for soloing speed.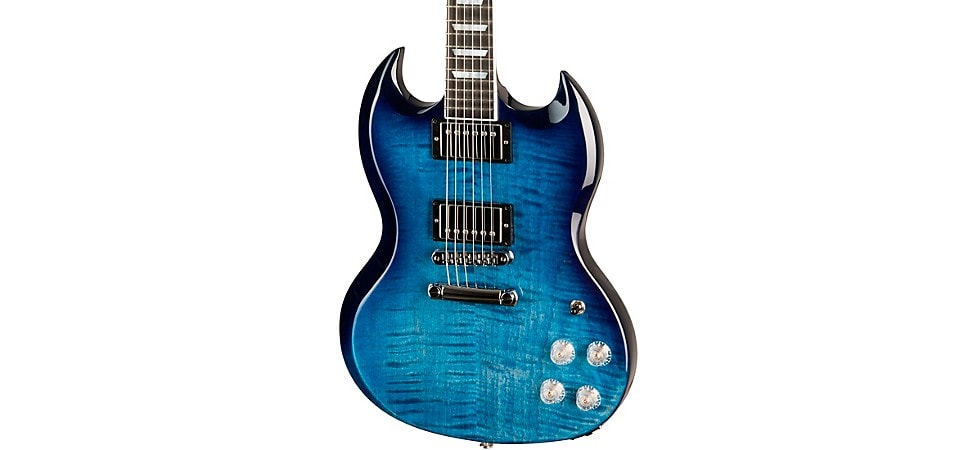 Pictured: Gibson SG Modern
Gibson SG Standard
The Modern Collection's Gibson SG Standard incorporates elements of an original '66 in its build. The neck has a rounder profile than early model SGs; it joins the body at the 19th fret for enhanced stability. You can't miss the bigger batwing pickguard, or the 490R/T humbuckers that conjure the rock-oriented aggressive tones of the late '60s. They're wax-potted to stifle high-gain squeal. This SG Standard comes with Grover Rotomatic tuners and a Nashville bridge, offering a fuller range of saddle movement for enhanced intonation. As with the Standard '61 model, in late 2023 Gibson introduced a host of new color options including a striking Cardinal Red Burst, classic TV Yellow and always eye-catching Pelham Blue Burst. 
Pictured: Gibson SG Standard
The Gibson Artist SG Collection
Gibson has made artist models guitars since 1927's Nick Lucas Special. Sometimes they're careful recreations of a player's favorite vintage guitar; other times they incorporate modifications that go beyond Gibson traditions. Over the years, Gibson has released a bevy of signature SG models. If you want to connect with your guitar heroes, the Artist Collection is just the ticket.
While you might not want to tune down to C# and play with leather thimbles, the Gibson Tony Iommi SG Special is one way to capture that Sabbath sound. Based on his highly-modified original, it comes with a pair of high-output P-90s and a rounded profile bound mahogany neck. It's instant "War Pigs," making this signature Tony Iommi guitar a great one for '70s-style hard rock.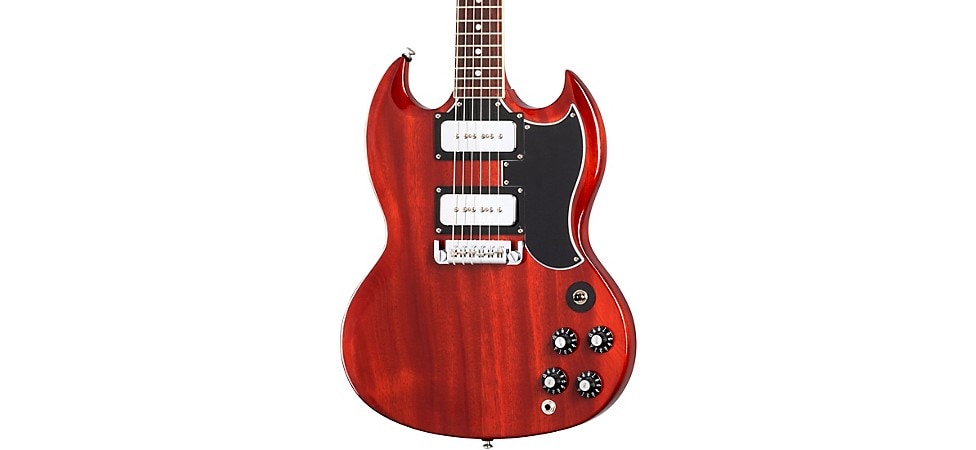 Pictured: Gibson Tony Iommi SG Special
Gibson Custom Shop SG Collection
Based in Nashville, the Gibson Custom Shop creates instruments made to exacting detail by the company's most skilled luthiers. Every spec is carefully considered. Some upper-end models offer unique finish options, hardware matches, one-off designs and more. In any case, with a Gibson Custom SG, you'll own the best of the best.
One of the first adopters of the SG was Sister Rosetta Tharpe. Her guitar might have appeared angelic, but when it came to the gospels, she rocked them raw. The Gibson Custom 60th Anniversary 1961 SG Les Paul Custom VOS is a revelation in classic white with gold hardware. Move the Sideways Vibrola bar out of the way if you're not feeling it, but when the spirit hits you, you have to shake that thing. The Gibson Custom 60th Anniversary 1961 SG Les Paul Standard VOS offers the same sounds in a two-pickup package.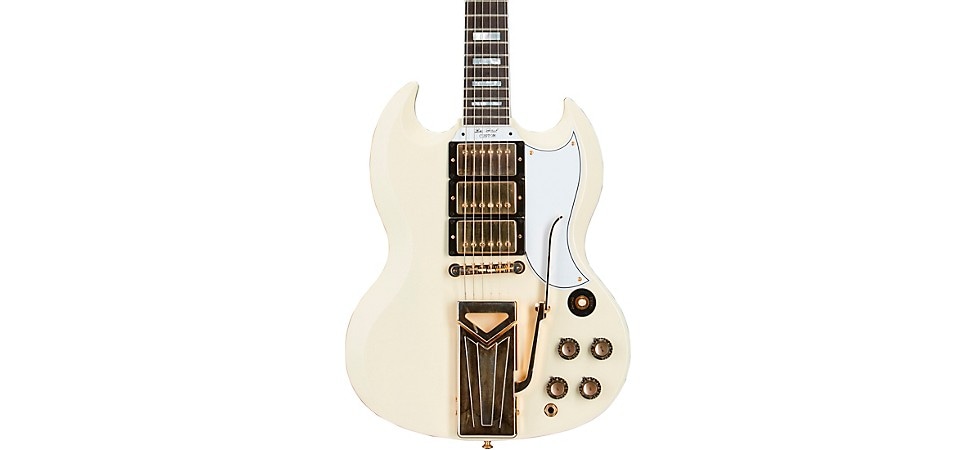 Pictured: Gibson Custom 1961 SG Les Paul Custom Reissue VOS
When Led Zeppelin began their 1971 tour, Jimmy Page needed a guitar that could cover both 6- and 12-string parts in "Stairway to Heaven." The Gibson Custom EDS-1275 Double Neck with SG-styled body gives you what Page, Alex Lifeson, Slash and John McLaughlin have all turned to in order to create fuller sounds onstage. At nearly 13 lb., it's not for the weak of heart, but hey—sometimes you have to sacrifice yourself (and your shoulders) for rock 'n' roll. Its unpotted Alnico III Custombuckers are sure to summon the hammer of the gods.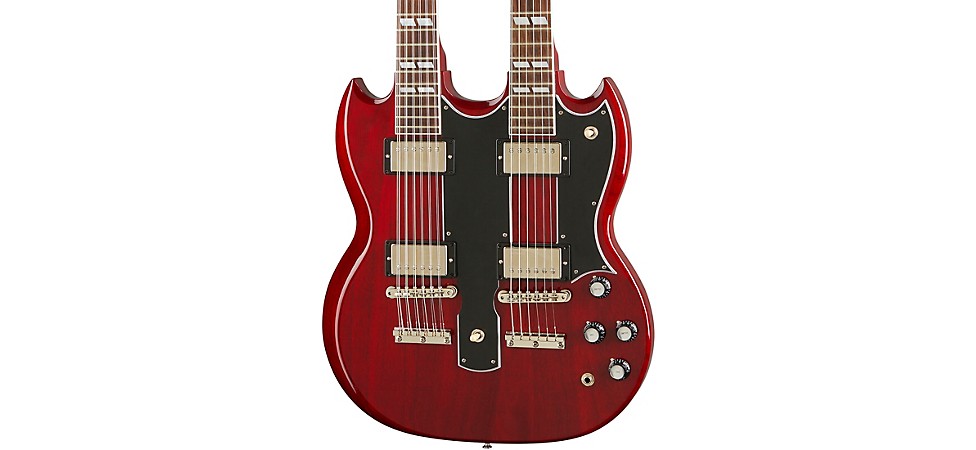 Pictured: Gibson Custom EDS-1275 Double Neck
Gibson Murphy Lab SG Collection
When Tom Murphy heard The Who's Live at Leeds in 1970, he immediately went out and bought an SG Junior to sound like Pete Townshend. Thus began a never-ending passion for vintage guitars. Murphy has spent decades developing techniques to make new instruments match up to old favorites. The Murphy Lab is a division in the Gibson Custom Shop where his trained team creates SG models with four levels of wear: Ultra Light, Light, Heavy and Ultra Heavy.
The Gibson Custom Murphy Lab 1964 SG Standard With Maestro Vibrola is a prime example.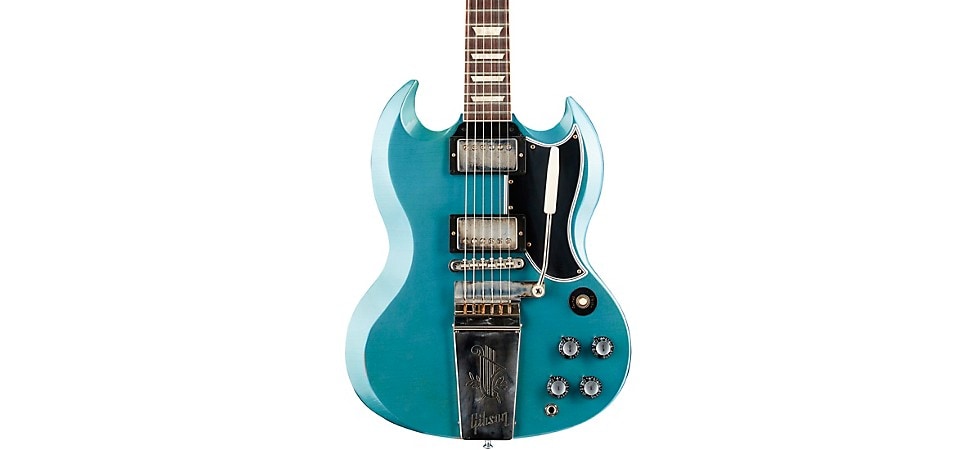 Pictured: Gibson Custom Murphy Lab 1964 SG Standard Reissue Maestro with Vibrola Light Aged
Choose Ultra Light aging if you prefer few signs of playing wear. It gives the appearance of a guitar kept in a case under the bed for decades. Heavy aging simulates a life on the road with the scars of 50+ years of use and abuse. 
Browse our full collection of Gibson Custom Murphy Lab guitars.
How to Choose the Best Epiphone SG
Epiphone relaunched its line of SG guitars in 2020, improving the quality, fit and finish of these more accessible instruments. For a new player, an Epiphone is an outstanding first guitar that lasts. There's plenty in the line to appeal to pros, too.
Epiphone Original SG Collection
Coming closer than ever to matching the Gibson aesthetic, Epiphone's Original Collection pays tribute to those Kalamazoo classics in a completely authentic way. The designs are based on Gibson blueprints and incorporate period-correct specs.
Epiphone 1961 Les Paul SG Standard
One of the most exciting guitars in this collection is the 1961 Les Paul SG Standard, a collaboration between Epiphone and Gibson Custom. It has a 2-piece mahogany body—there's no veneer here—with deeper bevels; the mahogany neck has hand-rolled fretboard edges, making it feel as comfortable as an old baseball glove. The big surprise is the addition of Gibson Burstbucker pickups. One of the joys of a vintage SG is that the humbuckers didn't always have a matching number of windings. That's repeated on this Epiphone—the neck Burstbucker is medium output, while the bridge is overwound and hotter. They're wired with CTS pots, Mallory caps, Switchcraft output jack and toggle. The quality on the Epiphone 1961 Les Paul Standard is next level. It comes with a vintage-style hardshell case.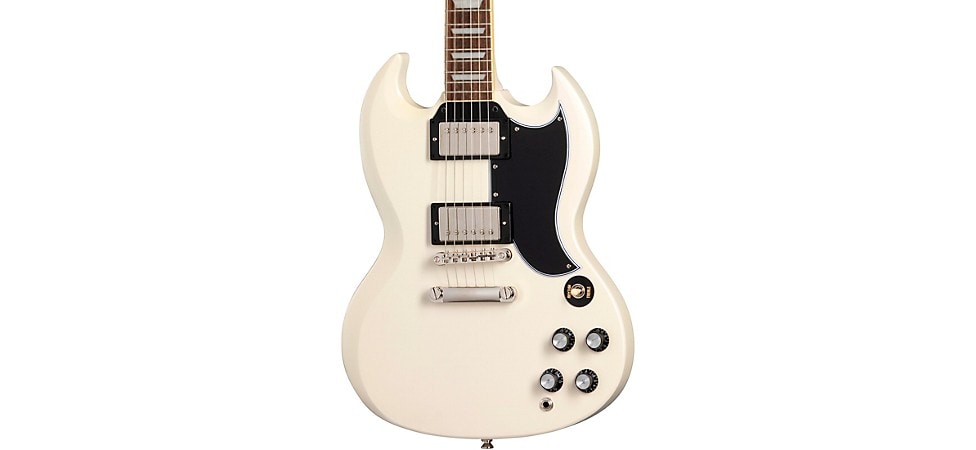 Pictured: Epiphone 1961 Les Paul SG Standard
Epiphone SG Custom
Gibson first reserved its 5-ply Split Diamond headstock inlay for high-end instruments like the Super 400 and the '54 Les Paul Custom. Get the same look for less with the Epiphone SG Custom. Other upscale appointments include an ebony fingerboard and gold hardware.
Epiphone's Alnico Classic PRO humbuckers are made with higher strength magnets for more drive, but they're just as capable dimed down for jazz and other genres.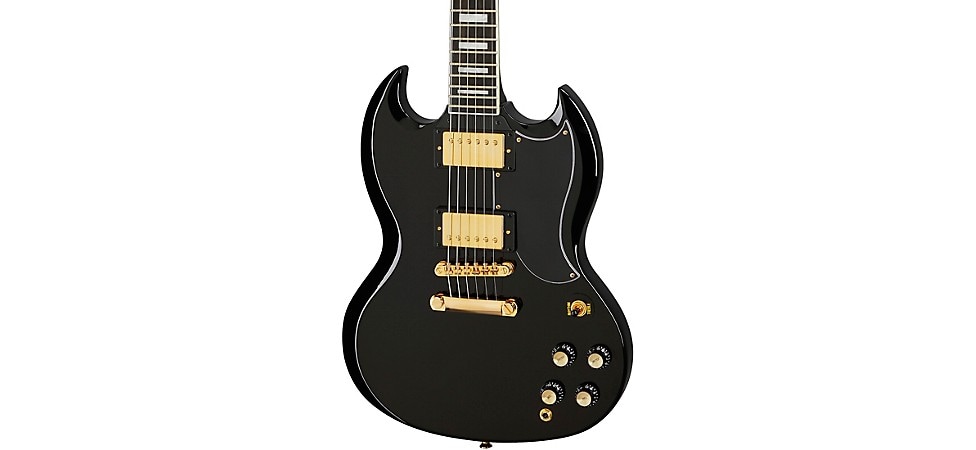 Pictured: Epiphone SG Custom
Epiphone SG Special
The Epiphone SG Special (P-90) sports a pair of soapbar-style single coils that are wax-potted and made with vintage-spec'd braided, two-conductor wire. These P-90s work for '40s-style jazz and blues, '50s-style rockabilly, '70s-style arena rock and virtually anything today. This SG Special has a mahogany neck with an Indian laurel fretboard that looks and wears like rosewood.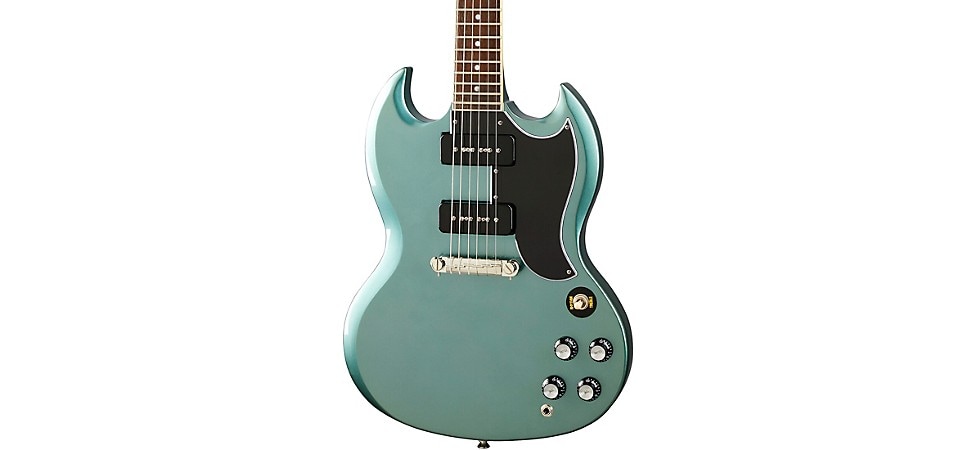 Pictured: Epiphone SG Special P-90
Epiphone SG Standard
Angus Young's guitar sound is one of the best around. The AC/DC rocker plays (and slays) a '68 SG with larger-than-life tones. Epiphone's SG Standard is just as capable with Alnico Classic PRO pickups that get grittier at higher volumes. Young's wicked vibrato comes from his hands, not hardware; this SG keeps strings stable with a LockTone Stop Bar and tune-o-matic bridge. An old-school "pineapple crown" inlay tops the headstock. Modern touches include high-ratio Epiphone deluxe tuners and a neck with rolled edges for comfort.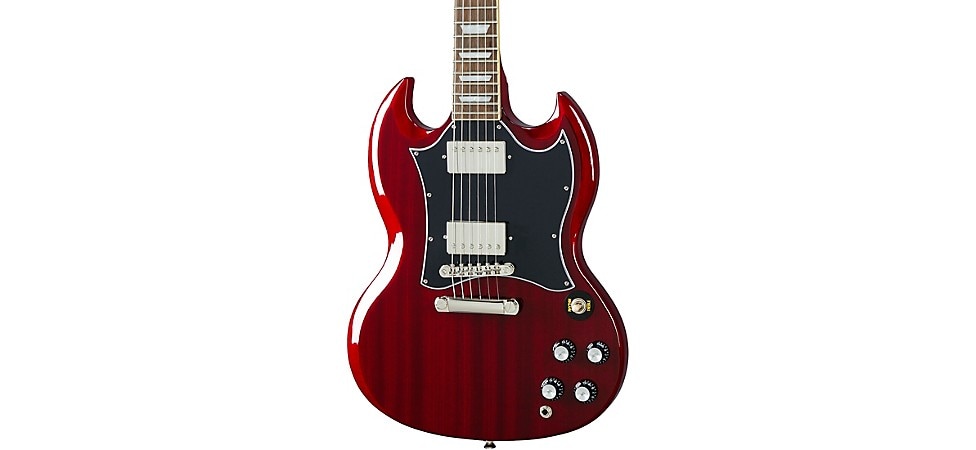 Pictured: Epiphone SG Standard
Epiphone SG Standard '60s
The Epiphone SG Standard '60s takes inspiration from the debut 1961 Gibson Les Paul/SG. It comes with a set of ProBuckers, made with period-correct bobbins and nickel silver alloys from the early days of Gibson. Joe Bonamassa specs these same pickups on his signature Epiphone Black Beauty, so if you're looking for the best SG for blues, explore this Epiphone. It's available as a stop tail, or with a Maestro Vibrola.
Pictured: Epiphone SG Standard '60s
Epiphone Modern SG Collection
You can respect SG history without being a slave to the '60s. Epiphone's Modern Collection pairs classic style with player-friendly features like faster necks and updated fits and finishes.
Epiphone SG Prophecy
The phrase "high performance" is frequently thrown around in guitar circles, but it's an apt description of the Epiphone SG Prophecy. We could start with the Fishman Fluence humbuckers—they're noise free, making this SG one of the best for recording. The pickups can be voiced three ways with push/pull controls: vintage humbucker, modern high-gain active humbucker and a split single-coil sound. Math rockers will find the 24-fret asymmetrical neck perfect for angular, progressive riffs. Grover locking tuners, mother-of-pearl inlays, knurled metal knobs and a maple top capped with AAA flame maple veneer are more reasons the Prophecy might be in your future.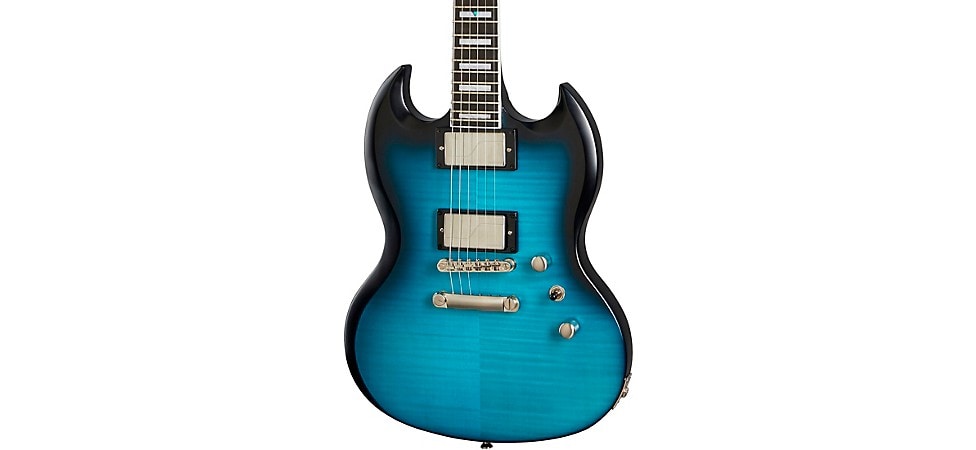 Pictured: Epiphone SG Prophecy
Epiphone SG Classic Worn
The Epiphone SG Classic Classic Worn has a worn, open-grain finish. If you dislike the  sheen of a new instrument but don't want to go the full relic route, this is the SG to get. The wax-potted P-90s offer single-coil sounds that are thicker than a Strat or Tele. They'll push your amp for Billie Joe Armstrong-style crunch, or dial them down for Robby Krieger's warm "Light My Fire" sound with The Doors.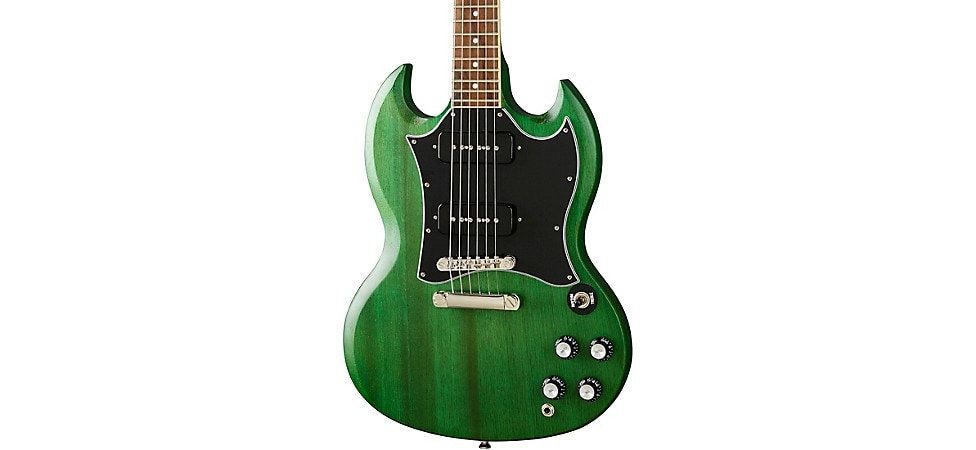 Pictured: Epiphone SG Classic Worn
Epiphone SG Muse
Guitarists find inspiration through the fiery fretwork of famous players; other times, the instrument itself is enough to excite. That's definitely the case with Epiphone's SG Muse, which is loaded with modern wiring to maximize your tonal palette. The Alnico Classic Pro humbuckers can be coil split for a brighter, bell-like chime; a treble bleed circuit ensures that the highs come through when you roll back the volume knob. Phase switching scoops out the sound a la '60s British blues. And with clear speed knobs, there's nothing to obstruct the majesty of the Muse's metallic finish.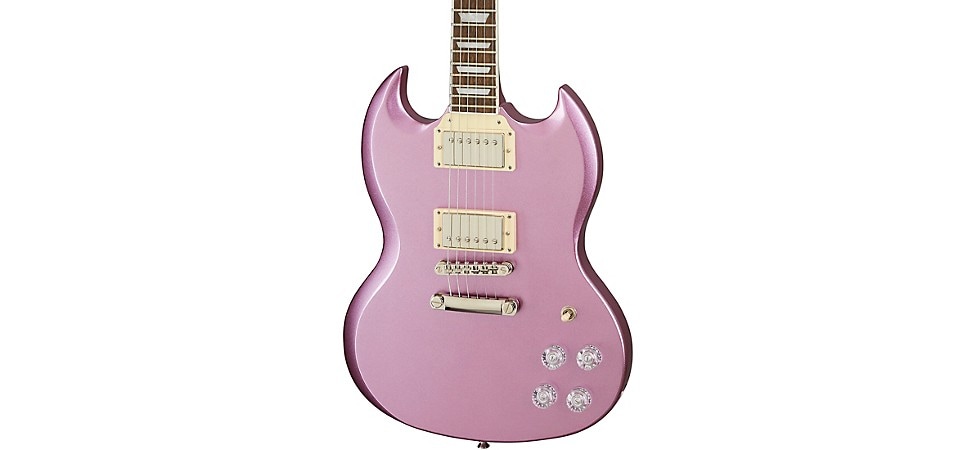 Pictured: Epiphone SG Muse
Epiphone Traditional Pro SG
Exclusive to the Guitar Center Family of Brands, the Epiphone SG Traditional Pro is an affordable option that captures the legendary history of Gibson's best-selling guitar of all time. It pairs a mahogany body with a mahogany neck, adds two Alnico Classic PRO pickups, tune-o-matic bridge, stopbar tailpiece and push/pull coil splitting for tonal flexibility.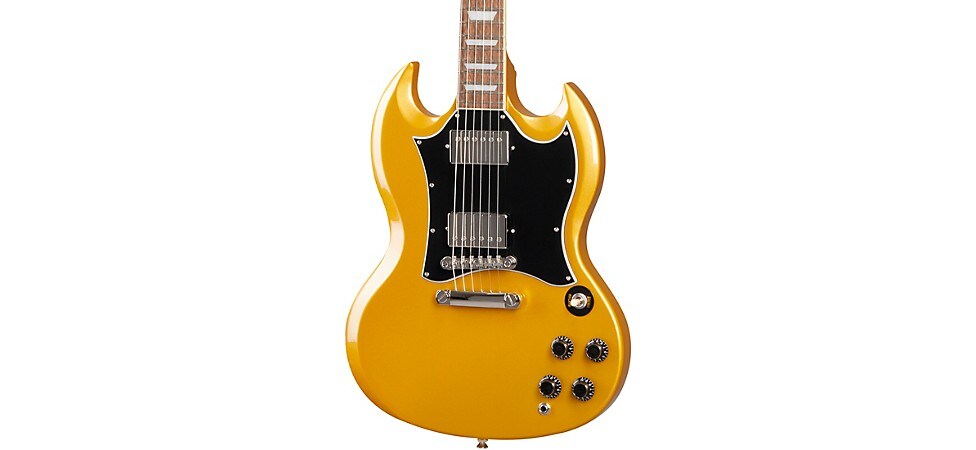 Pictured: Epiphone SG Traditional Pro
Best SG Models for Beginners
The Epiphone Limited-Edition SG Special-I comes with an impressive amount of 5-star reviews. It has a mahogany body, a mahogany neck with a SlimTaper profile, and a pair of open-coil ceramic humbuckers that loved to be pushed to the limit. The SG Special Satin E1 has a lightweight poplar body with a mahogany veneer, plus the same set of scorching pickups. Whether it's a first guitar, couch guitar, backup, or one to mod or ease the transition from acoustic to electric, these Epiphones have a remarkable value.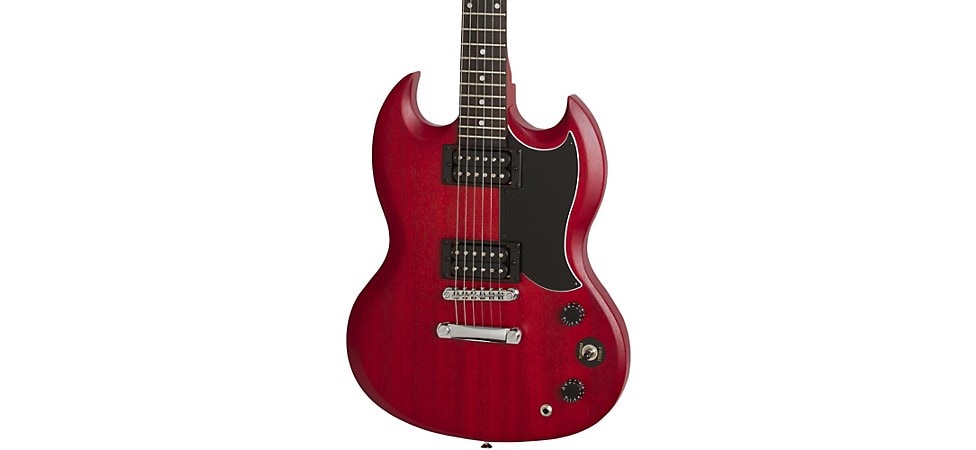 Pictured: Epiphone SG Special Satin E1
How to Buy a Vintage SG Guitar
Sometimes a vintage Gibson SG can be worth its weight in gold, especially if all the specs are correct. Before offering up an instrument, we thoroughly inspect it to spot repairs, modifications, refinishes or anything not original. But keep in mind that a guitar doesn't have to be 100% original to play and sound superb. Our vintage team is just as excited about SGs as you; rest assured that we'll do the work to ensure that there are no surprises.
We hope you've enjoyed this deep dive into all things SG. Come in to your local store to explore more, check out our extensive online selection of Gibson and Epiphone SGs, or give our Contact Center a call to find a Gear Adviser who shares your passion in finding the perfect guitar