Getting the right drum sound is an art form. It begins with the drummer, the kit, what the song needs and, to be honest, what you think sounds right. After that, the next most important element is the right microphone in the right place.
We've put together a list of the best microphones for recording drums. Many of our selections, like the trusty Shure SM57, Sennheiser MD 421-II and AKG D112 MKII, are also excellent for getting live drum sounds, making them versatile additions to any mic arsenal.
There are multitudes of drum recording techniques that will net great sounds, and there's no true "right" or "wrong" way to do things. Whether you want to record your kit with one mic, or have the capability to throw everything at it, we've got you covered.
Let's take a look.
The Best Drum Microphone Packs 
If you just need to get your kit covered without drilling down into the details of specific drum/mic combos, take a look at drum microphone sets. There are plenty of packs available with selections of mics tailored to drum-specific needs. And, at multiple price points, they can be a smart way to mic your kit without breaking the bank.
With their ingenious V Clamp design, the sE Electronics V Pack Club microphone package takes the prize for easy setup and teardown. This pack includes six microphones, covering your kick, toms, snare and overheads. If you want to mic the whole kit on a budget, the Digital Reference DRDK7 7-piece pack also gives you everything you need, including four snare and tom mics, a kick drum mic and overheads.
Earthworks DK7 Mic Kit is a robust set of seven stellar mics. Four DM20 cardioids are perfect for close-miking toms and snare, a pair of SR25s give you overhead power, and the SR20LS is a low-sensitivity kick drum mic that works as well in live applications as in the studio. It's a great combination of quality and ease of use.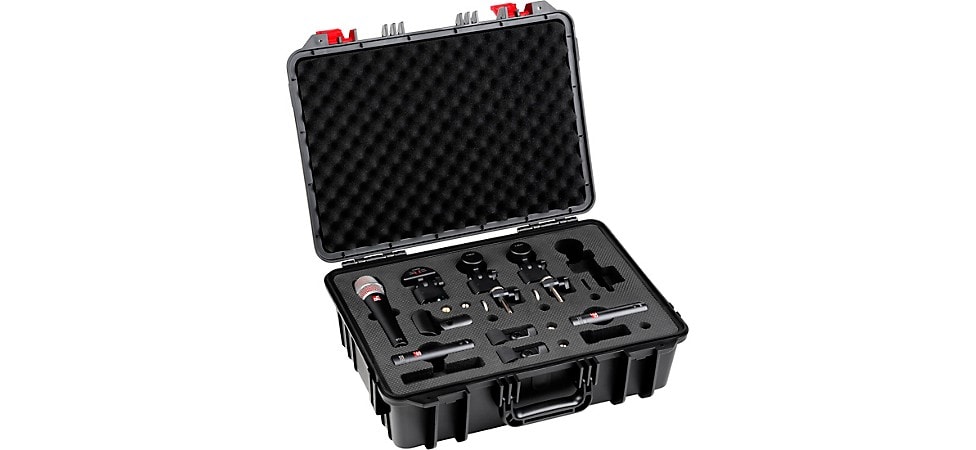 Pictured: sE Electronics V Pack Club 
Best Snare Drum Microphone: Shure SM57
When it comes to capturing everything you want in a snare recording, including sharp attack, round mids and a solid bang, you can't go wrong with the industry favorite: the Shure SM57. The popularity of this dynamic mic comes down to wide, contoured frequency response, versatility and durability. Its tight polar pattern rejects bleed from other sounds like your hi-hat, and the thing is built like a tank, able to withstand a barrage of drum stick whacks. And, it's great for miking amps, vocals and nearly anything that makes a noise.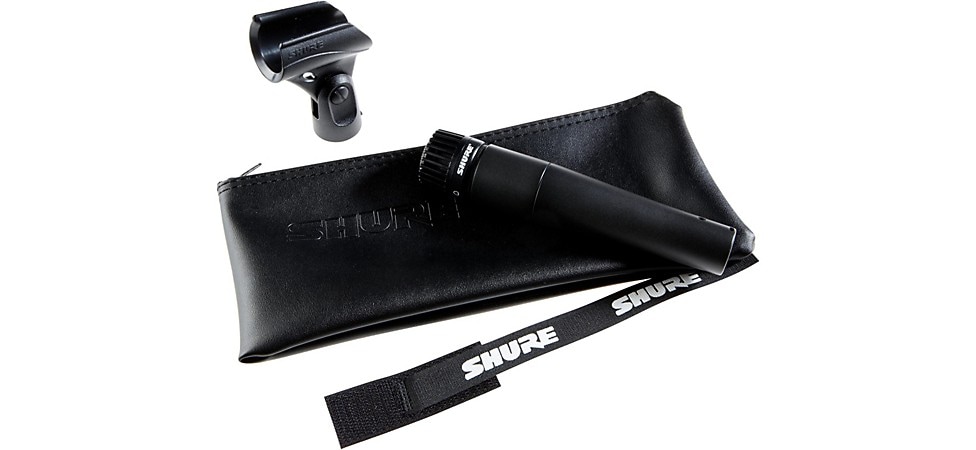 Pictured: Shure SM57 Dynamic Instrument Microphone 
Additional Snare Drum Microphone Recommendations 
When you're miking a snare, you can choose to mic the top, the bottom, the shell or any combination of those. Techniques like a mic on the top mixed with a good overhead, or mics on top and bottom capture a full snare sound. A lower-profile mic like the Telefunken M80-SH is a great choice for a tight fit, and it combines well with overheads. It's designed not only to take up less space, but to make the most of a narrow cardioid polar pattern as well, grabbing sharper highs for even more snare cut.
For a road-friendly snare mic, the sE Electronics V7 is nearly indestructible and features a patented shockmount to cut out mechanical vibration, giving you more drum tone and less hardware rattle.
Best Bottom Snare Drum Microphones
If you're miking the bottom of your snare, you want to avoid bleed from the kick drum pedal and the kick itself. The Shure Beta 57 is ideal for this, because its supercardioid pattern rejects unwanted sounds while its shockmount lets you get in tight without low-frequency proximity effect.
When miking both the bottom and top of your snare, you will need to experiment with placement to avoid phase cancellation caused by sound hitting your mics at slightly different times. The compact but robust Electro-Voice ND 46 fits in small spaces and does an excellent job of isolating against other sounds. Plus, it has a locking, pivoting head, meaning you can fine-tune your placement.
Best Bass Drum Microphone: AKG D112 MKII
What engineers are usually seeking in recording the bass drum is that perfect mix of boom and bang—the low-end thump of the drum and the snap of the beater on the head. Miking the outside of the drum captures power and resonance, while the inside gets punch and attack.
The large-diaphragm cardioid AKG D112 MKII is a longtime favorite because the right placement gives you a great balance of low end and snap. It handles hefty sound pressure levels without distorting, and its low end is met with a 4kHz presence boost that really grabs the smack of the beater.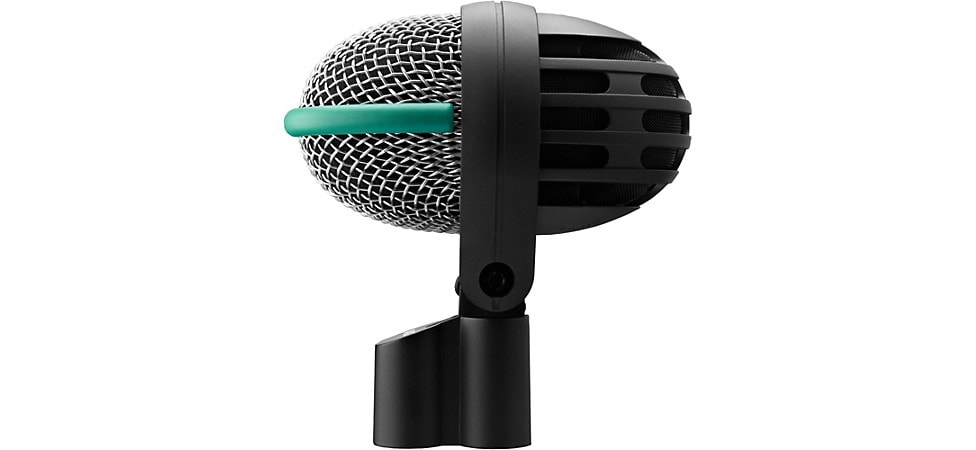 Pictured: AKG D112 MkII Bass Drum Microphone 
Additional Bass Drum Microphone Recommendations
The Shure Beta 52 is another engineer favorite with a frequency response tailored to bass instruments. It captures attack and fat resonance whether you're miking your kick from within or without.
The Electro-Voice RE20 boasts an internal pop filter to reduce proximity effect, an internal shockmount to reduce vibration noise and blast/wind filters over each opening, for pure drum sound without extraneous noise. The bass roll-off switch is very handy in case the drum gets too boomy. The Audix F6 is another bass-voiced winner, with a hypercardioid pattern designed to minimize feedback and bleed.
Kick drum mics are also ideal for capturing pretty much any bass instrument, including electric bass amps and upright basses, spreading your investment across the studio.
If you want to take the condenser mic route, the Mojave Audio MA-201fetVG is a large-diaphragm choice that grabs those vintage FET vibes. It's not specifically designed for drums, but it captures all the full, fat goodness of a solid kick, while also serving as a standout vocal and instrument mic.
Best Tom Microphone: Sennheiser MD 421-II
Toms are typically picked up well by overhead mics, especially with the Glyn Johns Technique with one mic placed above and just to the side of the floor tom. But directly miking your toms gives you mixing flexibility, better control of the stereo imaging and the ability to really dial in drum-specific EQ.
The durable Sennheiser MD 421-II is the engineer's go-to tom mic. Its five-position bass control allows you to adjust for boomy floor toms, and its highly directional cardioid pickup pattern ignores a lot of the mechanical kit noise that miking toms can expose you to.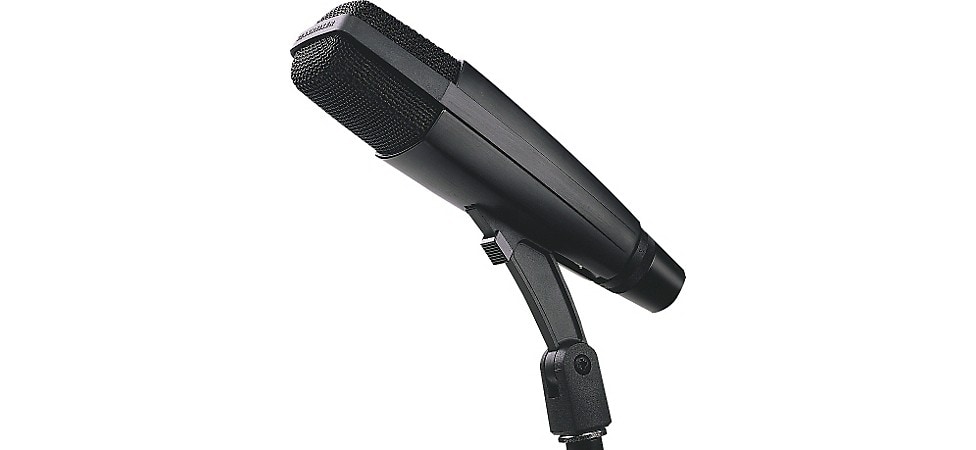 Pictured: Sennheiser MD 421-II Microphone 
Additional Tom Microphone Recommendations
The closer you get to your tom, the tighter and bassier your tone. The compact Sennheiser e 604 can clip directly to your drum and handle surprisingly large SPLs. It's easy to position and tough enough to take a beating. Angle it toward the center of your drum, you'll get attack. Point it more toward the rim, you'll get sustain. Even better, you can get the e 604 in a pack of three and aim them at everything. This makes for a portable, easy-to-use setup for live situations in addition to the studio.
The AKG C414 XLS is a multi-pattern condenser mic that can do double duty as a tom mic or as an overhead. It has nine pickup patterns and three bass-cut filters to choose from, making it adjustable for live shows, a big room or close-miking.
In addition to working for kicks, the Electro-Voice RE20 also serves as a great floor tom mic, reducing vibration noise and proximity effects while bringing out the depth of the drum.
Best Hi-Hat Microphone: Shure SM81
When it's time to capture the cutting, percussive click and shimmer of the hi-hat, you want a mic that can reject bleed and grab subtle taps, but not clip when you get loud. The Shure SM81 is a favorite for just this reason. It has a 10dB pad to compensate for high output without clipping, plus a three-position switch to roll off low frequency mechanical noises and rumble. Plus, it's very neutral and won't over-accentuate brightness.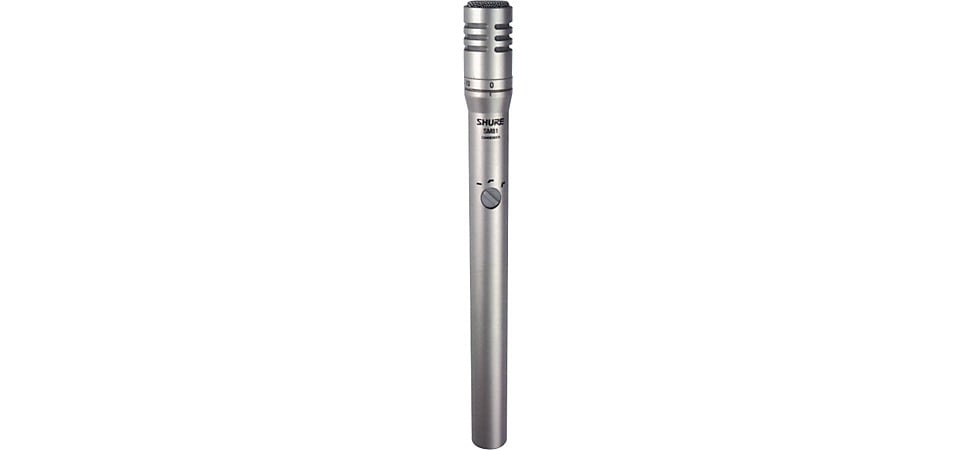 Pictured: Shure SM81 Cardioid Condenser Microphone 
Additional Hi-Hat Microphone Recommendations
The Neumann KM 184 comes with the famed Neumann quality and specs, but in a smaller package­—both in size and price. This miniature mic has smooth and complex frequency response, with a gentle 9kHz bump that really brings out that shine in your open hat.
A practical and versatile choice is the Sterling Audio ST131, which is small enough to fit nearly anywhere and features a high-pass filter and attenuator. It also works well for guitars, cymbals and strings.
Best Drum Overhead Microphone: Austrian Audio OC818
Overhead miking can be one of the most creative parts of the entire process of recording drums. There are multiple techniques. It requires experimentation depending on your needs, your kit and your room. It's all about the placement.
For this reason, our choice for best overhead drum mic is the Austrian Audio OC818. It's a low-noise large diaphragm mic with incredible sensitivity. It can take pretty much anything you throw at it, from light brushes to major sound pressure levels, which means you'll have success nearly anywhere you place it. With a handmade ceramic capsule and multiple polar patterns, it's a worthy investment.
You can choose to mic your drums only with overheads, or to use them as the foundation on which you add targeted mics for more color, detail and mixing possibilities. You may also choose between mono and stereo miking, or the Glyn Johns Technique, which ranges from three to five mics.
The traditional three-mic Glyn Johns method uses one just over the drummer, one above and just past the floor tom, and one right in front of your kick. Johns used this overhead miking technique to capture greats like John Bonham, Keith Moon and Charlie Watts. Distancing between the two overheads must be precise to avoid comb filtering. We recommend experimenting until you get the sound that's perfect for what you need.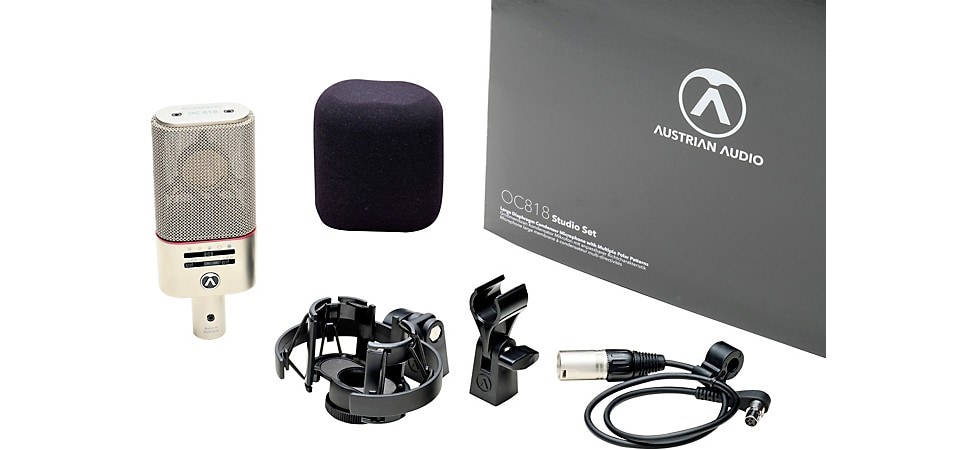 Pictured: Austrian Audio OC818 Condenser Microphone Studio Set 
Additional Overhead Microphone Recommendations
It's always good to throw a mic on the ride cymbal if you have one to spare. Having your ride separately miked gives you greater mixing flexibility. It allows you to go shimmery and wide, or really focus on that bell clang. Small-diaphragm mics like the ones we recommend for hi-hats—the Shure SM81, for instance—are always a good choice.
For a warm, very natural and incredibly smooth sound, the Stager Microphones Stereo SR-2N will give you all that and more. This USA-made ribbon mic records in Blumlein stereo or mid-side stereo. Plus, it sounds gorgeous on pretty much anything, from vocals and guitars to horns and strings.
Best Room Microphone: Neumann U 87
The best way to capture the true ambience of the room is to mic it. Well-placed room microphones catch the personality of the space—small and tight, high-ceilinged, reflective or absorptive. At the right distance, they can capture drums just the way they sound to an audience.
A large-diaphragm condenser mic set in omni mode, like the iconic Neumann U 87, will give you more of the room's sound. The U 87 is the industry go-to room mic. It's an investment, but a worthy one. Not only does it pick up a wide frequency spectrum and deliver an exquisitely balanced sound, it works great on pretty much anything. You could practically run an entire recording studio on one U 87.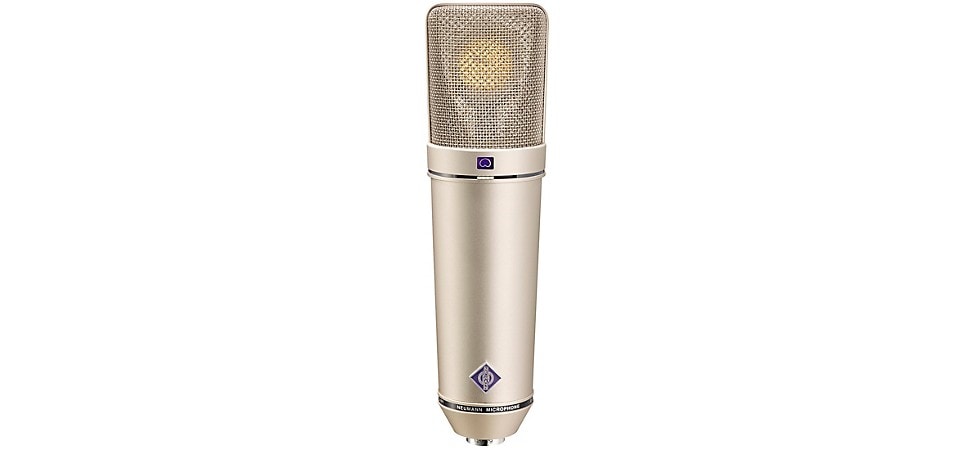 Pictured: Neumann U 87 Ai-MT Large-Diaphragm Condenser Microphone 
Additional Room Microphone Recommendations
The Warm Audio WA-47jr is inspired by the classic 47 microphone. It delivers big sound without the famously high price tag. This transformerless mic delivers classic frequency response, is fully discrete, and has three polar patterns. It's also versatile, working on vocals, bass and more.
The Sterling Audio ST159 is another excellent multi-pattern condenser with three polar patterns and 20Hz–20kHz frequency response.
We recommend experimenting. Try a mono overhead with stereo room mics, then swap it out with stereo overheads and a mono room microphone. You'll be amazed by the range of sounds you can get with simple placement adjustments.
Miscellaneous Microphones and Placements
As we've said a few times, the art of miking drums comes down to placement and good equipment. If inputs and tracks aren't an issue, then there are plenty of additional placements and microphones that are worth a try.
Contact microphones (aka piezo mics) pick up surface vibrations and can be used as triggers or to get some really weird sounds. Boundary microphones are positioned flush with a surface and can make interesting room mics and bass drum mics because there is practically no phase interference. The Sennheiser e 901 is a half-boundary, half-cardioid mic that you can basically just drop inside your kick drum and go.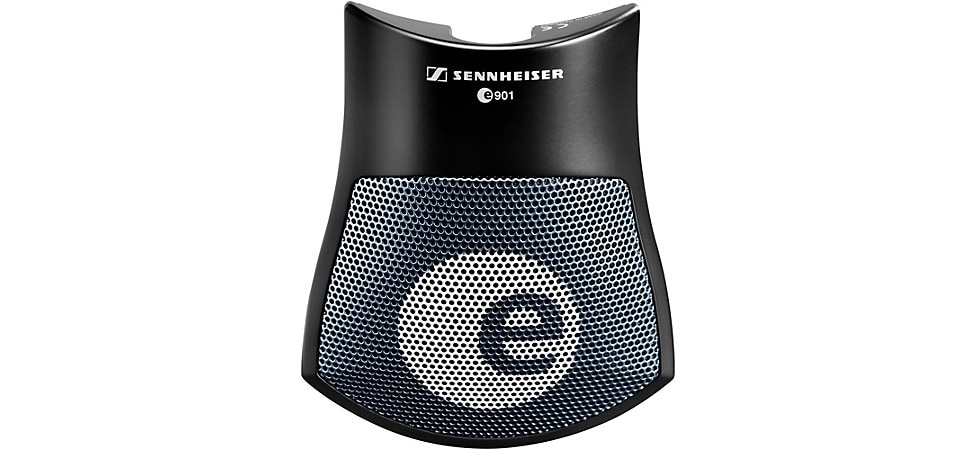 Pictured: Sennheiser evolution e 901 Cardioid/Boundary Instrument Microphone  
Ribbon mics are an old-school choice for capturing room sound. Since they're bi-directional, they capture reflections, making for great depth as long as you get the placement right to avoid phasing problems. Royer, AEA, Stager and sE Electronics offer a new generation of durable and warm-sounding ribbon microphones that are great for recording drums. These mics also excel at over-the-shoulder placement, where the drummer positions the mic near their right ear (or left ear if playing on a left-handed kit). This traditional method records the drums as the drummer hears them while playing.
Whether you capture your drums with a pair of overheads or a complex setup of individual close mics, it's all about getting the sound you want. These microphones are selected to give you the best options for frequency response, polar patterns, warmth and precision depending on what you need to add to the mix. The rest is up to you.
Get out there and have fun.