The acoustic guitar is where it all begins. No matter what kind of music you're listening to today, you wouldn't be listening to it without the invention of the acoustic guitar. From folk to blues to rock to country, the acoustic guitar has been there and done that—we owe it a giant thank you. To do that, let's take a look at five of the most popular acoustic guitars at Guitar Center. 
Martin D-28
The Martin D-28 has become almost synonymous with the acoustic guitar, and chances are, if you picture someone playing an acoustic, you're unwittingly imagining this in their hands.  
Initially considered to be inferior to the smaller parlor and 000s that were popular when it was introduced back in 1931, the world soon took note and correctly realized that the D-28 is the guitar by which all other guitars should be judged.   
"D" stands for "dreadnaught." Only the D-28 and a few of its closest relatives, like the D-18, D-15, and the more upscale D-45, can confidently tote the denotation with ease and comfort. From Hank Williams to Jimmy Page, the D-28 is an all-around powerhouse perfect for any genre that could use a little acoustic boost. 
Additional Martin Models to Consider
If a D-28 is a little out of your price range, have no fear, Martin does make some affordable alternatives: 
Martin Road Series DRS2 – Same great Martin craftsmanship at a fraction of the cost—plus you can plug in it and turn it up. 
Martin Road Series DSR1 – Legendary tone and all wood. It's mahogany-styled build is known for its warmth and depth. 
Both of the Martin Road Series DSR1 and DSR2 guitars are excellent choices for anyone who wants the sought-after sound and build of a Martin at a more affordable price. And what makes them stand out among other less expensive models is that they're both made from 100% wood. 
Notable Martin Players – Hank Williams, Jimmy Page, Brad Paisley, Chris Cornell, Chris Martin, Noel Gallagher.
Gibson J-45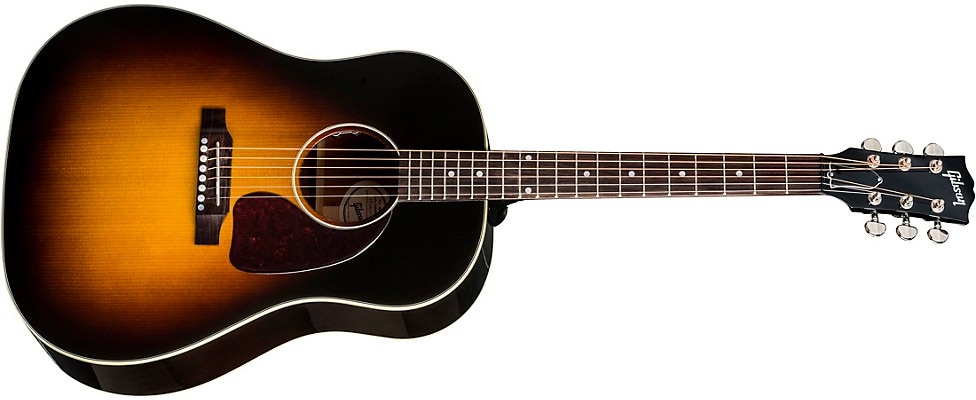 Introduced in 1942 and appropriately nicknamed "The Workhorse," Gibson's J-45 is a slope-shouldered work of art, played by almost every classic guitar player you can think of. John Lennon is said to have learned his trademark finger picking style on a J-45. Tough but stylish, the J-45 has time and time again proved itself to be one the most popular and pervasive acoustics in Gibson's arsenal.
Additional Gibson and Epiphone Models to Consider
If the price tag is a little worrisome, here are some other options to look into: 
Gibson J-15 – slope-shouldered like it's older counterpart but with a natural finish. A solid option that will get you started in Gibson land. 
Epiphone AJ-220S – A step up from its aforementioned little brother in both cost and quality—gorgeous, too. 
Notable Gibson Players – Jeff Tweedy, John Lennon, Skip James, Josh Ritter, Aaron Lewis, James Blunt, Hayes Carl.
 
Gibson J-200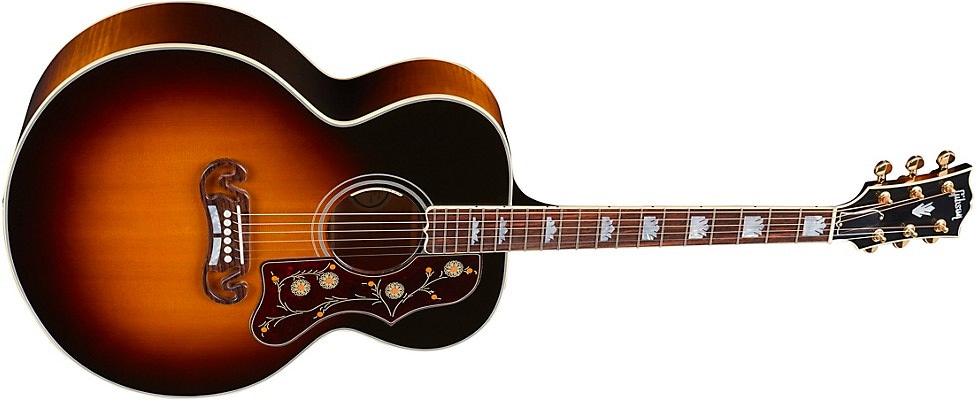 Perhaps the most stylish and certainly one of the most revered guitars to come from Gibson's Jumbo series, the J-200 was built with tone and volume enough for the loudest rockers, and the sultry warmth for even the most sensitive singer-songwriters. Introduced in 1937 and nicknamed "The King of the Flat-tops," this guitar's popularity can never be called into question—Gibson themselves have given the J-200 the designation of the "The World's Most Famous Guitar." And with musical ambassadors like Elvis Presley and Chris Isaak, how could anyone argue? This is truly a must-have for anyone looking to get serious about the acoustic guitar.
Additional Gibson and Epiphone Models to Consider
If cost is a concern, below are a few more accessible options: 
Epiphone EJ-200SCE – Jumbo-sized without the jumbo price tag. Complete with a spruce top and maple back and sides, this is the perfect axe to help you jump into jumbo land. You can also plug it in. 
Epiphone Hummingbird Pro Acoustic Electric – Don't let the price tag fool you, this is a solid guitar. Based on the legendary Gibson Hummingbird, which was made famous by players like Keith Richards and Sheryl Crow, the Epiphone version has the same great look and plays great for a fraction of the cost. 
Notable Gibson Players – Keith Richards, Sheryl Crow, Elvis Presley, The Everly Brothers, Jeff Tweedy, Chris Isaak, Pete Townshend. 
Taylor 214ce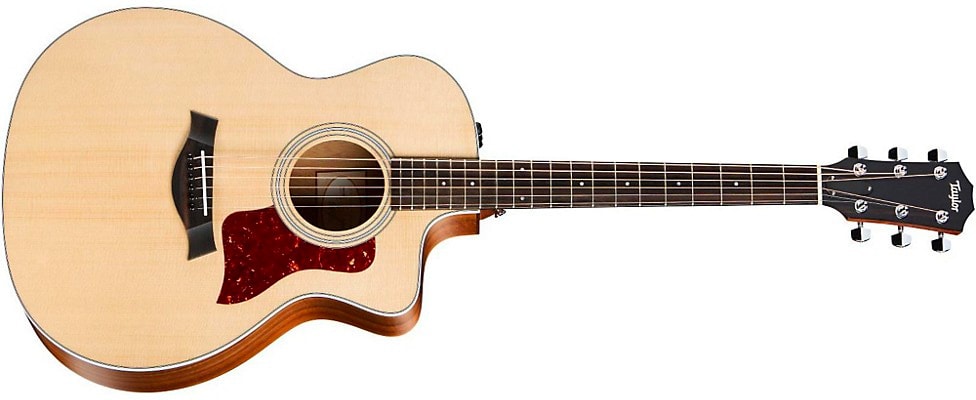 Taylor's 200 series models deliver some of their best modern innovations in design and guitar building. Their Grand Auditorium 214ce model offers ample volume with a focused, well-balanced sound thanks to its Sitka Spruce top and layered Rosewood back and sides. The 214ce also features Taylor's top-of-the-line ES2 pickup system and "professional-grade" audio preamp for when you're ready to plug in at your next gig. 
Additional Taylor Models to Consider
Taylor GS Mini Mahogany – Made from real mahogany for that characteristic rich warmth. 
Taylor Big Baby – Perfect for travelling or beginners looking for that trademark Taylor sound. The Big Baby is a little bigger than its sibling, the Baby Taylor (also a great traveler guitar), and is the perfect small axe to get you going. 
Notable Taylor Players – Leo Kottke, Dave Mathews, Taylor Swift, Jewel, Zac Brown, Jason Mraz, Sam Beam (Iron & Wine).
Cordoba C5 Acoustic Nylon String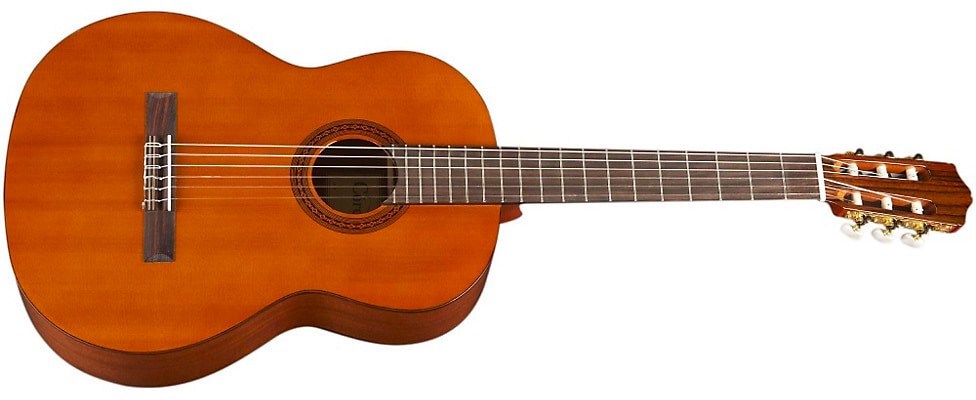 Cordoba C5 Acoustic Nylon String
Don't think we forgot about our hard-working, nylon-string enthusiasts. The C5 is an affordable, entry-level go-to for the consummate classical or flamenco professional. Built in the Spanish-heel tradition in which the top of the guitar is attached to the neck and the sides are added next, nylon-string acoustics don't get much better than this.
Other Cordoba Models to Consider
Cordoba C5-CE – A cutaway acoustic-electric that's perfect for launching into the world of classical, jazz and flamenco music that you can plug-in at your next gig. 
Cordoba C7 – Right in between the student models and the professional models, the C7 is an excellent and affordable choice for the intermediate classical player looking to reach the next level. 
Notable Cordoba Players – Jose Gonzalez, One Republic, Gipsy Kings, Gogol Bordello, Guster. 
It's Not Always a Popularity Contest 
The reason these guitars are desired among a vast array of musicians is because they work. And they've done so for years. They sound great, look gorgeous, and have been a mainstay within music since their inception. As is the case with all things music, what works with one player doesn't always translate across the board. It's best to get one in your hands and see what makes you groove, helps you develop new melodies, and more importantly, is fun to play.
Looking for more great acoustic guitar recommendations? Check out our Beginner's Buying Guide for Acoustic Guitars and our look at 7 Acoustic Guitars Under $200. 
Learn Guitar With Online Guitar Lessons
Did you know that Guitar Center offers online guitar lessons? Our expert guitar instructors will work closely with you to tailor your lessons to your musical tastes and goals. Whether you're a beginner learning your first chords, or a more experienced player looking to grow, we're here to help.