If you're an aspiring acoustic guitar player, there's no need to invest in a high-end guitar when you're simply trying to master the basics. If you're an established player, it's always nice to have an extra guitar around the house for practicing and working out ideas without putting added wear and tear on your main instrument. Knowing this, we've compiled a list of some of the most reliable and best-sounding acoustic and acoustic/electric steel-string guitars from top-name manufacturers - all under $200. We're sure these guitars will fit the bill without the bill giving you a fit.
Yamaha F335
One of Guitar Center's top-selling acoustics, the Yamaha F335 features a classic dreadnought shape and comes in your choice of three colors: Natural, Tobacco Brown Sunburst or Black. The F335's bright treble notes and warm mids come from its laminated spruce top, which is paired with a lightweight meranti body and rosewood fingerboard and bridge. Yamaha has finished it off with gold die-cast tuners, a urea nut and saddle, cream and black body binding and a decal soundhole rosette.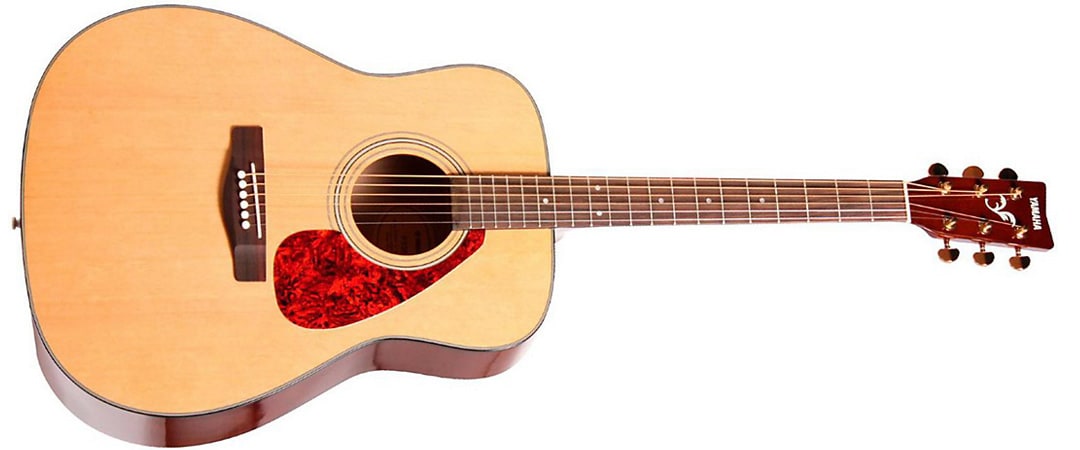 Fender FA-135CE Acoustic/Electric
The Fender FA-135CE acoustic-electric is built for the modern player. It has a sleek concert body shape, thin C neck profile, and a cutaway that makes it easier to reach those upper fret notes. To top it off, you can plug the FA-135CE into an amp or PA system with a Fishman ION-T sidemounted preamp. This gives you control over bass, middle, treble and volume, as well as a built-in tuner so you can always sound your best. Choose from a Natural, Black or 3-Color Sunburst finish.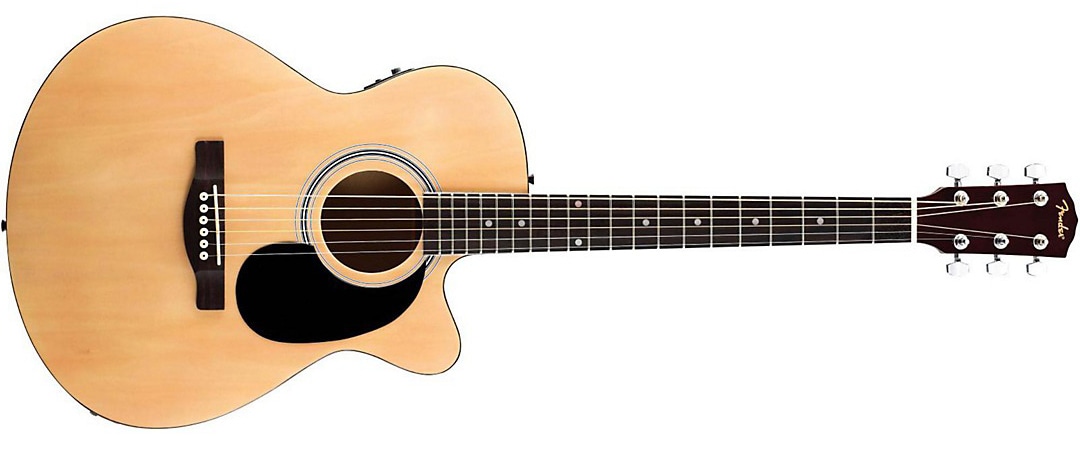 Yamaha FG800
The next model up from the Yamaha F335, the FG800 acoustic has a solid spruce top with scalloped bracing for increased resonance and bass response. This dreadnought-sized model is crafted with laminate nato back, sides and neck, which keeps it lightweight without sacrificing tone. The FG800's neck is slim and tapered for faster play. Other appointments include a black-and-white soundhole, black binding, die-cast chrome tuners and your choice of Natural or Sand Burst gloss finishes.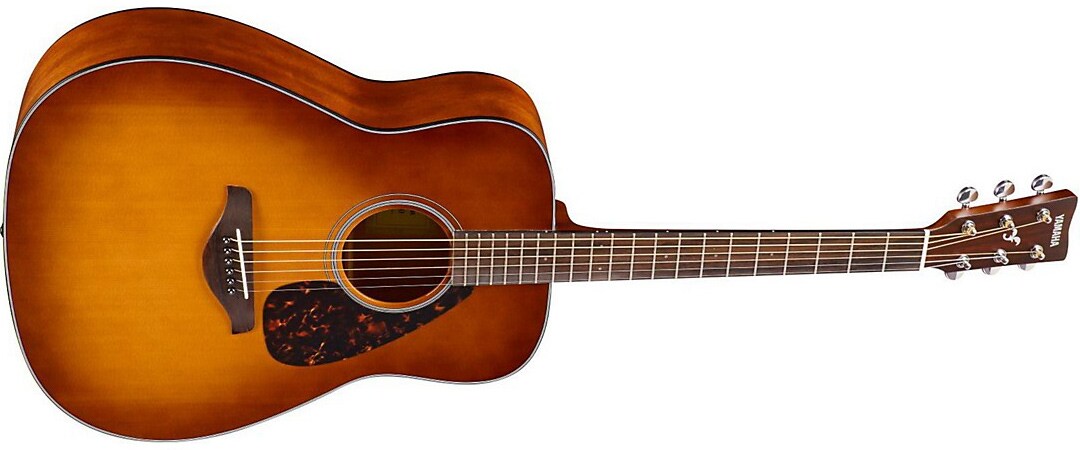 Ibanez V70CE Acoustic/Electric
The Ibanez V70CE is another dreadnought acoustic/electric with a convenient cutaway. Its tonewoods include a select spruce top with X bracing, laminate mahogany back and sides, and the popular combination of a mahogany neck with rosewood fingerboard and bridge. The V70CE's built-in Ibanez AEQ200 preamp lets you plug in confidently with volume, bass and treble control. This top-selling guitar comes in Black, Violin Sunburst and Transparent Blue.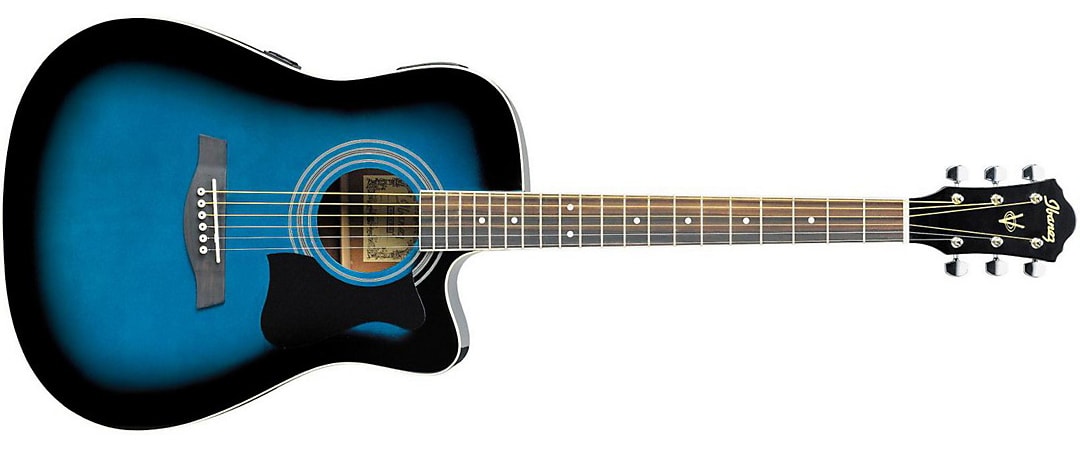 Epiphone PR-150
The most budget-friendly model on this list, the PR-150 is a workhorse starter guitar that offers the classic tone of a select spruce top and mahogany body. This full-size dreadnought features Epiphone's SlimTaper neck for smoother play, as well as premium die-cast 14:1 tuners for easier tuning. The '60s-era Sloped Dovewing headstock and tortoiseshell pickguard give it classic appeal. Choose Natural or Vintage Sunburst.
Yamaha Gigmaker Acoustic Pack
The Gigmaker Acoustic Pack is perfect for aspiring players unsure what to pick up. It includes Yamaha's F325D, an entry-level acoustic with a laminate spruce top and meranti body, nato neck and rosewood fingerboard and bridge. With this pack, you can choose between a Natural or Tobacco Brown Sunburst finish. To help you get the most of your playing experience, the Gigmaker Acoustic Pack includes a digital tuner, strap, picks, gig bag, extra set of strings, and most importantly, an instructional DVD.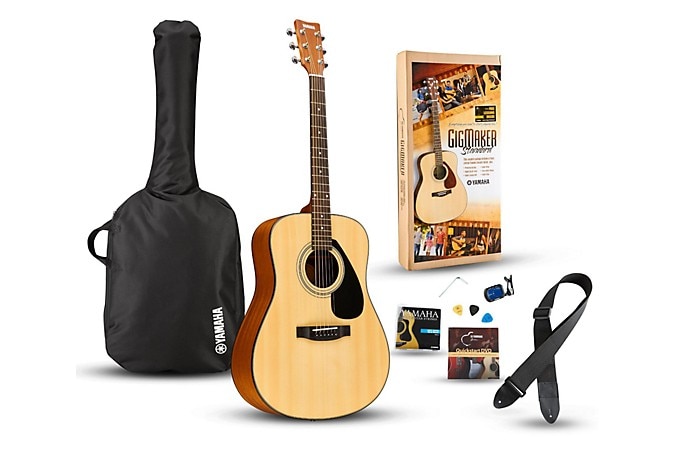 Yamaha Gigmaker Deluxe Acoustic Pack
The next step up from the Gigmaker pack, the Gigmaker Deluxe pack comes with the FD01S acoustic guitar, which features a solid spruce top with mahogany laminate back and sides. The solid top gives this phenomenal starter guitar some sweet volume and sustain. Rounding out the Gigmaker Deluxe Acoustic pack is a clip-on digital tuner, hex wrench, strap, extra strings, gig bag and instructional Quickstart DVD.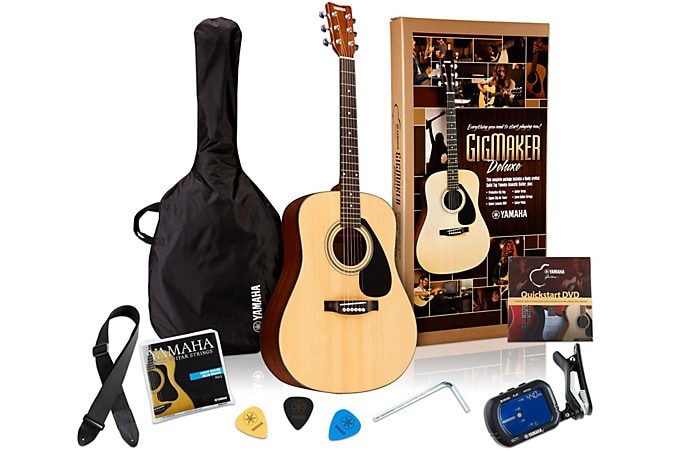 Looking for more great acoustic guitar recommendations? Check out our Beginner's Buying Guide for Acoustic Guitars and our look at the Top 5 Most Popular Acoustic Guitars. 
Become A Better Guitarist With Online Guitar Lessons
Did you know that Guitar Center offers online guitar lessons? Our expert guitar instructors will work closely with you to tailor your lessons to your musical tastes and goals. Whether you're a beginner guitarist learning your first chords, or a more experienced player looking to grow, we're here to help.