Delay is one of the most versatile effects in a player's arsenal. With just a few small adjustments, your sound can swing from a simple repeated note to modulated rhythmic cascades and on into endless, feedback-drenched canyons of sound.
Ok, so what is it? Essentially, it's a sound you've played repeated after a short interval, much like an echo. With a delay pedal, you can adjust the length of time before the repeat, as well as the number, decay and volume of those repeats. That's the foundation.
From the tight slapback echo of early rockabilly and surf hits to the seemingly endless syncopated repeats U2's Edge used on The Joshua Tree, the breadth of sounds you can achieve with delay and a little creativity is incredible.
On "Welcome to the Jungle," Slash used delay to craft that iconic intro, with his riff bouncing back at around 150 milliseconds. David Gilmour combined two delay pedals for the spooky, metallic repeats he achieved on "Run Like Hell."
The spacey, psychedelic potential of delay can be heard on Eddie Hazel's sprawling, interstellar solo on the Funkadelic track "Maggot Brain." Here, delay achieves the effect of a second player following just a beat behind, mirroring a series of increasingly complex patterns.
Feedback and self-oscillation are important in delay evolution and experimentation. As the delay itself becomes oversaturated and repeats back upon itself, it can achieve a feedback loop that builds in intensity and insanity. Radiohead's "Karma Police" is a perfect example of conventional use of self-oscillation, and it's an effect favored by psychedelic and acid rockers.
Producer and guitarist Daniel Lanois, who produced U2's The Joshua Tree, is a famed maestro of delay, using it in his solo work, as well as on tracks like "Where Will I Be" by Emmylou Harris, where he achieves a pulsing, dreamlike, reverb-drenched sound guitarists still try to imitate.
Today, artists like Adam Granduciel of The War on Drugs, deploy delay and oceans of reverb to magnificent, otherworldly effect, as heard on tracks like "Strangest Thing", from their Grammy Award-winning album A Deeper Understanding.
Table of Contents
A Quick History
Without Further Delay … The Best Delay Pedals of 2023
   Dunlop Echoplex
   BOSS DM-2W
   JHS 3-Series Delay
   Old Blood Noise Endeavors Black Fountain V3
   MXR M169 Carbon Copy
   EHX Deluxe Memory Man
   Universal Audio Starlight Echo Station
   BOSS DD-500
   Keeley ECCOS
   Walrus Audio ARP-87
   Death By Audio Echo Dream 2
Choosing The Right Delay For You
A Quick History
Great players have made the most of delay for more than half a century now. The legendary Sam Philips of Sun Studios used a pair of tape machines to create a slapback echo made famous on Elvis Presley's "Blue Moon of Kentucky" and a host of early rockabilly and southern blues records. This was a tight delay, almost like an echo off a reflective surface just a few feet away, or like the bounce-back off of buildings at an outdoor concert in the city.
The earliest delay effects were simple tape loops, with a signal recorded to a length of tape and the delay achieved by changing the tape speed or distance between play and record heads. Visionary studio engineers and players like Les Paul and Chet Atkins found a wealth of uses for this early effect, from quick slapback echoes to layers of texture.
In 1959, engineer Mike Battle sought to build a portable version of the built-in tape echo on the EchoSonic guitar amp created by Ray Butts. Battle's creation was the Maestro Echoplex, which would become the grandaddy of all delays.
The Echoplex tape delay was hugely versatile, thanks to a movable tape head that allowed players to change the timing of the delay. Beloved by Jimmy Page, Brian May, David Gilmour, Eddie Van Halen, Eric Johnson, Ace Frehley and many more, the Echoplex ruled the delay world for decades.
Though the '60s were dominated by the Echoplex, other major players entered the scene. The Italian Binson Echorec was a favorite of most of Pink Floyd, with David Gilmour, Syd Barrett, Roger Waters and even keyboardist Richard Wright using it on recordings like "Interstellar Overdrive" and "Shine On You Crazy Diamond."
In 1973, Roland premiered the Space Echo, and changed the delay landscape forever. This was a tape delay that benefited from a gorgeous spring reverb that inspired guitarists and keyboardists alike to experiment with lush, expansive sounds. The Space Echo quickly found favor in the emerging dub scene. Musicians and producers, like King Tubby and Lee "Scratch" Perry, played it like an instrument, using it on everything from vocals to drums to melodicas. Today, the Space Echo is considered a pillar of dub's loose, laid-back sound.
By the mid-1970s, delay graduated from tape to the bucket brigade circuit realm, with small capacitors storing and moving the signal along, making a more precise and durable effect. The earliest of these delay pedals were the Electro-Harmonix Memory Man and the Dynacord EC 280. The Memory Man, in its many incarnations, is a favorite for its simplicity and flexibility.
In the 1980s, microchips claimed delay, adding a wealth of optionality and also migrating from the floor to rackmounts. The Edge favored the Memory Man pedal in U2's early days, but he moved to the Korg SDD-3000 rackmounted delay for The Joshua Tree. These digital delays expanded the possibilities of pitch modulation, delay time and feedback, and programming.
After the rackmount honeymoon phase was over, guitarists again began to crave the ease of pedals. In 1984, BOSS met that need with the DD-2 digital delay pedal, packing a rack effect's worth of goodness into a stompbox.
An issue with the rackmounts was that they were complicated to operate—particularly mid-performance. Returning the effect to the pedal made it simpler to operate and more player-friendly. From the BOSS Pitch Shifter Delay to the MXR Carbon Copy, the '90s and 2000s ushered in a new era of portable, rugged stompers.
The boutique pedal revolution brought us an embarrassment of riches in delay sounds and options. Keeley Electronics, JHS, Walrus Audio and more created delays that both captured the classics and explored brave new sounds.
Today, we have the best of all delay worlds laid out quite literally at our feet.
Without Further Delay … The Best Delay Pedals of 2023
Dunlop Echoplex
One of the most beautiful sonic aspects to those grand old tape delays lies in the tape itself. Tape ages, stretches and decays, and all of that colors your sound.
Dunlop kept that in mind when designing the gorgeous Dunlop Echoplex pedal, a tribute to the third-generation solid-state version of the effect that defined delay for generations. With modes that digitally "age" your delay, this pedal simulates the sound of aging, decaying tape. The result is a delay that ranges from clean and crisp to dirty, dark and modulated, simulating the flutter and wow of a vintage machine. And its self-oscillation possibilities range from muffled roars to piercing wails.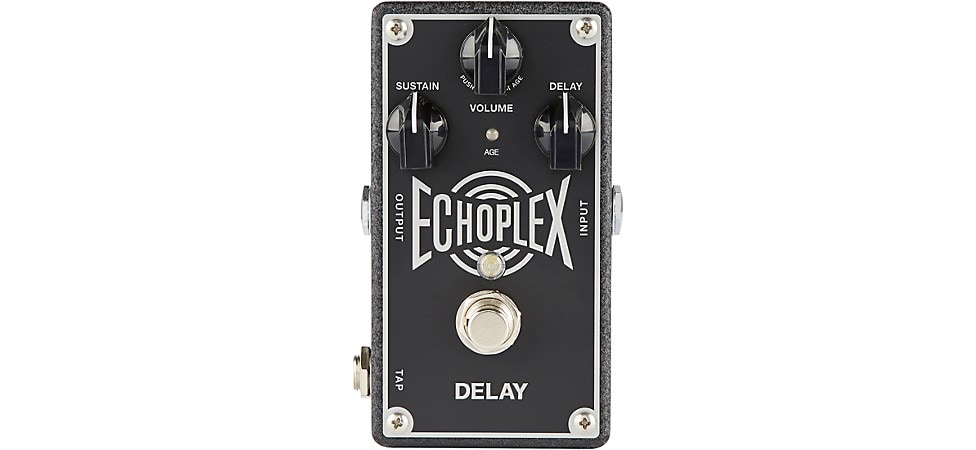 Pictured: Dunlop Echoplex Delay Pedal
While it pays tribute to the classics, it's also bursting with very modern features, including up to four seconds of delay through the tap feature, and TRS cable connectivity for stereo operation. This rugged little box carries all the swagger and versatility of its big, expensive forebears.
BOSS DM-2W
Waza Craft pedals are luxury-model BOSS pedals, crafted not only to painstakingly recreate classic pedals, but also expand upon them. The BOSS DM-2W is a standout example. Based on the coveted original DM-2 bucket brigade delay, this pedal recreates it and adds a custom mode with more than twice the delay time of the original, from 400 to 800 ms.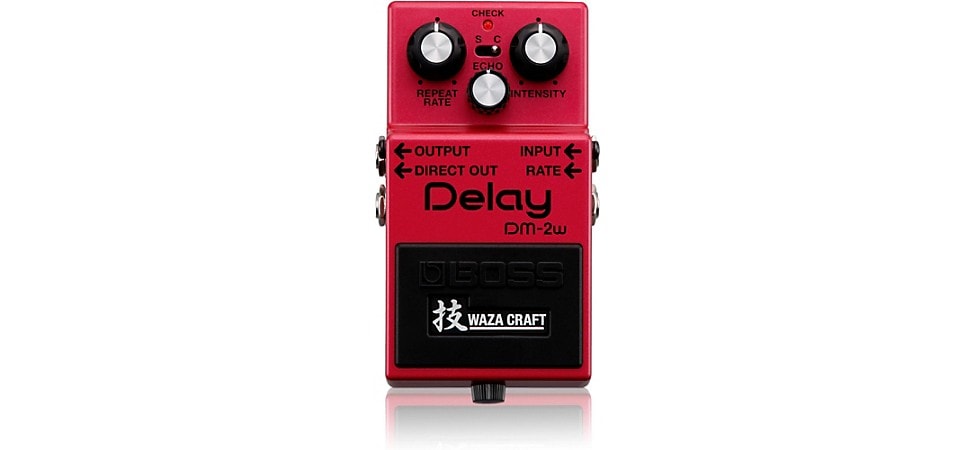 Pictured: BOSS DM-2W Delay Waza Craft Pedal
How does this style of analog delay sound compared to the Echoplex?
While tape delay sound degradation is romanticized, there's much to be said for the way bucket brigade circuit technology treats a repeated signal. As the circuitry repeats the sampled sound, it degrades with each successive echo. This creates an incredibly warm and dark-sounding decay, and the DM-2W has that by the pound.
JHS 3-Series Delay
The JHS mad scientists in Kansas City have created the affordable JHS 3-Series Delay. This minimalist beauty may look simple, but it packs two unique delay voices into its tidy package. One setting provides crystal-clear digital delay, and the other emulates bucket brigade analog delay with grit and warmth.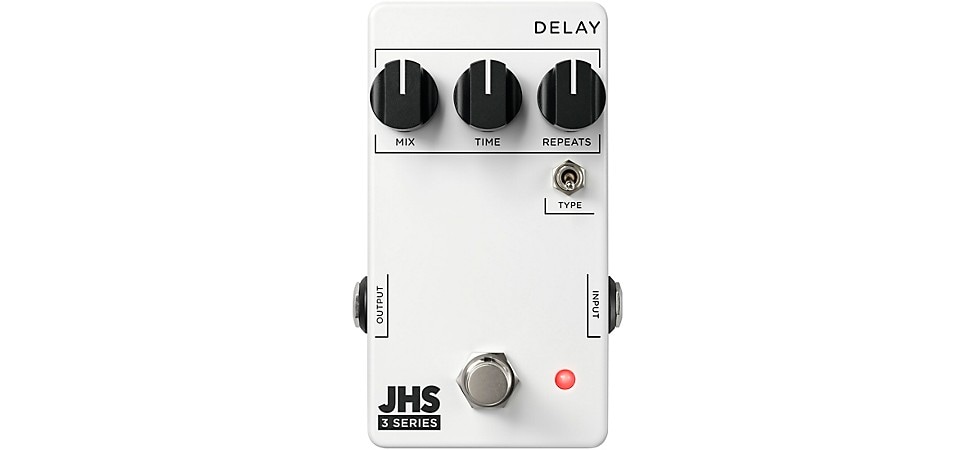 Pictured: JHS 3-Series Delay Pedal
Having these two options in one easy box gives you the opportunity to range from '80s-style crystalline delay to the gritty depth indie rock sound with the flip of a switch.
Old Blood Noise Endeavors Black Fountain V3
Let's take a step into the boutique world and look at the astounding Old Blood Noise Endeavors Black Fountain V3.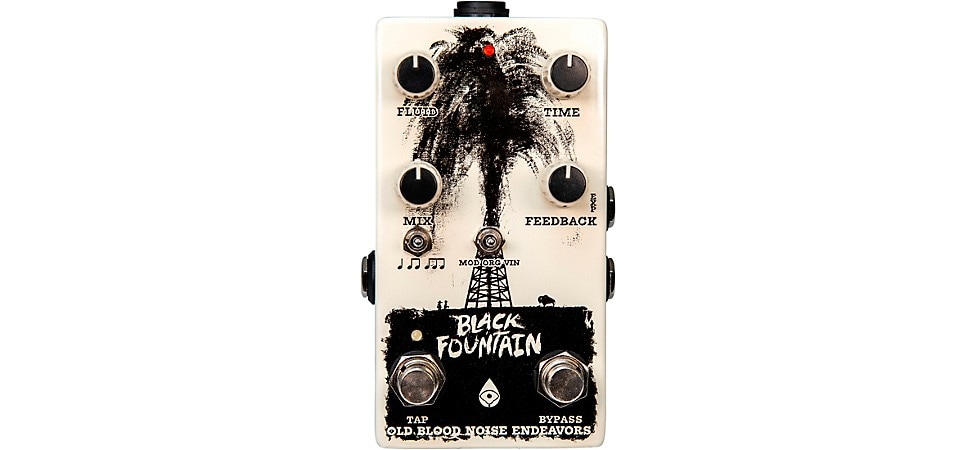 Pictured: Old Blood Noise Endeavors Black Fountain V3 Delay Pedal
Something we didn't touch on earlier in our little history lesson is oil can delay. This was a method developed in the early days of delay, alongside tape delay. With this method, circular containers of oil were used to create a delay effect through the oil's electrostatic qualities. As the can was spun, the oil sloshed around and created a swooping, wet delay. Ry Cooder was a master of using this effect.
Old Blood Noise gives us a stunning recreation of this dizzying, hypnotic effect with a "fluid" knob that controls the amount of warbling liquid sound you get. This pedal's sound is dark and haunting, and can range from something closer to a simple vibrato all the way to one-second repeats. This is an ideal pedal for spooky vintage western or southern gothic vibes, as well as ambient musicians and anyone in need of a rare, warbling effect.
It features three modes, Modern, Vintage and Organ. Organ mode has a fixed delay time of 200 ms, and the time control allows you to adjust the rate of modulation. If you're a fan of delay feedback, this handsome pedal delivers. Simply hold the tap tempo button and you'll maximize feedback to apocalyptic levels.
MXR M169 Carbon Copy
Since its release in 2008, the MXR Carbon Copy has been a best-selling pedal, and for good reason. The M169 is a rugged analog stompbox that makes the most of up to 600 ms of bucket brigade delay for a dark, warm effect perfect for any genre of music. It includes modulation with internal trim pots to adjust the width and rate of modulation to reach nearly flanger levels of sweep.
Today, the Carbon Copy is also available in a Mini version, with the Mini packing as much punch as the original, but in a smaller footprint.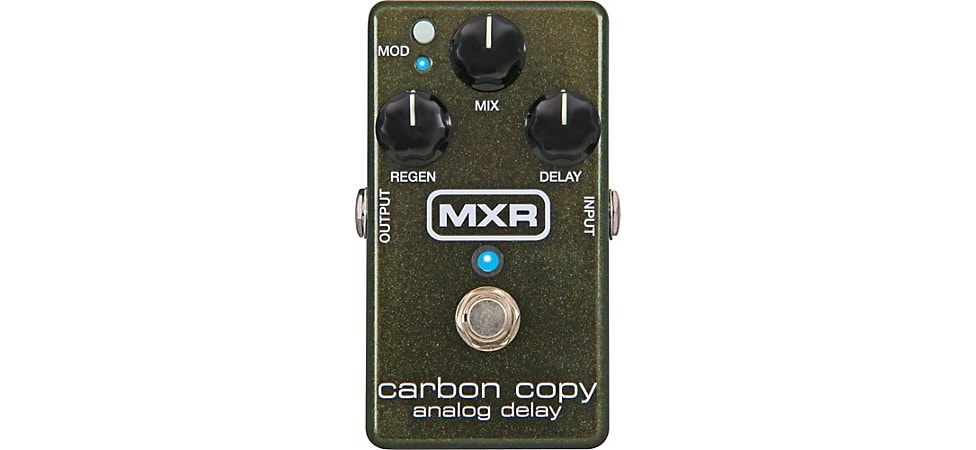 Pictured: MXR Carbon Copy Analog Delay Pedal
EHX Deluxe Memory Man
The Electro-Harmonix Memory Man has had many incarnations over its long and distinguished existence. With incredible depth, massive chorus and shimmery vibrato, and up to 550 ms of analog delay time, the EHX Deluxe Memory Man is one of the best delay pedals on the market.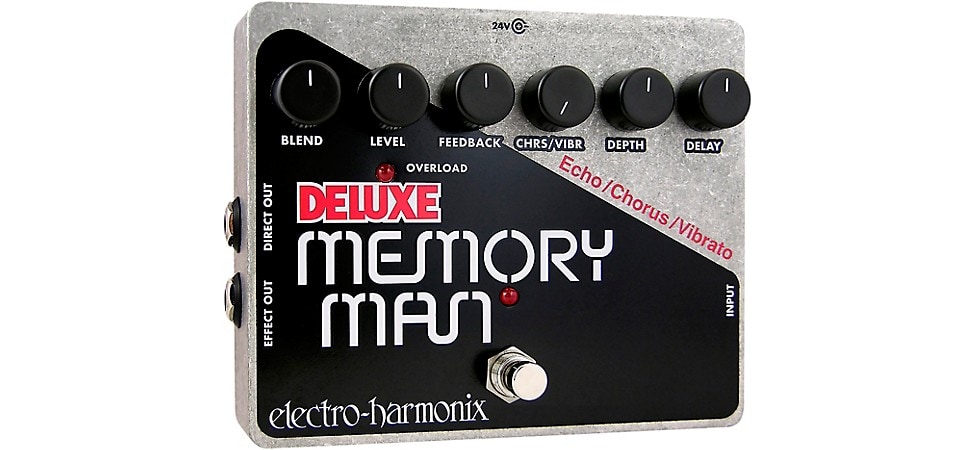 Pictured: Electro-Harmonix Deluxe Memory Man XO Delay Pedal
Sweep the delay and feedback controls as you play, and you'll get whooshing modulation with swelling, otherworldly walls of sound. The chorus/vibrato control also introduces a pitch-shifting modulation. And while this pedal is built with the same analog circuitry as the original for perfect vintage sound, it also features the distinctly modern feature of true bypass to keep your signal unchanged when the pedal's not engaged. The Deluxe Memory Man Nano was released in October of 2021.
Universal Audio Starlight Echo Station
This Starlight is truly stellar. It packs three robust delay effects into one box, with the EP-III and Analog DMM replicating two of the most sought-after delays in history, and UA's own Precision Digital Delay rounding out the distinguished company.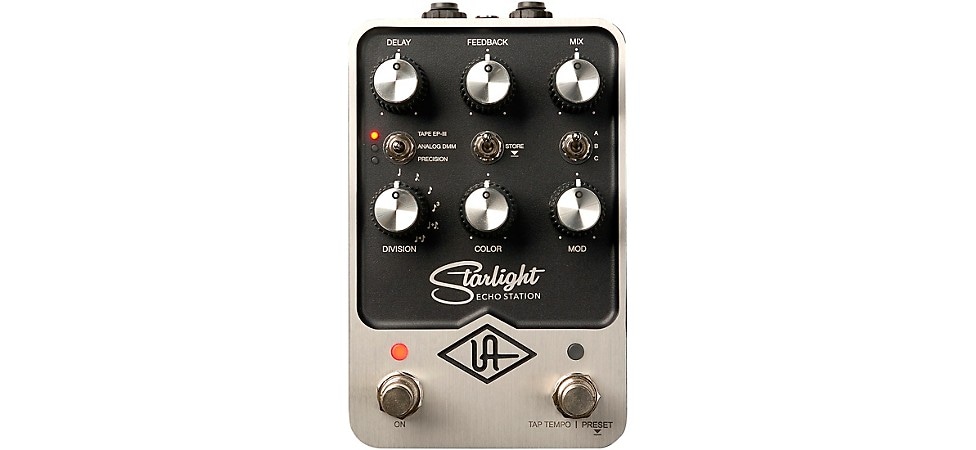 Pictured: Universal Audio Starlight Echo Station Pedal
UA's precision modeling heritage is on full display here. The Starlight Echo Station models the equally famous preamps from those sought-after delays for a compelling representation of the round, warm vintage sounds. Also, this modern take on the classics boasts USB functionality for software updates, plus multiple modulation modes for adding even more character to your sound.
BOSS DD-500
Time and again, BOSS shows up at the vanguard of pedal innovation. The DD-500 is no exception. With unbelievable modern optionality and a vintage setting that captures the trusty DD-2, this is a powerful effects station.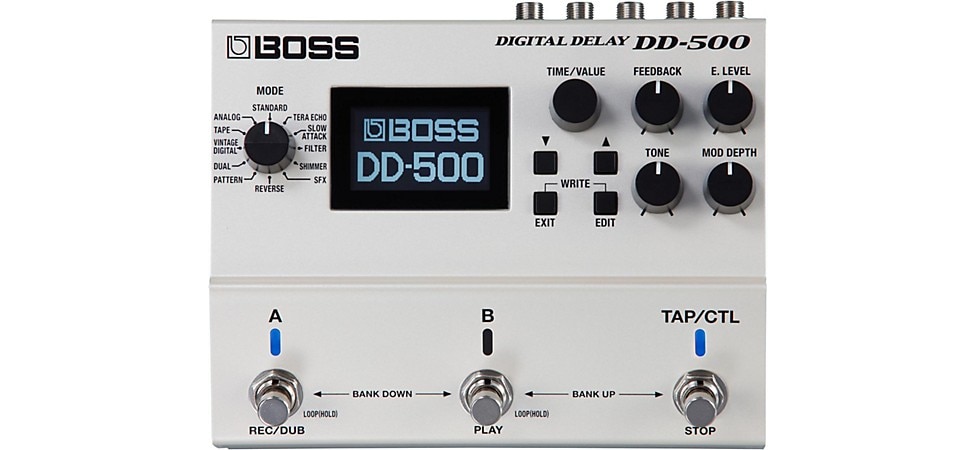 Pictured: BOSS DD-500 Digital Delay Pedal
Pedals with this range of versatility are often confusing to operate, but the DD-500 breaks everything down into simple steps. The control knobs provide direct access to the most important features, while the LCD display unlocks the detailed steps to shaping your desired individual effect.
It also features a 120-second looper and authentic models of classic Roland and BOSS effects, including the DM-2, RE-201, SDE-3000 and Tera Echo, plus models of other coveted delays.
Keeley ECCOS
This boutique beauty is a love letter to tape technology. It's a combination looper and delay pedal, and is engineered to deliver tape-worthy vintage sound. Modulate pitch as you adjust delay time, just as a tape would when speeding up and slowing down, and apply flange to your delay for whooshing modulation.
The ECCOS is so robust, and has such a strong sonic personality, that it's a pedal you play off of, much the way you would another guitarist. The looper effect allows you to record, play, reverse or play at half speed, and provides up to two minutes of loop time.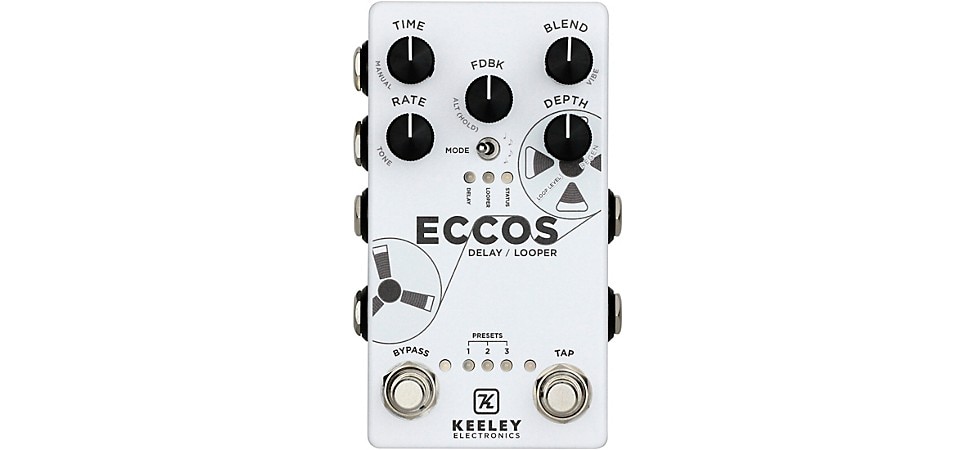 Pictured: Keeley ECCOS Delay and Looper Pedal
Also, holding the tap tempo switch delivers endless feedback. There's nearly no limit to the amount of features on this sleek pedal, including three memory presets, infinite overdubbing and stereo output.
Walrus Audio ARP-87
When it comes to versatility, innovation and sheer wow factor, this lil' Walrus can't be beat. The ARP-87 is built with four delay algorithms: analog, lo-fi, digital and good old slapback. A global low-pass filter called Dampen gives you a master tone control for your delay, and the X control adjusts specific parameters within each delay algorithm, such as filter width in the lo-fi delay.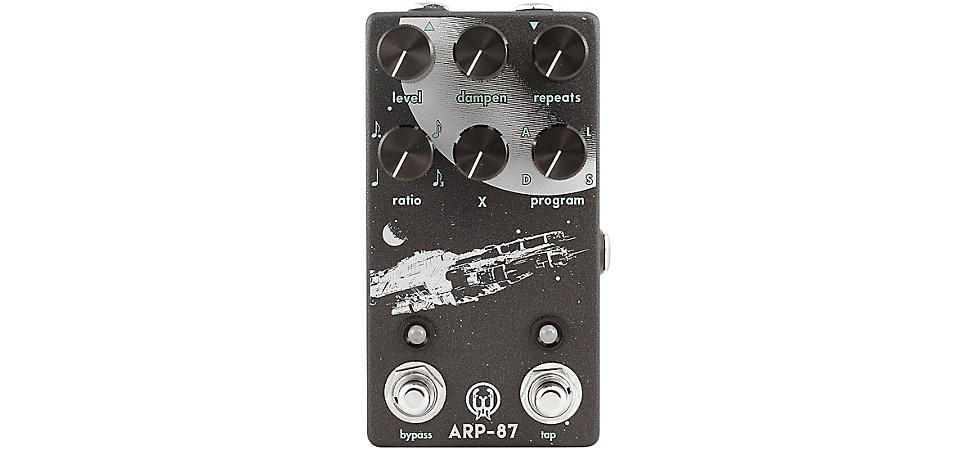 Pictured: Walrus Audio ARP-87 Delay Pedal
The ARP-87 also features a Trails/No Trails mode. In Trails mode, the delay trails die down gradually when you turn the pedal off, while No Trails kills the delay abruptly when you power off—highly useful for sudden shifts to chorus or a quiet verse, or for letting your delay bleed over into a quiet section or silence.
Death By Audio Echo Dream 2
The Echo Dream 2, with its vintage good looks and aggressive features, delivers a combination of delay and fuzz worthy of the loudest shoegazer greats and the most out-there ambient alchemists.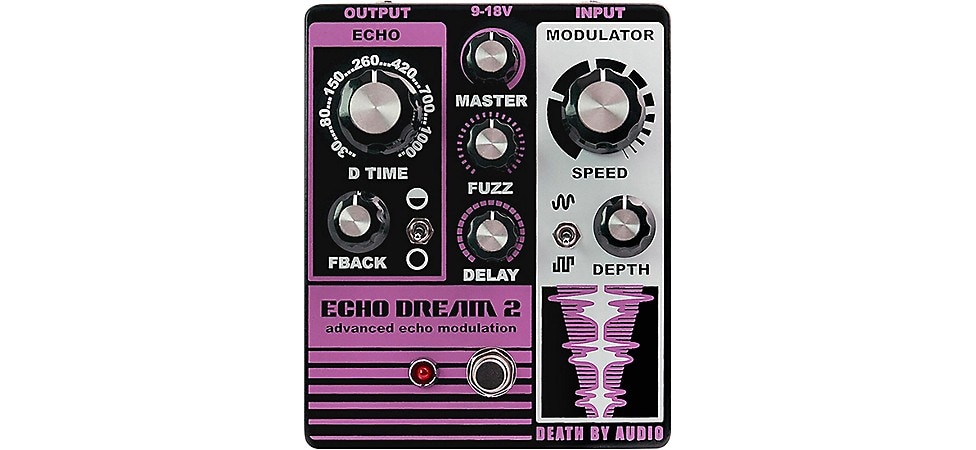 Pictured: Death By Audio Echo Dream 2 Delay Pedal
With both fuzz and delay engaged, adjusting the modulation depth can bring to life pitchy weirdness ranging from fat and rubbery to piercing and glassy. The added bonus of a switch that toggles from modulator waveforms to sharper square waves provides a defined difference in the swoop of modulation, from gradual to harsh.
Simple to control, but complex in its output, this is a dream stompbox for guitarists pushing the limits of their sound.
Choosing The Right Delay For You
Finding the right delay for you comes down to your needs. Is this an added flavor in your sound, or will delay and all its modulation and sonic possibilities be a driving force in the music you make? Are you using if for your guitar, your synth or as a studio multitasker?
Your ears are the best judge. Head down to a Guitar Center and take a few of these for a test drive. There's a delay pedal out there with the sound, features and price tag that's right for you.