There has never been a better time to pick up a MIDI controller. You have more choices than ever, at every size, shape and price. But where to start? We broke down the best controllers for everybody, from the 88-key SL88 for classical pianists, to the pad-based MASCHINE for producers and beatmakers. If you play live with a specific DAW like MainStage or Ableton, there are controllers that can slide into your workflow with minimal change. Others will transform your process and help you find new ways to create. Take the KOMPLETE KONTROL S49, which is both a powerful controller and an entry into a whole ecosystem of plug-ins and software tools.
Not sure what to call yourself? Even better. Some of the best new MIDI controllers cater to the hybrid music makers of today. The on-the-go producer/musician might love the handy Launchkey. For a stage show that mixes analog gear and software synths, you'll want a versatile beast like the KeyLab 88.
We'll help you sort through the pile and find what you need.
Table of Contents
MIDI: A Very Brief Introduction
Why Are There So Many MIDI Controllers?
Best MIDI Controller for Beginners: Akai Professional MPK mini MK3
Best MIDI Controller for Beatmaking: Native Instruments MASCHINE MK3
Best MIDI Controller With Polyphonic Aftertouch: KORG Keystage
Best MIDI Controller for FL Studio: Novation FLKey61
Best MIDI Controller for Logic Pro X: M-Audio Oxygen Pro 49
Best MIDI Controller for Piano Players: StudioLogic SL88
Best MIDI Controller for Portability: Novation Launchkey Mini [MK3]
Best MIDI Controller for Gigging: Arturia KeyLab 88 MKII
Best MIDI Controller for Plug-Ins: Native Instruments KOMPLETE KONTROL S49 MK2
Best MIDI Controller for Hardware Integration: Arturia KeyStep Pro
Best MIDI Controller for Mixing: KORG nanoKONTROL Studio
MIDI: A Very Brief Introduction
But first, what exactly is MIDI? In the early 1980s, analog musical equipment still ruled the world. Since all that gear relied on electrical signals for control, it was essentially impossible to control diverse collections of gear all at once. They all had different standards. Addressing this problem would require an unprecedented level of cooperation between competing manufacturers. Remarkably, that's exactly what happened. Roland founder Ikutaro Kakehashi reached out to Dave Smith from Sequential Circuits, and the two of them spread the idea of a universal interface to other companies in Japan and America, including Yamaha, KORG, Kawai and Moog, among others. Dave Smith worked with fellow Sequential Circuits engineer Chet Wood to publish a paper in 1981, proposing a set of digital specifications. By the next year, the technology had a name: the Musical Instrument Digital Interface (MIDI). At NAMM in 1983, Roland and Sequential Circuits put the idea into practice, unveiling a working MIDI connection between a Prophet 600 and Roland JP-6. Other manufacturers signed on and helped to refine MIDI further. It remains the industry standard to this day.
Through 16 simultaneous channels, a MIDI connection transmits a range of signals. The central function is musical. The signals include note values, velocity, aftertouch and a range of commands, including tempo (time clock), transport controls (start, stop, continue) and other system messages. MIDI doesn't make sound—it transmits data to the instrument that makes the sound. Because the format is universal and free to use, the applications have also expanded beyond music. If a device can read MIDI signals, the device can use them to do all kinds of things, from controlling lights to syncing video clips, changing the key of a digital composition, you name it.
So, at its core, a MIDI controller is just a device that transmits MIDI information. All kinds of instruments can receive that MIDI information, from analog hardware to software. That means one controller can manage a huge collection of sound sources, from piano samples to percussion sounds to analog synth modules. Since MIDI is digital, you can even save the data from a performance and apply it to another instrument in the future, long after you first played it. MIDI is universal, simple and stable, with near-zero latency. That's why it has survived so long.
Why Are There So Many MIDI Controllers?
MIDI is always the same. What varies is you. Different controllers give you different ways to input all that musical information into the controller before it transmits to the sound sources. Are you a keyboardist? You'll need a keyboard on that controller. Are you a pianist? You'll want that keyboard to have weighted keys. For making beats and triggering samples, it's all about the performance pads. There are knobs, faders and other controls for tweaking tracks and adding effects on the fly. Many controllers also have sequencers, which let you program complex patterns, assigning different instruments to handle different parts. At that point, you're essentially composing music, live. Your MIDI controller can be a powerful tool indeed.
Then, there's the software. Long after MIDI was invented, software began to replace hardware for a lot of musicians. Virtual instruments and DAWs embraced MIDI as a universal way to communicate with each other, too, just like analog instruments. The result is a bit ironic. MIDI was created as a digital language for hardware instruments, but now a MIDI controller is often the only hardware in an all-digital setup. Many manufacturers, like Native Instruments and Ableton, make both hardware and software together. This allows perfect integration between the two, and it also means their products come bundled with high-quality virtual instruments. The same can be true for controllers from third parties, which sometimes partner with software companies to make their products work together seamlessly. If you squint at some of these products, the line between controller and sound source starts to blur, and they start to look like true instruments in themselves.
NOTE: Between software integration and other tricks, some of this gear is so complex that "MIDI controller" becomes a misnomer. For instance, some controllers have CV/Gate outputs, letting you control analog gear that doesn't have MIDI at all—a lifesaver for vintage synth enthusiasts. Others have audio interfaces, with line and mic inputs for guitars and the like. Many grooveboxes have screens that make it easy to operate them as standalone instruments. There are even creative uses of MIDI, like the KORG nanoKONTROL Studio, which gives you a console-like mixer interface.
It can get confusing, we know. That's why we're here. Read the list below for our recommendations.
Best MIDI Controller for Beginners: Akai Professional MPK mini MK3
If you're looking for your first MIDI controller, first off, we're excited for you. Playing music with a laptop keyboard is no way to live. The Akai Professional MPK mini MK3 is our pick to get you started right. It has all the essentials: 25 keys, eight performance pads, knobs, faders, joystick, transport controls and a clear OLED screen. All this goodness fits into a solid frame that's barely more than a foot wide. You probably don't have a studio space set up (yet), so this compact build will save you desk space.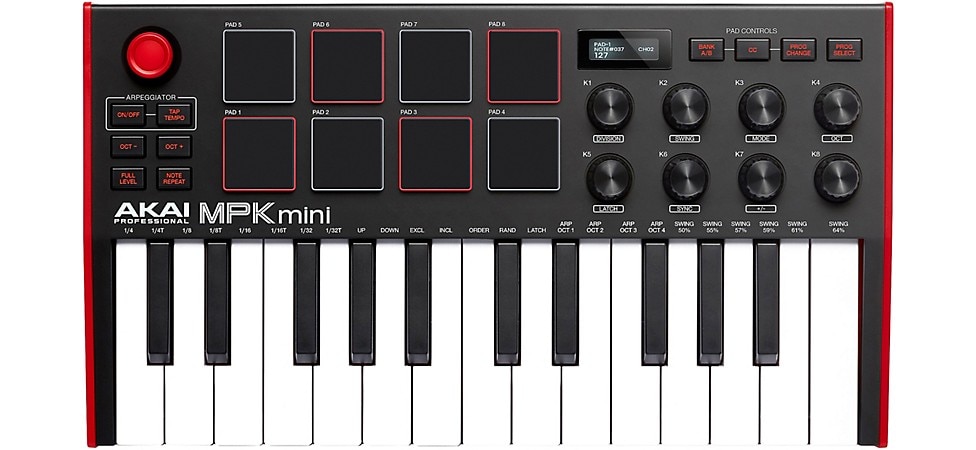 Pictured: Akai Professional MPK Mini MK3 Controller
While the simple layout and attractive price make the MPK mini MK3 great for beginners, it's no toy. Akai Professional has produced some of the most esteemed MIDI devices ever. Perhaps their greatest achievement is the MPC, first released in 1988. The MPC was the first electronic instrument to have a grid of performance pads. When you see the grids of pads on countless other controllers, that's because of the MPC. It's one of the rare instruments to permanently change how musicians play. Akai Professional maintains it to this day in the insanely powerful MPC One. Luckily for beginners, the MPK mini MK3 includes genuine MPC pads, bringing the trademark sensitivity and feel from Akai Professional's flagship controller. The rest of the controls are rock-solid, too, lending a premium feel to an affordable option. So premium, in fact, that the MPK mini MK3 doubles as a great portable controller for seasoned users.
Another huge other benefit for beginners: The MPK mini MK3 comes with MPC Beats software, a powerful tool for programming and sequencing MIDI patterns. In addition to tons of included sounds, it can load up your external plug-ins, too. And if you ever move up to the big leagues with an MPC One, you'll already have some experience with the MPC workflow.
Best MIDI Controller for Beatmaking: Native Instruments MASCHINE MK3
When we told you about hardware/software hybrids, we were talking about controllers like the Native Instruments MASCHINE MK3. Calling it a controller doesn't even feel like enough, given how seamlessly it works with the included MASCHINE beatmaking software. Native Instruments designed a system that lets you keep your hands and eyes on the hardware while sampling, tweaking and programming grooves on the fly. It captures that tangible feeling of playing an acoustic instrument, shaping the beat by touch and instinct. This is possible through a combination of built-in software that syncs with the computer software, plus two screens for navigating your sounds and settings without looking up. The controls themselves are premium all the way, offering a wide variety of pads, transport buttons, knobs and sequencing tools. The specs are impressive, but more than anything, you're buying an experience. There's nothing better than when it all comes together, and the line between the beat in your head and your ears is gone. The results will all be there on the computer, for you to polish in the MASCHINE software or your favorite DAW after you're done.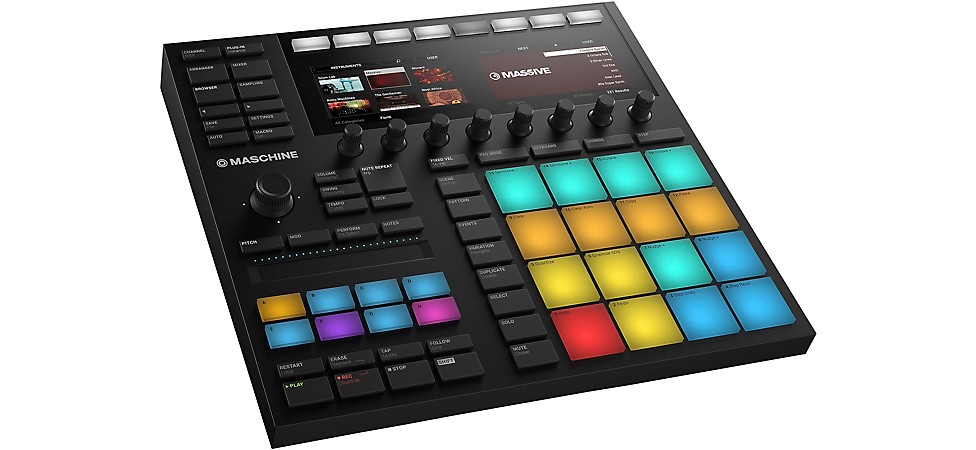 Pictured: Native Instruments MASCHINE MK3
In addition to creating beats, the MASCHINE is also excellent for performing, for many of the same reasons. Who wants to look at a laptop screen on stage? The colorful RGB pads help you keep track of your controls in dark clubs, and the screens keep you in the moment while moving from track to track.
Speaking of performing, there's a massive extra feature: It's an audio interface. The MK3 model includes two line inputs and a dynamic mic input, meaning this beatmaking tool can fit into a performance setup with synths, guitars or other instruments handling the melody, and a mic capturing vocals. Like we said, "controller" doesn't cover it.
For even more freedom from your laptop, there's also the MASCHINE+, which brings the workflow from the MK3 to a standalone format. That means you can do everything we mentioned above—sketch beats, sample, control analog hardware and connect a mic—all without a computer. No DAW, no screen but the OLED on the unit.
If you want to try the MASCHINE system but don't want to spend so much, consider the MASCHINE MIKRO MK3. This compact unit has essential features and controls from its larger sibling, at a much friendlier price. Even if you upgrade later, the MIKRO will remain a well-built, compact MIDI controller that fits perfectly into your workflow.
Best MIDI Controller With Polyphonic Aftertouch: KORG Keystage
Keybeds with polyphonic aftertouch are one way to ensure that your creative ideas translate to your DAW with the least resistance. At the top of our list is the highly expressive and intuitively playable KORG Keystage MIDI controller. It incorporates poly AT to accurately record the nuances of a performance in real time, so there's less cleanup to do in the piano roll afterwards—all in favor of more organic musical expression.
The Keystage harnesses the power of polyphonic aftertouch to mimic the true sound and feel of real-life instruments, leveraging the full capabilities of your favorite software instruments. Its semi-weighted keybed responds to subtle dynamic shifts in your touch and translates the corresponding MIDI data in a hyper-realistic way. Your software instruments take on a whole new level of intricacy and dynamism with polyphonic aftertouch, giving you the same feedback you'd expect from the real deal.

Pictured: KORG Keystage MIDI Keyboard Controller 61-Key
The KORG Keystage controller is also the first of its kind equipped with MIDI 2.0 Property Exchange. From a practical point of view, this gives you greater resolution, which pairs exceptionally well with poly AT and integrated MIDI Polyphonic Expression (MPE). Not just a studio centerpiece, the Keystage features an onboard audio interface with direct outputs for live performance, and it's all packaged in a durable, portable frame. The KORG Keystage is available in 49- and 61-key configurations.
Best MIDI Controller for FL Studio: Novation FLKey61
FL Studio has a reputation for being an electronic musician's best friend. The inspiring DAW makes it easy to chop and slice samples, sequence drums, and record or program MIDI, plus it comes with a range of instruments and plug-ins for songwriting, sound design and mixing. A diverse group of artists call FL Studio home, from trap titans Southside and Metro Boomin to house legend Deadmau5. If you've chosen FL Studio to support your creativity, one of the best MIDI controllers for seamless integration is the Novation FLkey 61.

Pictured: Novation FLKey61 MIDI Keyboard for FL Studio
Advanced tactile control is the name of the game when it comes to FLkey. Apart from 61 semi-weighted keys, the MIDI hub has 16 pads, nine faders and eight assignable knobs. The step sequencer in FL Studio is already a standout feature, and running the Novation FLkey 61 in Sequencer Mode lets you program even faster. You can also bring the virtual Channel Rack and Mixer off-screen and into your hands with FLkey faders and knobs, or use them to cycle through presets and change plug-in parameters.
Best MIDI Controller for Logic Pro X: M-Audio Oxygen Pro 49
Logic Pro is one of the most popular DAWs on earth, and for good reason. It's powerful enough for the most demanding audio projects, comes with tons of plug-ins and offers regular (free) updates. It shares a layout with GarageBand, making it instantly familiar to millions of Mac users. Combined with the MainStage performance DAW, Logic Pro can be at the center of a complete music toolkit for recording tracks and playing shows. We recommend pairing your MacBook with the M-Audio Oxygen Pro 49, a bus-powered controller that brings out the best in Logic Pro.

Pictured: M-Audio Oxygen Pro 49
Logic Pro plug-ins cover the full range, from melodic instruments to percussion to processing. It needs a MIDI controller that excels at everything. The Oxygen Pro 49 is a true hybrid. It can handle melodies with a four-octave keyboard and rhythms with a grid of 16 performance pads. The keyboard includes aftertouch, great for those rich orchestral plug-ins. M-Audio has also included a full bank of faders, a perfect match for Logic Pro's channel strip layout. Managing all these capabilities takes coordination, but the controller is forgiving. Smart Note and Smart Chord features can help by only playing notes in your chosen scale or chord. With these extra details and no real drawbacks to speak of, the M-Audio Oxygen Pro 49 is our favorite way to conduct the symphony of Logic Pro. It's also available in other configurations: 25, 61 and Mini 32.
Best MIDI Controller for Piano Players: StudioLogic SL88
The StudioLogic SL88 is a departure from the rest of this list. Many of these MIDI controllers are easy to interchange, with capabilities that match the general needs of producers, beatmakers and keyboardists. If you're a serious pianist, your needs are different. Whether it's in the studio or on stage, you want something that feels like a piano. Simply put, that's what the StudioLogic SL88 does, and it does it with grace. The controls are minimal on purpose. There's a nice screen, controller knob and three stick controllers, for pitch and other performance controls. Otherwise, the SL88 is just a keybed—an excellent keybed, in a wonderfully portable size.

Pictured: Studiologic SL88
An acoustic piano has a specific feel to the keys, including not only how they move, but their texture to the touch. The SL88 addresses every detail of that experience, using Ivory Touch keys, which are made of wood for organic softness. The keys are weighted exactly like an acoustic piano, all the way down to the differences between keys. The low keys are heavier and move slower. The higher keys have that lighter, quicker feel of a hammer tapping a thin string. The SL88 keybed is an impressive feat of engineering, but the result is simple and natural. It's not cheap—and shouldn't be—but for quality like this, it's more than worth the price to a serious pianist.
Best MIDI Controller for Portability: Novation Launchkey Mini [MK3]
The Novation Launchkey Mini [MK3] MIDI controller is small, but mighty, with deep Ableton Live integration and solid compatibility with the other major DAWs. It's the perfect controller for tossing into your backpack with your laptop. Because it's bus-powered, you won't need to go looking for an outlet. For all that convenience, you get surprising power: 16 performance pads, eight knobs and a sustain pedal input—the kind of things you see in larger controllers. There's also a 3.5 mm MIDI connection. Many of the smallest controllers transmit MIDI through USB alone. Being able to connect to MIDI-compatible hardware without a computer makes for some interesting use cases. If an instrument has a MIDI port, no matter how old, you can pull the Launchkey Mini [MK3] out of your backpack and play it.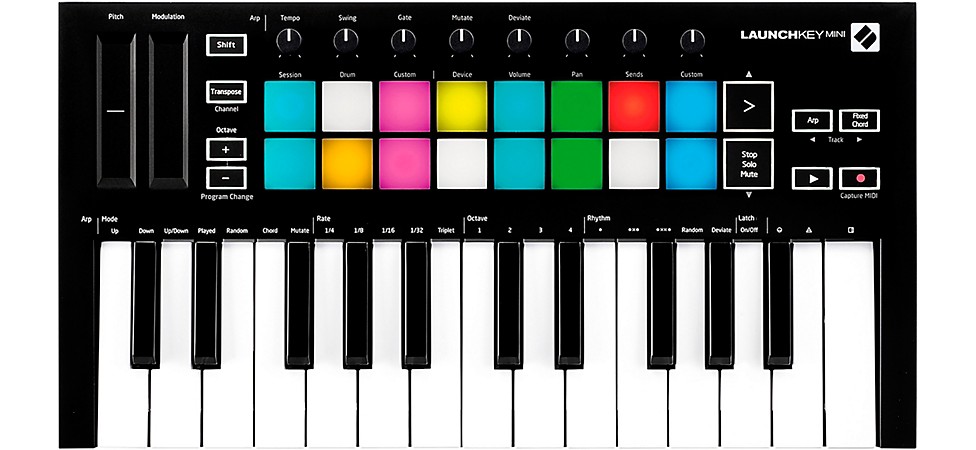 Pictured: Novation Launchkey Mini[MK3]
Best MIDI Controller for Gigging: Arturia KeyLab 88 MKII
If you're a live performer, the Arturia KeyLab 88 MKII can handle just about anything you throw at it. Many of today's players fill multiple roles on stage, keeping rhythm, triggering samples and playing synth and keys. Arturia made this controller for those demanding pros. It begins with high-quality takes on the essentials: 88 graded-weight keys, a 4x4 grid of RGB pads, nine faders and knobs, and 16 controls for your DAW. There's a large screen to navigate settings and adjust on the fly. The build quality is excellent, consisting of sturdy metal and wood. These things are what you expect from a MIDI controller at this price, and the KeyLab 88 MKII delivers. But beyond that, it has features unlike any other performance controller on this list.

Pictured: Arturia KeyLab 88 MKII
For those who play hardware synths and modular gear on stage, the Arturia KeyLab 88 MKII has no competition. It has a total of four CV/Gate inputs to control four totally separate analog rigs, which is honestly ridiculous. You can control vintage synths, patch into a Eurorack or take control of your analog effects, live, from a premium Fatar keyboard. And you're not limited to the controls, as there are three AUX pedal inputs, in addition to the sustain pedal. The KeyLab is daring you to find something it can't do.
Arturia can upgrade your sound, too. The KeyLab comes with a bundle of their consistently excellent virtual instruments, including digital models of the Wurlitzer 200A electric piano and VOX Continental 300 combo organ (think "Light My Fire" by The Doors), which can add a vintage feel to any track. For the purists, you also get a free copy of Piano V, a collection of nine pianos from different regions and eras, including both grands and uprights. Tons of other plug-ins are available for purchase, too, and they're compatible with all major DAWs.
Best MIDI Controller for Plug-Ins: Native Instruments KOMPLETE KONTROL S49 MK2
If you need a keyboard controller for the vast KOMPLETE software suite, you might not be surprised that the Native Instruments KOMPLETE KONTROL S49 MK2 is the controller for you. It's made specifically to work with KOMPLETE, the library of Native Instruments plug-ins that can run inside a single plug-in for major DAWs. That single plug-in also runs on the screen of the KONTROL S49, meaning you can browse, tweak and mix plug-ins directly from the instrument. But even if you've never used KOMPLETE, the KONTROL S49 MK2 can make it much easier to organize and use your favorite plug-ins. Plus, the purchase gets you in the door of the KOMPLETE ecosystem, from which you may never want to return.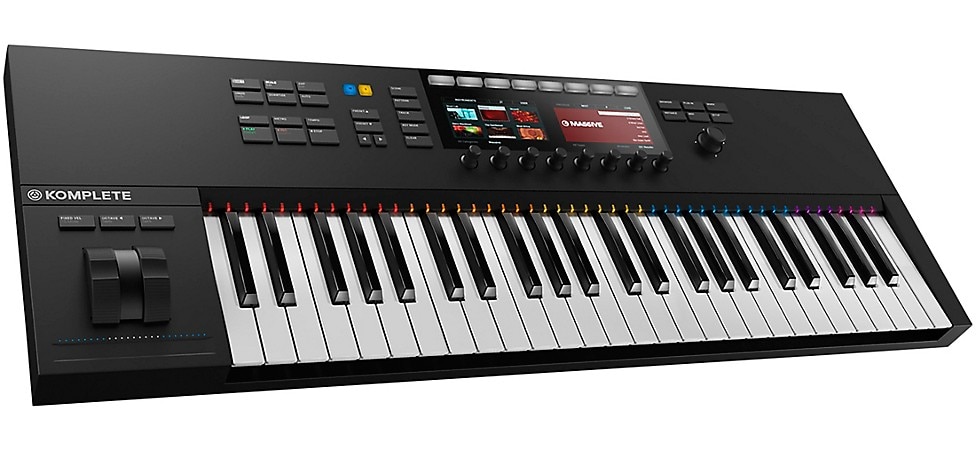 Pictured: Native Instruments KOMPLETE KONTROL S49 MK2
The KONTROL S49 MK2 comes with KOMPLETE SELECT, a studio worth of plug-ins that you can control flawlessly with the hardware. The lights on the controller change to match the functions of the plug-ins when you select them, essentially making a new interface for each selection. The integration is remarkable.
It's not limited to KOMPLETE plug-ins, either. With their NKS plug-in format, Native Instruments has extended their deep integration to third-party companies. That means you can run plug-ins from KORG, Waves, Arturia, AAS and a whole lot more, and the controller will transform to help you get the best from them. The KONTROL software can also run VST plug-ins and other common formats, letting you access them from the controller screen as well, all in one clean interface. You can tag and organize them for easy access. That makes the Native Instruments KOMPLETE KONTROL S49 MK2 an excellent choice for anyone who uses a lot of plug-ins, regardless of source.
Best MIDI Controller for Hardware Integration: Arturia KeyStep Pro
The resurgence of analog hardware has been thrilling, but it has raised the same old problem: All these analog instruments, how do you make them talk to each other? Arturia has made it their mission to address that problem for the contemporary player. If you liked the CV/Gate functions on the KeyLab, but prefer sequencing to live performance, Arturia made the KeyStep line for you. At the top of the mountain is the KeyStep Pro, a clever 49-key controller that can take charge of some serious hardware.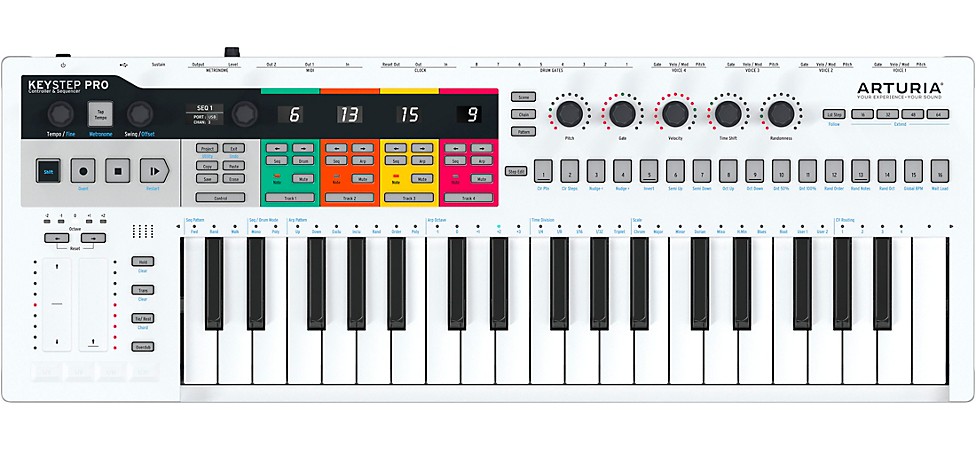 Pictured: Arturia KeyStep Pro
KeyStep controllers use the classic step sequencer format, inspired by the early analog step sequencers of the past. This sequencer can arrange a studio worth of external hardware, essentially conducting everything to play together. The numbers can get dizzying, but only because they're so impressive: The KeyStep Pro can sequence up to four tracks at the same time, with up to 16 notes per step and 64 steps per pattern. The patterns chain up to 16 times. These sequences go out through four pairs of CV/Gate outputs, eight dedicated Gate outputs for drums and two MIDI out ports. The clock on the sequencer can sync to outside hardware or your DAW for easy tracking. Nobody combines MIDI and CV control like Arturia, and this is their best controller to bring it all together. Same vibe as the KeyLab: It's daring you to stump it.
Best MIDI Controller for Mixing: KORG nanoKONTROL Studio
The above controllers all have different ways of helping you avoid your computer screen when you're composing and performing. But for the most part, they leave the mixing and tracking to the DAW. The KORG nanoKONTROL Studio is a different beast. It uses MIDI to control software, but instead of performance-oriented pads and keys, the nanoKONTROL Studio recreates a mixing console for your desktop. This smart device lets you dial in your mix using genuine, classic hardware controls from KORG. That means faders and knobs, but also mute, solo, record and select—the kind of stuff that usually has you clicking your mouse. You can also use the jog wheel to scroll quickly through the track, or to dial in the tiny adjustments that make a great mix stand out. Plus, it has Bluetooth connectivity and easy compatibility with major DAWs, so you can keep the nanoKONTROL from cluttering your desktop—physical or virtual.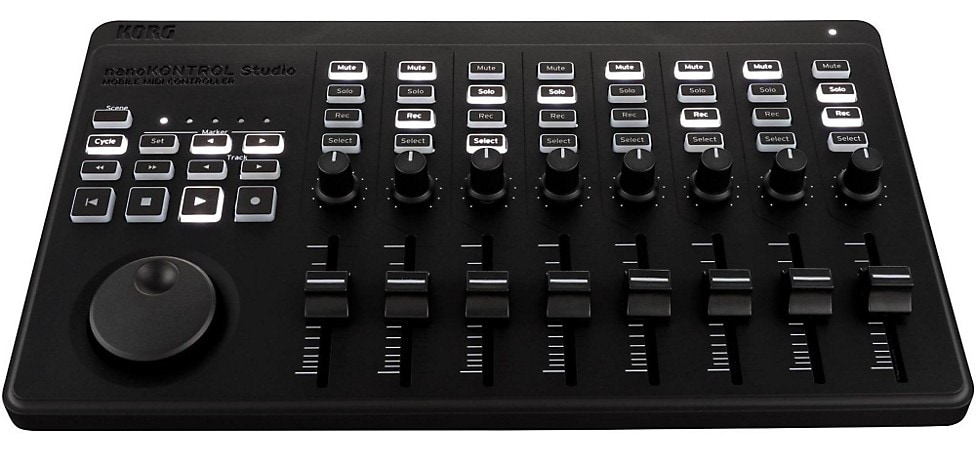 Pictured: KORG nanoKONTROL Studio
If you don't see what you need here, or have any questions, always feel free to contact a Gear Advisor for more personalized help.