Looking for the perfect gift for that drummer on your list, but not sure where to begin? We're here to help with useful, fun, affordable options for every level of experience and every taste. And, when in doubt, there's always the handy gift card.
Beginner Drum Kits
Sound Percussion Labs D1316 Lil Kicker 3-Piece Drum Kit With Throne
This all-in-one 3-piece kit is built to the same standards as SPL's full-sized drum sets, but sized for younger drummers. A smaller kit is a great place for a little player to start—it puts all drums, cymbals and pedals within easy reach, and also lets you manage both budget and volume (they're not quite as loud as full-sized drums). The Lil Kicker is available in three colors. There's also a 5-piece option available with two extra toms.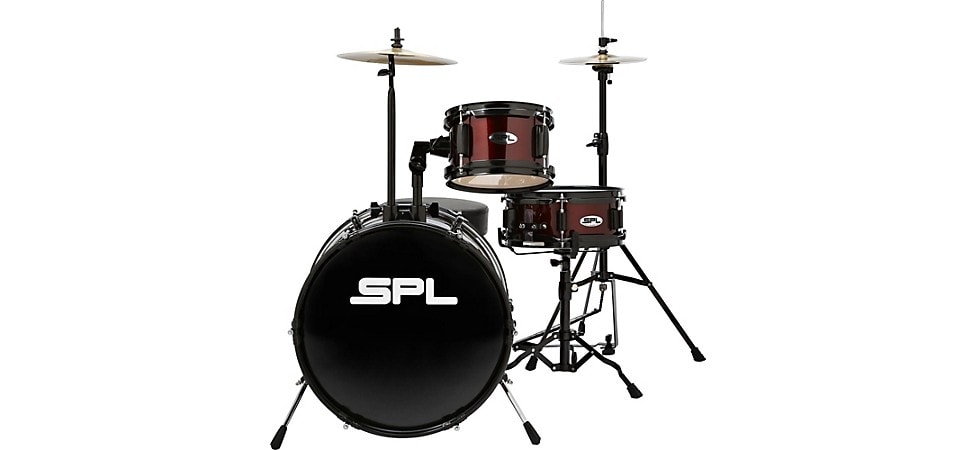 Pictured: SPL Lil Kicker 3-Piece Drum Kit With Throne 
For more information on choosing a drum kit, check out our comprehensive drum buying guide.
Alesis Nitro Mesh SE Electronic Drum Set
Silent practice for drummers? Every parent's prayers are answered with this 8-piece electronic set from Alesis, but e-kits come with more benefits than peace and quiet. This set also features 40 classic and modern drum kit models for a total of 385 individual sounds, plus built-in play-along tracks for practice. The mesh heads on these drums provide a natural feel, making the transition from electronic to traditional drums and back seamless, and they have an ultra-quiet response.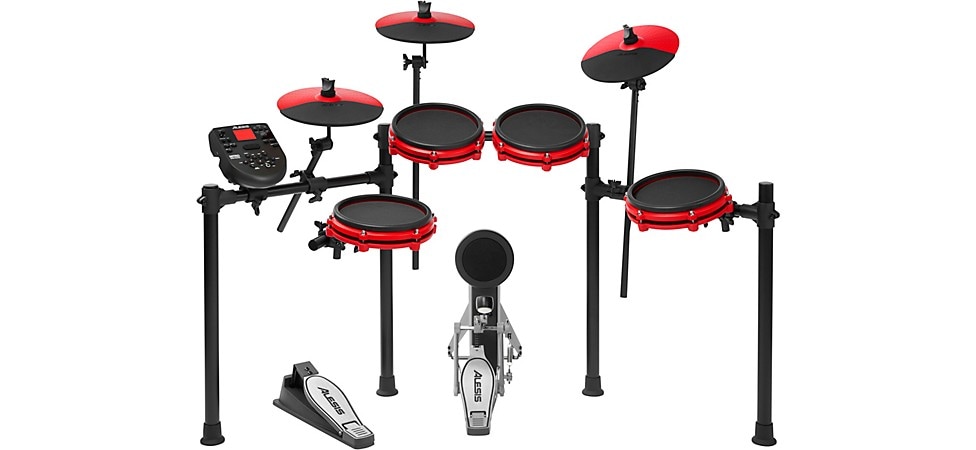 Pictured: Alesis Nitro Mesh SE Electronic Drum Set 
Need to learn more about electronic kits? Check out our e-kit buying guide. 
Pearl Roadshow 5-Piece Drum Set With Hardware and Zildjian Planet Z Cymbals
The Pearl Roadshow kit delivers expert quality at a student price. It's built with 6-ply poplar shells for warm tone, double-braced Pearl stands and a smooth-playing dual-chain kick drum pedal. Rather than the usual stock cymbals, it's fitted with a set of genuine Zildjian cymbals. With all the hardware and even a throne, the only other things you need are sticks and a drummer. It's available in four lush colors.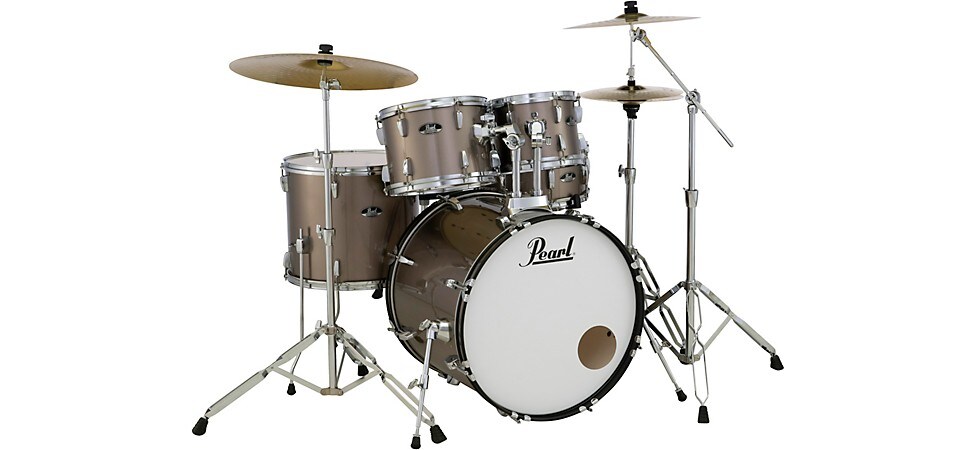 Pictured: Pearl Roadshow 5-Piece Drum Set With Hardware and Zildjian Planet Z Cymbals 
Essentials
Guitar Center Lessons
The best gift for a drummer is skill. Guitar Center Lessons are here for drummers at every level, from those just starting out to seasoned players who want to stay sharp and learn new techniques. We offer highly customizable, one-on-one lessons, online and in-store (where available). From learning songs or the basics of hand-foot coordination, to double kick drum technique and mastering polyrhythms, our instructors tailor the curriculum to meet the student's unique goals.
Vic Firth Double-Sided Practice Pad
Practice pads are a drummer's best friend. Portable and quiet, they keep your skills sharp and hands strong without the need for a loud drum or special rehearsal space. This pad from Vic Firth boasts two surfaces to vary your practice technique. The soft rubber side is silent, and the hard rubber side is snappy and intense, with less bounce, to condition the muscles in your hand and wrist. The wood base provides durability and authentic feel. It's also available in a super-portable 6" model.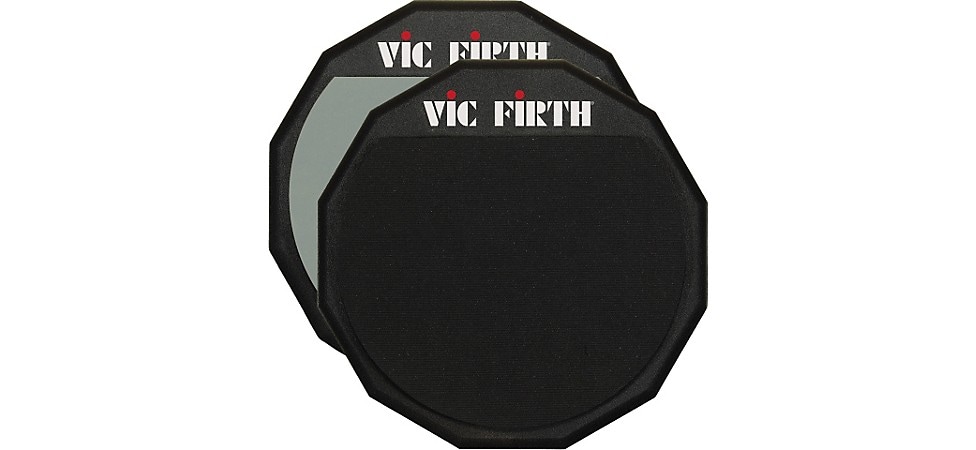 Pictured: Vic Firth Double-Sided Practice Pad 
DeltaLab DMT-1 Digital Metronome
A drummer's number one job is to keep a steady beat. A metronome serves as a rhythmic guide for players to practice along with. This pocket-sized DeltaLab DMT-1 Digital Metronome is adjustable for tempos from 30 to 360 beats per minute, and it features a built-in speaker. It can handle any time signature from 1 to 9 beats per measure.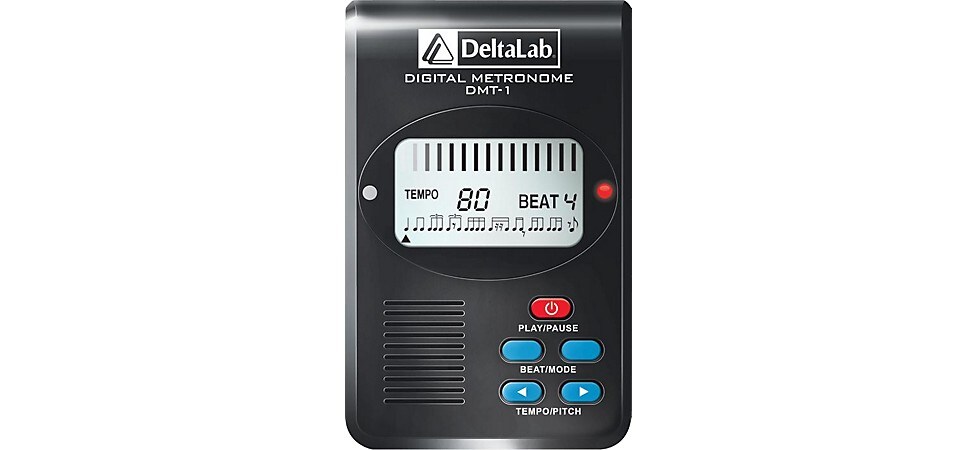 Pictured: DeltaLab DMT-1 Digital Metronome 
Vic Firth Essentials Stick Bag
Sticks, brushes, mallets … oh my. Drummers have a lot of different implements to get the sounds they need. A stick bag is an essential accessory for any percussionist. This Vic Firth Essentials Stick Bag offers portability and protection, plus a hook-and-strap system to suspend the bag from a floor tom or snare, keeping sticks at easy reach. It even has a loop to hold your drum key.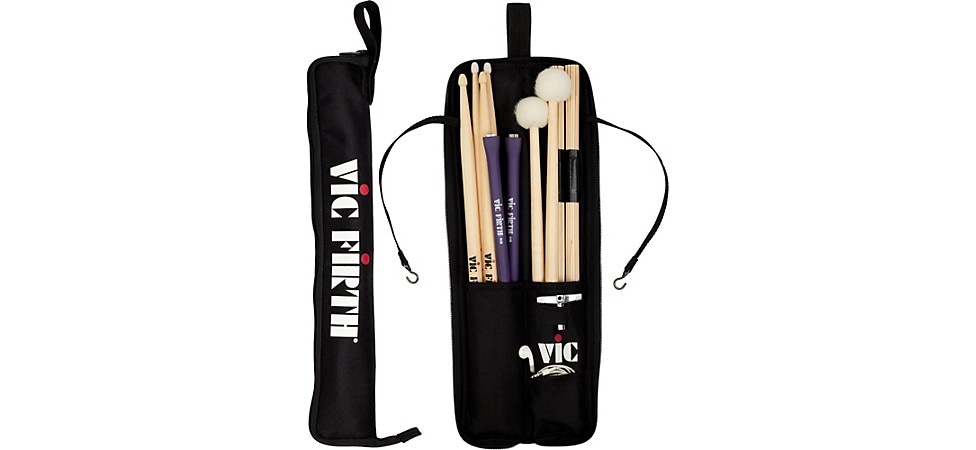 Pictured: Vic Firth Essentials Stick Bag 
Sound Percussion Labs SPA10 Drum Key 2-Pack
The drum key is what the drummer uses to tune the drum. It's a special type of wrench that adjusts drum head tension to change the pitch. Drum shells and heads are susceptible to changes in humidity and temperature, meaning they constantly need to be re-tuned. A key is also necessary to swap out heads. It's the essential drummer's tool. This affordable pack from SPL includes two keys that are compatible with any standard drum-tuning rods. They have holes for easy attachment to keychains.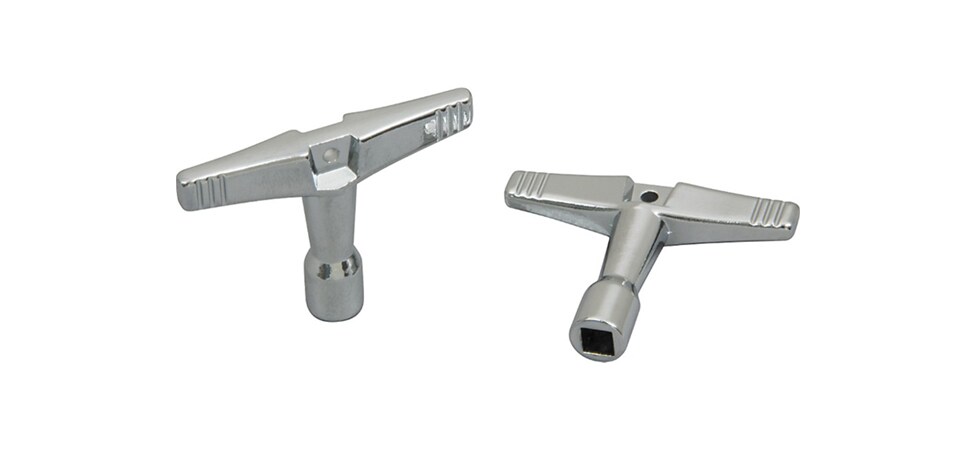 Pictured: SPL SPA10 Drum Key 2-Pack 
Vater Single-Pair Drum Stick Holder
With a clamp-style fastener to connect to any cymbal stand, this Vater single-pair drum stick holder provides ultra-convenient access to drum sticks. The holder's angle is adjustable, too, meaning it can be set to match any drummer's grip or preference.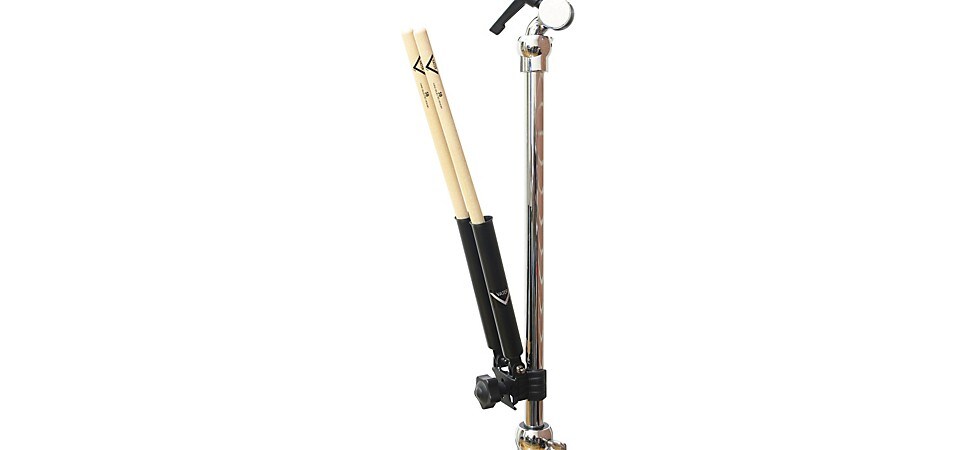 Pictured: Vater Single-Pair Drum Stick Holder 
DW Dave Grohl Icon Snare Drum
This Icon snare drum is DW and Dave Grohl's tribute to the beloved Sound City Studios, where Grohl and Nirvana recorded their groundbreaking Nevermind album. Greats from Neil Young to Nine Inch Nails have also recorded at Sound City, resulting in decades of hits (be sure to check out Grohl's documentary about the studio). This snare is part of the DW Icon Series collection, which also includes models from Queen, Jim Keltner and others. This gorgeous all-maple drum is produced in a very limited run of only 250, so grab it before it's gone. 
Pictured: DW Dave Grohl Icon Snare Drum 
Need help finding the perfect snare to round out your drum kit? Check out our snare drum buying guide.
MusicNomad Premium Drum and Cymbal Care System 4-Pack
Keep drums and cymbals clean, polished and protected with this care kit from MusicNomad. The acid-free cymbal cleaner returns cymbals to a gleaming showroom-new shine without corrosion. The drum detailer works for shells and hardware alike. It also includes two microfiber polishing towels. The bottles are 100% PET recyclable.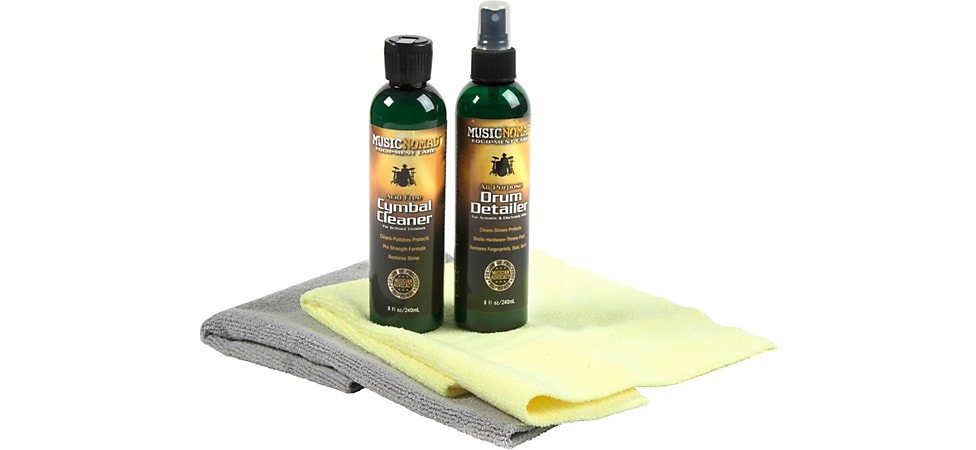 Pictured: MusicNomad Premium Drum and Cymbal Care System 4-Pack 
Fun Gifts
Zildjian Gray Flap Laptop Backpack
Whether the destination is the classroom or the studio, this laptop backpack from Zildjian is designed for the drummer on the go. The pack has expandable pockets and padded spaces for the laptop, headphones and any electronic gear you may need to trigger sequences or samples onstage or in the studio. The drum stick pocket on the front keeps sticks safely stowed and easily accessible. There's Zildjian branding on the front, back and the sunglasses hook, broadcasting pride for one of the most iconic names in music. The reflective strip on the front makes this pack highly visible on the street and easy to find onstage.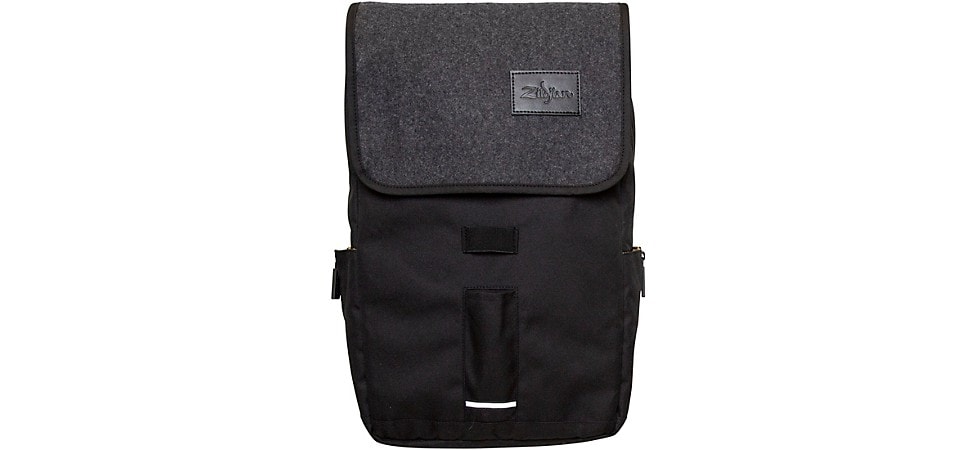 Pictured: Zildjian Gray Flap Laptop Backpack 
Gretsch "Power & Fidelity" Retro Wall Clock
Gretsch is a storied name in both drums and guitars, with a history going back to the 1800s. This stylish retro clock calls to mind the 1950s, when Gretsch drums were played by greats like Max Roach, Art Blakey and more, and the guitars were in the hands of players like Eddie Cochran and Chet Atkins. This clock adds a classy touch to a studio, rehearsal room or even the office.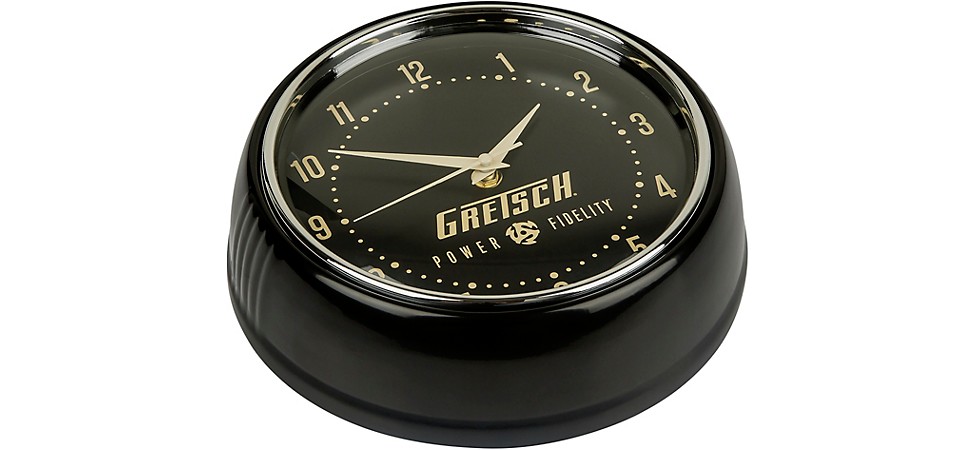 Pictured: Gretsch "Power & Fidelity" Retro Wall Clock 
AIM Light Up Color Changing LED Drum Sticks
These flashy, color-changing drum sticks are like light sabers for your drums, but you don't have to worry about cutting anybody in half. A fun gift and great onstage, this is a treat that will make any drummer smile.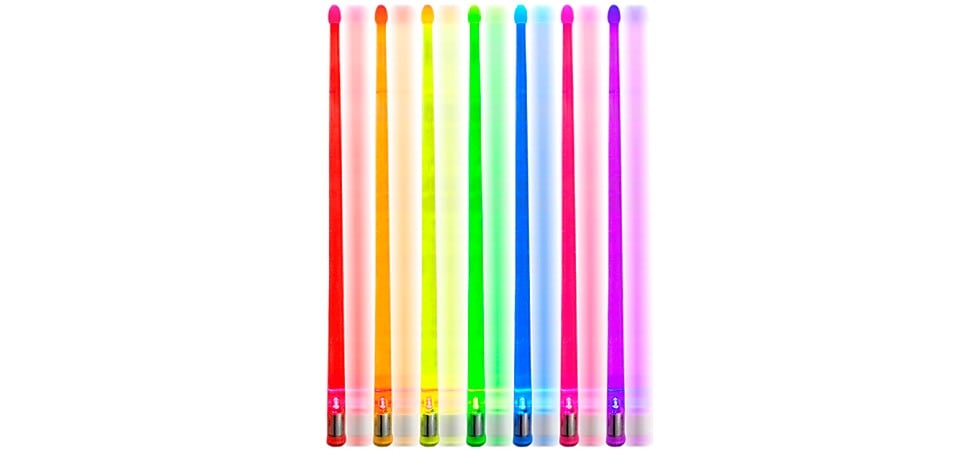 Pictured: AIM Light Up Color Changing LED Drum Sticks 
DW Artists T-Shirt
A great way to show appreciation for the masters of rock drumming, this t-shirt pays tribute to a host of renowned DW players, including Nirvana and Foo Fighters legend Dave Grohl, the incomparable Rush drummer Neil Peart, Zappa and Missing Persons great Terry Bozzio and session masters Josh Freese (A Perfect Circle, Paramore, Sting, Weezer) and Jim Keltner (everybody from John Lennon and Bob Dylan to Lucinda Williams and Gillian Welch).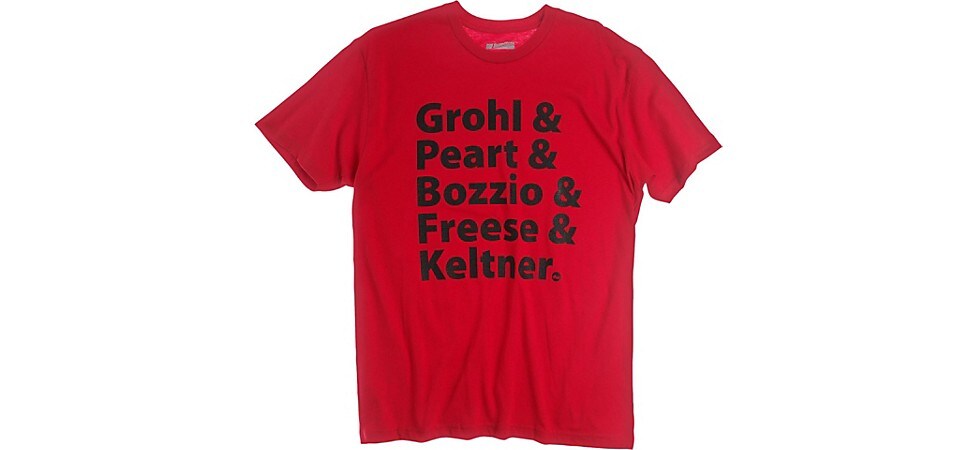 Pictured: DW Artists T-Shirt