Can't decide which DJ mixer to get? Help is on the way—our guide on buying the right DJ mixer will cut through the noise and pan your attention to the mixer that's best for your style of DJing. When on the hunt for a DJ mixer, the first question to answer is if you consider yourself an open-format scratch (or battle-style) DJ. If so, you'll need a two-channel scratch mixer. If not, a four-channel club-style mixer will give you more versatile routing and effects control, ideal for most other situations. Within each of these two main categories, however, is a vast ocean of variation when it comes to feature sets and pricing.
Whether you opt for a scratch or club mixer, there are a few considerations to keep in mind. The first is the I/O (inputs and outputs). Does the mixer in question have what you need to route all your gear in and out of? If you run a total of four devices in—a combination of two CDJs and two turntables, for instance—you'll need at least four pairs of inputs. If you plan on running audio from external sources, bear that in mind when looking at the number of AUX inputs. Do you plan on having two DJs listen through the same mixer simultaneously? If so, opt for one that has two headphone jacks—preferably with dedicated headphone cue and level controls. The same concept goes for amount of mic inputs, and whether you need a booth output in addition to your DJ headphones to monitor the track you're prepping.
Then, you can consider how you like to shape your sound and add effects or samples. The EQ sections mentioned in this article range from two-band to four-band, with varying levels of specificity. Some of these mixers have an embarrassment of wealth when it comes to onboard effects options with paddles and performance pads, while others take a more … streamlined approach and leave you to your dedicated external effects and sample devices that can be patched into the mixer—if those are a part of your performance, of course. No matter your mixing style, you're going to be spending a lot of time with your hands all over your mixer, so take the time your setup deserves, read on and choose judiciously.
Table of Contents
Best Two-channel Mixer for DJs on a Budget: Pioneer DJ DJM-250MK2
Best Four-channel Mixer for DJs on a Budget: Numark M6 USB
Best EQ on a Club DJ Mixer: Allen & Heath Xone:96
Best FX on a Club DJ Mixer: Denon DJ X1850 PRIME
Best Compact DJ Mixer: Native Instruments TRAKTOR KONTROL Z1
Best Open-format Mixer for DJs on a Budget: Numark Scratch
Best Scratch Mixer from RANE: SEVENTY-TWO MKII
Best Intermediate Scratch Mixer: Pioneer DJ DJM-S5
Best Scratch Mixer from Pioneer DJ: Pioneer DJ DJM-S11
Best Club DJ Mixer: Pioneer DJ DJM-A9
Your Cue to Get Out There and Mix
Best Two-channel Mixer for DJs on a Budget: Pioneer DJ DJM-250MK2
The DJM-250MK2 is Pioneer DJ's entry-level two-channel mixer, esteemed for its straightforward, intuitive layout. Optimized for Pioneer DJ's rekordbox dj software, the 250 is compatible with a turntable setup running rekordbox dvs (digital vinyl system) control vinyl. It features smooth-gliding channel faders as well as a Magvel crossfader, a pro-level touch inherited from the top-tier classic DJM-900NXS2 mixer. The DJM-250MK2 also includes three-band EQ, high- and low-pass filters with parameter control, as well as a built-in soundcard and USB connection for mixing via rekordbox dj on your laptop. It can also run as part of a standalone system with two media players or turntables with traditional vinyl if you fancy spinning laptop-free.
Pictured: Pioneer DJ DJM-250MK2 2-Channel DJ Mixer
The DJM-250's 3-way switch offers a phono in for vinyl, line in for CDJs and XDJs, and AUX in for external sources. Its I/O consists of XLR and RCA stereo outputs, two stereo RCA phono/line inputs, a stereo RCA AUX input, two headphone outputs and a mic input—adjustable via dedicated mic gain and EQ knobs for that little bit of tone-shaping mic magic.
Best Four-channel Mixer for DJs on a Budget: Numark M6 USB
Numark's M6 has consistently been a go-to DJ mixer for several years, and for good reason. An affordable four-channel apparatus with inline gain and three-band EQ knobs for each channel plus mic, it's a no-nonsense mixer that's easy for any DJ to navigate. It delivers flexible routing and intuitive EQing at an irresistible value. At the top of each channel, you'll find clearly labeled switches for phono/line on channels 1 and 2, line/USB on channel 3 and line/mic 2 on channel 4. Other controls include a replaceable crossfader with slope adjustment, as well as cue, booth and master level knobs. You can assign any channel to either side of the crossfader.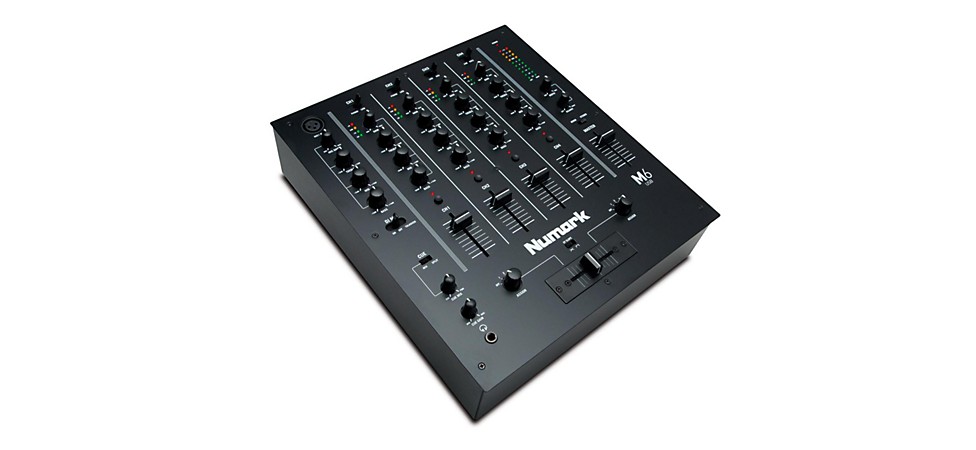 Pictured: Numark M 6 USB 4-channel DJ Mixer
The M6's USB connection lets you play and record with a Mac or PC, no matter your DJ software. The Numark M6 USB includes an XLR mic input on the top panel, in addition to a second TRS mic input on the back, which shares a line with channel 4. If you're looking for four channels and genius in simplicity, the Numark M6 is it.
Best EQ on a Club DJ Mixer: Allen & Heath Xone:96
For more discerning DJs with a bigger budget, the high-end Xone:96 analog mixer is the follow-up to the club-classic Allen & Heath Xone:92. The Xone:96 features four channels, each with custom-designed 60 mm linear VCA faders, 4-band EQ, USB 1/phono/line/USB switch and two sends with up to 6dB of gain boost. Via its two USB connections, you can add six stereo inputs and outputs to each, for a plethora of routing possibilities. What's more, the 96 gives you two Xone VCFs (voltage-controlled filters) with HPF, BPF, LPF and CRUNCH, which lends a controlled harmonic distortion pre-filter. The Xone:96's dual 24-channel soundcards can handle up to 32-bit, 96kHz audio. The Innofader Mini crossfader is equipped with fader cut adjustment, ready for whatever style you throw at it. And, while the Xone:96 is TRAKTOR SCRATCH certified, it'll work with any DJ software or fully analog setup.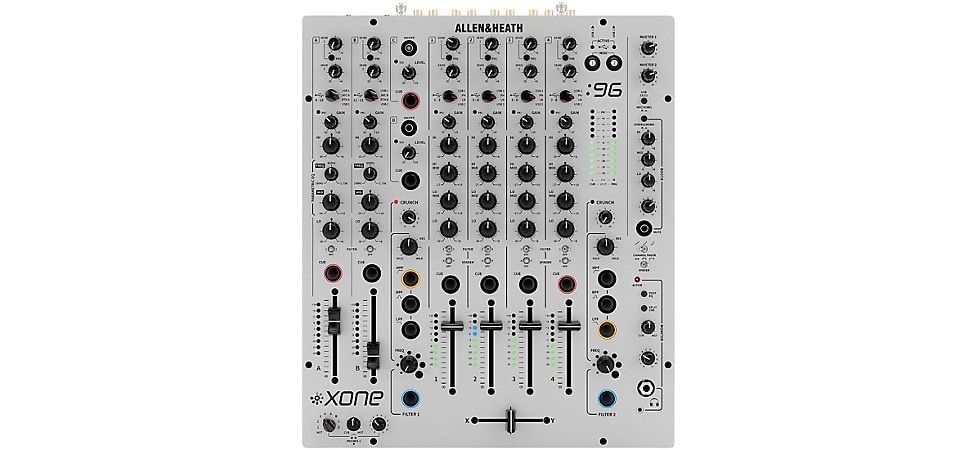 Pictured: Allen & Heath Xone:96 4-channel DJ Mixer
Xone:96 sports a pair of two fully featured stereo returns, which offer a three-band parametric EQ for you to tailor your sound. X:Link lets you connect Xone:K series controllers to give you full control over your software, saving you precious USB slots on your laptop. In addition to MIDI over USB, there's also a 5-pin connection on the back panel, as well as two XLR mic inputs. Two independent CUE systems let you use two headphones from several source options. If you're an experienced club DJ and love having every option to fine-tune your sound at your disposal, the Xone:96 presents an intriguing choice.
Best FX on a Club DJ Mixer: Denon DJ X1850 PRIME
At around half the cost of the Xone:96, yet still a formidable force worthy of professional use, is the Denon DJ X1850 PRIME mixer. True to the nature of forward-thinking Denon DJ PRIME gear, this four-channel club mixer is feature packed with four Sweep FX, 16 Pro-Club BPM FX and a backlit Time-Division Touchstrip—all with FX Quantize control to put your effects right in the pocket. The 1850's expressive three-band EQ offers classic or isolation mode, while its LED screen shows FX parameters, tempo and utility menu options in a way that's concise and aesthetically cohesive.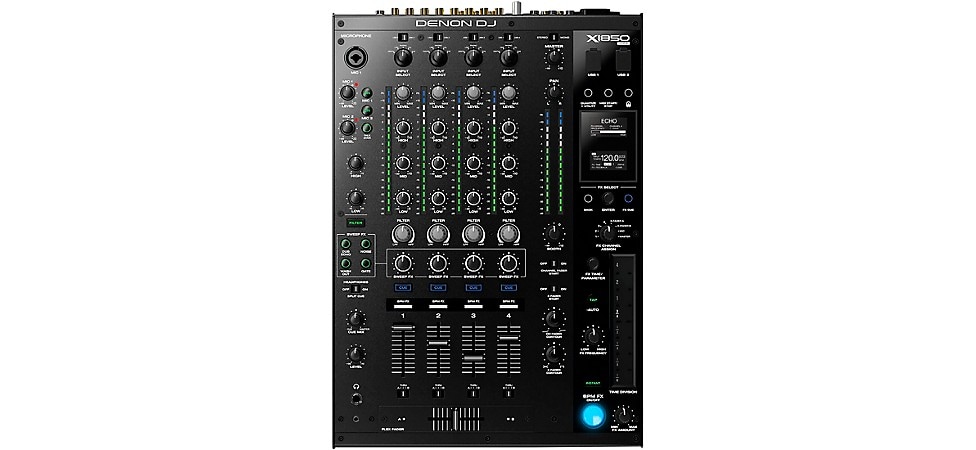 Pictured: Denon DJ X1850 Prime 4-channel Club Mixer
The X1850's four multi-input switchable channels can be utilized in a multitude of ways. Its ultraflexible I/O provides a built-in Ethernet hub for connecting up to four Denon DJ SC line media players, 5-pin MIDI output for syncing, dual USB audio connections for seamless handoffs from one DJ to the next, two mic inputs and two headphone outputs. DJs looking for the most modern features, especially those already in the Denon DJ PRIME ecosystem, will enjoy what the X1850 can contribute to the mix.
Best Compact DJ Mixer: Native Instruments TRAKTOR KONTROL Z1
The most compact mixer in this article, the TRAKTOR KONTROL Z1 is the ultraportable mixing controller for Native Instruments' TRAKTOR DJ 2 (for laptop/desktop) and TRAKTOR PRO 3 software. In fact, it's the world's smallest professional DJ mixer. This small-but-mighty two-channel mixer sports a three-band EQ along with FX, loop, cue point and transport control. High-quality faders elevate your mixing experience, while easy-to-read level meters give you instant visual feedback.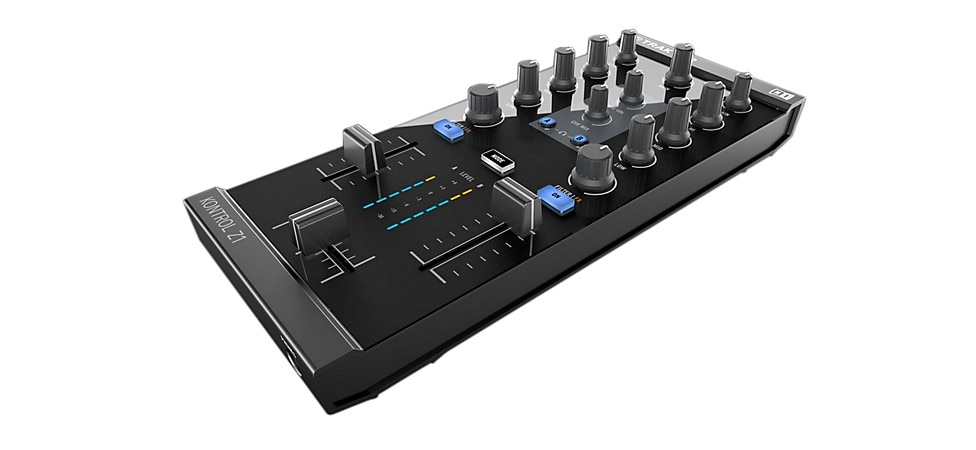 Pictured: Native Instruments TRAKTOR KONTROL Z1
So long as you don't need a mic input, it performs the fundamental tasks you'd expect from a mixer with its headphone output, stereo master output, USB connection to your laptop—even a voucher for TRAKTOR PRO 3 is included. If you use TRAKTOR on the go or are just keen on keeping a super-compact setup, the TRAKTOR KONTROL Z1 mixer is for you.
Best Open-format Mixer for DJs on a Budget: Numark Scratch
It's no misnomer—this battle-style Numark mixer was made for scratch DJs. The accessibly priced, two-channel Numark Scratch brandishes pro-grade features, like an Innofader crossfader, Serato DJ Pro license, eight versatile performance pads and toggle paddles to trigger software-based FX. Two onboard instant loop encoders let you effortlessly extend or shorten your loop with the simple turn of a knob. And Serato control vinyl DJs will be pleased to know the Scratch is Serato DVS-ready out of the box.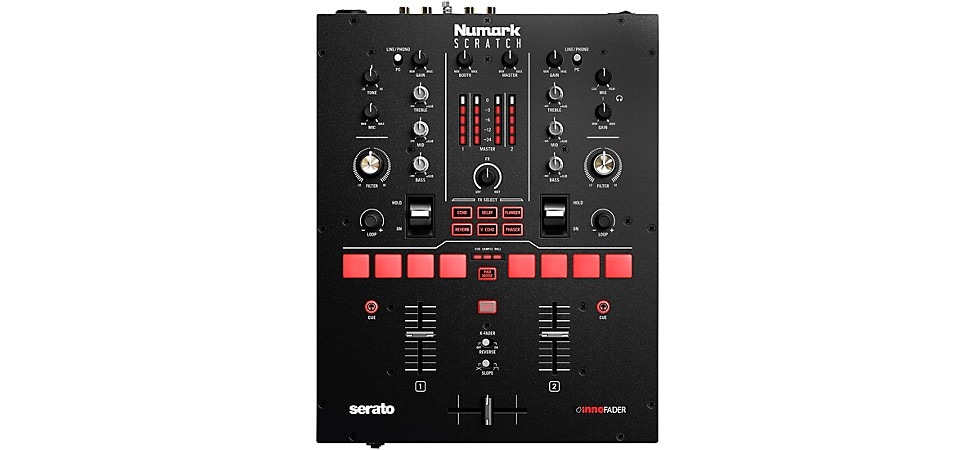 Pictured: Numark Scratch 2-channel DJ Mixer
The Scratch mixer comes with two stereo RCA inputs with line/phono switch, a stereo RCA booth output, stereo XLR and RCA master outputs, a mic input and USB connection for your laptop. Open-format Serato DJs looking for sample- and effects-friendly functionality could benefit from adding a Scratch to their setup.
Best Scratch Mixer from RANE: SEVENTY-TWO MKII
With its advanced feature set, solid steel chassis and user-friendly 4.3" touch interface, the Serato DJ-optimized SEVENTY-TWO MKII is RANE's flagship battle mixer. It boasts a slew of upgrades over its famed predecessor, such as MAG FOUR faders with crossfader tension controls, enhanced toggle/sync controls and a pair of DVS inputs for open-format digital DJs. If triggering samples and effects comprises a considerable cut of your workflow, the SEVENTY-TWO's 16 Akai MPC-style, velocity-sensitive multicolor performance pads will give you the creative palette you need.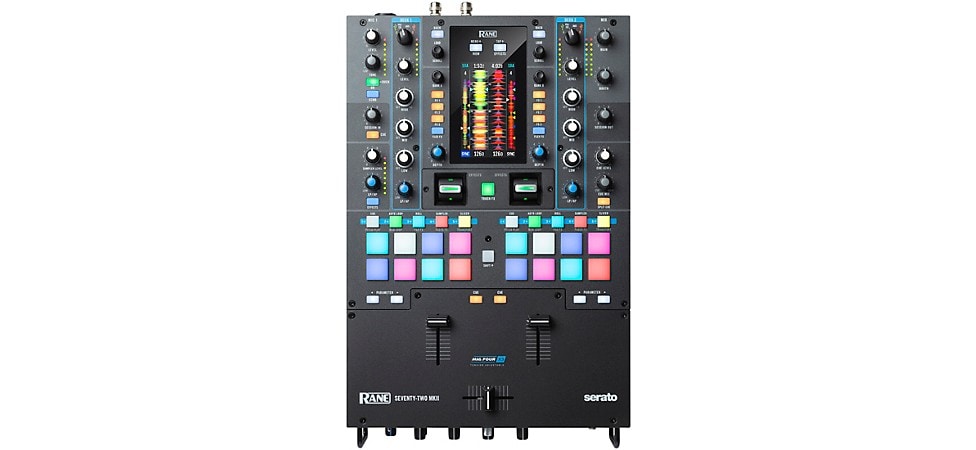 Pictured: RANE SEVENTY-TWO MKII 2-channel DJ Mixer
The SEVENTY-TWO comes with stereo RCA AUX and phono/line inputs for decks 1 and 2, letting you switch between your AUX and phono/line ins. A standard feature on RANE mixers, there are stereo RCA session inputs and outputs on the back panel. Filling out the SEVENTY-TWO's I/O are two XLR mic inputs with dedicated level and tone adjustments, two USB-A ports for RANE TWELVE motorized DJ controller connectivity and two USB-B ports for connecting to laptops. It's no secret RANE specializes in catering to scratch DJs, and the SEVENTY-TWO mixer is worthy of being their flagship.
Best Intermediate Scratch Mixer: Pioneer DJ DJM-S5
Pioneer DJ's mid-range DJM-S5 battle-style mixer for Serato DJ Pro flaunts enticing versatility with quality components. Every scratch DJ knows how central crossfader feel is to their workflow, and the DJM-S5 delivers the goods with the robustly built Magvel Fader Pro, which features Feeling Adjust to let you optimize the resistance to your preference. Two large effect levers toggle up to 57 effects in Serato DJ Pro—inherited from the higher-end, scratch-standard DJM-S11 mixer. Each deck has four performance pads with 13 selectable pad modes, including Hot Cue and Sampler.
Pictured: Pioneer DJ DJM-S5 2-channel Serato Scratch Mixer
The Scratch Cutter function gives you six cutting patterns to choose from. To use it, simply engage Scratch Cutter with an effects lever, then manipulate your jogwheel or control vinyl forward and backward—you'll hear a cutting effect that's on beat with your groove, without even touching the crossfader. On the other hand, you can create scratch-like sounds by utilizing the Crossfader Hot Cue feature, which takes the track or sample from the most recent Hot Cue point on your deck. Experiment and see what works best for you—the S5 was built to be fun to mess around with.
The first-ever Pioneer DJ mixer to offer USB-C power from your laptop, the S5 adds unprecedented portability to your workflow—especially considering its myriad of scratch-friendly features. With its other USB-C port, it lets you charge directly to a power outlet, so you can use your laptop at the same time if you'd like. If you're an aspirational scratch DJ who can't quite swing the cost of a SEVENTY-TWO or a DJM-S11, the feature-packed DJM-S5 is a quite a respectable alternative.
Best Scratch Mixer from Pioneer DJ: Pioneer DJ DJM-S11
The successor to the Pioneer DJ DJM-S9, the top-of-the-line DJM-S11 two-channel battle mixer boasts all the accoutrements for open-format scratch DJs. It's everything you love about the aforementioned S5 and then some. The S-11 is mostly optimized for Serato—though, being a member of Pioneer DJ's lineup, it supports their in-house DJ software rekordbox as well. An easy-to-use 4.3" touchscreen lets you browse music, FX settings, MIDI control, Touch FX, see your vertical colored waveforms, and gives you access to decks 3 and 4. A pair of centrally located effects paddles lets you hold down or release them to turn the effect on or off—or you can lock them to free up a hand to browse or scratch while your effect is being applied. The S11's performance pads include the standard professional Serato controller pads: Hot Cues, Loop Roll, Saved Loop, Sampler, Pitch Play, Super Loop, Saved Flip and Scratch Bank.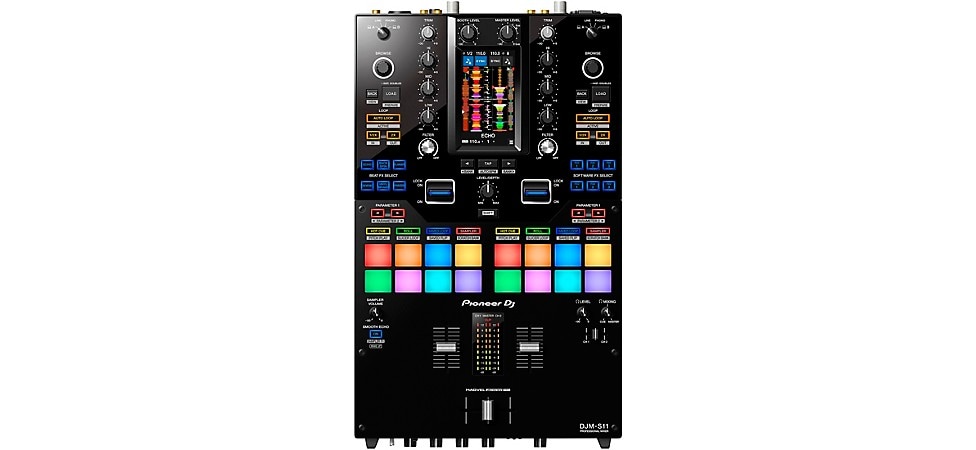 Pictured: Pioneer DJ DJM-S11 2-channel Battle Mixer
There are several innovative, handy features for control vinyl DJs on the DJM-S11. For example, the S11 grants you control over Serato DVS without a laptop, and the Silent Cue function lets you get up to speed while muted before you trigger your cue point. Deck Move functionality lets you control up to four channels on this two-channel mixer, giving you routing flexibility at the flick of a switch. The I/O includes two stereo RCA inputs for CDJs or controllers, as well as USB inputs in the back. If you're looking for a top-shelf Pioneer DJ scratch mixer that can go toe-to-toe with the likes of the RANE SEVENTY-TWO, look no further than the DJM-S11.
Best Club DJ Mixer: Pioneer DJ DJM-A9
The long-awaited follow-up to the club legend Pioneer DJ DJM-900NXS2, the DJM-A9 mixer raises the standard with upgraded playability and connectivity. 32-bit A/D (analog-to-digital) conversion at the channel input—as well as the master and booth output sections—imparts pristine audio all around. Other improvements over the 900NXS2 include improved channel faders, Magvel Fader crossfader and X-Pad, which is arranged horizontally for intuitive, sideways finger sliding. The A9 lets you access 14 Beat FX via the dedicated Beat FX channel selector button for seamless effects routing, while an updated display shows the status of the selected effect and color coordination with the X-Pad's horizontal arrangement. There are three all-new Beat FX introduced on the A9, including: Mobius, which alters the oscillator frequency to rise or fall in time with the beat; Triplet Filter, which changes the cut-off frequency cyclically based on three beats; and Triplet Roll, another three-beat-based effect that outputs the recorded sound repeatedly according to your specified beat fraction.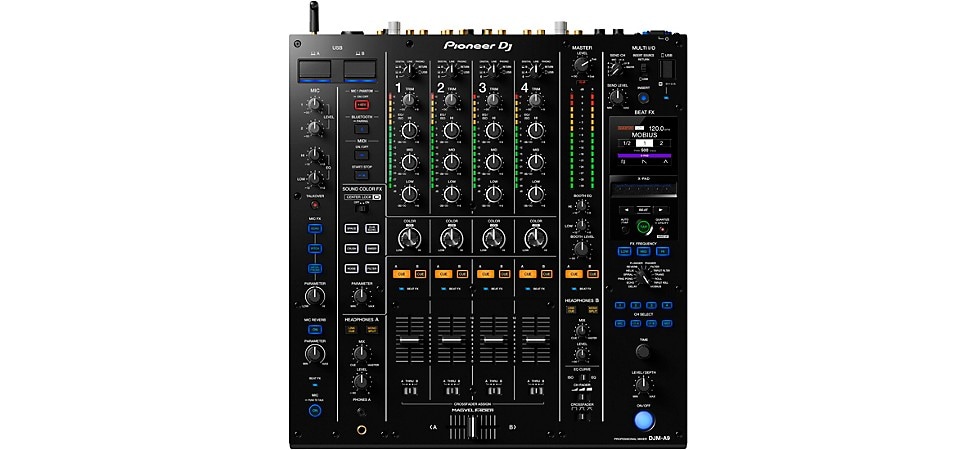 Pictured: Pioneer DJ DJM-A9 4-channel Club Standard DJ Mixer
Ready for any situation you might throw at it, the A9 has dual sets of USB-B and USB-C ports, letting you connect two laptops running Serato or rekordbox—as well as DVS control of both platforms, if you use control vinyl. The A9 even takes Bluetooth input, making it easy to route the audio to any channel and manipulate it to your liking on the mixer. The first of its kind, the Center Lock feature prevents accidental crossing between high and low parameters when using Sound Color FX.
Built-in Wi-Fi lets FOH (front of house) mixers monitor the A9 via iPad using the Stagehand app. This lets the FOH optimize the audience's audio from their mixing desk, as well as control selected functions on the DJM-A9 itself—omitting the need for sound engineers to enter the booth and disturb your performance mid-set. Other clever features include condenser mic compatibility and the enhanced microphone section, which features Echo, Pitch and Megaphone effects. DJM-REC iOS and Android app support lets you record and share your performances via Mixcloud, Twitch and others, while video and lighting app support via ShowKontrol and PRO DJ LINK Bridge lets you take your sound and visual coordination to the next level. Professional club DJs who are utterly uncompromising in the sonic quality of their mix will find the DJM-A9 at the tip top of the heap.
Your Cue to Get Out There and Mix
Now that we've run the gamut on the best DJ mixers on the market, you can make an informed selection based on your mixing style and any other gear you may incorporate into your setup. For more information, check out our article on building your entire DJ rig. Whether you need a two-channel battle-style mixer for your scratch DJing—or a four-channel club-style mixer that gives you the routing flexibility and effects options you require—there's a mixer to fit your needs and budget. Call, click or come into your local Guitar Center, and one of our associates will be happy to talk about what you hope to accomplish with your rig, and walk you through the best DJ mixer options for your situation.-->{C}