Arguably the most important piece of gear in your DJ setup is what you're wearing: your headphones. In addition to the right DJ controller and/or turntables for your needs, as well as any other essential gear in your rig, like USB stick and a reliable laptop loaded with the right software and music library—having the ideal set of DJ headphones gives you what you need to hear, and how you want to hear it. From pivotal DJ-friendly features like swiveling and noise-isolating earcups, to sonic characteristics like frequency response that slices through stage volume, taking the time to methodically match with a suitable set of DJ cans is a worthwhile investment of your attention.
To cut through the noise, we've curated this breakdown of the best DJ headphones available, from beginner-friendly standards to sets brimming with higher-end technical sophistication. They all have a few things in common, making them solid choices from the second you hit the decks. For starters, they all feature closed-back earcups—a must for minimum sound isolation in a live setting—and include cables as well as 1/4" adapters. They also offer one-ear-on/one-ear-off functionality (though some more easily than others). Ultimately, it's your ears, preferences and performance setting that will decide which contestant wins this battle.
Audio-Technica ATH-M20x
Heading off the list is the ATH-M20x, the beloved baby of a fabled family of monitor headphones: The Audio-Technica M-Series. Worn by on-the-go music lovers, aspiring DJs and bedroom studio junkies alike, ATH-M20x's massive mainstream popularity is warranted by their durable, comfortable and always-stylish build. Their 40 mm drivers are tuned for enhanced low-frequency response—if you're up for getting down.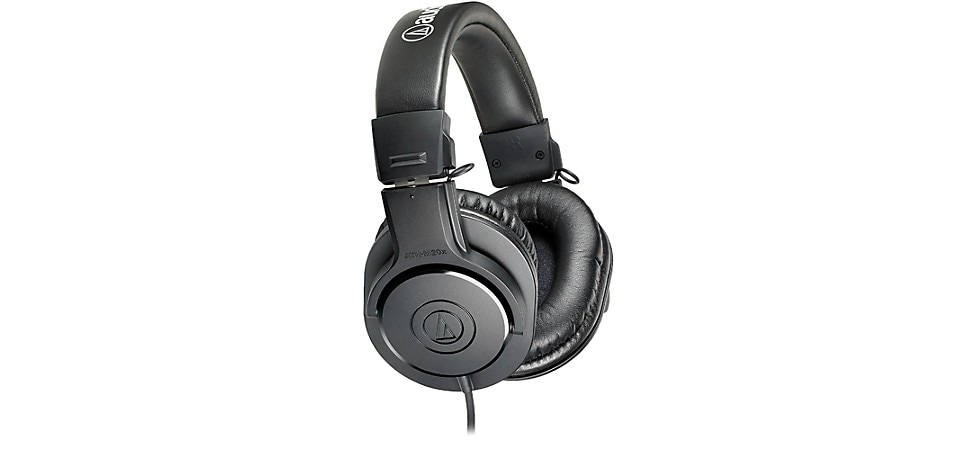 Pictured: Audio-Technica ATH-M20x Closed-Back Professional Headphones
Pioneer DJ HDJ-X5
With their stellar reputation, Pioneer DJ needs no introduction to the DJ community—though the HDJ-X5 headphones offer a first-rate intro to the world of DJing. They're lightweight (yet isolate impressively), can be worn for long periods with ease and assert strong low end. While also available with Bluetooth (as the HDJ-X5BT), they're best kept only for casual listening—even minor latency can disrupt beatmatching. Special request: Always stick to the wired option for DJing purposes.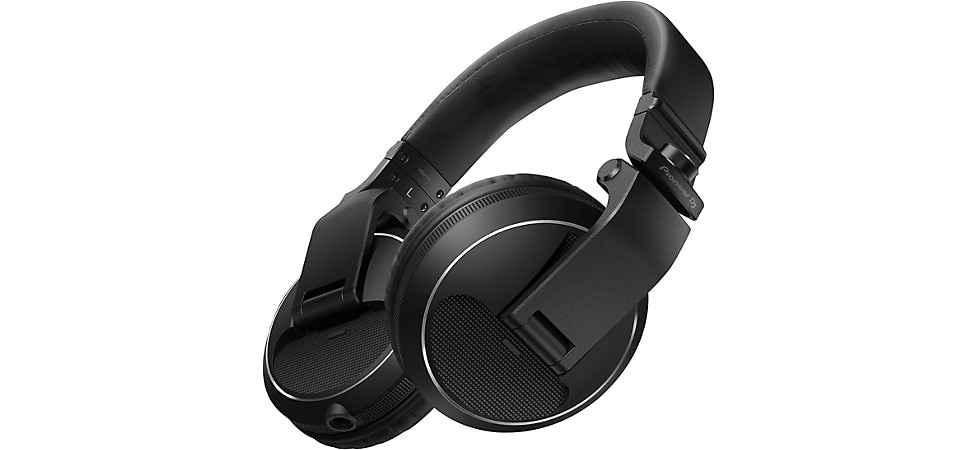 Pictured: Pioneer DJ HDJ-X5 DJ Headphones
Sony MDR-7506
Absolute classics seen and heard in recording studios around the world, Sony MDR-7506 headphone monitors also make for superb DJ cans. High SPL (sound pressure level), flat frequency curve (accurate sound)—these are legendary studio headphones for a reason—and their easily bendable, pivotable and collapsible form factor are top reasons these 40 mm-driver headphones are such a great choice for DJs. Plus, in the unlikely event something breaks, replacement parts and repair technicians who are familiar with them—as well as the headphones themselves—are very easy to find.
Pictured: Sony MDR-7506 Professional Closed-Back Headphones
Sennheiser HD 25
Since the debut of the Sennheiser HD 25 in 1988, the design has hardly changed—and for good reason. Sporting a dual-splayed headband for an adjustable fit, these iconic cans are the only on-ear headphones on this list, making their crossfade from TV producer headphones to industry-standard DJ cans all the more spectacular. Bolstering impressive mid-frequency isolation, DJ-ideal maneuverability, honest frequency response and time-tested durability, it's no wonder they're a headphone juggernaut in the DJ world.
A couple variations of the HD 25 feature the same exact earcup and driver—therefore the same beautiful sound—but with some minor differences. These are the slightly less expensive HD 25 Light, which has a simplified, non-splayed headband design, and the identical HD 25 Plus, which only differs from the HD 25 in that it includes a bundle of additional detached coiled and straight cables, a set of ear cushions and a protective pouch.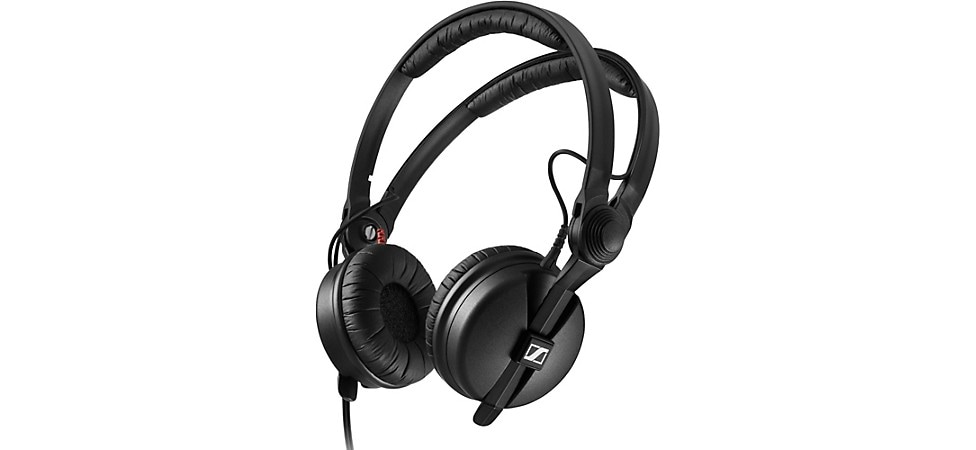 Pictured: Sennheiser HD 25 On-Ear DJ Headphones
V-MODA Crossfade LP2
No stranger to DJ-specific headphones, V-MODA designed the Crossfade LP2 to have the noise isolation, comfort and customization options that make than an irresistible choice for DJs of all stripes. In fact, they were designed in collaboration with a multitude of DJs and Grammy Award-winning musicians. Begging to be made all yours, these dual-driver DJ cans offer epic sound in addition to a bevy of aluminum earcup shield covers—you can even laser engrave and/or print your own design—and cable types that suit your style. Crossfade LP2 also includes an exoskeleton case that ensures the ultimate protection from gig to gig.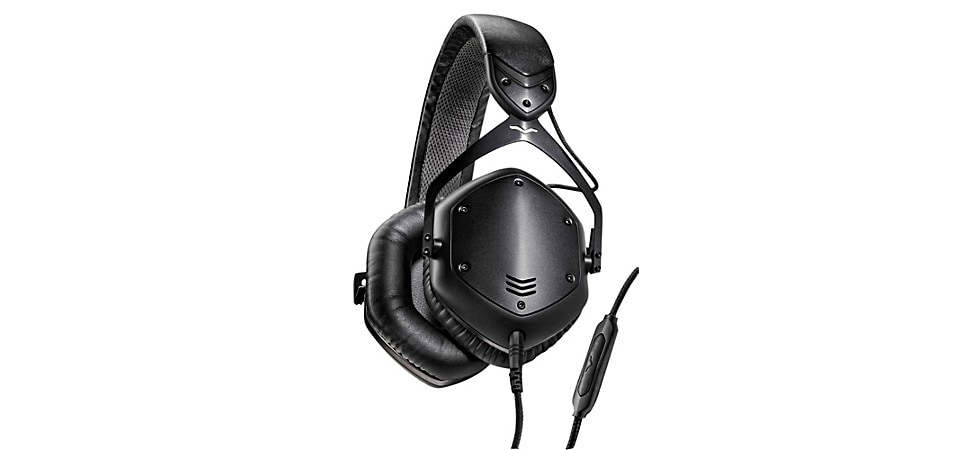 Pictured: V-MODA Crossfade LP2 Over-Ear Headphones
Audio-Technica ATH-M50x
Another recording studio mainstay, and the bigger sibling of the M20x, is the Audio-Technica ATH-M50x. Compared to their less expensive studio-standard counterpart Sony MDR-7506, M50x headphones provide a burlier low end (though still have a relatively flat frequency curve), and add a bit more isolation as well. Its 90-degree swiveling earcups and road-reliable resilience make them an attractive choice for DJs. There's also a version with a gorgeous all-white finish, the ATH-M50xWH.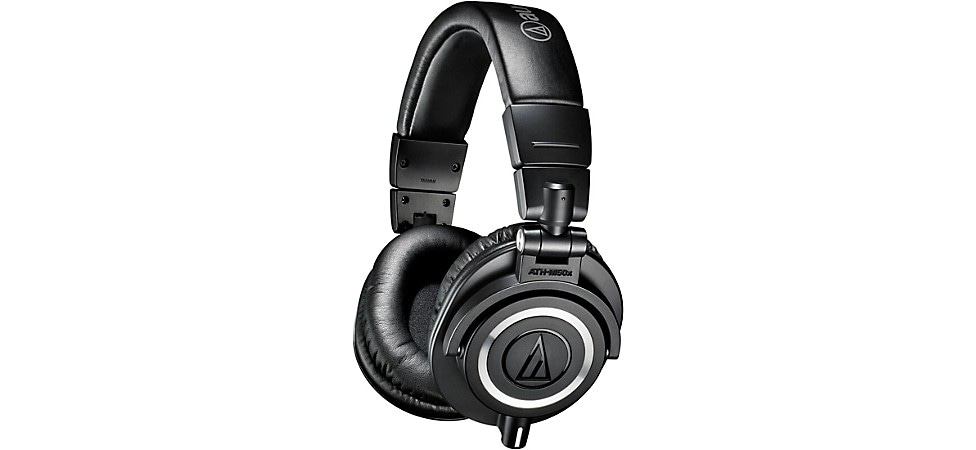 Pictured: Audio-Technica ATH-M50x Closed-Back Studio Monitoring Headphones
Avantone MP1
A relatively unsuspecting make on this list is the Avantone MP1. Fortune favors the bold here. Flaunting an eye-catching color scheme and almost comically large earcups with generous padding, the over-ear MP1 headphones don't lack in the looks department, and their 50 mm drivers ensure they do the job tracking and mixing in the studio and DJ booth alike. If rich aesthetic character, sonic clarity and pillowy plush feel is what you're after, you may have met your match.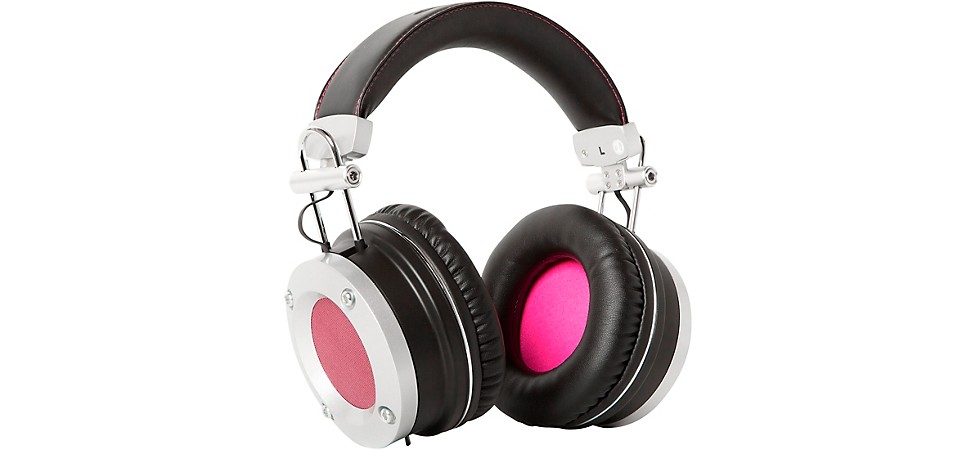 Pictured: Avantone MP-1 Multi-Mode Reference Headphones
Pioneer DJ HDJ-X7
The mid-range Pioneer DJ offering in this guide, and the HDJ series on the whole, is the HDJ-X7. Endowed with a balanced frequency range and bass-reflex chambers, X7 was designed for DJs who like tight, controlled sound with some oomph in their cans. Metal components, a flexible headband with robust swivels and MIL-SPEC durability are proof Pioneer DJ engineered HDH-X7 for prolonged gigging enjoyment.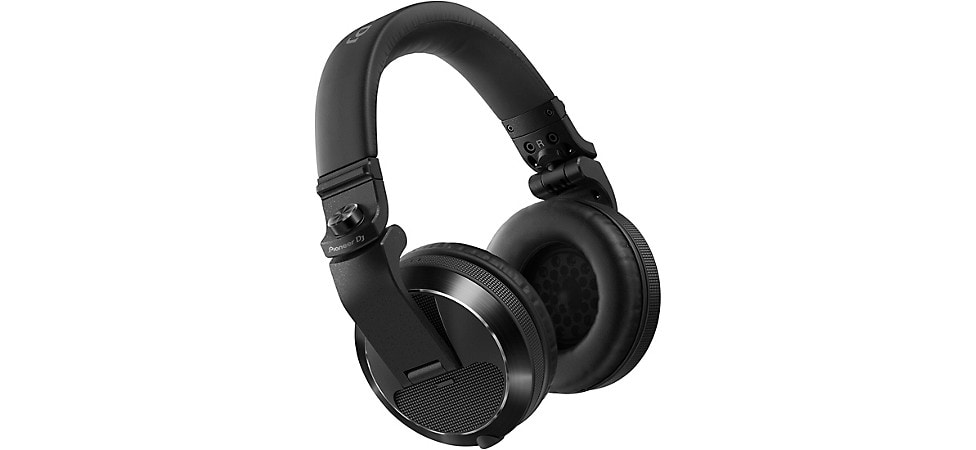 Pictured: Pioneer DJ HDJ-X7 DJ Headphones
V-MODA Crossfade M-100
The higher-end V-MODA challenger on this list of the best DJ cans are the Crossfade M-100 headphones, clearing the lofty bar of hi-res audio certification by Japan Audio Society. On top of sophisticated drivers that deliver hair-raising sound, M-100s feature a sweat-resistant SteelFlex headband, as well as all the customizable earcup shield and cable options that are available on the Crossfade LP2—making them an absolute dream for those who have the budget to add these to their DJing arsenal.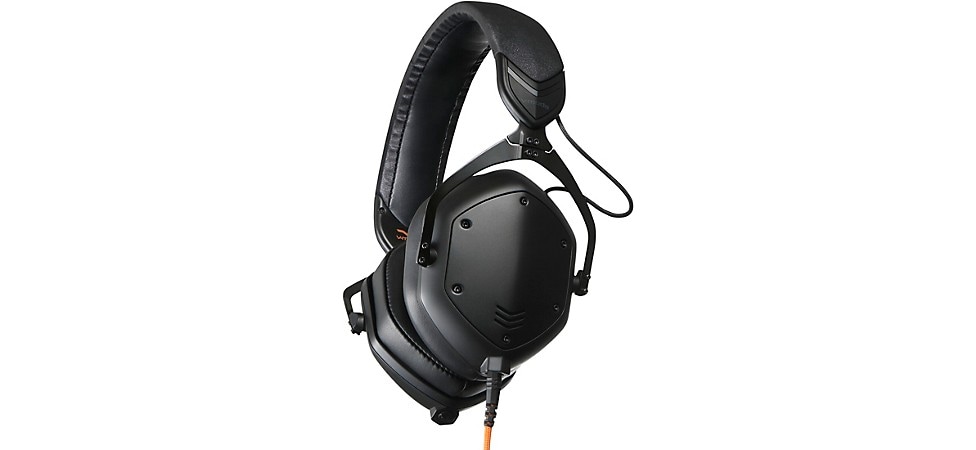 Pictured: V-MODA Crossfade M-100 Master Over-Ear Headphones
Pioneer DJ HDJ-X10
Topping off the heap with the priciest pick is the Pioneer DJ HDJ-X10. They boast the widest frequency range of the pack, theoretically beyond the range of human hearing (which is 20Hz–20kHz), from an earth-rumbling 5Hz to an astronomical 40kHz. This gives you all the thump and sheen (and everything in between) your ears could possibly relish. A testament to their rugged dependability, the HDJ-X10 passed the rigorous U.S. Military Standard Shock Test, a confidence-inspiring omen for any abuse you may put it through over the years. Its nano-coated finish ensures easy cleaning and a look as strident as its sound.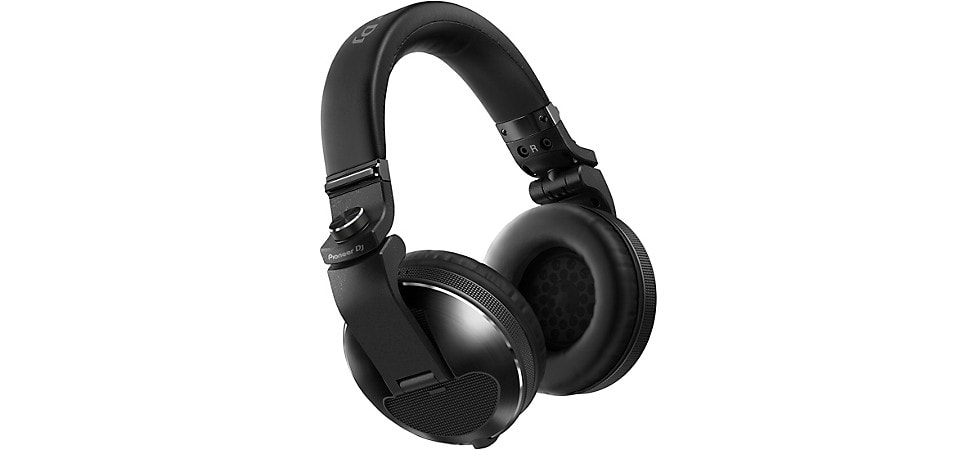 Pictured: Pioneer DJ HDJ-X10 DJ Professional DJ Headphones
In Closing/Fade Out
Whether you're starting from scratch or have completed 33 (or even 45) revolutions around the block as a working DJ, the time is always right to fine-tune your headphone game. As in the music itself, the best outcomes happen during a little experimentation … or a lot of it. If you want to hear for yourself, feel free to try each and any of these at your local Guitar Center, where our associates will be happy to assist you in your pursuit of the perfect DJ headphone for your needs.