Standing in the front row of a show, looking at a pedalboard laid out like NASA's mission control, can be an intimidating experience. Guitarists effortlessly stomp through pedal after pedal, fiddling with knobs, and it's hard to tell what's doing what. What's really the difference between distortion and overdrive? Should you buy individual pedals or a multi-effects unit? What the heck is a flanger, anyway? Below, we've laid out the basics on what the major families of effects pedals do, and offer our recommendations on some of the best guitar pedals available today, from the Tube Screamer to the Big Muff to the Carbon Copy, in order to help you in your quest for the ultimate guitar tone.
Table of Contents
Best Overdrive Pedals
Best Distortion Pedals
Best Fuzz Pedals
Best Delay Pedals
Best Reverb Pedals
Best Tremolo Pedals
Best Vibrato Pedals
Best Chorus Pedals
Best Phaser Pedals
Best Flanger Pedals
Best Wah Pedals
Other Pedal Types
Understanding Signal Flow
Other Pedal Shopping Tips
Best Overdrive Pedals
Ask nearly any guitarist what their "ideal tone" is and they'll likely tell you it's the sound of their tube amp being overdriven into a warm, saturated drive. An overdrive pedal delivers that sound, but in a small, battery-powered enclosure that you can use with any amplifier. Like a pushed tube amp, overdrive pedals are incredibly dynamic and responsive to your playing. Play softly and you get just a little drive; hit it harder and it breaks up more. Beloved by blues and rock players, the overdrive gives you a bump that pushes your amp just a little further.
Ibanez Tube Screamer: An Overdrive Legend
The Ibanez Tube Screamer is the quintessential overdrive box. From Stevie Ray Vaughan to Gary Clark, Jr., it's a favorite among countless guitarists. Its mid-heavy punch is as universally recognizable as its green box. It's most commonly used in front of an already overdriven amp, to give you that something "extra".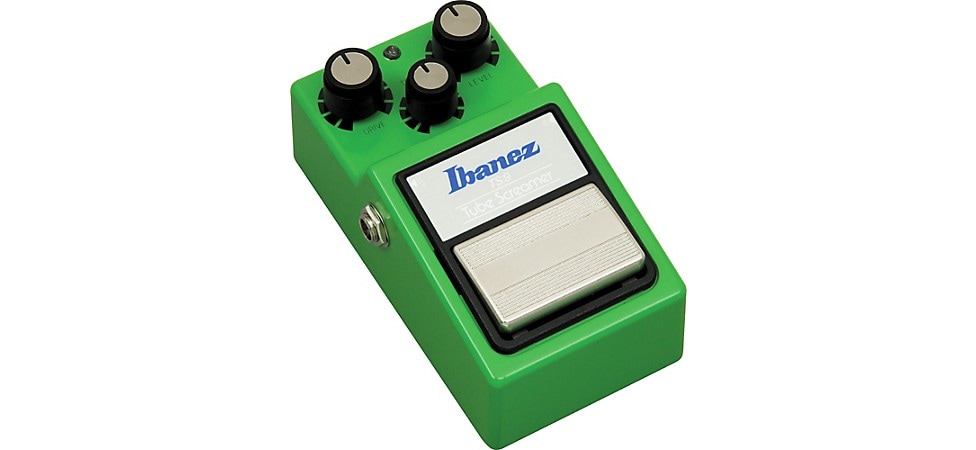 Pictured: Ibanez TS9 Tube Screamer 
More Overdrive Pedal Options
Players love the Boss Blues Driver for its true tube-like overdrive sound. Warm and organic, with a little more bass than the Tube Screamer, the Blues Driver has spawned famous mods and copies, but the original is a classic.
Capturing the enormous heft of the Friedman BE-100 amp, the Friedman BE-OD pedal provides a wide range of control and big amp crunch, letting you pack world-famous tone into a small footprint.
Based off the design of boutique pedal builder Paul Cochrane, the MXR Timmy Overdrive is a result of Cochrane's desire to bring his highly-sought after pedal pedal to a wider audience. The Timmy Overdrive offers three different clipping options to push your amp into different tonal realms. As Timmy pushes the front-end of your amp, the resulting sound is one of pleasing harmonic complexity that still retains the overall character of your existing rig. 
Looking to learn more about overdrive? Check out our beginner overdrive pedal buying guide.
Best Distortion Pedals
The difference between overdrive and distortion pedals can be confusing. Where overdrive simulates just enough power to break up your tone, distortion heaps on the clipping and totally changes your sound. A big difference between distortion and overdrive lies in the dynamics. A distortion pedal is going to give you the same amount of crunch no matter how loud you crank it or how hard or soft you play. This is your hard rock and metal go-to.
Boss DS-1: Crunch in a Box
The most ubiquitous distortion pedal around, the Boss DS-1 is a classic for a reason. Both affordable and straight-forward, this orange box can be seen in garages and arena stages around the world, always providing hair-raising crunch with every stomp.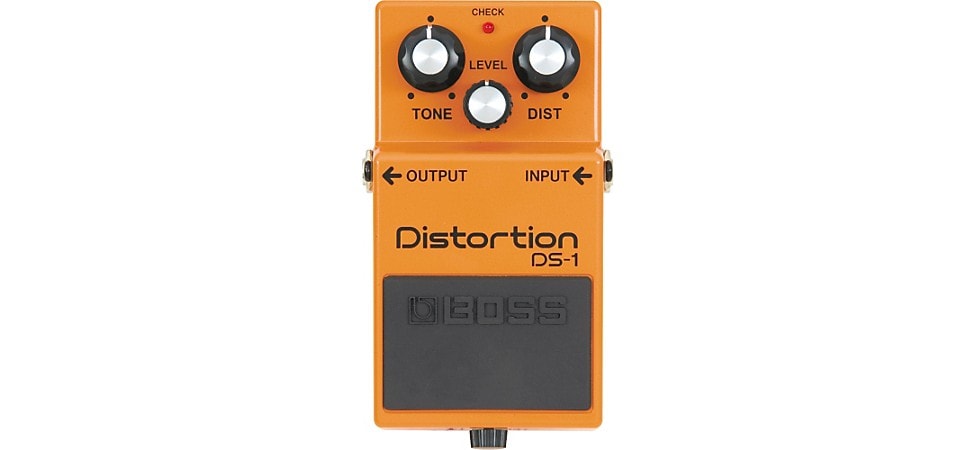 Pictured: Boss DS-1 
More Distortion Pedal Options
Rhythm and lead players alike love the Pro Co Rat for its versatility. Whether you need a little more crunch on your chords, or a little more punch in your solos, the Rat is a great addition to any pedalboard.  
From highly adjustable low-volume distortion to unyielding, fuzzy sustain, the MXR M-104 is a reliable choice. Originally released in the '70s, the M-104 has found its way on countless classic recordings.
Want to learn more about distortion pedals? Check out our distortion pedal buying guide. 
Best Fuzz Pedals
Fuzz is the nuclear option of distorted effects. Favored by the likes of Jimi Hendrix and other icons of classic rock, a fuzz pedal clips and compresses the signal from your guitar to the point of being nearly unrecognizable, giving you epic sustain along the way. Dave Davies of the Kinks was a famous early pioneer of fuzz-like sounds. He slashed one of his speaker cones with a razor in a fit of rage, and ended up with the tone you hear in "You Really Got Me." Around that time, a number of fuzz pedals, including the legendary Tone Bender and Fuzz Face stompboxes, started making their way to market, and were heard on a number classic recordings from the biggest names in British rock. 
Learn more about the long and winding history of the Tone Bender.
Electro-Harmonix Big Muff: The Pedal That Roars
The Electro-Harmonix Big Muff is the one fuzz to rule them all. This is a pedal with a pedigree dating to the late '60s, and it has been used constantly, from David Gilmour to Thin Lizzy to Smashing Pumpkins. The sustain it produces lasts nearly as long as the pedal's history, and the distortion is the stuff of legend. While the Big Muff Pi, picture below, is perhaps the most famous model, Electro-Harmonix offers a wide variety of Big Muffs to choose from, representing the many incarnations and variations released over the past five decades.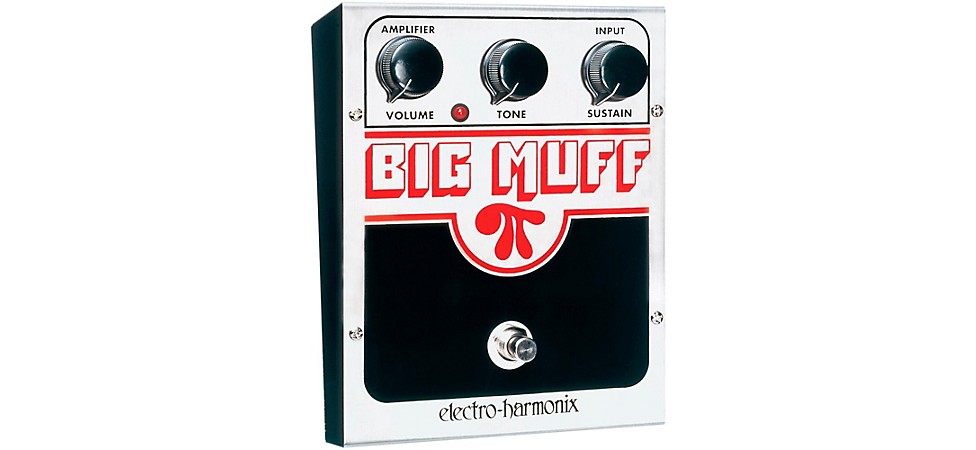 Pictured: Electro-Harmonix Big Muff Pi 
More Fuzz Pedal Options
JHS offers their take on the legendary Tone Bender with the JHS Pedals Bender 1973 London. Inspired by a 1973 MKIII model, the JHS Bender captures the touch, feel and response that made the original so sought after, while adapting the circuit to accomodate the use of more modern (and consistent) silicon transistors. 
Of course, when you're talking about guitar pedigrees, it's hard to top the Fuzz Face, used by none other than Jimi Hendrix. Rugged, classic and packed with powerful sound, it's hard to beat.  
Ready to dig deeper into fuzz pedals? Check out our fuzz pedal buying guide. 
Best Delay Pedals
There are so many subtleties to different delay pedals that it's nearly impossible to wrap your head around all of them. But there are some fundamentals to what makes a delay... a delay. Essentially, it takes the signal of the sound you've played, and repeats it after a short interval — like an echo. Rather than being set at a particular interval, a delay pedal lets you choose the length of time before the repeat, the amount of repeats you want and the volume level of those repeats. Some models allow you to choose the tempo of the delay, matching the tempo of the song you're performing. U2's Edge is probably the most famous delay user, playing off of it as if it were another musician in the band.
MXR Carbon Copy: An Analog Delay Icon
With 600ms of delay time and controls for time, mix and delay repeats, the MXR Carbon Copy can take you from classic slapback echo to psychedelic wooziness in a few simple tweaks. MXR has made it its iconic delay pedal available in a variety of different configurations, depending on your needs and budget.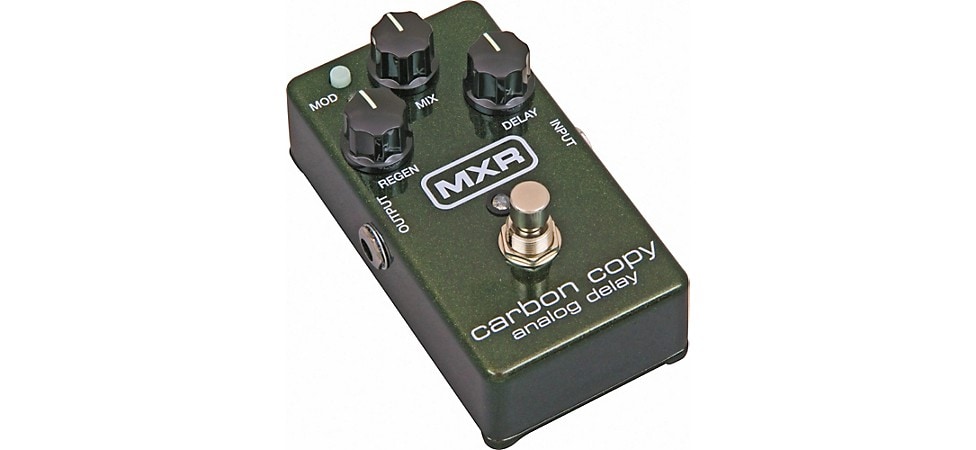 Pictured: MXR Carbon Copy
More Delay Pedal Options
The Boss DD-7 provides excellent delay options. Boasting up to 6.4 seconds of digital delay time and a hold mode allowing up to 40 seconds of recordable input, it also has stereo output for incredibly wide, sweeping delay.
The 3 Series Delay from JHS Pedals is an affordable, studio-quality delay pedal with simple controls and great sonic versatility. With delay times ranging from 80ms to 800ms it covers everything from slapback to ambient, while the Type switch allows you to choose between pristine digital clarity or a darker-voiced analog style sound.
Need more delay pedal choices? Check out our rundown of the some of the best delay pedals available today.
Best Reverb Pedals
A reverb pedal simulates the natural sound reflections you'd hear in a variety of rooms, from a bathroom to a cathedral. The larger a room is, the more reverberant it tends to be. Not quite an echo or delay, it's an effect that gives depth and richness to a guitar's tone.
A typical reverb pedal will include controls for Time, Level and Tone. Tweaking each of these knobs will open up a broad range of sonic changes.
BOSS RV-6: The All-In-One Reverb Package
The versatile BOSS RV-6 delivers everything you expect from a reverb pedal, and much more. On-board reverbs include Spring, Plate Hall, Room, Shimmer and more. Auto-switching jacks let you integrate with any pedal chain, with support for mono, mono-to-stereo, and stereo-to-stereo operation. As with the DD-7 delay, there's also a jack for connecting an optional expression pedal, allowing you to control the effect level in real time as you play.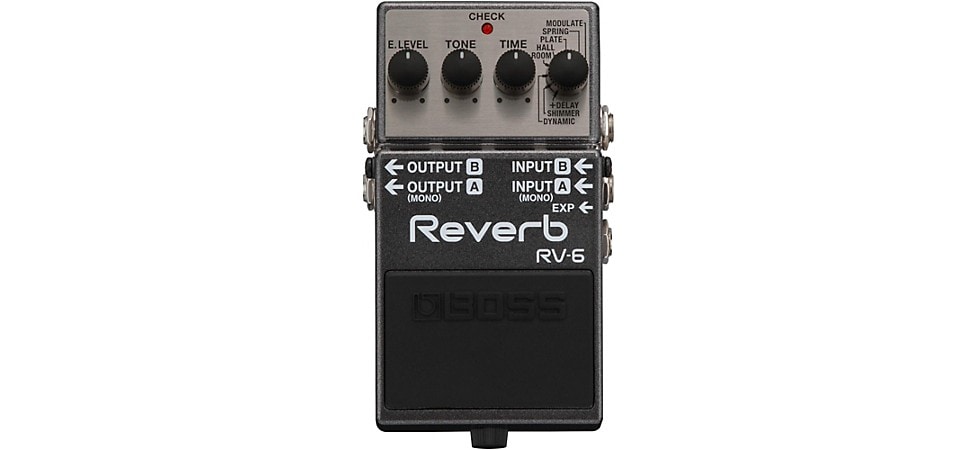 Pictured: Boss RV-6
More Reverb Pedal Options
Want a dependable, classic reverb sound based on the spring reverb units found in the Fender guitar amps of the '60s? The TC Electronic Drip Spring can take you from surf rock to rockabilly in a blink, with simple controls and nearly indestructible construction.
Want to learn more about reverb pedals? Check out our guide to the best reverb pedals. 
Best Tremolo Pedals
Ok, first things first. Tremolo and Vibrato are two different things. Tremolo is a variation in the volume of a note. Vibrato is variation in pitch. That's a really important distinction when you're shopping for a pedal. A tremolo pedal varies your volume rhythmically, providing a pulsing, textured sound. With controls to adjust the rate and depth of your volume swings, tremolo pedals can take you from "Crimson and Clover" to "Howlin' for You" in the flick of a wrist.
JHS Pedals Kodiak Tremolo: All-Analog Tremolo With Modern Features
Adorned with all the bells and whistles a tremolo could ask for, the JHS Pedals Kodiak Tremolo lets you choose between four different wave shapes to change the way the tremolo effect swells your volume in and out. It also features a Mix knob, so you can control how much effect you want to blend with your direct signal. Plus, the tap tempo lets you easily sync the effect to the timing of your songs.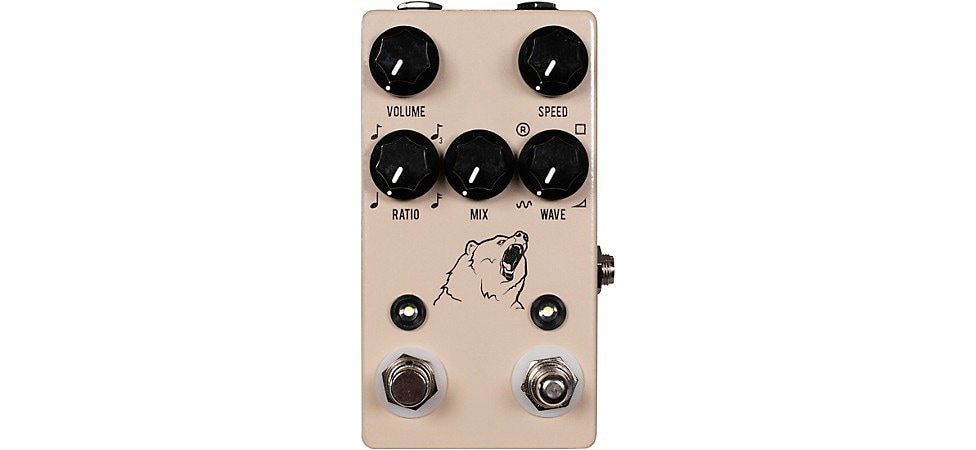 Pictured: JHS Pedals Kodiak Tremolo
More Tremolo Pedal Options
For true time-tested tremolo, you can't go wrong with the Boss TR-2. The built-in wave knob lets you alter the LFO waveform from triangle to square. In other words, you get a wide range of tremolo options. Straightforward and dependable, this is a classic choice.
The JHS Tidewater is simple, tiny and creates the warm, vintage amp tremolo sound all players prize. An added bonus — with the mix control turned all the way down, you can use the Tidewater as a preamp boost
Best Vibrato Pedals
Like we mentioned, vibrato gives you a periodic variation in pitch, similar to bending a string or handling a whammy bar. From simple pitch bending to otherworldly, whirling noise, this pedal is a key element for any guitarist looking to push their sound outside the everyday.
BOSS VB-2W Waza Vibrato: Classic Vibes Return
Dating back to its debut in 1982, the BOSS VB-2 Vibrato's expressive and unique pitch modulation was adopted widely as a standard for vibrato effects. Now reborn in their Waza Craft VB-2W, this pedal recreates the all-analog circuitry and sound of the original with some player-friendly updates. The new Custom mode features an updated filter wave, resulting in a deeper and darker vibrato effect. Unlatch mode activates the effect only when the footswitch is held down. Hook up an expression pedal to the expression input for hands-free, real-time control of the overall effect depth.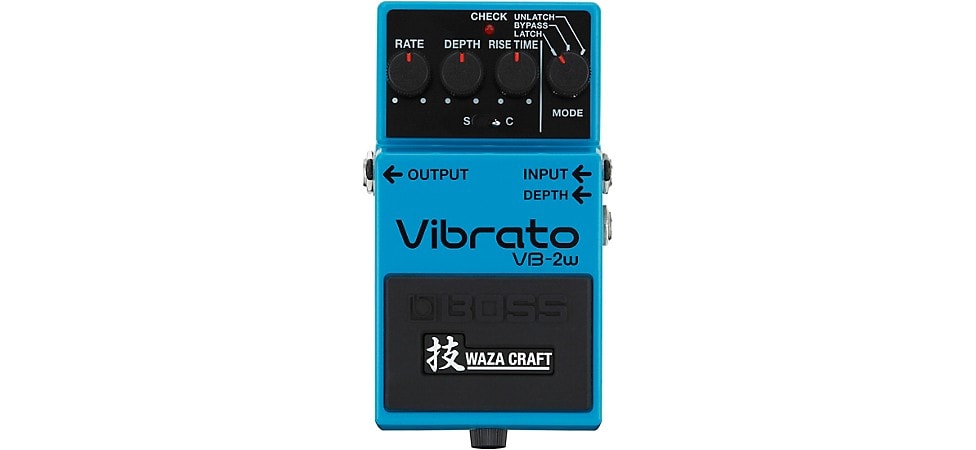 Pictured: BOSS VB-2W Waza Vibrato Pedal
More Vibrato Pedal Options
The high-end Earthquaker Devices Aqueduct uses a short delay line with eight different modulation modes to deliver an incredibly wide range of vibrato options. Although it's outfitted with eight modes that come with a lot of very technical names and descriptions, it essentially goes from simple amp-like vibrato all the way to nearly unrecognizable sounds.
Shop our complete selection of Vibrato Pedals 
Best Chorus Pedals
A pedal board staple, the chorus is a versatile tool for coloring your sound. By splitting your guitar's signal and just slightly modulating the pitch and delay of one signal, chorus thickens your sound and delivers a doubled, dreamy timbre. Ok, it was a bit overused in the '80s, and it took a while for guitarists to come back around to it, but when used well, it can bring a lot of warmth and depth to your sound.
Boss CH-1 Super Chorus: Versatility and Durability
The Boss CH-1 Super Chorus is the first chorus pedal that comes to most players' minds. This is the little blue box synonymous with chorus since the '80s, and it delivers a clean, classic sound with crystal-clear highs and a unique stereo effect. And, like all Boss pedals, it's built like a tank, so you can trust it day in and day out.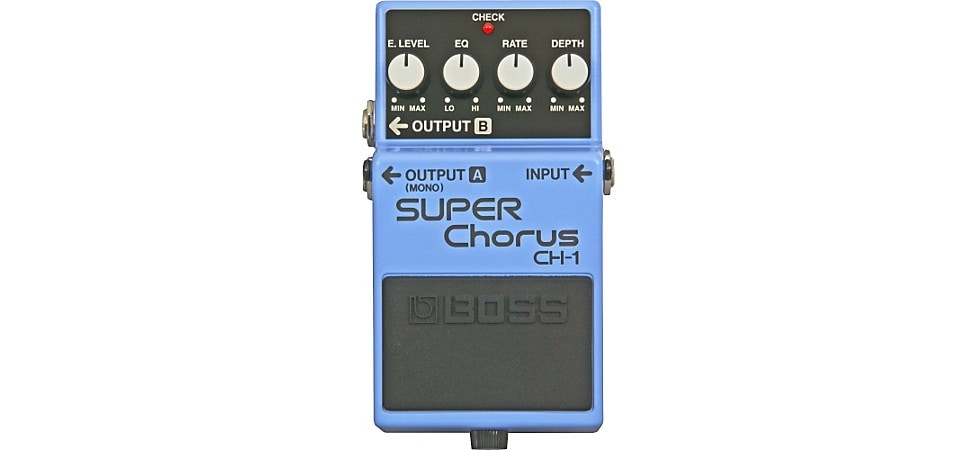 Pictured: Boss CH-1 Super Chorus
More Chorus Pedal Options
Built for a lifetime on the road, the MXR Analog Chorus is a no-nonsense, no-frills chorus monster. The lush, deep chorus it creates is evidence of its all-analog bucket-brigade circuit.
With one switch and one knob, the Electro-Harmonix Small Clone seems simple, but don't let the easy operation fool you. It's incredibly versatile, an industry standard, and a true classic among chorus effects dating back to 1980.
Looking for other great chorus options? Check out our rundown of the some of the best chorus pedals available today.
Best Phaser Pedals
By mixing your guitar's direct signal with a modulated signal that cancels certain frequencies, a phaser pedal essentially makes your sound go in and out of phase, creating a spacy, whooshing sound. Eddie Van Halen is famous for his phaser addiction, and it's a widely loved effect, in part for its simplicity and tone-thickening power.
MXR Phase 90: One-Knob Simplicity
The MXR M-101 Phase 90 has been the phase pedal for more than 40 years. Originally released in 1974, it has the distinction of being MXR's very first pedal. From simple shimmer to dizzying phase whooshes, this pedal delivers. And if you're a Van Halen fan, there's even an EVH version available.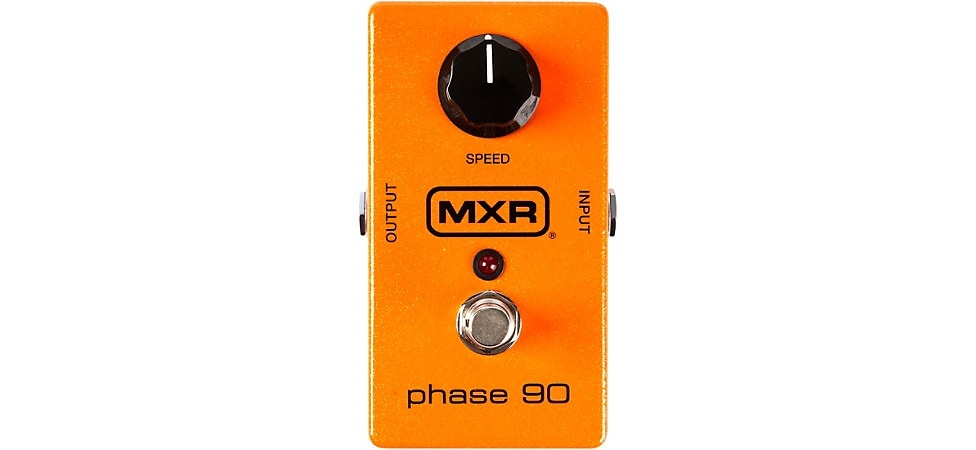 Pictured: MXR M-101 Phase 90
More Phaser Pedal Options
Another industry standard, the Boss PH-3 Phase Shifter runs the gamut from vintage to ultra-modern sounds. With tap-tempo sync and Rise and Fall modes, this is incredibly customizable.
Shop our complete selection of Phaser pedals
Best Flanger Pedals
As effects go, phaser and flanger modulation pedals are perhaps the easiest to mix up. On the surface, they achieve a nearly identical effect. However, where a phaser pedal focuses solely on manipulating the frequency spectrum of your signal, the flanger adds a delay onto your signal. This dramatically increases the depth of the swing in that whooshing sound and also empowers you to control the depth and rate of that swing.
Electro-Harmonix Neo Mistress Flanger: Psychedelia in a Box
EHX introduced one of the first flanger pedals, the Electric Mistress, in the 1970s. The Neo Mistress flanger offers the classic, lush, jet-plane-taking-off harmonic sweeps of the original at a fraction of the vintage-pedal prices.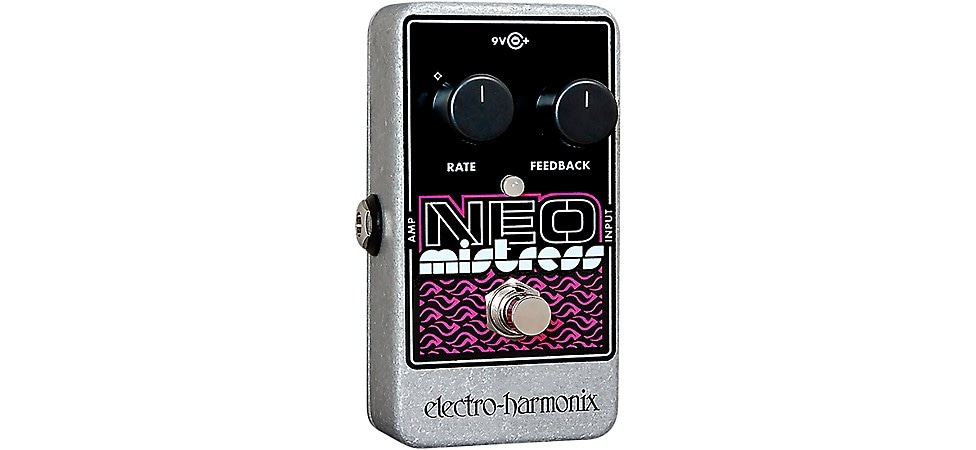 Pictured: Electro-Harmonix Neo Mistress Flanger Pedal
More Flanger Pedal Options
Guitarists and bass players have been stomping the little purple Boss BF-3 Flanger for decades, depending on its wide sweep, detailed control and big, fat stereo sound. Whether you're recreating a New Wave classic or building the sounds of the future, you can do it with this box.
Shop our complete selection of Flanger pedals
Best Wah Pedals
From '70s cop show themes to funk to hard rock, the wah pedal is one of the most versatile and underestimated effects pedals in existence. Its simple operation belies a universe of sound options. At its most basic, a wah pedal allows you to adjust your tone from bass-heavy to high-treble by adjusting the foot lever. While rocking the pedal up and down rhythmically can give you that classic "wocka-chicka" '70s sound, this pedal offers so much more. Mick Ronson famously parked his pedal in one spot to create the tight tone heard in David Bowie's "Ziggy Stardust."
Dunlop Cry Baby: Rockin' Tone
You can't talk about wah pedals without talking about the Dunlop Cry Baby. The first and foremost among wah pedals, the Cry Baby is the pedal used by all the pioneers of the sound.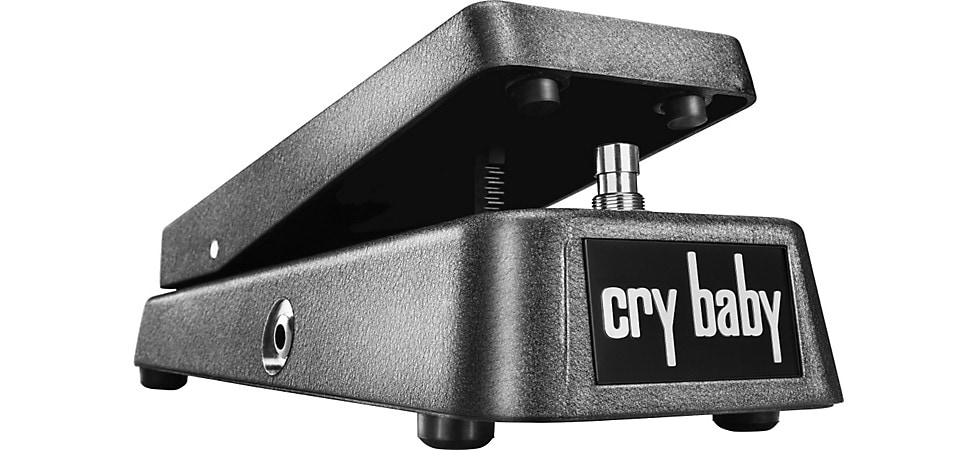 Pictured: Dunlop Cry Baby Wah
More Wah Pedal Options
While the CryBaby is the most famous wah pedal, it's not the only classic. The Vox V847A is built on the specs of the original Vox wahs that also happened to be used by all the pioneers of the sound. Redesigned for greater dynamics and improved tone, the Vox model offers a clear, bright tone to contrast with the warmer, more muffled sound of the Cry Baby.
Shop our complete selection of Wah pedals
Other Pedal Types
There are so many more pedals out there, and the range expands all the time. Classics like compressor and boost customize your signal and give you major volume and gain control, while harmonizers and pitch shifters do just what the names say. Looper pedals trap a bit of signal and play it over and over, for as long as you need, allowing you to play over that part and layer your sound.
Acoustic Loop1 Looper Pedal: Simple and Little
With the simplicity of one-button operation and a super-small footprint, the Acoustic Loop1 is the perfect pedal to start looping with. The Loop1 offers up to 30 minutes of recording time and unlimited overdubs, so you can record longer phrases to work out song parts or build heavily layered soundscapes.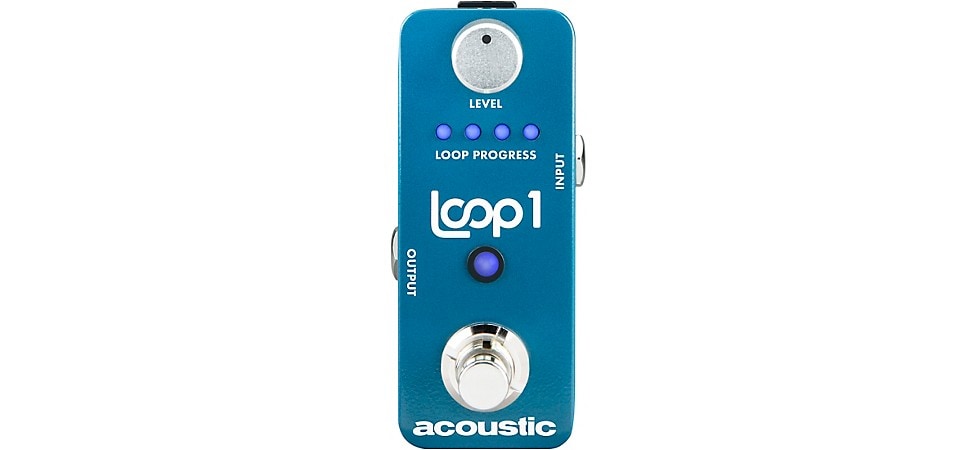 Pictured: Acoustic Loop1 Looper
Our recommendation? Get out there and test drive these pedals. See what happens when you throw a whammy pedal on a delay. Try putting a wah on top of a flanger or fuzz on chorus. Experiment, and find your signature sound.
Multi-Effect Units
Multi-effect units give you a wide range of effects in one spot and are a great choice for beginners and pros alike. Cost-effective and easy to get from one place to the other, these options free you up from signal flow and power source issues and allow you to dial in specific effects for specific songs, eliminating the need to futz with knobs between songs. With expression control and amp modeling options built into many of these, including those from the likes of BOSS, Line 6 and more, a multi-effect unit can simulate multiple rigs in one gig-friendly setup. As with any jack-of-all trades, some would say the downside of a multi-effects unit is that it's ultimately a master of none. Many prefer the results that obsessive focus on a single effect produces in individual, dedicated effects pedals.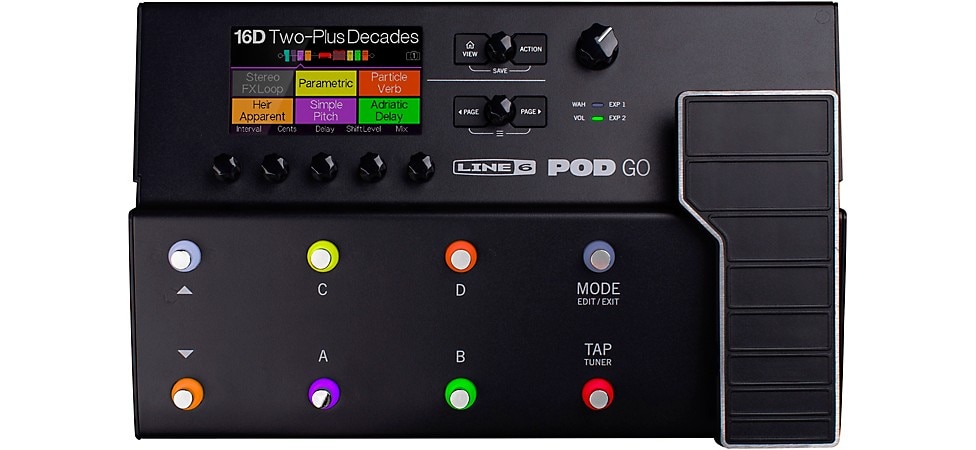 Pictured: Line 6 Pod Go
Need help picking a multi-effects pedal? Check out our guide to the guide to the best-multi effects pedals. 
Understanding Signal Flow
Which pedal do you put where on your board? This is more important than you may imagine. While there's no wrong way to do it, there are definitely more effective ways to make the use of your signal chain. Always keep in mind how each pedal will affect others down the line. Do you want that vibrato pedal changing the pitch of your pure tone or your distorted tone?
Typically, you'll want to begin with your tuner. This ensures it always gets a pure signal straight from your guitar. After this come the filter and dynamics pedals like wah and volume/boost. Your pitch shifters and modulation pedals come next, then compressors, and then the big daddies like distortion, drive and fuzz. Then place your delay and reverb pedals at the end. This signal chain allows you to effectively stack the color that pedals give to your tone. That said, let trial and error be your guide, and always be open to happy accidents.

Learn more about signal flow with our tip on finding the best guitar pedal order.
Other Pedal Shopping Tips
There's gotta be a way to power these things without spending a fortune in 9-volt batteries, right? And do you just carry all those pedals around in your arms? How do you organize this stuff?
Power sources like Truetone's 1Spot range and Voodoo Lab's Pedal Power allow daisy chain and power block options to keep your pedals at peak strength without running through batteries.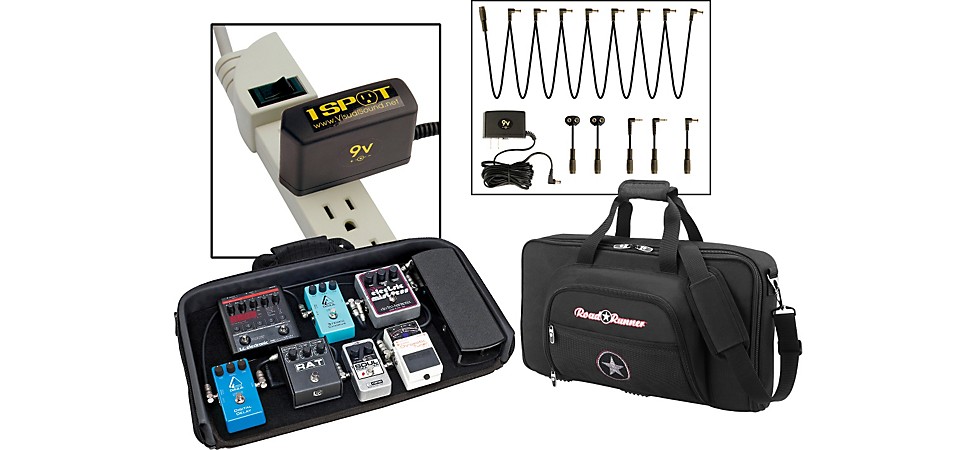 Pictured: Road Runner Pedal Board Combo Pack with 1 Spot
Once you've established your signal chain and set your pedals where you can hit them all with your eyes closed, you don't want to mess with your rig. Pedaltrain, Gator, Road Runner and more create a wide range of pedal boards, carrying cases and carry bags to keep your pedals organized, stable and easy to transport.
Choosing the right cables for your pedalboard is more important than you may imagine. Different pedal manufacturers prefer different alignments, which means that sometimes one pedal's in/out is in a maddeningly opposite configuration than all the rest of your pedals, or that boutique pedal is twice as big as your vintage Boss or TC Electronic mini pedal. The right cable eliminates kinks and shorts. Plus, quality cables ensure the purest signal flow.
Want to learn more about pedalboards? Check out our How To Build a Guitar Pedalboard gear tip.
Trying Out Pedals In-Store
Next time you walk into your Guitar Center, head over to our pedal display. You'll find a convenient spot to test a range of guitar pedals into a small and versatile amp. Grab your preferred guitar off the wall and get playing.
Don't feel like you have to show off for the other customers to get a sense of which pedals you like most. Try them out with some basic chords or any solos or riffs you feel comfortable playing.
Questions You May Have When Shopping
Don't be afraid to ask our associates for help. Even if you've spent plenty of time researching, you're not going to walk in with all of the answers. You may have questions about how to get a certain sound out of a pedal, or you may not know the best spot to put it in your signal chain. Our associates can help answer your questions and explain key features or functions that you may need assistance with.
Getting the Best Deal on Your Guitar Pedal
It never hurts to ask if there are any promotions or sales currently running, but our 45-day price-match guarantee takes the guesswork and haggling out of getting the best deal on guitar pedals. At the time of purchase or any time within 45 days of your purchase, if you find the identical pedals advertised by any authorized dealer—including Guitar Center—at a lower price than what you paid, just show us the ad and your original receipt, and we'll refund you 100% of the difference. Another way to save money on your new pedal is by selling us old musical gear you have to trade up to your new gear. If you have a qualifying item you'd like to trade in, you can get 10% off your new setup, in addition to your trade credit. Alternatively, you might find just the pedal you're looking for in our Used inventory. Our inventory is always changing, so keep checking back!