From the Pretenders and Prince to Mac DeMarco and Japanese Breakfast, the chorus pedal has a four-decade history of providing lush, glistening sonic depth to guitars in almost every genre you can imagine. 
That said, there is surely no effect more misunderstood or underestimated. Even though artists from Nirvana to Metallica to Songhoy Blues have made powerful use of it across a wide range of styles, chorus is still often associated in our minds with 1980s pop and new wave guitar sounds.
But in recent years, the chorus has entered a renaissance, thanks to a resurgence of synth pop, new generations of experiment-friendly guitarists, and engineering leaps from pedal manufacturers.
In this article we'll take a look at what we consider the best chorus pedals of the year and help you navigate the rich and varied offerings out there. Whether you're looking for a first chorus pedal, a boutique pedal or Kurt Cobain's "Come as You Are" chorus, you can find a pedal in any price range to meet your sonic craving.
It doesn't matter if it's dreamy synth pop, math rock, country or if you're inventing your own new genre, there is a chorus today that will fit the bill. Let's take a look.
How Does a Chorus Pedal Work?
To best understand what makes one chorus pedal different from another, it's good to know exactly what a chorus effect does. And, to understand what a chorus effect is, and how it achieves that dreamy, doubling effect, we first have to understand vibrato.
Vibrato, like chorus, is a modulation effect. That means that it changes, or modulates, specific aspects of your guitar sound or signal, like pitch, time or phase. Flanger, tremolo and phaser also fall in this modulation category.
Vibrato specifically modulates, or affects, pitch. It is a subtle and periodic changing of the pitch of your signal, like what you'd get from bending a string. This creates a wavering, slightly wobbly sound.
Chorus effectively does the same thing, with one important difference. It first makes a copy of your signal, delays it ever so slightly, and then modulates the pitch of that copy by periodically changing the delay time with an LFO, playing it in tandem with your original, unaffected signal, doubling the sound while thickening it through the variations in pitch.
By adjusting the modulation rate and depth of that second (and sometimes third or fourth) signal and sometimes even changing the shape of the waveforms, you can reach a stunning array of sounds from the crystalline tones of "Don't Dream It's Over" by Crowded House, to the tight doubling of Johnny Marr's guitar on the Smiths' "This Charming Man" or Mac DeMarco's "Dreaming Up Something Good," to the spooky depths of Chris Isaak's "Wicked Game" or Nirvana's "Smells Like Teen Spirit."
Our Top Chorus Pedal Picks
BOSS CE-2W
In 1976, BOSS created the very first chorus pedal, the BOSS Chorus Ensemble CE-1. It featured both chorus and vibrato effects, and brought chorus into stomping reach of guitarists. 1979's CE-2 was more compact (in part because it sacrificed the vibrato), and became one of the most coveted pedals of the past four decades.
If you're seeking the legendary versatility of the CE-1, and the lush, crystalline sound of the CE-2, but can't invest in two vintage pedals, the BOSS  CE-2W Chorus Waza Craft Guitar Effects Pedal is the stompbox of your dreams. The Waza Craft engineers have meticulously recreated both the 1976 CE-1 and the '79 CE-2 in one beautiful all-analog bucket-brigade box.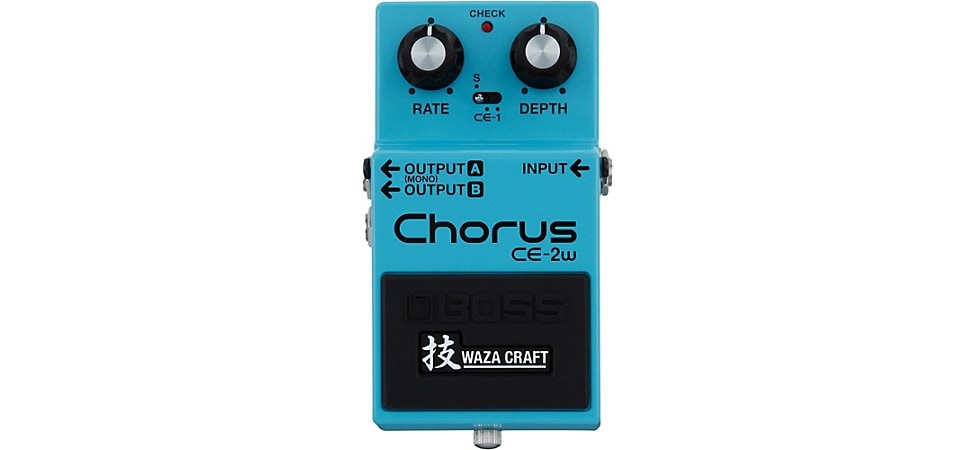 Pictured: BOSS CE-2W Chorus Waza Craft 
The CE-2W features modes that replicate both the CE-1 and CE-2, plus a vibrato mode that captures the coveted CE-1 effect lost when pedals downsized. This pedal stands to set the bar for a new generation of chorus pedals just as those first BOSS pedals did in the '70s.
Electro-Harmonix Small Clone
Electro-Harmonix had high hopes for the Small Clone chorus pedal when they released it in 1979, but they couldn't have imagined that the pedal would rocket to fame some 12 years later when Kurt Cobain used it on Nirvana's "Come as You Are." The Small Clone became a pedalboard staple for some of the most influential guitarists of the era, favored by greats like J Mascis, Pat Smear, the Edge and Bob Mould.
Pictured: Electro-Harmonix Small Clone 
The Electro-Harmonix Small Clone Analog Chorus is a faithful all-analog reissue that delivers all that luxurious sound with two simple controls—one depth switch and one rate knob. It's a very adaptable pedal, with its sonic range swinging from a tight, warm shimmer to a wild, loose warble.
MXR M234
The MXR M234 Analog Chorus is incredibly versatile, thanks in part to high- and low-cut tone shaping knobs that provide sonic detail ranging from round and full to crisp and crystalline.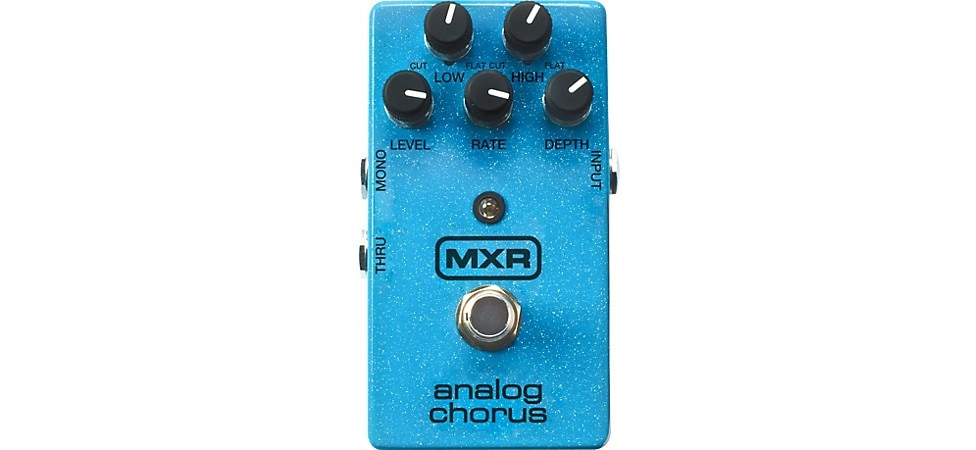 Pictured: MXR M234 Analog Chorus Pedal 
Tweak the rate and depth knobs and you can hit a near-Leslie level of wobble that you can intensify even more with the pedal's built-in stereo functionality. This beauty was first released in 2011, and still holds a place in our hearts and on our pedalboards, thanks to its many applications.
Fender Bubbler
When we think of Fender and chorus-style effects, many of us picture the Dimension IV Sound Expander of the late 1960s, or the dependable sold-state Princeton Chorus amp of the '80s and '90s. The amazing Fender Bubbler Chorus Effect Pedal is the next step in Fender chorus technology, and maybe in chorus pedals as a whole.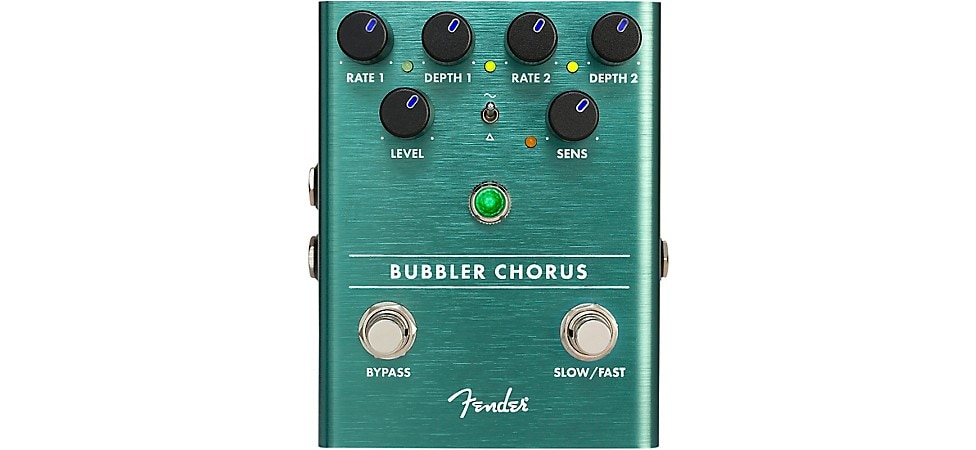 Pictured: Fender Bubbler Chorus Pedal
While this is an old-school bucket-brigade pedal, its sound and controls are decidedly new school. The flick of one switch changes your modulation from smooth sine waveforms to sharper triangle waveforms, boldly changing your sound from fluid to fluttery. Plus, the slow/fast speed control and dual rate and depth knobs allow you to dial in your sound with laser-like accuracy. Finally, the sensitivity feature follows your dynamics, reacting to how hard or soft you're playing.
Walrus Audio Julia and Julianna
If you're looking for a single pedal that can take you from surf rock vibrato to glassy new wave caverns, the Walrus Audio Julia Analog Chorus/Vibrato V2 has all that with a side of wow. With an LED that flashes in time with your rate setting, you have an immediate visual cue, and the Dry/Chorus/Vibrato control runs from pure signal to spooky western-tinged vibrato.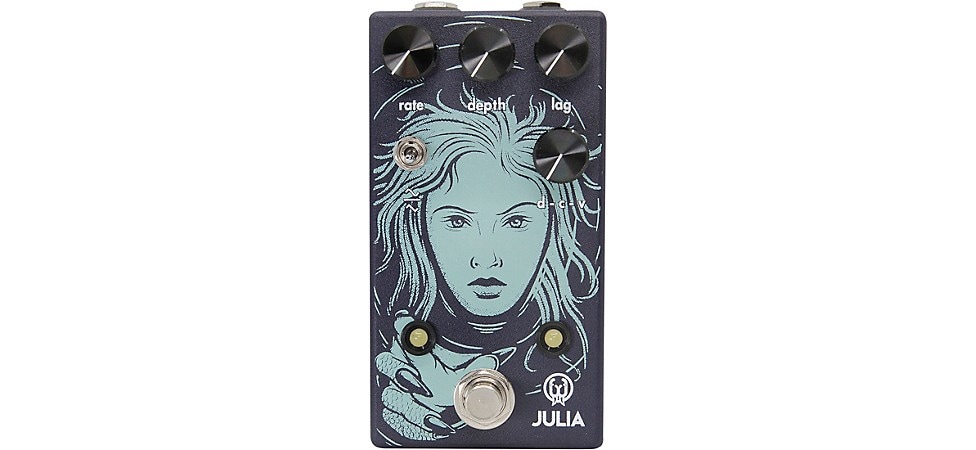 Pictured: Walrus Audio Julia Analog Chorus/Vibrato V2
You remember that a chorus effect is a copy of your signal with a slight pitch shift and delay, right? The Lag control on the Julia adjusts the center delay time that your chorus LFO (low-frequency oscillation) moves around. That means it makes the chorus sound more intense as you dial it up. Combined with the D-C-V control and the ability to switch between sine and triangle waveforms, and you have one incredibly customizable effect.
The Julianna Stereo Analog Chorus is Julia's big sister, with added features like tap tempo and a random LFO wave shape, modulation drift and stereo output for expansive, glimmering chorus goodness.
Old Blood Noise Endeavors Reflector
One of our Guitar Center colleagues referred to the Old Blood Noise Endeavors Reflector Chorus as "a chorus pedal on steroids," and we have to say that's a pretty apt description. With intense pitch shift, flanger and octave features, the Reflector can provide traditional chorus or you can tweak it to create some of the trippiest, detuned, wiggly sounds imaginable.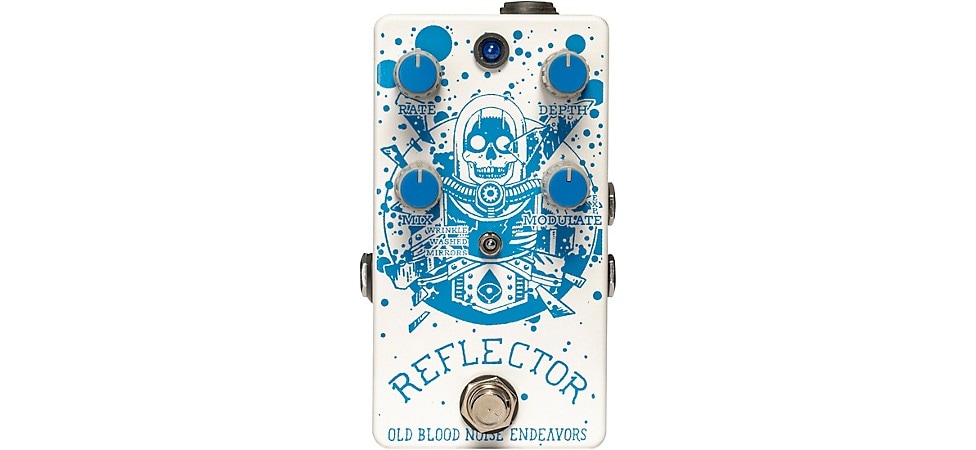 Pictured: Old Blood Noise Reflector Chorus Pedal
The Reflector features three modes: Wrinkle, Washed and Mirrors. Wrinkle leans heavily on a vibrato vibe and allows pitch control through the modulate knob. Washed is a classic, lush chorus with pre-effect reverb (also controlled with modulate knob), and Mirrors is a delightful mashup of chorus and flanger. It's difficult to put into words the breadth of weirdness accessible with this pedal. We highly recommend giving it a test drive.
Electro-Harmonix Eddy
Electro-Harmonix makes another appearance on our best-of list with the Electro-Harmonix Eddy Analog Vibrato & Chorus. While the Small Clone captures vintage goodness, the Eddy takes a more modern approach with more detailed effects control and rich, all-analog chorus and vibrato in one pedal.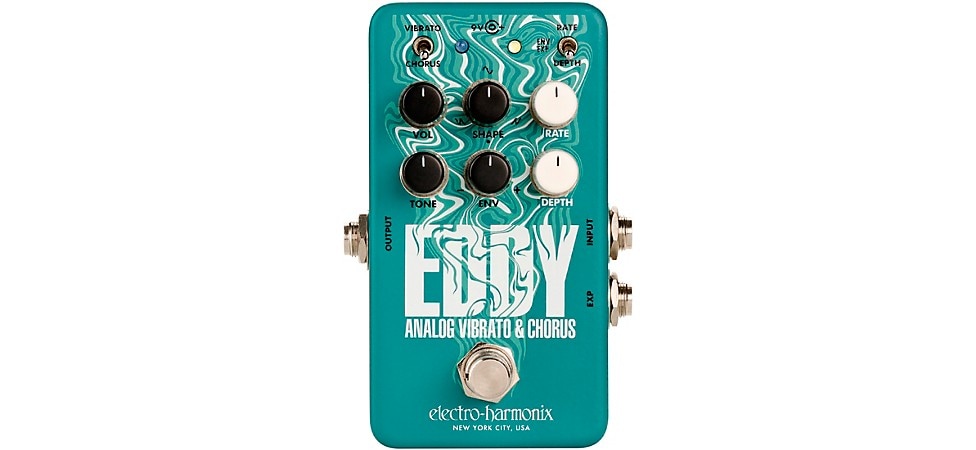 Pictured: Electro-Harmonix Eddy Analog Vibrato & Chorus/a>
One of the most notable features on the Eddy is the shape knob that allows you to fine-tune your waveforms subtly and incrementally from gentle to jagged. You can also dial in how much your playing dynamics affect either the rate or depth of your effect, or you can connect an expression pedal to control it on the fly.
BOSS CE-5
BOSS originated the chorus pedal and created the industry standard—but they've never been ones to rest on their laurels. Originally introduced as an analog pedal in 1991, the BOSS CE-5 Chorus Ensemble Pedal went all-digital in 2001. It's the next step in the natural evolution of the storied CE line, with low and high filter controls for more detailed tone-shaping control, and both stereo and mono outputs.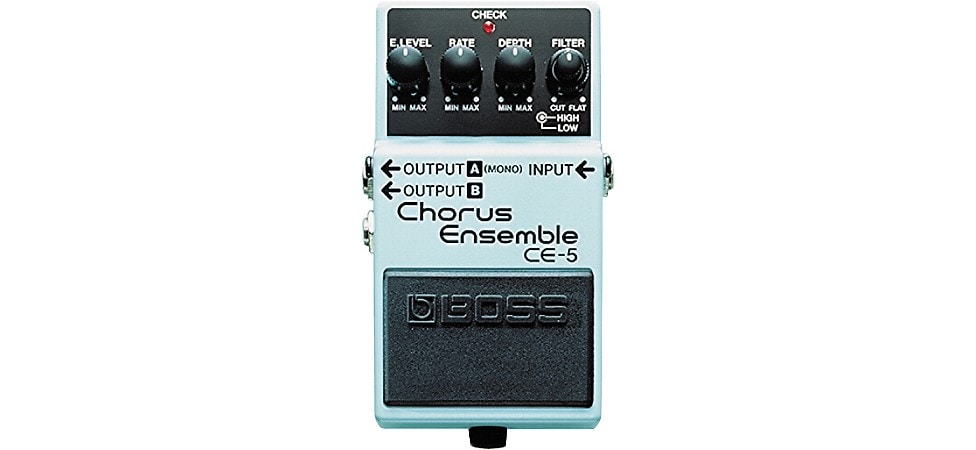 Pictured: Boss CE-5 Chorus Ensemble Pedal
The CE-5 carries all the luscious chorus sounds that make the CE line so special, including a vibrato reminiscent of the CE-1 when you crank that rate knob all the way open.
JHS 3 Series Chorus
The JHS Pedals 3 Series Chorus is the ultimate in elegant minimalism and no-nonsense operation. With three knobs and a vibrato switch, this pedal is as straightforward as they come. But don't confuse simplicity with limitations—this pedal's range is deceptively wide.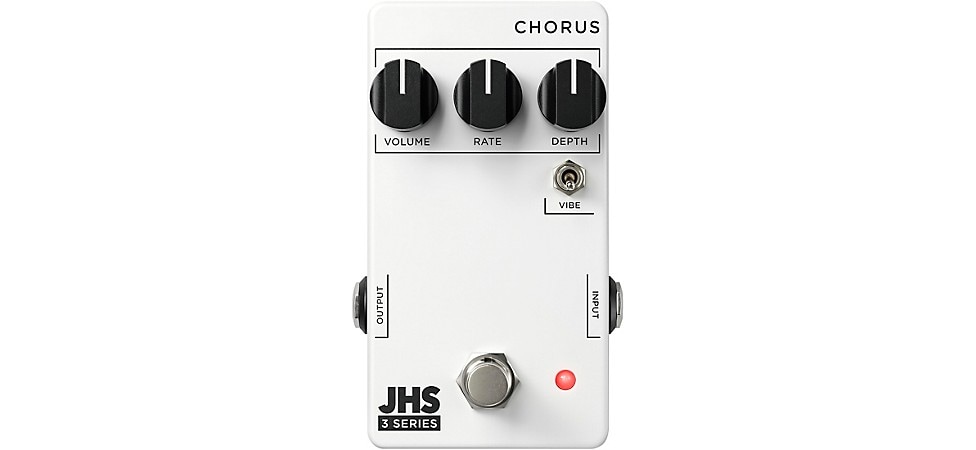 Pictured: JHS Pedals 3-Series Chorus
We love the vibe switch on this pedal, which removes your dry signal, leaving you with a beautiful pitch-shifting vibrato.The JHS 3 Series are designed to sound amazing while staying simple and affordable, and they're made in the U.S.A.—right in the JHS Kansas City facility.
Keeley Seafoam Plus
At the opposite end of the spectrum is the maximalist Keeley Seafoam Plus Chorus, a deceptively versatile pedal. It's hard to know where to begin with this box, because it does so much. It features internal switching for vintage and modern voicing, as well as guitar- and bass-specific voicing options. Oh, and it works as a flanger and a tremolo, too.
Pictured:  Keeley Seafoam Plus Chorus
The Keeley Seafoam has three modes: ADT, Seafoam and Dual Chorus. ADT is based on the automatic doubler Keeley created for the 30ms Double Tracker. It adds two voices at different pitches for a rich, wide chorus. Seafoam is classic chorus reminiscent of our bucket brigade favorites. Dual Chorus allows you to adjust the depth of the chorus effect independently for high and low tone ranges. There's so much happening in this pedal, and we've barely scratched the surface. Definitely head down to a GC and give this one a spin.
Source Audio Gemini
Finally, the Source Audio One Series Gemini Chorus Guitar Pedal creates some of the creamiest, smoothest chorus sounds you're likely to find this side of the 1970s. It features three distinct chorus effects. Classic provides a single-voiced chorus reminiscent of the pioneering early pedals, while Quad Chorus has the gloss of 1980s rack units. Dual Chorus adds a second voice for a slightly more modern doubling effect.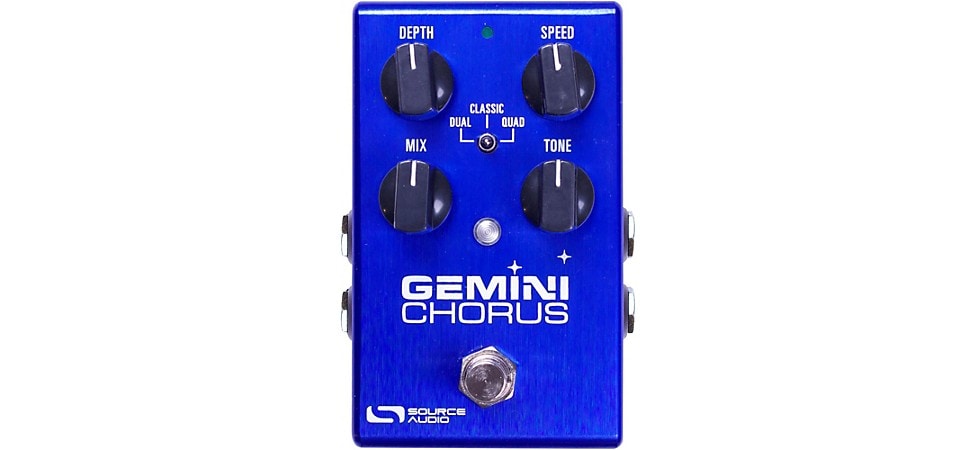 Pictured:  Source Audio One Series Gemini Chorus
The Gemini is compatible with the Source Audio Neuro App, which can plug phaser and flanger algorithms into your pedal, as well as providing a huge array of tonal and effect controls.
In Closing
Each pedal is as unique as the player who uses it. All of the chorus stompboxes in our list have their own personal vibe and versatility. Just like with overdrive and distortion, there's certainly no rule about limiting yourself to just one chorus pedal. Get down to your local Guitar Center and try out a few of these. You'll be surprised just how many different sounds you can get, and how gorgeous they sound in person.
Don't forget to check out our other handy pedal guides—especially on setting up your pedal signal chain and powering your pedalboard. And, if you have your heart set on a CE-1 or an original CE-2, we're always adding to our collection of vintage gear. We also have an ever-changing inventory of used pedals, which can be a great place to find something you want to test, mod or stick right onto your pedalboard.