Whether you're recording guitar or looking at building a setup for live gigs, multi-effects pedals like the Line 6 Helix and Pod, BOSS GT or HeadRush Gigboard seem to be taking over the world. From a versatile way to add a huge variety of effects to being a complete signal chain replacement or the ultimate silent practice rig, we at Guitar Center are going to provide a look at the best choices for amp modelers and multi-effects (or multi-FX) rigs you can find today.
Table of Contents
What Is a Multi-Effects Pedal?
Why Choose One?
Leading Brands of Multi-Effects
Line 6 Helix—A True Game Changer
Zoom G1X Four—A Great Starting Place
BOSS GT-1000—Built for Combat
BOSS GT-1000CORE—Compact Power
Zoom G3Xn—Big Tone on a Budget
Line 6 POD Go Wireless—Freedom to Roam
BOSS ME-80—Traditional Tweakers' Delight
HeadRush Gigboard—Ready to Play
Line 6 HX Stomp/Stomp XL
In Summary
What Is a Multi-Effects Pedal?
Let's start off by defining terms. What we'll be looking at here are floor units that combine stompbox-style functionality and extraordinary flexibility. All of the units we'll be talking about have amp and cabinet modeling capability as well as a huge selection of both vintage and modern effects. So, whether you're looking to dial in some seriously modern metal, create an ambient sonic landscape or duplicate a classic signal chain for any musical style, these units will have you covered.
Why Choose One?
The first question you might ask is, "Why should I go for a multi-effects pedal rather than set up a pedalboard with selection of standard pedal effects?" There are a number of good reasons why. First, to fit all of the effects available in a multi-effects unit, you'd need a pedalboard too big and too heavy to be practical. Second, the preset function means that it's easy to turn on and off multiple effects at once, and have radically different effects chains available in the same preset. Third, is routing flexibility—many of the systems we'll look at have programmable signal routing. So, for example, your delay can be run in series in one instance and parallel in another. This also makes it possible to totally change effects order when you want, say, chorused distortion rather than distorted chorus, something that requires duplicate pedals on a physical pedalboard. So, there's a lot to be gained by going with a great multi-effects setup.
Leading Brands of Multi-Effects
Multi-effects units have a longer history than you might think. Early attempts were made in the 1960s at combining a more than one effect in a single pedal, resulting in units like the Foxx Fuzz Wah. A unique model was the strangely compelling, Tom Oberheim-designed Maestro USS-1. This might qualify as the first guitar synth, combining sub-octave, fuzz, phase shifting and an envelope filter to create synth-like textures.
Manufacturers have been working at getting all the sounds you desire stuffed into a single box for over 50 years. Today's all-in-one pedals that combine virtual stompboxes with amp and cabinet modeling are the legacy of a handful of companies that kicked it all off over 25 years ago—BOSS, KORG, Line 6 and Zoom. Today's best multi-effects pedals are more powerful and versatile than ever.
Line 6 Helix—A True Game Changer
A flagship pedal that was heralded as a game changer when it was released in 2016 is the Line 6 Helix. This top-of-the-line multi-effects unit has all the connectivity and power needed to make it a star both onstage and in the studio. With over 200 amps, cabs and effects, and 16 different virtual microphones, there's enough here to sculpt great tones for any style of music. Dual SHARC DSP chips mean enough raw processing power available that, along with Line 6's clever dynamic DSP coding, it's hard to run up against the limits of what's possible. In addition, there's a mind-boggling range of connectivity. This includes 1/4" analog, balanced TRS, XLR, and full digital I/O, no fewer than four effects loops, plugs for two additional expression pedals and the ability to switch channels on most amps that use a TRS footswitch. It's obvious that the Helix was designed to slot into any playing environment. For recording applications, there's also an 8-in/8-out USB audio interface.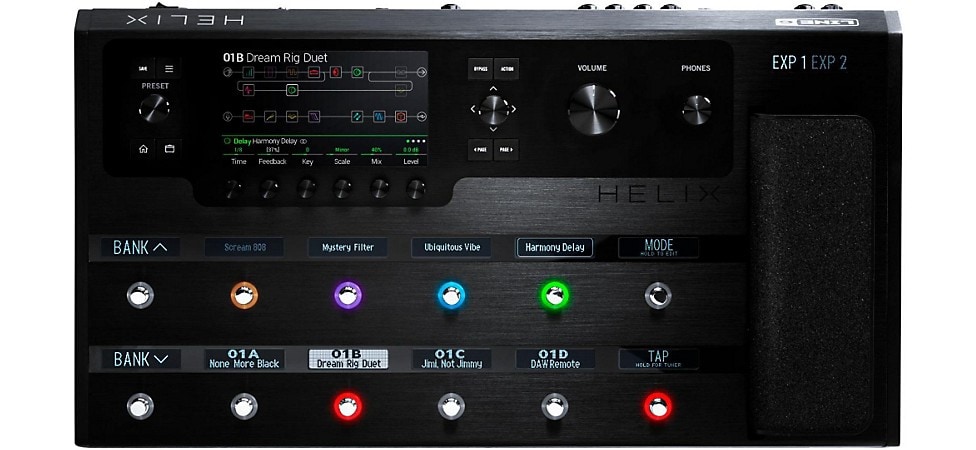 Pictured: Line 6 Helix Multi-Effects Guitar Pedal 
One of the Helix's most powerful features is the ability to do complex signal routing. This flexibility enables you to craft presets for virtually any application. It's incredibly liberating to use your Helix as a replacement for your entire signal chain for the ultimate, portable silent-stage rig. You can use it as an amazingly versatile pedalboard to run in front of your amp. Another option is the popular 4-cable setup, where the Helix runs simultaneously in front of your amp and in its effects loop at the same time for truly mind-boggling versatility.
The free HX Edit software enables you to load in third party IR cabinets, if you want to expand beyond the excellent included cabinets. It also allows you to freely edit existing presets or design new ones.
Even though the original release of the Helix may date to 2016, Line 6 has stayed on top of pushing out software updates. These updates refine existing features and add powerful new ones, effectively making for a new rig every time. At this point, Line 6 shows no sign of stopping yet. So, there's no fear of your Helix not keeping up with the times.
Zoom G1X Four—A Great Starting Place
The Zoom G1X Four packs plenty of power into a super-compact, affordable unit. It's a great starting point for players just starting to explore the world of effects in general to learn which effects work best for them. It's also great for anyone beginning to dip their toes into multi-effects pedals. Loaded with 13 amps and cabs, and more than 70 effects, there's plenty of variety here. An assignable expression pedal adds lots to the capability too, whether for wah or volume control or fluidly changing tremolo speed or modulation rates.
Pictured: Zoom G1X FOUR Guitar Multi-Effects Processor 
One big advantage of the G1X Four is the comparatively tiny footprint. It's small enough to slip into an existing pedalboard to supplement your existing setup. But it comes into its own running as a stand-alone unit where you can take advantage of amp, cabinet and mic modeling.
Another advantage is the ability for the Zoom G1X to run on batteries, whether four AA cells or via a USB power bank. This makes it an ideal practice headphone amp that can go anywhere with you. For practice, you've also got an 1/8" AUX input for playing along to your mobile devices, and 68 built-in drum patterns you can practice with.
There's sufficient DSP power to run up to five effects simultaneously, and Zoom's Guitar Lab software makes creating and editing presets smooth and simple. For less than the cost of many popular single-effect pedals, there's a lot of power available here.
BOSS GT-1000—Built for Combat
The BOSS GT-1000 Multi-Effects Guitar Pedal puts their AIRD technology at your feet with their flagship pedal. This evolution of the Tube Logic technology developed for other BOSS products makes for enhanced sonics and realism. Combined with the GT-1000's 32-bit converters and 32-bit/96kHz internal processing makes for a new level of seamless sound.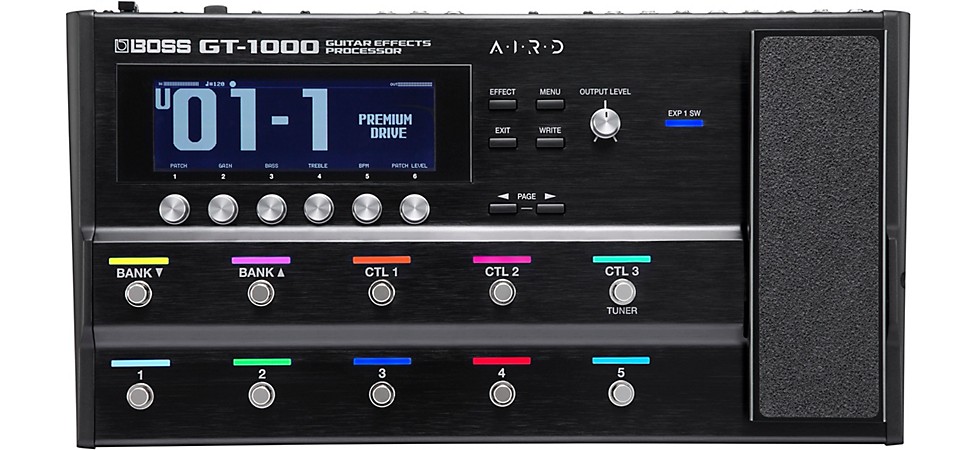 Pictured: Boss GT-1000 Multi-Effects Guitar Pedal 
Along with BOSS' traditional built-like-a-tank construction, a standout feature is the GT-1000's Bluetooth connectivity. This gives the ability for quick tweaks direct from your phone or tablet, saving time and hassle both live or in the studio. The built-in USB audio interface is also a big plus when you're tracking guitars in your home studio.
The BOSS GT-1000 is a superb choice if you are all about building complex effects chains. With up to 24 simultaneous effects available, the depth of musical texture that's on call here is simply astounding. Using the BOSS Amp Studio app, which is available on your desktop and mobile iOS/Android device, it's easy to build your ultimate effects chain. You can even make easy edits on the gig if something needs a small tweak, via the GT's Bluetooth connection.
Customizable signal chain and routing keep it flexible, with a pair of effect loops to bring in outside processing. Or you can use the four-cable method of connecting to an amp so that the GT-1000's effects can be split between the front of your amp and later in your signal flow.
The GT-1000 sits in a comfortable price vs. features spot, with great sound and backed by BOSS' reputation for reliable gear. If you're looking for a multi-effects pedal that's a solid signal chain replacement, this should be near the top of your list.
BOSS GT-1000CORE—Compact Power
In 2020, BOSS released the GT-1000CORE, which packs the internal feature set of the full GT-1000 into a package that's 20% of the size. This makes it ideal for incorporating in your current pedalboard or with an existing MIDI controller.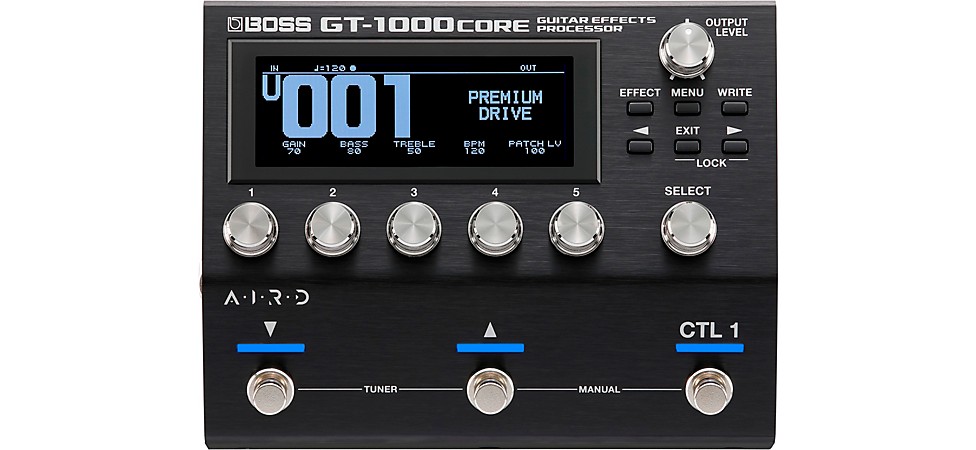 Pictured: Boss GT-1000CORE Multi-Effects Processor 
Much of what we called out above for the GT-1000 applies here. The big difference is the conveniently compact package. The CORE has the same amount of power, but only three of the multi-color LED footswitches. It has the same dual effects loops for incorporating into your existing board, running four-cable method or for separate direct outs.
If you've got a pedalboard that you're happy with, but want some seriously expanded capability, plus the ability to turn your board into a conveniently portable "silent-stage" setup, the GT-1000CORE may be just the thing.
Zoom G3Xn—Big Tone on a Budget
Compact, but powerful, the Zoom G3Xn is a great multi-effects processor choice for guitarists on a budget who don't need advanced connection options. Like a big brother to the G1X-4 we touched on above, this pedal expands on the previously mentioned feature set with up to seven effects at a time, in any order, and up to 80 seconds of available looping time.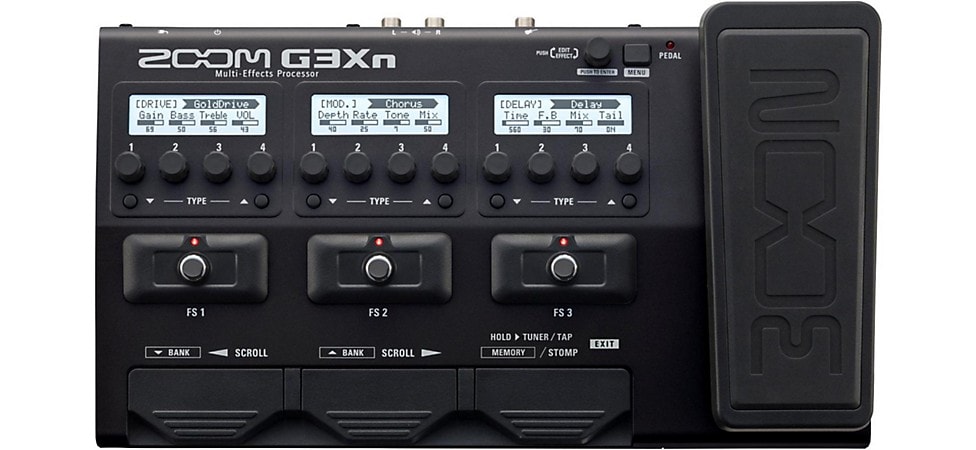 Pictured: Zoom G3Xn Multi-Effects Processor 
As a practice unit, the G3Xn really shines, with 68 built-in drum patterns and an 1/8" stereo AUX in for feeding in tracks from your phone, tablet or media player. The interface is more knob-based than most of the other multi-effects pedals we're talking about here. If you're used to tweaking solely with knobs, that can be a big advantage when you need to make a small change quickly. The G3Xn is also compatible with the same Guitar Lab software as the G1X-4, so you can also do some very detailed tweaking of your sound parameters and create optional presets and tone banks that can easily be swapped in and out as needed.
Line 6 POD Go Wireless—Freedom to Roam
The original Line 6 POD caused a major change in how many guitarists got their tone both live and in the recording studio. The latest development in the continuing evolution of the POD family is the POD Go Wireless. Combining HX (think Helix) family sounds with the proven form factor and ease of use of the POD floor units in the POD Go was brilliant. Building wireless capability into that package is a stroke of genius.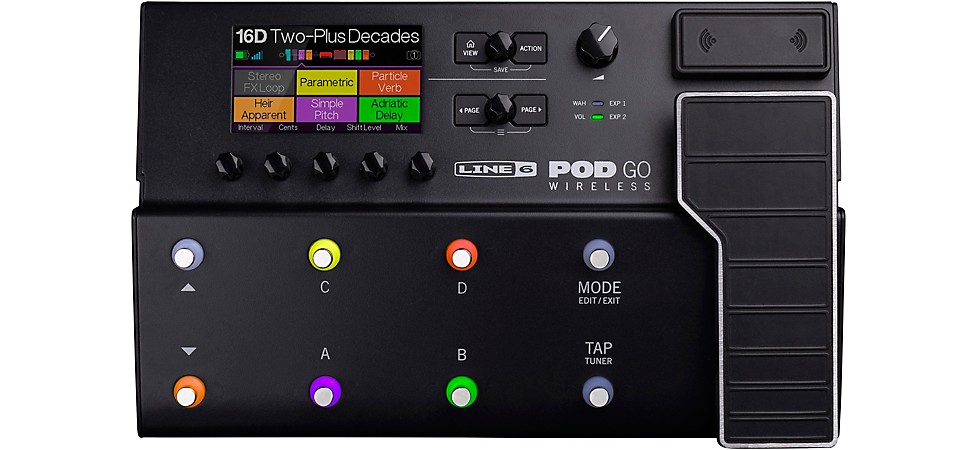 Pictured: Line 6 POD Go Wireless Guitar Multi-Effects Processor 
The big news here is the well-thought-out incorporation of Line 6's digital wireless technology into the form of a Relay G10 system. There's even a convenient docking/charging port on the back of the POD Go Wireless unit. With up to 125 feet of line-of-sight range and a pristine, uncompressed digital signal, you can roam at will while tossing out your juiciest licks.
The POD Go Wireless also incorporates a 4x4 USB audio interface, a stereo effects loop that doubles as an AUX in, a dedicated amp out and balanced TRS outputs for feeding a live-sound or recording mixer. Add in the easy software editing, and it's a great way to dive into the world of Line 6's HX technology.
BOSS ME-80—Traditional Tweakers' Delight
Many guitarists who grew up with the traditional stompbox interface love the tactile feel and instant response of knobs. For these players, the BOSS ME-80 is a great solution. Bypassing the graphic display of many multi-effects pedals, the ME-80 has a simple display and enough knobs to make any tone tweaker happy.
Pictured: Boss ME-80 Guitar Multi-Effects Pedal 
A big advantage of this choice is that creating and editing sounds is very much like using a traditional pedalboard. Choose an effect to edit, and you don't have to search for a parameter—the knobs are right there. And, not only are many of the effects modeled on classic BOSS stompboxes, but the amps and cabs use the COSM modeling technology BOSS built a reputation on.
The ME-80 is also a great deal, as you're not paying for a big color display. This means that the bang-for-the-buck factor is huge when it comes to DSP power. If you're more of a traditionalist when it comes to effects, but want the convenience of an all-in-one unit with expanded sonic capability, this one should be near the top of your list.
HeadRush Gigboard—Ready to Play
HeadRush may be a relative newcomer to the world of multi-effects pedals, but they started off with a bang. Their original HeadRush pedalboard was based on the technology of the well-respected Digidesign 11 (as in, "It goes to … ") rackmount effects unit. Here, we're looking at the HeadRush Gigboard, which takes that technology and repackages it in a compact form factor that's an ideal pedalboard partner. It's equally at home as a full signal chain replacement, too.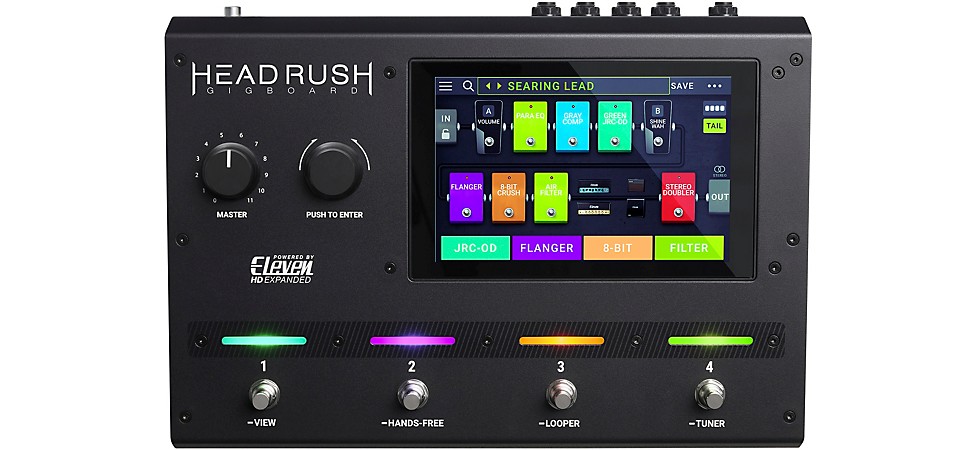 Pictured: HeadRush Gigboard Multi-Effects Processor Pedal 
One of the big pluses of the HeadRush Gigboard is the color touchscreen interface. This makes for quick, convenient edits when you need them, and an easy, visual look at how your signal chain is organized. 11 total effects slots offer plenty of flexibility, as does the capability to load third-party IRs if you've got favorites. Another feature is gapless preset switching, seamlessly carrying over delay and reverb decays, for smoother transitions.
Another very gig-friendly feature is the ability to save all your virtual rigs in playlists, so it's super easy to load up for a gig and just step through your set without hunting for the next preset. Speaking of gigs, the Gigboard has a really solid steel chassis, so it'll stand up to the trials and tribulations of touring, or just getting stepped on by your drummer in the rehearsal room.
Line 6 HX Stomp/Stomp XL
The Line 6 Helix has generally been the target to shoot for many guitarist, thanks largely to the HX technology Line 6 has developed. If you're one of those who've been craving that Helix goodness but have been precluded by budget, the Line 6 HX Stomp and HX Stomp XL may be just what you've been looking for.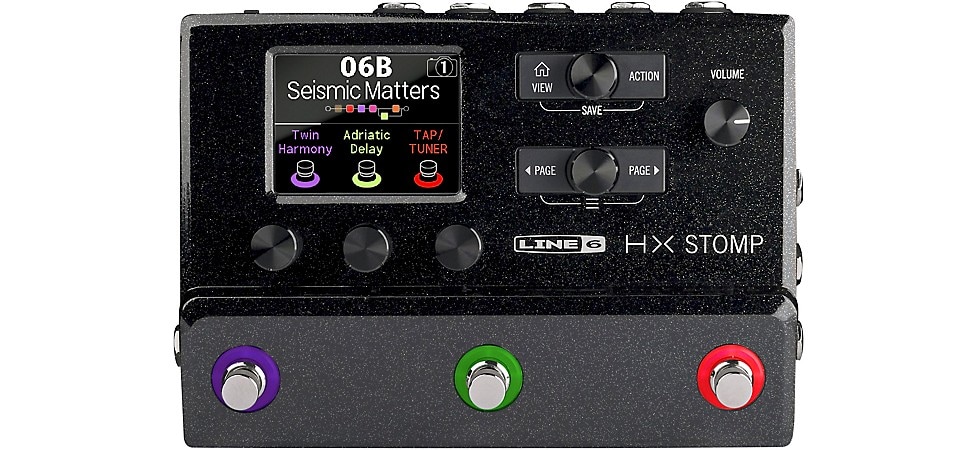 Pictured: Line 6 HX Stomp Multi-Effects Processor Pedal 
The HX Stomp is the most compact way to dive into the HX world. This gig-bag-pocket-sized unit contains the same effects, amp and cabinet models as Helix, but with a limit of 6 effects blocks at once, as compared to the 32 blocks at once in the flagship unit. You're not shorted on I/O options here, with stereo 1/4" in and out, stereo effects loop, USB audio and control, MIDI I/O and jacks for expression pedals and extra footswitches.
The HX Stomp XL adds five extra footswitches, three more effects blocks, some presets for bass and direct access to the six-switch looper. Both units are supported by the HX Edit software for seriously deep editing of all available settings. Either one is a great entry into the world of HX tones.
In Summary
There's never been a better range of great-sounding multi-effects pedals available to guitarists than there are today. We can't call any individual unit "best," because that's always a slippery concept that varies from player to player. We're certain, though, that in the pedals we've presented here, you'll find one that will fit solidly into your sonic world.