When it comes to adding space, texture and movement to your sound, the phaser pedal is maybe the most versatile, and most underutilized, stompbox in history. There's a reason players from Ernie Isley and St. Vincent to Billy Corgan and Chris Stapleton have incorporated that deliciously sweeping, harmonic-rich sound into their rigs, and today we're going to break down the nine best phaser pedals you can get your hands (or feet) on.
How a Phaser Pedal Works
So, what is a phaser/phase shifter? At a high level, a phaser uses filters to create a series of peaks and valleys that sweep throughout the frequency spectrum of your signal. To do this, the effect creates a copy of your input signal (say, the output of guitar or electric piano) and passes it through a series of all-pass (full-bandwidth) filters, from as few as four to as many as 32, which alter the phase of different sections of the frequency spectrum. These filters are implemented in pairs, and each pair of filters is referred to as a filter stage. Each filter stage creates one movable frequency notch, so the more stages, the richer and more complex the final sound can be. An LFO (low-frequency oscillator) then modulates the center frequencies of these all-pass filters, moving them up and down. When this is mixed back in with the original unprocessed signal, it results in a moving, swooshing sound that can shift from a long, slow roll back and forth to a psychedelic high-speed wobble, depending on how you adjust its rate and depth, and how many filter stages you have available.
In addition, phasers with a Rate knob allow you to control the speed the LFO runs at, while controls labeled as Depth, Width or Sweep typically adjust the frequency range that the filters operate across.
So, whether you're looking for a reissue of a bona fide classic, a boutique build, or just a solid, inexpensive phaser pedal, we have something here for you to inject some tone-thickening muscle to your sound.
Our Top Phaser Pedal Picks
MXR Phase 95
In 1974, MXR released its very first product, the Phase 90. This pedal helped put both MXR and phaser pedals on the map with its beautifully streamlined and minimalist box. It's a 4-stage phaser, meaning that the treated signal runs through four pairs of all-pass filters, creating four notches or phase cancellation moments.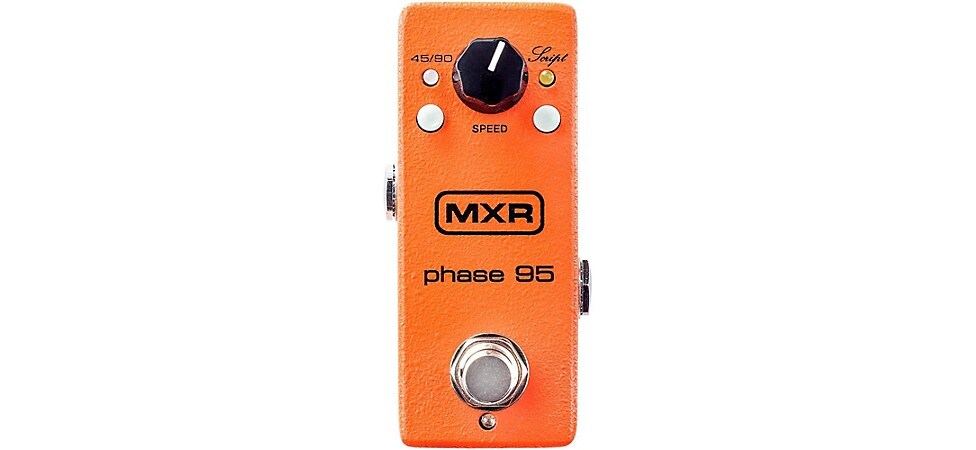 Pictured: MXR M290 Mini Phase 95 Phaser
The Phase 90 was the favored box of Eddie Van Halen, and it has gone on to be one of the most revered phaser pedals on the planet. A quick listen to "Eruption" or "Atomic Punk" will give you a great primer in MXR's phaser style, notable for incredible width and texture.
In 1974 MXR released the Phase 45, the much-loved mellow little sibling to the bold 90. Part of the Phase 90 and 45's beauty was their simple operation. They had only one knob for speed to control the rate of your oscillation. In the quest for more flexibility, in 1975 MXR released the Phase 100, which featured four different phase intensities with wider sweep and notch depth. Keith Richards used a Phase 100 on "Shattered," and Mick Jones of the Clash favored both 90s and 100s.
With the compact and versatile Phase 95, MXR takes the phaser game to a new level. Not only can you toggle between Phase 45 and Phase 90 circuits, getting the best of both worlds, but MXR's awesome Script switch lets you remove feedback for more headroom and clarity as well, allowing you to toggle between vintage- and modern-style phasing. Perfect for the phaser pedal newcomer and veteran alike, this puppy takes up very little space and produces massive, versatile results.
Electro-Harmonix Small Stone
Remember when we said the Phase 90 was one of the most revered phaser pedals on the planet? Here's another one. The Electro-Harmonix Small Stone premiered in 1974, not long after the Phase 90. The original was also a 4-stage phaser, and featured a popular Color switch that widened the sweep and punched up the feedback, making the effect more pronounced and intense, sounding a lot like a wah pedal rocking back and forth from wide open to closed.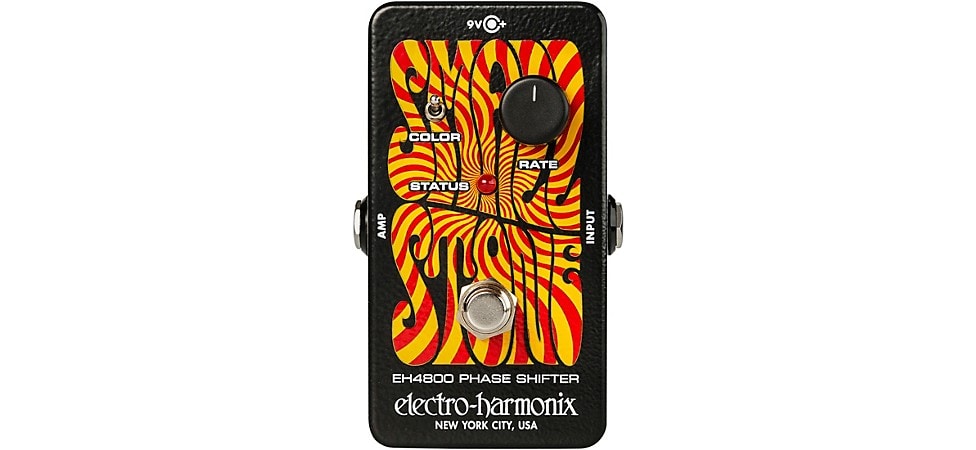 Pictured: Electro-Harmonix Nano Small Stone Phase Shifter
Don't let the wah reference fool you into thinking this is a genre-specific pedal, though. The Small Stone has long been a favorite of artists like Radiohead and Tame Impala for its ability to paint a lush texture over any instrument and to provide movement that can effortlessly shift from drowsy to psychedelic.
The Nano Small Stone delivers all the swooping goodness of the original, but in a tiny footprint. You can use it to capture the mellow rotary feel of Chris Stapleton's "Hard Livin" or its inspiration, Waylon Jennings' "Are You Sure Hank Done It This Way." Or, ramp it up to the luscious sweep of Tame Impala's "Solitude Is Bliss" with a simple twist of the rate knob and flip of the color switch.
Warm Audio Jet Phaser
In 1975, Roland released the Jet Phaser, a bold step forward in phaser technology. Thanks to its distorted and powerful Jet setting, this pedal pumped out a huge and amazing sound worthy of its name. This is the pedal heard on Graham Central Station, Isley Brothers and Sly and the Family Stone hits. Its popularity was due not only to the massive Jet settings, but also to its subtle musicality thanks to how gradually the phaser speed changed when you hit the fast/slow switch—it can take you into Leslie rotary speaker territory in seconds.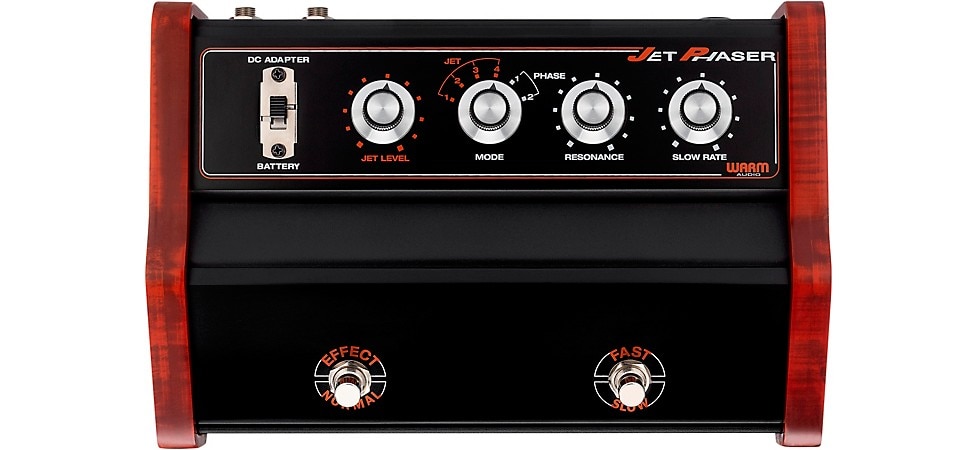 Pictured: Warm Audio Jet Phaser
Warm Audio's Jet Phaser captures that power and subtlety, with four Jet settings to select combinations of bright or dark fuzz with shallow or deep phasing. Choose a setting and play with the Resonance control for sci-fi sounds worthy of Blade Runner. Warm Audio also points out that continuously switching between the fast and slow modes, like an organ player, lets you hit a delicious in-between sweet spot. As Larry Graham proved in the 1970s, the Jet Phaser sounds amazing on bass, too. In fact, you could put this on pretty much anything and achieve some gorgeous effects that alternate swiftly from sweet to aggressive.
Walrus Audio Lillian
Walrus Audio treats us to a decidedly modern take on the phaser effect with the Lillian. Select between tight 4-stage and expansive 6-stage phasing with the flip of a switch—both settings provide luxurious, warm analog wooziness. Hold down the footswitch and you get the effect momentarily for those big chorus intros and solos.
Pictured: Walrus Audio Lillian Analog Phaser
Walrus Audio engineers also took a cue from their popular Julia chorus/vibrato pedal and fitted the Lillian with a D-P-V knob that allows you to dial in a mix of dry, phaser and vibrato signals. Set the dial to noon and you get an even mix of dry and phased signals. Crank it to 10 and you get a warbly, pitch-shifted vibrato that sounds like an unpredictable reel-to-reel player, or the moment in Fear & Loathing in Las Vegas when the drugs kick in. In short, it's trippy.
EarthQuaker Devices Grand Orbiter
One of the most advanced analog phasers out there, the Grand Orbiter from EarthQuaker Devices packs an incredible range of sonic possibilities into one handsome red box. On the surface, it's a 4-stage phaser using operational transconductance amplifiers (OTA) like the original Small Stone. The sound that produces by itself would make this a solid entry on our list.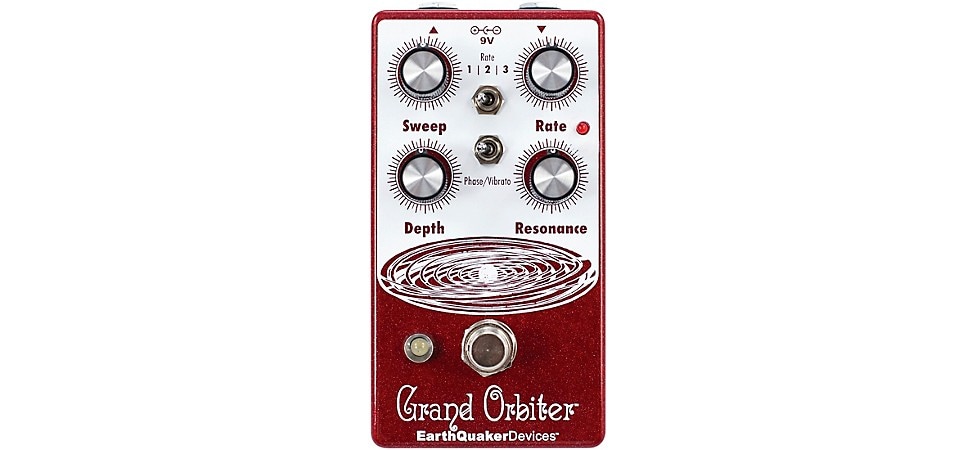 Pictured: Earthquaker Devices Grand Orbiter V3
But EarthQuaker didn't stop there. They added a toggle switch with three modulation rates: Rate 1 is a slow sweep, and Rate 3 is fast—it's Rate 2 that changes the game. This mode kills the LFO entirely, turning your swirly phaser into a fixed resonant filter, delivering an effect that calls to mind the intro to Pete Townshend's "Let My Love Open the Door."
If that wasn't enough, like the Lillian, the Grand Orbiter is also switchable between phase and vibrato, effectively making it two pedals in one. Finally, it could be easy to overlook that slow sweeping Rate 1 setting, but if you let the effect run over time, it builds upon itself to become warmer, darker and thicker for a kind of velvety texture over your tone.
BOSS PH-3
BOSS entered the phaser market with their very first pedal releases in 1977, introducing the PH-1, a 4-stage phaser with Rate and Depth controls. It soon evolved into the PH-1R with an added Resonance control. This was followed by the PH-2 Super Phaser with added functionality.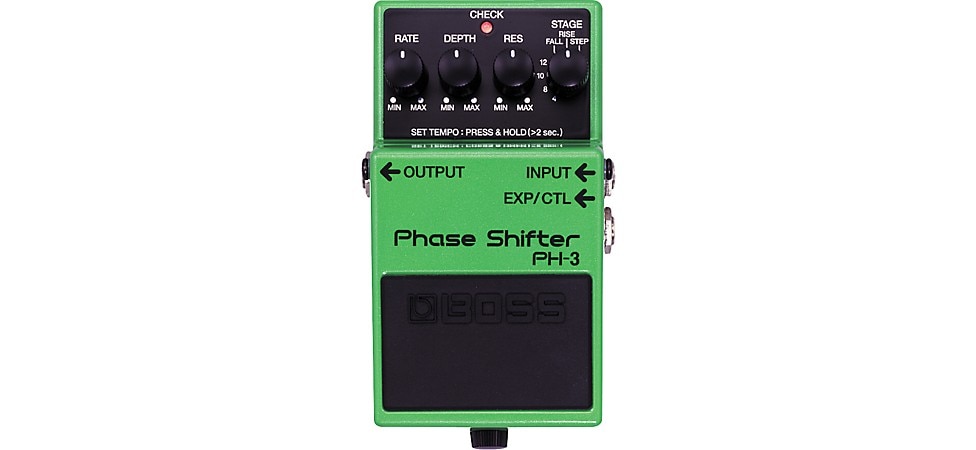 Pictured: BOSS PH-3 Phase Shifter
The PH-3 Phase Shifter, which debuted in 2000, is the digital descendant of the analog BOSS phasers, and there's a good reason it's been around for two decades. It's the phaser equivalent of a Swiss Army knife, capable of providing nearly every phaser choice imaginable in one box. It has selectable 4-, 8-, 10- and 12-stage phasers, which alone would make it a coveted pedal.
But BOSS kept going, adding tap-tempo phase syncing and two essentially infinite phaser modes called Rise and Fall, which produce entirely upward- or downward-moving phaser sounds. Plus, if you have an expression pedal, you can control your Rate through it in real time.
Fender Lost Highway Phaser
Our friends at Fender have been creating some exciting pedals the past few years, including the Bubbler that we picked as one of our Best Chorus Pedals of 2023. The incredibly flexible Lost Highway Phaser is built to impress. A quick glance tells you this pedal is different. It features two controls for rate and two controls for depth. This gives you the freedom to set two separate depths and rates, and then switch between them by tapping the fast/slow footswitch, essentially switching between two utterly different phase effects in one pedal with just one tap.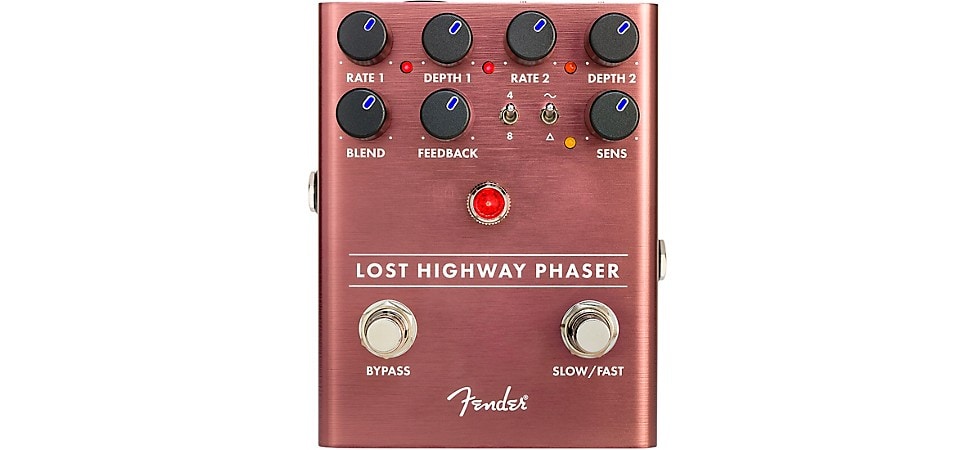 Pictured: Fender Lost Highway Phaser
In addition, the Blend control lets you adjust your dry/wet effect ratio, while Feedback control adjusts your sweep's resonance. It's switchable between 4 and 8 stages as well. Also, it lets you adjust between triangle and sine wave modulation. Without busting out the graphs, that basically means that triangle gives you a smooth sweep that is balanced, while the sine wave modulation is more pronounced and wobbly, spending more time at the notches and peaks of the sweep. Add to that a Dynamic Sensitivity knob that adjusts effect speed based on your playing dynamics, and you have a stellar pedal that could completely change your live game.
Source Audio One Series Lunar Phaser
To talk about the future of phaser pedals, we have to look deep into the past. In 1968, an engineer named Fumio Mieda designed a pedal for Shin-Ei called the Uni-Vibe. He was trying to design an effects pedal for organs that would simulate a rotary cabinet. Although it was considered a chorus/vibrato pedal, it was essentially the first phaser pedal—the one that Jimi Hendrix, Jimmy Page and David Gilmour used to great effect.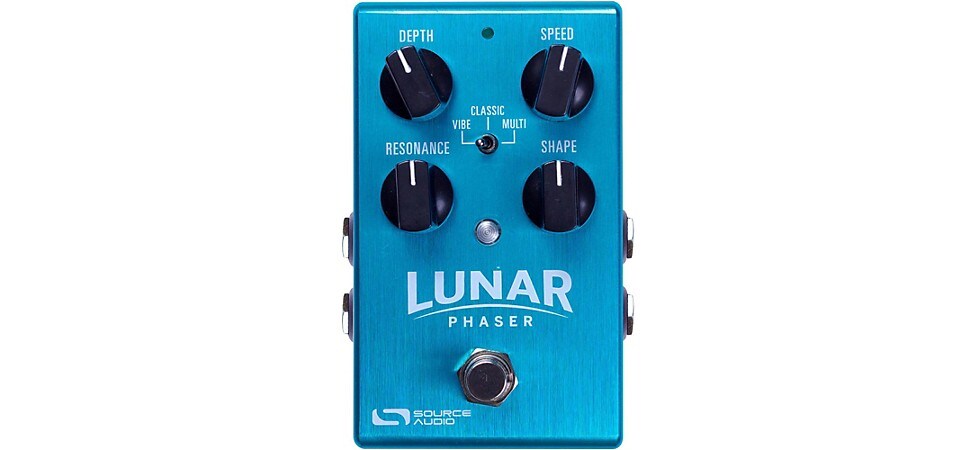 Pictured: Source Audio One Series Lunar Phaser
Why are we mentioning this pioneering pedal now? Because the Lunar Phaser by Source Audio features an accurate Vibe mode based on the Uni-Vibe. The best part is, that's not even the most impressive feature on this little digital wonder. It also features a Classic mode that emulates a 4-stage analog phaser, and Multi-mode with two 4-stage phasers running at once … and it's all true stereo for an even wider, more expansive swirling effect.
With the Neuro mobile app, you can upload chorus and flanger effects to the pedal, and access MIDI control and deep, detailed effect editing right on your phone or tablet.
Old Blood Noise Endeavors Dweller
We're rounding out our list of the best phaser pedals with the mind-boggling Dweller from our mad scientist friends at Old Blood Noise Endeavors. The Dweller isn't just a phaser pedal. It's a phase repeater. That's a phaser with built-in delay, but it's also way more than that.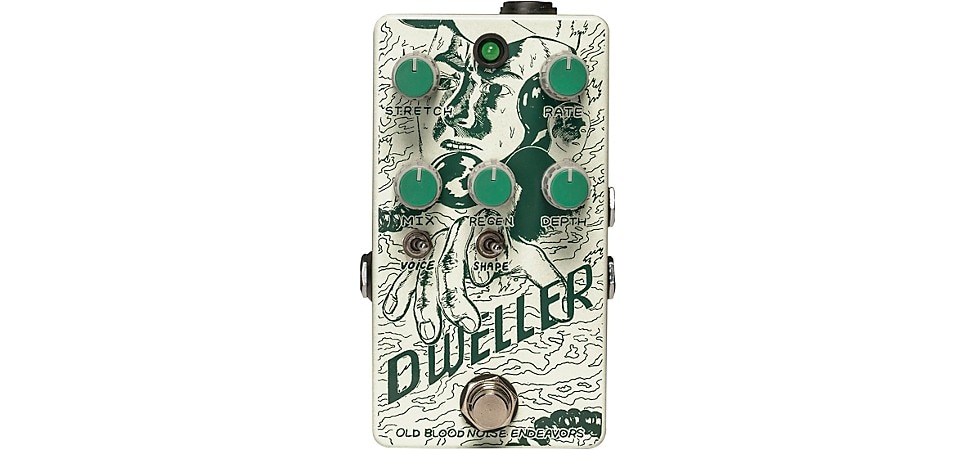 Pictured: Old Blood Noise Endeavors Dweller Phase Repeater
Begin with the Voice switch that lets you choose between 4- and 8-stage phasing, and then move to the Shape switch that toggles between sine, triangle and random step waves. Next, adjust the Depth knob between dry and wet phaser signals—the higher you go, the wobblier it gets. The Regen knob intensifies the resonance and phasing notches for a deeply pronounced and seasick swaying. Combine maxed Regen with Random shape and you get something like the Death Star trying to operate under water.
Now that you have your perfect phaser sound dialed in, have a go at that Stretch knob that controls the delay time within your phaser setting. The resulting sounds are impossible to adequately describe. Let's just say it sounds like what you'd hear if you recorded Radiohead, Bjork, St. Vincent and Brian Eno's lucid dreams and played them all back at the same time.
In Closing
The range of applications for the phaser is as big as your imagination. As the pedals in this article show, it's a critical element for a richly textured tone, no matter if it's for a rhythm guitar pad, a spacey solo or the drums on Zeppelin's "Kashmir." From the simplest one-knob analog box to digital wonders that blur the lines between effects, there's something out there to fit exactly what you hear in your head.
It's hard to know how much you want to invest in a phaser pedal until you've heard what they can do in real life. Head down to a Guitar Center and give a few a test drive. Also, we sometimes get in true vintage originals if an OG Phase 90, Small Stone or even Jet Phaser is calling your name.