Fender Tone Master Pro Multi-Effects Guitar Pedal Black
(12)
|
Q&A
|
Item #:

1500000407760
POS #:119300861
6-month special financing^ + $84 back in Rewards**
Learn More
Lease-To-Own Purchase Options
Learn more
Save on orders $499+ and get advice on amps and effects from a Gear Adviser
Need Help?
Fender Tone Master Pro | Demo and Overview with Nicholas Veinoglou
Exploring the Tone Master Pro | Fender
The Tone Master Pro | Fender
Tone Master Pro Unleashed: Mike Stringer | Fender

Description
The first Fender Tone Master amp was an all-tube, 100W head from the early 1990s, and it was a tone monster. When Fender brought back the name for a line of all-solid-state, DSP-driven amps in 2019, they were widely lauded for their ability to recreate classic Fender amplifier tones in an exceptional lightweight package. With the Fender Tone Master Pro multi-effects system, they bring together their very best Tone Master amp and effect models in a truly roadworthy floor unit packed with pro-level features delivering incredible versatility for the serious player and gigging guitarist.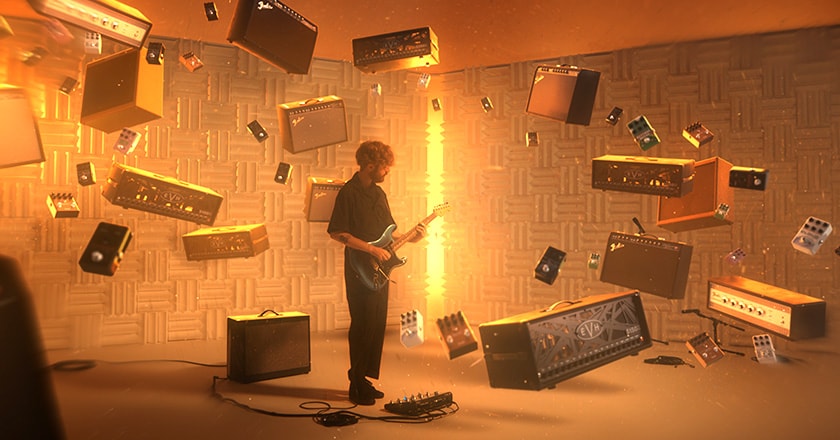 Amp Models From the People Who Made the Originals
Fender's proprietary Tone Master modeling technology does an incredible job of capturing the tone, nuance and feel of classic Fender tube amps, and is it any wonder—who would know them better? With over 100 of the most popular amps and effects, including the first-ever model of a 5150 Stealth that is officially licensed by EVH, plus many other classics, the Tone Master Pro puts all the tones that make electric guitar, well, totally electric, right at your feet.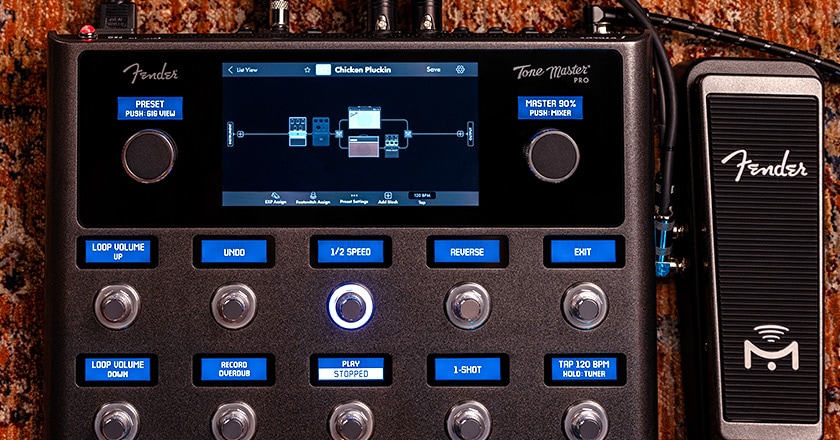 Massive IR Selection
With an immense assortment of available IRs (impulse response cabinet models), ranging from tiny to thumping, you'll always be able to find the cab to perfectly fit the tone you're craving. Add in the ability to load third-party IRs, and the level of customization extends to the limits of your creativity.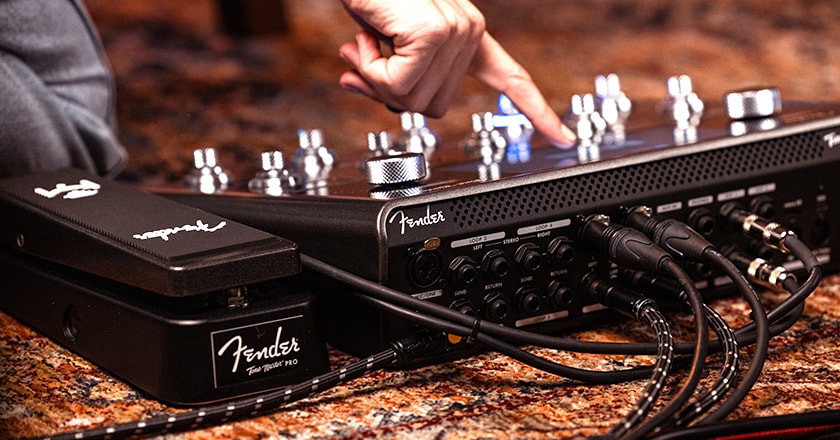 Studio or Stage—It's Ready!
The smart, versatile design of the Fender Tone Master Pro is at home in the recording studio, as much as it is on stage, thanks to plenty of forethought in the I/O design. Beside the configurable-impedance instrument input, there is a balanced Mic/Line combination jack, as well as a 3.5 mm (1/8") stereo AUX in. On the output side, there are two sets of stereo outputs, with both balanced XLR and 1/4" on Output 1 and 1/4" on Output 2, so you can send your signal to multiple destinations, like the optional powered Tone Master Pro cabinets and a direct feed to a mixing board at the same time. There are two available inputs for optional expression pedals, one of which supports a toe switch to access the internal wah models (or any other expression controllable effect you want to toggle on and off), plus a jack for controlling channel switching on most amps. And, if you've got a pedalboard loaded with boutique pedals that you just can't live without, there are not one, not two, but four available effects loops, with the ability to combine two of them for stereo effects. Need even more control? Standard five-pin MIDI jacks make it easy to expand to control, or be controlled, by other devices. So, no matter where you are, or what you need, you've got the connections available.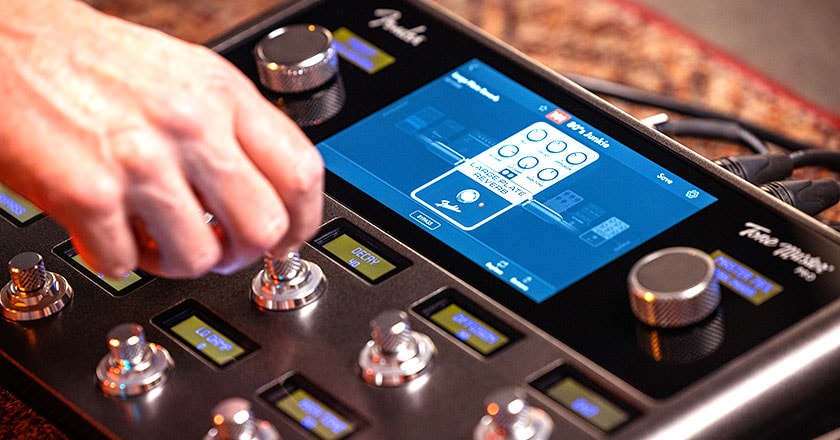 Simple, Smooth, Easy Editing
Whether you're in the studio, in the spotlight or just jamming with friends, easy access to tone tweaking is vitally important. Naturally, there's powerful, cross-platform editing software to tweak everything in depth and craft your own custom presets—perfect for those who enjoy digging into deep details. But the onboard interface is also designed for intuitive ease of use, for quick tweaks in the heat of musical battle. The large, full-color touchscreen combines with the footswitch/encoders to confidently make changes on the fly.
When it all comes down to it, though, it's all about the sound, and the Fender Tone Master Pro has that in spades—only to be expected, considering Fender's 75 years of experience creating the sound and feel that has been the DNA behind virtually every modern guitar amp.
Specs
General
Controls: Navigation Control, Master Volume Control, 10 Footswitch/Encoderswith LCD "Scribble Strips"
Connectivity: USB-C, Bluetooth
MIDI: Dual 5-pin DIN (in/out-through-merge)
Power requirements: 40W
Input voltage range: 100–220 VAC, 50/60Hz
Inputs
Microphone input: XLR female (combo), balanced; impedance: 1.8 kohms balanced; preamp maximum input level: 4.7V
Phantom power: +48 VDC (XLR only)
Instrument Input: 1/4"; impedance: 1 Mohms, 330 kohms, 22 kohms configurable unbalanced
Maximum level: 5.6V (2.8V with input pad off)
Line input: 1/4" TRS female (combo), balanced; maximum level: 7.8V balanced, 4.5V unbalanced; impedance: 1Mohm
AUX input: 3.5 mm stereo; impedance: 10 kohm; max input level: 2.4V
XLR and Line Outputs
XLR: XLR male, balanced (stereo pair); line outputs: 1/4" TRS female, balanced (stereo pairs output 1 and 2)
Output Max Level
Output 1: 12V (line) 3.9V (instrument), balanced; 6.1V (line) 2.8V (instrument), unbalanced; Output 2: 4.7V (line) 2.8V (instrument)
Output Impedance
Output 1 – 200 ohms (line) 290 ohms balanced, 400 ohms unbalanced (instrument); Output 2: 170 ohms
Other
Headphone output: 1/4" TRS stereo, unbalanced; maximum output: 110mW x2; impedance working range: 33 ohms x2 (16 ohms x2 minimum)
Digital audio bit depth: 32-bit
Supported sample rates: 48kHz internal (project sync 44.1/48/88.2/96kHz)
Digital audio frequency response: 20Hz–20kHz (+0.1/-0.7dB)
Effect loop (4 total): Mono loops (1 and 2) 1/4" unbalanced, mono loops (3 and 4) 1/4" TRS balanced (can be combined into stereo pair)
Impedance: 10 kohms
Other connections: 1/4" expression pedal 1 and 2, amp control
Power cable: IEC
Dimensions and Weight
Dimensions (HxWxD): 3.8" (96.4 mm) x 14.6" (37.1 cm) x 10.3" (26.16 cm)
Weight: 8.8 lb. (4 kg)