Every successful studio owner, from dedicated home recordist to full-blown commercial facility manager, looks toward refining their space and improving the quality of final deliverables, both for themselves and their clients. For many who are looking to up their game, a hardware-based vocal chain can offer huge improvements over a strictly software, "in-the-box" approach. In this article, we'll take a look at what the advantages of a hardware vocal chain are and how Guitar Center Professional can help you conceptualize and realize an ideal solution for your situation.
Vocal Chain Basics
Any recordist is familiar with the concept of a vocal chain, even if they've never used the term. Most modern DAW software has pre-cooked channel strips with presets like "Classic Rock Vocal" or "Smooth Background Vocal" already set up. A vocal chain is simply a path of signal processing designed to enhance and improve vocal recordings. Generally, it consists of your chosen microphone, then a mic preamp, a dynamics processor/compressor and an EQ. While modern DAWs and plug-ins can do a generally fine job handling these tasks, we'd like to talk about why you might want to up your studio's game by giving your clients the option of an analog hardware-based vocal chain. And, we'll discuss how we can help you decide if that's a good choice for you and your studio.
Why Hardware?
By this point, you may be thinking to yourself, "Why bother with hardware? I've got a great assortment of plug-ins that do all of that." It's a fair question to ask. Despite the presence of some amazingly accurate DSP models of iconic vintage and modern studio processors, though, there remain a number of solid reasons why you might want to use outboard gear, especially for vocals.
One reason is the ability of a hardware-based vocal chain to get a better signal to the DAW. Light compression, and a light touch on the EQ before your signal hits the interface, can help compensate for variations in mic technique, and get a more consistent track. Also, if you're working with a singer who gets a little too excited at times, having a compressor in-line before that excitement clips your input converters can save what would be an otherwise great take. Remember, though, that when tracking, you should think of these as signal conditioners rather than as effects. You can do all the crazy stuff you (or your client) wants after you've got a clean, solid recording of the basic track.
Secondly, if you capture the performance with just the slight tweaks above, you may be able to save some CPU time for other effects when you're mixing. Not that most modern EQ or dynamics plug-ins are serious CPU hogs, but we've all had mixes where every little bit helps.
Third, admittedly more of a creative decision, working within the limitations of printing compression and EQ with your vocal take can force you to think out the whole process for a track upfront. Shooting from the hip can give inspired results, but sometimes working within constraints can be equally freeing.
Finally, having good outboard gear available to work with can expand your client base, both with younger clients seeking vintage sounds and with older clients who may not totally be comfortable with a 100% in-the-box environment.
Breaking It Down
Let's start by looking at the components of a vocal chain and the roles they play, piece by piece. There are a lot of different choices available from well-known names and vibe-y boutique designers, so we're going to talk generally, but toss out a few choices that our staff have found especially versatile in most studio environments.
Microphones
In many ways, the microphone is the single most important choice in your vocal chain. Which mic is best for a specific session will depend on a number of factors: The type of material being recorded (vocals for music, voice-over, spoken word, etc.), the performer's basic vocal qualities and mic technique, the space in which you're recording, and the qualities you desire for the final product. Different microphones will interact differently with each vocalist, and there may be one that just sounds better for a particular performer. If the talent loves the way they sound, you'll get a better performance, so it's always best not to rely on just one type of vocal mic, but try several.
Just as a few examples, for voice-over work, the natural response and enhanced proximity effect of a ribbon mic, like the Coles 4038, or a large-diaphragm dynamic, like the versatile Shure SM7B, may be what's called for. Singers love the detail and clarity of a large-diaphragm condenser, whether it's a tube Neumann U67, the FET Lauten Atlantis FC-387 or one of the new generation of modeling microphones like the Slate VMS ML-1. Your Guitar Center Professional Solution Specialist will help you narrow down your choices to find the right selection of mics for your facility.
Pictured: Neumann U67 Tube Condenser Microphone 
Mic Preamps and Channel Strips
A mic preamp is a necessity, and a great mic pre is a blessing. You can choose one that's absolutely linear or one with a personality that sets the track apart. You can even choose one that can do both those things. A mic pre makes up the difference between the very low output level of your mic and what the input on your interface and other audio gear wants to see. How much gain you need overall in a mic pre will be determined, in large part, by the mics you use. For example, some ribbon mics, especially older ones, may need as much as 70dB of gain, whereas large-diaphragm condensers generally need no more than 50dB.
Mic preamps come in a variety of designs. These range from vintage-inspired preamps with a warm, silky response like the Chandler Limited TG-2 Abbey Road or BAE 1073, to pristinely clean, integrated-circuit-based units like the API 3124V. There are also some hybrid mic preamps, like the Universal Audio UA 710, that combine tube and solid-state audio paths for a blend of both worlds.
Many engineers love all-in-one channel strips, like the Manley CORE and Rupert Neve Designs Shelford Channel, which combine a mic pre and EQ, sometimes with a compressor/limiter built in as well. Many of these are designed by the same engineers who've created some of the most legendary mixing consoles on the scene. While they're a little less flexible than discrete, single-purpose units, if you've always wanted the sound of a classic console, these can be a great addition to your studio. Our Solution Specialists have a deep knowledge of all of these and can be invaluable in helping you refine your choices.

Pictured: Chandler Limited TG-2 Abbey Road Special Edition Mic Preamp 
Dynamics Processor
One of the most important tools in any recording process is the dynamics processor. From avoiding overloads to side-chain ducking, compressors are key to great vocal recordings. Choosing the right compressor/limiter for the task is critical. Do you want the smooth feel of a tube-based optical unit like the iconic UA Teletronix LA-2A, the classic, quick response of an FET-based unit like the legendary UA 1176LN, or the extreme precision of the API 2500+ and the Empirical Labs Distressor? If you're doing a lot of VO work and want to avoid some extra time in post-production, you may want to add a de-esser to the vocal chain as well. A de-esser is essentially a compressor that specializes in sibilance (you'd need one for that last sentence, for example). Talk to us about who your clients are, what kinds of projects your facility works on and your personal sonic preferences, and we can work with you to find the perfect solution for that spot in your vocal chain.

Pictured: API 2500+ Stereo Bus Compressor 
EQ
The last link in a vocal chain before it hits your interface is the EQ. At least it's usually in the final position—sometimes, you may want a little light EQ, generally a high-pass filter, before the compressor if the signal is really rich in low-frequency information. But, most of the time, the EQ is the final element for contouring your vocal signal. As with the previous links in the chain, there are a number of choices here that your Solution Specialist can help you sort through for your applications.
A tube-driven passive EQ that's reminiscent of the stellar Pultec EQP-1A, like the Manley Massive Passive, adds warmth and smoothness, especially in the upper-mid and high frequencies, as well as providing 4-bands of EQ, plus high- and low-pass filters. The Manley is also a great mix and mastering EQ, so you'll find it floating to various points in your signal chain.
A console-style EQ provides an increased level of control. Whether it's the A Designs Hammer 2, a tube/hybrid design that features carefully designed overlap in the frequency bands for smooth transitions without losing punch and just enough 2nd order tube harmonics in its signal path that you may just run it with the EQ bypassed, or an ultraprecise, transparent EQ like the API 5500 with its innovative proportional Q and an ability to "undo" EQ with its reciprocal cut/boost, these style of EQs give you a level of sonic control you would otherwise only get on high-end recording consoles.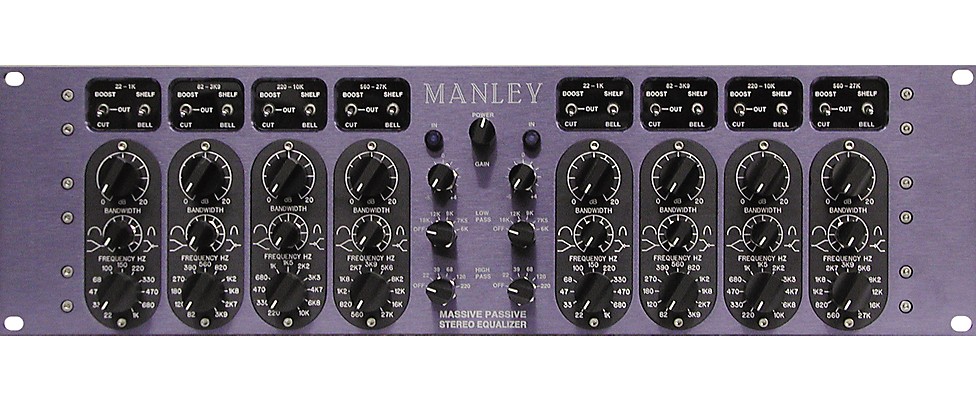 Pictured: Manley Massive Passive Stereo EQ 
Putting It All Together
Once you and your Guitar Center Professional Solution Specialist have worked together to figure out what type of vocal chain will best suit your particular needs, there's one remaining consideration: What form factor or combination of form factors are going to work best in your space and for your projects? There are a number of choices to think about.
First is the classic 19.5" rackmount format. If you're mostly doing all your tracking in a single studio location, this is the most logical choice. You can choose the flexibility of connecting through a patchbay so individual components can be repurposed if needed, or keeping your vocal chain hardwired together for dedicated use.
If you, like many contemporary recording houses, do a certain amount of remote tracking, you might consider the 500 series "lunchbox" format. With the appropriate chassis and power supply, you can create a customized and amazingly portable vocal chain, whether you're using discrete components like the BAE 1073 MPL mic pre, or an all-in-one solution like the Rupert Neve Designs Portico 517.
For some parts of the chain, there are desktop units that can be great for confined control room spaces. Most often, these are the preamp section, like the Focusrite Pro ISA One single-channel pre, or the classic tube-driven Universal Audio 610 SOLO mic pre, based on Bill Putnam's original design for the iconic 610 console.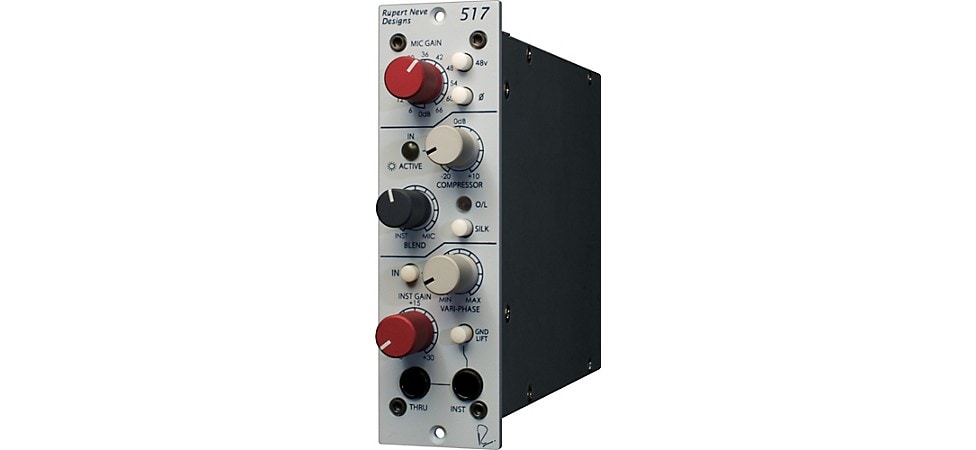 Pictured: Rupert Neve Designs Portico 517 500 Series 
The GC Pro Advantage
Many engineers and studio owners work out an appropriate vocal chain through experimenting with various combinations of gear. At Guitar Center Professional, we offer an integrated approach, working with a staff that's not only individually knowledgeable and experienced, but easily able to draw on the expertise of a large network with a vast pool of knowledge. Combined with our access to a huge range of professional gear from designers and manufacturers both large and small, and connections with the most experienced contractors in pro audio, you'll find that the best solution for your needs and budget is closer than you expected.