There are few things in the recording world so steeped in mythology and personal loyalty as the vocal microphone. Part science, part superstition, our attachment to particular vocal mics can take on an evangelical zeal. Some vocalists have a particular mic they cart from session to session. Producers and engineers may have multiple Neumann U 87s or Shure SM57s and swear that each one is a little different—and they're usually right.
Why do we take vocal mics so personally? Because our voices are a deeply individual reflection of how we see ourselves and how we want our work to be experienced. While we can't really bank on superstition or mythology, we can share with you what we think are the best mics for recording vocals on the market. We'll share some context and details about why they're great and how to get the most out of them. This guide will include dynamic microphones, condenser microphones and ribbon microphones from a wide range of brands. Some require more gain than others, some work better in certain situations, and we'll let you know which is which.
A Quick Primer on Polar Patterns
What is a microphone's polar pattern? It's essentially how sensitive a microphone is to sounds coming at it from different directions and is typically represented on a chart. Below are the most common polar patterns:
Omnidirectional microphones pick up sound equally from every direction.
Bidirectional (Figure-8) mics register sound from the front and back, but not the sides.
Unidirectional polar patterns are (you guessed it) good at picking up sound from one direction. There are a few kinds of these:

Cardioid microphones have a pretty tight unidirectional pickup. With their heart-shaped sensitivity pattern, they're great for catching one singer in detail.
Subcardiod fall somewhere between omni- and unidirectional microphones. They pick up some side and back sound, but not too much.
Supercardiod is an exceptionally tight polar pattern, picking up less room noise, although it does pick up some sound from directly behind the mic. You'll want to be mindful of reflections from surfaces directly behind the mic.
Hypercardiod microphones are the tightest unidirectional polar pattern, so they'll get you exactly what you want, with as little room ambient as possible—but you have to place it very precisely.
Dynamic vs. Condenser vs. Ribbon
Perhaps the most important distinction between mics that we should address is the difference between dynamic microphones, condenser microphones and ribbon microphones.
Dynamic microphones use a coil of wire tethered to a diaphragm. When sound waves affect the diaphragm, they make the coil vibrate and produce its signal. Its output is lower than a condenser mic, and it usually requires a bit more gain to get it where you need. Dynamic mics handle high sound pressure level (SPL) well, and it's harder to damage a moving coil than it is a suspended diaphragm. These durable features make them a popular choice for live applications, as well as for miking kick drums, guitar cabs and screaming vocals both on stage and in the studio..
Condenser microphones also have a diaphragm, but it is suspended over a backplate that translates the vibrations into electrical signals. These are far more sensitive mics, and pick up nearly any sound. They also require phantom power to work. Condenser mics are the industry favorite for vocals, although dynamic mics shouldn't be underestimated.
Ribbon microphones are dynamic microphones that use a ribbon suspended between the poles of a magnet to detect sound vibrations. They were hugely popular in the 1950s, but faded as condenser and dynamic mics advanced. They are underestimated mics in contemporary recording in large part due to their perception of being overly fragile and wilting under heavy SPL. While that may be the case with the earliest examples, modern ribbon microphones are built quite robustly. While you may not want to place one directly in front of a pounding bass drum, they are a great option for many sound sources, offering a warm, vintage-flavored sound that's perfect for adding body and taming overly bright sources.
Top Vocal Microphones
AKG C414 XLII
This beautiful microphone's history begins with its ancestor, the famous AKG C12. The C12 was a favorite around studios like Abbey Road due to its incredible sensitivity and strong presence, making it ideal for recording orchestras and a certain Liverpudlian's bass.
Pictured: AKG C414 XLII Condenser Microphone
The C414 XLII's presence, sensitivity and spatial reproduction owe much to the classic C12, but with distinctly modern additions, including nine polar patterns to choose from, making it an amazing studio multitool. Switch to a focused cardioid pattern for robust vocals, omnidirectional to bring in the sound of your space, or bidirectional to record duet harmonies. The XLII version of this mic has a top-end presence lift, which provides a bit of air and space on vocals.
Another version of the C414, the XLS is an excellent alternative and nearly identical to the XLII, except without that presence lift. Both the XLII and the XLS come with a pop filter, windscreen and shockmount.
Neumann U 87 Ai
If you know microphones, you know we weren't going to go far without bringing up the U 87. This is the studio mic—the one that immediately comes to mind for most of us, and one of the most iconic mics since its debut in 1967, when it replaced the famous tube-powered U 67.
Pictured: Neumann U 87 Ai Condenser Microphone
Why is that? There's a host of reasons, but one of the biggest is that the U 87 has a remarkably flat frequency response, meaning that it captures exactly what goes into it with practically zero coloration or change. This pure sonic canvas also takes EQ very well, making it easy to get vocals to sit just right in the mix. With its near ubiquity in professional recording studios, there's a good chance that the last song you listened to was recorded with a U 87.
The U 87 also switches between omni, cardioid and figure-8 polar patterns, so you can dial in just the right balance of your vocalist and the space you're recording in.
U 87 aficionados should check out the version that comes with its own box, shockmount, windscreen and cable, or even a pair of U 87s in one set.
Shure SM7B
As our first dynamic entry on our list of best vocal mics, the SM7B easily holds its own. Like its cousin, the trusty SM57, the SM7B is a workhorse. It's rugged and dependable and will probably still be around to record whatever comes after the apocalypse. The first incarnation of this mic, the SM7, was Michael Jackson's choice for Thriller.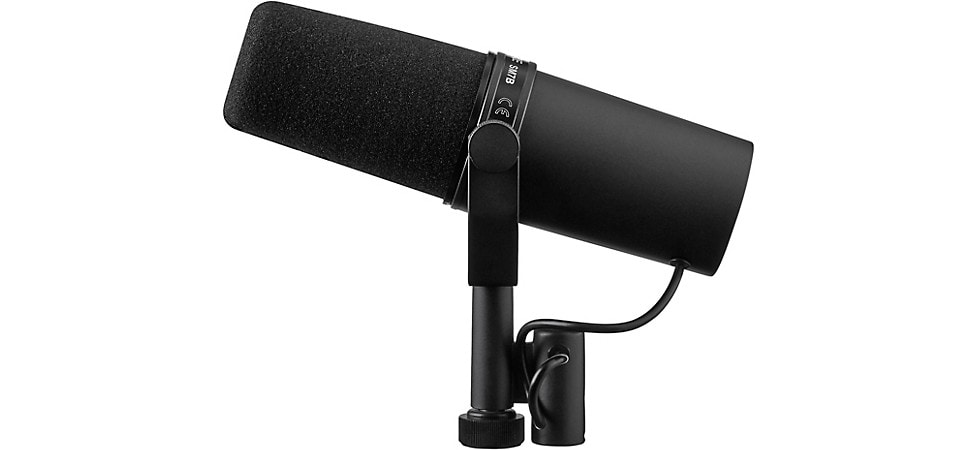 Pictured: Shure SM7B Dybamic Microphone
The SM7B offers an amazingly flat frequency response and a tightly focused polar pattern perfect for close-proximity vocals. It gives you breath, bass and character. If you have a singer accustomed to riding the mic with their lip live, this is a good studio twin. It has an extended low-end response, too, making it a great choice for singers whose voices may need a bit more body.
Notably, the SM7B requires a bit more gain than other dynamic mics and while most audio interfaces are up to the task, you may want to consider an in-line booster, like a Cloudlifter CL-1, or an external preamp to give it a little more juice (and perhaps a bit of its own mojo in the process).
Sterling Audio ST159
Don't be confused by the attainable price on this dark horse entry from Sterling Audio—this mic more than holds its own. Capable of handling up to 144dB of sound pressure, the ST159 can handle seriously loud sources, from death growls to R&B divas to opera arias.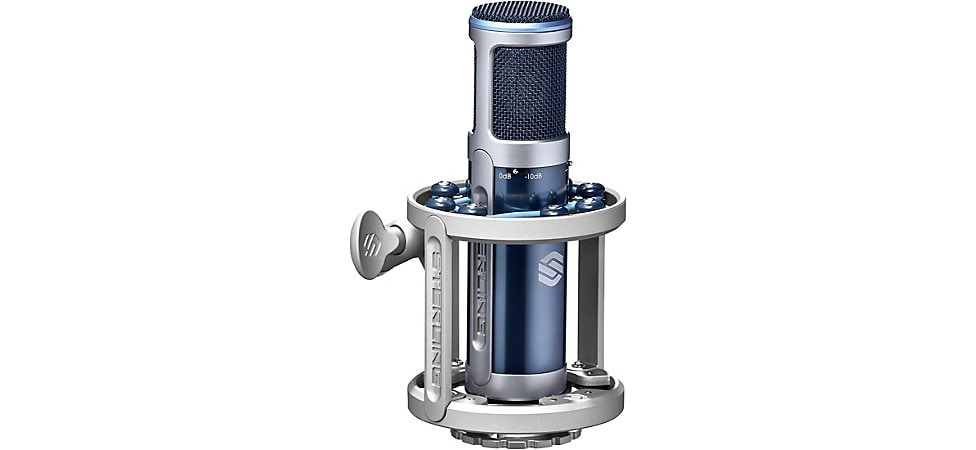 Pictured: Sterling Audio ST159 Condenser Microphone
Switchable between cardioid, omnidirectional and figure-8 polar patterns, it's incredibly versatile. Plus, its switchable high-pass filter makes it easy to cut out hum and background noise. It comes with a metal shockmount and its own aluminum carrying case.
AEA R84
This awesome ribbon mic is made in Pasadena, California, and has an incredibly warm response thanks to A) being a ribbon mic and B) a gradual roll-off on the highs. The R84 carries all the smooth sound of the vintage RCA ribbon mics that AEA got their start repairing, but with distinctly modern advances.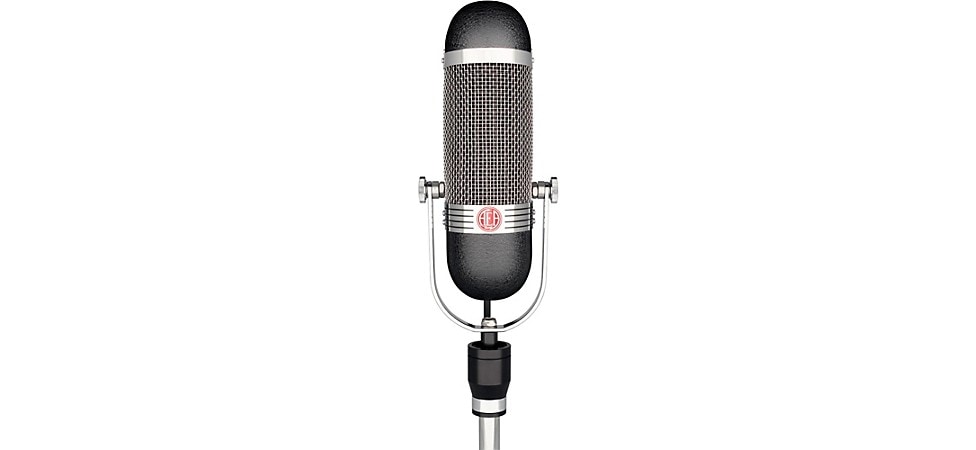 Pictured: AEA R84 Ribbon Microphone
All ribbon mics are bidirectional (figure-8), and AEA capitalizes on this by adding two layers of grille cloth to the back of the R84, giving one side of the mic a darker response than the others. What does this mean for you? The front imparts a velvety, modern ribbon sound that's highly forgiving of sibilant, nasal singers, while the back gives you a rich, vintage Roy Orbison or Billie Holiday quality.
Just a heads up, this mic needs a bit of gain. If your existing preamp isn't giving it enough, you can choose an AEA-made preamp designed specifically for ribbon mics, an in-line signal booster, or you can consider the active R84A model with its own built-in preamp. There's no need to give either one phantom power.
Electro-Voice RE20
A favorite of voice-over performers, broadcasters and podcasters, the RE20 is tailored specifically for vocals. It has dips between 1kHz and 3kHz, and 3kHz and 5kHz, with a minimal bump above 5kHz, that rolls off around 10kHz—that means you get clean and pronounced lows and mids without sacrificing brightness or clarity.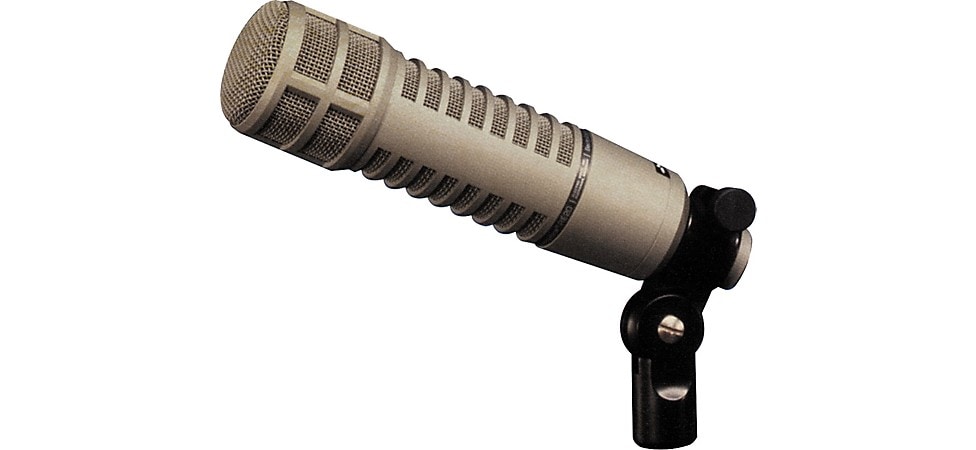 Pictured: Electro-Voice RE20 Dynamic Microphone
The RE20 doesn't mind if you get up close and personal. It needs quite a bit of gain to push it, yet it's designed for little proximity effect, meaning you can get right up on it without losing clarity. The Electro-Voice Variable D low-frequency stabilization feature is beloved for its ability to keep a consistent tonal response even for vocalists who wander off the microphone. 
Blue Bluebird SL
This amazingly well-balanced update on the beloved Bluebird is a prime example of what they call "modern" vocal sound—extended clarity in highs, smooth mids and extended low frequency. This version features switches for a high-pass filter and -20dB pad, making it great for handling loud sound sources and cutting down on background noise bleed.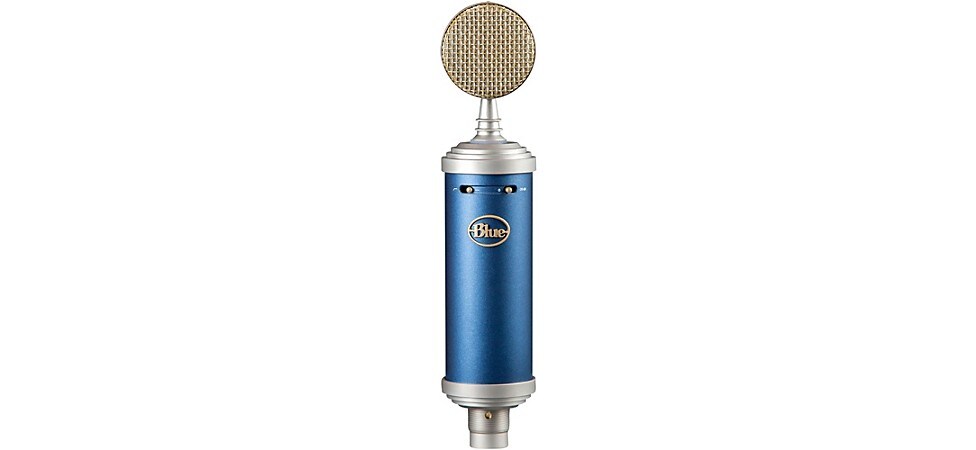 Pictured: Blue Bluebird SL Condenser Microphone
The Bluebird SL has a sweet little bump around 3kHz–10kHz, which gives you a really nice air and sheen. That boost in brightness and presence might come off harsh on vocalists who already have bright or brassy voices, or in spaces that already enhance those frequencies. There's so much to love about this microphone, including its transformerless design that keeps its response quite uncolored while keeping its balance.
Neumann TLM 103
A lot of folks' first Neumann, the TLM 103 makes storied Neumann quality attainable for those of us with home studios. It features a capsule design based on the K 87 capsule used in the U 87 mic that appears earlier on this list. While it doesn't have the multi-pattern flexibility of the U 87 (it's cardioid only), it offers a very similar sound to it, including that beautifully flat, transparent response.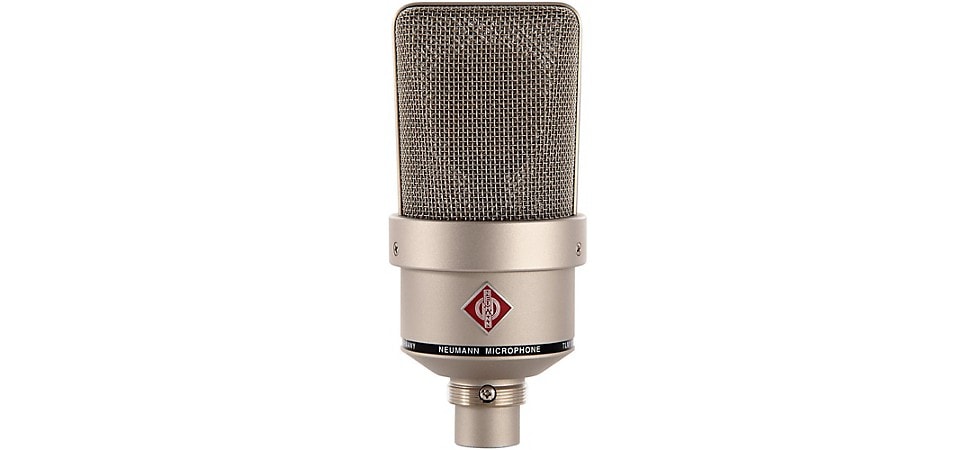 Pictured: Neumann TLM 103 Condenser Microphone
The TLM 103 handles sound pressure levels up to 138dB, which is more than the U 87 accommodates, and it has very low self-noise. It's perfect for vocals. Like the U 87, it's also available in a paired set, or in bundles matched with Focusrite or Universal Audio preamps that give you even more classic big-budget studio sound at a home-studio price.
Warm Audio WA-87r2
Warm Audio came on the scene a decade ago, and they've been producing stellar preamps, mics, EQs and more ever since. The WA-87r2 is inspired by the iconic U 87, and its capsule is based on the same K 87 that Neumann's TLM 103 takes its cues from. Like the legendary mic it's inspired by, the 87r2 offers three polar patterns, a high-pass filter to cut hum and low-frequency rumble, and a switchable -10dB pad for dealing with particularly loud sources.
Pictured: Warm Audio WA-87r2 Condenser Microphone
The use of a new-old-stock (NOS) Fairchild transistor and a custom-wound Cinemag USA output transformer doubles down on the vintage sound while boosting output and improving frequency response. Switchable from cardioid to omnidirectional to figure-8, it's a versatile studio mic, and is a great choice for anyone looking for classic sound at a budget-friendly price point.
Audio-Technica AT2020
In addition to being a standout home studio mic at an incredibly affordable price, the Audio-Technica AT2020 is available in both traditional XLR and USB models. This cardioid condenser has a high-end bump starting around 5kHz to help vocals cut through your mix, and its 144dB sound pressure level ceiling means it easily captures loud sources, from Broadway belters to unpredictable field recordings.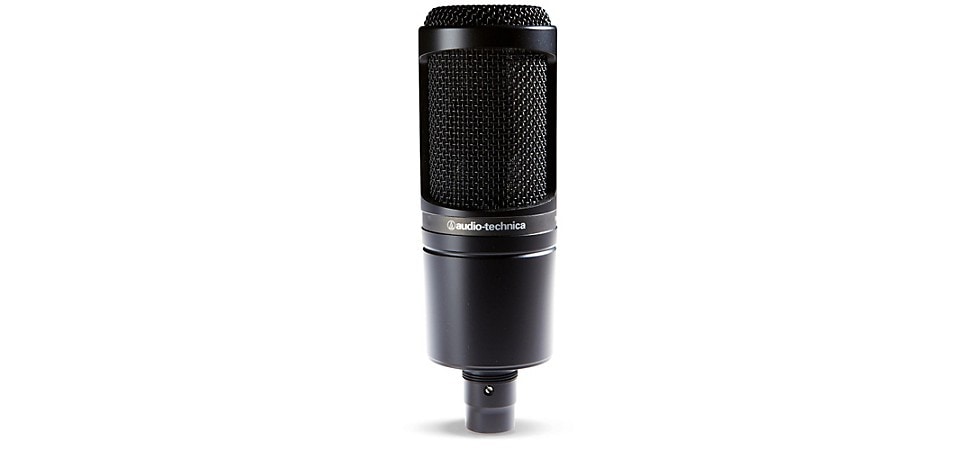 Pictured: Audio-Technica AT2020 Condenser Microphone
The USB model is a fantastic choice for recording on the go, cutting out the need for XLR interfaces or phantom power. The AT2020 is also a great choice for those just starting their home studios, and we offer packages that can help you get a head-start on your gear collection, including a bundle with ATH-M20x headphones and a full kit with stand, shield, cables and pop filter.
RØDE NT1-A
There are many reasons the RØDE NT1-A quickly became a mainstay of professional and home studios alike. It's warm with an extended dynamic range, clear highs and the ability to handle loud sources, making it sound great on pretty much any voice you throw at it.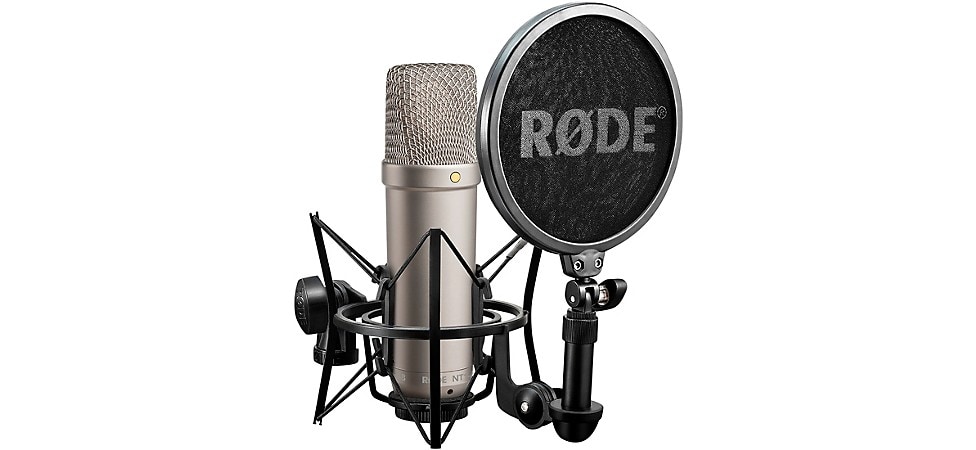 Pictured: RØDE NT1-A Condenser Microphone
The fixed cardioid NT1-A is one of the quietest studio mics you can get your hands on thanks to its transformerless design and a self-noise level of 5dBA. That means you can record a whispering vocal over total silence and have nearly no extraneous noise outside your vocalist's nose whistle and smacking lips.
This set includes a shockmount, pop filter, cable and dust cover, giving you everything you need to start recording awesome vocals straight out of the box.
TELEFUNKEN TF29 Copperhead
From the materials and build to the design and sound, every detail of the TELEFUNKEN TF29 is ultrapremium. Built with an all-brass capsule inspired by the Neumann U 67, a new-old-stock American 5654W vacuum tube and a Swedish-made Lundahl output transformer, the TF29 is hand-assembled in the U.S.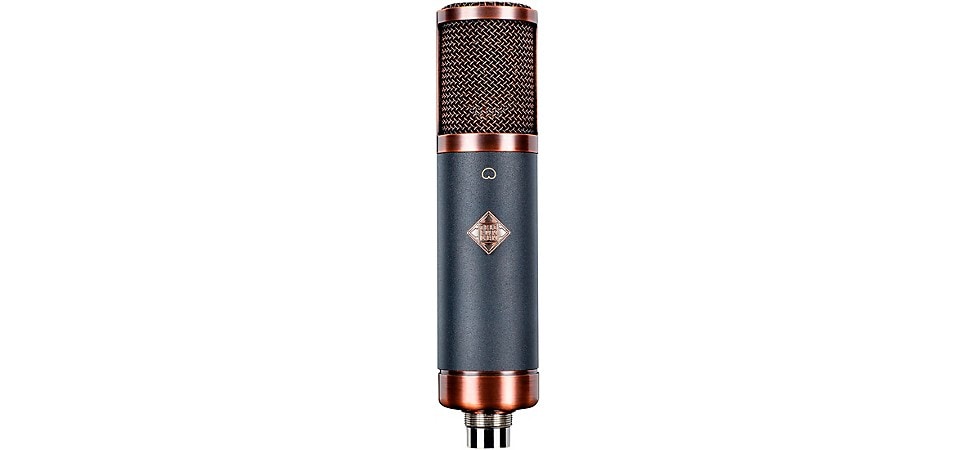 Pictured: TELEFUNKEN TF29 Copperhead Tube Condenser Microphone
A well-designed tube microphone offers the ultimate in vintage warmth, creamy smooth sound and saturated tone, and the TF29 truly exemplifies this. It may be made of luxury parts, but it's built like a tank, made to stand up to the wear-and-tear put on a daily use, go-to vocal mic.
Slate Digital VMS ML-1
The final entry on our list of the best vocal mics is one of the most intriguing innovations to cross our threshold in a while. The VMS ML-1 is an extremely transparent, flat-response microphone designed specifically to deliver a true, blank sonic canvas. That's because the mic is only one part of this equation. It's the centerpiece of Slate's Virtual Microphone System, which is driven by a software plug-in that gives you access to models of eight different microphones, two preamps and expansion capacity to emulate some of the most famous studio microphones of all time.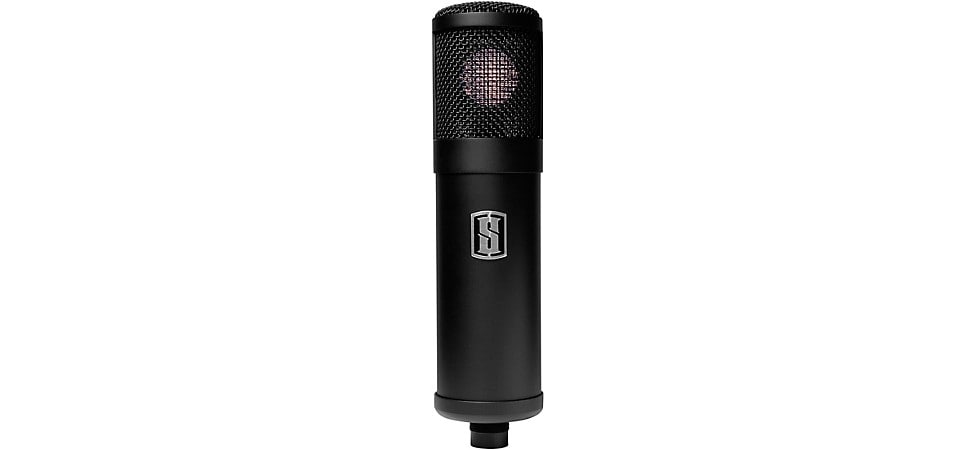 Pictured: Slate Digital VMS ML-1 Modeling Condenser Microphone
While Antares pioneered mic modeling software some 20 years ago, Slate Digital brings it to new heights with this system. Paired with a sonically neutral preamp like the Slate Digital VMS One, the ML-1 microphone delivers pure, uncolored vocals that you can then experiment with across a multitude of coveted microphone models. Note, use of the modeling software requires iLok 2 or 3.
The goal of this system is to break down barriers between engineers and high-priced vintage microphones, with the hope of giving everyone access to exactly the vocal sound they crave.
In Closing
Getting the vocal sound you crave is also the goal of this guide. While super rare, mythologized tube microphones may be credited with otherworldly recording qualities, it's important to remember that the best vocal sound is the vocal sound you're happy with.
Listen to your singer closely and understand what it is that makes their voice special. Then pair that with a mic that accentuates those qualities. With proper gain staging and the right amount of distance between the singer and the mic, the rest practically takes care of itself.
Of course a mic and a shockmount aren't going to get you there on your own. Don't forget the right preamp, heavy-duty stands, quality cables, good headphones, reflection filters and pop filters to get your vocal booth (or walk-in closet) ready to record the vocals of your dreams.