There are few effects more misunderstood or underestimated than the chorus. Since the late '90s, many guitarists have tended to overlook the chorus pedal as an artifact of 1980s pop and new wave, choosing it more out of nostalgia than an intent to innovate.
The truth is, not only do the roots of chorus reach back to the 1930s, it has been used to powerful effect by artists ranging from Nirvana and Metallica to Mac DeMarco and J Mascis. In fact, due to innovations in design and the increasing use of chorus by guitarists of all genres, the 2020s are shaping up to be a new chorus pedal golden age.
Hammond organs were some of the first instruments to employ a pitch-shifting vibrato effect as early as 1935. This effect, enhanced by the spinning horns of a Leslie speaker cabinet, created a wide, warbling, expansive sound that would go on to be hugely influential in rock, southern rock, gospel and a multitude of genres.
For quite a while, this effect was predominately relegated to the organ. If guitarists wanted a similar effect to thicken or double their sound, they'd achieve it in the studio by doubling their tracks.
Throughout the 1940s and '50s, guitarists like Les Paul, Bo Diddley and Dick Dale experimented with vibrato and tremolo to make their tone wider and more sonically engaging.
It's important to note that there's a difference between tremolo and vibrato effects. Tremolo is a variation in the volume of a note, while vibrato is variation in the pitch. This is a subtle difference to the casual listener, and confusion between the two wasn't helped when Fender released the Vibrolux amp in 1956, which technically employed a tremolo effect.
Why are we talking about vibrato? Because chorus and vibrato are close cousins.
Vibrato, like chorus, is a modulation effect. That means that it changes, or modulates, certain parts of your guitar sound or signal, like pitch, time or phase. Flanger, tremolo and phaser also fall in this modulation category.
Vibrato periodically changes the pitch of your signal. This creates a wavering sound much like bending a string.
Chorus largely does the same thing, with one important difference. It first makes a copy of your signal and then changes the pitch of that copy, playing it in tandem with your original, unaffected signal. This doubles the sound while thickening it through the periodic variations in pitch, which, like vibrato, are controlled by an LFO.
While studio engineers and synthesizers experimented with the chorus sound for decades, it was the introduction of the Roland Jazz Chorus amplifier in 1975, that paved the way for the tidy and versatile stompboxes of today.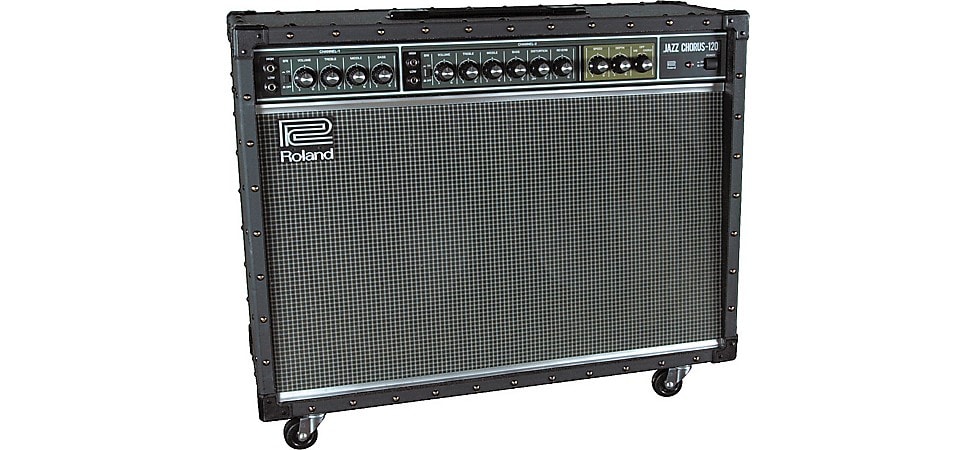 Pictured: Roland JC-120 Jazz Chorus
The Roland JC-120 was revolutionary. Its crystal-clear tone and Dimensional Space Chorus effect drove guitarists wild. Jeff "Skunk" Baxter was a famous Jazz Chorus devotee, as were Andy Summers of the Police, and Adrian Belew.
The JC-120's chorus effect was so popular, that within a year, the very first chorus guitar pedal was born—the BOSS Chorus Ensemble CE-1. It featured both chorus and vibrato effects.
In 1979, BOSS released the more compact CE-2, which had similar circuitry to the original, but sacrificed the vibrato effect and stereo output to save space. The CE-2 was a revolutionary pedal, and it's still highly coveted today. In 2016, BOSS released the CE-2W Chorus Waza Craft, combining the CE-2 and CE-1 in one compact pedal.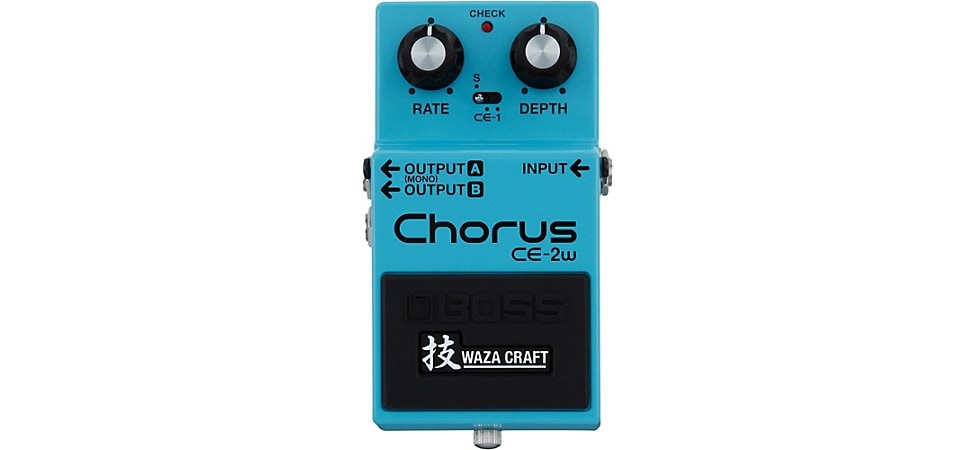 Pictured: BOSS CE-2W Chorus Waza Craft
By the 1980s, chorus could be heard everywhere, from the Smiths, New Order and This Mortal Coil to Guns n' Roses, David Bowie and even Bruce Springsteen.
The 1980s were the era of rackmount effects and the earliest digital multi-effects setups. The Roland Dimension D was an early chorus rackmount that created a fat effect without glassy overtones. Nile Rodgers and Brian Eno leaned on this one.
Rackmounts like the A/DA MP-1, TC Electronic Stereo Chorus Plus and Rockman Stereo Chorus were seen onstage with artists, including Boston, Def Leppard and Vernon Reid of Living Colour, who also used a KORG multi-effects pedal for chorus. Reid made the most of his chorus effect through the '80s and '90s on songs like "Open Letter."
There was a boom in chorus pedal innovation throughout the 1980s. In 1985, BOSS released the Dimension C. While it was only on the market for about four years, it had a significant impact. This all-analog chorus pedal featured absolutely zero knobs. Nada. Instead, it boasted four buttons across the face for four modes of chorus effect. The modes didn't even have cutesy names—they were simply numbered 1–4. Players like John Petrucci and Reeves Gabrels have been seen playing this weird and wonderful pedal.
Recently, the BOSS Waza Craft engineers released the DC-2W Dimension C, which combines the Dimension C and its predecessor, the SDD-320 Dimension D.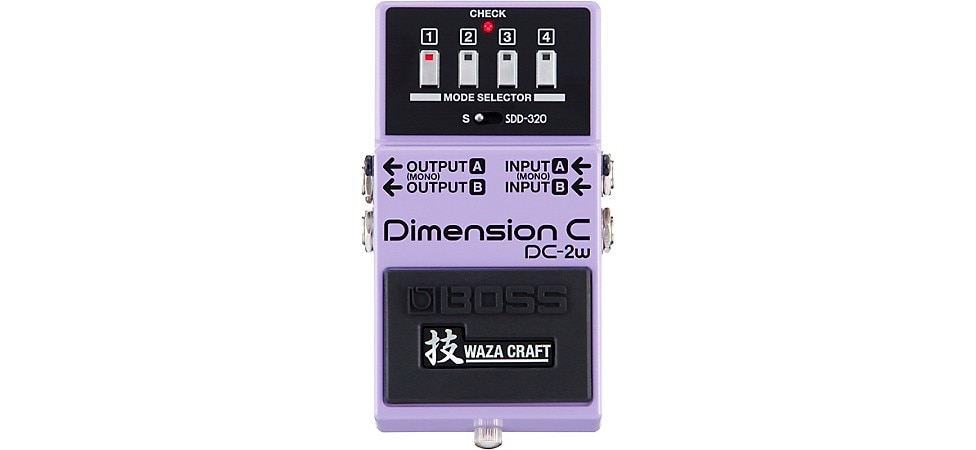 Pictured: BOSS DC-2W Dimension C Waza Craft
Notable chorus pedals of the 1980s include the Ibanez CS9, the BOSS Super Chorus CH-1 and the DOD FX65, but the truth is that the '80s were the chorus golden age, and the amount of analog and digital innovation in this decade was staggering.
Although the rise of grunge and alt rock in the 1990s showed an overall disdain for the chorus effect, it was never completely abandoned.
Kurt Cobain made very influential use of chorus on "Come as You Are" in 1991, and that same year, Metallica splashed a heavy dose of chorus on the intro to "Enter Sandman." Cobain favored the Electro-Harmonix Small Clone chorus, as did a number of the era's most interesting guitarists, ranging from the Edge to Pat Smear. It would go on to be a coveted pedal throughout the 2000s and 2010s.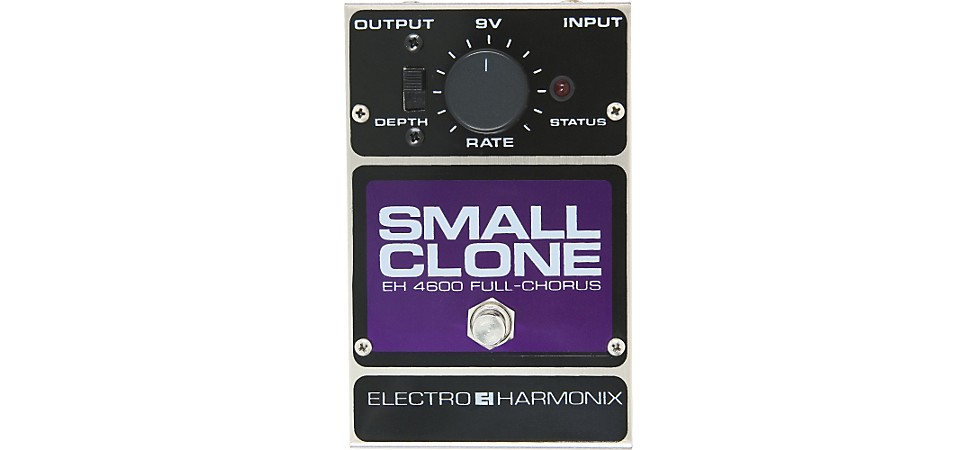 Pictured: Electro-Harmonix Small Clone
In 1995, BOSS released the CEB-3 Bass Chorus, designed specifically to give bass players the width and shimmer of chorus without sacrificing the strength or clarity of their low and mid frequencies.
In the 2000s, guitarists like Interpol's Paul Banks and My Bloody Valentine's Kevin Shields dug into the vaults and experimented with chorus favorites like the A/DA MP-1, the CE-2 and the Yamaha SPX90 rackmount.
Chorus pedal popularity grew throughout the first decade of the new millennium, with indie artists raiding the used gear shops and pedal builders tweaking designs. As the influence of artists like Talking Heads, New Order, Dream Theater, The Cure and more spread across genres, chorus and modulation effects like flanger became even more in demand.
Through the 2010s to today, we gradually entered a kind of renaissance, with the effect popping up in songs from Vampire Weekend, Dry Cleaning, Lucy Dacus, Marika Hackman, Steve Lacy and many more.
Over the past two decades, boutique builders and new brands have expanded on the classics while also delving into entirely new approaches to how we think about the chorus pedal.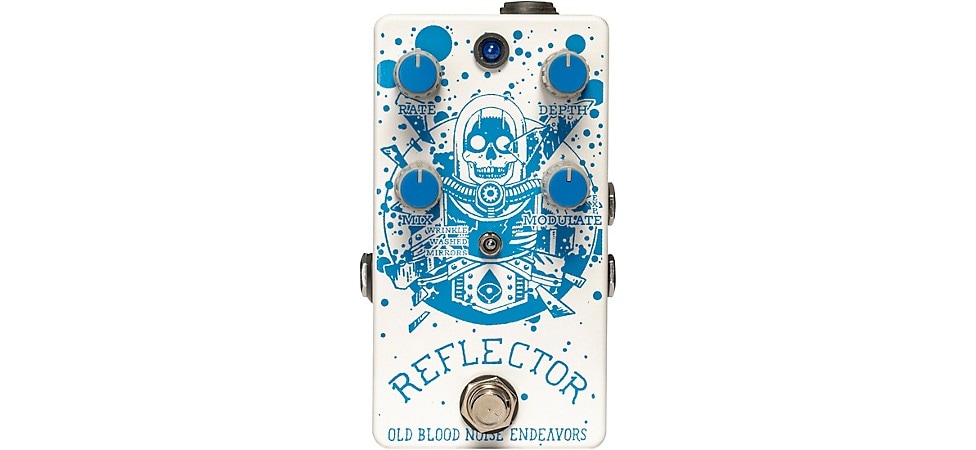 Pictured: Old Blood Noise Endeavors Reflector Chorus
For an example of the chorus renaissance we're enjoying today, take a look at our Best Chorus Pedals of 2021.
Also, don't forget to check out our other handy pedal buying guides, including delay pedals, reverb and tips on setting up your pedal signal chain and powering your pedalboard. And, if you have your heart set on a CE-1 or an original CE-2, we're always adding to our collection of vintage gear. We also have an ever-changing inventory of used pedals, which can be a great place to find something you want to test, mod or stick right onto your pedalboard.