The explosion of affordable, quality recording gear has been a major shift for musicians around the world. The ability to take your music from inspiration to final mix wherever you may be has certainly leveled the field for artists. A big part of that has been the wide range of affordable studio monitors. In this article, we're going to explore your options to choose the best monitors for recording and mixing in your space. We'll cover offerings from long-established manufacturers like JBL, Yamaha, KRK and Neumann, as well as newer brands like Kali, Focal, Barefoot Audio and PreSonus, to make sure that you are aware of all the options available. Finally, we'll look at how you can choose the best monitors for your room.
Studio Monitors vs. Speakers
Why shouldn't you just use regular stereo speakers for monitors in the studio? It's all about accuracy. When you're recording and mixing, you want to hear exactly what's on the track, warts and all. Regular consumer speakers generally are designed to smooth out rough edges and dramatize some frequencies. Studio monitors are designed to leave those rough edges in and give you an accurate representation of what you have, so you get to make the final decisions about how it should sound when you track and mix your music.
Table of Contents
Studio Monitors vs. Speakers
Our Top Studio Monitor Recommendations
  Neumann KH 80
  Sterling Audio MX5
  Yamaha HS3 + HS4
  Yamaha HS5
  JBL LSR305P MkII
  Kali Audio LP-6
  Focal Shape 65
  KRK ROKIT 8 G4
  PreSonus Sceptre S8
  Kali Audio IN8 V2
  Barefoot Sound Footprint1 8"
  Neumann KH 310
  IK Multimedia iLoud MTM
How to Choose the Best Monitors for Your Studio
Conclusion
Our Top Studio Monitor Recommendations
Here are our selections for your best monitor choices. We've got them arranged here, pretty much in size order, with one surprising exception.
Neumann KH 80
The smallest monitors on our list, but one of the most powerful, the Neumann KH 80 may look tiny, with its 4" LF driver, but there's some serious DSP power packed into these compact cabinets. Using 190 watts of total Class-D power (120W LF/70W HF) per monitor in a front-ported cabinet, these little powerhouses are incredibly consistent and accurate across the audible spectrum. There are four distinct acoustic control settings to adjust for your space onboard, but if you choose to go with the optional Neumann measurement microphone, you can get very precise DSP-based room tuning customized for your space. The combination of the internal DSP and a custom waveguide makes for a soundstage that you would not expect from a monitor of this size. You will want to add a subwoofer if your mixes need much below 50Hz, as even Neumann can only bend the laws of physics so far, but if you have a small space and big dreams, these can be a great choice.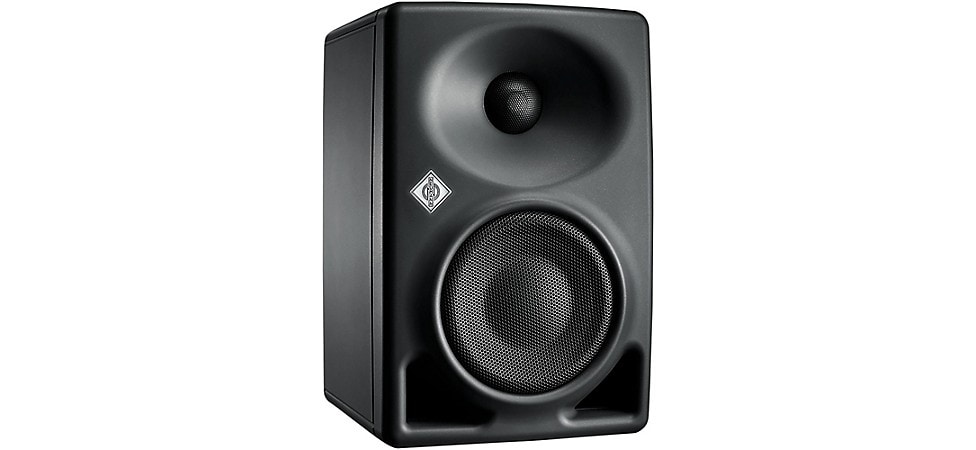 Pictured: Neumann KH 80 4" Powered Studio Monitor 
Sterling Audio MX5
The Sterling Audio MX5 is a surprisingly capable choice considering its affordability factor. We know that "punches above its weight class" is an incredibly overused marketing phrase, but in this case, it's spot on. Designed for smaller studios, these bi-amplified monitors deliver 70 watts total, using Class AB amps, a 5" LF driver and a 1" silk-surround HF driver. Inputs are balanced XLR and TRS, plus unbalanced RCA phono inputs, so you should be easily able to hook up to whatever you've got. The room tuning ability consists of ±2dB high and ±3dB low compensation filters, both with a neutral position. The slightly curved front face helps expand the range of placement possibilities. If you're doing dance music or modern metal, you may want to consider a subwoofer with these, to extend the low-frequency range below the 42Hz these are rated at.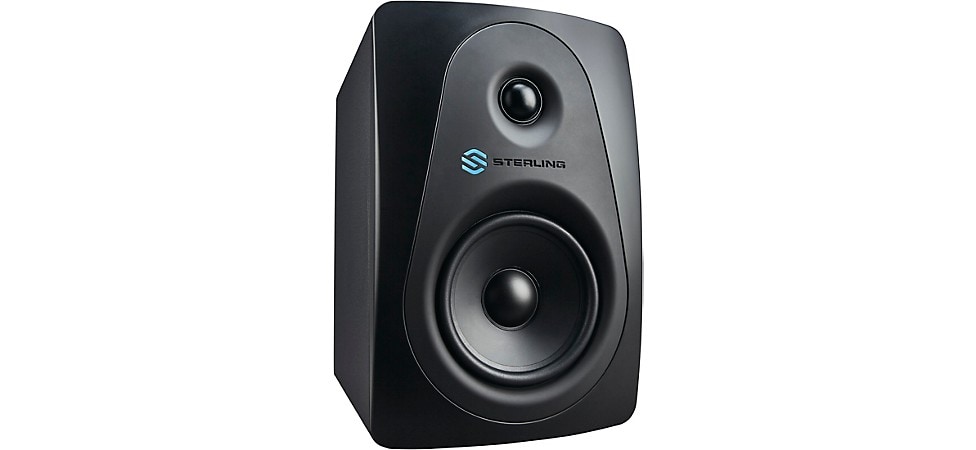 Pictured: Sterling Audio MX5 5" Powered Studio Monitor
Yamaha HS3 + HS4
The Yamaha HS3 and HS4 studio monitors are the latest (and smallest) members to join the HS Series. This acclaimed lineup offers a flat, reliable frequency response, with a prominent white woofer visually recalling the ubiquitous NS-10Ms. Now you can enjoy HS Series quality in a compact format for bedroom studios and on-the-go music production, sporting a classic black enclosure and white cones. Yamaha HS3 and HS4 monitors deliver 52 watts of power (26W for LF, 26W for HF) via one Class-D amplifier, and house 3.5" and 4.5" cone woofers respectively. Proprietary bass porting ensures distortion-free low end and outstanding resolution across the spectrum. Yamaha also puts essential functions at arm's reach, like master volume, power and a headphone output. We love these monitors as an affordable, trustworthy solution for small spaces, traveling music-makers or even gamers. Both the HS3 and HS4 come in a white cabinet colorway for aesthetic versatility, too.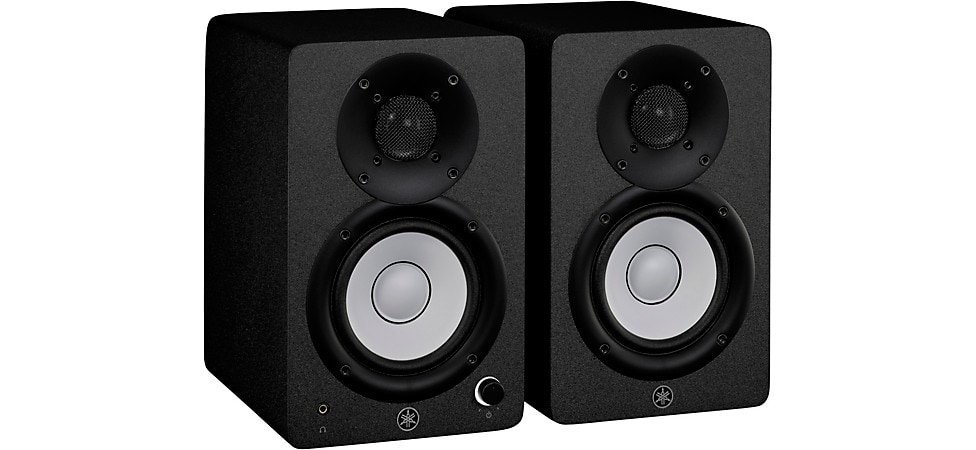 Pictured: Yamaha HS4 4.5" Powered Studio Monitor Pair
Yamaha HS5
The Yamaha HS5 is designed to harken back to their legendary NS-10M monitors, which were a standard in almost every recording studio during the 1980s and '90s. They offer up a solid 70 watts of bi-amplified power. The rear-ported bass-reflex cabinet features custom white-coned 5" LF driver and a 1" HF driver that are extraordinarily accurate, with careful attention paid to the mounting systems to reduce resonance that could interfere with your mixes. The HS5's room tuning consists of a Room Control that delivers up to -4dB of cut at 500Hz (low-mids), and a High Trim with ±2dB above 2kHz. As with many smaller monitors, if you are producing music that relies on heavy low end, you may want to add a subwoofer with the HS5s.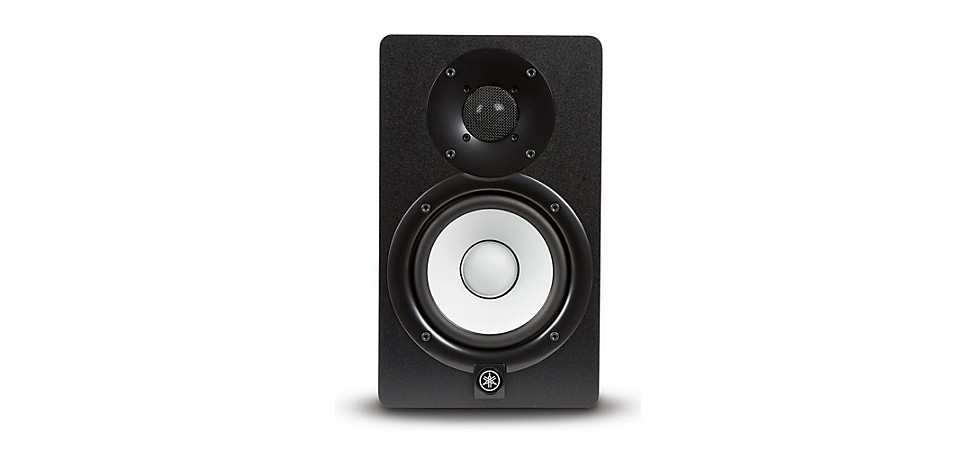 Pictured: Yamaha HS5 5" Powered Studio Monitor 
JBL 305P MKII
With its patented Image Control waveguide and double-flared rear port, the JBL LSR305P adds features from some of their more advanced studio monitors to a very affordable 5", 2-way bi-amplified system. With 82 watts of Class-D power (41W for LF, 41W for HF) the LSR305P also features three settings on a Boundary EQ control to adjust for variations in low-frequency response that can result from placement or room acoustic issues. There are also three HF Trim settings to tweak performance. JBL's monitors are well known for their precision, and the LSR305P, and its big sibling, the LSR308P, are worthy additions to the family.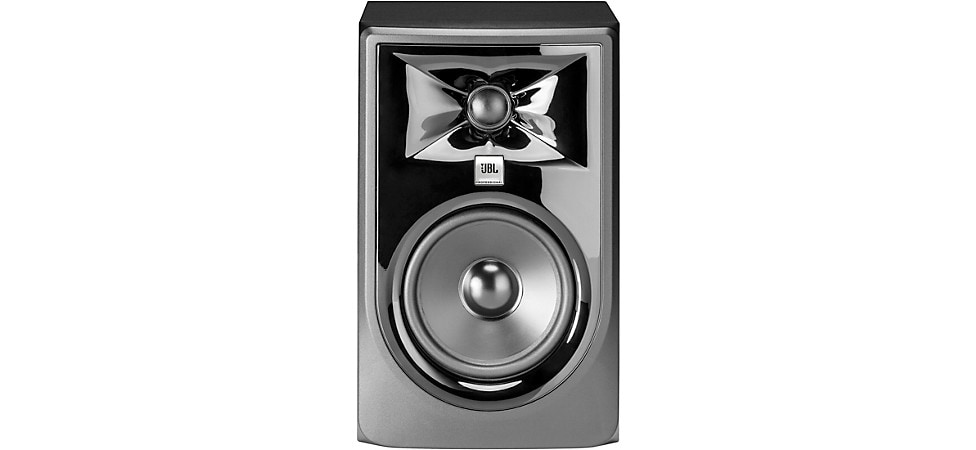 Pictured: JBL 305P MKII 5" Powered Studio Monitor 
Kali Audio LP-6 V2
Stepping up to larger LF drivers, we're starting with the LP-6 V2, from Kali, a relatively new company that was formed by experienced industry insiders in 2018. The LP-6 is a very affordable option for a monitor with a 6.5" LF driver. It features a low-noise front port and very thorough tuning options to avoid boundary effect issues, with eight DIP switches to control the settings. A nice plus is that the documentation includes pictures of the recommended settings for the switches and the original boundary EQ tuning was done at The Village Studios in Los Angeles, a legendary facility that has hosted artists from The Rolling Stones and Steely Dan to Snoop Dogg and Lizzo. A 3D imaging waveguide provides a wide, precise soundstage and the 80 watts of Class-D bi-amping can deliver up to 112dB SPL. With low-frequency response extending down to 39Hz, there's less need for a subwoofer, though you may still want to add one for accuracy in low-frequency effects if your mixes use them.
Pictured: Kali Audio LP-6 V2 6.5" Powered Studio Monitor 
Focal Shape 65
The Focal Shape 65 uses a unique non-ported design with passive radiators mounted on the sides of the cabinets for extremely tight low-frequency response. This design also avoids the turbulence and resonance issues that can arise from some porting designs. The 6.5" LF drivers utilize a unique glass/flax/glass fiber speaker cone that it's both extremely rigid and very low mass, both factors which increase accuracy in the low-end response. The 1" HF driver is designed for lower directivity, which helps deliver a wider sweet spot and more flexible listening position. Focal's aesthetics deserve a mention here, too, as the Shape 65 looks more like a high-end consumer speaker. Focal's recommended listening distance for these is three feet. Low-end extension is down to 40Hz, and there are four separate controls for room tuning—a LF shelving filter, low-mid EQ, HF Shelving and a high-pass filter.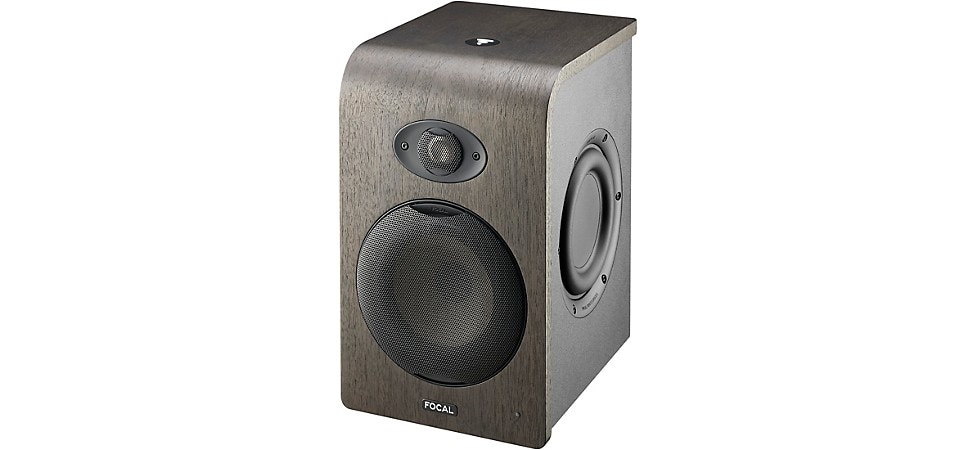 Pictured: Focal Shape 65 6.5" Powered Studio Monitor 
KRK ROKIT 8 G4
The familiar yellow Kevlar woofer screams KRK at first glance, and the ROKIT 8 G4 (and its smaller siblings) have become a go-to studio monitor for many producers and artists, especially in the rap and hip-hop worlds. The ROKIT 8 features internal DSP-driven room tuning with a mobile app that does spectral analysis to help with room tuning, placement and overall level settings. Another cool feature is the built-in acoustic iso-foam on the base that decouples the monitor from the surface it's placed on, which combines with the front-facing port to reduce any boundary effect and minimizes the need for external iso-pads. The whole ROKIT family has a broad sweet spot and an excellent sound stage to help make your mixes their best.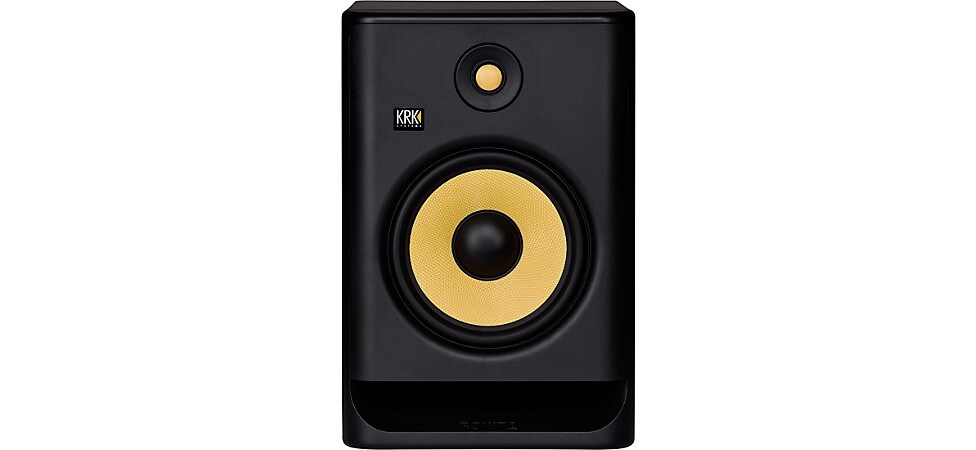 Pictured: KRK ROKIT 8 G4 8" Powered Studio Monitor 
PreSonus Sceptre S8
PreSonus takes a slightly different approach with their Sceptre S8 monitors. These use a coaxial speaker design. What does that mean? A coaxial speaker is one where the LF driver and HF driver are in the same frame, generating sound from exactly the same point. Coaxial design eliminates many phase issues and provides a cleaner soundstage. The Sceptre 8 uses an 8" coaxial driver with 90 watts of Class-D amplification for each of the two concentric drivers. The onboard DSP features three different choices of acoustic tuning and an Acoustic Space control at 100Hz that compensates for boundary effect and room acoustics. There's also an independent HF level control and a four-position high-pass filter. Frequency response is down to 46Hz (±3dB) with low-frequency extension down to 38Hz (±10dB).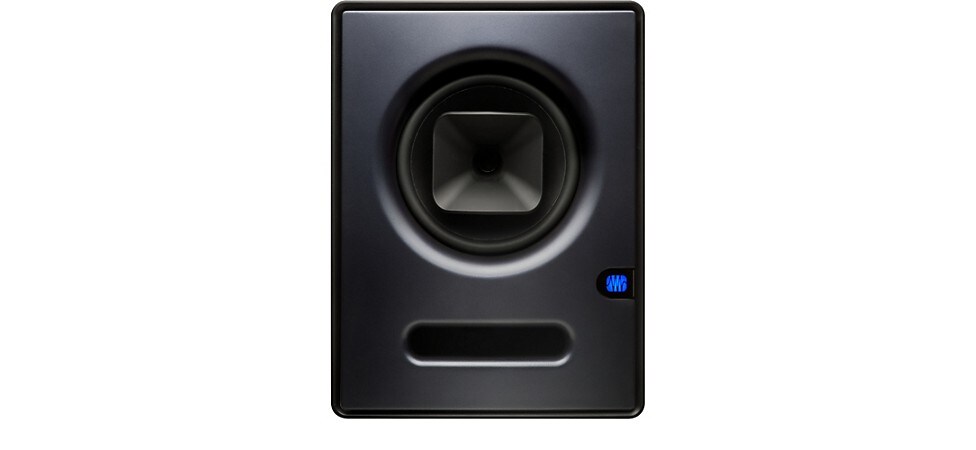 Pictured: PreSonus Sceptre S8 8" Powered Studio Monitor 
Kali Audio IN8 V2
For the first of three systems that feature a tri-amplified setup, we'll return to the relative newcomer, Kali Audio and their IN8 V2 monitors. These combine an 8" LF driver with a coaxial mid-range/HF setup. Since the mid- and high-frequency drivers are far more directional than LF, using a coax driver of this type makes a lot of sense. 140W of Class-D power can drive these up to 117dB (for short periods, only, please—you need those ears working right) and the low-end response goes down to 37Hz. Front porting makes placement easier and rear DIP switches make it easy to tune the speakers to your placement and your room. If you're looking for a 3-way system, these are definitely among the most affordable ones you'll find.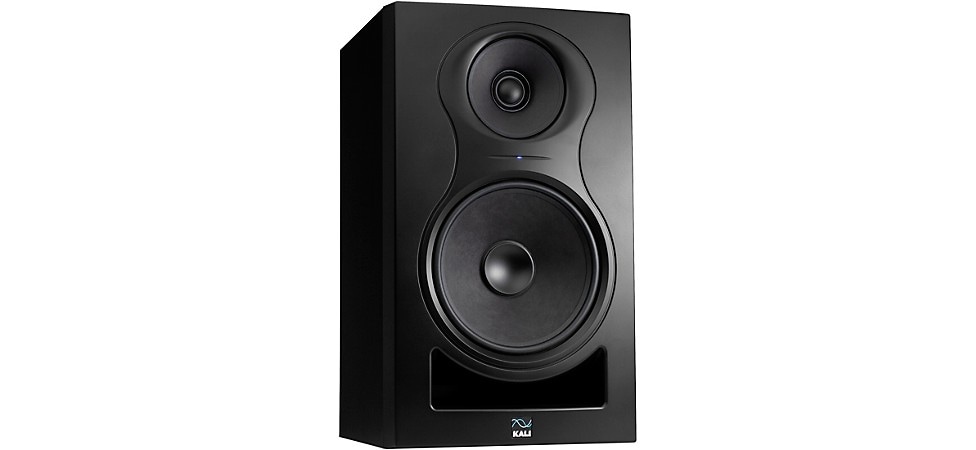 Pictured: Kali Audio IN-8 V2 8" 3-Way Powered Studio Monitor 
Barefoot Sound Footprint1 8"
The Barefoot Sound Footprint1 delivers the highest wattage of all the speakers we're covering here, as well as a unique design. With 500 watts of Class-D power in each speaker and a side-mounted 8" LF driver that extends down to 36Hz, these puppies can kick some serious bass, while staying accurate and consistent through the whole frequency range. The internal DSP does some really neat tricks, too, thanks to Barefoot's MEME (Multi-Emphasis Monitor Emulation) technology. That DSP goes beyond Barefoot's own excellent flat response to add emulations of home hi-fi type speakers, and two of the long-time studio listening standards, here labeled "Old School" for some white cone goodness and "Cube" for the classic small single-driver system. By providing these extra modes, especially the studio standards, it's much easier to make sure your mixes will translate properly, not just to consumer systems, but to other studios, should you need to work on them elsewhere. While these are not budget speakers, those emulation modes can save more than a little coin over having to invest in multiple speaker systems just to cross-check your mixes.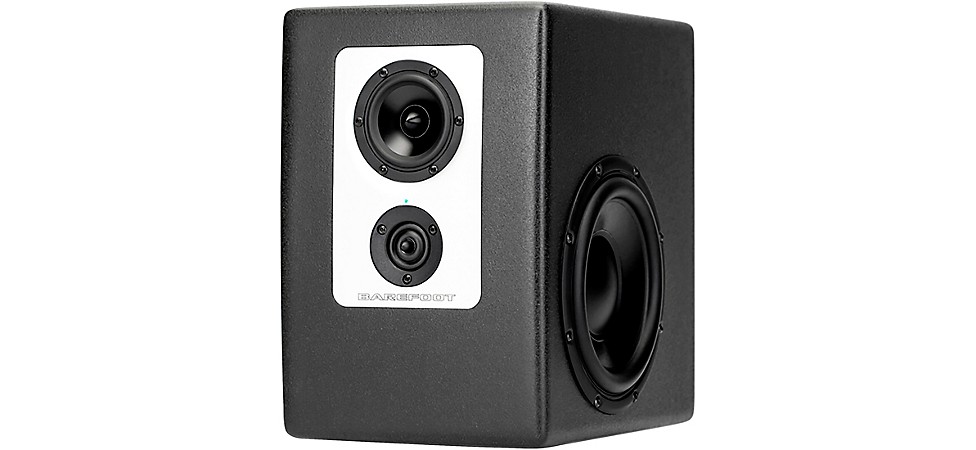 Pictured: Barefoot Sound Footprint1 8" 3-Way Powered Studio Monitors 
Neumann KH 310
Back to Neumann for the last of our three-way systems. The KH 310's design allows it to extend down to 34Hz on the low end, and it shares DSP and the Mathematically Modeled waveguide technology with the previously discussed KH 80 for a superb soundstage and exceptionally wide sweet spot. Using Class AB amps for the tri-amplification system, it delivers 300 watts peak for each speaker. These are sold as separate left and right speakers, as they are designed for horizontal, rather than vertical orientation, and for that, it's necessary that the 8" LF driver, 3" MF driver and 1" HF driver have the proper mirrored orientation. These cross the line between nearfield and midfield monitors, so if your control room space is a little larger, these are an excellent choice to kick your monitoring game up to a whole new level.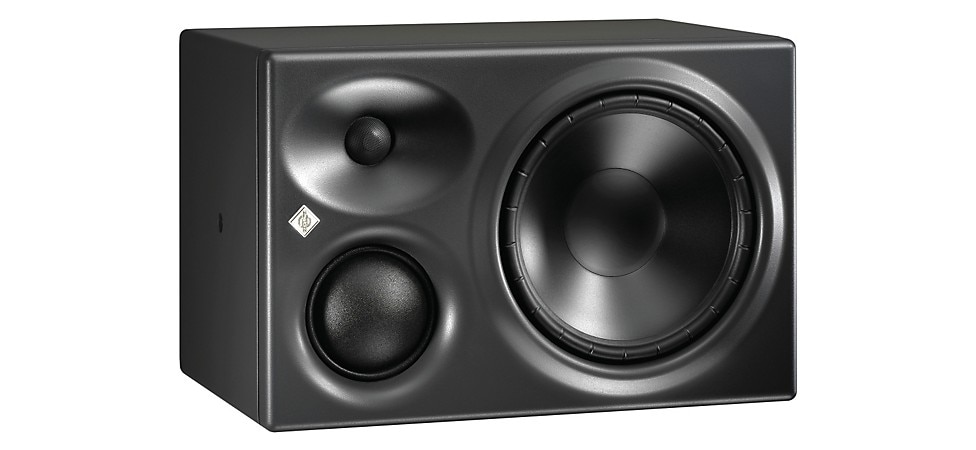 Pictured: Neumann KH 310 8.25" 3-Way Powered Studio Monitor 
IK Multimedia iLoud MTM
The last monitors we're looking at here are the wild card in the bunch. Frankly, we think that a pair of these should pretty much be in everybody's toolkit. IK Multimedia's iLoud MTM monitors are incredibly small and exceptionally portable. While they may not be meant for large studios, they're spectacular for cross-checking mixes with larger systems. They also have a huge amount of flexibility and ship with IK's ARC measurement microphone, which, combined with the complete DSP control that's available here, helps you really dial in the response for any room and any placement position. Despite their small size, they boast 100 watts of RMS power each and a low-frequency response down to a surprising (for their size) 40Hz. They even have Bluetooth playback capability for when you just want to listen to some tunes from your mobile device.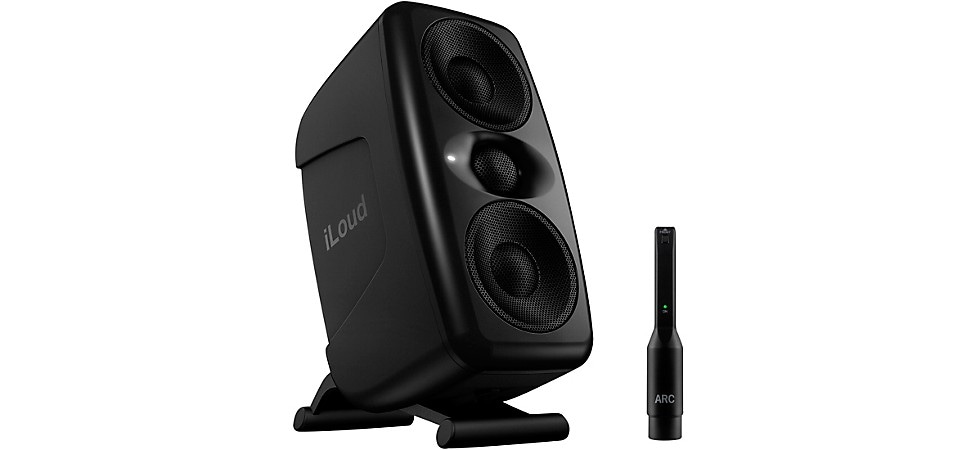 Pictured: IK Multimedia iLoud MTM Dual 3.5" Powered Studio Monitor 
How to Choose the Best Monitors for Your Studio
So which of these monitors is the right one for you? The right monitor for your space has a lot to do with the size of the room you listen in. Generally speaking, your listening position should be roughly a third of the way from the front wall to the back wall of your space. There are a lot of acoustic reasons for that, but in the interests of keeping this particular article relatively short, we're asking that you take our word for it here. Add to this that your monitors should form an equilateral triangle with your listening position (e.g. if your monitors are four feet apart, they should each be four feet from your head), plus be at least a quarter of the room's width away from side walls, and you can see how what might have seemed like a huge number of options can get reduced pretty quickly. The takeaway from this should be that a smaller space doesn't need larger monitors. If the size and configuration of your mixing room dictates that you're not going to get further than three to four feet away from your nearfields, the advantages of three-way 8" monitors, as sweet as they are, would be mostly wasted in your space.
Conclusion
Whatever size your studio space is, or what your budget is, there should be a pair of monitors in this list that will help you up the quality and consistency of your mixes. But, as always, there are essential accessories and products that will help you get the most out of your monitor purchase. Here's a quick rundown of some things to consider adding to your shopping list.
As always, if you have questions or want to learn more, check with the knowledgeable associates at your local Guitar Center or at our Call Center. We love nothing more than helping other musicians find their way towards making the music they love a reality.