Yamaha HS3 3.5" Black Powered Studio Monitors (Pair)
Q&A
|
Item #:

1500000414831
POS #:119556363
6-month special financing^ + $11 back in Rewards**
Learn More
Lease-To-Own Purchase Options
Learn more
Beat the rush: Order this highly anticipated release now and we'll ship it as soon as it arrives. You won't be charged until it ships.
Notify me when this item is in stock.
Save on orders $499+ and get advice on recording gear from a Gear Adviser
Need Help?
Yamaha HS3/HS4 High-Quality Compact Studio Monitors for the Uncompromising Creator

Description
Since the 1970s, engineers, producers and creators of all types have trusted Yamaha when making their most important sonic decisions. The iconic white woofer found on Yamaha's nearfield reference monitors has become an industry staple on console meter bridges and in home studios alike. Enter the Yamaha HS3 studio monitor. Based on the distinctive midrange qualities of the famed NS-10, Yamaha's HS series of powered studio monitors built on the legacy of its legendary predecessors' reliability and introduced a host of new benefits to fulfill the needs of the modern studio. Now, Yamaha has taken things one step further with the HS3 to give audio lovers worldwide new, unfettered access to dependable, honest and accurate sound. Designed to be true to the original, these compact powered speakers come out of the box ready to seamlessly integrate into your existing setup. Featuring a classic black finish, these HS3s are the perfect complement to your studio aesthetic. With room control and high trim settings, professional- and consumer-level input connections and a compact footprint, these powerful and portable nearfield monitors were designed to help you bring out the best in your productions.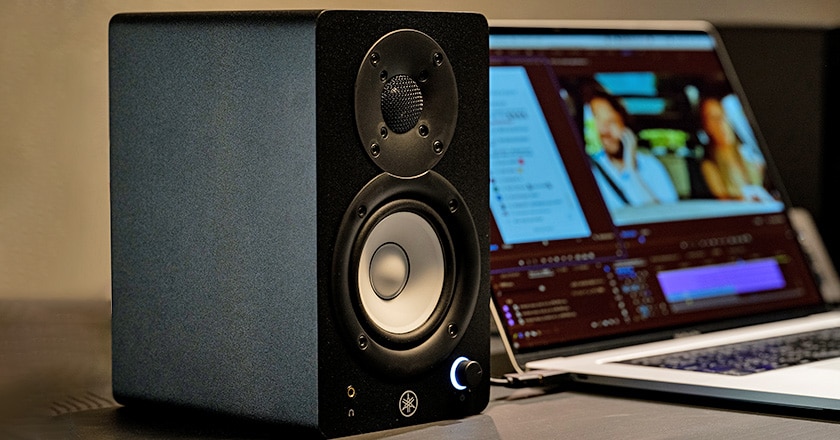 Meet the New Boss … Same as the Old Boss
Continuing the heritage of the famed Yamaha nearfield studio monitor, the HS3 includes everything you've come to know and love about classic Yamaha speakers. Honest and flat, the HS3's frequency response ranges from 70Hz–22kHz and makes an ideal sonic platform for you to base your most important decisions on. With a natural midrange, plus faithful high and low end, the HS3 won't lead you down the rabbit hole, but instead will offer you a true representation of your sound without coloration or enhancement. Featuring traditional white Yamaha 3.5" woofers, a .75" dome tweeter and a proprietary "Twisted Flare Port" for reduced air turbulence noise in the bass reflex port, (this provides extremely clear and accurate bass response for such a small speaker), your ears will find themselves right at home in front of these defined and trustworthy monitors.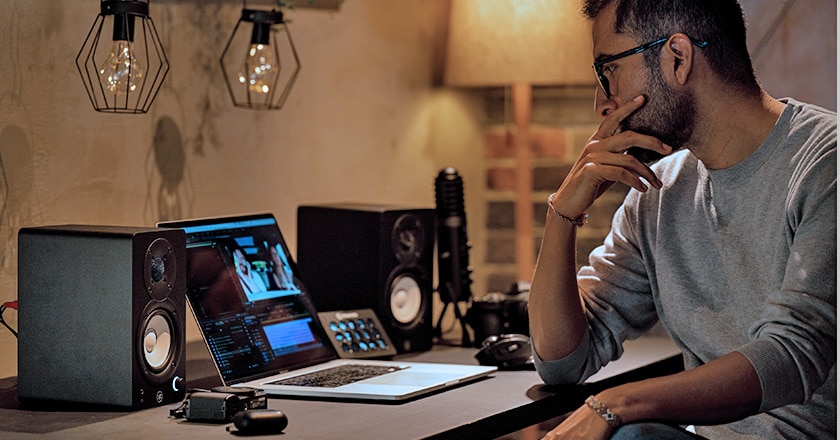 The Perfect Fit
It's clear that the goal from the beginning was to bring the best qualities of past designs into the modern age, and package it in a highly portable, compact monitor. One of the highlights of HS series monitors are their room tuning capabilities. The HS3s include both room control and high trim functions for you to perfectly tailor their sound to your environment, wherever you take them. This allows you to fine-tune your low end depending on the speakers' proximity to walls or other surfaces, as well as adjust the high-end response in the case of a harsh, highly reflective space. Wherever you place them, you'll be able to get the critical information you need from these flexible nearfield monitors.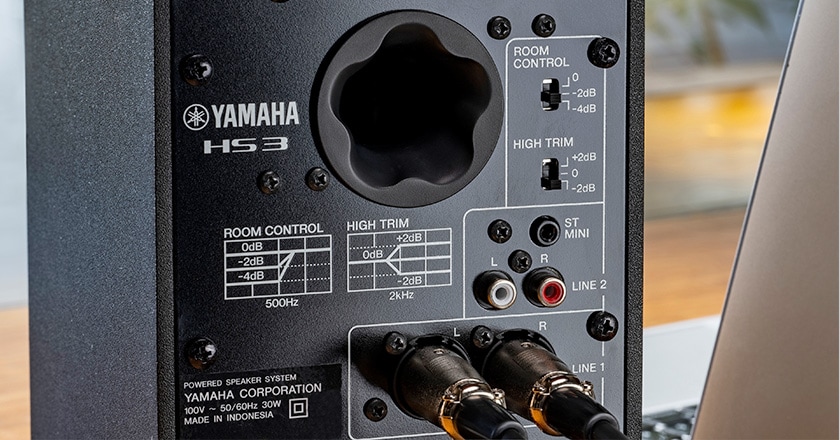 Connection Is Everything
Modern problems require modern solutions, and the HS3s have you covered front and back. The rear panel of the HS3 is equipped with combo XLR/TS phone, RCA and stereo mini jacks to accommodate a wide range of consumer or professional equipment, such as computers, interfaces, mixers and electric instruments. On the front panel you'll find the most commonly used features, such as a power button, volume adjustment knob and headphone jacks for easy access, making trim adjustments and "apartment-friendly" monitoring options quick and within reach.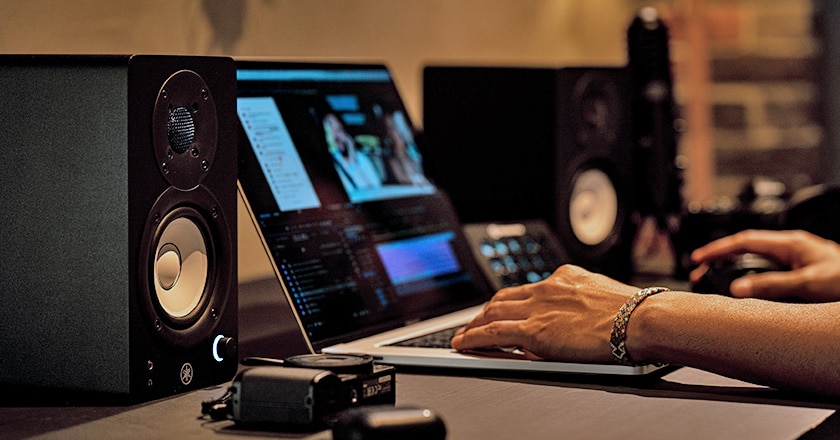 Take Me With You
From the bedroom studio to the road, we all need a trustworthy, reliable pair of monitors to record and mix our projects with. Sometimes you don't make music in the same space every day, and the HS3's compact footprint allows you to place or take them wherever you need. Their desktop size can be attributed to highly efficient Class-D amps. Using one amp for both speakers has enabled Yamaha to reduce both the weight and necessary connections to make a truly portable pair of studio monitors. Plus, you can always use more room on your studio desk or console for absolute session necessities like laptops, notebooks, keyboards—lava lamps—or mixers.
Let's be honest, not all nearfield monitors are created equally. Because of their size, they are typically "hyped" to sound like larger models with increased low and high end. This can actually make your job as an engineer harder by forcing you to guess what "accurate" truly is. Yamaha's HS3 monitors provide a solid foundation and honest reproduction across the frequency spectrum for you to make the most important sonic decisions. After all, isn't that what you're really looking for in a nearfield monitor?
Features
70Hz–22kHz frequency response (–10dB)
26W + 26W output power
Room control and high trim response controls
XLR/TRS Phone (COMBO), RCA and Stereo Mini inputs
Stereo mini - RCA cable, speaker cable and anti-slip feet included
Specs
General
System Type: 2-way Powered speakers
Frequency Response (−3dB): 85Hz–20kHz
Frequency Response (−10dB): 70Hz–22kHz
Crossover Frequency: 3.2kHz
Maximum Output Level (Measured peak, IEC noise@1m): 100dB SPL
Size and Weight
Left Side: 132 x 223 x 189 mm (5.2" x 8.8" x 7.4")
Right Side: 132 x 223 x 189 mm (5.2" x 8.8" x 7.4")
Left Side: 2.8 kg (6.2 lb.)
Right Side: 2.1 kg (4.6 lb.)
Input Connector
Left Side: COMBO (XLR/TRS Phone) x 2; RCA x 2; Stereo Mini
Right Side: Speaker Input
Output Connector
Left Side: Headphone; Speaker Output
Speaker Section
Enclosure: Bass-reflex type, Material: MDF
Speaker Components:
HF: 0.75" Dome; LF: 3.5" Cone
Nominal Impedance: 6 ohm
Amplifier Section
Maximum Output: Dynamic, RL=6 Ω; THD 0.1%, 1kHz, RL=6 Q 20W + 20W
Input Impedance: LINE 1 (COMBO): 20 kohm, LINE 2 (RCA, ST Mini): 10 kohm
Input Sensitivity (Volume: Maximum): LINE 1 (COMBO): +4 dBu, LINE 2 (RCA, ST Mini): −10 dBu
Maximum Input : LINE 1 (COMBO): +20 dBu, LINE 2 (RCA, ST Mini): +6 dBu
Input Connectors: LINE 1: COMBO (XLR/TRS PHONE); LINE 2: RCA, Stereo Mini
Controls
Front: Volume
ROOM Control Switch: 0/−2/−4dB under 500Hz
HIGH Trim Switch: +2/0/−2dB above 2kHz
Indicator: Power ON (White LED)
Power Requirements: 100-240V, 50/60Hz
Power Consumption: 15W
Accessories
Stereo Mini - RCA Cable: 1.5 m
Speaker cable: 2.5 m
Anti-slip pad
Quick start guide
Safety guide