A good set of headphones is an absolute must-have for every musician, engineer and producer. We curated this list of best studio headphones for recording, mixing and mastering to help you hear what you need each step of the production process. While tracking, unless you can clearly and accurately hear yourself and other tracks you're playing along to, it's likely you'll run into issues with pitch and timing. When mixing and mastering, while it's crucial to have quality studio monitors, it's always great to have a pair of reliable reference headphones for an added perspective—especially when your monitors and/or acoustic treatment are less than ideal.
Every music lover has their favorite headphones for traveling, and if your hobby or profession is music, the importance of having the right set of cans on the go is tenfold. In the studio or on the road, you count on your phones to listen to the mix as accurately as possible, and you need the tools to do it precisely (and comfortably, too). Read on to learn about what to look for in a set of headphones for each step of the production process, and some of our staff-picked recommendations.
The Differences Between Closed-Back and Open-Back Headphones
First, it's key to differentiate between closed- and open-back headphones. Each have their strengths and weaknesses depending on the application, and some tasks exclusively utilize one type. For example, when tracking, it's always wise to go with a set of closed-back headphones. By nature of their construction, closed-back headphones provide more isolation than open-back headphones. If you attempted to record with open-back headphones, which provide little-to-no isolation at all, whatever is playing through your cans would leak right out back into your microphone. This could potentially complicate editing and mixing down the line.
While it's established that open-back headphones are not ideal for tracking, their openness and lack of mechanical resonance and filtering can lend themselves to superior, more accurate sound. These qualities make them a suitable option for mixing, mastering and general listening. They can also be more comfortable for extended listening sessions, as they air themselves out more than closed-back headphones do. They're also a great solution for circumventing the dreaded "sweaty ear syndrome."
The Best Headphones for Recording
Your choice of headphones for recording will largely hinge on your needs related to volume and isolation. For instance, when overdubbing or recording quieter instruments or parts, having a set of phones with solid isolation is paramount. Because the gain would need to be turned up on the mic preamp, your mic would pick up bleed from your cans much more so than if you were recording live in the same room with a band or ensemble.
Conversely, spillover from loud amps, drums and other instruments could cause issues as well. With higher levels of external noise, it can become even more necessary to shut out those distractions, so you can focus on hearing yourself and the elements you need in your mix. Oftentimes, the reverberations of the room you're performing in can cloud what's being played in real time. So, anyone, from guitarists and horn players to keyboardists and vocalists, can benefit from a reliable set of headphones.
If you own or manage a studio that records bands and larger ensembles, consider your budget as you'll likely be purchasing at least six pairs. It's common for larger studios to carry multiple sets of different types of industry-standard headphones, too, as many artists and engineers will develop a familiarity or preference for one over another.
Sony MDR-7506
One of the most ubiquitous studio headphones is the classic Sony MDR-7506 professional closed-back headphones. Their exceptionally flat frequency response has made them a staple at virtually every major recording studio. It's essential that your headphones don't exaggerate or cut a particular frequency range for the sake of listening pleasure—you want your monitors to be brutally honest. These accomplish that end masterfully, which also makes them a great choice for mix checking.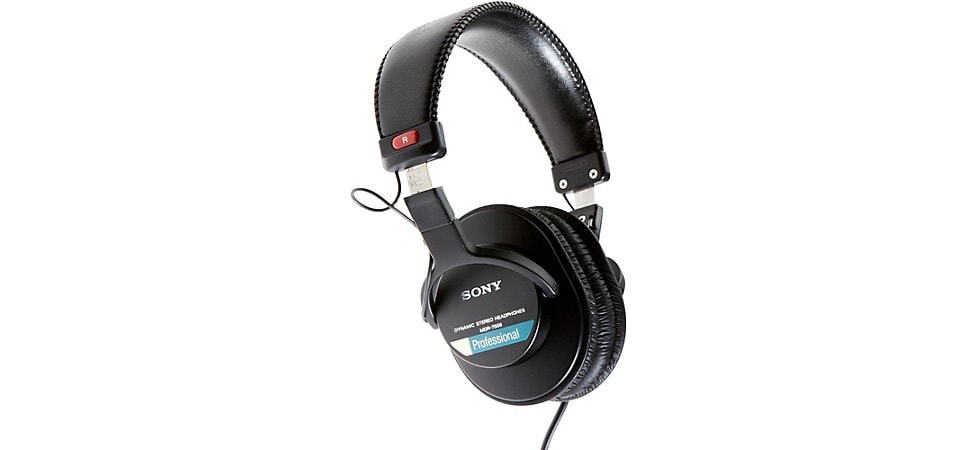 Pictured: Sony MDR-7506 Professional Closed-Back Headphones
Additional Options
Another mainstay at world-class and home studios alike is the Audio-Technica ATH-M50x. These are a little more forgiving and "fun" to listen to, albeit at a higher price point than the MDR-7506s. They also offer a flat, yet bassier frequency response and a little more isolation, in addition to an included detachable coiled and straight cable. For the more budget-conscious, Audio-Technica ATH-M30x headphones offer excellent portability and mid-range detail, and are also available in matte gray.
In the same price range as the ATH-M50x, you'll find the AKG K371, which, at an ultralight 8.9 oz, sport a sleek, sturdy closed-back design along with the neutral, studio-quality sound you'd want in production headphones. They come with plush earpads, perfect for longer tracking sessions, and three detachable cables. For those who prefer the convenience of wireless mobility, AKG K371-BT headphones provide the same features, plus Bluetooth audio streaming.
Best Headphones for Recording Vocals
It's every engineer's favorite: vocal tracking day. Make it an even better time by being prepared with the right headphones for the occasion. It's no secret that vocalists can be particular about their recording sessions—especially the way they hear themselves while tracking—so it's a good idea to have multiple options handy. If you're a singer, familiarizing yourself (and even bringing some trusty headphones with you) can add a much-needed level of comfort to your sessions, so you can focus on performing your best.
Sennheiser HD 280 PRO
Going with Sennheiser HD 280 PRO headphones is an excellent choice for recording vocals. Boasting up to 32dB of external noise attenuation, these closed-back phones provide the isolation that vocalists need to lay down clean tracks, even at high volume. With easily replaceable cables, earpads and headband padding, they're designed to outlast even the most demanding session schedules.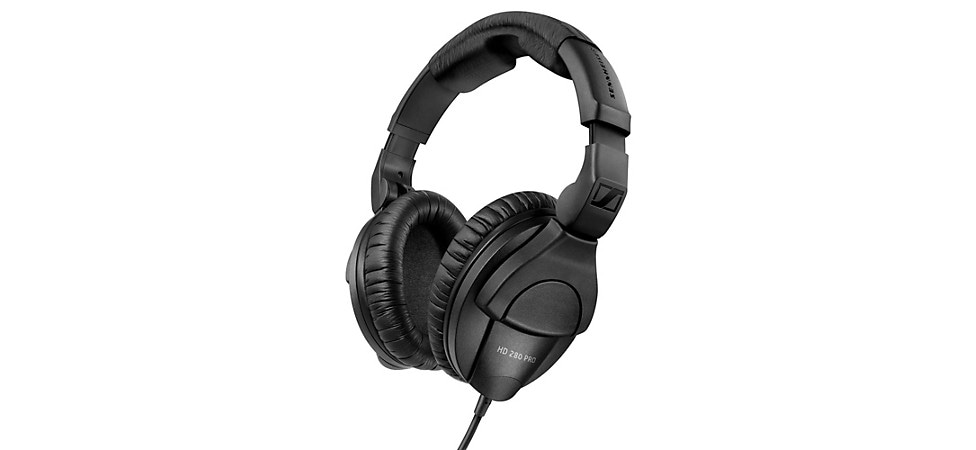 Pictured: Sennheiser HD 280 PRO Closed-Back Headphones
Additional Options
Similarly priced alternatives, SRH440 headphones from Shure feature optimized 40 mm drivers for recording, closed-back construction, comfortable fit, swappable earpads and detachable cables. They're similar in their closed-back build and style to the MDR-7506, delivering effective noise isolation and a durable, foldable construction.
The closed-back TASCAM TH-200X studio headphones are comparable, offering a lightweight design with extra cushion and sonic qualities that make them great for studio and recreational use alike. We offer the TH-200X in a 2-pack, should you decide to double-down on quality monitoring.
Best Headphones for Recording Drummers
When it comes to tracking drums, isolation from both external and internal sources is vital. While you're thrashing away at your drums and cymbals, you may need to hear your click track, bass and other instrument tracks loud and clear, even with you pushing upwards of 100dB on your own instrument. If your cans aren't providing enough isolation, you run the risk of cranking your guide tracks too high and damaging your hearing. And for those quieter parts of the song, you don't want your phones leaking into your many mics, accentuated by compression, limiting and any other processing in your chain.
Vic Firth SIH2
While this dilemma poses quite the conundrum for many drummers, there are a few headphones—all of which are closed-back—that stand out from the crowd to give you just what you need. That's where the Vic Firth SIH2 Stereo Isolation headphones swoop in to save the day—and your hearing. Hailing from a maker who's earned its trust from drummers the world over, the SIH2 are truly purpose-designed headphones for drummers. With large drivers providing outstanding low end, clean mids and crystal-clear high end—in addition to up to 25dB of noise reduction—they've been designed to keep your ears safe from dangerous SPL and tracks free of bleed.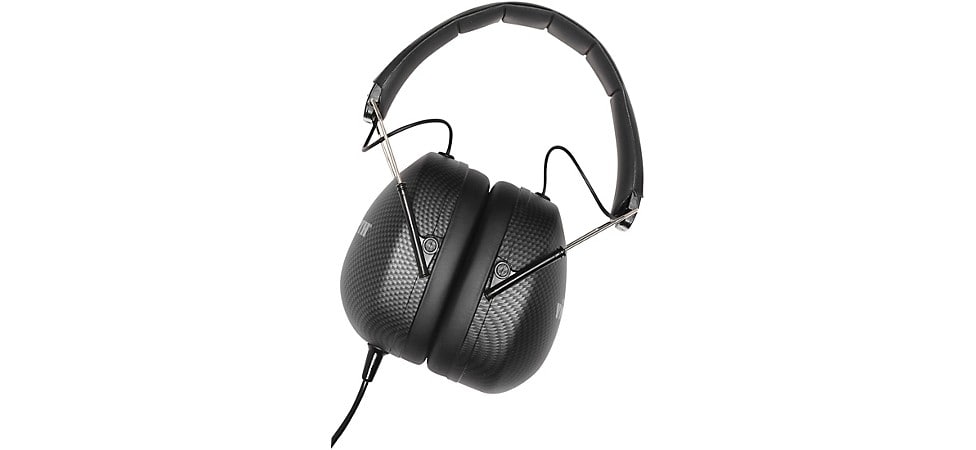 Pictured: Vic Firth SIH2 Stereo Isolation Headphones
Additional Options
Gigging drummers may be familiar with in-ear monitors, and they happen to be great for recording as well. The Shure SE215 are an affordable IEM option for drummers and percussionists, providing sound isolation and fantastic frequency response with a small footprint. The wires sit over your ears and stay out of the way, while any of the three included foam sizes ensures a snug fit, so you don't skip a beat once you're situated.
The Direct Sound EX-29 Extreme Isolation headphones round out our recommendations for the best headphones for drummers, and for good reason. They were engineered specifically to isolate sound, hence the name, and having one look at these will also suggest that they're made for just that. Championed by drummers such as Terry Bozzio to the Blue Man Group, they attenuate an average of 28dB across the frequency spectrum. They're also great for front-of-house and monitor engineers, as well as DJs, since their design also allows for cupping one ear while leaving the other exposed to hear the ambient sound.
Best Headphones for Mixing and Mastering
We'll start this section with a disclaimer: you should never mix or master exclusively with headphones. Headphones can be an integral asset to your workflow, especially when it comes to level-setting and identifying problematic frequencies, but they lack in stereo imaging that only studio monitors can provide. Listening to how your left and right sounds interact with each other, and the surrounding environment, is something that you're going to need quality, purpose-made speakers for. So, while it's important to have a solid set of studio monitors that you're intimately familiar with, having suitable headphones for mixing and mastering will certainly give you an invaluable perspective—and an upper hand—in the process.
If you're working late into the night, or are in close proximity to others in a shared environment, having a low-volume monitoring option is necessary to work sustainably and live harmoniously. When you're on the road, or if your space doesn't have ideal acoustics, headphones can provide consistent, instant clarity no matter the quality of your acoustic space. So long as your surroundings are quiet enough, you can be productive anywhere with the right phones. Remember that listeners are increasingly hearing music through headphones, so having a similar method of reference, to ensure it translates as desired, can be a vital tool in your arsenal.
Beware of trendy consumer headphones that are hyped for specific genres, as these can show an exaggerated low and high end with a scooped mid-range, for example. You can check with these for an occasional reference to make sure it sounds good, but you'll want your go-to mixing and mastering headphones to be as candid as possible. That means an even (or "flat") frequency response across the range of human hearing—typically from 20Hz–20kHz. Usually, if your mix or master sounds decent on flat-frequency response monitors, it'll sound at least as good on a consumer speaker or pair of headphones.
Shure SRH1840
Shure's flagship headphones, the SRH1840, are a wise investment if you're looking for some of the best mixing and mastering headphones available. They feature a gorgeous, custom-crafted, open-back design, individually matched drivers for supreme precision, luxurious velour pads and all the usual accessories. With such attention to detail, it's no wonder they're a go-to amongst on-the-go mixing and mastering engineers.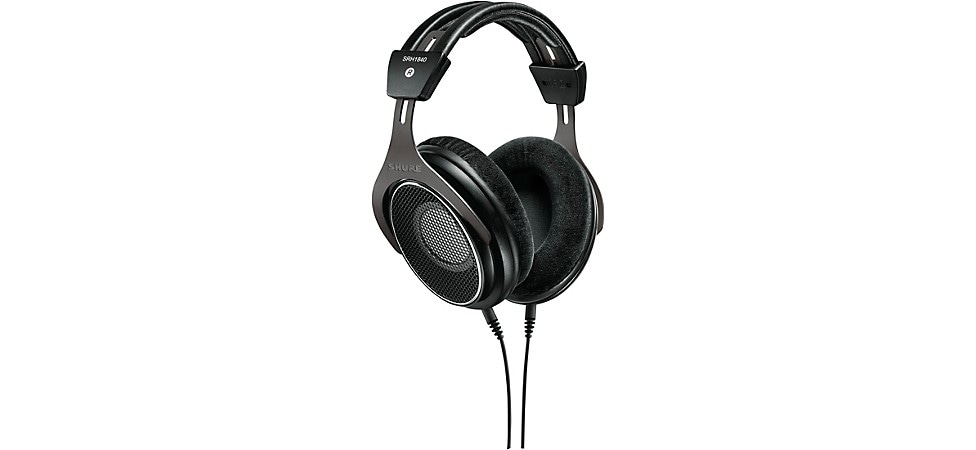 Pictured: Shure SRH1840 Premium Open-Back Headphones
Additional Options
Another enticing open-back choice is the Austrian Audio Hi-X65 Pro over-ear headphones, which were deliberately engineered with mixing and mastering in mind. Their linear frequency response, high-resolution and spacious sound have earned them a place in discerning engineers' studios and mobile rigs alike. An emphasis on comfort, with their memory foam earpads, certainly doesn't hurt, especially for those marathon mixing sessions.
If you've read this far, don't be discouraged—on-the-go mixing and mastering isn't just for the top 1%. The AKG K240 studio headphones give budget-conscious engineers the ability to experience that naturally open sound quality that's often found in high-end models. The K240's semi-open-air construction implements a 55-ohm impedance, precise dynamic transducer and an acoustically tuned venting structure that yields accurate response anywhere you take them. There's also a K240 MKII model with an updated design.
Best All-Around Headphones
We've detailed headphones that do specific jobs particularly well, but many musicians don't limit themselves to being solely audio engineers, producers, vocalists or instrumentalists. These all-rounder types need a set of headphones that can handle several different applications and deliver the sonic goods for each one without any significant compromises along the way.
Sterling Audio S452
The Sterling Audio S452 studio headphones are multitasking marvels. Closed-back, padded earcups offer isolation and comfort during long recording and mix sessions, 45 mm drivers and copper-clad aluminum-wire voice coils deliver a wide and transparent frequency spectrum and the 180° rotatable drivers accommodate the monitoring needs of DJs and vocalists (or instrumentalists) who work with one ear off. For musicians on the move, the S452 folds right up for easy transport and includes a detachable cable. No matter what the gig is, the S452 studio headphones ensure you can critically evaluate the frequency range at hand, record or perform for hours without any discomfort and feel confident that everything you hear is precisely what you should be hearing.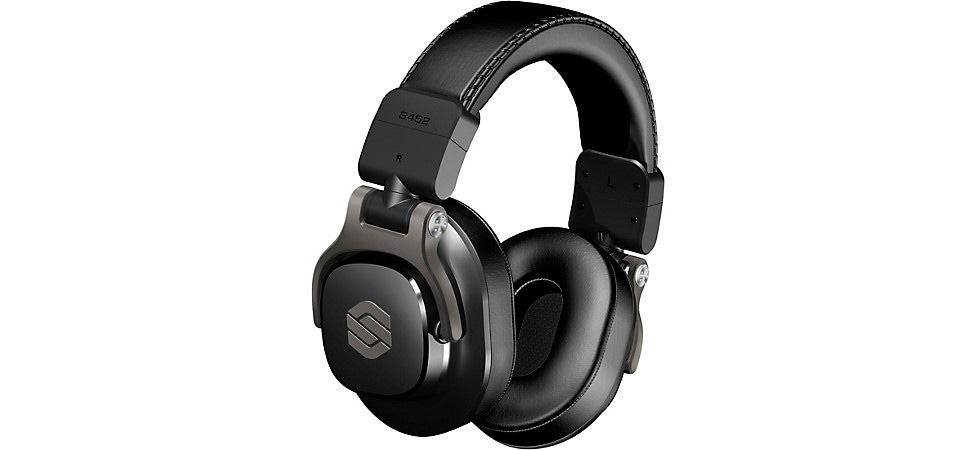 Pictured: Sterling Audio S452 Studio Headphones
Additional Options
The TASCAM TH-300X is also a closed-back design with plush and comfortable earcups. Its 45 mm drivers deliver accurate sonic reproduction with excellent headroom, and the gig-tough construction guarantees these headphones can handle the rigors of constant use in the studio and on stage.
Yamaha's closed-back HPH-MT5 headphones are similarly designed to withstand relentless use, as well as provide comfort throughout brutally long sessions and gigs. The 40 mm driver produces taut low end and a 20Hz–20kHz frequency response.
Other Considerations
To maximize any set of headphones, you'll need a good headphone amplifier that suits your specific needs. A headphone amp will provide superior clarity, detail and dynamic range, and if you need multiple outputs, it may be necessary to get one. In addition to a quality cue amp, if you're running a professional studio of any size, extension cables, 1/8–1/4" adapters and replacement pads are a must.
Having sets that come with a detachable cable will save you the headache and resources down the road when a cable inevitably fails. And, while Bluetooth capability may be a nice convenience in a pinch, it's not ideal for mixing and mastering. Using Bluetooth can introduce noise, loss of quality and latency—which could be especially problematic when tracking.
In Closing
No matter what your role is in music production, there's a pair of headphones that is well suited for the task at hand—whether they be for general use, tracking vocals or drums, or mixing and mastering. There are no one-size-fits-all headphones ideal for every stage of the process. However, there are appropriate choices for each, with specialized feature sets that make each of the aforementioned headphones ideal for specific uses.
It can take some experimentation, but learning the ins and outs of what to look for in a set of headphones will save you time and money in the long run. Taking into account quality, comfort, application and budget is a good place to start.