Start Me Up 
You're ready to pull the trigger on an electric guitar; the only problem is, you don't know where to start. Be not ashamed, that's why we're here. Let's go over some basics to look for when selecting a new electric guitar. 
Establishing Your Budget
If this is your first electric guitar and you don't plan on recording or gigging with it, you're likely going to want to stay within the $150–$500 range. Don't feel obligated to break the bank on your first guitar, and keep in mind you'll need an amp, cables, and a tuner. Down the line, you may want to add some pedals, as well, to help fine-tune your sound.
Choosing Your Guitar Style
If you've decided to pick up the electric, chances are you were inspired by your favorite guitar player or group. When buying your first axe, feel free to go after the look that made you want to play in the first place. If the bluesy bends of Stevie Ray Vaughan made you want to get off the couch and on the stage, consider an affordable Stratocaster® option. If Slash's heavy riffs and trademark hat rev your engine, a starter Epiphone Slash Les Paul Performance Pack will help take you down to Paradise City.
Complete with an amp, cables, a strap and instructional materials, the packages below offer everything you'll need to get jamming. And they won't put a hole in your wallet: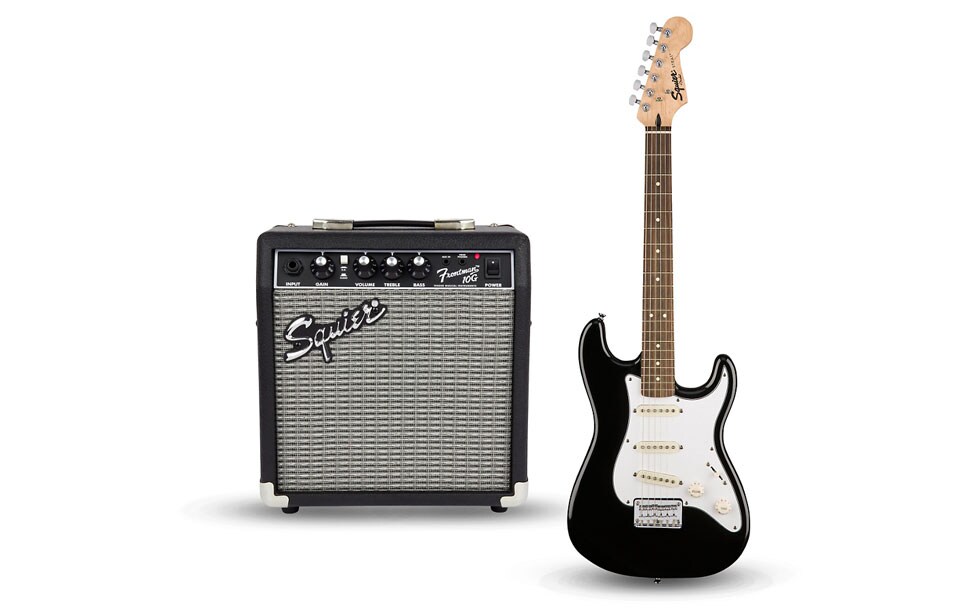 Squier Strat Pack SSS Electric Guitar with Fender Frontman 10G Combo Amplifier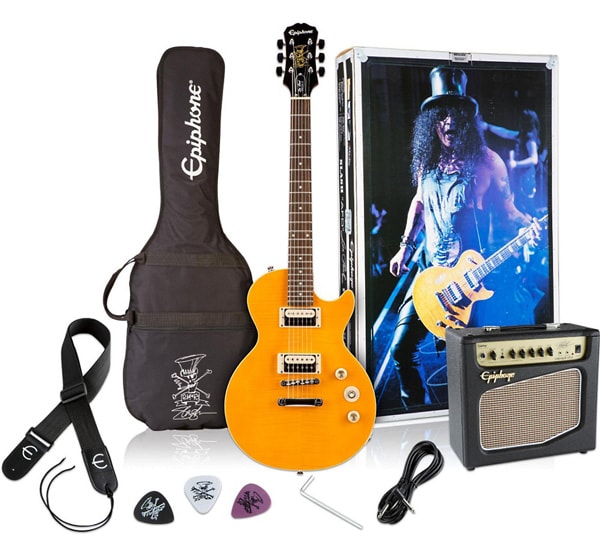 Epiphone Slash Les Paul Performance Pack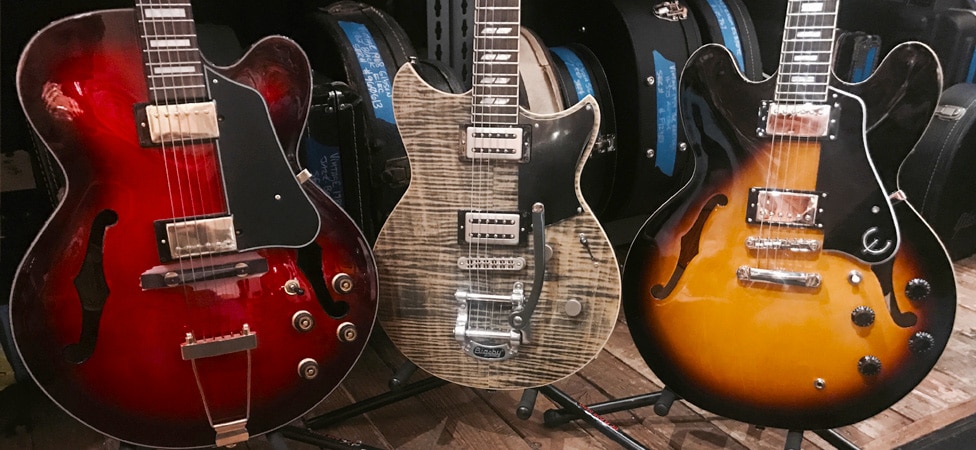 If you're looking for something more unique or just want to understand why guitars have different shapes and provide different tones, you need to understand body styles. Electric guitars come in several different forms, but by and large, there are three primary body styles of guitars: 
Solidbody
These are the most common starter electric guitars. Popular makes include Stratocaster , Telecaster®, Les Paul and SG-type bodies—great for rock, country and pop. 
Hollowbody
These have resonant sound chambers, kind of like acoustic guitars. They are louder than solid bodies when played without an amp—great for jazz, blues and rockabilly. Gretsch and Ibanez make some quality models that won't blow your budget. Then there are semi-hollowbody guitars— these are the in-betweeners. They are hollow like hollowbodies, but not as deep, making them extremely versatile. Some popular models include the Fender Thinline Telecaster, Gibson and Epiphone's seminal ES-335 models and Ibanez AM73B.
Extended Range Guitars
Extended what? Extended range guitars are instruments that take the concept of the standard six-string guitar a step further by adding more strings to the guitar and/or augmenting the tonal range of the instrument I.E. baritone and 7-string guitars . Here are some sweet extended range models you that might just be up your alley.

Epiphone G-1275 Double Neck
The Epiphone G-1275 Double Neck he working man's version of the classic Gibson 1235 made famous by Jimmy Page on a little gem called Stairway to Heaven. Looking for versatility? This might just might glitter like gold for you.

Gretsch G5265 Jet Baritone
Baritones or "Baris", as they are often called, are guitars that have a longer scale and are typically tuned lower than a standard guitar. Popularized in the 50's and 60's by guitarists like Duane Eddy and Glen Campbell, the baritone guitar has a voice all its own and can function as a bridge of sorts between a regular six-string and a bass. If this sounds like something you'd be interested in—try looking into the Gretsch G5265 to get you started. 

Schecter Demon -7
Looking to rock your block off? This Schecter Demon-7 is a good place to get started. 7-string guitars typically have an extra-low string on them tuned to a low B, which makes them great for hard rock and metal.
Playability
When you're starting out, you'll want a guitar that'll be easy to play. However, there will be some initial pain until callouses develop. Generally, electric guitars are easier on the fingers than acoustics, but there are exceptions. When you pick up a guitar, you shouldn't fret about fretting, meaning the strings should be closer to the fretboard rather than farther away. This measurement is referred to as "action," and having the right action on your guitar is a must. If the action is off or too high, you'll require a setup—which you can get at any Guitar Center location. 
Setup 
The way your guitar is set up dictates not only the action, but also the intonation of your guitar. Intonation is how in tune your guitar sounds up and down the fretboard. If your guitar is in tune when you play it openly, it should stay in tune when you start barring chords and playing individual notes. If it doesn't, then your guitar needs a setup. Most new guitars should already be set up to plug in and rock out. 
Pickups 
Pickups are the pieces of metal and/or plastic beneath your strings. They are largely responsible for a guitar's tone. Simply put, they "pick up" the vibrations of your strings and electrically send them to the amp where they are then magnified. Pickups and their configurations can get complicated, but essentially think of them as little microphones for your strings. Pickups come in several varieties, but the two most common pickup types are: 
Single-Coil
Common to all sorts of Fender-styled guitars, like Strats and Teles, single-coil pickups are known for their bright and sometimes twangy sound. 
Humbuckers
Found on most Gibson-based guitars, humbuckers are often used for warmer or thicker tones; they're known to "buck" the "hum" that accompanies single-coiled guitars. Think Les Pauls, SGs and most hollow and semi-hollow guitars.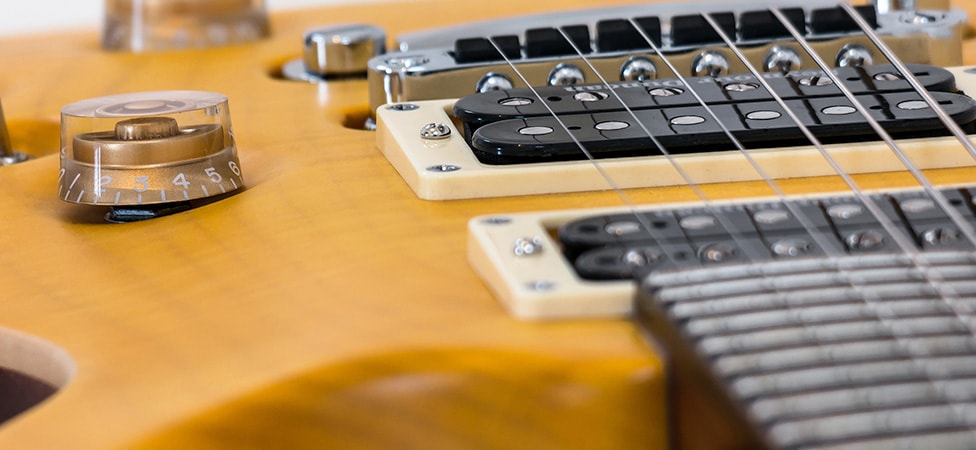 Other Specifications To Consider
Now that you've established the general style of guitar that you'd like to purchase, it's time to dig a bit deeper and get an understanding of other key features and specifications, including tonewoods, hardware and pickups.
Tonewoods
This is perhaps the most important detail in a guitar's construction. Different woods have significant impact on things like tone and sustain. Look into different woods and compare different timbres to find your perfect sound. 
Hardware
Hardware includes a variety of electric guitar components, including the bridge (which may or may not feature a tremolo/vibrato system), the tuning keys, the nut and other features. Exploring the world of hardware is a fun and often-overlooked component of your next phase of discovery. 
Pickups
By now you know the difference between single-coils and humbuckers, but try some guitars with a blended configuration or even different types of pickups. For instance, if you can't decide between the two old stalwarts of the game, you might want to mess around with P-90's, which tend to serve as a bridge between classic single coil and humbucker sounds. 

Iconic Electric Guitar Models
Gibson Les Paul
While it has been wielded by stars of country, jazz and blues, the Les Paul is perhaps best known as a weapon of choice for rockers for over five decades. Just listen to Keith Richards' solo on "Sympathy for the Devil" or any Jimmy Page's thunderous riffs from Led Zeppelin II if you need more convincing. The Les Paul model comes in various configurations and different colors. Some are even available as semi-hollowbodies. 
Fender Stratocaster
From Clapton's "Blackie" to Hendrix's Olympic White model played at Woodstock, the Strat is one of the most enduring figures in the arsenal of rock. Famed for its piercing lead tone and whammy bar madness, the Strat is the ultimate player's guitar.
Gibson SG
If you like rock 'n' roll, the Gibson SG is virtually inescapable. From being wildly wind-milled by Pete Townshend to being shook all night long by Angus Young, the SG has been a one-stop shop for legions of rockers for decades.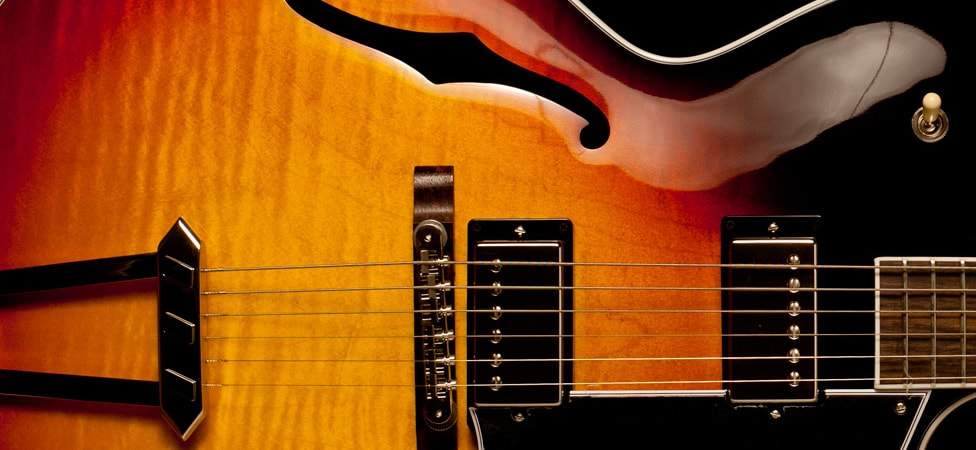 Gibson ES-335
Perhaps one of the most famous guitars in the world, the ES-335 has imparted it's weeping tones on generations of blues listeners for what seems like an eternity. From B.B. King to Warren Haynes—some of the greatest players in the world have considered it a true blues box.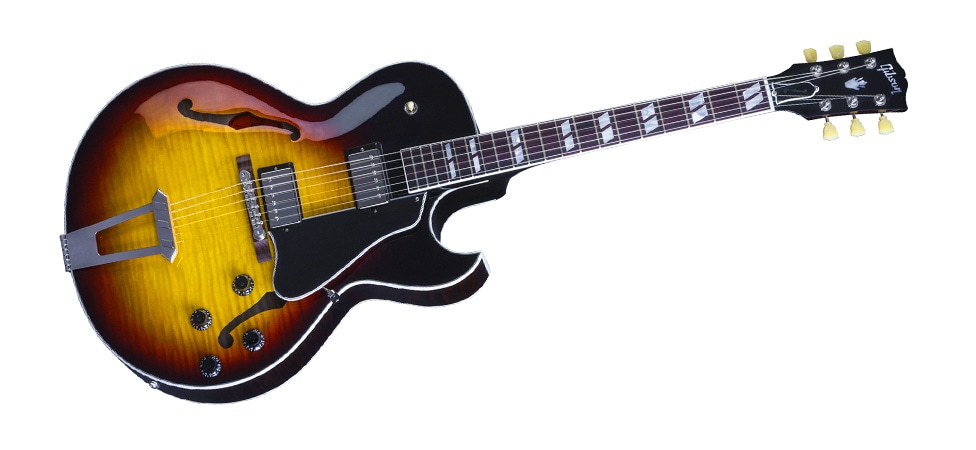 Gibson ES-175
For creamy, dreamy jazz and blues, it doesn't get better than the Gibson ES-175. Whether you're trying to master those Metheny-esque fusion licks or you're headed to Wes Montgomery land, this is the vehicle to get you there.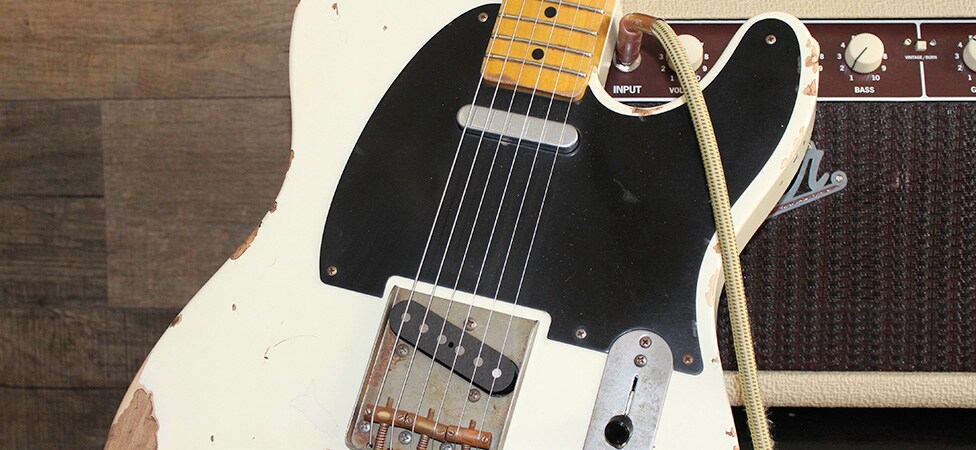 Fender Telecaster
Hands down the most popular electric guitar to ever be chickin' picked, the Tele is, was, and will always be essential for anyone wanting to churn out those down-home country licks.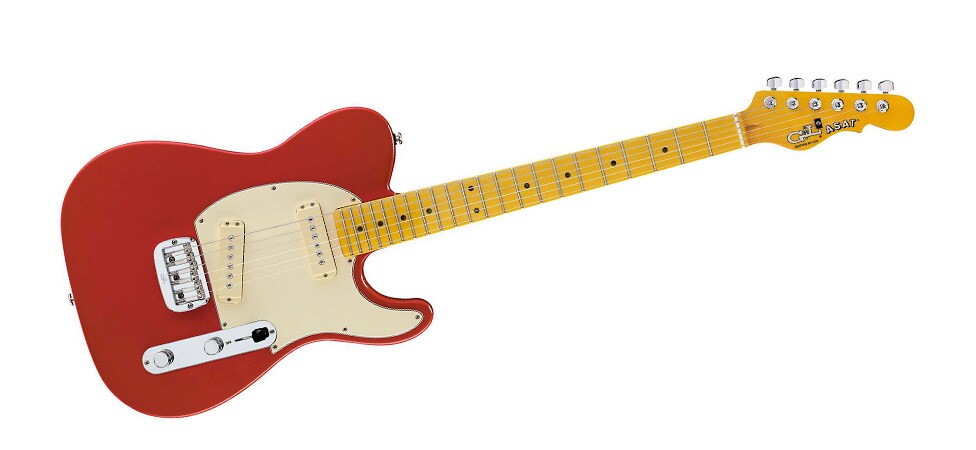 G&L ASAT Special
An evolution of the original single-cutaway electric from its inventor, the ASAT Special offers bold and dynamic tones and excellent playability.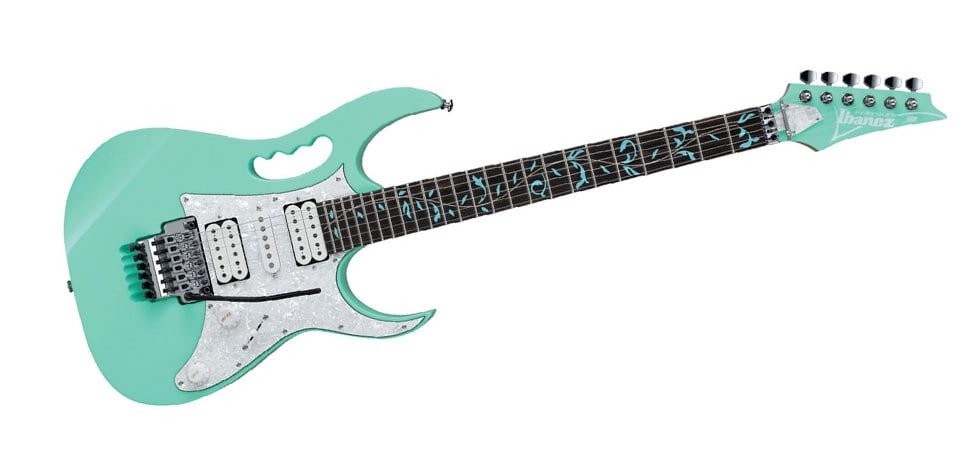 Ibanez JEM/UV Steve Vai
A shredder's dream come to life, the gorgeous and savage Ibanez JEM might be the perfect axe to take your power moves to 11. 
Gibson Flying V T
Ring a bell? From Michael Schenker to Judas Priest's K.K. Downing, the Gibson Flying V is truly rock's original battle axe.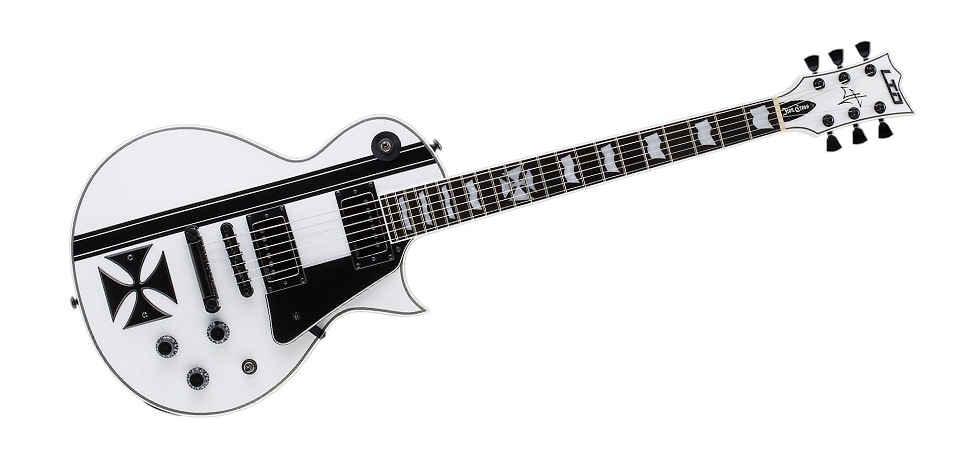 ESP LTD James Hetfield Signature
When you need to make power runs up and down the fretboard with the same ferocity as your music, the ESP LTD James Hetfield Signature was designed to take you there. 
Next Steps - Strings, Amplifiers, Picks and More
Choosing the right guitar can be complicated. For some, it takes months. Others, a lifetime. Apart from choosing the right guitar, there are so many other variables to consider. Everything from your choice of strings to amps to pedals to picks, ad infinitum, can significantly alter your sound. The most important thing you can do is find a combination you're happy with and experiment, experiment, experiment until you've found the holy grail that is your sound. 
Good luck and happy pickin'.