Your acoustic drum kit is not happening. At all. It sounds dull, lifeless, flat and unexciting—galaxies away from the drum tracks that inspired you to play. There's not even a microscopic hint of Dave Grohl, Questlove or Anika Nilles in its tonal character.
And then you decide to change your drum heads.
The transformation is near miraculous. Toms that sounded as limp as swatting a piece of cardboard with flannel pajamas now resonate like volcanic eruptions. The snare has come alive with an articulate swack, crack or smack. The kick drum evokes that thunderous John Bonham boom.
What happened?
All credit goes to your decision to experience the sonic glories of new drum heads. Good-quality heads have a significant effect on the tone produced by your acoustic drums. New heads can be a vast improvement over battered and banged-up old heads, as well as enrich the sound of many new drum kits that may have shipped with good, but not great, heads.
In addition, modern drum head manufacturers have undertaken substantial R&D to offer models with varied sonic qualities, tuning stability and resilience. This means that rather than simply replace a busted or thrashed head, you can tailor the voices of your drums to produce a sound you truly love, as well as better complement the style of music you play. Drum head formulations can produce warm, dark, bright and/or open tones, and are often further developed with inclinations toward ringing overtones or a dry, muted sound.
Obviously, there are a lot of options from which to choose. To get you started customizing your own drum sound with the right heads, we'll discuss some basic features and then offer our top picks for various kinds of players. Now, let's join the carnival of drum tone …
Table of Contents
Batter and Resonant Heads Explained
The Difference Between Single- and Double-Ply Heads
Choosing Clear or Coated Heads
Best Bass Drum Head for Beginners
Best Snare Drum Head for Beginners
Best Snare Drum Head for Live Performance
Best Drum Heads for Studio Recording
Best Bass Drum Head for Compact Kits
Best Drum Head Pack for Heavy Hitters
Best Drum Head Pack for Various Styles
Best Drum Heads for Medium-Volume Gigs
Best Drum Heads for Metal
Best Drum Heads for Low-End Warmth
Best Drum Heads for Low-Volume Gigs and Practicing at Home
Good Vibrations
Batter and Resonant Heads Explained
Drum shells are designed to accommodate two heads. The batter head is the top one that you hit—using drum sticks, brushes, mallets, hands, kick drum beater or an improvised baton of your choice. The resonant head is the one on the bottom that vibrates in response to the air column created by each strike of the batter head. Put more simply, the resonant head produces resonance and sustain.
You can experiment with the two heads and decide whether you want both batter and resonant heads on your drum shells, or just the batter heads. Drums without resonant heads are called concert toms, and they date back to the 1930s and '40s. They became prevalent again in the 1960s and '70s, as they can easily be tuned for a punchy, hollow sound or a dead and dry sound. Both options were extremely popular for classic rock productions of the time.
Drum shells bearing resonant and batter heads can be harder to tune—because two heads—but they also provide the explosive, rich, warm and sustained sound you hear on tons of current songs of all styles. Some drummers mix concert toms and toms with resonant heads on their kits to vary their sonic options. Of course, it's totally your call whether your preferred drum sound requires both heads, just a batter head or a combo plate of both types.
If you need some help tuning your toms, bass drum and snare, check out our excellent tutorial, "How to Tune Your Drums."
The Difference Between Single- and Double-Ply Heads
While it may seem like we are getting into the weeds of esoterica, there are tonal and durability factors to consider regarding drum head plys. The two common drum head categories are single and double ply.
A single-ply head is typically thin, and, as a result, it delivers a quick and bright attack, dynamic sensitivity, increased overtones and good sustain. Single-ply heads are tough, but they aren't the Hulk tough, so aggressive pummeling will eventually take its toll.
Double-ply heads produce fewer overtones and less sustain than single-ply heads, and the general sound is warmer, deeper and more controlled, although the attack is still strong and articulate. Durability increases with the additional ply as well.
For the sake of being comprehensive, we should mention you may come across triple-ply mesh heads. Mesh heads are typically made for electronic kits, or to reduce the volume of acoustic drums. That said, Aquarian makes a non-mesh, triple-ply snare head that controls overtones to deliver a dry, articulate bark. It can also handle aggressive bashers who hit the drums like King Kong.
Choosing Clear or Coated Heads
Clear heads are, well, clear—there's nothing slathered on them, so they offer a bright and somewhat uncontrolled sound, with a strong attack and ringing overtones. A coated head is manufactured with one of any number of coatings devised by the various makers to produce a specific sonic signature. Those coatings can be a solid color, a texture or a translucent veneer. Whatever it may be, if something is added to a drum head that's meant to vibrate, that "something" will dampen the vibration and typically produce a warm, dry tone with diminished overtones. Bottom line—if you want a roughed-up leather jacket vibe, go with clear heads. However, if your taste is more to tuxedos and bespoke suits, choose coated heads.
Best Bass Drum Head for Beginners
Replacing a big ol' bass drum head can be daunting if you're just starting out with your first kit. The boom is critical to most styles of modern music, so there may be some trepidation over getting the head tuned up right and sounding great. The top-selling Evans EMAD 2 Clear Batter Bass Drum Head reduces "tuning tension" by including an externally mounted, adjustable damping system (EMAD) that gives you punch, power and controlled resonance from the get-go. The clear, two-ply head offers extended durability, so having to change it out again after a few weeks of hard playing is extremely unlikely. If you're into tinkering, you can have some fun adjusting the damping system, but many drummers find the head sounds spot on right out of the box with no additional fiddling. The EMAD 2 has a defined attack, short sustain and a dark tone—which is a kick drum sound that makes the head a "no worries" option for drummers who haven't refined their tuning chops yet.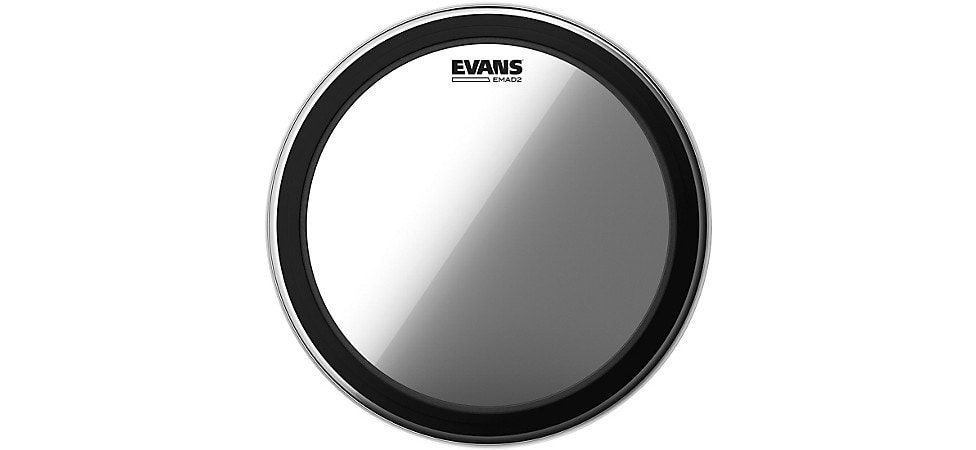 Pictured: Evans EMAD 2 Clear Batter Bass Drum Head
Best Snare Drum Head for Beginners
Hydraulic heads have been called "thudmasters" due to the damping effect of the thin layer of oil between the double plies. They're also often categorized as having a classic rock sound, as hydraulic heads were popular in the 1970s. But here's the real deal for today's beginning players: Hydraulic heads are super easy to tune. The dampening renders overtones practically nonexistent, and the '70s tone is fat, deep and warm with an articulate attack and limited sustain. In other words, you get a near perfect snare sound right out of the package. Not only is this a boon for beginners with less-than-stellar tuning experience, the resonant wallop and dry, focused midrange can make problematic or economy snare drum shells sound so good, they could grace a million-selling hit song. The Evans Red Hydraulic Snare Batter Head does all of the above while looking fabulous (it also comes in a blue hue) and offering maximum durability.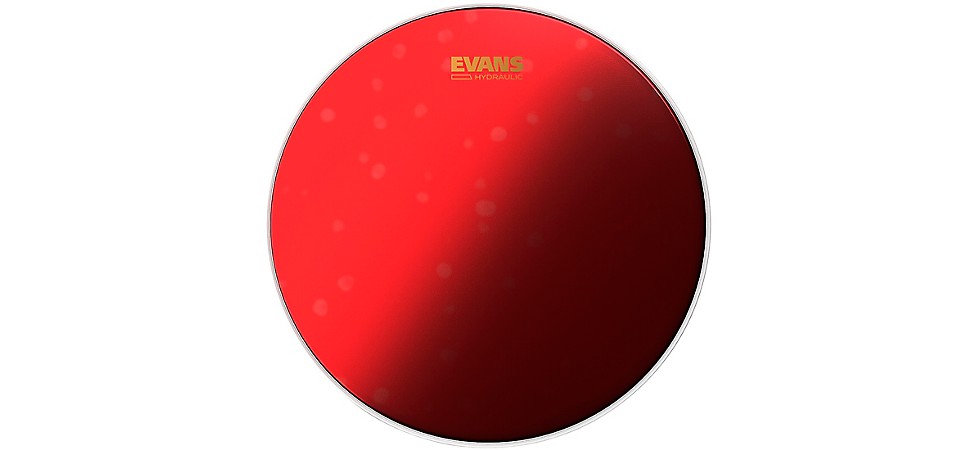 Pictured: Evans Red Hydraulic Snare Batter Head
Best Snare Drum Head for Live Performance
Live performance stages can contain swells of sound that eat snare drums for brunch. In "worst-case-for-the-drummer" scenarios where a band includes blaring guitar amps, lead vocalists, background vocalists, keyboards, percussion and perhaps even a small horn section, your snare had better be able to cut through the hullabaloo and drive the groove like it means it. Furthermore, when that stage adrenaline kicks in, and your drum sticks get rather boisterous, your snare head needs to take the pounding without compressing, detuning or sounding inconsistent. The popular, double-ply Remo Emperor X Coated Batter Head ultra-durable and designed for uniform tonality. Even better, the Emperor X's coherent mids and potent lows can rise above the blare of the band and be heard.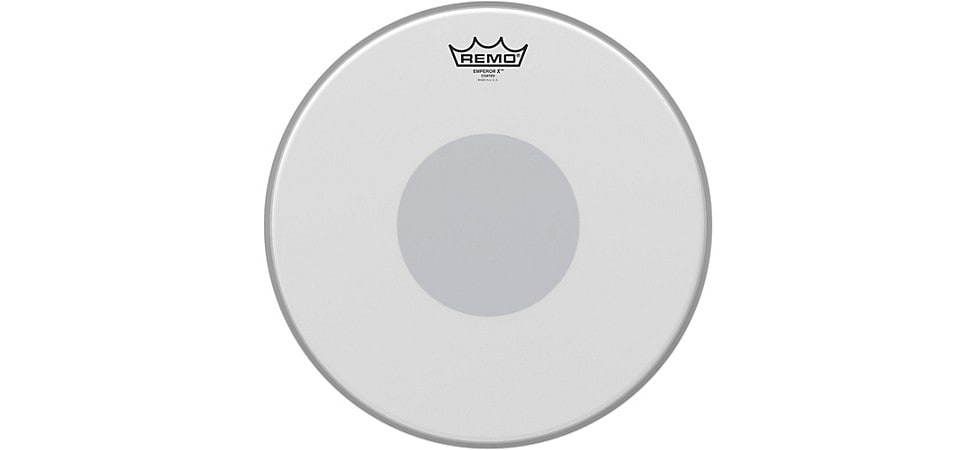 Pictured: Remo Emperor X Coated Batter Drum Head
Best Drum Heads for Studio Recording
Just like film stars whose glowing charisma is captured by movie cameras, the renowned Remo Weather King Ambassador Coated Heads are one of those drum head lines that microphones seem to adore. The single-ply, coated heads produce sounds that go down easy in studio sessions, serving up the kind of warmth, sustain and attack that make recordings come alive. For some tips on how to craft exceptional drum recordings, please read our articles on "The Best Drum Recording Techniques" and "The Best Drum Microphones of 2023."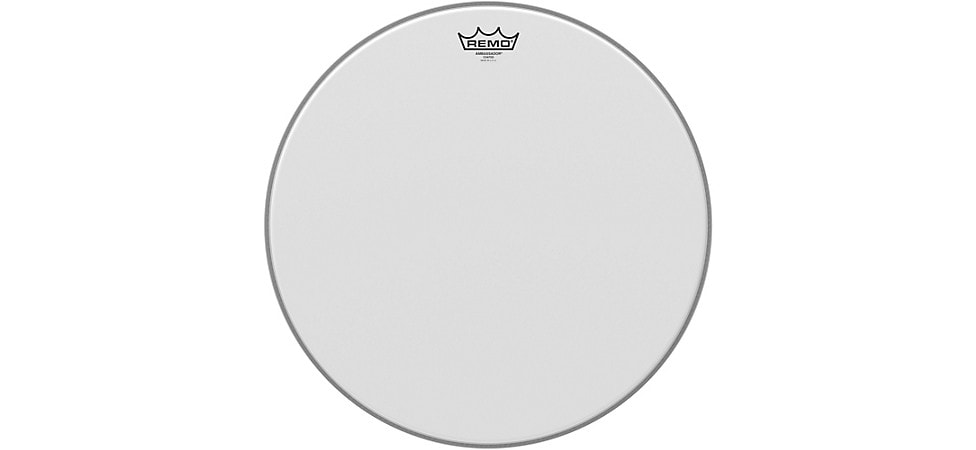 Pictured: Remo Weather King Ambassador Coated Head
Best Bass Drum Head for Compact Kits
One of the funny inside jokes from the 2018 Netflix special Fred Armisen: Standup for Drummers involved percussionists considering a new car. "Hmm. Can my bass drum fit in that?" Well, a compact kit with a 18" bass drum can not only fit into the trunk of a petite KIA Forte, it can be set up on the tiniest stages your local bars and clubs can throw at you. But the compromise for convenience of transport may be a bass drum that doesn't pump out as much low end. The Aquarian Super Kick II Drum Head is a double-ply, coated model with a felt Floating Muffling System that both dampens and breathes with the head to create a fat, resonant wallop. The Super Kick II's big low end is especially welcome when placed on an 18" bass drum that may be missing a bit of rich and funky rumble. The Super Kick II comes in a variety of sizes, so even drummers who dig lugging around bass drums as big as hot tubs can get a more mammoth sound.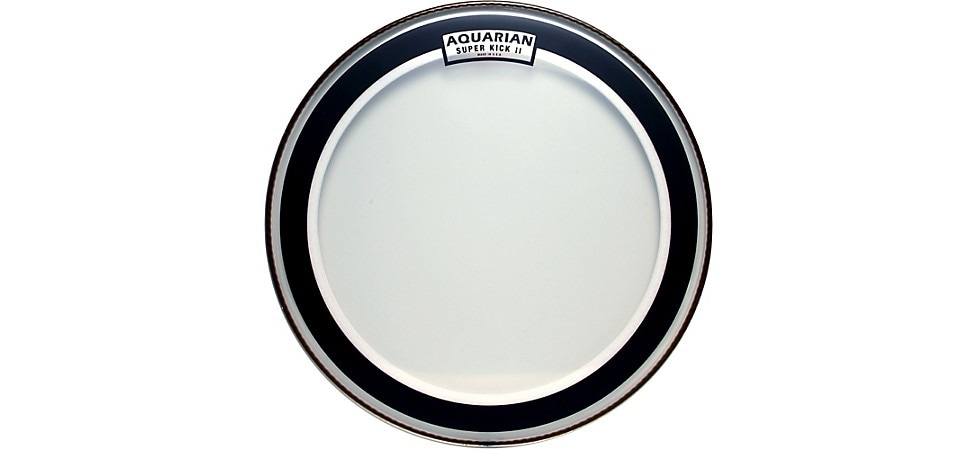 Pictured: Aquarian Super Kick II Drum Head
Best Drum Head Pack for Heavy Hitters
Drumming like a beast is typically a complimentary phrase if you play anything other than jazz or easy listening. But that reputation will likely strike terror into the hearts of your oft-brutalized drum heads. However, the coated, double-ply heads included in the top-rated Evans UV2 Coated Tom Pack can brush off whatever a heavy-hitting drummer can dish out. Starting out with Evans' patented, UV-cured coating process, the UV2 heads were subjected to extensive, real-world trials with punishing drummers to ensure ultimate durability. But the UV2 heads don't swap tone for toughness. They produce a focused and defined attack, relatively short sustain and a sound that's equally balanced between bright and warm.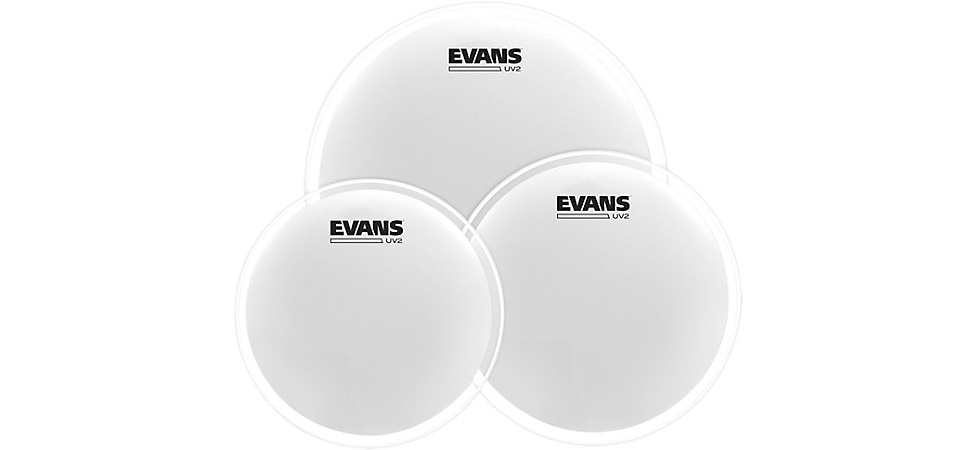 Pictured: Evans UV2 Coated Tom Pack
Best Drum Head Pack for Various Styles
If you're a versatile drummer who loves switching between genres, a studio player who never knows what style the next session will bring, or in a Top 40 act that performs decades of different hits, the chameleon-esque Evans G2 Coated Drum Head Pack can deliver musically supportive sounds for classic rock, pop, prog, gospel, fusion and more. The coated, double-ply heads produce a refined attack, medium sustain and a thick yet bright tone that sits perfectly in almost any mix.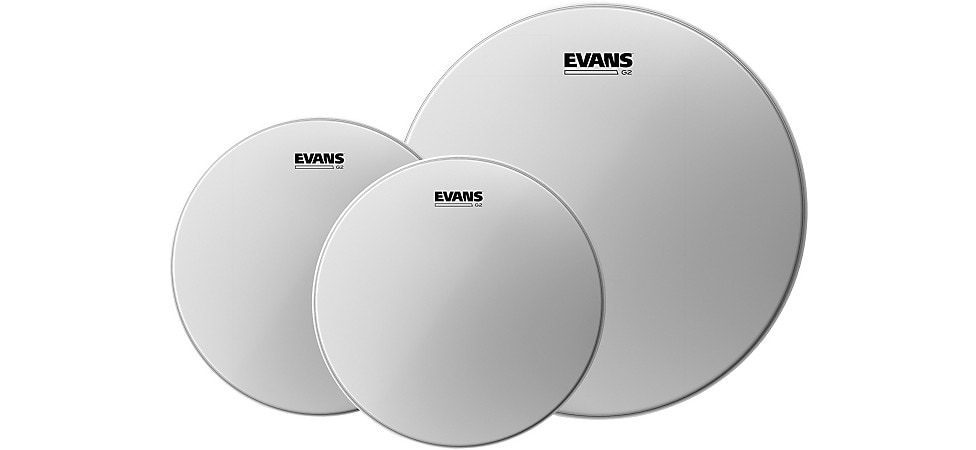 Pictured: Evans G2 Coated Drum Head Pack
Best Drum Heads for Medium-Volume Gigs
Sometimes, you need to take down the volume a tad. Perhaps it's a very small club or restaurant gig, a reception or a quiet church service. But, whatever the reason for the reduced intensity, you still want your kit to cut through and sound powerful—albeit peacefully powerful. The popular line of single-ply Remo Powerstroke 3 Clear Batter Heads provides the sensitivity for restrained, lower-volume playing, while still producing a focused attack and warm, buoyant lows. An inlay ring diminishes overtones, which helps the sound of your toms and snare speak clearly and vigorously—even when your sticks strike the heads with the power of an exhausted grasshopper.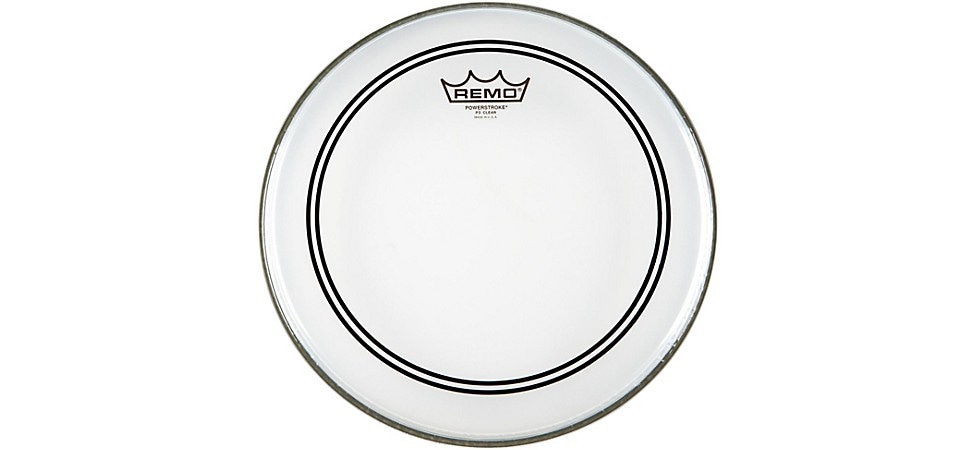 Pictured: Remo Powerstroke 3 Clear Batter Drum Head
Best Drum Heads for Metal
While many drum heads can power various musical styles, for metal drummers, it helps if the heads unleash much the same intensity, aggression and heaviness as the guitar, bass and vocal sounds. Evans EC2 SST Clear Batter Drum Heads furnish a clear, clean and penetrating attack that can slice through Marshall stacks, MESA/Boogie Rectifiers, Ampeg SVTs and any other aggro-metal amps. These clear, double-ply heads also provide enough warmth and low-end thud to set loose a glorious thunder and lightning storm. As an added bonus, Evans' Sound Shaping Technology balances the attack and tone for each drum shell, ensuring a consistent rumble and bark across the entire kit.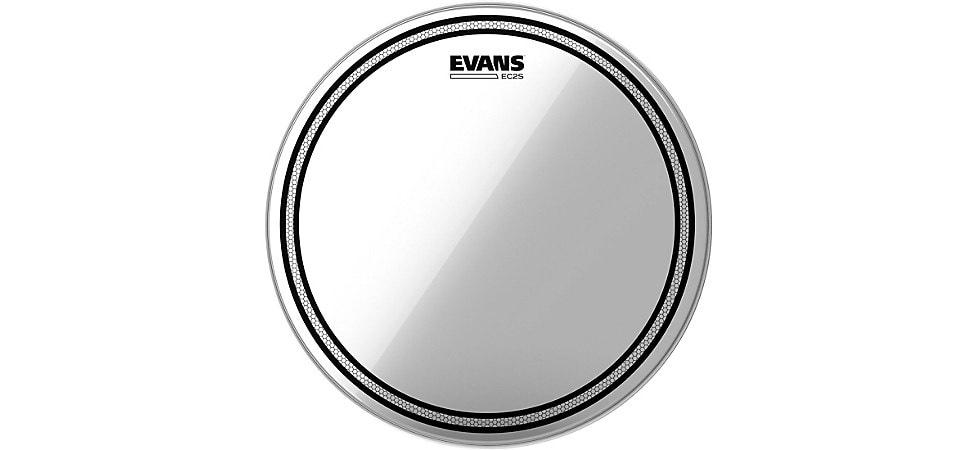 Pictured: Evans EC2 SST Clear Batter Drumhead
Best Drum Heads for Low-End Warmth
To lower the boom of doom—while looking the part, as well—the none-more-black Remo Ebony Pinstripe Tom Heads roar with a deep, low-end punch and a dark, muted and resonant sustain. Furthermore, the double-ply heads deploy pinstripe overtone rings to damper harmonics and focus your attack on the fundamental tone of the drums. Going to the dark side may be the best move for pumping up your groove.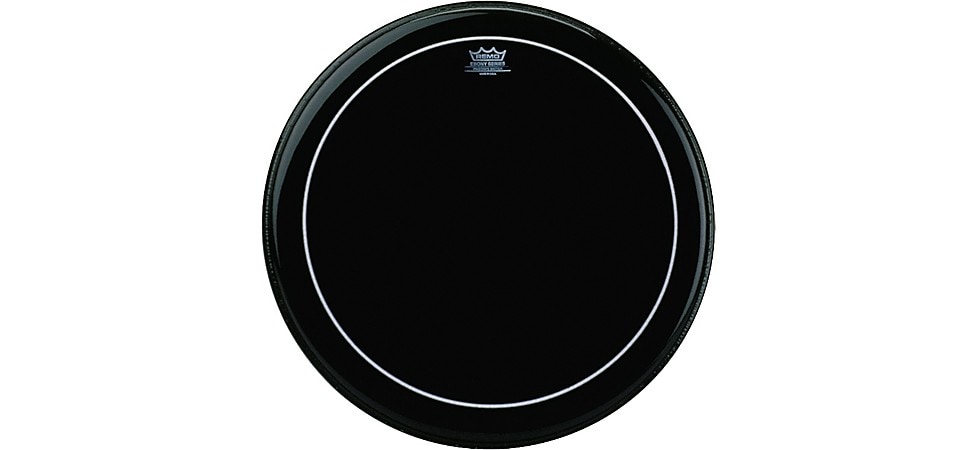 Pictured: Remo Ebony Pinstripe Drum Head
Best Drum Heads for Low-Volume Gigs and Practicing at Home
One of the benefits of electronic kits is that they are quiet enough to allow rehearsals and practice sessions in a house or small space without any cohabitants pleading for mercy. Too loud! Too loud! However, if you're not yet ready to give up your acoustic drums, but need to take down the volume several notches, Remo Silentstroke Drum Heads can provide the feel you want at a reduced loudness level, and with no need to change your technique or attack. The single-ply Silentstroke mesh heads offer a comparable stick rebound to conventional acoustic drum heads, and they are similar to the mesh heads you'll find on e-kits. (In fact, Silentstroke heads work great with external electronic triggers if you decide to electrify your acoustic kit at some point.) Volume reduction is significant, and it occurs without having to drape towels over your heads, or affix outside dampening devices. You might think the trade-off for percussive serenity is a flatter, deader sound, and you'd be correct. But keep in mind that more than a few pro drummers throughout the years have actively sought that type of tone—Ringo Starr was known to use tea towels to dampen his tom and snare sounds—and the ability to bang the drums without risking eviction or overwhelming an intimate, singer-songwriter gig is a wonderful thing indeed.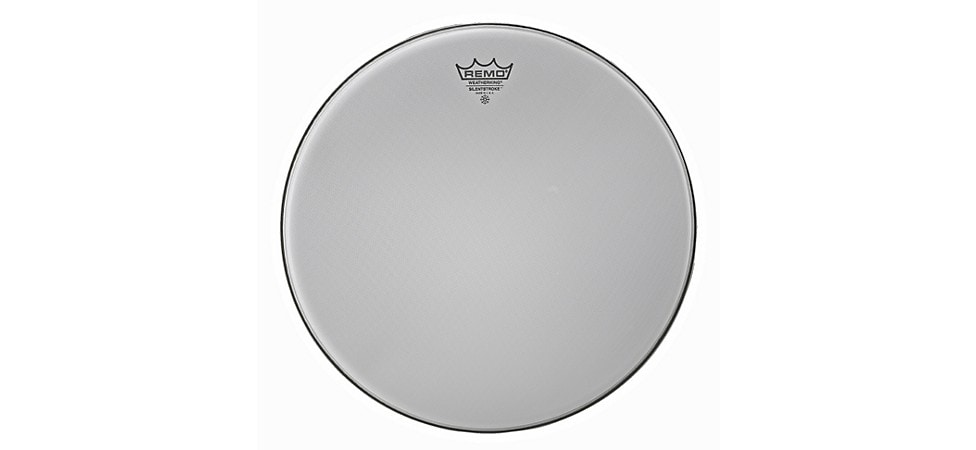 Pictured: Remo Silentstroke Drum Head
Good Vibrations
We've mentioned a lot of "best for" drum heads in this article, and the experiences of our staff, as well as player and manufacturer feedback, have driven the choices. However, keep in mind that all of these top-selling heads can be adapted to any technique and musical style. For example, we feel the Evans EC2 SST is a great head for metal, but you may find its clarity and attack also works for the way you perform supper-club jazz. Consider our suggestions as tried and studied recommendations, but if your gut (and advice from other players) leads you in another direction, go for it. Experimenting with gear and accessories to find your perfect rig is part of the big fun of having so much wonderful equipment to play with.
In fact, for some ideas on how to investigate unique drum tones, study our "Five Ways to Change Your Drum Sound" and "Five Ways to Instantly Transform Your Snare Sound" articles.
And, as always, if you find yourself wanting a deeper dive, or to undertake a more personal discussion about your dream sound, contact one of our knowledgeable Gear Advisers at your local Guitar Center store or at our Contact Center. They will definitely help you find your very own "drum head of destiny."