Whether you're getting a drum kit for your little one, or you're an older beginner looking for a compact practice kit that fits your space, shopping for a first drum set is an exciting time. To make your search as easy as possible, we've compiled a short list of great all-inclusive drum kits for children and beginners from tried-and-true drum brands. We're recommending all-in-one sets that have everything you need to get started, so you don't skip a beat.
Some of these are junior-oriented drum kits, while others are more full-sized sets players can grow into. For those who prefer softer playing volume, or have a practice space that's close to family, roommates or neighbors, we included some e-kits with significantly quieter mesh heads as well. All are expandable and can make for conveniently sized practice kits down the road, no matter the age. As always, Guitar Center Lessons are here to help you or the drummer in your life learn the rudiments or brush up on technique.
Rogue Junior Kicker 5-Piece Drum Set
The Rogue Junior Kicker 5-piece set is designed for junior players but doesn't compromise in terms of functionality and style. With its 18" kick drum, three toms, matching snare, multi-ply wood shells and full-size pedals, it's ideal for drummers who need a compact yet real-deal drum set.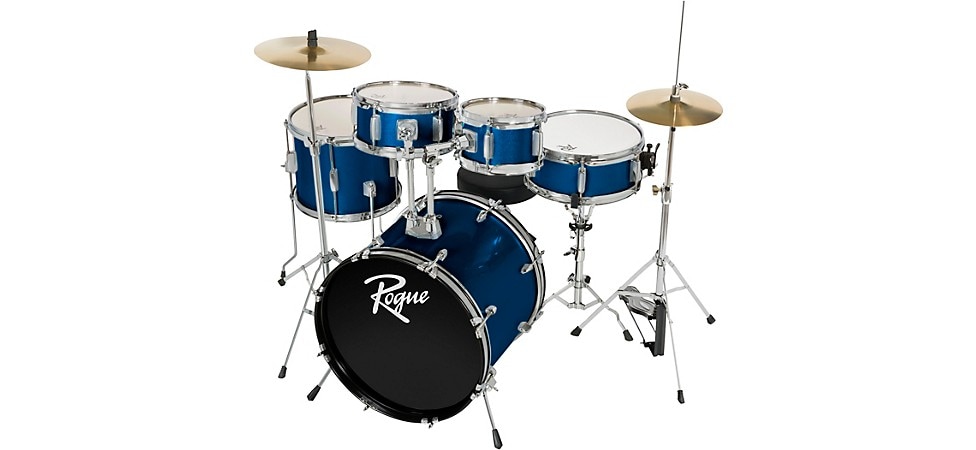 Pictured: Rogue Junior Kicker 5-Piece Drum Set
It includes hi-hat and crash/ride cymbals, drum sticks, throne, tuning key and all the hardware you need to get you set up and playing. Available in black, Dark Red, Metallic Silver and Metallic Blue finishes, it looks as great as it sounds.
TAMA Stagestar 5-Piece Complete Drum Set With 22" Bass Drum
The aptly named TAMA Stagestar is a gig-ready Goliath of groove—especially if you're a beginner looking for a set that will grow along with your evolving skills. Right out of the box, this 5-piece, full-size drum set includes everything you need to lay it down—a boom-tastic 22x16" kick drum, 10x8" and 12x9" rack toms, 16x15" floor tom, 14x5.5" snare, 14" hi-hats, 16" crash cymbal, kick drum pedal, all necessary hardware and even a double-braced drum throne. The roadworthy Stagestar drum shells are crafted with 6-ply, 7 mm poplar—a tonewood known for its sweet attack and warm lows. In addition, poplar produces an even, balanced sound whether you hit the drums aggressively, softly or anywhere in between. The TAMA Stagestar can handle a lot of different styles—from rock to jazz to pop and beyond—and it's available in five stunning colors (Black Night Sparkle, Cosmic Silver Sparkle, Lime Green Sparkle, Sea Blue Mist and our exclusive Scorched Copper Sparkle). Own the stage with Stagestar.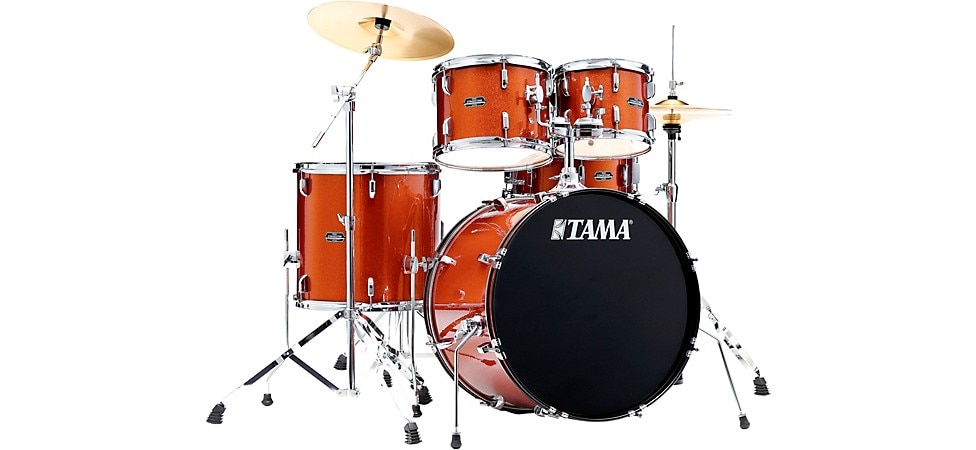 Pictured: TAMA Stagestar 5-Piece Complete Drum Set With 22" Bass Drum
Ludwig Pocket Kit
Developed in partnership with Ahmir "Questlove" Thompson, the iconic drummer of the Roots, the Ludwig Pocket kit was designed for developing drummers ages 4 to 10. True to the ethos of "less is more," this small-yet-mighty 4-piece package is perfect for letting a beginning player focus on the fundamentals—with a shot of unquestionable flair.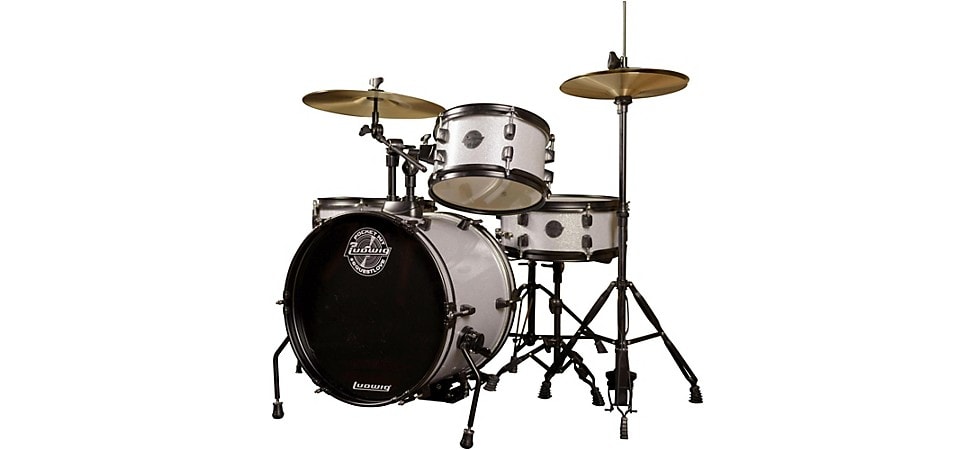 Pictured: Ludwig Pocket Kit
The hardwood-shell Pocket kit features a 16" kick drum, hi-hat, crash/ride and sharp-looking dark hardware—everything you need to get started. It comes in three high-quality sparkle wrap finishes: Red Wine, black and white.
To follow up on their commitment to educating new drummers, Ludwig is including access to a series of elementary web-based lessons in setup, adjustment and technique. For the more advanced Questlove devotees who prefer to add their own cymbals and hardware, the Ludwig Breakbeats 4-piece shell pack also features the beat genius' signature chic, with an elevated build quality and larger snare drum and floor tom.
ddrum D1 Junior 5-Piece Complete Kit
Designed with young beginners in mind, the ddrum D1 series boasts the attention to detail of ddrum's higher-end kits—the new Junior 5-piece is no exception to this reputation. It's been upgraded to feature a double-lug design on all drums, larger toms, gull-wing kick drum spurs and a few aesthetic enhancements meant to inspire developing players to reach the next level.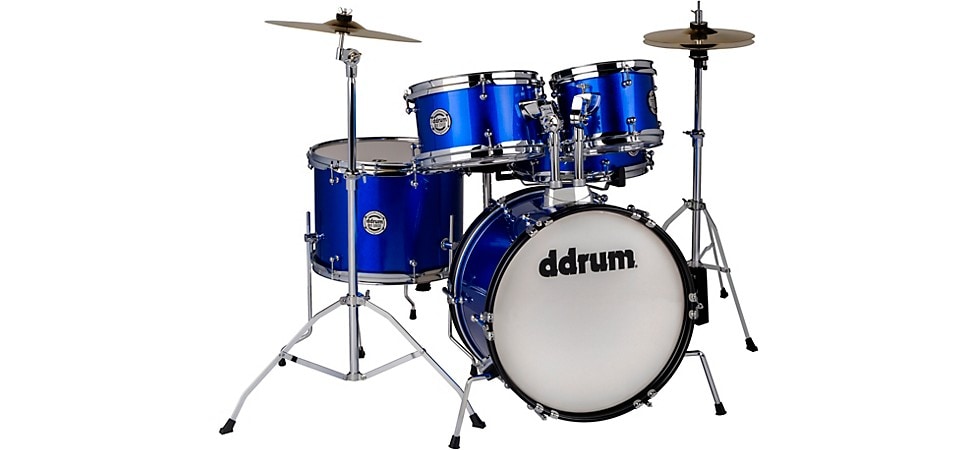 Pictured: ddrum D1 Jr 5-Piece Complete Kit Cobalt Blue
Like the other acoustic kits on this list, the D1 5-piece includes a hi-hat and crash/ride cymbal, as well as a junior throne, stands and heads. The only thing you'll need to get your show on the road is a pair of drum sticks. The ddrum D1 comes in eye-catching white and Cobalt Blue finishes.
Pearl Roadshow Jr. Drum Set With Hardware and Cymbals
Built for drummers ages 10 and under, the popular Pearl Roadshow Jr. is a scaled-down version of the beginner-oriented Pearl Roadshow series. The Roadshow Jr. has poplar shells, a 16" kick drum, crash/ride cymbal, hi-hats, throne, drum sticks and all the hardware your little drummer will need to get jamming on the journey of rhythm.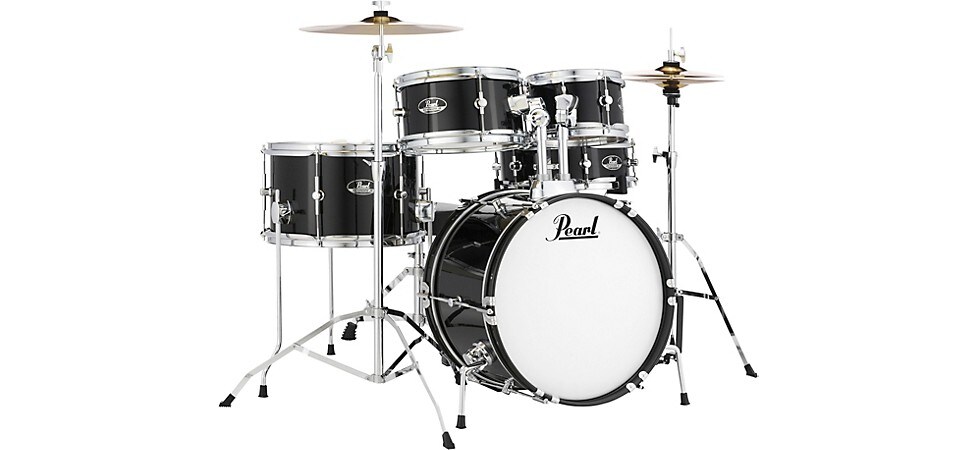 Pictured: Pearl Roadshow Jr. Drum Set With Hardware and Cymbals
This all-in-one drum kit comes with a lifetime warranty and is easy on the eyes in both of its available finishes, Jet Black and Grindstone Sparkle.
Ludwig BackBeat Complete 5-Piece Drum Set With Hardware and Cymbals
One of our top-selling exclusives, Ludwig BackBeat is a complete, full-size drum kit that's ideal for younger and smaller players to grow into, as well as for older beginners looking for an all-inclusive setup. Sporting a 22" kick drum, 16x16" floor tom, 7-ply hardwood shells and legendary Ludwig quality, it's got the projection, resonance and bottom-end oomph for whatever style of playing you hit it with.
Pictured: Ludwig Backbeat Complete 5-Piece Drum Set with Hardware and Cymbals
The BackBeat 5-piece set comes with bronze alloy hi-hat and crash/ride cymbals, heads, sticks, round-top throne, double-braced hardware and all the associated accessories to set up and get playing.
Rogue Lil' Kicker 3-Piece Junior Drum Set
Beautiful in its simplicity is the Rogue Lil' Kicker 3-piece junior drum set. Its 16" bass drum holds a tom tom and a crash/ride cymbal, making setup an absolute breeze—and keeping a minimal footprint on your floor.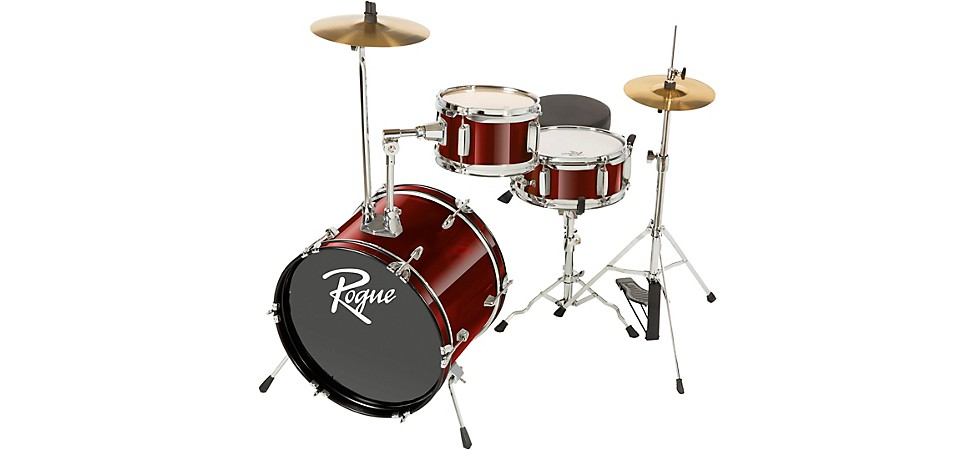 Pictured: Rogue Lil' Kicker 3-Piece Junior Drum Set
Like its big sibling, the Rogue Junior Kicker, it comes with sticks, throne, tuning key and all the drum and cymbal hardware you need for your first downbeat. Featuring multi-ply, all-wood shells, the Lil' Kicker offers three finishes: black, Dark Red and Metallic Silver. Ideal for a younger drummer's first kit, it's certified for ages three and up.
PDP by DW Encore Complete 5-Piece Drum Set With Chrome Hardware
Drum Workshop, simply known as "DW" in drummers' circles, has a proud history of serving the drumming community since 1972. The full-size PDP by DW Encore drum set offers exceptional value with its quality poplar shell construction, full hardware package and sticks. Each drum is equipped with True-Pitch tension rods to ensure accurate tuning and smooth tone with satisfying punch.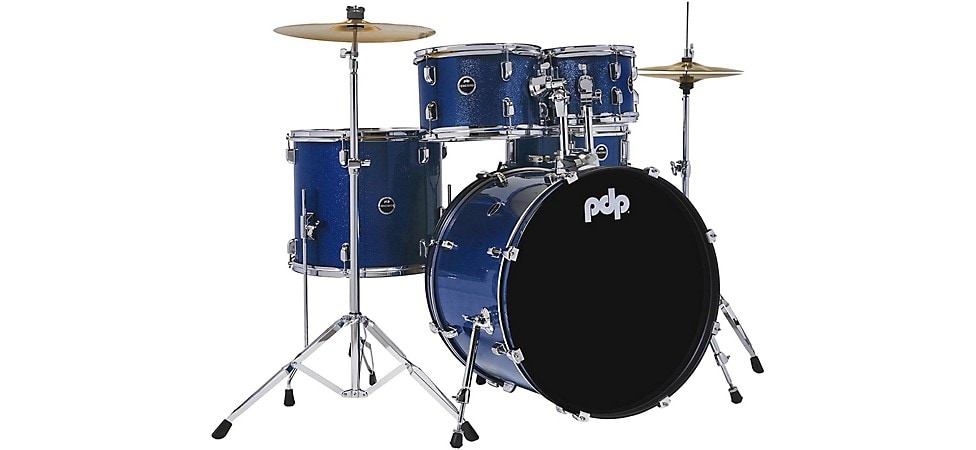 Pictured: PDP by DW Encore Complete 5-Piece Drum Set With Chrome Hardware
Complete with lathed brass cymbals, 22" kick drum with pedal, two tom toms, floor tom, 14x5" matching snare and hardware, it's the perfect all-inclusive setup for any aspiring player eager to grow into their kit. It's available in visually striking Azure Blue, Ruby Red, Royal Blue and Black Onyx durable sparkle-wrapped finishes.
Alesis Nitro Mesh Special-Edition Electronic Drum Set Starter Kit
Delving into the wonderful world of e-kits, the Alesis Nitro Mesh Special-Edition electronic drum kit is extremely popular for good reason. In addition to the natural response of mesh heads coupled with their virtual silence, it has everything you need to set up, sit down, plug in and play. This comprehensive starter kit has a complete Nitro Mesh kit, as well as a PDP by DW round-top throne, Musician's Gear MG900 studio headphones and Vic Firth American Concept Freestyle drum sticks.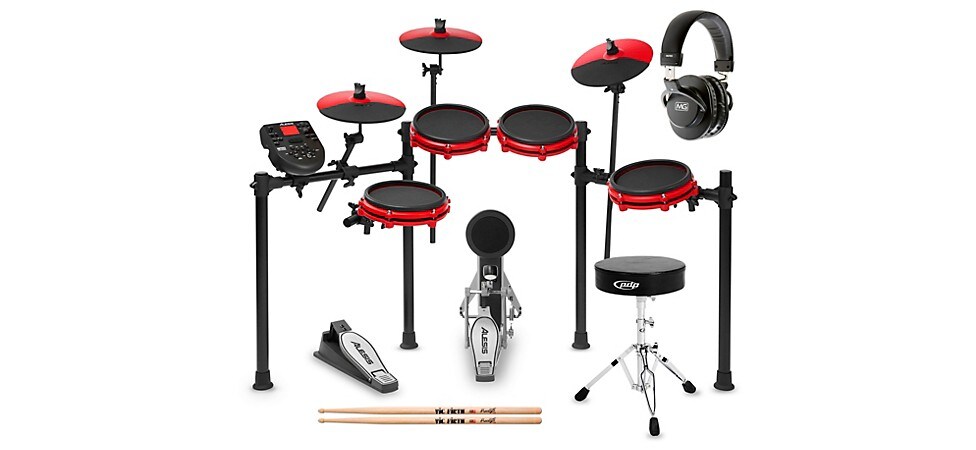 Pictured: Alesis Nitro Mesh Special Edition Electronic Drum Set Starter Kit
The included Nitro drum module is jam-packed with a metronome, performance recorder, 40 ready-to-play kit modes and 60 built-in play-along tracks—as well as an AUX in for playing along to your favorite tracks—so you can practice any time of day, for as long as you like, with endless versatility. You can also connect Nitro to your computer via USB MIDI for recording to your DAW.
The Alesis Nitro Mesh Special-Edition kit is available in other configurations, such as a kit with a Strike 8 drum set monitor, as well as a kit with a Simmons DA2108 drum set monitor. If you opt for a larger kit, a 10-piece expanded electronic drum set with added floor tom and cymbal pads is a solid choice—though you would have to supply your own drum sticks and headphones or monitors. You can always start modest and expand down the line, as the Nitro Mesh Special-Edition expansion pack adds those extra floor tom and cymbal pads to your existing kit.
Simmons Titan 20 Electronic Drum Kit With Mesh Pads
Another excellent e-kit is the Simmons Titan 20, featuring four mesh-head pads, a kick pedal with trigger, and three cymbal pads. The Titan 20 sound module is loaded with 10 preset drum kits, Bluetooth Audio and MIDI and an easy-navigating interface.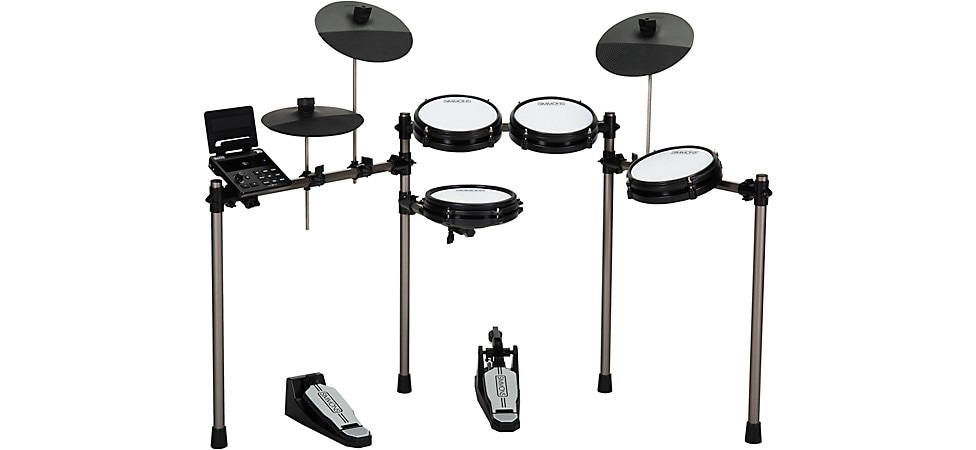 Pictured: Simmons Titan 20 Electronic Drum Kit with Mesh Pads
Like the Alesis Nitro, the Titan 20's USB MIDI connectivity allows you to hook it up to your computer, so you can track in your recording software of choice. It also gives you the option to monitor via onboard headphone or stereo outputs. To maximize your practicing, use the optional Simmons iOS app to help you learn your chops and customize your sound.
In Closing
Getting the right kit for you or your drummer now could save you some serious headache in the future, and it could mean the difference between wanting (and being able) to practice … and not. Investing in a kit builds multi-limb coordination in ways that you just can't get from using practice pads or a single drum. Other essential drumming accessories to keep in mind when getting a beginner's kit are drum sticks, for when one breaks; stick bags, to keep your accessories in one place; and replacement heads to freshen up your sound. And when it comes to effective practicing, drum mutes and dampening devices, practice pads and metronomes can help maximize your budding skill set.
The beauty of growing into a drum kit is finding ways to expand your tonal palette, by using stick alternatives like rods and brushes, quieter options like Zildjian low-volume cymbals, cowbells, chimes and additional drums, conventional cymbals—and the hardware that goes with them—when desired. And, when you're enrolled in Guitar Center's drum lessons, you'll have us in your corner to help you learn and grow along the way.