BOSS stompboxes are the best-selling guitar effects pedals in the world for a reason. They're time-tested, iconic, rugged and dependable. From distortion and delay to compressors and equalizers, you'll find BOSS boxes on the pedalboards of all your favorite players.
Premiering in 1976, BOSS stompboxes revolutionized the guitar effects industry. One of their first products, the OD-1, was the first real overdrive pedal on the market. It delivered a tube-like crunch that paved the way for generations of screaming imitators. In the 40 years since they premiered, BOSS pedals have evolved along with music, always showing up on the scene in the right place at the right time, with new advances from the first chorus and digital delay pedals to loopers and more.
With the premium Made in Japan Waza Craft pedal line, BOSS has taken select classic pedals and not only recreated them in exacting detail, but also reimagined them, incorporating brand-new sound modes and top-shelf components, effectively packing a classic pedal and a new one into a single box.
We're highlighting some of their most famous and best-reviewed pedals, but this is just an introduction to an enormous palette of incredible sounds. You can build an entire effects arsenal with just BOSS pedals. Head down to a Guitar Center near you and take a few for a test stomp.
Table of Contents
Best BOSS Dirt Pedals
Best BOSS Modulation Pedals
Best BOSS Delay Pedals
Best BOSS Reverb Pedals
Best BOSS Pitch Shifting Pedals
Best BOSS Dynamics and EQ Pedals
Best BOSS Loopers
Putting It All Together
Best BOSS Dirt Pedals
Let's start with the classics – overdrive and distortion. What's the difference? An overdrive simulates an amp driven just to the point of breaking up your sound, where a distortion pedal clips the heck out of your signal, heavily distorting it. The big difference is in the dynamics—overdrive gets crunchier the harder you play, while distortion keeps the same amount no matter how hard or soft you hit it.
BOSS pioneered the overdrive pedal. First introduced in 1981, the SD-1 Super Overdrive is incredibly subtle and responsive, and its sensitive tone and drive make it easy to dial in both rhythm and lead guitar settings. Plus, the asymmetric overdrive circuitry enhances the amp-like qualities of this drive, getting more aggressive and dynamic the harder you push it. The hot-rodded Waza Craft version features a custom mode for beefier mids and even more sensitivity to dynamics.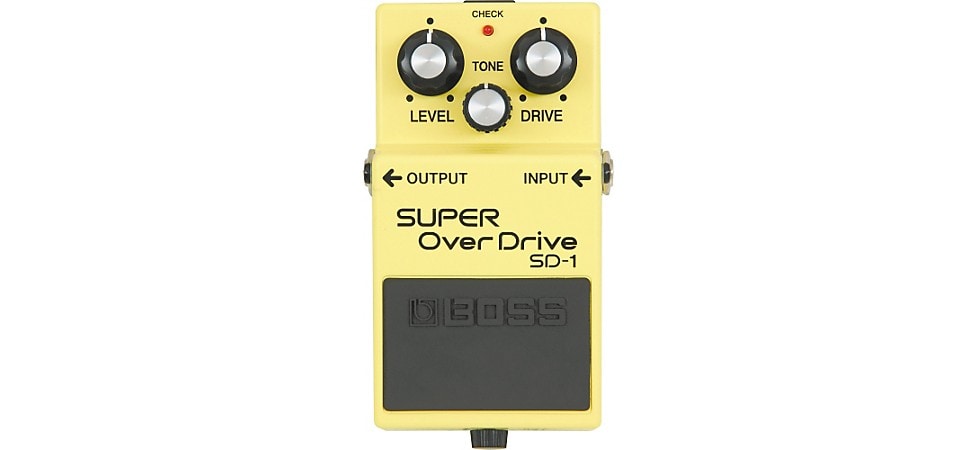 Pictured: Boss SD-1 Overdrive Pedal
The BD-2 Blues Driver has become the go-to pedal for creamy, responsive overdrive—just enough crunch and buckets of warmth. It's incredibly simple to operate and offers an incredible range of amp-like drive. The custom mode on the deluxe Waza Craft version offers not only more sustain, but a beefier tone with fat mids that will pour plenty of warmth on your single-coil solos.
When it comes to distortion, the DS-1 is, in many ways, the pedal. Introduced in 1978, it's still beloved for its grippy attack and lingering sustain, and that bright orange box with just three knobs is iconic. This is the top-selling BOSS pedal of all time, and for all its simplicity, it's amazingly versatile, ranging from a booster at low distortion settings to flat-out buzzsaw. And, no matter where you set it, it won't mask the character of your guitar and pickups.
If you're in the market for something more apocalyptic, the MT-2 Metal Zone has the massive lows and mids that defined the Scandinavian metal explosion. Its 3-band EQ and super-long sustain let you dial in a whole menagerie of distortion personalities, from bassy roars to screaming highs. You can pick up the classic version, or the premium Waza Craft model, which boasts a dual-stage gain circuit and a custom mode for bolder gain tones, tighter lows and sensitive dynamics.
Best BOSS Modulation Pedals
Modulation pedals are a wild and woolly breed, covering everything from phaser to chorus to tremolo, and everything in between. A phaser constantly changes the center frequency of a filter, blended with the original signal to get the familiar "swoosh." The PH-3 Phase Shifter delivers vintage phaser goodness with tasty modern touches. Additional Rise, Fall and Step modes allow you to apply focused unidirectional phasing in addition to the classic up-and-down cycle. A handy tap tempo option lets you sync your phasing effect with the tempo of your song.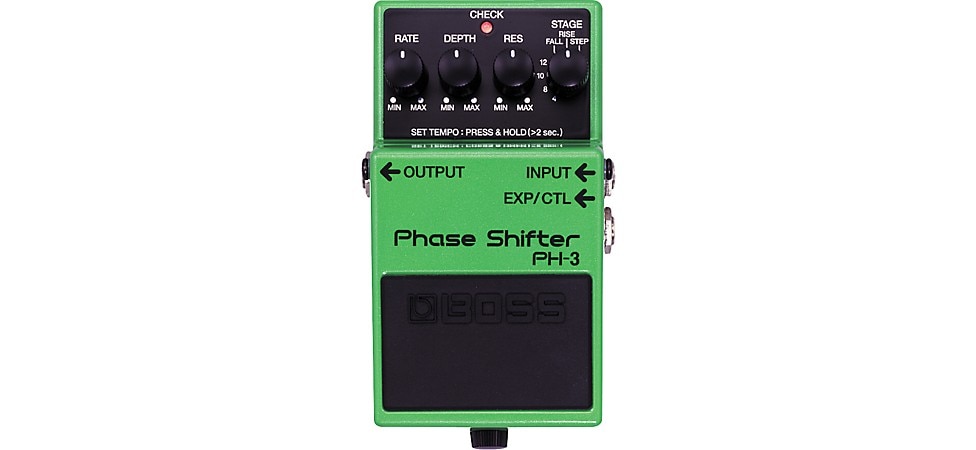 Pictured: Boss PH-3 Phase Shifter Pedal
A flanger uses a very short, constantly changing delay that, mixed with the source, creates a sweep that used nature cancellation to create a sweep that retains its harmonic relationship to the original signal. The BF-3 Flanger builds on the classic effect by incorporating new Ultra and Gate/Pan modes to add even more depth and dimension to the stereo flanger, making it seem to swirl around you. It also boasts independent guitar and bass inputs.
Chorus pedals add a smidge of delay, making your sound dreamy and seemingly doubled. This was the defining effect of new wave and '80s pop guitar, and BOSS invented the chorus pedal in 1976 with the iconic CE-1, and then improved upon it with the CE-2. Today, the Waza Craft CE-2W embodies that legacy with the original crystalline sound, plus new stereo output and variable depth.
The CH-1 Super Chorus is a simple, yet versatile, effect that also boasts stereo output, plus EQ and effect level controls for greater sound shaping right in the pedal.
A lot of vintage amps feature a classic tremolo effect, where volume is varied rhythmically for a pulsing sound that can range from gentle to head-spinning. BOSS packed this into a pedal with the TR-2 Tremolo pedal, adding Wave, Depth and Rate controls for detailed adjustment.
Best BOSS Delay Pedals
The history and technology of delay effects is rich, and BOSS has had a hand in every advance along the way. It all began with tape delay, where a signal was actually recorded to tape and delay was achieved by changing tape speed or the distance between play and record heads.
Roland (BOSS's parent company) revolutionized delay with the legendary RE-201 Space Echo, an effect in a box roughly the size of a guitar amplifier head. This discontinued, but revolutionary, tape delay effect has been coveted by greats from the '70s to today, and BOSS has recreated it in beautiful sonic detail (and pedal form) with the RE-2 and RE-202. They perfectly model the classic analog sound, down to the original tape flutter and magnetic head sound saturation. It also offers longer delay time and tap tempo input for modern versatility.
As delay effects advanced, analog moved to bucket brigade (BBD) technology. Tiny capacitors store and move the signal along, and the effect becomes more precise and durable. Also, the entire effect housing gets smaller and lighter as a result. The DM-2W Waza Craft pedal reengineers the legendary original DM-2 BBD BOSS effect, providing all of its original analog delay glory, and sweetening the deal with a custom mode featuring more than twice the delay time of the original.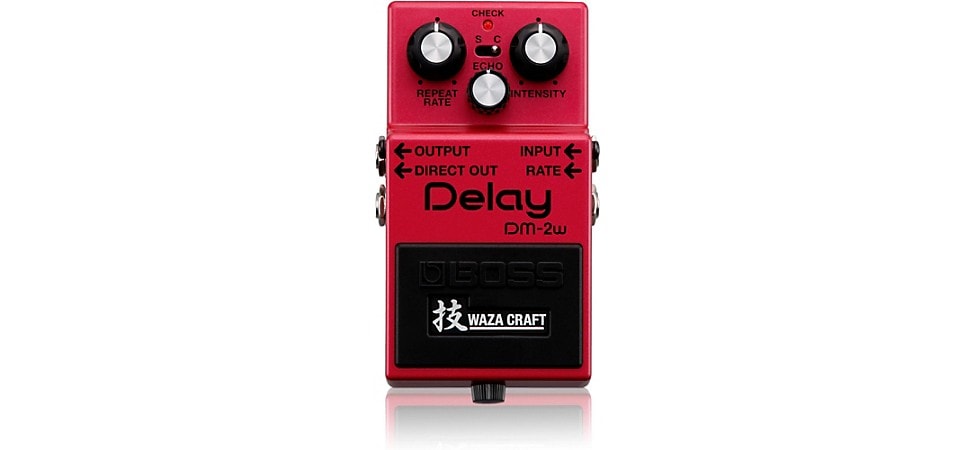 Pictured: Boss DM-2W Delay Waza Craft Pedal
With the microchip revolution came digital delay, with digital signal processing chips providing incredibly versatile and detailed delay options. Until BOSS introduced the DD-2 pedal in 1984, digital delay units were relegated to big rack mounts. Today, the DD-3T provides pro-level delay at a friendly price point, with three delay time modes, plus a delay time control for detailed control between 12.5 and 800 milliseconds.
For a mind-boggling amount of features and studio-quality sound, the DD-200 and DD-500 can't be beat. The DD-200 is easy to operate and boasts a ton of great features, including pad echo (not available on the 500). The 500 is a seriously deep delay dive with nearly limitless optionality and a vintage delay setting that captures the highly regarded sound of the original DD-2.
Best BOSS Reverb Pedals
BOSS introduced the very first digital reverb pedal, the RV-2, in 1984—and it even came with delay. Today, the RV-6 is a multifaceted box with eight settings (including delay) and studio-grade algorithms for accurate, spacious reverb sounds. Plus, you can connect it to an expression pedal and run in mono or stereo.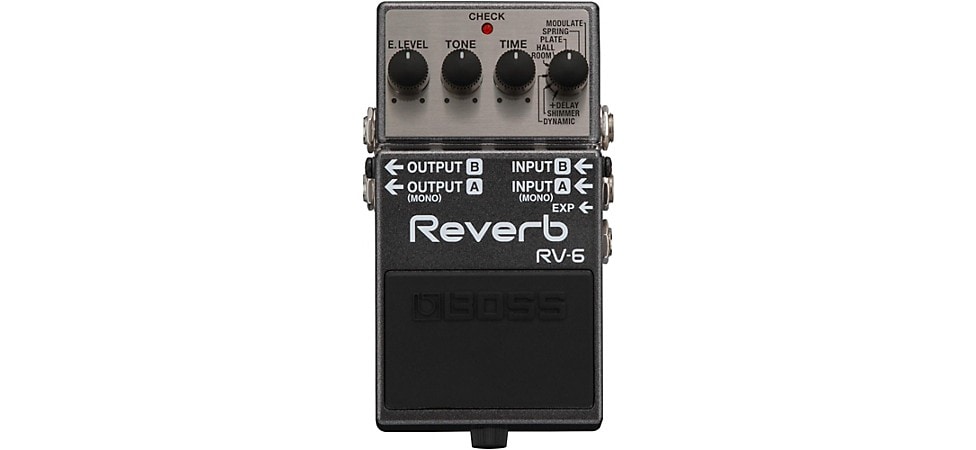 Pictured: Boss RV-6 Reverb Pedal
The RV-500 is one reverb pedal to rule them all. It boasts 12 modes and 21 reverb algorithms for a nearly limitless set of rooms, from small to massive, as well as hugely versatile plate and spring options, plus a full-featured digital delay.
Best BOSS Pitch Shifting Pedals
Sometimes you want to enrich your sound with something very specific, like an added harmony line, a doubled octave or an unrecognizable noise straight from space.
The PS-6 Harmonist is the most advanced BOSS pitch shifting pedal yet. Choose from two- and three-part harmonies, or use the massive Super Bend effect to swing your pitch across seven octaves.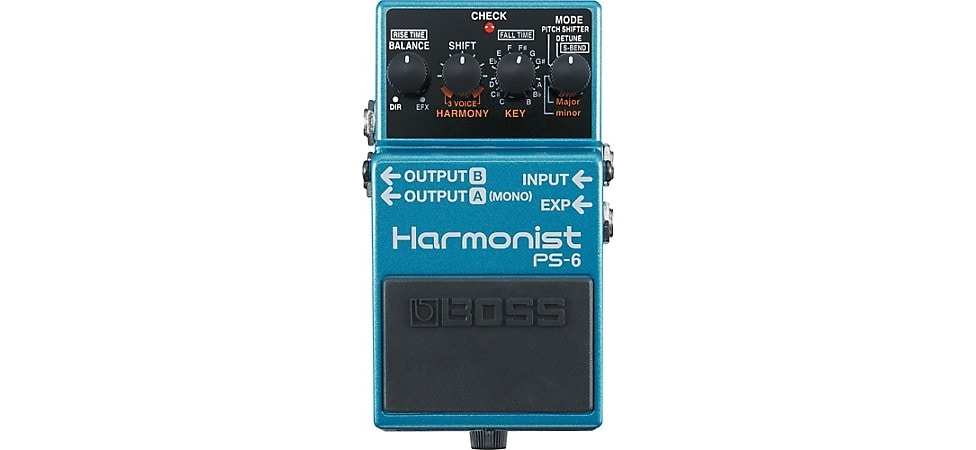 Pictured: Boss PS-6 Harmonist Pedal
The OC-3 Super Octave is the first polyphonic octave pedal, meaning you can now apply octaves to full chords. It also features a Drive mode for built-in bite, and separate inputs for guitar or bass—the holy grail for multi-instrumentalists.
If you want to send your sound into the stratosphere, the SY-1 Synthesizer transforms your guitar or bass into a dazzlingly versatile synth machine. From organ and analog-style strings to classic synth bell tones and pads, it features 11 categories and 121 sounds, plus you can sustain your last-played sound and then play over the top of it. It's astounding.
Best BOSS Dynamics and EQ Pedals
When we're talking about pedals, it's easy to get hung up on trippy effects. But BOSS offers a robust line of boxes to build and balance your tone. The CS-3 Compression Sustainer compresses loud signals and boosts low ones, keeping everything in your preferred sonic sweet spot. Plus, it provides a smooth, lingering, perfectly natural-sounding sustain. It's great for guitarists and bassists.
Pictured: Boss CS-3 Compression Pedal
The GE-7 Equalizer covers seven bands of EQ, from 100Hz to 6.4kHz. Not only does it provide detailed sound shaping, it can help you prevent unwanted feedback—especially if it shows up after your distortion pedal in the chain.
Best BOSS Loopers
From solo artists building one-person bands to rock soloists and ambient composers, the looper has become a pedalboard staple. Whatever your need or budget, BOSS has a pedal for you.
The RC-1 Loop Station is one of the most user-friendly and straightforward looping pedals on the market. It provides 12 minutes of looping time, and easy controls and readouts let you know exactly what you're getting and where you are.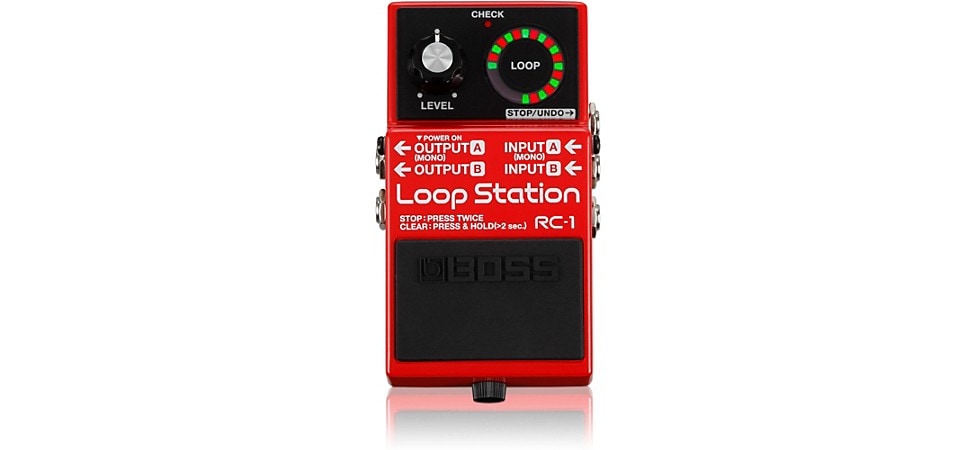 Pictured: Boss RC-1 Loop Station
The RC-10R is the next step up with 280 preset rhythm styles, intro and ending fills, and transition fills. You can store 99 phrase memories in this sucker, and even import your own WAV loops.
The RC-500 is all of that with a side of wow. This two-track looper boasts 16 built-in drum kits, mixing ability, XLR output with phantom power, and effects you can add to the loops.
Putting It All Together
You can fill out an entire pedalboard with nothing but BOSS. Whatever sound, whatever sonic shape or twisted noise you might want to produce, BOSS stompboxes can provide, and they can do it for any budget.
If you're interested in any of the original classic pedals we've mentioned, remember that we're always adding to our collection of used and vintage gear, which can be a great place to find something you want to test out or even mod.