BOSS RV-200 200 Series Reverb Effects Pedal Black
Q&A
|
Item #:

1500000416054
POS #:119665826
6-month special financing^ + $13 back in Rewards**
Learn More
Lease-To-Own Purchase Options
Learn more
Save on orders $499+ and get advice on amps and effects from a Gear Adviser
Need Help?
BOSS RV-200 Reverb | Ambient Bliss

Description
The BOSS RV-200 reverb is a space-saving version of the formidable 500 series "interstellar toolbox," and while it's shrunken in size, the pedal contains a black hole's worth of depth and dimension. Supported by 50 years of BOSS evolution, the RV-200 delivers inspiring reverbs, premium fidelity and a user-friendly, fast-access interface, all in a chassis that doesn't require its own pedalboard. Flexible connectivity helps take live performances to the next frontier, and you can recall up to 127 of your favorite atmospheres without missing a beat. From a splash of spatial color to galactically expansive soundscapes, the BOSS RV-200 reverb pedal has the ability to transform your world with the gravity of its power.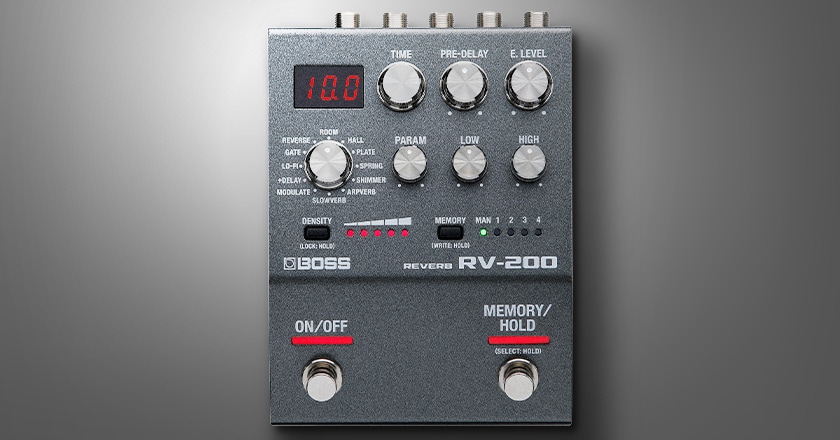 12 Reverbs, From Mild to Meteoric
The RV-200 is loaded with realistic simulations of rooms, halls, plates and springs, along with unearthly ambiences for a variety of creative scenarios. Included is the newly developed Arpverb setting that creates an arpeggiated sound with pitch-shifted tails. Shimmer and Slowverb both offer differing flavors of ambient wash, while a specialized Lo-Fi reverb filters the frequency spectrum and adds distortion. The highly versatile +Delay provides two time-based effects at the price of one and is the perfect way to dial in a solid lead tone. Further sonic exploration is possible with Modulate, Gate and Reverse reverbs, making the BOSS RV-200 a wildly versatile pedal for uncovering the sound you've dreamed about.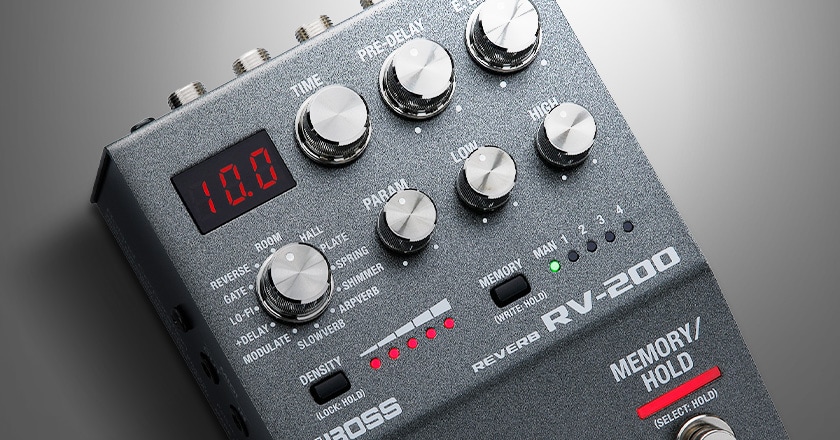 Stratospheric Signal Processing
Powerful BOSS DSP fuels the RV-200 reverberation engine, arming the pedal with class-leading 32-bit/96kHz sound quality. Every algorithm and every adjustable parameter are studio-ready, retaining all the detail and definition associated with the shortest reflections as well as the longest, time-spanning decays. The RV-200 fully harnesses modern digital pedal technology to mitigate signal degradation and immerse listeners in an ambient sound world via lush, high-fidelity reverb. Wherever your sonic endeavors take you, the BOSS RV-200 offers a pristine launch into reverberated territory, both familiar and alien.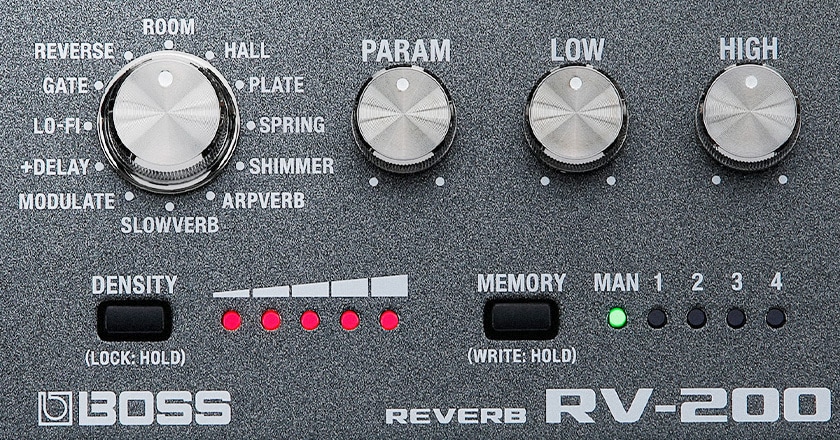 Intuitive Control Layout
BOSS 200 series pedals are known for their uncomplicated control panels to help players realize great sounds with minimal effort, empowering beginners and veterans alike to be cosmonauts of tone. RV-200 core parameters include reverb time, pre-delay and effect level, prominently positioned at the top of the pedal with oversized encoders. Variable high- and low-pass filters let you shape the reverb's frequency response, while a dedicated Param knob adjusts each algorithm's characteristic feature. The RV-200 also includes a Density button to alter the "weight" of the effect—an extra level of customization to shape your signature sound.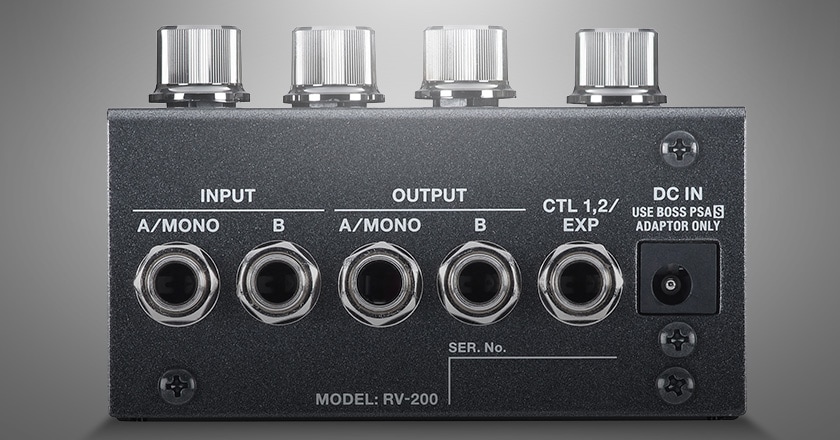 Expressive Hardware
Two onboard footswitches, with assignable functions, support a galaxy of creativity from liftoff—bypass the effect, scroll through memories or activate a hold to let the reverb ring until the switch is let go. The BOSS RV-200 also comes with unique performance effects like Warp, Twist and Fade, which can be assigned to a footswitch and used at will. Universal expansion is a given with TRS MIDI I/O and connections for external footswitches or expression pedals. The option to go far beyond an "on" or "off" reverb is an inherent part of the BOSS RV-200, and it can inspire musicians to seek otherworldly sounds.
The BOSS RV-200 is a versatile and intuitive reverb pedal. Far from basic, it recreates "everyday" ambiences like rooms and halls easily, but it's the experimental algorithms that make the RV-200 such a powerful and flexible tool. Plus, with assignable footswitches and connections for external devices, users can take real-time control over their reverb and its behavior for boundless sonic opportunities. Drop by your local Guitar Center to see what the BOSS RV-200 reverb pedal can do for your rig.
Specs
Sampling Frequency: 96 kHz
AD/DA Conversion: 32 bits
Processing: 32-bit floating point
Memory: 127 + Manual
Nominal Input Level: -10 dBu
Maximum Input Level: +7 dBu
Input Impedance: 2 M ohms
Nominal Output Level: -10 dBu
Maximum Output Level: +7 dBu
Output Impedance: 1 k ohm
Recommended Load Impedance: 10 k ohms or greater
Display: 7 segments, 3 characters (LED)
Indicator: DENSITY indicator, MEMORY (MAN, 1--4) indicators
INPUT (A/MONO, B) jacks, OUTPUT (A/MONO, B) jacks: 1/4-inch phone type
CTL 1, 2/EXP jack: 1/4-inch TRS phone type
MIDI (IN, OUT) jacks: Stereo miniature phone type
USB port: USB2.0 micro B (program update only)
Power Supply: Alkaline battery (AA, LR6) x 3, AC adaptor (sold separately)
Current Draw: 260 mA
101 (W) x 138 (D) x 63 (H) mm / 4 (W) x 5-7/16 (D) x 2-1/2 (H) inches
680 g / 1 lb 8 oz (including batteries)
Warranty
Boss pedals - 5 year parts warranty
90 day labor warranty.
1 year warranty - Multitracks, Jamstations, etc.
Check with manufacturer for specific product warranty.