BOSS BP-1W Waza Craft Booster/Preamp Effects Pedal White
(1)
|
Q&A
|
Item #:

1500000415949
POS #:119664738
6-month special financing^ + $8 back in Rewards**
Learn More
Lease-To-Own Purchase Options
Learn more
Order it today! This item is backordered, but you can save your place now so you don't miss it when it's back in stock. You won't be charged until it ships.
Notify me when this item is in stock.
Save on orders $499+ and get advice on amps and effects from a Gear Adviser
Need Help?
BOSS BP-1W Waza Craft Booster/Preamp Pedal | Demo and Overview with Dre DiMura
BOSS BP-1W Booster/Preamp | Sonic Sweetener

Description
Musicians have long been searching for the perfect tone. Whether you're dialing in iconic sonic colors on your pedalboard or crafting otherworldly sounds with your synthesizer, having the right tools at your fingertips is paramount to expressing yourself, your instrument's personality and your ideas. BOSS has taken the guesswork out of it and put the object of your never-ending quest firmly in your grasp with the BP-1W Waza Craft Booster/Preamp effects pedal. Calling on the heritage of the BOSS CE-1 Chorus Ensemble, and the Roland RE-201 Space Echo, the BP-1W harnesses the sound of classic analog gain stages to give you a wide range of tonal characteristics. Featuring three unique operation modes based on seminal preamp designs, two selectable premium buffers (standard and vintage), carefully selected Waza Craft analog components and unmatched versatility, the tone gods at BOSS have spoken, and the BP-1W is the answer.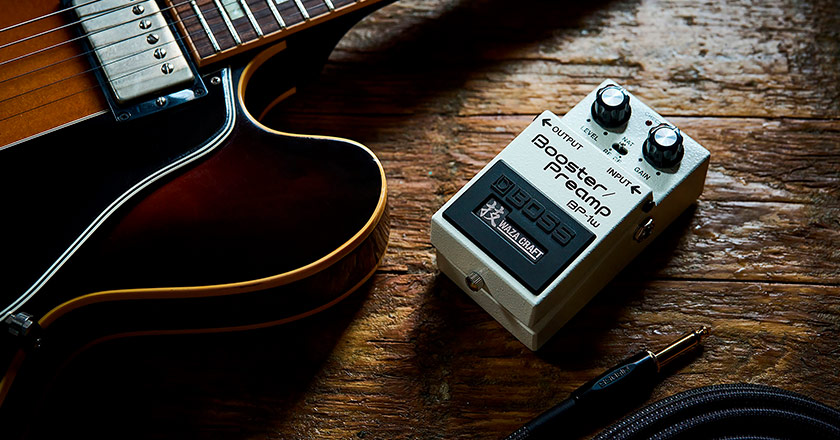 The World Is Not Enough
Since the beginning, BOSS has been committed to providing musicians with professional-quality tools to mold their tones from one dimension to another. This dedication to upholding the highest standards possible was taken one step further with the Waza Craft line of effects. Bringing you exceptional sound and response with carefully chosen analog components, ultraprecise circuitry and a level of detail that makes other effects manufacturers flush with envy, the BP-1W is another shining success from BOSS.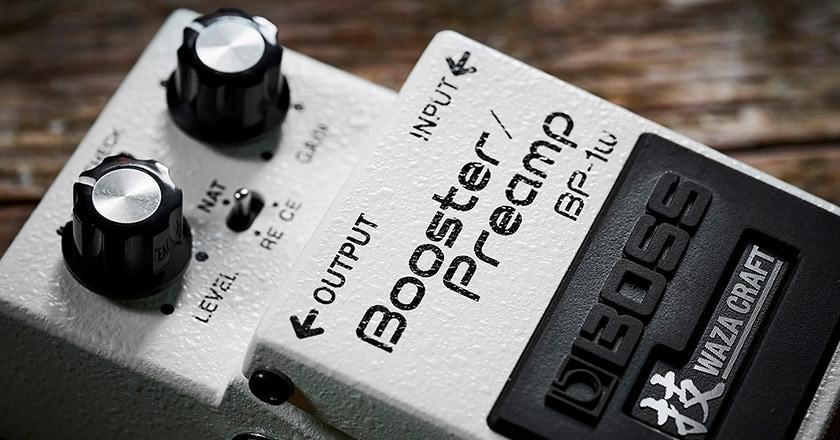 Choose Your Fighter
Packed into the BP-1W you'll find a complete sonic arsenal at your disposal. With three distinct preamp/booster modes for you to explore and utilize, the perfect tone is just a twist away. CE mode—which reproduces the classic BOSS CE-1 preamp tone—is known for its bright, bell-like characteristics and a tight low end. This mode can transform your instrument's response from mild to aggressive in a heartbeat. RE mode recreates the legendary preamp tone of the Roland RE-201 Space Echo, featuring a fatness and warmth (even at low gain settings) that will beef things up with rich analog compression characteristics, giving you the sound and feel of vintage gear to incorporate into your signal chain—think saturation at its finest. Or, if you desire a punchy, clean voicing, try out NAT mode for minimal coloration and a sound worthy of the most discerning purist.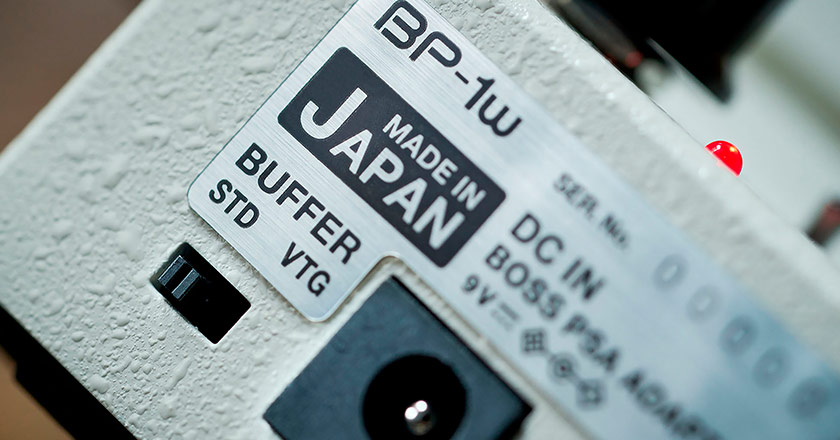 Under the Hood
The BP-1W also includes two selectable types of buffer circuitry—standard and vintage. This allows you to truly define your tone and further carve out your sonic niche. On the rear panel you'll find a switch to choose between the respective options, and with the flick of a finger you can tap into the pure signal of a standard buffer, or the lower impedance of a vintage buffer. This can take your instrument from uncolored to warm and smooth in an instant by choosing the right buffer for you.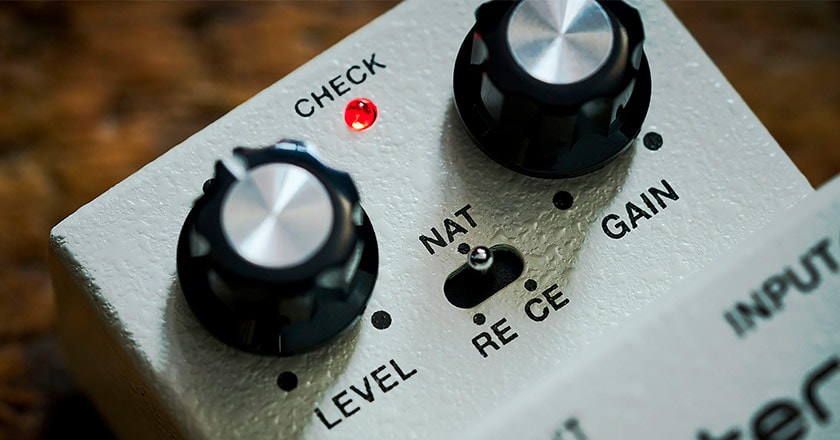 Flexibility Is the Name of the Game
The versatility of the BP-1W is second to none. With three operational modes and two buffers to choose from all packed into a single compact stompbox, BOSS has redefined what it means to have the world at your fingertips. You can pump up the volume with or without coloration, and go from clean to heavily saturated in a flash. The gain knob dynamically interfaces with each preamp mode perfectly, while the level knob lets you balance the effected/bypassed sound and drive the other pedals on your board harder or softer for further tonal options.
For generations, musicians have turned to BOSS to put their unique sonic fingerprint on performances and recordings. With the recreation of legendary effects and analog circuitry, the BP-1W stands out as a modern solution for anyone looking to incorporate vintage tones into their auditory palette. This secret weapon will become a welcome addition to your pedalboard, without you having to seek out rare and expensive equipment that is fragile and prone to breakage. Give your tone a boost (any way you want) and pick up the BP-1W today.
Features
Waza Craft innovation for a premium analog tone experience
Premium booster and preamp pedal with analog circuitry derived from legendary BOSS and Roland effects
Versatile design with three selectable modes
CE mode reproduces the bright, bell-like preamp sound of the BOSS CE-1 Chorus Ensemble
RE mode reproduces the fat, warm preamp sound of the Roland RE-201 Space Echo
NAT mode provides a natural clean boost with minimal sound coloration
Gain knob controls the amount of saturation introduced into the signal
Level knob for controlling the overall volume and driving the inputs of amps and other pedals
Selectable standard or vintage input buffer with different tone and response characteristics
Made in Japan
BOSS five-year warranty
Warranty
Boss pedals - 5 year parts warranty
90 day labor warranty.
1 year warranty - Multitracks, Jamstations, etc.
Check with manufacturer for specific product warranty.