If Strymon was part of the Marvel Universe, the narrative would go something like, "Before the Power Trio, there was the Fearsome Foursome."
Gregg Stock, Dave Fruehling, Pete Celi and Lucian Tu had worked together at the guitar- tech "Avengers Campus" known as Line 6. In 2004, the quartet broke out to form Damage Control, and rolled out four different tube distortion pedals within two years.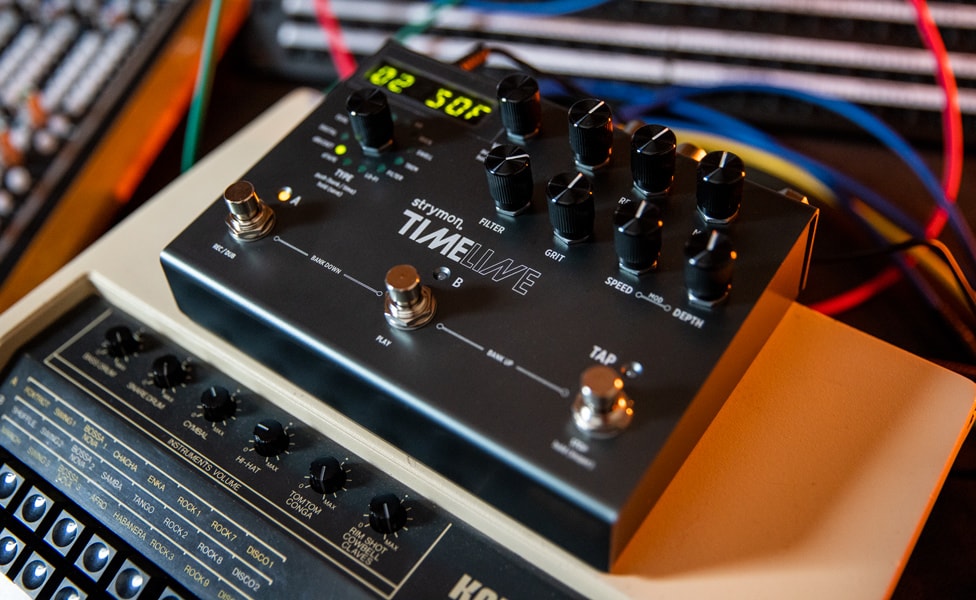 Though Damage Control pedals were well reviewed in the gear media and had found favor with a burgeoning community of players, sales never took off as expected. Tu departed, and Stock, Fruehling and Celi surged into action and officially launched the Strymon brand in 2009. The harmonious and collaborative skill sets of Stock as "analog guy," Fruehling as "firmware guy" and Celi as "DSP guy" forged the dream team that catapulted Strymon toward success.
"We all had a common goal of producing guitar pedals with a level of technical specification and sound quality that was only available in high-end rack processors at the time," explains Celi.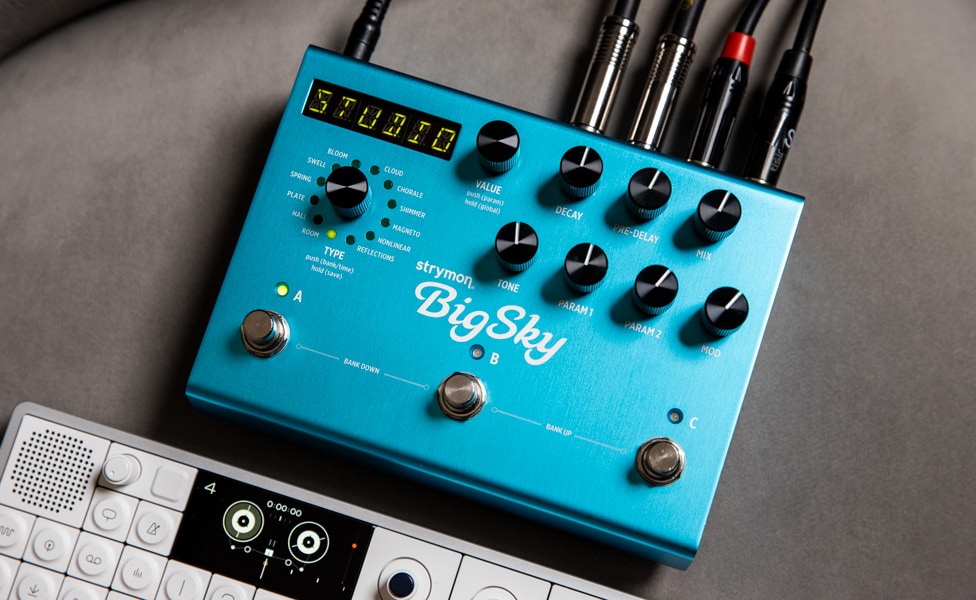 Funny enough, the first official Strymon pedal was not DSP-based at all. It was 2009's OB.1 Optical Compressor and Clean Boost, and it was an all-analog design Stock had been working on.
By 2010, Strymon had its first bona fide smash hit with the blueSky Reverb, and the company's growing band of superheroes could now focus on saving the world with sound.
"When we started, the boutique, digital pedal market didn't really exist in the same way that we know today," says Strymon Head of Marketing Sean Halley. "It's probably fair to say Strymon had a major hand in fostering that market with the products it released. The three co-founders figured they could do things differently than the status quo at the time— partially by throwing huge DSP resources and a unique point of view at the development process, and partially by following their muse at all costs. Even though Strymon is full of engineers and technically minded folk, we all play, and we make stuff we want to use. In the end, everyone wins."
Even the fictional genius Tony Stark would smile at the innovation and productivity of Strymon, as it became one of the most revered, respected and perceptive pedal manufacturers on the planet—and not solely for guitar players. The innovative features and superb sound quality of Strymon machines is such that ingenious musicians of all types—producers, vocalists, keyboardists, DJs, horn players, percussionists, spec-obsessed tinkerers and others—can plug into one of the company's pedals and create wonder, excitement and awe.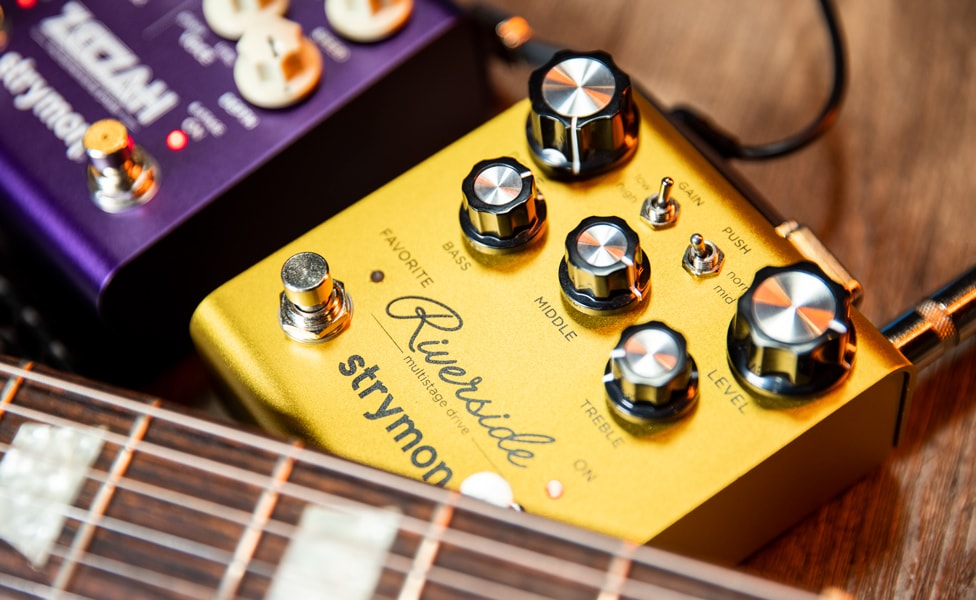 "Customers often tell us our products have a point of view—that they solve problems in a Strymon-esque sort of way," says Halley. "Everything we make has to sound like music first, stand up to abuse and have something unique that sets it apart from our own offerings, and those of other brands. Our sound design needs to make you jump up and dance."
Strymon products are designed and built here in America, and the company builds much more than cool pedals. It also produces plug-ins, Eurorack modules and power supplies. But let's get to those incredible pedals ...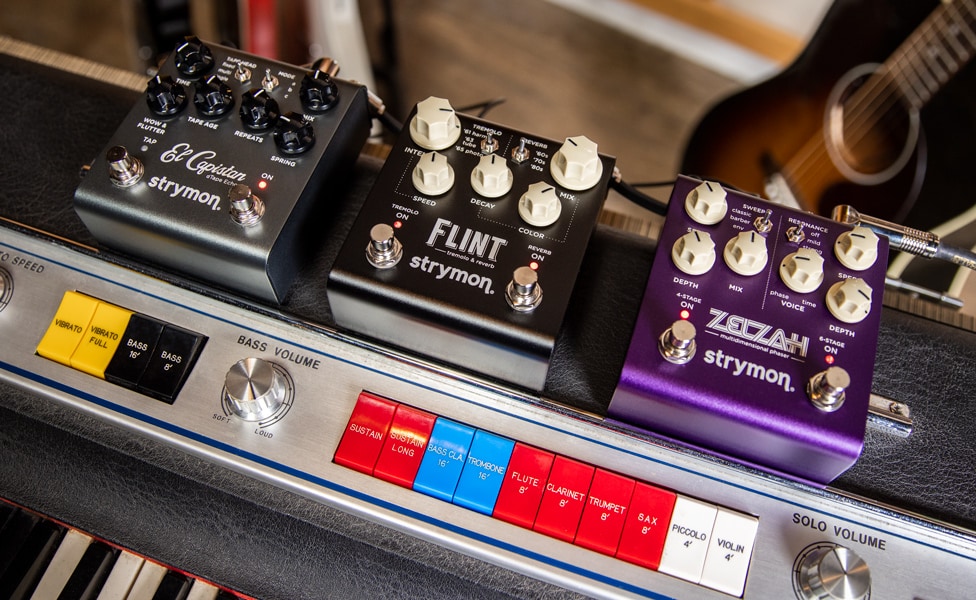 Table of Contents
Reverb Pedals
  BigSky Multidimensional Reverb
  blueSky V2 Reverb
  Cloudburst Ambient Reverb
  NightSky Time-Warped Reverberator
Delay Pedals
  Brig dBucket Delay
  DIG V2 Dual Digital Delay
  El Capistan V2 dTape Echo
  TimeLine Multidimensional Delay
  Volante Magnetic Echo Machine
Modulation Pedals
  Deco V2 Tape Saturation & Doubletracker
  Flint V2 Tremolo & Reverb
  Lex V2 Rotary Modulation
  Mobius Multi Modulation
  Ola dBucket Chorus & Vibrato
  Oribit dBucket Flanger
  Zelzah Multidimensional Phaser
Overdrive, Distortion, and Compression Pedals
  Iridium Amp & IR Cab
  Compadre Dual Voice Compressor & Boost
  Sunset Dual Overdrive
  Riverside Multistage Drive
Join the Club
Reverb Pedals
The Strymon team has engineered amazing pedals in a diverse number of categories, but reverb looms large, as the effect helped the company foresee its growth.
"The original release of blueSky in 2010 was successful enough that the three co-founders were able to make their first hire—which resulted in some sorely needed marketing help back in the day," says Halley. "At that point, there was a strong level of confidence that subsequent releases were going to be successful as well, and they were right."
Any one of the four reverb processors below could work for a player simply looking for a gorgeous reverb, but Strymon also assigns each pedal unique sounds and parameters that distinguish the BigSky, blueSky, Cloudburst and NightSky as separate creative workshops.
In other words, you could plant all four on a pedalboard and not feel like you were being redundant. Instead, you'll discover they'll help you become a colossus of cinematic ambience.
BigSky Multidimensional Reverb
The Strymon BigSky was featured as one of the Best Reverse Reverb pedals in our article, The Best Reverb Pedals for Shoegaze, but, as with many Strymon pedals, it can do much, much more. (It's not labeled "multidimensional" for nothing.) You get the fabulous, shoegaze-approved reverse reverb via the BigSky's Nonlinear machine, of course, but also lush basics (Room, Hall, Plate, Spring), eerie beauties (Chorale, Bloom, Shimmer, Swell), echoing ambience (Magneto), a psycho-acoustic space simulator (Reflections) and cinematic vistas (Cloud, Bloom). There are seven tone-shaping controls—all easily accessible on the pedal's front panel—and the sonic freedom to create up to 300 user- named presets.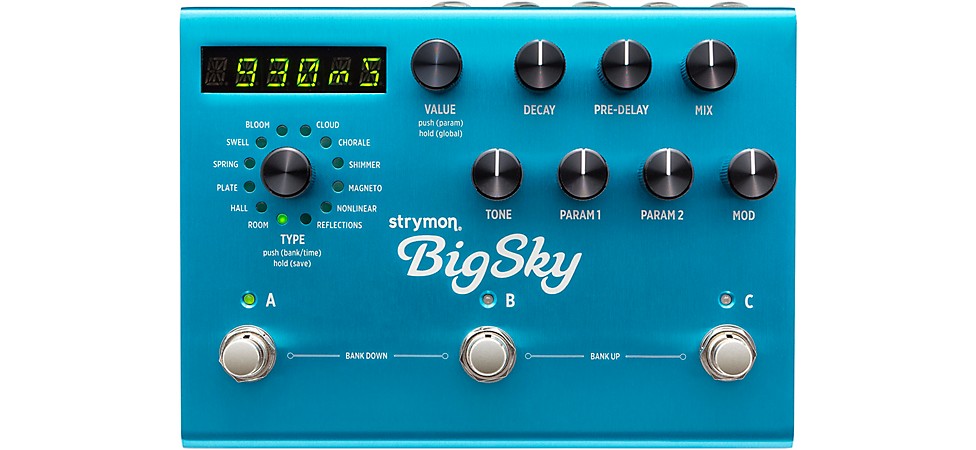 Pictured: Strymon BigSky Multidimensional Reverb
blueSky V2 Reverb
The updated Strymon blueSky V2 Reverberator adds a dedicated Shimmer knob that affects the pedal's three reverb modes in different ways. In Plate mode, the Shimmer control provides octave-up pitch shifting, while Room gets an octave plus a fifth, and Spring acquires octave-down with an adjustable LFO speed. Other V2 enhancements include Low and High knobs (replacing the V1's Low- and High-Damp) for adjusting bass and treble frequencies, and a brand-new, vintage-voiced Spring algorithm. blueSky V2 also benefits from all of the upgrades to the entire V2 platform, including a rear-panel mono-stereo switch, discrete JFET input preamp, full MIDI implementation with 300 presets and USB-C and TRS MIDI connectivity.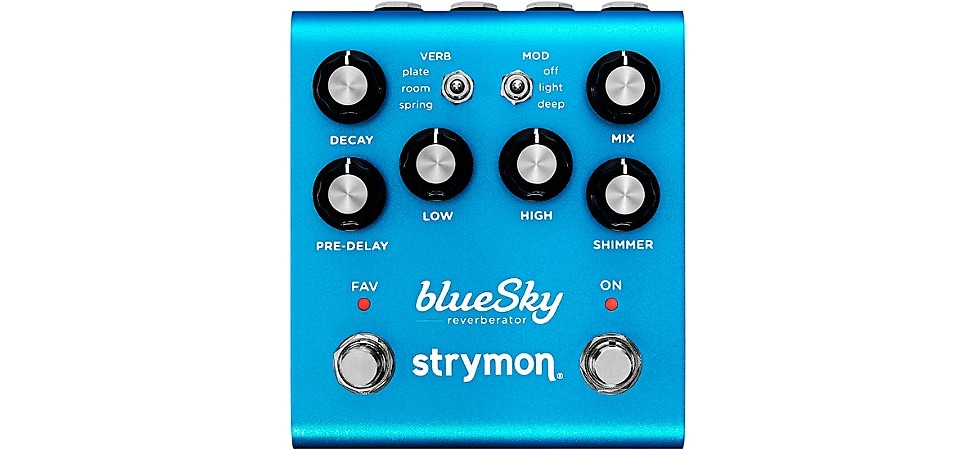 Pictured: Strymon blueSky V2 Reverb
Cloudburst Ambient Reverb
The Strymon Cloudburst Ambient Reverb is a pedalboard-friendly magic box that almost appears to be AI controlled. Cloudburst is based upon a single reverb algorithm, the new Ensemble engine tracks your performance dynamics, pickup choices and even your fretboard position to conjure musically responsive orchestral-inspired soundscapes that play with you. It's like you're a conductor directing ambience rather than a string ensemble. Spooky, but awesome.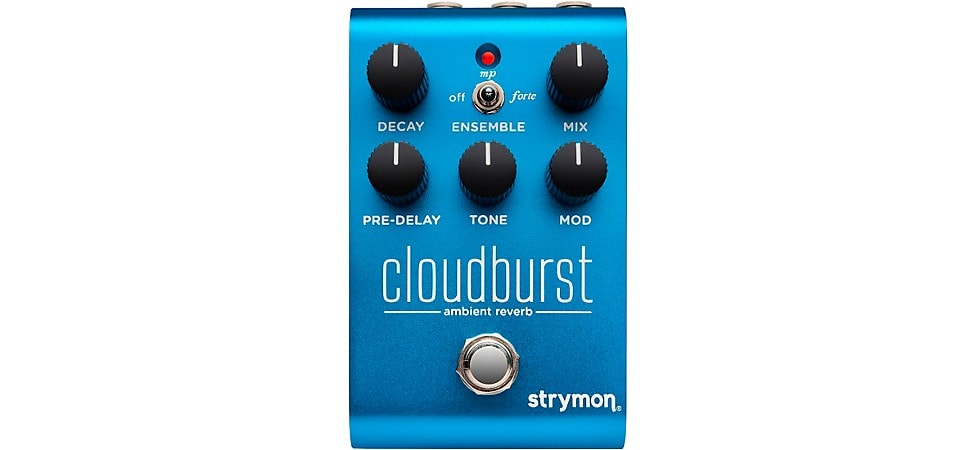 Pictured: Strymon Cloudburst Ambient Reverb
NightSky Time-Warped Reverberator
With enough controls to look at home on a Space Shuttle module, the Strymon NightSky Time-Warped Reverberator inspires experimentation with a bounty of waveshape, modulation, filters, pitch, tone and texture controls—plus a step sequencer. The NightSky requires ample real estate on a pedalboard, but considering it could be used to create entire film soundtracks with a single guitar or keyboard—or invent new sub-genres of shoegaze—it's an easy trade for unbridled imagination. If your now-expanding creative mind actually knows no bounds—never fear—the NightSky provides 16 onboard presets and 300 via MIDI.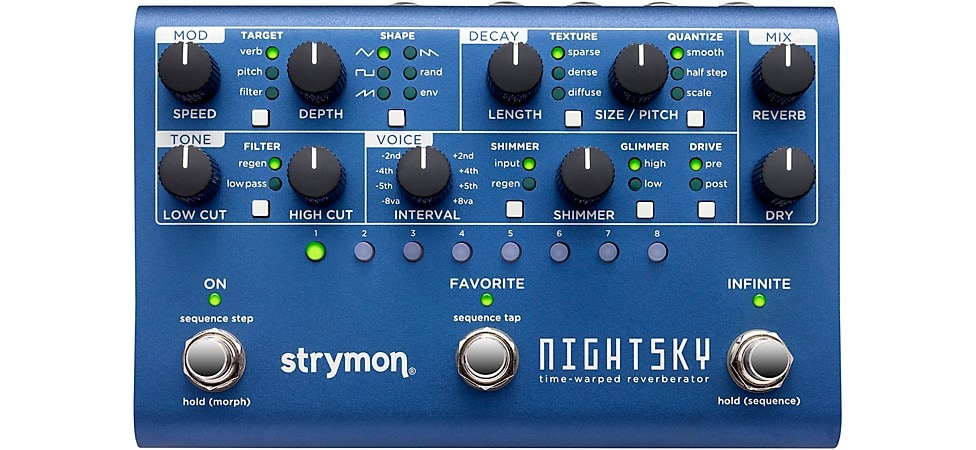 Pictured: Strymon NightSky Time-Warped Reverberator
Delay Pedals
Strymon currently offers six different delay machines that give users the ability to stay in the retro camp, combine vintage and modern sounds, or stick with clean and pristine textures. But with so many players adoring legendary '60s and '70s pedals, one of the initial challenges for Strymon co-founder and DSP designer Pete Celi was cracking the code for accurately emulating old-school tech in the digital realm.
"Early on, we developed dBucket technology, which digitally simulates analog, bucket- brigade chips where a charge is transferred many times through a transistor and capacitor bucket—much like old-time firemen had to pass buckets of water to each other to fight fires," explains Celi. "Each bucket stage adds time, and the rate at which signal is passed from bucket to bucket is controlled by a clock. Speed up the clock, and everything goes faster, giving you a shorter delay. Slow down the clock, and you get a longer delay, but if the clock speeds get slow enough, you get aliasing that produces a high-end buzz. In order to combat those artifacts in analog delays, designers usually employed a lot of filtering to remove high frequencies—which is why analog delays are traditionally dark sounding. On top of that—still using the bucket analogy—some water spills with each transfer from bucket to bucket, and this 'water spillage' creates the grungy and noisy aspect of analog delays.
"So, we thought, 'Let's do a delay in DSP that's actually running internally at a variable clock, but include a bucket-brigade line where the loss between transfers occurs as it does in the chips.' We figured it out, and what it allows you to do is to control that loss. You can make it a perfect transfer, or you can make it a not-so-good transfer from bucket to bucket. You can get a different range of experiences. It's still a variable-clock process using a fixed number of buckets, but because it's in DSP, we can control the quality of the bucket-brigade chip, the amount of filtering, the companding parameters, and the various levels of artifacts. This was really a big thing for us, and it was really cool."
Brig dBucket Delay
The Strymon Brig dBucket Delay is the company's newest offering. Emulating three analog, bucket-brigade-device (BBD) voices, Brig delivers the rich, gelatinous repeats of classic 1980s delay pedals. The trio of voices lets you choose between sonically animated repeats from warm and dreamy, to slightly fractured and granular, to full-on psychedelic freak outs. Yet another killer app is that Brig can simulate a BBD chorus pedal when using a minimum delay time and dialing in the Mod control. There's also an artifact-free tap-tempo feature for real-time delay adjustments on the fly that doesn't change the pitch of the repeats.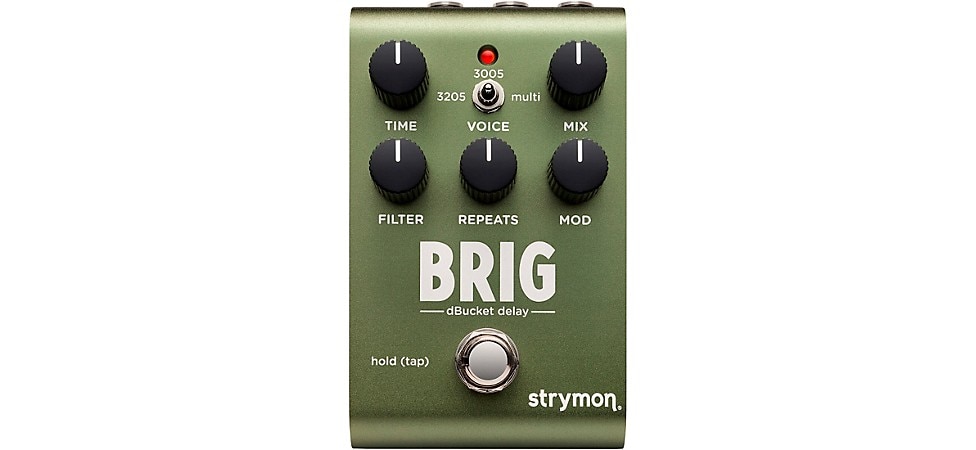 Pictured: Strymon Brig dBucket Delay
DIG V2 Dual Digital Delay
If you're a fan of The Edge, Brian May, David Gilmour, Joe Satriani or Steve Lukather—to name but a few—then you've heard the sound of two simultaneous delay effects combining to create spellbinding atmospheres. The Strymon DIG V2 Dual Digital Delay puts all of that textural complexity into one, easy-to-manage pedal. Just like the original DIG, the V2 emulates rackmount delays from the 1980s, but adds a USB connection, full MIDI implementation (providing remote parameter control, the ability to synch delay time with MIDI Clock and access 300 MIDI presets), a Tone knob, a more powerful ARM DSP chip, and true mono or stereo operation (via TRS or mono input jacks). If you're looking for the classic house-of-worship quarter-note and dotted eighth-note sound, DIG is the fastest path to get there.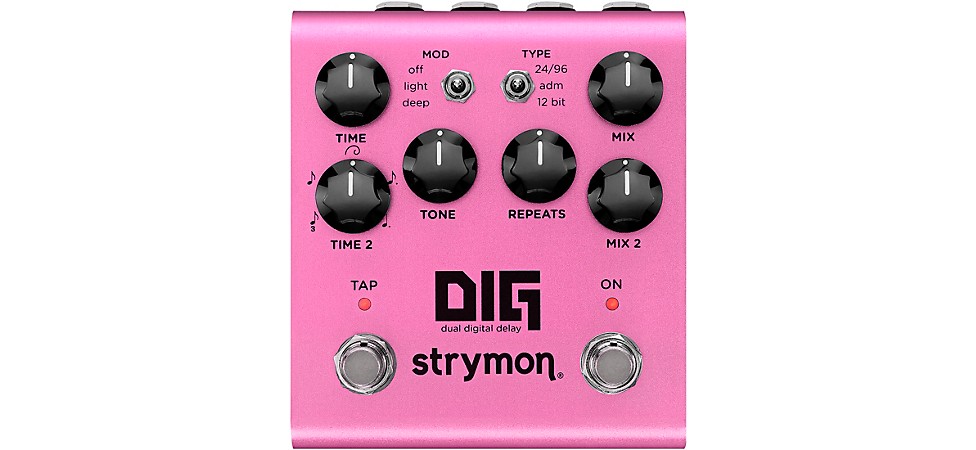 Pictured: Strymon DIG V2 Dual Digital Delay
El Capistan V2 dTape Echo
There are a lot of cool delay tones out there, but if you're really into retro, few sounds are as magical as a chewy, chunky and slightly off-kilter tape delay. The Strymon El Capistan V2 dTape Echo lets you choose from three vintage tape machine configurations, dial in wow and flutter and tape age, and add a spring reverb (for enthusiasts of circa 1974 Roland RE- 201 Space Echo machines). But the El Capistan V2 is also a wayback machine with modern tech. Like other V2 pedals in the Strymon line, El Capistan features a USB connection, full MIDI implementation with 300 presets, a discrete JFET input preamp, a more powerful ARM DSP chip and true mono or stereo operation (via TRS or mono input jacks).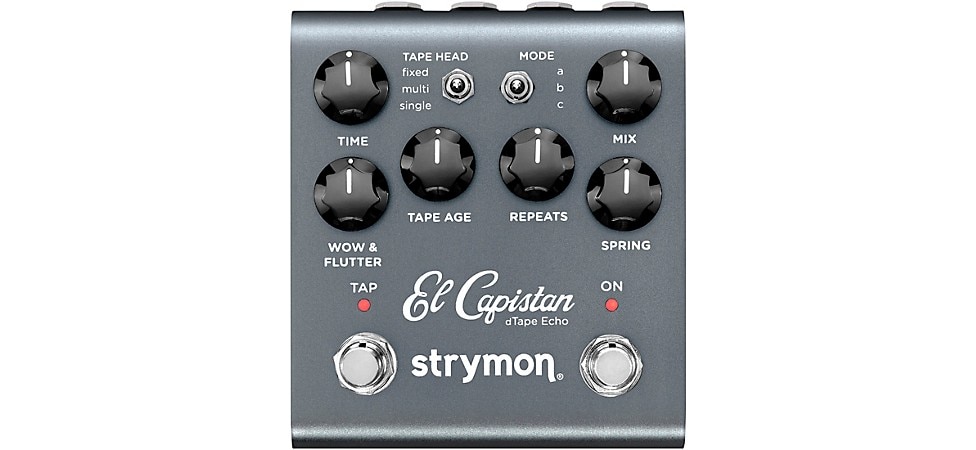 Pictured: Strymon El Capistan V2 dTape Echo
TimeLine Multidimensional Delay
The Strymon TimeLine Multidimensional Delay is a fully-loaded echo workstation bearing 12 different delay effects, including tape, lo-fi, bucket brigade, digital and more. There's also a 30-second looper, tap tempo, full-MIDI implementation, true stereo operation and up to 200 user presets. Every delay sound for practically every stylistic application is at your fingertips and underfoot.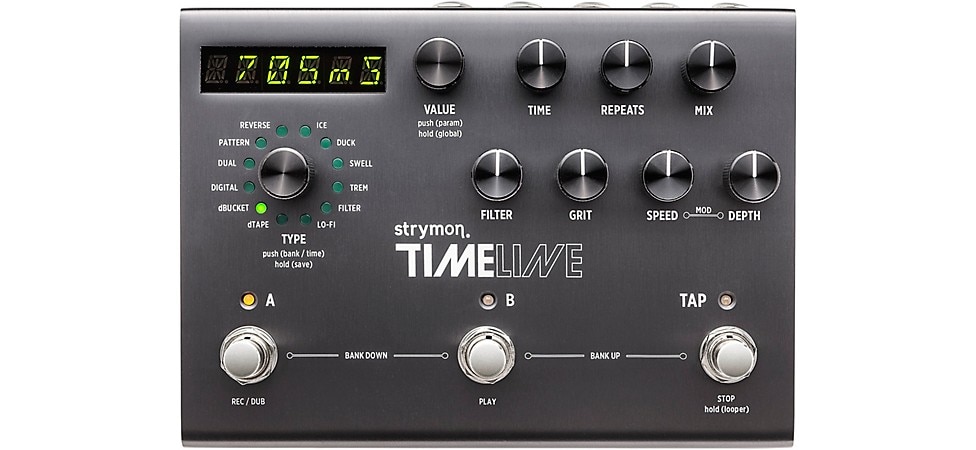 Pictured: Strymon TimeLine Multi-Delay
Volante Magnetic Echo Machine
Fans of psychedelia and '60s studio weirdness get the sound of three vintage marvels with the Strymon Volante Magnetic Echo Machine: a drum echo (reminiscent of Italy's Binson Echorec, which was prized by Pink Floyd, producer Andy Johns and others), a tape echo machine and a studio reel-to-reel deck. From there, you can dial in tape speed, tape and head wear, and mechanical anomalies (such as crinkled tape and speed fluctuations). The Volante also offers sound-on-sound looping and an appropriately retro spring reverb algorithm.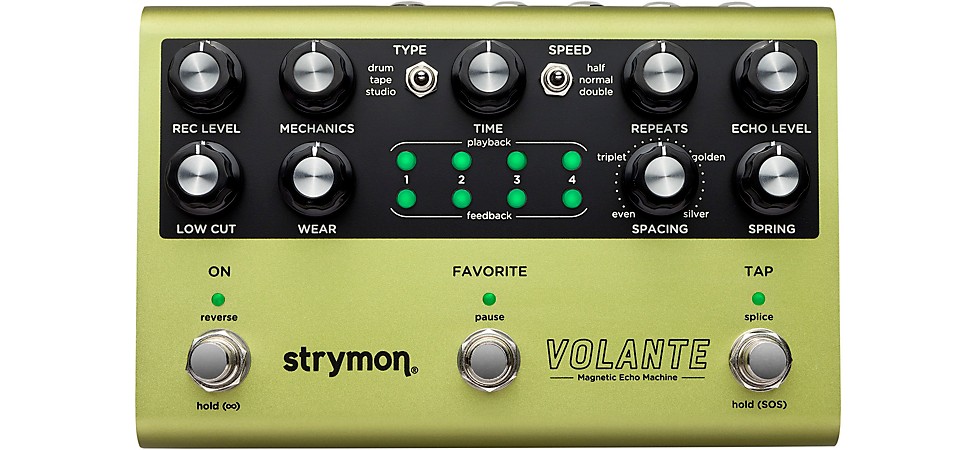 Pictured: Strymon Volante Magnetic Echo Machine
Modulation Pedals
The chewy, sensual undulations of analog chorus, phaser, flanger and other modulation pedals started as analog designs, with engineers building circuits and dealing with the benefits and drawbacks of the technology of the time. From a sonic standpoint, some of those so-called drawbacks forged legendary studio gear and effects pedals. You might think that digital designers come at things in a different way—using studied and mathematical methods, rather than from a percolating think tank of audio buckeroos—but for Celi and his team, the creative goals for Strymon pedals are eerily similar to those of old-school inventors.
"We design effects where, fundamentally, the goals and the process aren't broadly different than those of any other effect maker designing in any other medium," says Celi. "If you're an analog designer, you start with an idea. You have a circuit, you build it, you have some knowledge and history to draw from, you make adjustments and decide when it's to your liking, or what other direction it needs to go in. We're doing things in a similar way, except the medium is DSP. There are measurements and equations that are part of the process, but
once we have described the process mathematically, the next step is to craft the sound. A fair amount of the process is artistic as well. The cool part about DSP is that it's so open. There are so many things you can do, and it's easy to experiment and try things that wouldn't have been easy to do before. It's about creating resonances, and pitches, and feedback, and ambient soundscapes that don't have any physical counterpart. It's really an exercise in creativity and freedom."
Deco V2 Tape Saturation & Doubletracker
What's a tape saturator doing in the Modulation section? Well, the Strymon Deco V2 Tape Saturation & Doubletracker does more than simply bathe your tone in fabulously warm, bold and compressed analog tape drive. The Deco V2 harkens back to the days when savvy and boundary-pushing studio engineers of the '50s and '60s discovered that using two reel- to-reel machines running simultaneously, then slowing and delaying the output of one by placing a finger on the tape flange and running the outputs to a third recorder produced flanging (see how that effect got its name?), phasing, chorusing and other groovy effects. As you can see, the advent of modulation processing—as well as slapback echo and delay— was made possible by old-school reel-to-reel analog tape decks, and the Deco V2 delivers all of that vintage, vibey saturation and time-based effects. Updates from the original Deco include a new cassette tape voicing that emulates the ALC auto-limiting circuit used by some high-end cassette decks in the '70s, a Tone knob, MIDI implementation, ARM DSP, and true mono or stereo operation (via TRS or mono input jacks). "This is one of the best guitar effects pedals that nobody talks about," says guitarist, educator and YouTube influencer Rhett Shull. "It's completely unique, and it's one of my favorite pieces of gear I've ever had."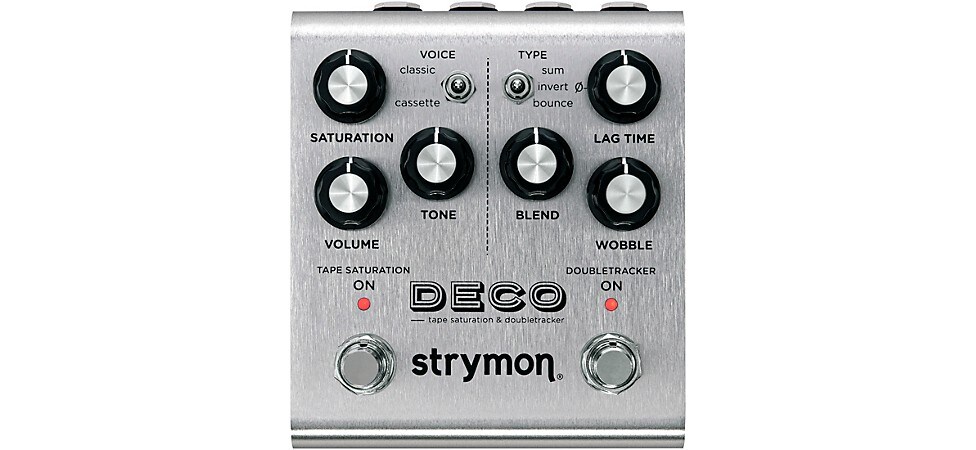 Pictured: Strymon Deco V2 Tape Saturation & Doubletracker
Flint V2 Tremolo & Reverb
Want to do some time traveling? The Strymon Flint V2 Tremolo & Reverb offers six vintage effects types from days gone by—a '61 harmonic tremolo, '63 power-tube tremolo, '65 photocell tremolo, '60s spring reverb, '70s electronic plate reverb and a hall reverb from an '80s rack processor. Even hipper, your transporter excursion doesn't need to be restricted to a specific era. Mess with the time-space continuum by matching a '63 tube tremolo with an '80s rack reverb, or devise some other form of epoch-assimilating mayhem. You can also choose to stay planted within a single timeline by using only the tremolo or the reverb. The V2 enhancements from the original Flint include adjustable pre-delay time for the reverb and slower speed settings for the tremolo, a discrete JFET input preamp and full MIDI implementation with 300 presets.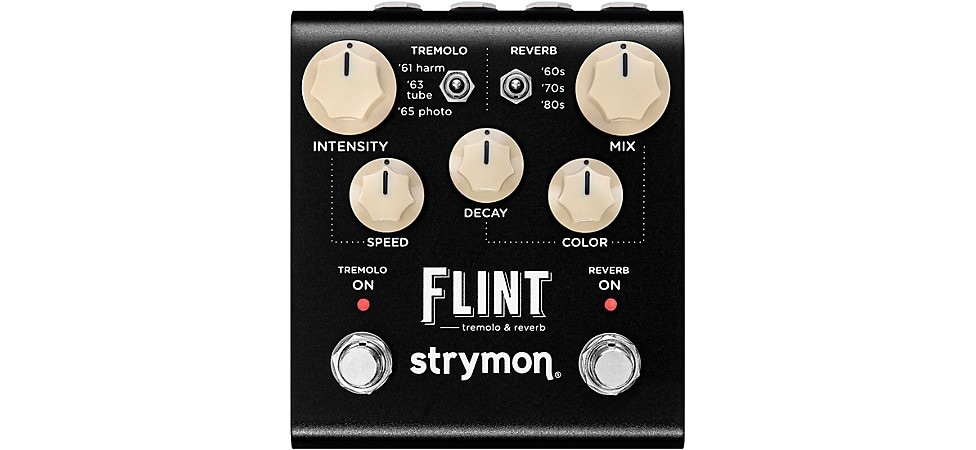 Pictured: Strymon Flint V2 Tremolo & Reverb
Lex V2 Rotary Modulation
In 1963, producers Brian Wilson and Lou Alder recorded background vocals for teen heartthrob Paul Petersen's single, "She Rides With Me," through a rotating Leslie speaker. It's amusing to consider that teenyboppers may have kicked off an effect that became so iconic when used on guitar—an awe-inspiring instrument/effect blend that, in turn, prompted pedal makers to emulate the hulking Leslie speaker in a far more easy to transport (and maintain) pedal form. The Strymon Lex V2 Rotary offers abundant ways to dial in the perfect Leslie tone with controls for microphone distance, front or rear speaker mic placement, ramp-up speed, the volume level of the high-frequency horn, tube-preamp
drive and a savvy effect/source sound mix. Don't limit your psychedelic, rotary speaker adventures to guitar, either. The Lex sounds amazing on keyboards (the Leslie was originally conceived for Hammond organs), lead and background vocals (John Lennon was a fan), horns, violins and just about anything that makes a sound.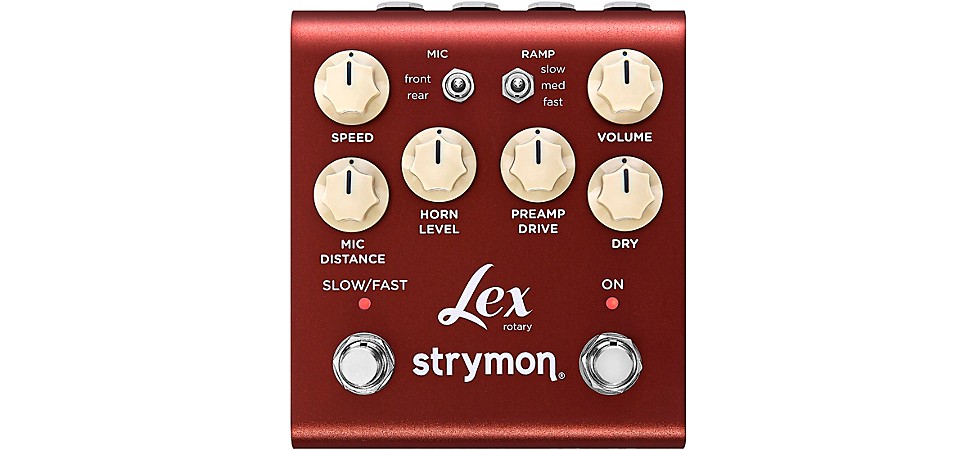 Pictured: Strymon Lex V2 Rotary Modulation
Mobius Multi Modulation
The Strymon Mobius serves up a vast smorgasbord of modulation effects, and not simply a menu of the "usual suspects," but vintage, operational and other aural options within each category. From 12 basic modulation types, Mobius cooks up numerous sonic drivers including (depending on the chosen effect) bucket-brigade circuitry, '80s digital emulations, analog tape, filters, waveforms, formants, AM and FM modulations and sample- rate reduction. You'll be happy that Mobius provides 200 built-in user presets, because there's a lot to explore and so much to create.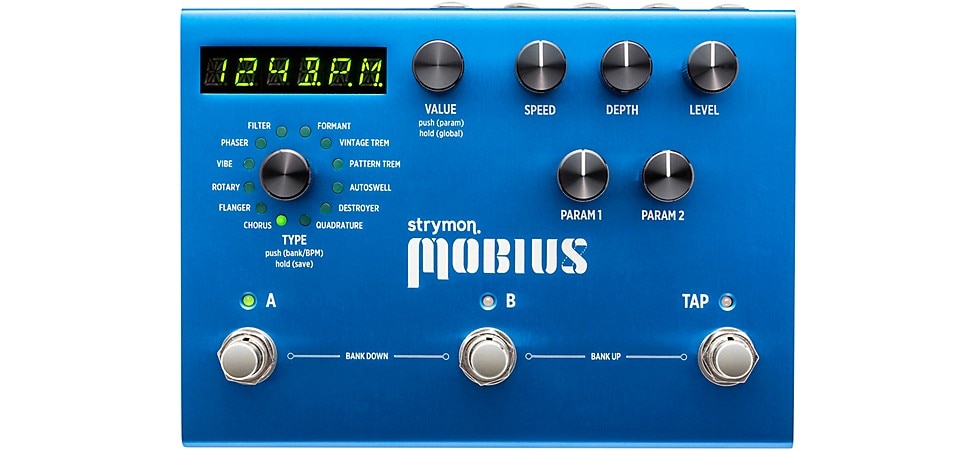 Pictured: Strymon Mobius Multi
Ola dBucket Chorus & Vibrato
The Strymon Ola dBucket Chorus & Vibrato offers three types of modulation—a single delay-line chorus; a three-phase, multi-delay-line chorus and a vintage-voiced vibrato. The trio is based on Strymon's dBucket algorithm that emulates the analog richness of '70s bucket-brigade circuits. You can craft a vibey chorus or vibrato—perhaps reminiscent of a favorite old-school hit—and save it as a Favorite preset that can be recalled as needed during a gig or recording session. You can also fill the stage with sound by using the stereo inputs and right/left outputs to plug into two different amplifiers.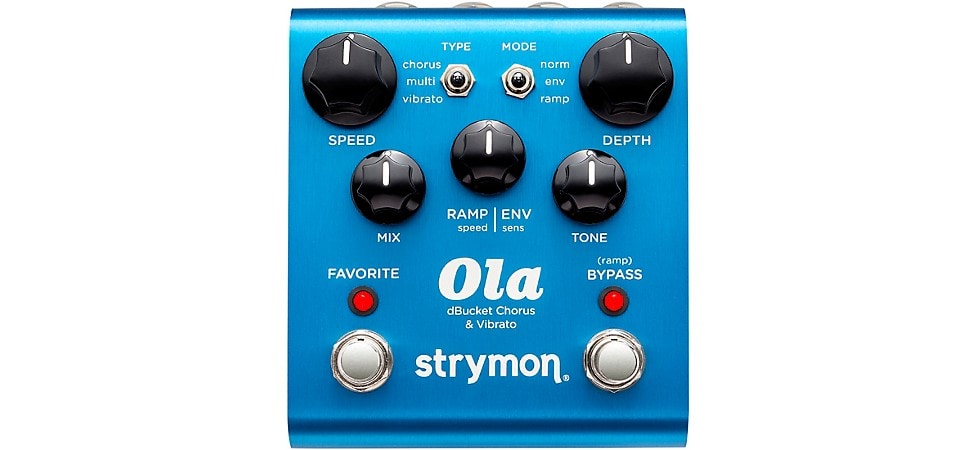 Pictured: Strymon Ola dBucket Chorus & Vibrato
Orbit dBucket Flanger
The Strymon Orbit dBucket Flanger produces classic analog flanging by emulating vintage bucket-brigade circuitry. But the Orbit does more than honor the past—it expands the sonic impact of old-school flanger pedals from back in the day by adding three LFO switches, as well as an option to choose between positive feedback (for dialing in jet-like swooshes), negative feedback (hollow sounds), and simultaneous positive and negative feedback. A Manual knob lets you adjust delay time to generate high- or low-frequency flanging sounds, and you can save one favorite preset for instant recall.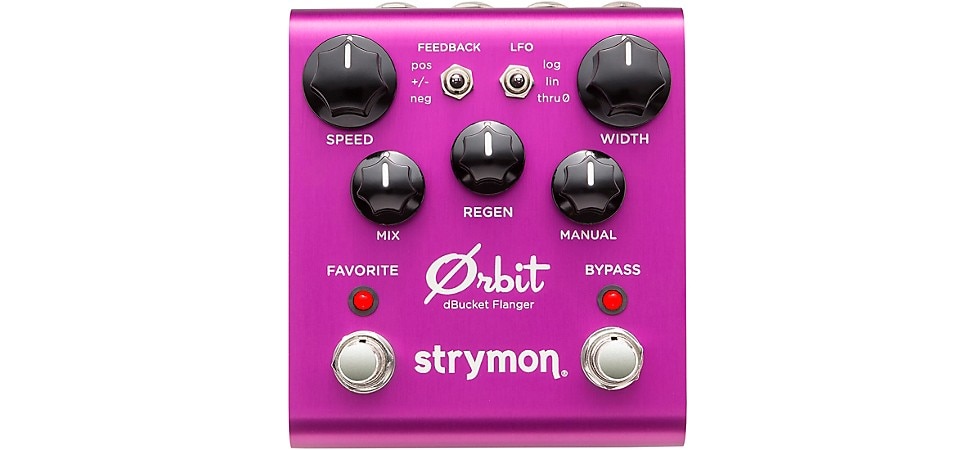 Pictured: Strymon Orbit dBucket Flanger
Zelzah Multidimensional Phaser
Encompassing a combo plate of a four-stage phaser and a six-stage phaser, the Strymon Zelzah stretches beyond phase effects to offer flanging, chorus, vibrato and extraordinary tones that are only limited to your imagination. In addition, you can use Zelzah as two independent modulation effects and route the audio from both in different ways, or as an intermingled, super powerful control panel for creating everything from lush shimmers to textured sweeps and otherworldly wobbles.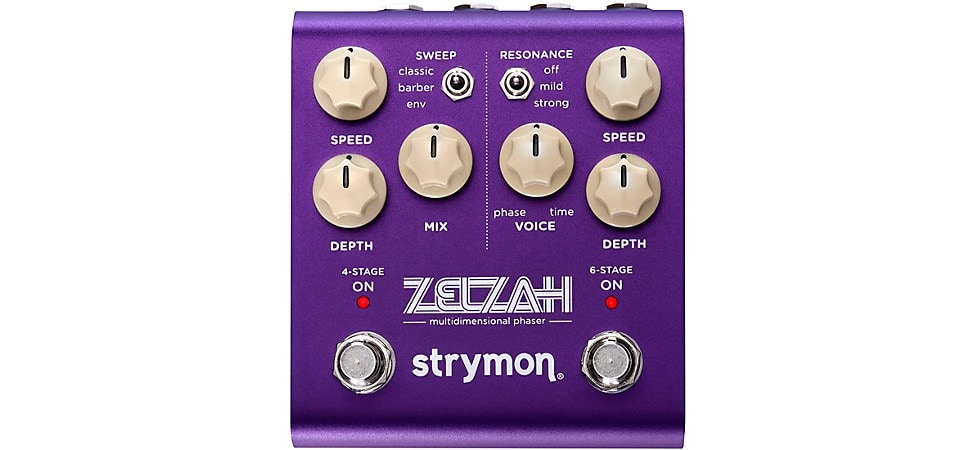 Pictured: Strymon Zelzah Multidimensional Phaser
Overdrive, Distortion and Compression Pedals
Due to Strymon drive pedals being DSP-based, Celi and his team can dig extremely deeply into various analog and tube gain stages in a variety of settings, and then analyze the circuit interactions, and dynamic and harmonic responses. This data is obviously valuable for
anyone looking to emulate an amp sound or a vintage overdrive pedal, and it's indispensable for Strymon, as the company typically offers so many additional tonal variables and control parameters in each stompbox. One unique aspect to Strymon's drive offerings is the analog input preamp works in concert with the DSP to give a wide range of control over tone and gain. So, given the work, technology and musicality that goes into Strymon gain machines, Celi stepped out of his designer mode and into his player persona to offer some advice on how to get the best sound out of these pedals.
control to change the input level going into your overdrive and distortion pedals."
Iridium Amp & IR Cab
Portable tour rigs that can be dropped into a gig bag, popped into an airplane's overhead compartment, fit into a cab or Uber, and stand at the ready for any performance emergencies have made it exponentially easier for musicians to get on stage with minimal gear and still deliver great sound. The Strymon Iridium struts the same modest footprint as many other effects pedals, yet it almost contains a backline company's bounty of amps and cabinets. It's like possessing Harry Potter's magic skills to be able to cram so much gear into a box you can hold in one hand. The Iridium offers algorithms based on three popular amp types (Fender Deluxe, VOX AC30, Marshall Super Lead) and nine stereo IR speaker cabinets (three options per amp, including 2x10", 1x12", 2x12" and 4x12"), as well as the ability to place your chosen virtual amp and cabinet in an ambient room environment (small, medium or large). Bass, Middle and Treble knobs offer amp-style EQ tailoring, and you can save your most-used preset as a Favorite that can be instantly recalled with the click of a footswitch.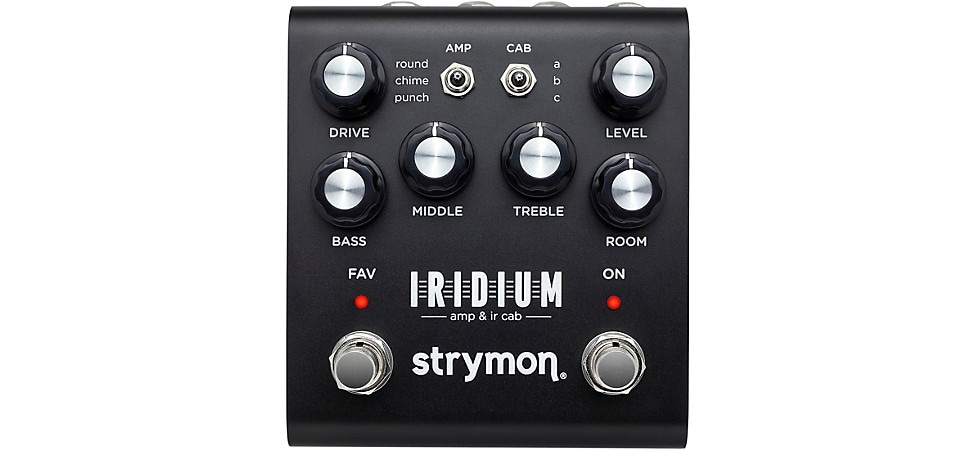 Pictured: Strymon Iridium Amp & IR Cab
Compadre Dual Voice Compressor & Boost
You probably wouldn't think you'd ever need a comprehensive "compression/boost workstation" until you plug into the Strymon Compadre. But the real-world impact on your tone and performance nuances provided by the Compadre is truly astounding. First, you can choose between a relatively transparent rack compressor you'd find in top recording studios or a more bullish stompbox compressor. From there, you can adjust the wet/dry blend of the compression to ensure your attack is distinct, even when aggressively crushing your signal. In addition, while a boost is a boost is a boost in many instances, the Compadre offers a sonic twist with three EQ options. You can choose a vintage treble booster-style voicing (that also serves to tighten up the low end), push the midrange frequencies or run a flat response that retains your tone without any coloration. But there's more. You can also select a clean boost for ultimate transparency or a dirty boost that bathes your signal in soft-clipping overdrive and grit.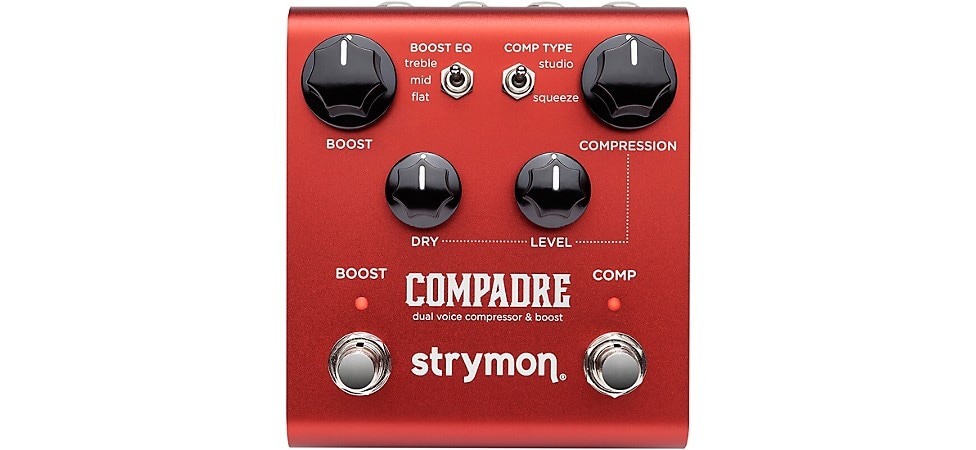 Pictured: Strymon Compadre Dual Voice Compressor
Riverside Multistage Drive
Your band performs every style of music from metal to funk. You're also a session player or guitarist for hire, and it's always a surprise what kind of sound the producer or music director wants. You have one amp and one pedalboard. How do you negotiate this tonal conundrum? No need. Call on the Strymon Riverside. Bearing an analog/digital hybrid circuit, the Riverside deploys cascading gain stages and dynamic sensitivity (via guitar volume changes, and finger and hand attack levels) that can entice a single amp to subtle grit, punchy crunch or full-on aggro grind. It's like bringing an armada of amps to every gig—except that you aren't. Instead, you're using a pedal that can transform one amp into many different-sounding amps. Controls include a high- or low-gain switch, a normal or mid boost switch, 3-band EQ and secondary functions consisting of noise reduction and up to 6dB of boost. Riverside is so natural and organic sounding that you may want to prepare yourself for people trying to sneak a peek at what they are certain is a multiple amp and mic setup behind the curtain. They would be wrong.
Pictured: Strymon Riverside Multistage Overdrive
Sunset Dual Overdrive
There was a time, when if you wanted an expanse of overdrive, distortion and fuzz options on your pedalboard, you had to plop down multiple pedals, and that could get really crowded. Many gear makers jumped in to minimize the bulk by making dual-drive pedals— and, of course, digital multi-effects processors can offer numerous saturation choices, but typically in a large format that's less than pedalboard friendly—but only the Strymon Sunset offers two dedicated drives with six different circuit varieties. The Channel A provides a germanium diode mode, a "Texas" soft clip with midrange bump and a clean treble boost. Channel B offers a two-stage (soft and hard) clipping path, a high-gain hard- clipping stage and a warm, clean boost. A Bright switch furnishes three more tone-tailoring options that include Minus (smooths high-end content), Neutral (balance top end) and Plus (enhanced high-end detail). There are Drive and Tone knobs for each channel, as well as a switch to configure Channel A's signal into Channel B, B into A or both channels in parallel. Call it a Sunset with many colors.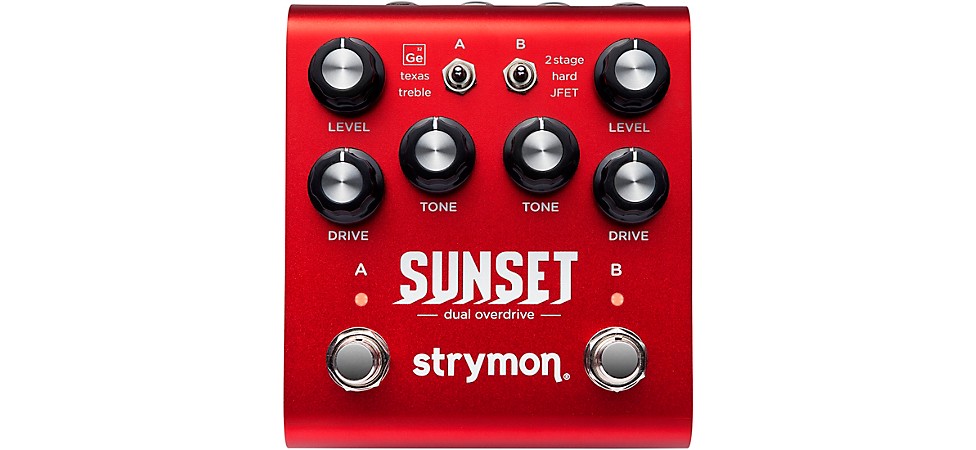 Pictured: Strymon Sunset Dual Overdrive
Join the Club
Strymon is one of those gear companies that players like to brag about—their pedals holding pride of place on pedalboards and in home studios. For the Strymon team, this level of enthusiasm and support from users is an acknowledgement of their philosophy to expand sonic frontiers and provide easy-to-use tools that constantly inspire creativity.
"It's always gratifying when you discover someone doing something decidedly new with your products," says Halley. "It's pretty amazing what folks around the world are doing with music creation these days, and we're happy to play even a small part in it. We just want to make cool stuff that inspires folks, so we're ecstatic when someone dedicates precious pedalboard real estate to one of our units."