On April 21st 2020, on the fourth anniversary of the untimely passing of Grammy-winning musical virtuoso Prince, the Recording Academy will air "Let's Go Crazy: The Grammy Salute to Prince." Featuring Jimmy Jam, Terry Lewis and Sheila E. as co-musical directors, the special brings together an incredibly diverse group of artists to pay tribute to the artist whose vast canon of music influenced so many, including H.E.R, Gary Clark Jr., St. Vincent, Juanes, Foo Fighters and the Revolution—the band with whom Prince, as Jam puts it during the special, "changed the world."
With its name taking a cue from the opening track of Prince and the Revolution's 1984 hit soundtrack album Purple Rain, the special takes viewers on a journey of some of the biggest hits of Prince's incredibly influential songbook, plus some surprises. As proven by the star-studded group of artists who came out to honor him, Prince inspired artists from all genres, from rock and pop to Latin and R&B. But his impact also stretched beyond music and into other areas of art, as noted by Misty Copeland—the first African-American female Principal Dancer with the prestigious American Ballet Theatre who toured with Prince and famously performed onstage with him during "The Beautiful Ones." Copeland reprised her performance for the Grammy tribute concert during a special performance with H.E.R.
"He was a mentor, one of my closest friends and someone who just really showed me what it was to be a unique individual and to own that power," said Copeland. "In many ways, he inspired me to become the artist that I am today."
With the help of Sheila E., Jimmy Jam, the Revolution, and all of the artists who joined to pay tribute, the "Let's Go Crazy" special celebrates the enduring spirit of, as host Maya Rudolph called him, the artist who will be "forever known as Prince," and how he has and continues to inspire us all.
So, on that note, here are a few of the performances that proved just how much of an impact Prince had on a variety of artists, and how he, his legacy and his incredible canon of songs will never be forgotten.
H.E.R. & Gary Clark Jr.
"Let's Go Crazy"
Fittingly, two of today's most prominent guitar players—H.E.R. and Gary Clark Jr.—opened the special with "Let's Go Crazy," which is featured on 1984's Purple Rain album and reached No. 1 on the Billboard charts. The duo was backed by Sheila E.—Guitar Center RockWalk inductee, longtime Prince collaborator and co-musical director of the Prince special—who played her set of custom Latin Percussion timbales emblazoned with her signature butterflies and the legendary Prince logo.
"Let's Go Crazy" became as known for its guitar solos and heavy, distorted rock and roll riffs (played by Prince) as it did for its funeral-like organ solo opening, and Clark and H.E.R.'s combined expressive guitar work and dueling solos were the ultimate tribute, and a true display of how the Purple One inspired them both. They each took the stage wielding the guitars they've been known to play, with Clark on his burnt orange-colored Gibson Custom Shop Flying V and H.E.R. playing a sparkling silver Fender Stratocaster with a matching silver headstock.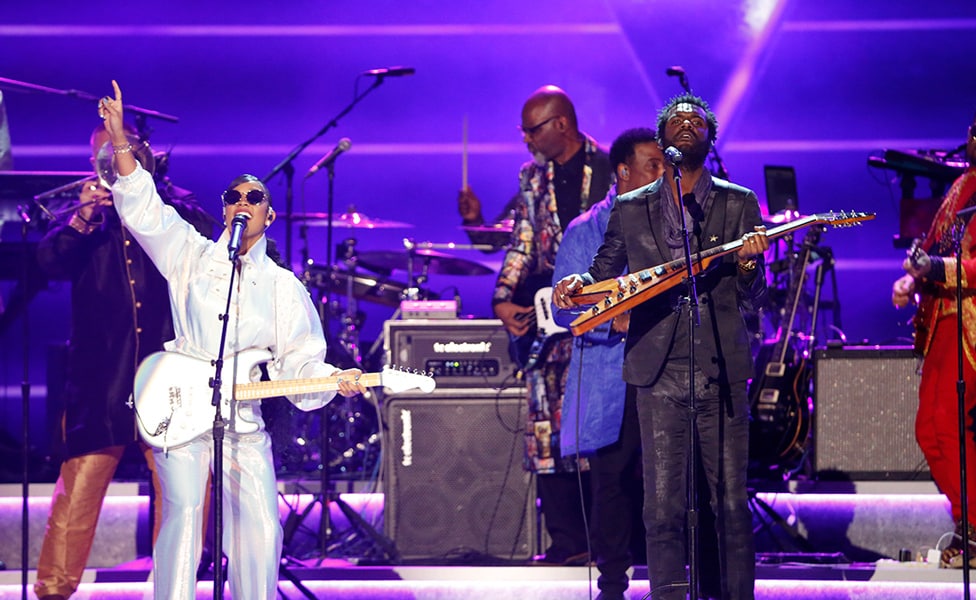 Courtesy of the Recording Academy®/ Getty Images © 2020
St. Vincent
"Controversy"
St. Vincent—with her trusty signature Polar White Ernie Ball Music Man guitar in tow—brought the funk to the special with her take on Prince's rhythmic, boundary-breaking "Controversy"—the lead single and title track to his 1981 album. Controversy was released during a pivotal moment in Prince's career, when the sound and aesthetic he'd been creating in the club scene back in Minnesota was beginning to sound the alarm on the issues of racism, sexism and homophobia that were running rampant across America and throughout rock and roll culture at the time. These were all topics that were brought to the forefront on Controversy.
Backed by Sheila E. (who also played guitar for this song), St. Vincent's tribute was among the most fitting of the special. Her performance was not only another display of Prince's ethereal penchant for writing driving guitar grooves, but as someone who's been outspoken on issues of inequality in the industry, and also disrupted the world of guitar design with her boundary-crushing Ernie Ball Music Man signature model, her tribute was a reminder of how Prince truly changed the world, and the world of music, forever.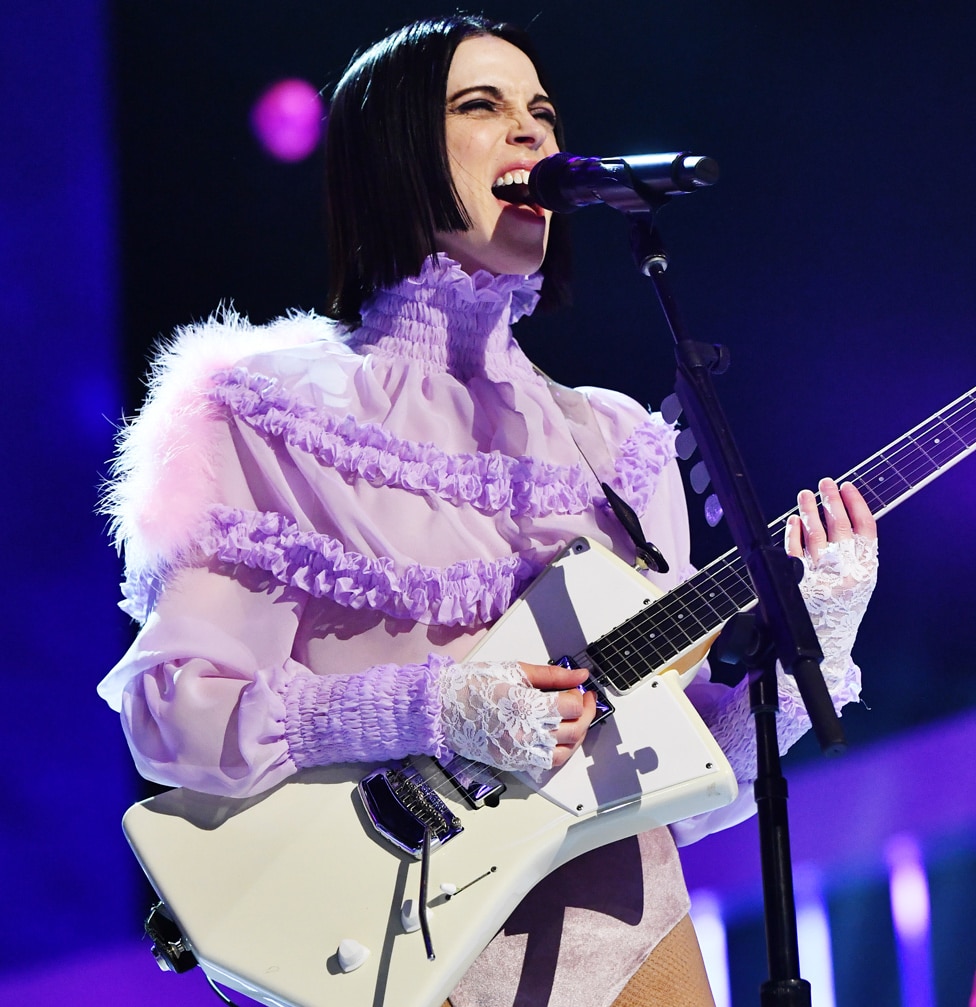 Courtesy of the Recording Academy®/ Getty Images © 2020
Juanes
"1999"
Proving how Prince's impact crossed genres, boundaries and borders, Colombian GRAMMY and Latin GRAMMY winner Juanes took the stage donning his gold-topped semi-hollowbodied Gibson ES-339 to perform his take on Prince's 1982 bop "1999," with the help of Sheila E. on vocals and timbales. Since its release, the song has become the ultimate pop anthem, but, composed by Prince during the height of the Cold War, it was actually written as a protest against nuclear proliferation.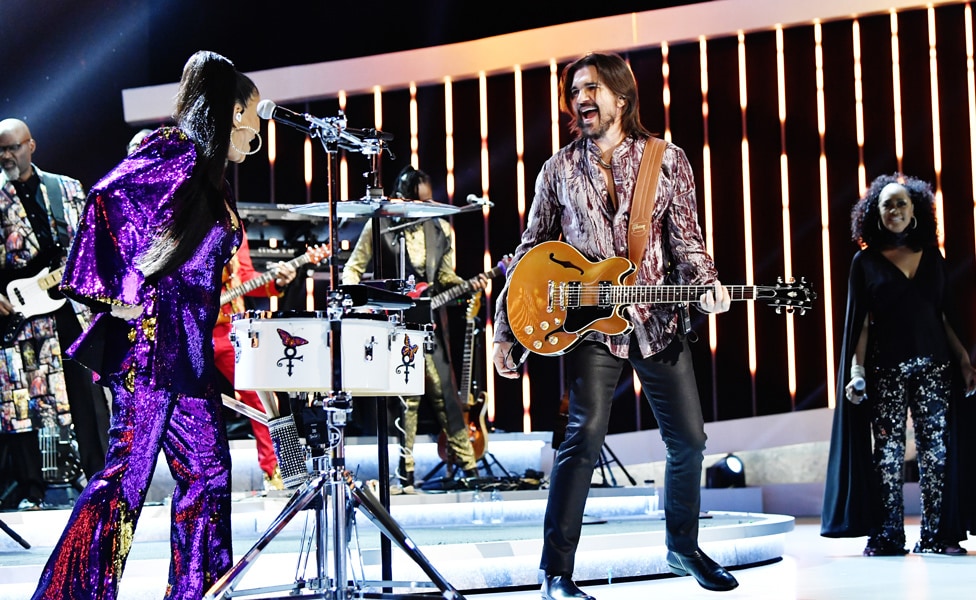 Courtesy of the Recording Academy®/ Getty Images © 2020
Sheila E.
"America," "Free" and "The Glamorous Life"
After supporting other performances throughout the night, Sheila E. took the stage for her own medley, which included "Free" off the 1999 album, and her own "The Glamorous Life"—a song written and produced by Prince. Her and her Latin Percussion timbales took center stage for a fiery solo during "The Glamorous Life," displaying the talent that led guest star on the show Fred Armisen to rightly introduce her as the "queen of percussion."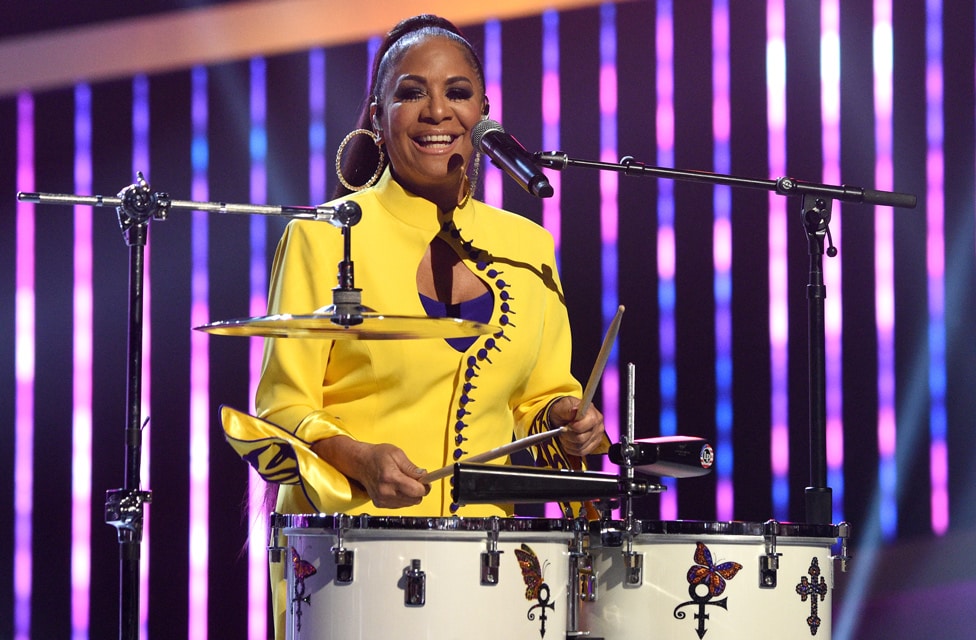 Courtesy of the Recording Academy®/ Getty Images © 2020
Foo Fighters
"Darling Nikki"
Signature guitars stole the show for the Foo Fighters' rendition of "Darling Nikki," which they recorded a cover of in 2003 and have often performed live. Noting they hadn't covered the song in more than 20 years, Foo Fighters paid tribute to the original guitar-driven track with a raw and raucous rendition of the 1984 song (featured on Purple Rain) that featured Dave Grohl wielding his custom Pelham Blue Gibson ES-335, Chris Shiflett on his signature Fender '72 Deluxe Stratocaster, Pat Smear on his signature Hagstrom gold-topped electric guitar and Taylor Hawkins pounding away on his Gretsch drums.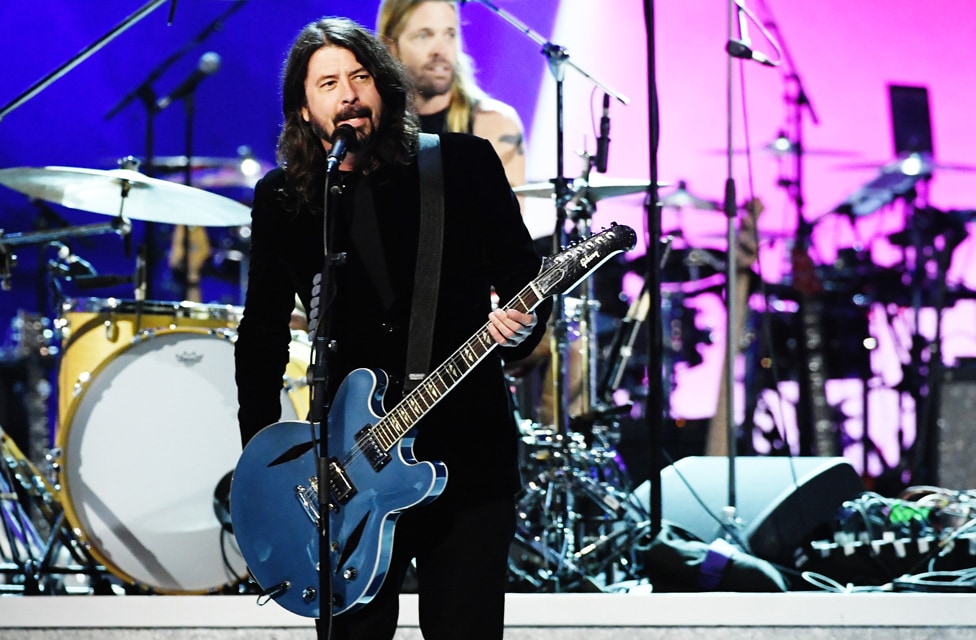 Courtesy of the Recording Academy®/ Getty Images © 2020
H.E.R
"The Beautiful Ones"
In a display of her own ability to switch between multiple instruments (much like the Purple One himself), H.E.R returned again, this time playing a striking, all-white, futuristic-shaped Roland piano for her take on the ballad "The Beautiful Ones," also from the Purple Rain album. H.E.R was joined onstage by dancer Misty Copeland, who toured with Prince and was often seen onstage performing alongside him during "The Beautiful Ones." She also appeared in Prince's 2009 music video for "Crimson and Clover." The performance beautifully paid homage to Prince's appreciation for the arts, which extended far beyond music.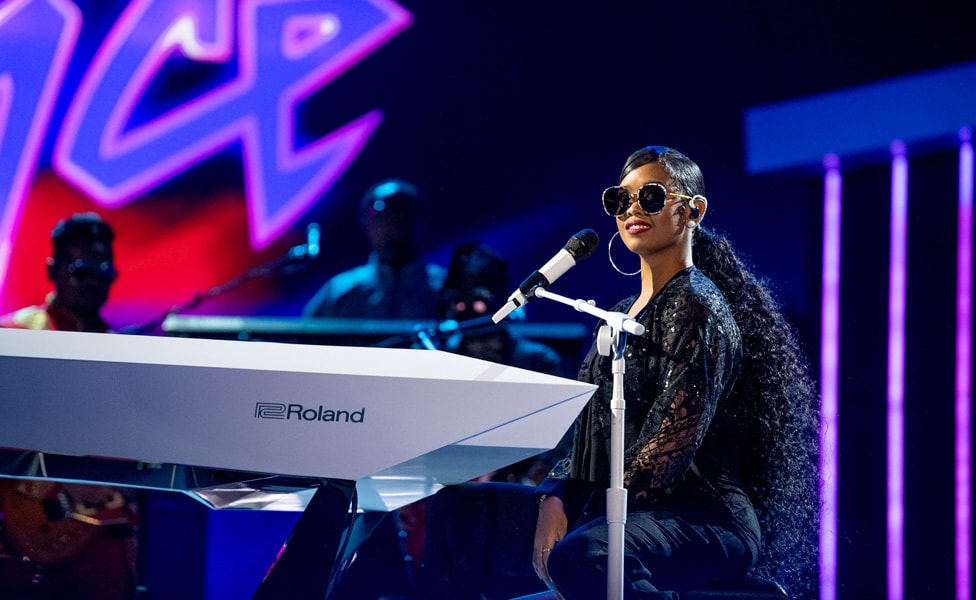 Courtesy of the Recording Academy®/ Getty Images © 2020
Mavis Staples and the Revolution
"Purple Rain"
Arguably the highlight of the GRAMMY Prince tribute was the return of the band with whom, as co-musical director Jimmy Jam said, Prince "changed the world." The five members of the Revolution— guitarist Wendy Melvoin, keyboardists Lisa Coleman and Matt Fink, bassist Brown Mark, and drummer Bobby Z. (who we intereviewed prior to the concert's airing)—were joined by GRAMMY winner Mavis Staples, known as one of Prince's "favorite voices on Earth," for a rousing cover of one of the most iconic songs of all time from Prince and the Revolution, "Purple Rain." The true-to-the-original guitar solo was provided by the legendary Wendy Melvoin and her custom white Gibson ES-335.
Courtesy of the Recording Academy®/ Getty Images © 2020
Gary Clark Jr.
"The Cross"
Gary Clark Jr. returned—again with his Custom Gibson Custom Shop Flying V for a cover of Prince's faith-inspired 1987 song "The Cross," this time with Sheila E. behind a full DW Drums set. Her drums were emblazoned with her signature butterflies, the iconic Prince logo and the word "life," perhaps as a symbol that the legacy of Prince lives on through his music. The performance closes with a spirited, blazing guitar solo from Clark.
Courtesy of the Recording Academy®/ Getty Images © 2020
"Let's Go Crazy: The Grammy Salute to Prince" aired on Tuesday, April 21 from 9–11 p.m. on CBS