Technology has modernized the way we consume and create music. Today's smartphones are very powerful devices with fast processors. Wireless data speeds have increased exponentially in just a few years. We use our iOS and Android phones for everything from live streaming video to real-time navigation. Developers are constantly creating new apps that benefit content producers, DJs and live musicians. Check out some of our favorite high-tech gadgets to see how you can use your iPhone or Android phone for professional music production, performance or recording.
Direct Input Audio Interfaces
Practice and record your music anywhere by plugging your guitar or other instrument directly into a smartphone-friendly audio interface. Three of our most popular sellers are IK Multimedia's iRig 2, iRig HD2 and iRig PRO I/O interface. Each user-friendly model easily connects to your tablet or smartphone. The iRig 2 and iRig HD2 feature access to popular effects and amplifier emulations. Geared toward recording, the iRig PRO I/O delivers 24-bit/96kHz sound quality.
The Apogee Jam+ USB interface also lets you connect any instrument with a pickup directly to your iOS device or computer. It's an instrument interface, A/D and D/A converter and high-quality headphone output, all in one seamless device.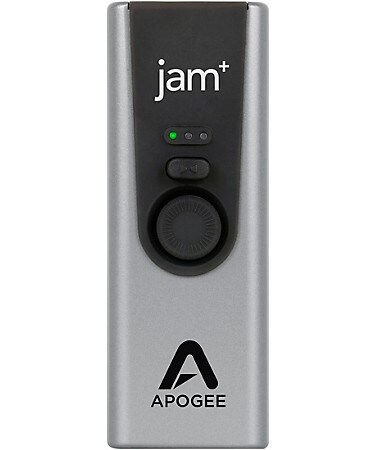 Pictured: Apogee JAM+ Audio Interface 
Want to learn more? Check out our audio interface buying guide.
USB Microphones
If you're looking to record an audio source, such as a voice or acoustic instrument, a USB microphone may be just what you need. The Apogee MiC Plus USB Microphone is designed for use with iOS devices and provides 24-bit/96kHZ audio quality. This user-friendly device combines a mic, mic preamp and an A/D converter into one. It's great for recording everything, including vocals, acoustic guitar and piano.
Looking for the perfect mic for capturing audio on location? Designed to work with iOS and Android, the Shure MV88+ Video Kit lets you record, edit and share from within its free companion app. It includes an adjustable mic, mini tripod, phone clamp and mic mount. The MV88+ Video Kit has everything you need for high-quality content production.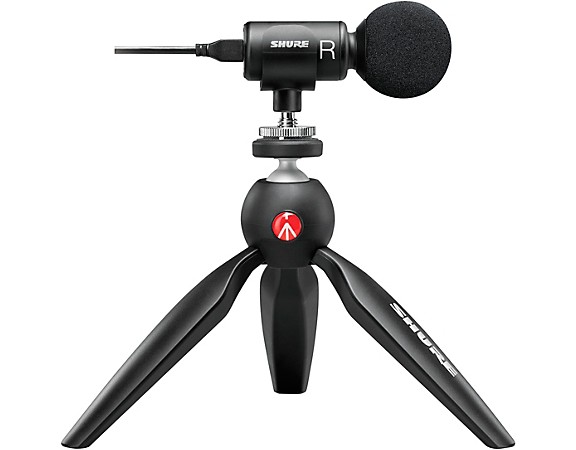 Pictured: Shure MV88+ Video Kit 
MIDI Controllers
The ROLI Beatmaker Kit is a compact but powerful controller with a companion app. This all-in-one package lets you make beats wherever your creativity strikes. Its touch-responsive Lightpad Block surface lets you drum, create melodies and explore hundreds of expressive sounds. Edit and complete tracks with its powerful production software.  Step things up a notch with the ROLI Songmaker Kit. This package combines the modular Seaboard Block with the Lightpad Block M and Loop Block. With this kit, you'll have a powerful setup that lets you drum, play melodies, record loops and produce tracks on the fly wherever you have a connected mobile device.
If you're looking for a more straight forward controller, the Akai Professional MPK Mini MK3 MIDI controller lets you go mobile without losing control. This compact keyboard controller is great for the traveling musician and desktop producer. Connect it to your iOS device running GarageBand and you can record, compose and perform whenever and wherever you feel inspired.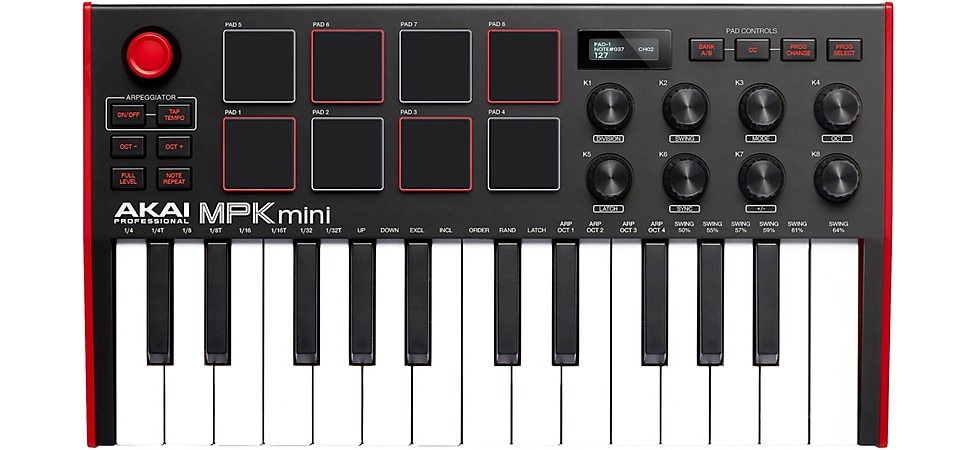 Pictured: AKAI Professional MPK Mini MK3 
Browse our full selection of MIDI controllers.
In Closing
With all this technology at your disposal, nothing can stand in the way of your creativity. It's easier than ever to perform, record and produce music on the go. Stop by your nearest Guitar Center to find these and other high-tech products to help you plug in and play out—no matter where the mood strikes.