One of the key missions of most houses of worship is to find ways to reach parishioners who aren't able to attend their worship service in person. Thanks to modern technology, there are many ways to extend the reach of your message and still impact even more lives, from podcast recordings to video streaming.
Just as there are many avenues to deliver your message, there are also many different ways to capture the sound of what has happened live in your sanctuary, so you can then share it. With so much great recording equipment available, it can be difficult to know which approach is best for your particular house of worship. In this blog, we'll cover the various approaches to recording a worship service and the different equipment you need for each. While this article is designed to give you a good overview of the topic, you can always reach out to your local expert at Guitar Center Professional for a free consultation.
Equipment to Record Your Worship Service
Let's start by looking at the various pieces of equipment you need to capture your worship service audio for recording or live streaming. Thankfully, if your house of worship has a PA system, you probably already have most of the equipment you need to start recording your service.
You need enough microphones to capture each source, including presenters, singers and backing instruments. You also need a mixing console to route and process each channel of audio. If you have a PA system in your house of worship, you likely already have these, and while you can upgrade some of these elements if you choose, it certainly isn't required to get a good service recording.
There may also be certain elements on stage that are not captured for the live mix that you'll want to add if recording or live streaming your service. Pipe organs, for example, are typically not miked for live sound, but should be included in the mix. Small sanctuaries might only mic the kick and snare parts of the drum set for live sound (drum kits are loud and don't need much if any extra amplification in a smaller space). However, when recording, you'll need a mix that includes the full drum kit. Finally, ambient room mics can be a nice touch for a live broadcast mix. A couple of well-placed omnidirectional microphones can help bring your remote audience into the space, capturing applause or laughter from the live audience.
In addition to extra microphones, there's also some additional equipment you'll likely need to properly capture your service. First, you'll need some form of analog-to-digital converter, which converts the analog sound from your audio sources into a digital signal. This could be a digital console or audio interface, or it could be a standalone solution, such as a multitrack recorder.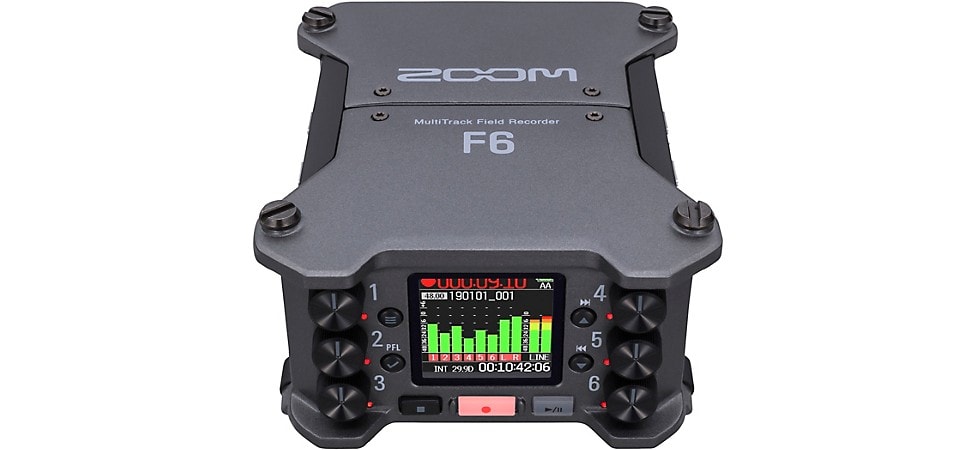 Pictured: Zoom F6 Multitrack Field Recorder
What else you need will depend on what your end goal is for the audio. If you're connecting to a computer and are wanting to record the service to edit later, you'll need some form of recording and editing software, such as Avid Pro Tools. However, if you're just wanting to send a stereo mix to a camera for later posting on YouTube, you'll need an audio capture device such as the Zoom H4n Pro or Zoom F6. Finally, those looking to livestream a service will also need a video capture solution (cameras, encoders, etc.), as well as some method of combining the audio and video signals and streaming over the network. Of course, the experts at Guitar Center Professional can help you identify everything you need for your application.
Multitrack Recording Your Worship Service
As you can see, there are several items that go into a service recording system and the ideal mix of equipment will depend on your particular situation. Let's look at some of the different approaches and the equipment you need. The first approach is to record some or all of your audio channels as individual digital channels that you then edit later in a digital audio workstation (DAW) using a software tool such as Avid Pro Tools. There are a couple of different ways to do that, depending on your console.
Digital Consoles
In some cases, a digital console is able to interface directly with your computer. Consoles such as the PreSonus StudioLive S Series or the Allen & Heath SQ Series provide excellent live sound, but also include multitrack audio to your DAW via USB. This lets you store your entire service as a multitrack recording, making it a great solution if you are looking to tweak your mix in post.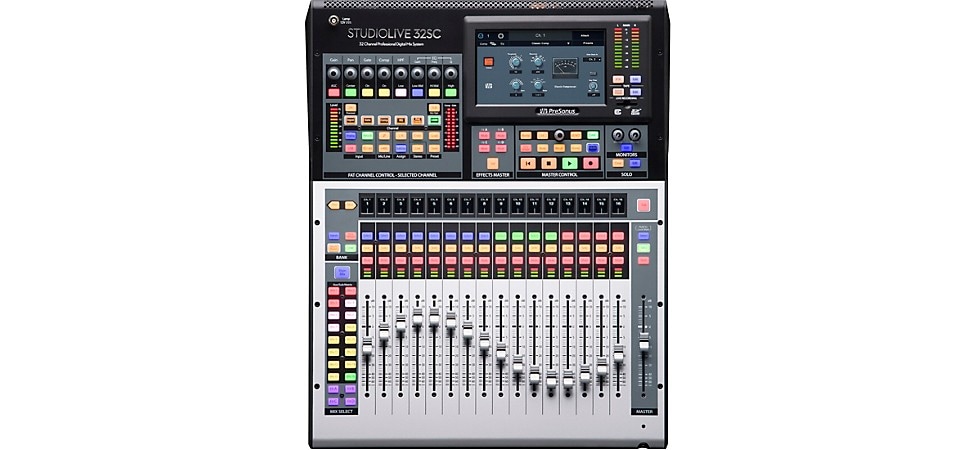 Pictured: PreSonus StudioLive 32SC 32-Channel Mixer
Multi-Channel Audio Interface
If you don't have a digital console with USB output but still want to edit your service after the fact, it's still possible using a multi-input audio interface such as the Focusrite Scarlett 18i8. These interfaces take analog signals out of your console and then convert them into digital signals for your DAW. Of course, for that to work, you need a console with multiple audio outputs. Some consoles have individual outputs for each channel, making this an easier prospect. If yours doesn't have individual channel outputs, but you have enough AUX sends available, you can create multiple submixes (choir, drums, etc.) to mix together later. This will limit some of your editing capabilities after the fact, but will give you more editability than a stereo mix.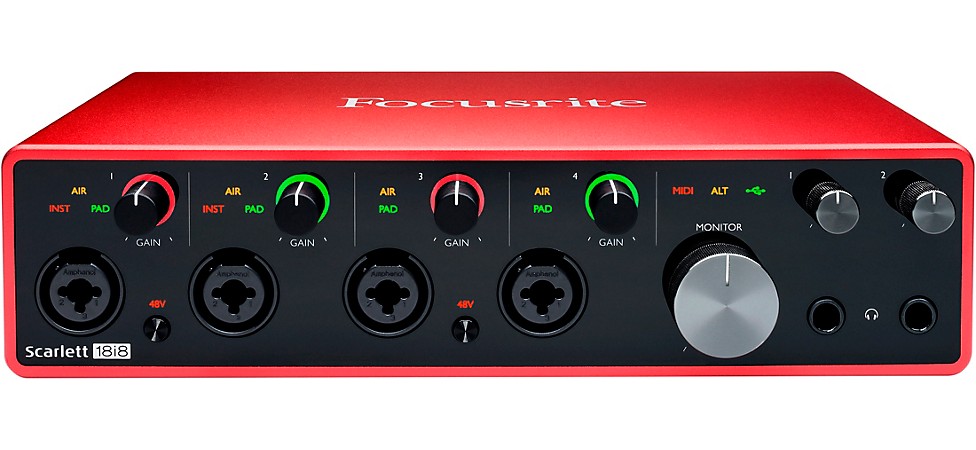 Pictured: Focusrite Scarlett 18i8 USB Audio Interface (Gen 3)
Live-Mixing Your Audio for Broadcast or Recording
If you don't have the need or ability to edit your recording after the fact, you can also mix your audio live during the service. This can be done to create a quick-and-easy recording of your service to be shared as a podcast later, and is also ideal for live broadcast situations where you want a separate audio mix for livestreaming. Either way, the basic approaches are the same.
When live-mixing audio for recording or broadcast, it's typically done in one of two ways. First, you can create a separate stereo mix right within the console. In this approach, you use an AUX send on the console to create a dedicated broadcast mix that you then route to the input on your streaming device or recording interface. If taking this approach, it's important to use good headphones to get the mix right. You won't be able to adjust the individual channels later, so it's important to get the mix right at the source. Good headphones for this would be the AKG K371 or the Sennheiser HD 280 Pro, both of which provide plenty of volume and sound isolation for most house of worship environments. For drummers or loud environments that require more extreme isolation, the Vic Firth SIH2 is an excellent choice as well.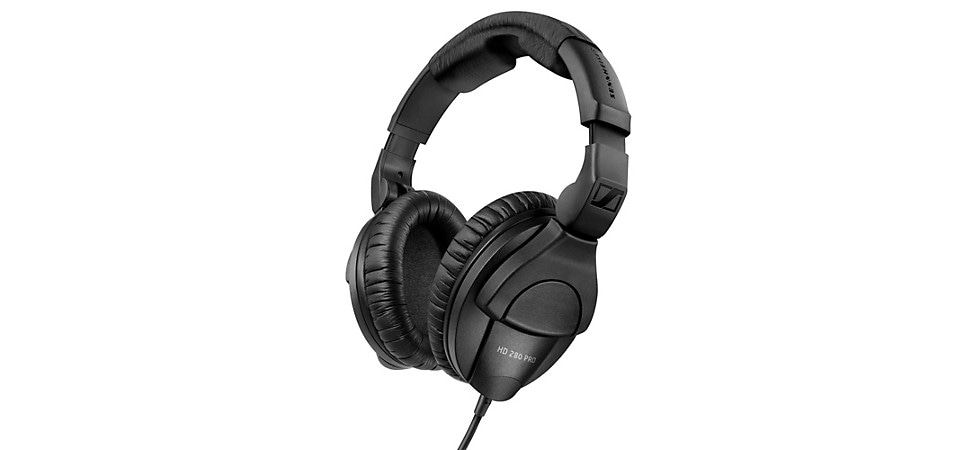 Pictured: Sennheiser HD 280 Pro Headphones
Alternatively, if creating two mixes on the console is too distracting for the sound engineer, or else you simply find the broadcast mix not dynamic enough for your needs, you can get a dedicated console for broadcast audio. This is most common in livestreamed environments. With a dedicated broadcast console, a separate broadcast engineer can create a mix for the live broadcast that is adjusted throughout the service (rather than spot-checked when the sound engineer has a free moment).
Thanks to networked audio capabilities in modern consoles like the Allen & Heath SQ-5, it's often fairly easy to add a second console into a system without a major overhaul to the infrastructure. While having a second console typically requires a second person to run it, it's also a great way to train new volunteers on running sound in a less visible way than front of house. Here are some articles to help you get started finding the perfect console for compact or larger house of worship spaces.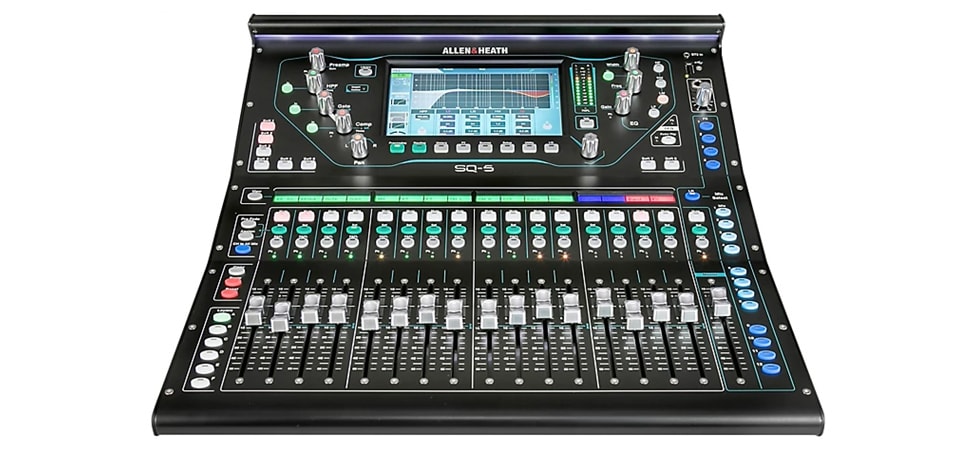 Pictured: Allen & Heath SQ-5 Digital Mixer
No matter which approach you choose, the goal is the same: getting your message out to more people and reaching them where they are. Whether you're recording to distribute later or are streaming live, a good audio system can help you impact people beyond those that come in person to your services. Your existing PA system is a good starting place for this and can be accented by adding ambient microphones where you need them. You can then use a digital console or multitrack interface to connect your audio to a DAW for later editing or create a broadcast mix live using an AUX send or dedicated broadcast console. There are a number of different solutions available for different use cases and price points, and the experts at Guitar Center Professional are available for a free consultation to help you find exactly what you need to begin recording your worship service.