At your church, mosque, temple or other house of worship, the message always comes first. To get that message across, it's crucial to have a great sound and video system, so the entire congregation can participate in the service. Along with a robust PA system, houses of worship may also need lighting, screens, microphones and even pro-grade cameras for those participating digitally from home. Even with all these components, if your service can't be heard with crystal-clear sound, the message won't resonate. A great way to guarantee seamless, reliable audio operation is to select the right mixer.
The audio mixer is the brains, and an important component to your overall setup. The size of the mixer decides how much room you have to expand in the future. If you have a large house of worship, or have plans to grow, the mixer is one of the first places you'll want to invest in.
Let's get into a few of our favorite large-format mixers for houses of worship. To get expert help, remember you can always call Guitar Center Professional at 877-687-5404, and we'll find you the right mixer and other equipment for your specific needs.
Allen & Heath SQ-5: Built for Demand
Allen & Heath specializes in mixers, and the SQ-5 delivers incredible high-res audio for the most demanding applications. It's a great digital mixer for houses of worship due to the combination of power, audio fidelity and customization. Many digital mixers mimic the layout and signal flow of an analog mixer, as it often feels familiar to users. Allen & Heath went a different route, designing the SQ-5 with a more contemporary 7" display. The touchscreen accommodates the drag-and-drop gestures we're all familiar with from smartphones. Customizable naming, color-coding and LED lights let you check the mix at a glance. That makes this mixer easier to learn than many other pro-grade models, which assume that the user has experience with old-school consoles and analog gear. Houses of worship don't always have seasoned engineers on staff, so we love to recommend the SQ-5 to lessen the learning curve.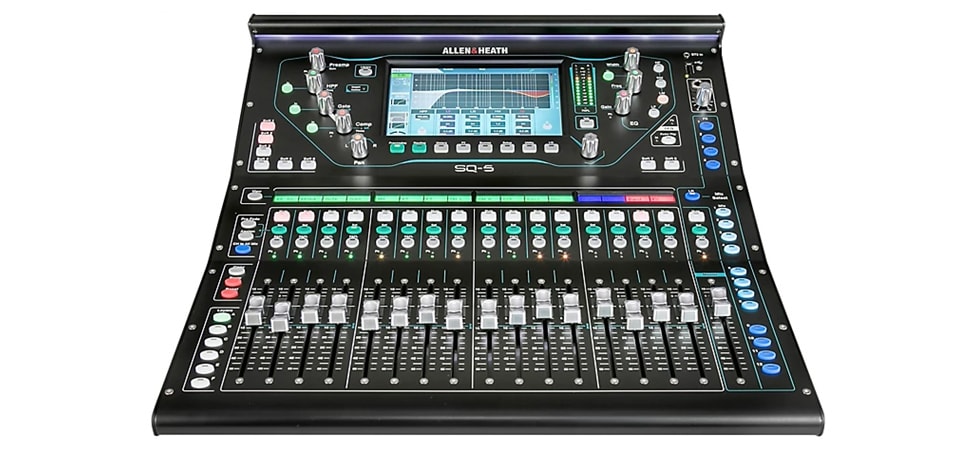 Pictured: Allen & Heath SQ-5 Digital Mixer 
With tons of onboard I/O for standalone operation and the SLink intelligent port for remote audio expansion, the SQ-5 can be expanded up to a 48 mic input. The mixer also sports 17 faders over 6 layers, 16 onboard preamps, 8 stereo FX engines with dedicated returns, and 12 stereo mixes for in-ear monitoring.
When it comes to adding a personal touch to your workflow, the SQ-5 brings that adaptability to the table. Not only does it connect and function with other Allen & Heath systems, it's compatible with an ever-growing list of apps, expanders, plug-ins and audio networking. Dante, Waves, MADI and more are ready to integrate with the SQ-5, letting you expand and customize to the exact needs of your house of worship. Grab the SQ MixPad or SQ4You apps for even more control over the mix, or get more processing and expansion with the DEEP and RackExtra FX plug-ins.
Yamaha CL5: It's the Little Things
With over four decades of experience in manufacturing mixers, the Yamaha CL5 pulls out all the stops, and is a great option for houses of worship. What we love most about the CL5 is the extreme attention to detail, both on the outside and inside.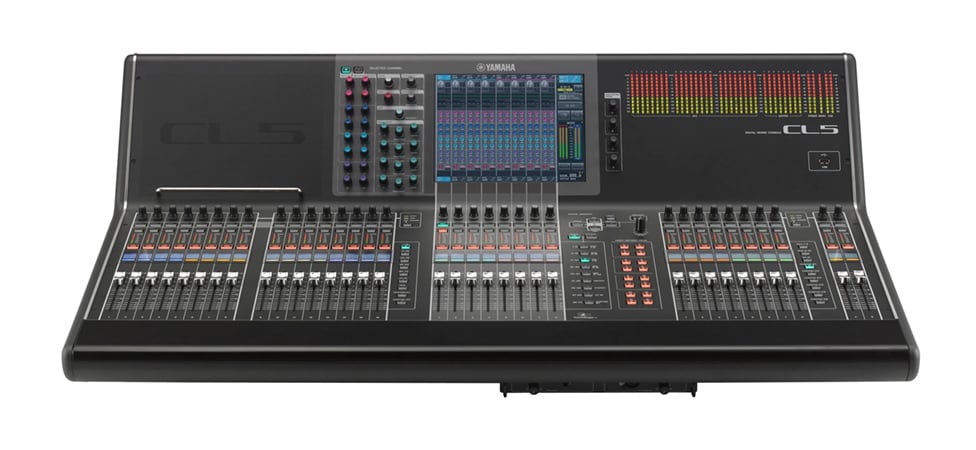 Pictured: Yamaha CL5 Digital Mixer 
It begins with the Centralogic system, which Yamaha designed to make the two displays easy to use. One display shows an overview, and the other zooms in on whichever of the 72 channels you want to focus on. By comparison to the Allen & Heath model, the Centralogic displays have a more analog look, which some may prefer because of how they mimic the tactile feel of hardware. For the actual hardware, the CL5 faders are split into three intuitive sections, one of which corresponds directly to the channels you've selected. And for houses of worship that don't have someone monitoring the boards at all times, there's an iPad app that lets you control the mix wirelessly.
As for sound quality, the CL5 uses Yamaha's proprietary VCM technology to digitally model a number of famous hardware EQs and compressors, including officially licensed models of the Rupert Neve Designs Portico 5033 EQ and Portico 5043 compressor. These models process signals from 72 channels. And there's plenty of other I/O, including 8 XLR Mic/Line inputs with phantom power and 8 outputs, plus a dedicated TALKBACK XLR input.
Avid VENUE S6L: Elite Studio Pedigree
Avid creates the industry-standard Pro Tools recording software, and their VENUE S6L digital mixer benefits from that pedigree in lots of ways. If you want to record your services, it's the easy choice for your venue. It can record up to 128 tracks direct to Pro Tools, and run AAX plug-ins, as well as Waves plug-ins with an optional expansion card. Pro Tools and Avid's AAX plug-ins have a well-deserved reputation as the best of the best in professional studios all over the world. Having them integrated with your mixer is a definite win.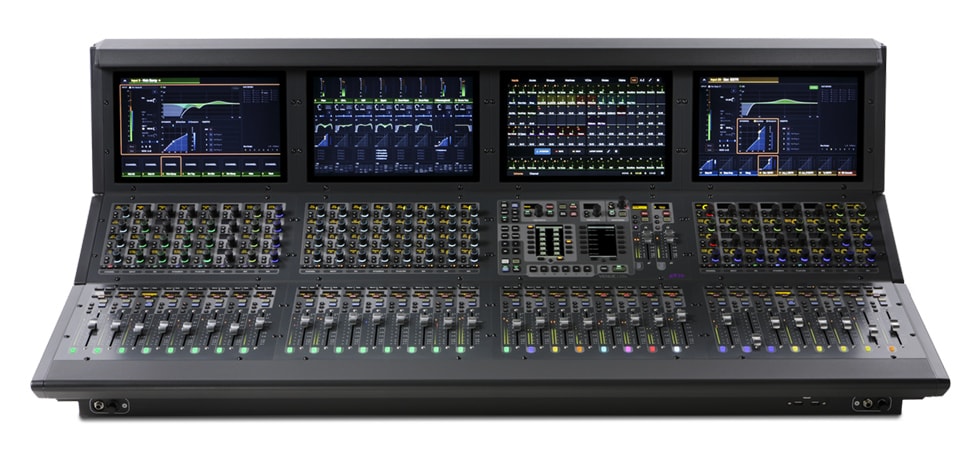 Pictured: Avid VENUE S6L Digital Mixer 
We'd tell you about the inputs, outputs and controls, but another exciting thing about the S6L is that it's modular. You can select from different sets of controls, I/O racks and other elements, to build a mixer just for your house of worship. Guitar Center Professional has an excellent relationship with Avid, so we can help you pick your components and put in an order for you. Call 877-687-5404 to get started.
Roland VR-4HD: For the Streamers
For houses of worship that want the best mixer for streaming, the Roland VR-4HD is a surprisingly affordable and compact option, designed by an industry leader specifically for live video and audio. It combines a 4-channel video switcher, digital audio mixer and streaming interface into a multi-screen setup one person can easily operate. It has a variety of faders, I/O and effects, as you would expect, but what makes it stand out is how well it handles complex audio and video tasks that would normally take a lot of different equipment.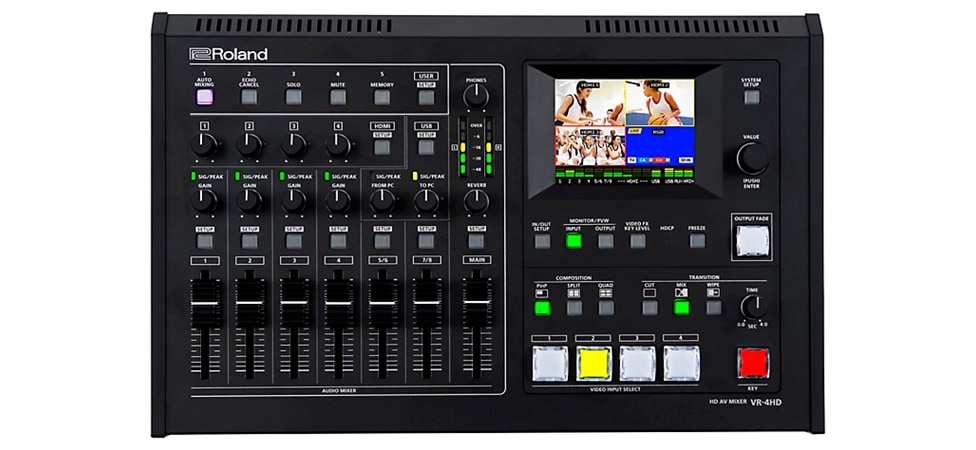 Pictured: Roland VR-4HD HD AV Mixer 
If streaming your services is something you plan to do, now or in the future, the VR-4HD keeps you from having to find and integrate new gear down the line. If you've ever dealt with compatibility issues, you'll understand what a pain that can be. It's also much more compact than the above options, making it easy to move for events outside your venue.
For Smaller Houses of Worship
Most of the above mixers are quite large and expensive, and some are not available at retail. Smaller churches may not need anything so involved. Units like the Mackie ProFX22v3, Yamaha MG20XU and TASCAM Model-24 all have at least 20 channels, built-in microphone preamps, effects, USB connectivity and more features that help you get heard without as steep a cost.
As always, please call 877-687-5404 for expert help picking between these and other mixers, speakers, lights—you name it. Guitar Center Professional will find the perfect solution for your service and give you a custom price for the whole package.