Jack Hetherington, Guitar Center's Director of Used and Vintage, has seen countless rare guitars, but when a single-owner 1958 Gibson Les Paul Custom came through the Hollywood Vintage Room, he had to share. We chatted with Jack about this unique instrument and the process of acquiring vintage guitars.
Tell us a little bit about the 1958 Gibson Les Paul Custom.
Jack Hetherington: The Les Paul Custom was the premier electric guitar in Gibson's lineup, and featured a Mahogany body, Ebony fretboard, gold hardware, split diamond headstock inlay and binding on the body and headstock. The upgrade for this particular guitar included the addition of a third Seth Lover-designed "Patent Applied For" humbucking pickup - humbuckers were added to the Customs in '57 - previous versions were loaded with P90s and Alnico 5s. This piece came from the original owner with the original bill of sale, hang tags, and pitch pipe. These "extras" are a huge bonus in terms of provenance and collectability.
What can we learn from the items that accompany the guitar?
Although we didn't get too much information from the previous owners themselves, we know it was purchased in 1960 from Van's Music Sales in Columbus, Ohio. It looks like they got a neat little bundle: a Les Paul Custom and a cool Magnatone amp. Next stop the high school dance or a killer juke joint!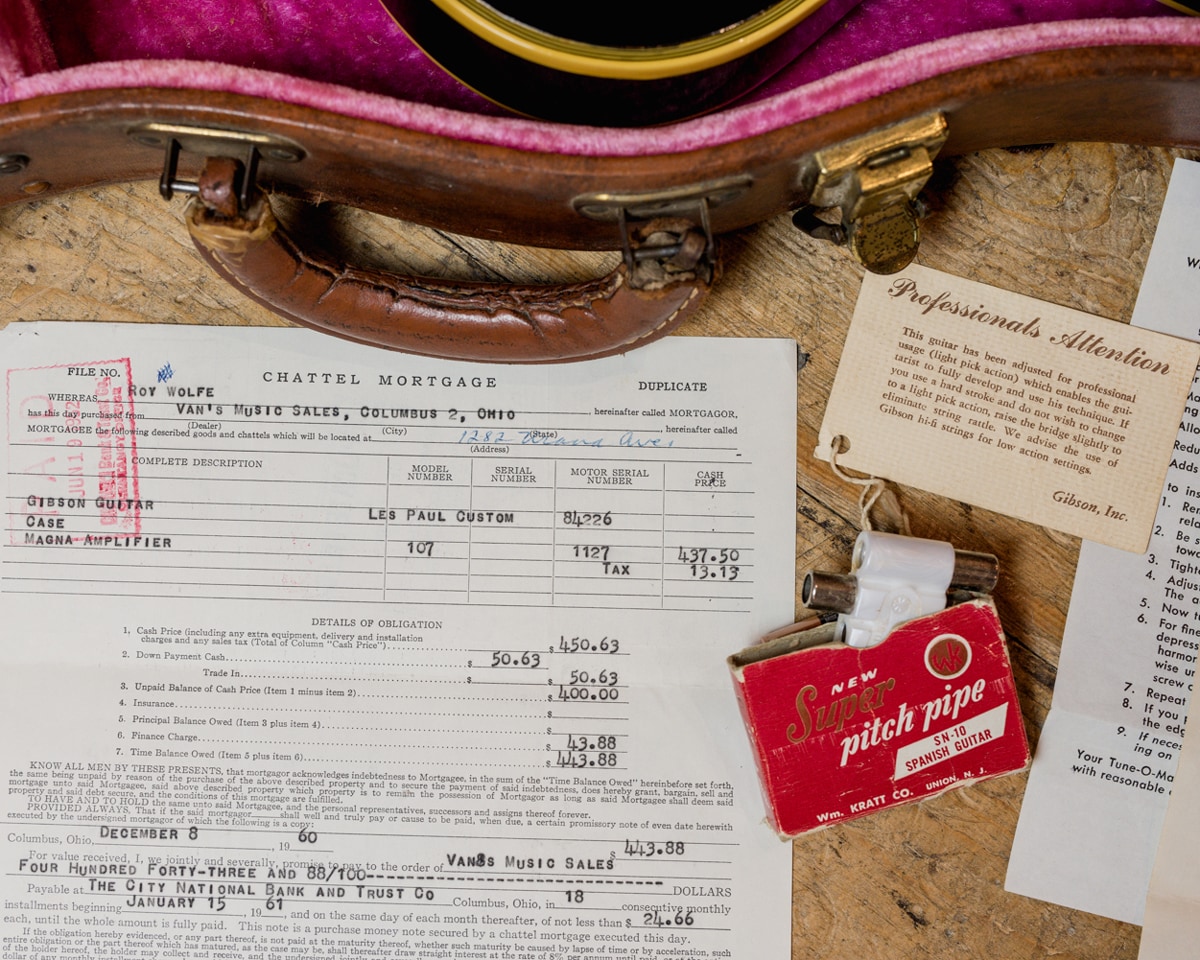 What sort of price tag does a guitar like this have?
A '58 Les Paul Custom is a very rare and valuable guitar. Though not on par value-wise with some Vintage Gibsons like "Bursts," Sunburst Les Paul Standards of the era, which can go for anywhere between $150K and $500K- occasionally more. These Customs run somewhere between $40K and as much as $150K (for a 1959 two-pickup with stop tail-piece). Factors like overall condition, pickup configuration, Bigsby vibrato or Tune-O-Matic tail-piece, parts changes, etc. will determine market value. 
How do you go verify the identities of these instruments?
When we inspect these guitars, we'll ask the customer the typical questions. Where did you get it? Does it have any known issues or changes? Our team will then do a deep dive to determine its "wholeness." If the guitar has bounced around in its life, there's simply a greater chance that some work had been done on it that isn't obvious. When you have a guitar that's been in one family—in this case for 60-odd years—there's a much better chance that the story you're hearing is accurate. This one is pretty much immaculate.
How do these story elements play into the overall value of a guitar?
For some collectors, the stories can be as important as the guitars themselves. No exaggeration. The hang tags and original bills of sale make for a more compelling package, obviously, and this one is truly special. It may be that one in every one or two thousand guitars that we buy will have hang tags. But to get those, along with an original bill of sale and virtually all of what would have shipped in the original package happens with maybe one in five thousand guitars...certainly one of this caliber and value. It's exceptionally rare.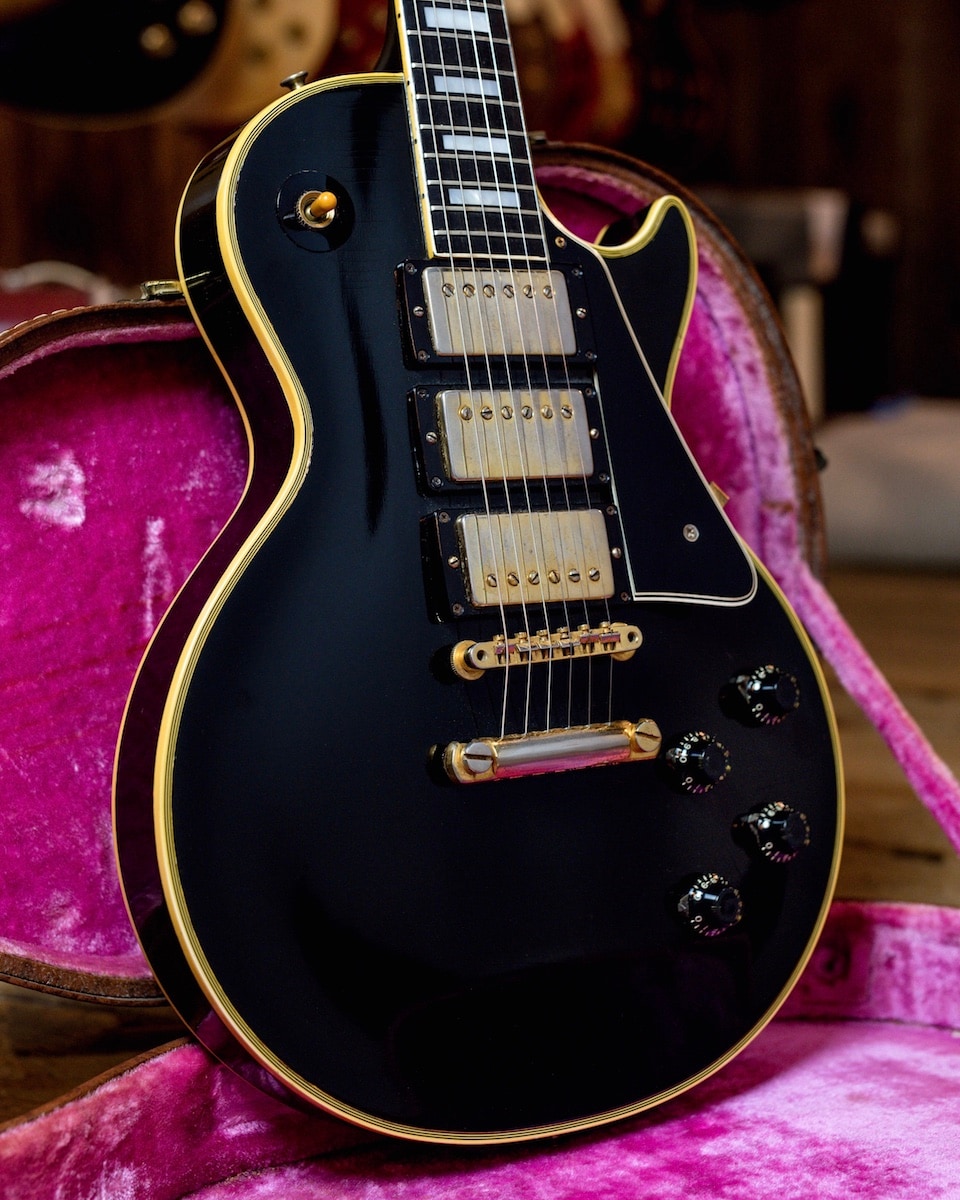 Beyond its collectibility, what is the value in buying a vintage instrument?
Guitars like this can easily end up as collector pieces. But, a significant number of them will end up on stages, in studios, and on recordings. The fact is—and this is my opinion, but I think it's probably shared- they just sound better. 
Can you describe why you think they sound better?
There's something about the materials- the quality of the woods. We're talking old growth Mahogany from maybe a 200-year-old tree? Harvested 20 years before they even milled the lumber? So it's dried out, and acoustically live. It's got what I think of as a honeycomb. The cells of the wood have dried out, and they're acting like little resonant chambers inside of the body.
Does anything still surprise you when you come across these instruments?
I wouldn't say I'm necessarily surprised, but I'm always in awe of the build quality. Gibson's golden era of the '50s and early to mid-'60s was absolutely the pinnacle of mass-produced electric instruments. The height of American workmanship, just really something else.
What legacy comes along with a vintage guitar?
A vintage guitar is a living, functional work of art, and it's amazing to be a part of its history. Yeah, you might not know precisely every move this guitar has made or every note it's played, but you're part of something special. It's a link to the past, not only to the '50s and '60s, but to thousands of years of stringed instruments and music in general. It's exciting to think about where it will go from here, and what the next part of the story is for this guitar and the people around it.
If you're looking to sell a treasured old instrument, or to add something special to your collection, Guitar Center Vintage is a great place to start. Our dedicated team takes pride in finding the cleanest and the coolest vintage pieces for players to geek out over and make their own.