In recording and live sound, there are a few key components to any signal flow—and microphone preamps, also known as mic pres, are one of the most critical stages when it comes to tone. It's the step directly after the microphone, and right before any processing, making it a fundamental factor in the overall quality of the sound that ensues. Whether you're using a dynamic, ribbon or condenser mic, you'll need a preamp, and want one that adds the right kind of vibe to your mix. There are mic pres for any budget, with varying feature sets and form factors that could suit your needs and space constraints. Some have filtering, EQ, compression and/or metering to amount to a full channel strip, whereas standalone preamps play a more straight-ahead role of giving you what you need to bring your mic level to where you want it. They can function as a power supply for condensers, which tend to require 48V phantom power, as well as active ribbon mics. Passive ribbons, on the other hand, tend to fare much better with preamps specialized for their specific needs.  
With this rundown of the top-10 microphone preamps you should be aware of, we're here to help you navigate the potentially perplexing world of preamps, including some modern-day reproductions of legendary models. No matter whether you're a weekend warrior with a bedroom studio, or a seasoned pro who works out of world-class recording studios—having familiarity with some of the industry-standard preamps will play a big part in finding your sound and making your best music.
Table of Contents
BAE 1073
Focusrite ISA One
Universal Audio SOLO/610
Rupert Neve Designs Shelford Channel Strip
API The Channel Strip
Solid State Logic Alpha Channel
AEA Microphones TRP Two-Channel Ribbon Preamp
Manley VOXBOX
Chandler Limited REDD.47 Tube Microphone Preamp
Chandler Limited TG-2 Abbey Road Special Edition Mic Preamp
Conclusion
BAE 1073
The 1073 was originally introduced by Rupert Neve & Co. in the summer of 1970 as part of a newly installed console at Wessex Sound Studios in London, and the iconic preamp has subsequently been a mainstay in studios around the world. Since the Class-A discrete transistor preamp's initial production run, its components and build have been "cloned" countless times by other manufacturers—with arguably the most notable modern example made by BAE.

Pictured: BAE 1073 Rackmount Preamplifier
Coveted for its warmth and incredibly smooth sonic character, the BAE Audio 1073 has graced recording sessions with Lana Del Rey and The Weeknd, as well as legendary drummers Kenny Aronoff and the late Taylor Hawkins. Producers Vance Powell and Jack Antonoff use it as their go-to mic pres for vocals, though it's used on virtually everything. No stranger to high-end recording gear, BAE makes several varieties of the 1073, including single- and dual-channel rackmount gear, a single-channel desktop mic pre in the 1073DMP, as well as the 1073 Deluxe 500 Series console module.
Other notable 73-inspired preamps are the Heritage Audio HA73EQ single-channel rack mic pre with EQ and the Warm Audio WA73-EQ one-channel British mic pre and EQ, both of which have alternate form factors and feature sets to suit your needs and budget. There is also the Golden Age Project Pre-73 MKIII mic preamp, or, if you are an "in-the-box" type, try the Arturia Pre 1973 and the IK Multimedia T-RackS EQ 73 plug-ins. As evidenced, if you can't swing the cost of a vintage Neve, more wallet-friendly options are abundant.
Focusrite ISA One
This one also has its roots in Rupert Neve's creations. In 1985, Sir George Martin asked Rupert Neve to build a series of "no-compromise" console modules—a move that spurred Neve to found Focusrite Ltd. and build the legendary Focusrite Studio Console, widely acclaimed as the best-sounding recording console ever made. A descendent of those modules, specifically the ISA (Input Signal Amplifier) 110, the Focusrite ISA One preamp brings that world-class standard of audio to professional and bedroom studios alike, as well as live performances.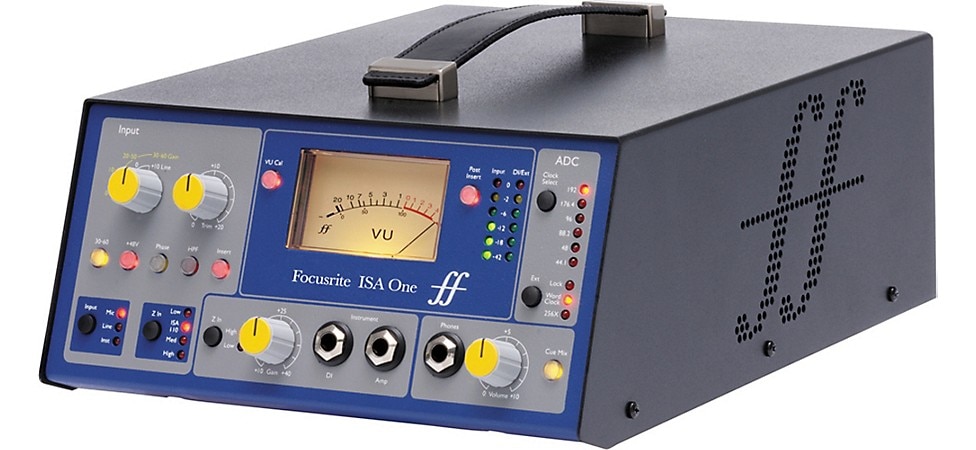 Pictured: Focusrite ISA One Classic Single Channel Microphone Preamplifier
Sporting the familiar blue/yellow/gray color scheme as seen on the original Focusrite consoles and many of their higher-end products, the ISA One Classic single-channel mic pre lives up to its predecessors' reputation, in a portable lunchbox form factor. If you love the ISA's tonality so much that you need more of it, there are various rackmountable options, like the ISA Two Classic two-channel, ISA 428 four-channel and ISA 828 eight-channel mic preamps.
Fortunately, you don't need to have particularly deep pockets to enjoy the fruits of Focusrite's labor and that sought-after Rupert Neve- and ISA-inspired character. The affordable bedroom studio-staple Focusrite Scarlett uses the optional Air settings to reproduce that effect from the original ISA mic pre, providing a brighter and more open sound for vocals and acoustic instruments. Scarlett is the most popular interface line on the planet, and is used on multiple Grammy-winning, chart-topping productions, as Billie Eilish and her brother/producer, Finneas O'Connor have beautifully demonstrated.
Universal Audio SOLO/610
Hailed as "the father of modern recording" for his invention of the recording console as we know it, Bill Putnam was also an esteemed engineer, producer, studio designer and owner of the legendary United Recording in Hollywood—as well as the founder of Universal Audio and UREI (United Recording Electronics Industries). Among his many crowning achievements was the development of the 610 modular preamp in 1958. Known for its warm tube charm and musical, harmonic content when overdriven, it's famously shaped the tone of a myriad of classic recordings by the likes of The Beach Boys, Frank Sinatra, Sarah Vaughan, Ray Charles, The Doors, Neil Young, as well as more modern artists like Adele, Arcade Fire and Cold War Kids.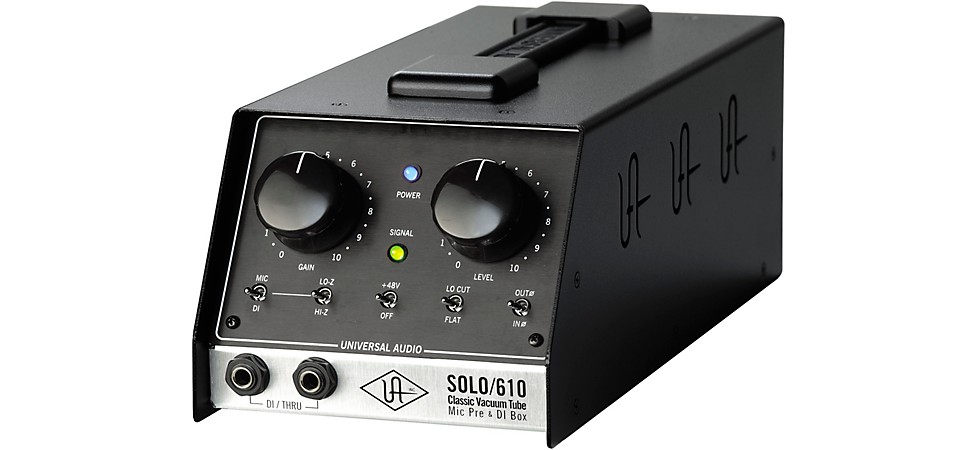 Pictured: Universal Audio SOLO/610 Vacuum Tube Microphone Preamp and DI Box
Today, the celebrated sound of the 610 can be attained via a few different forms, starting witih the desktop Solo/610 model. If you prefer a rackmount unit, the LA-610 MkII comes in a rackmount form factor, now coupled with an LA-2A-style compressor circuit that complements vocals, bass and piano especially well. Finally, the 6176 Vintage Channel Strip, which couples the 610 preamp with the legendary 1176LN compressor. More budget-friendly approaches include the 610-A and 610-B emulations available on the UAD platform, as well as the Vintage Mic Preamp setting in the desktop UA Volt interface lineup, which is inspired by the 610.
Rupert Neve Designs Shelford Channel Strip
The final of Rupert Neve's many companies, Rupert Neve Designs created the Shelford Channel Strip—the definitive evolution of some of his most distinguished console modules, like the 1073, 1064 and 2254. Bringing some of the best elements from the past and kicking them up a notch, the Shelford Channel Strip uses twice the operating voltage of Neve's vintage designs. It also incorporates a new dual-tap transformer output stage, as well as variable Silk saturation and an especially musical diode-bridge compressor.

Pictured: Rupert Neve Designs Shelford Channel
Its onboard 3-band EQ was intentionally engineered as a "best-of" showcase of Neve's legendary EQs. The Shelford Channel's low end aims to produce the smooth, resounding bass response reminiscent of the 1064—but with the option of being used as a shelf or peak filter. The midrange band is heavily inspired by the 1073, excellent for sweetening vocals or instruments, while bringing them forward in the mix. The high-frequency band is a blend of vintage tone and modern control, featuring inductor circuitry and capacitor-based topologies. Its shelf or peak is switchable between 8 or 16kHz.
Such an all-star collection of tonal inspirations begets the Shelford's star-studded lineup of producer devotees, including Adrian Quesada, Vance Powell, Joe Baldridge and many others. The Shelford also comes in a limited-edition two-channel preamp rackmount format in the 5025, as well as the 5051 Inductor EQ/Compressor and 5052 Mic Pre/Inductor EQ console modules.
API The Channel Strip
Sporting the legendary 512c preamp, 527 compressor/limiter, 550A discrete 3-band EQ and 325 Line Driver in series, API's The Channel Strip takes the essence of a complete API console channel strip and fits it into single rackmount unit. A direct descendent of API's first-ever modular preamp, the 512c is associated with the quintessential "American sound." With its fully discrete design, mic headroom of 65dB and line/instrument gain of 50dB, it packs plenty of classic, high-performance API tone from the very start of this signal chain.

Pictured: API The Channel Strip
The multi-mode 537 compressor that follows has fully adjustable threshold, attack, release and ratio controls—along with API's THRUST circuit for that signature punch. And the famed 550A almost needs no introduction, but its three bands of switchable frequencies can be boost or cut by 12dB. At the output of The Channel Strip is the 325 Line Driver, as seen on API consoles, and shows a 10-segment meter which could be switched to show the output level of the 512c preamp.
Used by musical greats like Prince, The White Stripes, Fleetwood Mac, Van Halen and the Rolling Stones, the 512c mic pre is also available on its own as a console module. For 512c-inspired designs from other manufacturers, check out the BAE 312—including a single- and dual-rackmount unit, 312B module and 312A module and desktop lunchbox unit—Warm Audio TB12, 412 and WA12 MKII.
Solid State Logic Alpha Channel
While not everyone can swing the cost of an SSL console, getting a full channel strip of that sublime analog processing is surprisingly attainable in the Solid State Logic Alpha Channel rackmount unit. Each stage of the SSL Alpha Channel is particularly clean, making it ideal for tracking. And with its included EQ, filter and limiter, it can help you achieve a more polished sound from the get-go. Its 3-way selectable high-pass filter—at 40, 60 or 120Hz—and 3-band EQ give you no-frills tone shaping. Finally, its VHD (Variable Harmonic Drive) controls generate signature SSL harmonic distortion.

Pictured: Solid State Logic Alpha Channel
Consistent with this simple yet shrewd design is the onboard Lite Limit function, which utilizes intelligent auto compression, maximizing headroom while avoiding DAC (digital analog converter) clipping. Offering A/D conversion, the SSL Alpha Channel lets you go directly into your DAW. And given the solid foundation this channel strip sets up, it's a wise move for those who prefer a more streamlined or minimalistic setup when it comes to rackmount and outboard gear. Though, again, going with an analog output is always an option if you prefer.
Alternatively, the Solid State Logic Alpha VHD-Pre four-channel mic preamp gives you, as the name implies, four mic pres. And while it doesn't provide you with the EQ, filter and limiting bells and whistles that the Alpha Channel does, it comes with four dedicated VHD knobs, granting you the tantalizing tonal quality that has made SSL an industry-standard studio console.
AEA Microphones TRP Two-Channel Ribbon Preamp
The only ribbon-specific preamp on this list, AEA Microphones' TRP two-channel ribbon mic pre is an excellent option for any mic that doesn't require phantom power, specifically ribbon and dynamic microphones. With 85dB of JFET gain, it has more than enough oomph to bring any low-output mic signal up without adding the dreaded hiss. It produces an articulate natural tonal character with a nearly imperceptible noise floor, and these combined qualities, along with its impressive value, have aided in the resurgence of ribbon mic popularity.

Pictured: AEA Microphones TRP2 Two-Channel Ribbon Preamp
The TRP is also a great option for tube condenser mics, which often suffer the downside of introducing noise via their own power supply. AEA offers four ribbon-focused preamps for those with varying input needs including the TRP500 console module preamp, as well as the dual-channel RPQ2 and the RPQ500.
If you already have a ribbon pre and need a little more gain—the Cloud Cloudlifter CL-1 might just do the trick for you. It delivers up to +25dB of ultraclean gain to give your passive mic the oomph it needs to serve its intended purpose and shine through in your mix.
Manley VOXBOX
The VOXBOX was originally designed as a vocal processing box—and sounds fantastic on vocals—but it just so happens to work great on everything else, too. Its prevalence and reputation as one of the best, do-it-all channel strips on the market is undeniable. With its all-tube signal flow, from the preamp to the 3:1 compressor, de-esser, limiter and EQ, it's one of the most feature-packed pieces of rackmount gear you can get. And its thoughtfully designed ergonomics make it fun and easy to create with.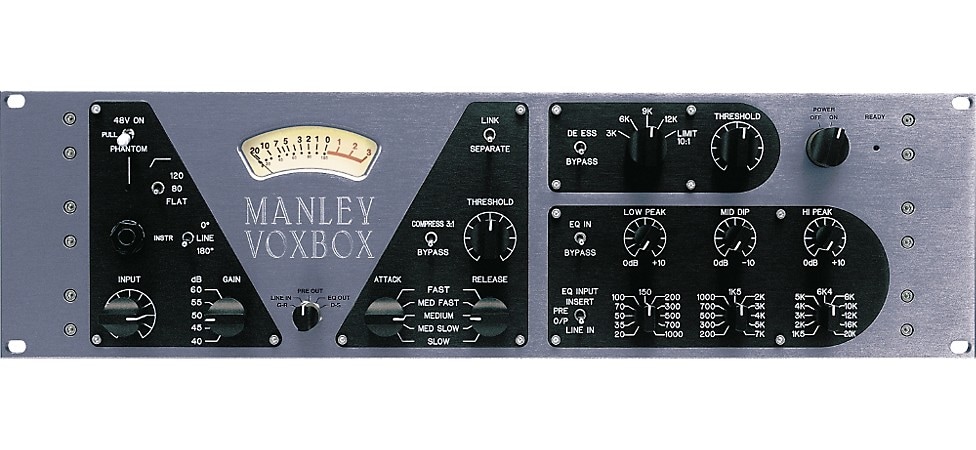 Pictured: Manley VOXBOX
VOXBOX's preamp is a clone of the much-admired Manley Mono microphone preamp, while the compressor takes some of the best aspects of the Variable Mu compressor and blends them with the opto-isolator approach of the ELOP limiter. On the EQ side, it includes 33 frequencies within the three bands. Via the 5-position switch, the onboard illuminated Sifam VU meter can show gain reduction, line input, preamp output, and EQ and de-esser output.
While there are more affordable preamp options from Manley, like the FORCE 4-channel vacuum tube mic pre and the all-tube CORE channel strip, the VOXBOX packs a whopping amount of value into its chassis and is a worthwhile investment. With two VOXBOXes, you can even link them for stereo compression and de-essing/limiting, making a pair even greater than the sum of its parts.
Chandler Limited REDD.47 Tube Microphone Preamp
The Chandler Limited REDD.47 is a recreation of the valve line amps that were used in Abbey Road Studios' EMI REDD.51 recoding consoles between 1958–1968, responsible for tracking some of the world's most recognizable tunes by a certain four-piece band from Liverpool. They were so central to the REDD.51's workflow, they were used at every stage of signal flow, from mic and line inputs to echo sends and even monitors. But make no mistake, the Chandler Limited REDD.47 has formed a sterling reputation its own right, used often by the Red Hot Chili Peppers and Maroon 5.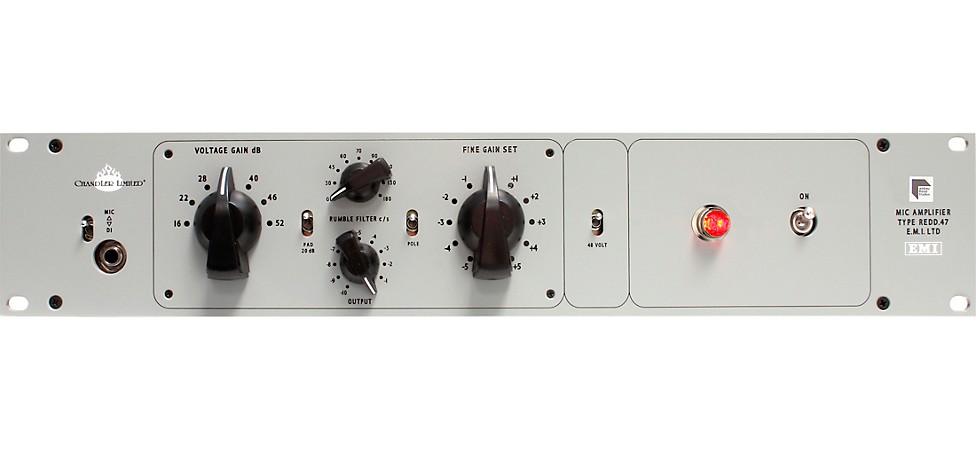 Pictured: Chandler Limited REDD.47 Tube Microphone Preamp
In addition to voltage gain, output and fine gain knobs, REDD.47 provides a high-pass "Rumble Filter," and 20dB pad and polarity switches. And its minimalistic yet sophisticated aesthetic is perfectly consistent with other Chandler Limited REDD studio gear, should you choose to go all out on that vintage Abbey Road/EMI vibe.
A spitting image of its inspiration, this 2U rackmount unit boasts many of the original's benefits, like added gain offering the spectrum between pristine clean to rich and saturated, with up to 2% harmonic distortion before clipping. In fact, producing the distorted guitar tone of the Beatles' "Revolution" comes very naturally to the REDD.47.
Chandler Limited TG-2 Abbey Road Special Edition Mic Preamp
Another homage paying tribute to a different era of Abbey Road's celebrated history is this Chandler Limited TG-2 special-edition two-channel preamp. The TG-2 emulates the EMI TG12428 mic preamp's discrete transformer-based components and design, which had yielded the tonal signature of Abbey Road and Pink Floyd's Dark Side of the Moon.

Pictured: Chandler Limited TG-2 Abbey Road Special Edition Mic Preamp
It's known for sounding fantastic as a mic input or DI for guitar or bass, as it provides a top end that bests even some of the more famous studio pres. With incredibly smooth tone and an impressively open high end, the TG-2 has graced the studios of many legendary producers, including Butch Vig, Joe Baressi and Jerry Finn. And its warmth-inducing harmonic distortion has suited the likes of Kings of Leon, Katy Perry and Tame Impala well.
In addition to the Chandler Limited TG-2 dual-mono rackmountable unit, there's also a one-channel option in the TG2-500 microphone preamp, in console module format.
Conclusion
No matter which of these great mic preamps you choose, you really can't go wrong. The keys to choosing the right one for you are, as always, your ears and knowing what world of sound you're aiming at. Listen to productions that you love the sound of, dive into the examples we've given above and choose the one (or more) that gives you the sonic thrill you're looking for. If you need more advice or information, be sure to check in with our Gear Advisers, either at your local Guitar Center store or with our knowledgeable call center associates, and get on track for the sound that lifts your productions to the next level.