Keyboard music and worship have gone together for centuries, dating back to the times of Johann Sebastian Bach. In the old days, churches and cathedrals were filled with the music of massive pipe organs built into the buildings themselves. Even in modern worship scenarios with full ensembles and praise bands, the keyboardist still plays a major role in musically supporting and elevating religious services.
If you're a musician, worship leader or congregation leader in a praise and worship scenario, you might be considering investing in a professional keyboard that you can rely on to supply the right sounds. There are many important factors to consider when selecting a keyboard or digital piano for worship, including great sounds, as well as the realistic feel of the keys themselves and reliability.
Guitar Center Professional has helped thousands of musicians at churches and houses of worship find the right keyboard for them. In this blog, we'll talk about the difference between keyboard workstations, stage pianos and MIDI controllers, suggest a few of our highest recommended keyboards for church and worship, and explain how the experts at Guitar Center Professional can help you find the perfect performance keyboard for your church or house of worship.
What Are the Most Useful Keyboard Sounds for Houses of Worship?
The types of sounds worship musicians rely on most often may differ from situation to situation, depending on the type of ensemble they're playing with or personal preferences of the players themselves. The most common patches you'd need in a worship environment include high-quality piano sounds, electric and pipe organs, strings, synth pads, choirs, brass and woodwind instruments. If you're not the player yourself, consult with your musicians to understand what they'll need to use the most.
What Are the Different Types of Keyboards for Houses of Worship?
Keyboard Workstations
Keyboard workstations are packed with advanced features and loads of sounds that will cover you in almost any situation you might find yourself in. Keyboard workstations like the KORG NAUTILUS and Roland Fantom-8 come with large banks of presets, including sounds ranging from pianos, organs and pads to sampled sounds for realistic reproductions of horns and strings.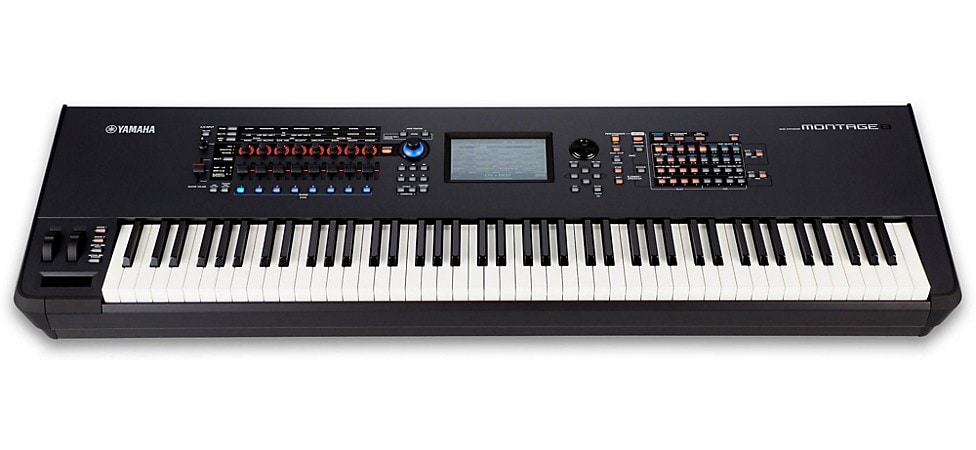 Pictured: Yamaha Montage 8 Synthesizer/Workstation
The real strength of a keyboard workstation, like Yamaha's flagship Montage 8, lies in its ability to deeply edit and customize the sounds, combine and play multiple sounds at once, and adjust the mix of the various voices on the fly. Workstations often include a wide range of faders, knobs and touchscreens to enable real-time controls over the sound parameters. Additionally, many offer custom presets for quick, convenient and consistent access to your favorite sounds. If you find yourself playing in solo situations, keyboard workstations also allow you to pre-record and arrange backing tracks that you can play on top of. Quality workstations are on the high end of the price spectrum (typically $2,000 and up), but they also deliver incredible value for worship musicians in need of a reliable all-in-one solution.
Stage Piano and Digital Organs
For more traditional players that don't require as many advanced electronic music-making capabilities and prefer to play a single sound at a time, digital workstations and MIDI controllers may offer more than you're looking for. If your preferred instruments are grand pianos, organs, pads and classic electric pianos, the Nord lineup of stage pianos and keyboard instruments offers a little something for everybody, whether you want a fully weighted 88-key piano or faithful reproductions of classic organ and keyboard sounds.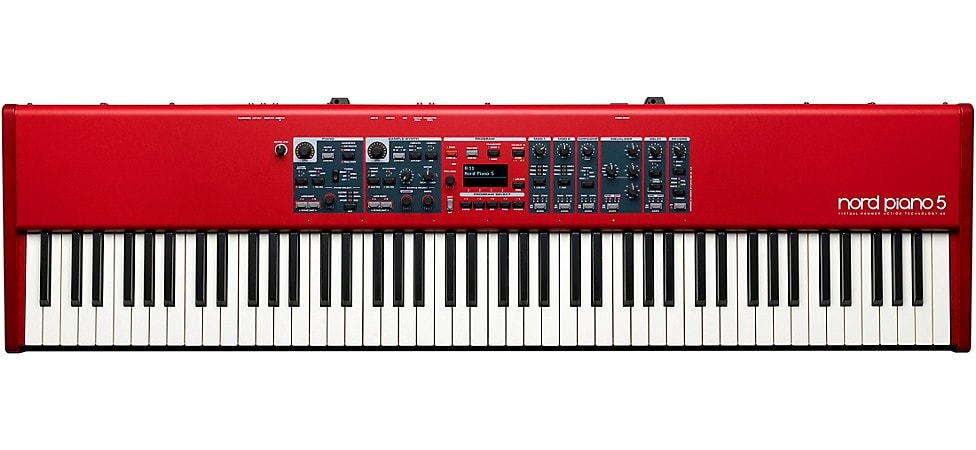 Pictured: Nord Piano 5 88 Stage Keyboard
MIDI Controller
If you already have a computer installed with virtual instruments and plug-ins, you may just need a dedicated performance interface that you can rely on to control patch selection and adjust sound parameters in real-time from the keyboard itself. MIDI controllers like Native Instruments KOMPLETE KONTROL S88 MKII are the perfect bridge between your studio at home and the stage. The downside to MIDI controllers is that they can't generate sound themselves—they require an external device like a laptop or another MIDI-enabled keyboard, or even a standalone/rackmount unit without a keyboard.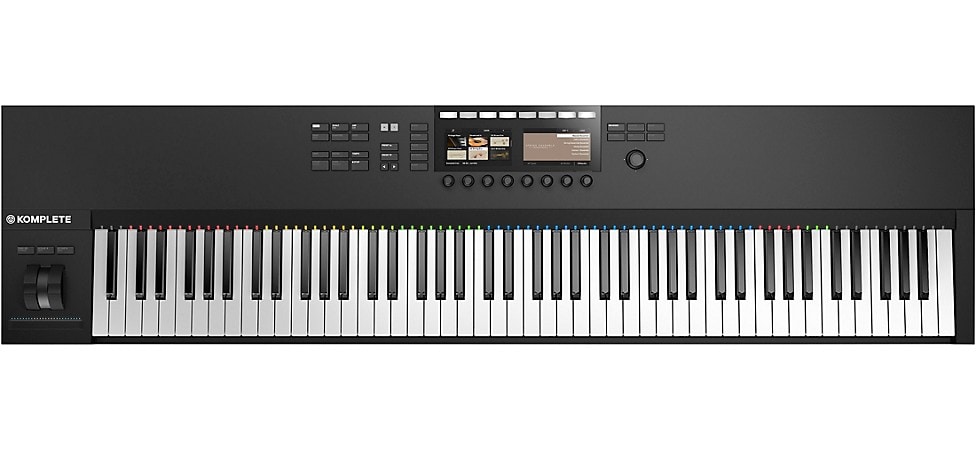 Pictured: Native Instruments Komplete Kontrol S88 MKII
What Should You Look For in a Keyboard for Worship?
The ideal keyboard for you may not be the ideal keyboard for everybody. Consider which features you really need and which features aren't a priority for you. If you're used to playing synth and organ sounds, weighted key action may not be necessary, whereas someone who is used to practicing and playing on an acoustic upright or grand piano will be able to play more expressively with a keyboard with 88 fully weighted keys.
If you're primarily an organist, you may want realistic controls like drawbars and sliders with a stage organ, like the Hammond Sk PRO 73. If your role is to play with the band, perform mood music during calls to worship, and lead praise singalongs, the versatility of keyboard workstations might be the biggest priority.
Some other factors to consider are the number of keys—most keyboards come with 49, 61, 73 or 88. Additionally, portability is important if you're going to be moving the keyboard frequently. Pianists may prefer keyboards with built-in sostenuto and sustain pedals, while organists may prefer a built-in pedal keyboard for performing the bassline with the feet.
There are a number of keyboard options available to match any budget or performance requirement you might face as a keyboardist in a house of worship. As we said before, we've helped thousands of musicians find the right keyboard for their church or worship needs. To get expert assistance, contact Guitar Center Professional, and we'll help you match the perfect keyboard for your budget and needs.