The enormous world of electric guitars can seem daunting to navigate. While there is no best or worst guitar, there are guitars that have been ingrained into our collective headspace. There are also guitars that have pushed boundaries and become staples of the modern musical landscape. Putting aside the latest in guitar tech or rare vintage gems, let's take a look at models that have time and time again satisfied and inspired players of all tastes, and from all walks of life. Here are five of the most popular electric guitars in the world.
Fender Telecaster
In 1950, Leo Fender introduced the single-pickup Esquire, and a few months later released a dual-pickup version called the Broadcaster that, due to trademark issues, was later renamed the Telecaster. The Tele® would go on to become the world's first successfully mass-produced solidbody electric guitar. Simple yet elegant, it has been a show-stopper and session magnet since its debut. It's the go-to guitar for twangy chicken pickin' solos, which is why the iconic axe has appeared on the majority of country records over the past six-plus decades.
The Tele's unmistakable tone is due to a few factors: body size, wood density and, most importantly, the metal plate on which the bridge pickup is mounted. From the less expensive but sturdy Squier® Tele or Mexican-made "Mexi-Tele" to American Standard and Thinline models, the Telecaster holds an undebatable place in history.
Notable players: Keith Richards, Prince, Waylon Jennings, Johnny Greenwood (Radiohead), Brad Paisley, Luther Perkins (Johnny Cash), Mike Campbell (Tom Petty and the Heartbreakers), Frank Black (Pixies)
Fender Stratocaster
The Fender Stratocaster, or Strat® (as it's been referred to affectionately for decades), has become a favorite for players of all genres. Introduced in 1954, the Stratocaster ushered in a new era of guitar design and has been instrumental in the development of modern music as we know it. Like its older cousin, the Telecaster, it features single-coil pickups. But rather than just pickups at the neck and bridge, it has a middle pickup and five-way selector that allow for even further in-between tonal variations. Along with being the first solid-body electric to have three pickups, it was also the first to have a self-contained vibrato system.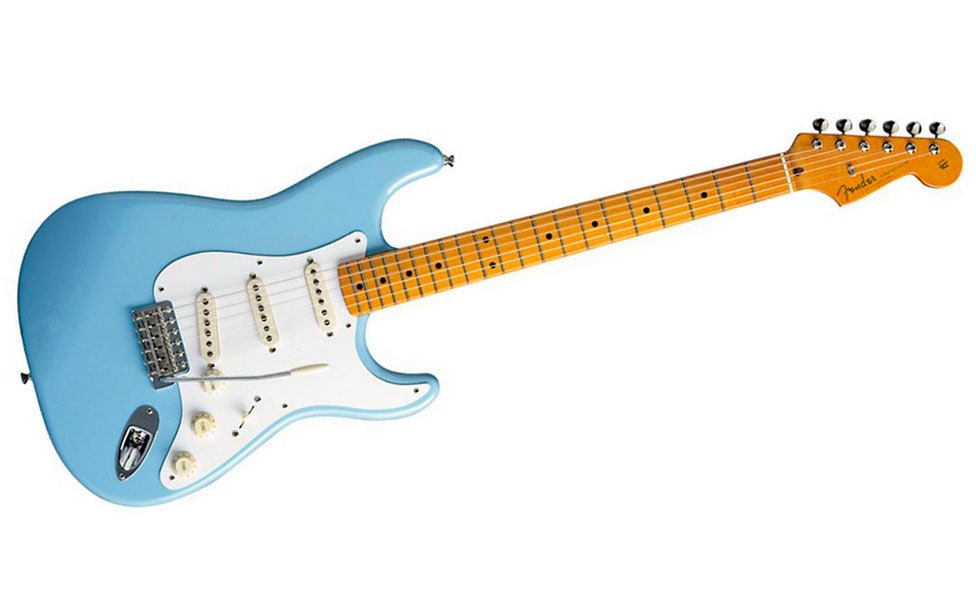 The Strat didn't just sound different, its aesthetics and ergonomics were totally unique and innovative for its time. Instead of a standard slab body, the Stratocaster had double cutaways and was contoured in a way that had never been seen on a solidbody guitar. Originally built for legendary western-swing musician Bill Carson, it was quickly adopted by rock 'n' roll pioneers like Buddy Holly and Hank Marvin, and has been the tone behind countless Top 40 hits.
Notable players: Jimi Hendrix, Buddy Holly, Ritchie Blackmore, Jeff Beck, David Gilmour, Blake Mills, Eric Clapton, Stevie Ray Vaughan, Buddy Guy
Gibson Les Paul
Jazz guitarist Les Paul spent years tinkering with his own electric guitar designs, but his first creations were initially rejected by Gibson's parent company in 1946. But, just a few short years later, on the heels of Fender's success with the Telecaster and Paul's growing popularity as an artist, Gibson struck a deal with Paul to play and endorse their new design for a solidbody electric. Gibson released the guitar as the Les Paul signature model in 1952, and since its release, it has become one of the world's most imitated and sought-after guitars, with late '50s vintage models being among the most prized instruments in the world.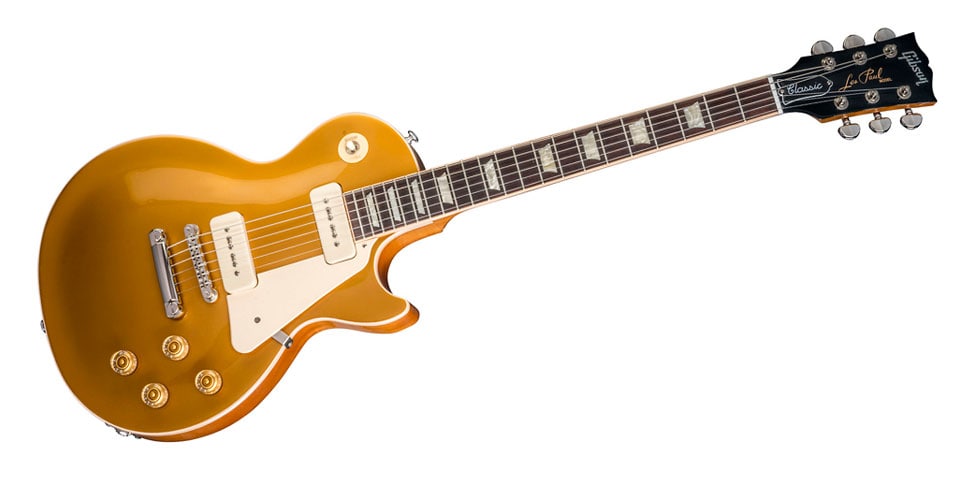 Originally equipped with P-90s, it wasn't until 1957 that the most significant change was introduced: humbuckers. Humbucking pickups—two-out-of-phase coils wired together to cancel or "buck" the hum produced by single-coils—weren't a new concept. But Gibson technician Seth Lover's refined PAF (patent applied for) humbuckers produced a higher output with a clearer, fuller tone that solidified the Les Paul as the classic we know it as today. From Goldtops to Black Beauties and the ever-iconic sunbursts, Les Paul guitars come in almost limitless varieties, making them a staple of blues, jazz, rock, soul and country.
Notable players:  Jimmy Page, Gary Moore, Ace Frehley, Alex Lifeson, Slash
Gibson ES-335
In 1958, Gibson introduced the ES-335 as part of its Electric Spanish line of guitars, and it was the world's first commercially released semi-hollow guitar. Featuring a solid center block in an otherwise hollow thinline body, the then-radical design effectively combined the round, airy tone of a traditional archtop with the sustain and feedback-fighting benefits of a solidbody. Its groundbreaking design is one of the most imitated around.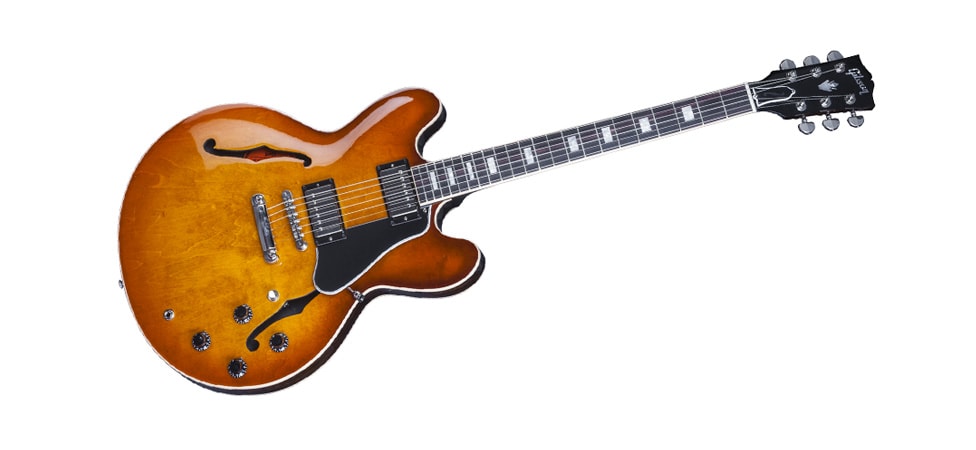 The legendary ES-335 is a widely used element in practically every genre imaginable. Often equipped with double humbuckers, the ES-335's semi-hollow body delivers a warm, woody sound. And when players like Larry Carlton or B.B. King get their hands on one, the sound can be likened closer to silk or butter. Despite being closely associated with blues artists like King, the ES-335 isn't just a blues guitar. You can find them played by just about anyone in any genre—from rocker Dave Grohl to Latino sensation Trini Lopez.
Notable players: Larry Carlton, Alvin Lee, Eddy Clearwater, Lee Ritenour, John Lee Hooker, Peter Banks, Bill Nelson
Gibson SG Standard
The SG Standard is Gibson's all-time best-selling guitar. It was conceived in 1961, and originally released as the new Les Paul. It featured distinct horn-shaped cutaways, and the neck joint was moved three frets, which made the guitar lighter and allowed easier upper fret access. In addition to these changes, the body was slimmer than the Les Paul Standard, and the neck profile was more slender. However, with Mr. Paul preferring the sturdier design elements of his original model, and due to contractual complications, his name was ultimately removed. Where Les Paul saw a mutation of his original design, others saw genius—from '63 on, the Les Paul name was removed, and the SG, or "Solid Guitar," was born.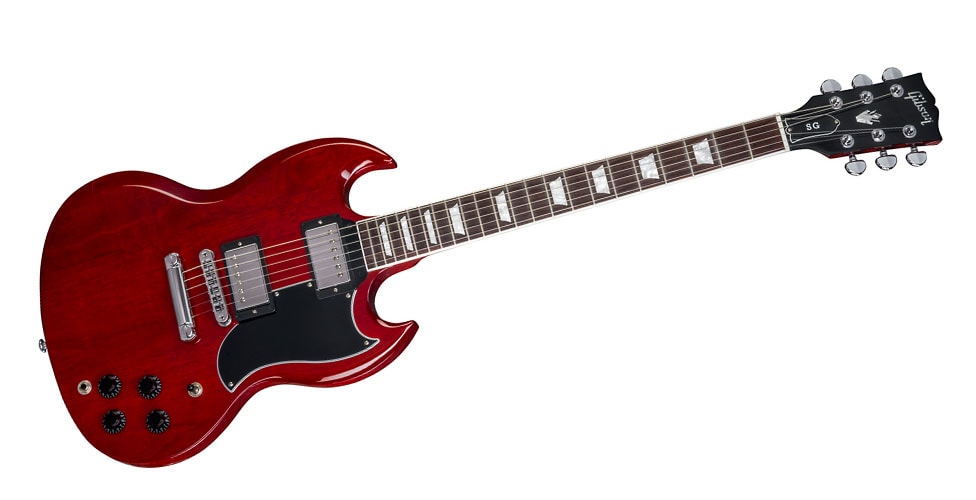 The SG retains a similar dual-humbucker configuration as the Les Paul Standard but it truly has a life and style all its own. Due in part to its aggressive style, impressive mid-range bite and thunderous output, the SG has become synonymous with rock 'n' roll. The Gibson SG is one of only a handful of models that has never been out of production since its introduction in the early '60s.
Notable players: Angus Young, Tony Iommi, Robbie Krieger (The Doors), Derek Trucks, Sister Rosetta Tharpe, Pete Townshend, Elliot Easton (The Cars), Jeff Tweedy (Wilco)
Looking for more great electric guitar recommendations? Check out our Beginner's Buying Guide for Electric Guitars. 
Learn about five of the most popular acoustic guitars. 
Learn Guitar With Online Guitar Lessons
Did you know that Guitar Center offers online guitar lessons for all skill levels? Our expert guitar instructors will work closely with you to tailor your lessons to your musical tastes and goals. Whether you're a beginner using tablature to learn your first riffs, or a more experienced player looking to grow, we're here to help.