Unless you're DJing with traditional vinyl turntables or standalone media players, your controller is your instrument, so choosing the best DJ controller for you is one of the most important steps in building out your rig. No matter which DJ software you use— whether it be Serato, rekordbox, TRAKTOR, Virtual DJ or another—there are controllers that are optimized for it and your mixing style. While your laptop is crucial for set preparation and will function as the "brain" of your DJ setup, your controller is your centerpiece and where you'll be doing most of your work while practicing and performing. DJ controllers come in all sizes and with various levels of functionality and I/O (inputs and outputs). Narrowing your search can seem overwhelming at first. Fortunately, we've ironed out the specs and have done much of the heavy lifting for you in this comprehensive guide to the best DJ controllers available.
Table of Contents
Best DJ Controller for Battle-Style DJs: Pioneer DJ DDJ-REV7
Best Lightweight 4-Channel Serato DJ Controller: Numark NS4FX
Best Serato Stems DJ Controller: RANE FOUR
Best DJ Controller for Stem Splitting: Pioneer DJ DDJ-FLX10
Best Ultraportable DJ Controller With Full-Featured Jogwheels: Numark DJ2GO2 Touch Pocket
Best Ultraportable DJ Controller With FX Section: Hercules DJ DJControl Starlight
Best 2-Channel DJ Controller for Beginner DJs: Pioneer DJ DDJ-FLX4
Best Jogwheels on a DJ Controller of Its Class: Pioneer DJ DDJ-FLX6-GT
Best DJ Controller Pushing the Enevelope of Design: Pioneer DJ OPUS-QUAD
Best Open-Format DJ Controller With Club-Style Decks: RANE ONE for Serato DJ Pro
Best DJ Controller for TRAKTOR: Native Instruments TRAKTOR KONTROL S4 MK3
Best Open-Format DJ Controller for Beginning DJs: Pioneer DJ DDJ-REV1
Best Controller for Streaming DJs: Numark Mixstream Pro +
That's It for Our Set—Time to Fade-in Your Track
Best DJ Controller for Battle-Style DJs: Pioneer DJ DDJ-REV7
If you're a looking for a battle-style turntable layout and motorized platters in a single-unit form factor, the Pioneer DJ DDJ-REV7 is the DJ controller for you. A truly revolutionary Serato controller, the DDJ-REV7 is the first to feature 90°-rotated turntable sections with its horizontal pitch faders at the top—known as the battle-style layout. A space-saving yet full-featured alternative to the classic two-turntable-and-a-mixer setup, the REV7 vaunts a pair of motorized 7" platters emulating Pioneer DJ's PLX turntables, while its uncompromising full-size scratch mixer takes its cues from the scratch-standard Pioneer DJ DJM-S11.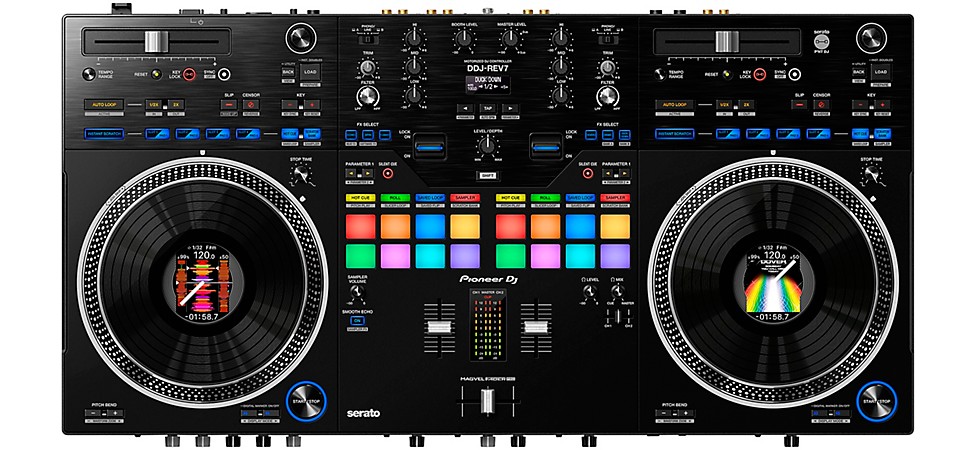 Pictured: Pioneer DJ DDJ-REV7 Professional DJ Controller
While the RANE ONE also targets turntable-style-controller DJs, the REV7 doesn't have a spindle—the metal rod holding vinyl in place—running down the middle of its platters, meaning you get more surface space to manipulate them. This also affords room for 3.5" on-jog screens displaying vertical waveforms, which can be zoomed in and out. Alternate display settings include BPM, artwork and the default Pioneer DJ mode that brand devotees are familiar with. Another unique feature on each deck is a reset button at the middle of the pitch fader, adjacent to a key lock and sync button. Under the pitch fader is a looping section, Slip and Censor buttons, and Instant Scratch, which allows you to load samples to its four programmable Slots.
DJs who've used the DJM-S11 mixer will find a minimal learning curve upon using the DDJ-REV7. Most of the S11's features, even its width, are the same on the REV7's mixer section. At the top you'll find Smooth Echo, 3-band EQ, filter, trim and I/O switches for multiple DJs and phono/line on each side. In the middle, you have effects paddles and Echo FX, Spin, Flanger, Reverb, Brake and Duck Down FX selects—along with adjustable parameters, and tap tempo or auto-BPM. An effects level knob controls the extent of your chosen effect. And, of course, the Performance Pads on the REV7 are also very similar to those on the S11, with the standard professional-level Serato controller pads: Hot Cues, Loop Roll, Saved Loop, Sampler, Pitch Play, Super Loop, Saved Flip and Scratch Bank.
The front panel of the REV7 offers control of up to two mic inputs with on, off and talkover options, as well as a two-band EQ and echo. There's also a crossfader curve, 1/4" and 1/8" outs, AUX level control, and line-level or portable device switch. Reverse and Feeding Adjust change the physical resistance of the Magvel Fader Pro on the mixer. On the back panel, you have your two mic inputs, RCA stereo AUX inputs, two RCA stereo channel inputs with line/phono switches, a pair of USB inputs for laptops, a booth output and two master outputs.
Best Lightweight 4-Channel Serato DJ Controller: Numark NS4FX
A more mid-range-budget Serato DJ controller is the lightweight Numark NS4FX. Catered to event, club and livestreaming DJs in need of a versatile controller in a portable from factor, the NS4FX offers full, simultaneous control of up to four independent channels. Each deck sports premium-quality volume faders, long tempo faders, large filter knobs, 3-band EQ and a touch-capacitive 6" jogwheel with multicolor display showing BPM, pitch range and time. You can nudge the speed by touching the side of the jogwheel, or scratch by playing the top. Eight Performance Pads per side have selectable pad Cue, Auto Loop, Fader Cuts and Sampler modes to suit multiple workflows. Further customizing your mixing style is a set of crossfader assignment switches that can assign each channel to side A or B, or you can skirt the crossfader altogether.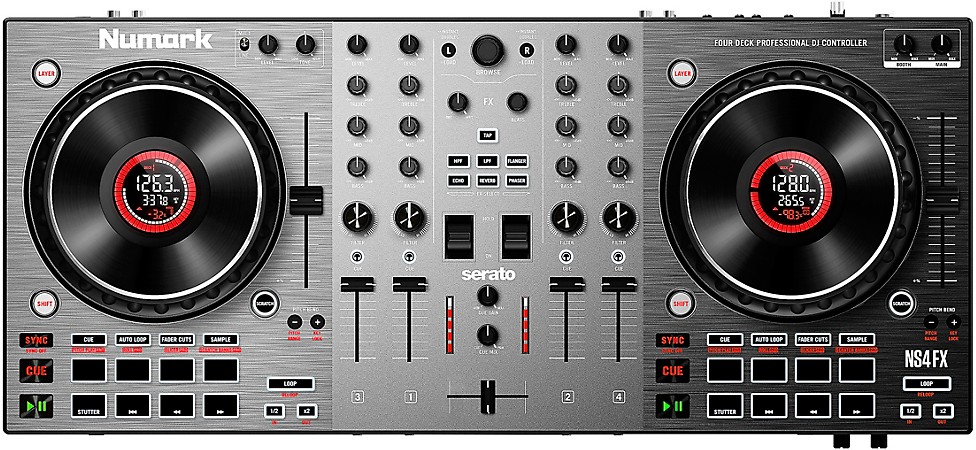 Pictured: Numark NS4FX 4-Channel DJ Controller
While the NS4FX has two physical decks, a Serato DJ Pro license will let you layer channels 3 and 4 on deck 1 and 2, respectively. Then, using the Layer button, it'll let you switch which channel you're controlling on each side. The NS4FX features a dedicated loop section with multipliers on each deck, making it easy to create seamless loops and custom transitions on the fly. Have a blast playing with the pair of FX toggle switches at the center of the NS4FX, and intuitively manipulate your choice of six onboard software effects. In the FX section, you'll also find wet/dry mix and beat division control, making it the creative focal point of the NS4FX.
The back panel has everything working DJs would need from a four-channel controller, including balanced XLR outs, two 1/4" microphone inputs with their own volume and tone controls, and a stereo RCA booth output. Adding to the NS4FX's flexibility, the Mic 1 input is switchable to an AUX input, which can play music from a phone or other device. So, if you're a livestreamer who features guests, or if you like the option of playing from external audio sources, the NS4FX has you covered. Equipped with Serato DJ Lite and two-channel mixing right out of the box, it's upgradable to Serato DJ Pro—which unlocks full-featured, four-channel mixing and additional pad modes—with a paid subscription.
Best Serato Stems DJ Controller: RANE FOUR
No stranger to high-end build and sound quality, RANE introduced FOUR to revolutionize stem-splitting workflow with Serato. The dedicated Stems pad mode, independent Acapella/Instrumental buttons and the STEM-SPLIT feature give you the ultimate control over individual track element tweakability. RANE FOUR's internal engine boasts 22 MAIN FX and four knob-controlled CHANNEL FX—in addition to letting you manipulate the plethora of Serato DJ software FX. Its 16 Performance Pads with OLED displays and exceptionally smooth, accurate 8.5" static touch-capacitive jogwheels with full-color screens give you a user interface that's both illustrative and intuitive.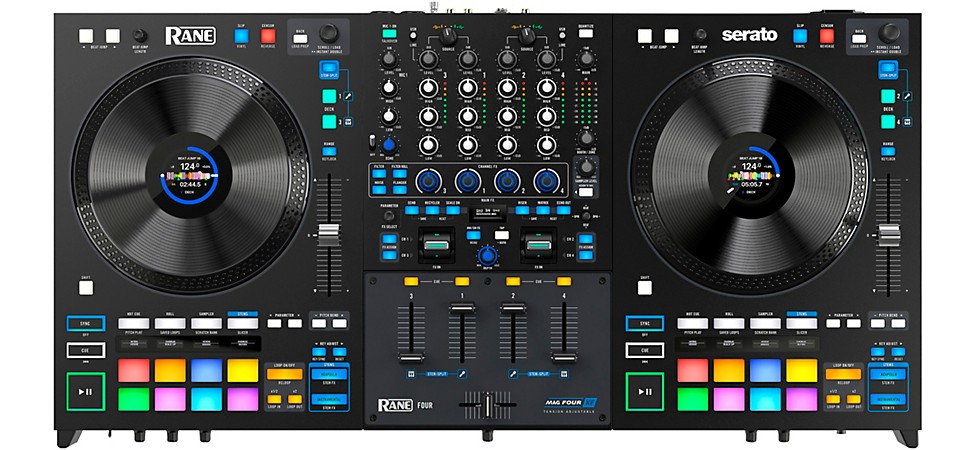 Pictured: RANE FOUR Advanced Four-Channel Stems DJ Controller
This four-channel controller delivers everything you'd expect from a RANE product in terms of I/O. Two inputs for line/phono sources like turntables or external decks, two mic XLR/TRS combo inputs, two headphone outputs and dual USB ports for easy set changeovers give you the versatility you need to put on a great show. If you're a Serato DJ who wants the best in stem-splitting capability—and RANE build quality—the FOUR might just be the one for you.
Best DJ Controller for Stem Splitting: Pioneer DJ DDJ-FLX10
The highly anticipated successor to the ever-popular DDJ-1000, the FLX10 four-channel DJ controller is loaded with cutting-edge features to take your mix to the next level. Compatible with both rekordbox and Serato DJ Pro out of the box, its stem-splitting functionality is built into the controller. VOCAL, DRUMS and INST buttons let you isolate the main track elements in real time, so you can manipulate your sound and blend mashups with more creative freedom than ever before. Enhanced on-jog displays offer four modes to choose from, including Deck Info, Waveform, Artwork and DJ Logo options. A first on a Pioneer DJ controller, Mix Point Link for rekordbox gives you an unprecedented advantage by giving you the power to decide what part of the next song will play once the current track reaches a predetermined point—without the need to count down and manually press play.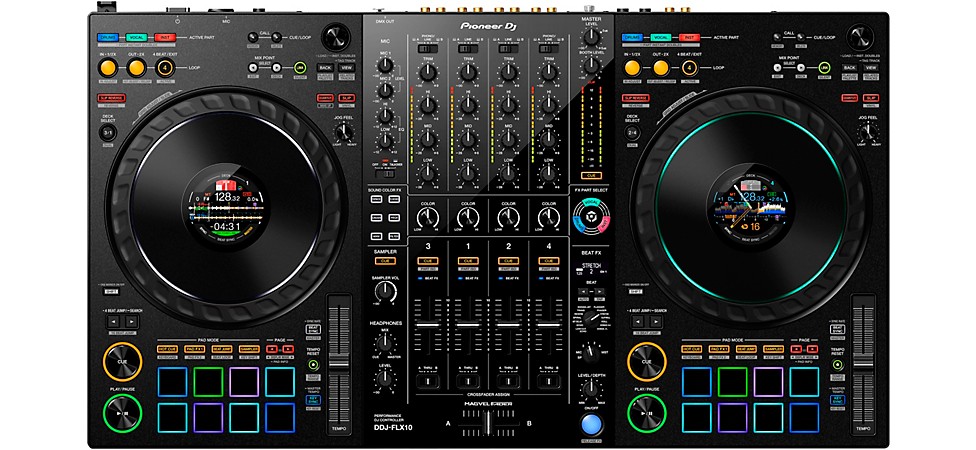 Pictured: Pioneer DJ DDJ-FLX10 4-Channel Performance DJ Controller
Other upgrades from the DDJ-1000 include an improved Magvel Fader 4-sensor system, DMX output for lighting via rekordbox, and a pair of USB-C inputs for seamless changeovers between DJ sets. DJs looking for the best in laptop-controller workflow and stem-splitting technology will love what the DDJ-FLX10 has to offer.
Best Ultraportable DJ Controller With Full-Featured Jogwheels: Numark DJ2GO2 Touch Pocket
The most affordable controller in this article, the Numark DJ2GO2 Touch Pocket DJ controller for Serato is ultracompact, fitting easily into a gig bag or backpack. Built for prepping and practicing sets, as well as plug-and-play for small parties, this little gem is loaded with Serato DJ Lite—upgrade-ready for the full version of Serato DJ Pro. An upgrade from the previous DJ2GO2 model, it features touch-sensitive jogwheels with nudge and scratch functionality on the sides

Pictured: Numark DJ2GO2 Touch Pocket DJ Controller
and top, respectively. Its minimal yet sufficient I/O consists of an 1/8" output for speakers—and includes an 1/8" to RCA stereo cable—1/8" headphone out, and a USB connection for your laptop.
When it comes to control, the DJ2GO2 features a browse knob, which lets you select a track and load it to either of your two decks. Each side also has play/pause and cue buttons, as well as a speed control fader. Four versatile pads on both decks can control your cues, loops and samples. While it doesn't have the EQ and filter knobs standard on larger controllers, it does have volume knobs for each deck and, of course, main and headphone output level knobs.
Best Ultraportable DJ Controller With FX Section: Hercules DJ DJControl Starlight
Like the aforementioned DJ2GO2, the DJControl Starlight is a fun-size two-channel Serato DJ controller. It has the same I/O and shares many similar features, like touch-capacitive jogwheels, the position of its tempo faders, play/pause, cue and four performance pads, though it does vary in a few key areas. In addition to the DJ2GO2's feature set, the Hercules Starlight also includes bass/filter knobs, and FX functionality via a shift button for its performance pads on each of its decks. This gives you more control on the Starlight itself, so you don't have to adjust your filtering and bass level in Serato on your laptop. Its comparative drawbacks are its lack of a browsing knob, as well as side nudging vs. top scratching functionality on the jogwheels—you'll need to select Vinyl mode to scratch. That said, if you value having an FX section and a more comprehensive mixer, the DJControl Starlight controller may be the perfect fit for your ultraportable needs.

Pictured: Hercules DJ DJControl Starlight Controller
Another bright spot of the Starlight is the light-up feature on the bottom edge of the controller. Its multicolor LED base can be controlled to sync according to your BPM, cue point countdown, waveform color or master volume.
Best 2-Channel DJ Controller for Beginner DJs: Pioneer DJ DDJ-FLX4
Replacing the massively successful DDJ-400 as Pioneer DJ's entry-level controller, the two-channel DDJ-FLX4 (FLX pronounced "flex," as in "flexible") takes that fundamental level of control, modernizes it and kicks it up a notch. Made to work with both rekordbox and Serato DJ, FLX4 is ideal for beginners who might be torn between the two DJ software juggernauts, and even includes Serato DJ Lite and, since it's a Pioneer DJ product, rekordbox. Plus, as with most DJ controllers on the market, it works with Virtual DJ as well. For some helpful tips, check out our article on picking the right DJ software for your needs.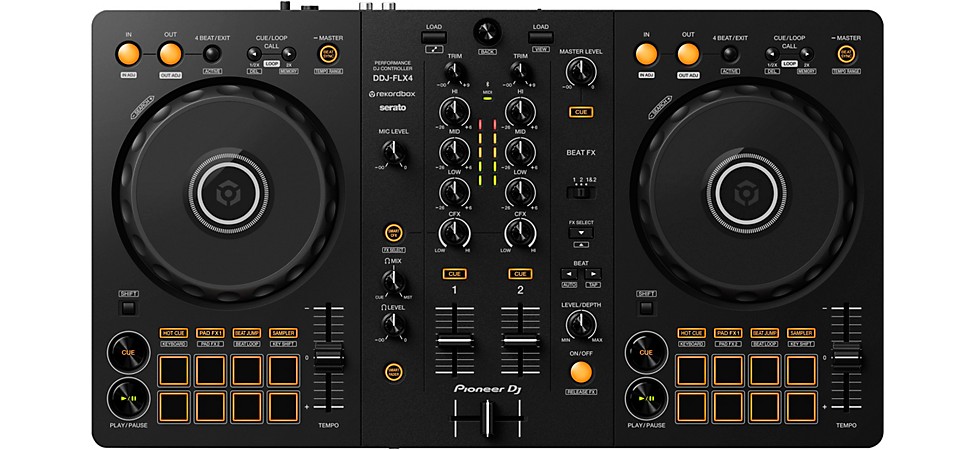 Pictured: Pioneer DJ DDJ-FLX4 2-Channel DJ Controller
Among the major upgrades from the 400 are a pair of USB-C ports—one for the forthcoming rekordbox dj mobile app, to be released in early 2023, and another for charging your device. This makes the FLX4 an excellent choice for aspiring and pro DJs alike to have a future-proof controller with easy portability and mobile device compatibility. The FLX4 also hosts new effects features, like Smart CFX and Smart Fader. Pressing the Smart CFX button lets you cycle through various effects in your software, and the adjacent CFX knob adjusts how your selected effect is applied to your mix. Toggling the Smart Fader streamlines beatmatching in a way that may otherwise be complex for DJs to execute properly. It automatically alters the BPM, filters out the bass from your initial track, and introduces some echo at the tail end as you move the crossfader to your new track. This single-motion control can be very convenient for playing it safe when going for a smooth transition.
Best Jogwheels on a DJ Controller of Its Class: Pioneer DJ DDJ-FLX6-GT
For rekordbox DJs in search of a four-channel controller, the Pioneer DJ FLX6-GT comes in as the most affordable option available. It also works straight away with—and includes—Serato DJ Pro, along with vouchers for Expansion Packs like Pitch 'n Time, Serato FX and more. The FLX6-GT will work with Native Instruments' TRAKTOR and Virtual DJ as well, though with a paid subscription to either of those options. However, DJs who use rekordbox will find that the labeling on the FLX6-GT is perfectly consistent with their software—and it is truly optimized for it. The FLX6-GT provides the same layout and specs as the original FLX6, with an aesthetic upgrade—the "GT" stands for graphite—whereas the previous was all black. For those looking to stand out even more, there is also a white DDJ-FLX6-W controller, a Guitar Center exclusive.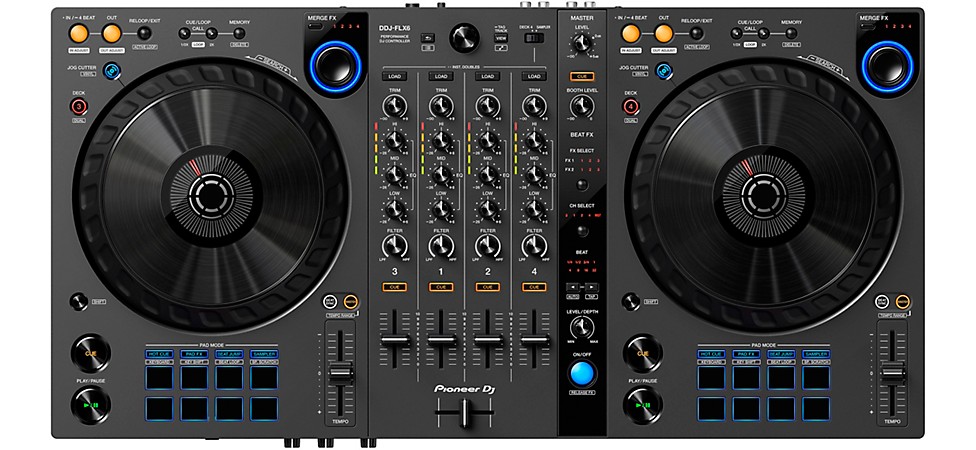 Pictured: Pioneer DJ DDJ-FLX-GT 4-Channel DJ Controller
Among the highlights of the FLX6-GT are its full-size jogwheels with color display, which are reminiscent of those on the DDJ-1000 and the CDJ-3000—and the largest on a TRAKTOR controller to date. It's also the first club-layout controller for TRAKTOR. Just be sure you load the appropriate TSI mapping file—which contains sound and effects data, as well as layout settings—in TRAKTOR to get it to work with the FLX6-GT. It doesn't have immediate plug-and-play functionality with TRAKTOR like it has with rekordbox and Serato. On the effects front, the FLX6 includes prominent knobs for Merge FX, which are perfect for EDM DJs, as this feature has selectable presets for Build, Release and Drop parameters. The Jog Cutter function introduces another layer of tweak-ability by automatically "cutting" while scratching, effectively freeing up the hand that would otherwise be cutting on the crossfader.
The I/O panel includes RCA outs for mains and booth, USB-B port as well as a balanced 1/4" mic input. So long as you don't need an AUX input, or balanced TRS or XLR outs for speakers, the FLX6 will have your practicing and gigging needs covered—with novel and endlessly fun FX apparatuses at your fingertips.
Best DJ Controller Pushing the Envelope of Design: Pioneer DJ OPUS-QUAD
As the name may suggest, the OPUS-QUAD is Pioneer DJ's magnum opus four-channel controller. This rekordbox- and Serato DJ Pro-ready behemoth bucks conventional design with its elegantly contoured angles, upscale rose gold- and wood-style accents, and surprisingly streamlined layout for a controller of its caliber. Boasting a whopping five displays—one 10.1" touchscreen, another two screens atop each deck and two on-jog displays, it was meant to be as intuitive as possible. Not only is it easier to use—it packs some high-end performance features under the hood, like 32-bit A/D and D/A converters for lossless audio transmission, as well as CloudDirectPlay audio streaming and Bluetooth input for any spur-of-the-moment requests that may come your way. Enhanced Beat FX, Smooth Echo and Sound Color FX give you all the mixing muscle you need to make your creativity pop, while Smart Cue lets you automatically overwrite your Hot Cue to the current cue position.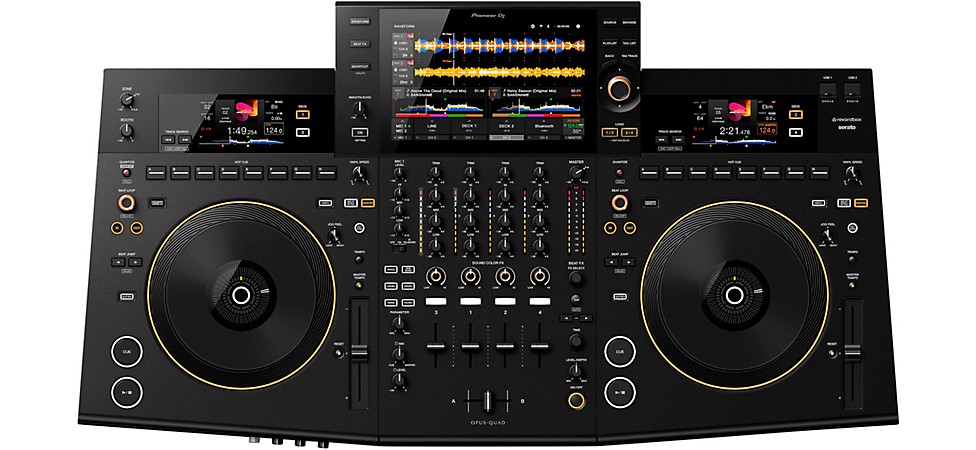 Pictured: Pioneer DJ OPUS-QUAD Professional 4-Channel All-In-One DJ System
OPUS-QUAD features the first-ever pair of phantom-powered mic pres on a DJ controller, making it possible for livestreaming DJs to use condenser microphones. It also has USB-A and USB-C connections for your laptop, as well as an additional USB-A 3.2 port in the back for an SSD drive. Plus, you can DJ for multiple rooms from a single OPUS-QUAD using the zone output, completely independent from the master.
Best Open-Format DJ Controller With Club-Style Decks: RANE ONE for Serato DJ Pro
RANE's first all-in-one controller for Serato DJ Pro, the ONE features high-quality components and 7.2" torque-adjustable motorized platters with quick-release acrylic discs. It's as aesthetically pleasing as it is intuitive to use—and the ONE's authentic vinyl-like tactile feeling and performance precision is second to none. Even its plunger-style start/stop button harkens a traditional turntable vibe. This two-channel controller features two aluminum effects paddles with latch or momentary positions, 16 performance pads, the light and smooth-moving MAG FOUR XF tension-adjustable crossfader and comprehensive I/O. Inline 3-band dynamic EQ and low-pass/high-pass filters deliver easy sonic control of your two decks. What's more, the search touchstrip at the top-right corner of each deck lets you quickly navigate to a specified section of your track.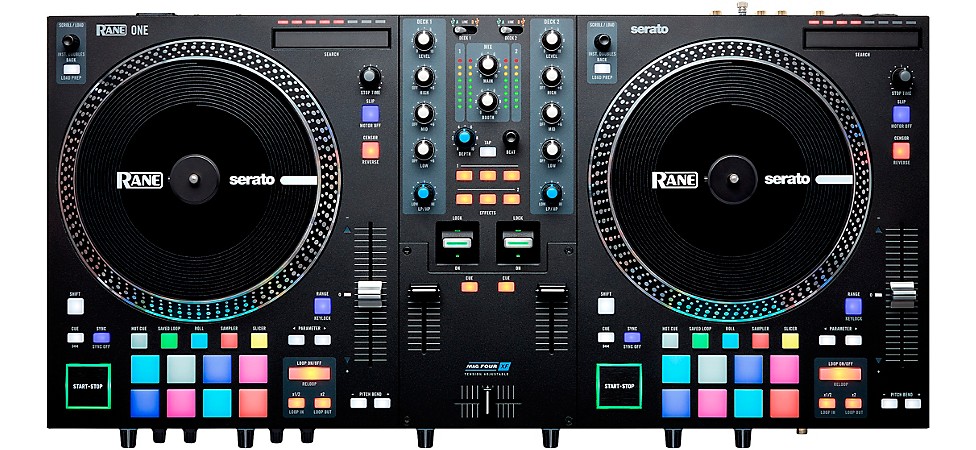 Pictured: RANE ONE Professional Motorized DJ Controller
Using the ONE's six FX buttons, you can select the effects you want to manipulate on the paddles just below. Its dedicated loop section is ripe with endless creative possibilities, complete with x1/2 and x2 multiplier buttons. Optimized for Serato DJ Pro and its expansions, each deck features the Serato-familiar Hot Cue, Pitch 'n Time, Saved Loop, Roll, Sampler, Slicer and Scratch Bank buttons. The ONE includes Serato Pro DJ—eliminating the need to pay a subscription for use on this controller. This offers an enticing blend of classic turntable feel with up-to-date flexibility and control.
True to RANE form, ONE's back panel features pro-level connectivity that some other controllers skimp on. ONE includes XLR booth and main stereo outs; stereo RCA master out; stereo RCA Deck 1 and Deck 2 inputs, switchable between line and phono; stereo RCA AUX in and two XLR/TRS combo microphone inputs. It also includes a pair of USB-B ports for plugging in a couple laptops. The front panel gives you deck contour and reverse controls, a crossfader contour knob and reverse switch, as well as 1/8" and 1/4" headphone inputs. It also features dedicated mic level and 2-band EQ knobs, in addition to cue mix and level knobs with a split function.
Best DJ Controller for TRAKTOR: Native Instruments TRAKTOR KONTROL S4 MK3
TRAKTOR KONTROL S4 MK3 is Native Instruments' flagship controller for their renowned TRAKTOR DJ PRO 3 software. As is the case with NI software, fully compatible third-party peripherals are rare if not nonexistent, so it stands to reason that no manufacturer makes better optimized hardware for TRAKTOR DJ than Native Instruments. The S4 MK3 does away with the mirror image decks as seen on its predecessor, the S4 MK2. Both decks have the same layout, as is now the standard on DJ controllers. The Play/Pause and CUE buttons on both decks are now on the lower-left corner; eight performance pads—which can trigger hot cues, samples or stems—are in the middle below the display screens, and the long tempo fader with its very fine adjustment capabilities is on the lower-right part each deck on the MK3. The tempo fader's key locking feature in TRAKTOR works well with S4, which keeps the pitch the same when you're slowing down or speeding up a track. The adjacent Master button turns key locking on or off, while the Sync button will synchronize to the other deck—the type of sync is determined on your KONTAKT software. Holding the Shift button while pressing Sync will lock the tempo, letting you isolate pitch control with the fader.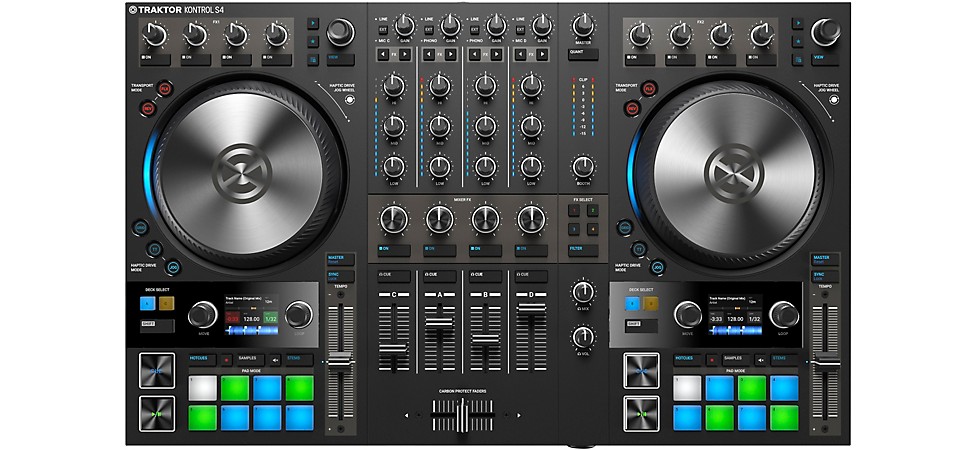 Pictured: Native Instruments TRAKTOR Kontrol S4 MK3 DJ Controller
While there is no control vinyl or slipmat on the S4's jogwheels, they deliver a familiar feel for vinyl DJs, and the learning curve is minimal. Holding down the Jog button enables jog mode, which "tightens" and "loosens" the jogwheels—a spinning light around the jogwheels will indicate the sensitivity level for nudging or scratching. The S4's innovative Haptic Drive feature lets you know where the cue point is in the jogwheel, which can be especially useful since there's no display on the jog itself. The display is just below the jogwheel on each deck, and shows the name of the track, BPM, waveform and time left on the time, loop length and loop position. Each deck has two transport modes. The first is FLX (pronounced "flux") mode, which follows the position of the playhead in the track's timeline as you scratch, and then returns to the song as if it had been playing all along once you've finished scratching. The other transport mode is REV (reverse), which plays the track in reverse for as long as you hold down the REV button. REV mode can be combined with FLX mode to be used like a censor.
To understand the mixer section of the S4, we'll start with the inputs and outputs. The back panel I/O contains RCA and XLR stereo main outputs; TRS stereo booth out; two stereo RCA phono/line inputs, for decks A and B; two stereo RCA line inputs, for external decks C and D; ground; a 1/4" Mic C input; USB-A port and USB-B port for your laptop. The Mic D input, headphone outputs and crossfader controls are on the front panel. With its C-A-B-D channel layout, the mixer can accommodate two mics, though they'll take up the C and D channels when flipped live via the "EXT" (external) button, so it's important to plan your set accordingly if you intend to use a mic. While channels A and B are normalled to S4's left and right decks, you can also patch in a pair of CDJs or turntables—phono switches are available for channels A and B—and use the EXT button to switch between those external sources and your onboard decks. Below each channel's Gain knob and Line/Mic or Line/Phono EXT buttons are your FX arrows, which let you assign your chosen effects to either or both decks. You can then manipulate them on the four knobs of the FX section on either deck.
Best Open-Format DJ Controller for Beginning DJs: Pioneer DJ DDJ-REV1
The DDJ-REV1 is Pioneer DJ's entry-level open-format Serato controller. It's a two-channel battle-style layout, beautifully streamlined in an easy-to-use format. While many other controllers can feel cluttered for newbie DJs, the REV1 was designed to bring beginning scratch DJs into the world of open-format mixing. The mixer section features two sets of eight performance pads, with the classic Serato-friendly labeling. One of its unique features is the Tracking feature, which will automatically cut your sound in and out as your scratch, freeing up your hand that would normally be on the crossfader. Another is the Level/Depth knob, which can control your choice from three effects per deck—as well as onboard beat control. The DDJ-REV1 comes with Serato DJ Lite, upgradeable to Serato DJ Pro if you want the full feature set that this controller offers—like Beat Jump and Roll. With its stereo monitor output, microphone input and headphone out, it's ideal for open-format DJs in search of a rig for practice or small gigs. If you aspire to get the REV7 eventually, but can't swing the cost, the REV1 is the perfect introduction to that battle-style turntable-inspired workflow.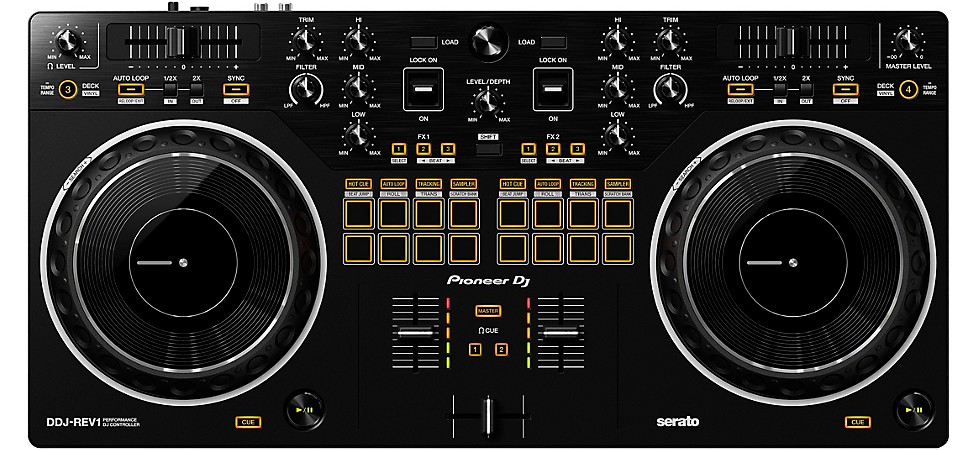 Pictured: Pioneer DJ DDJ-REV1 Serato Performance DJ Controller
Best Controller for Streaming DJs: Numark Mixstream Pro +
Built for the ultimate flexible workflow, the Mixstream Pro + lets you stream from a multitude of streaming services, including TIDAL, Beatport, Beatsource, SoundCloud Go +, Dropbox and Amazon Music Unlimited—with ultrafast track analyzing to get your BPM, album artwork and other metadata loaded and showing on your 7" multi-gesture, high-definition touchscreen. Its onboard Wi-Fi, built-in speakers, Philips Hue and Nanoleaf smart home lighting integration make for a truly all-in-one system, perfect for livestreaming, throwing parties and DJing small events. The included Engine DJ OS firmware lets you DJ with or without a laptop, though you can prepare your sets on your Engine DJ software on your laptop. The Mixstream Pro + is also compatible with both Serato DJ—and lets you use Serato DJ Lite for free—and Virtual DJ software, which can be purchased outright or paid via subscription.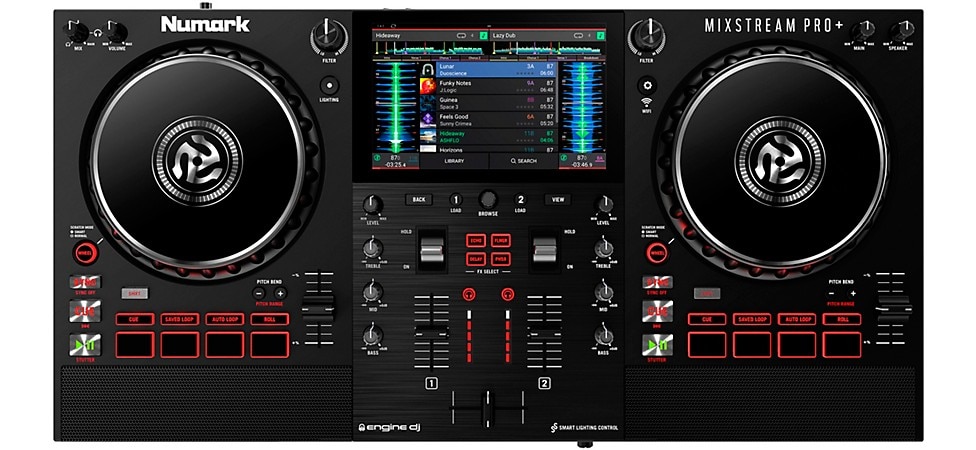 Pictured: Numark Mixstream Pro + All-In-One 2-Channel DJ Controller
The two-channel Mixstream Pro + features a pair of 6" platters with Smart Scratch, which keeps you on beat after you scratch. The FX section lets you choose from four effects, and manipulate those with the two adjacent toggle switches. Its I/O is comprised of a 1/4" mic input, stereo XLR and RCA outputs, two USB-A ports and an SD slot for laptop-free DJing, one USB-B port for a laptop, as well as 1/4" and 1/8" headphone outputs on the front panel.
That's It for Our Set—Time to Fade-in Your Track
With this list of some of the most popular DJ controllers on the market, you can start to whittle down your search by the features you need and the ones you can do without. Or maybe you've already found your perfect match and are raring to start the next chapter of your DJing journey. Of course, you'll also need a good pair of DJ headphones, monitors and potentially a PA system as well as lighting and stage effects to complete your setup—depending on how far you want to take your DJing. For more information on setting up your live DJ rig, check out our article. Whatever your experience level or budget, our knowledgeable associates are standing by at your local Guitar Center store or call center to assist. So, come in or call in, and let us help you find the right DJ controller for you and design your dream rig.