Numark NS4FX 4-Channel DJ Controller
(7)
|
Q&A
|
Item #:

1500000359369
POS #:117501973
6-month special financing* + $47 back in Rewards
Learn More
Lease-To-Own Purchase Options
Learn More
Get DJ equipment help from an expert like Don
Touring
Controller
Headphones
Need Help?
Numark NS4FX Introduction | 4-Channel DJ Controller with Effects and Pro Inputs and Outputs
Numark NS4FX DJ Controller Demo with Shana Sarett

Description
A remix of Numark's celebrated NS series, the NS4FX is purpose-designed to give DJs of all stripes the professional-grade features needed to mix with ease, flexibility and precision. Wielding full control of four independent channels, event, club and livestreaming DJs can mix tracks, samples, loops and more from up to four software decks simultaneously. Available exclusively at Guitar Center, the NS4FX gives creative flexibility and serious working potential for those looking to produce artistic mixes, shape emotive buildups, as well as prep songs for live events.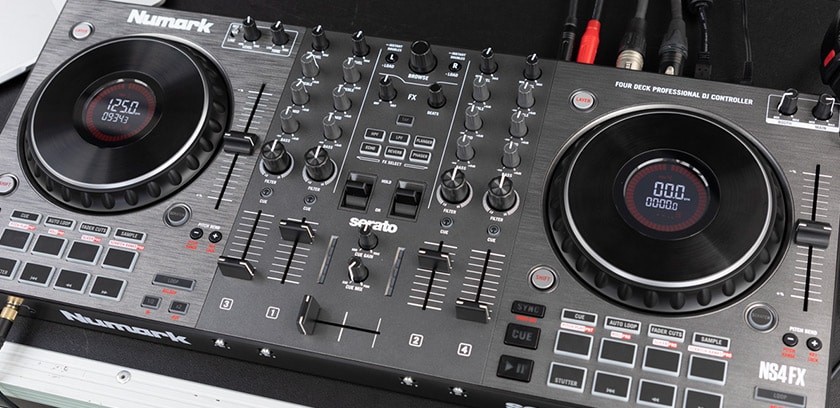 DJ Like a Pro
Built for performance, the NS4FX boasts high-quality decks that give the look, feel and functionality that have made Numark a hit with DJs the world over. Each deck has dedicated, premium-quality volume faders, large high- and low-pass Filter knobs, and a 3-band EQ. Crossfader assignment switches on the front panel can assign each channel to side A or B—or bypass the crossfader entirely.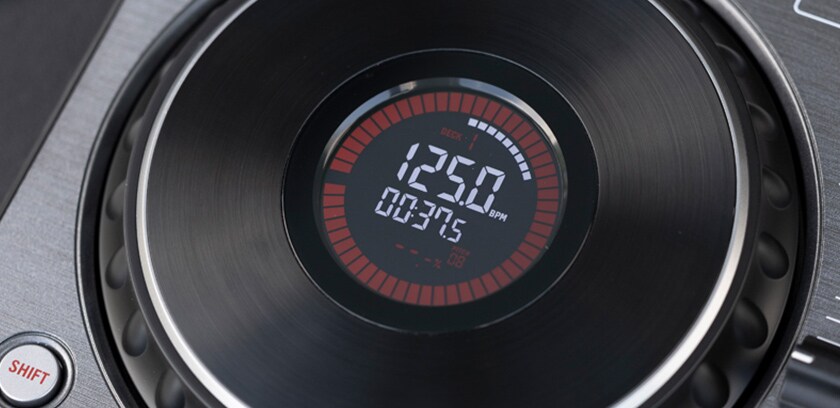 High-Quality Decks Built for Performance
The NS4FX makes it fun and easy to mix and scratch with precision. Its eye-catching 6" capacitive-touch jog wheels sport multicolor displays, showing track position, BPM, pitch range and time. A layer button on each deck allows each side to toggle between multiple decks, letting DJs layer and mix up to four tracks simultaneously. Another nice touch on every deck is a long pitch slider with selectable range, offering ultraprecise control of tempo when mixing. 16 Performance Pads with selectable pad modes like Cue, Auto Loop, Fader Cuts and Sampler give the NS4FX powerful versatility for any workflow.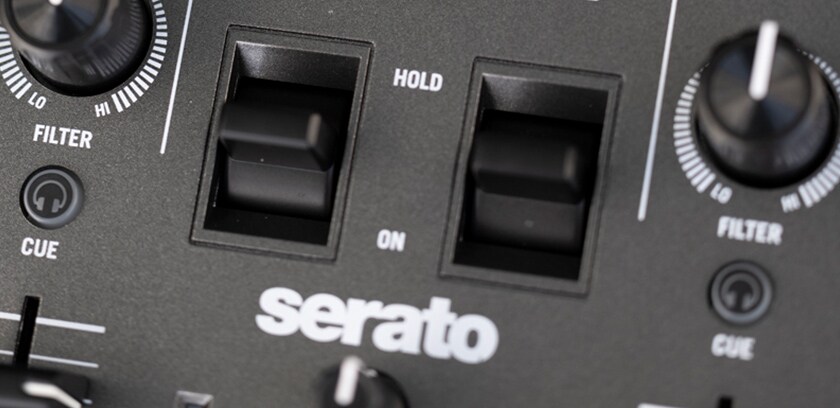 Looping and Effects
Ideal for creating seamless loops and custom transitions, a dedicated loop section with multipliers on each deck gives DJs on-the-fly control of their performances. An FX area features six quick-launch software effects, triggered by the well-made and fun-to-play-with toggle switches. The FX section also hosts full hardware control over wet/dry mix and beat division, making it an integral part of the NS4FX.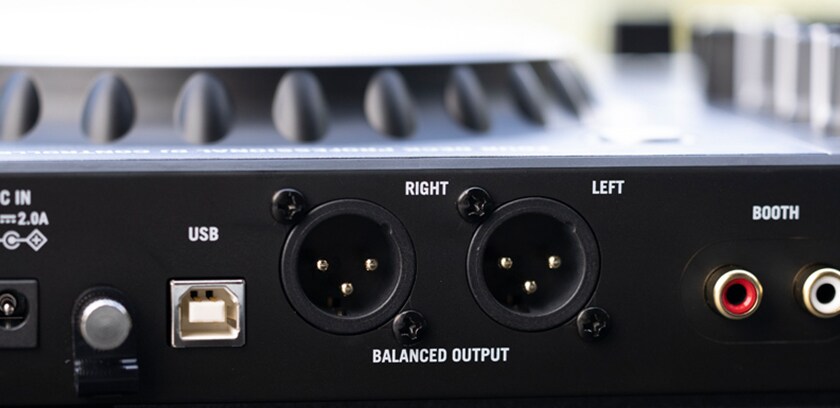 Pro Connectivity
Ready for the stage and the studio, the NS4FX has all the industry-standard ins and outs working DJs have come to expect. It's equipped with balanced XLR main outputs, two 1/4" mic inputs with dedicated volume and tone controls, as well as an additional RCA booth output—for a personal monitor system or additional area of a multi-zone sound system. The Mic 1 input can switch to an AUX to allow playback from a phone or other media device, via the RCA inputs in the back of the controller. This is perfect for livestreamers that feature guests or play audio from external sources.
Serato DJ Pro Compatibility
The Numark NS4FX is optimized for Serato DJ, the world's most popular DJ software. NS4FX includes Serato DJ Lite software, which is great for learning and for letting DJs mix with two channels right out of the box. For those looking to take it to the next level, it's also fully mapped and ready for Serato DJ Pro, which allows for full-featured, 4-channel mixing. Via Serato DJ Pro, DJs can also unlock additional pad modes, injecting even more creative potential into the mix.
Features
4-channel DJ controller with dedicated volume faders
Large Filter knob on each channel
6" capacitive-touch jog wheels with multicolor display
Layer buttons on each hardware deck to control up to 4 software decks
Dedicated loop sections with multiplier controls
Crossfader assignment switches on each channel
8 performance pads on each deck with pad mode selection buttons
Long pitch faders with pitch bend buttons
3-band EQ on each deck
High-quality 24-bit audio
Balanced XLR Main output
RCA Booth output
Front 1/4" microphone input with volume and tone controls
Additional rear 1/4" microphone input with controls (switchable to AUX with RCA inputs)
Serato DJ Pro upgrade ready
Specs
General
Audio quality: 44.1kHz, 24-bit
Toggle switches: 2
Dedicated buttons: Sync, Cue/Stop and Play/Pause
FX selection buttons: 6
Outputs
2 XLR balanced outputs
1 RCA stereo output
1 1/4" TRS headphone output
1 1/8" TRS headphone output
Inputs
1 RCA stereo input
2 1/4" TS microphone inputs
Other
Power adapter: DC 12V, 2.0A
Dimensions (WxDxH): 23.5" x 10.8" x 2.4"
Weight: 6.6 lb.
Warranty
No warranty on faders. 3 year warranty on mixers. One year warranty on all other products.