For DJs, solo musicians and small bands, the new Electro-Voice EVOLVE 30M brings game-changing convenience and room-filling sound—all in an ultra-compact system that sets up in seconds. With its small footprint and user-friendly design, the Electro-Voice EVOLVE 30M line array redefines what a compact column-style powered PA system should sound like. Electro-Voice is no stranger to professional-grade audio. EV is known for building tough, reliable speakers. Its successful EVOLVE 50 personal line array system earned a loyal following, thanks to its clean, huge sound. Now available at Guitar Center, the new EVOLVE 30M manages to squeeze high-quality audio into a much smaller package. This lightweight setup is also packed with cutting-edge technology to streamline your workflow and make it easier to get great sound, wirelessly.
Powerful PA System That Sets up in Seconds
No performer likes to set up or tear down a live sound system. It takes a long time and it can be complicated. Pro sound gear is often heavy and cumbersome. The Electro-Voice EVOLVE 30M aims to change that. It sets up in seconds, thanks to its modular, all-in-one design. The satellite speaker array clicks into place on top of a 2-piece column section, which clicks into the subwoofer base. The signal is routed through the column pieces and the integrated connectors, which eliminates external wiring. Simply plug in the power cord, then connect your audio source. When your gig is over, the column and array pieces pack neatly into a carrying case. You'll be on the road in a heartbeat.
QuickSmart DSP and Wireless App Control
If you're a solo artist or DJ working gigs by yourself, you don't have the luxury of a dedicated audio technician. Most small venues won't have a sound engineer to help you EQ your system. Electro-Voice has developed a convenient way for you to dial in amazing sound in any setting with QuickSmart DSP. Built right into the EVOLVE 30M 8-channel mixer, QuickSmart DSP features factory-preset sound profiles for commonly used applications. There are also studio-quality effects built into the mixer, such as reverb, chorus and delay. All of these parameters—and more—can be controlled wirelessly with the QuickSmart Mobile app. You can easily tweak your sound from anywhere in the room.
8-Channel Digital Mixer and Flexible Connectivity
The heart of the Electro-Voice EVOLVE 30M is its powerful 8-channel mixer. It has 30 built-in studio-quality effects, including chorus, delay, flange and reverb. Independent channel AUX sends, Hi-Z and footswitch inputs give added flexibility. If you're a solo performer or in a small band, this means you don't have to bring as many external effects, pedals or processors to your gigs. The EVOLVE 30M line array also features four XLR/TRS combo mic/line inputs, and an XLR/TRS combo stereo line input, RCA input and 3.5 mm input for connecting external sources such as portable media players and smartphones. You can also ditch the wiring altogether and stream music to the EVOLVE 30M wirelessly using Bluetooth.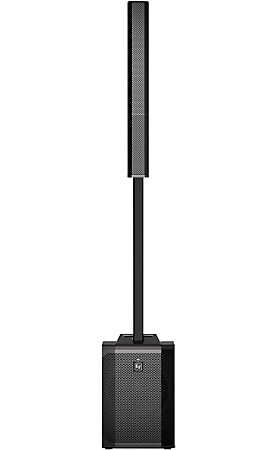 Room-filling Sound in a Compact Package
The array of six 2.8″ drivers in the column section provides exceptionally wide coverage. They project the mid- and high-frequencies of your music in a 120° horizontal pattern. The EVOLVE 30M column drivers are also positioned at different angles for asymmetrical vertical coverage. This results in a 40° vertical pattern that directs sound at your entire audience, whether they're sitting or standing. The subwoofer has a 10″ driver for impressive low-frequency reproduction. Coupled with the system's 1,000W Class-D amplifier and onboard DSP, the EVOLVE 30M can really fill a small- or medium-sized room with rich, clean sound. If you have a gig with over 100 guests in a larger venue, you can easily link multiple EVOLVE 30M systems together for bigger sound. The QuickSmart Mobile app will support up to six EVOLVE 30M units at once, making for a convenient, scalable live sound solution.
If you're a solo musician, mobile DJ or other artist on the go, your live sound gear needs to strike a balance between portability and performance. The less time you have to spend transporting, setting up and tearing down your PA system, the better. That's where the Electro-Voice EVOLVE 30M really shines. This ultra-compact personal line array sets up in seconds and can be easily carried from your car in one trip. You won't have worry about begging anyone to help you move your gear. The EVOLVE 30M's built-in QuickSmart DSP and companion app let you quickly dial in the perfect sound—wirelessly—so you spend less time setting up and more time focusing on your performance.